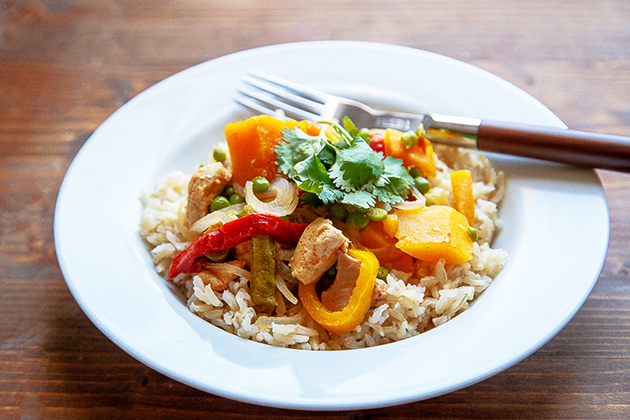 After our recent slow cooker chat here at the Tasty Kitchen Blog, I decided to pull my slow cooker down off the top shelf and dust it off. It really is such a workhouse in the kitchen for me, and yet I don't utilize it enough. After a quick search on Tasty Kitchen for slow cooker recipes, I had a hard time choosing! There are so many great-looking ones out there!
My favorite kind of slow cooker recipes are those that are literally chop-and-drop. I'm not entirely against recipes that require a little browning of the meat or aromatics first, but there are days when I just don't have the time. This Slow Cooker Thai Chicken recipe by Tasty Kitchen member Erin is a two-in-one for me: not only is it chop-and-drop, it's also a homemade version of take-out. Anytime I see a recipe for a healthier version of take-out, I save it!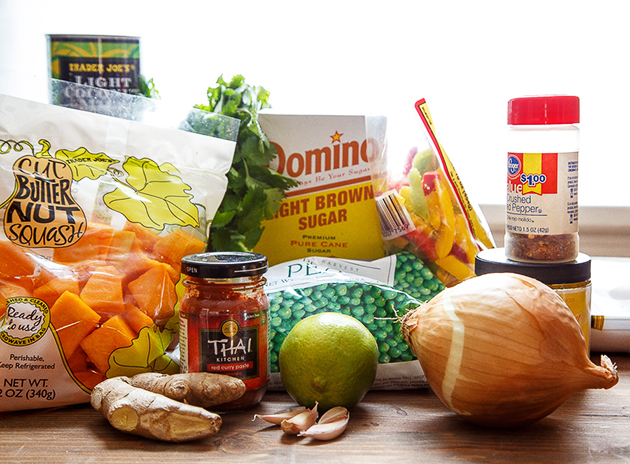 This recipe is chock full of vegetables in a creamy coconut-peanut butter sauce that I could just slurp with a straw—it is so good! The Thai flavors come from Thai red curry paste, fish sauce, lime and cilantro. I actually didn't use the fish sauce because I had a bad experience with it in the past (I dropped it on my kitchen floor, and the smell, well, you know). Erin tells us that it doesn't taste fishy, but it provides savoriness and depth of flavor. I totally trust her but my husband won't let me bring another bottle in the house yet.
In the vegetable department, you'll need chopped butternut squash, sliced mixed peppers, onions, peas. The sauce is made up of canned light coconut milk, a touch of brown sugar, peanut butter, chicken broth, red curry paste, crushed red pepper flakes, ginger, garlic, lime and cilantro. If that sounds like all your favorite Thai flavors, you're right!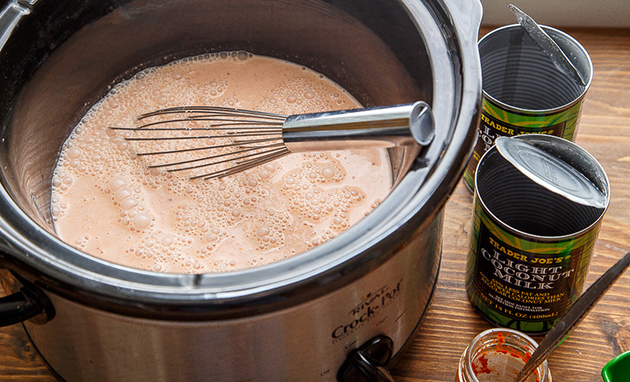 First, whisk together the sauce ingredients: coconut milk, chicken stock, peanut butter, curry paste, fish sauce, brown sugar, ginger, garlic and red pepper flakes. Whisk very well to dissolve the peanut butter and curry paste. I used a natural-style peanut butter that really didn't want to dissolve, so I had to mash it with a fork first.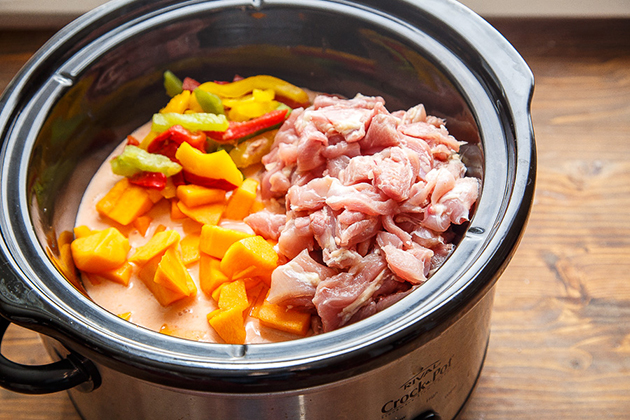 Next, stir in the chicken, squash, peppers, and onion. I used a bag of frozen sliced mixed peppers for ease.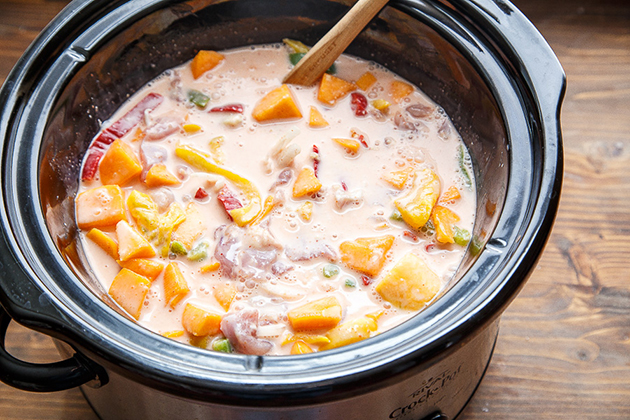 Stir it all together. We're almost done!
Cover and cook on low for 6–8 hours. About 30 minutes before serving, add the peas and lime juice. When serving, top with cilantro. I served mine with hot, cooked brown rice.
Thanks, Erin, for curing my take-out craving and making it super simple, too. Visit her beautiful blog, Well Plated, for more great and healthy recipes like this!
Printable Recipe
See post on Erin | Well Plated's site!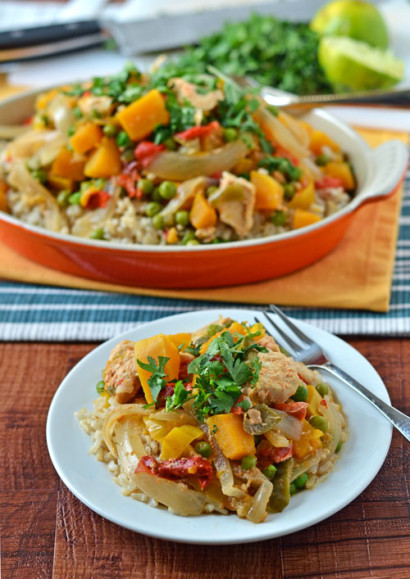 Description
A healthy slow cooker chicken recipe made with a simple, delicious Thai peanut and coconut milk sauce. Easily adapts to whatever vegetables you have on hand. This version is loaded with creamy butternut squash, red and green bell peppers, and peas for a beautiful, wholesome dish.
Ingredients
2 cans (14 Oz. Size) Light Coconut Milk
1 cup Low Sodium Chicken Stock
¼ cups Peanut Butter Creamy Or Crunchy
3 Tablespoons Red Curry Paste
2 Tablespoons Fish Sauce
2 Tablespoons Brown Sugar
2 Tablespoons Minced Fresh Ginger
1 Tablespoon Minced Garlic
¼ teaspoons Crushed Red Pepper Flakes
2 pounds Boneless Skinless Chicken Breasts, Cut Into 1 1/2 Inch Pieces
3 cups Peeled And 1/2-inch Cubed Butternut Squash
2 whole Red Bell Peppers, Cored And Sliced
2 whole Green Bell Peppers, Cored And Sliced
1 whole Yellow Onion, Thinly Sliced
2 cups Frozen Peas, Thawed
2 Tablespoons Lime Juice
½ cups Chopped Fresh Cilantro, For Serving
3 cups Prepared Brown Rice, For Serving
Preparation Instructions
In a 5-quart or larger slow cooker, stir together the coconut milk, chicken stock, peanut butter, curry paste, fish sauce, brown sugar, ginger, garlic, and red pepper flakes. Place the chicken breast, squash, red bell pepper, green bell pepper, and onion in the slow cooker and stir gently to coat with sauce. Cover and cook on high for 4 hours or on low for 8 hours.
Thirty minutes before you are ready to serve, stir in the peas and finish cooking. Immediately before serving, stir in lime juice. Serve garnished with cilantro, atop brown rice.


_______________________________________
Growing up in a food-obsessed family and spending a lot of time in her Aunt Rose's restaurant as a child, Christina was destined to be a fantastic cook. She's a private chef during the day, but cooks for two at home. Like all of us, she has a sweet tooth that needs indulging after dinner. After becoming frustrated with the lack of recipes made for two, especially in the dessert category, she took matters into her own hands and started her blog, Dessert for Two, to share how she takes Southern classics (and a few surprises) and turns them into recipes that are perfect for just a few people. Her first cookbook is due out in February 2015.