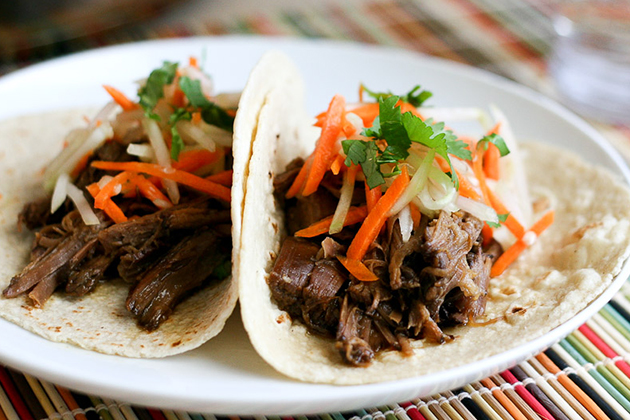 Slow cookers are sometimes the forgotten heroes of the kitchen. They're either stashed on the top shelf of the cupboard above the refrigerator (you know, the one you almost never open), or in the basement, or behind the waffle maker and panini press. Out of sight, out of mind.
But they shouldn't be. They're workhorses, those slow cookers. Just check out all the great recipes in our slow cooker category. They'll cook amazing meals for you with very little assistance, slaving away while you're busy working or running errands. And few things are as comforting as coming home to a warm, hearty meal, your kitchen filled with the enticing aroma of a satisfying home-cooked meal.
So let's talk slow cookers today! We want to know:
What are your favorite tips for cooking with a slow cooker?
We're leaving this wide open. Do you have a favorite brand or model of slow cooker? A favorite recipe or technique? (The Slow Cooker Korean Short Rib Tacos you see above is one of my favorites.) Any special tips or tricks you've learned? We want to hear them all!
Happy Wednesday! Stay warm, cozy, and nourished, friends!