The winner of the food processor is:
#704 Becky K: "Some grilled fresh veggies right out of the garden!"
Congratulations! Contact [email protected] to claim your loot.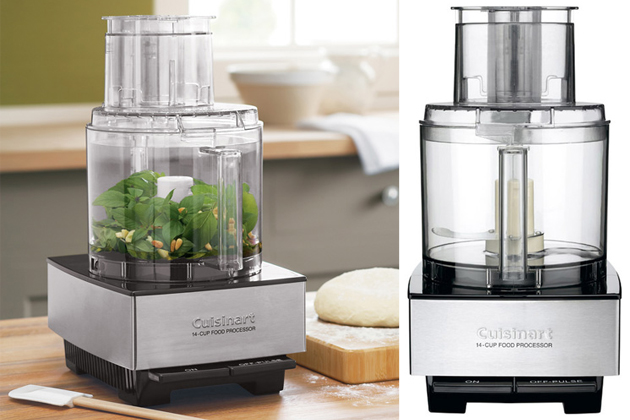 It's our fifth anniversary, and to say thank you to our wonderful community, we're doing giveaways all week. Today, we have a Cuisinart Food Processor for you. It's the powerhouse of the kitchen and can make life so much easier. Once you use one, you can never go back! Here are some great recipe ideas that use a food processor. The possibilities are endless!
Garlic White Bean Basil Hummus and Homemade Toasted Pita Chips from Monique of Ambitious Kitchen. Serious snack attack! Smooth and creamy white bean dip. Yum.
Homemade Nutella from Kate of Diethood. So delicious and easy to make this—or any nut butter—at home with a food processor.
The Best Cauliflower Crust Pizza from Michelle of The Lucky Penny. You've gotta try it. Great alternative to regular dough. Your food processor can shred cheese for your pizza, too!
Oat Flour Chocolate Chip Banana Bread from Erika of The Pancake Princess. Gluten-free and delish. And it's so convenient to grind oats you already have at home for the flour!
Homemade Goldfish Crackers from Erin of Dinners, Dishes and Desserts. This recipe was also featured in the TK Blog. How fun are these? The kids will love.
Cashew Panko Chicken Tenders with Polynesian Sauce from Tina of My life as a Mrs. Cashews chopped in a food processor make a great crust!
Those are just a few tasty recipes to make with your food processor. Now, let's get busy winning one!
We're giving away one Cuisinart Custom 14-cup Food Processor. It'll be your new best friend.

TO ENTER
To enter this giveaway, just answer the following question in the Comments section of this post:
"What's your go-to summer meal that keeps you cool but still satisfies??"
Shout out your answer below and you'll automatically be entered to win!

THE RULES
One entry per person, please. Contest ends tonight at 9PM PST.
Winners will be chosen randomly and announced tomorrow morning.

All anniversary week giveaways sponsored by Tasty Kitchen.