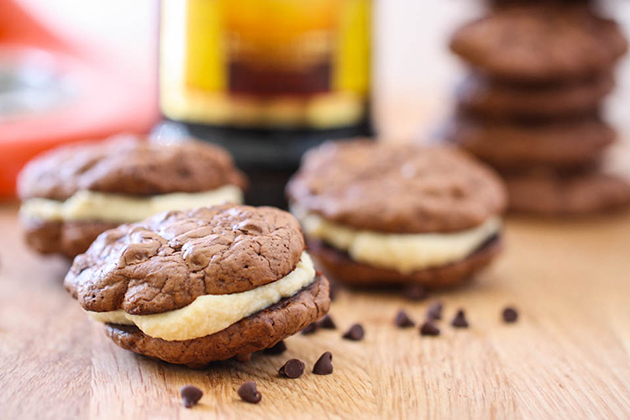 Tiramisu is our favorite dessert to order out at a restaurant. Whenever we see it on a menu, we always have to get it! No self-control there. I rarely make it at home because it's pretty time consuming and, let's be honest, a little complicated. That being said, when I saw these mouth-watering Tiramisu Sandwich Cookies from Tanya, I knew I had to make them as soon as possible. What a fun treat! Two super fudgy double chocolate cookies sandwiched with creamy tiramisu filling? Sign me up.
I was so happy with the way these sandwich cookies turned out and know I'll make them over and over again for special occasions. The cookies were soft and cake-like and the filling was just sweet enough, with a hint of Kahlua. My husband went absolutely crazy over them and already requested that I make them again so he can share with his office. I took that to be a very good sign!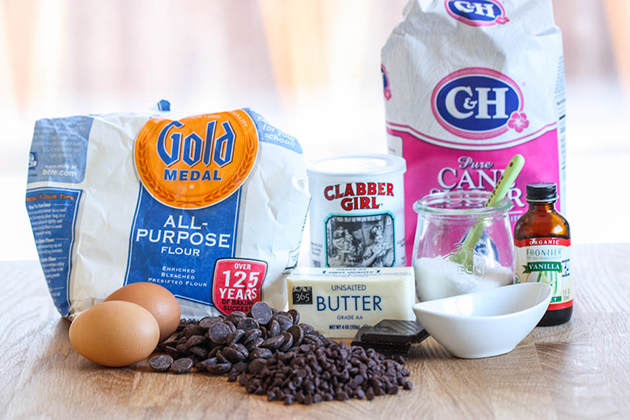 Here's what you need to get started! These are just the ingredients for the cookies. As you can see, lots of chocolate goes into these bad boys! Not that I'm complaining! We've got semisweet, unsweetened and mini chocolate chips. Amen to that.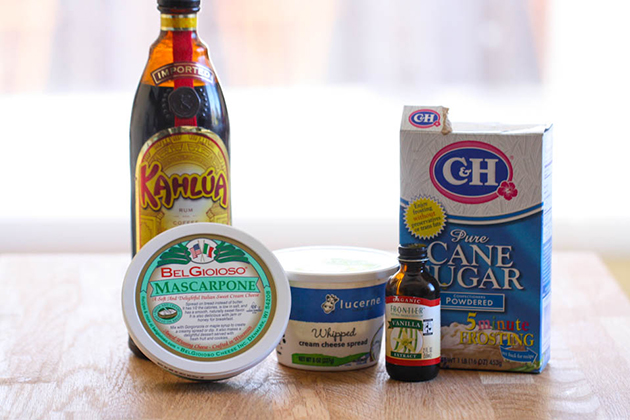 And here are the ingredients for the creamy tiramisu filling. All the good stuff right here. Marscapone cheese, cream cheese, powdered sugar, vanilla, and let's not forget the Kahlua. It really puts these over the edge!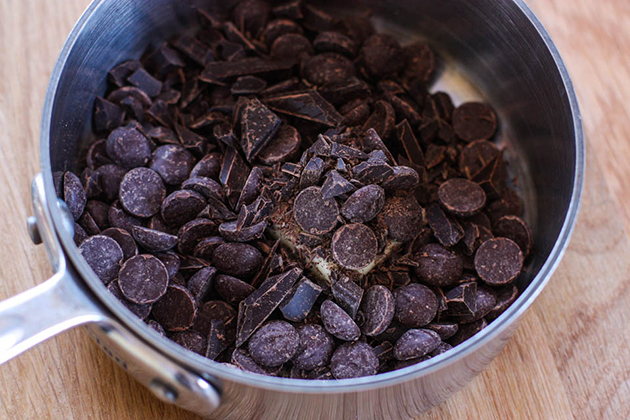 First things first: let's melt that chocolate. Combine the semisweet chocolate, the unsweetened chocolate and the butter in a small saucepan over low heat. Be sure to keep stirring this once it starts to melt so that the chocolate doesn't burn. Is there anything better than the scent of chocolate melting on your stove? I think not, friends. I think not.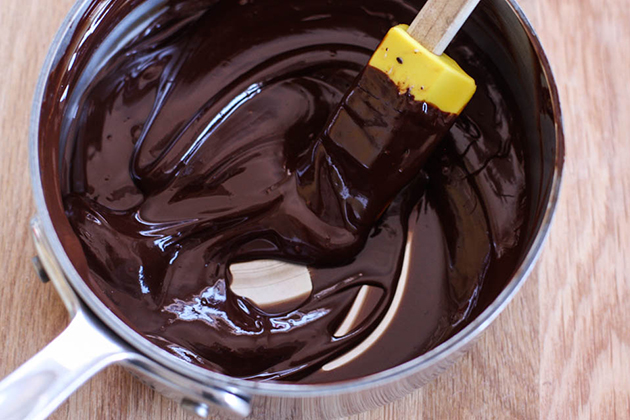 After about six minutes, you'll have something that looks like this. Make sure there are no little lumps remaining! Just smooth, creamy melted chocolate. Heavens.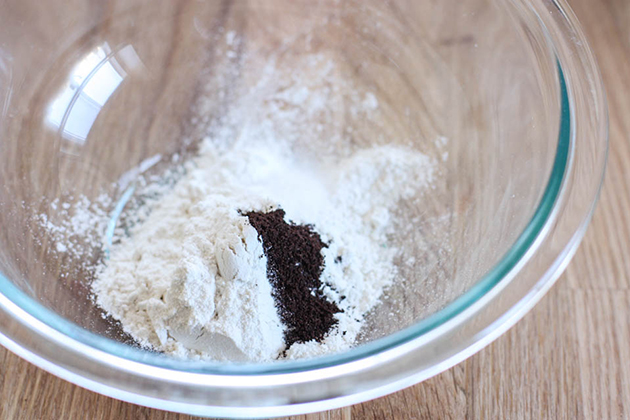 Now is the time to prep the rest of your ingredients. In a small bowl, whisk together the flour, baking powder, salt and instant espresso. Set this aside.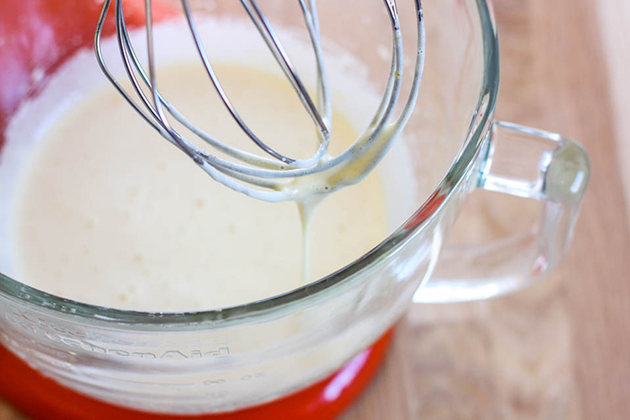 Beat the eggs with the sugar and vanilla until thick and pale in color. I used an electric mixer for this but you don't have to—a good old fashioned wooden spoon would be just fine here. Keep beating or mixing until the mixture is pretty thick. When you pull up the spoon or whisk attachment, "ribbons" of batter should fall back into the bowl.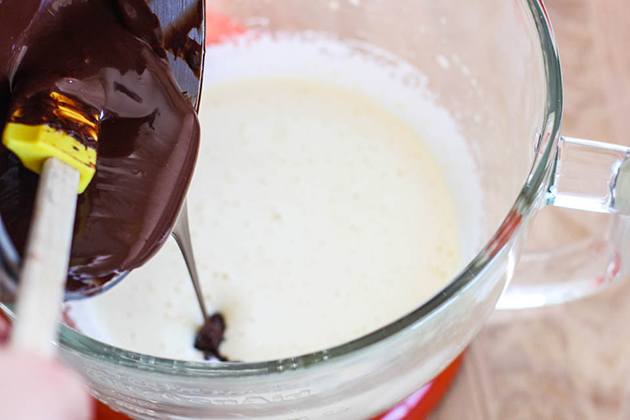 Once you've got that going, drizzle in the melted chocolate from before.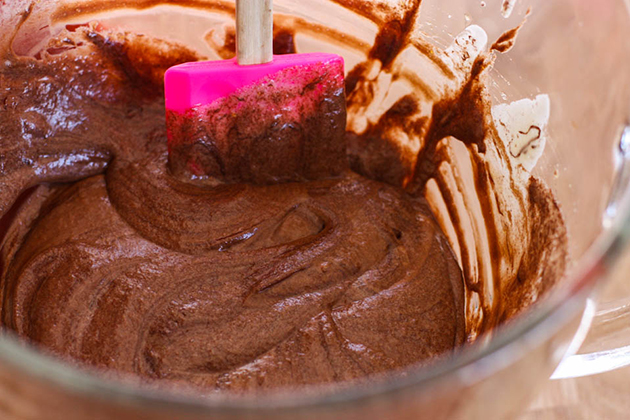 I like to use a rubber spatula here to really get everything from the bottom of the bowl. Plus, a rubber spatula makes it easy to fold the batter as opposed to mixing it, which results in flatter cookies. No one likes flat cookies!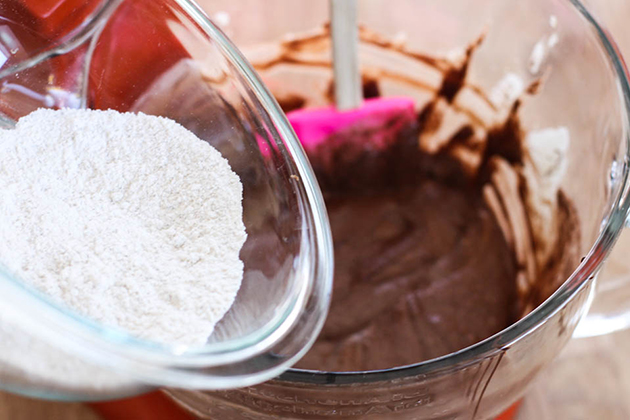 You can add the dry ingredients now.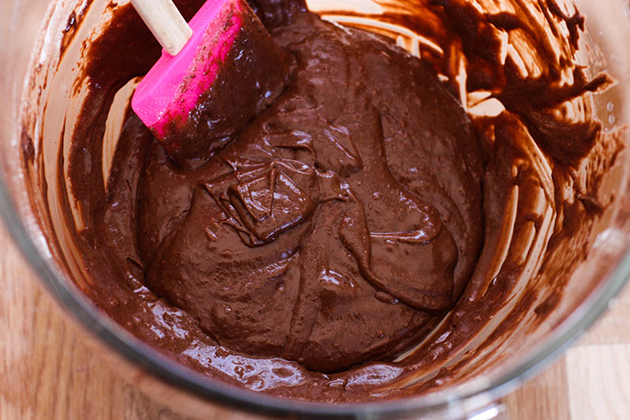 Fold them in like we just talked about. The batter will thicken up a lot!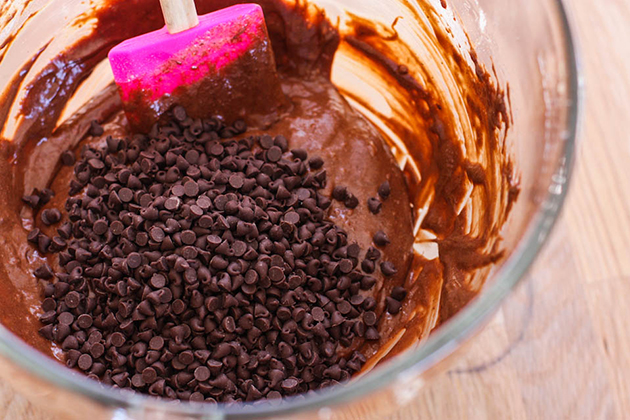 Finally, my favorite part: the mini chocolate chips. Yum. Just look at how cute they are! Fold those in as well then let the batter sit for about 10 minutes while you preheat the oven and prep your cookie sheets with either a Silpat or parchment paper.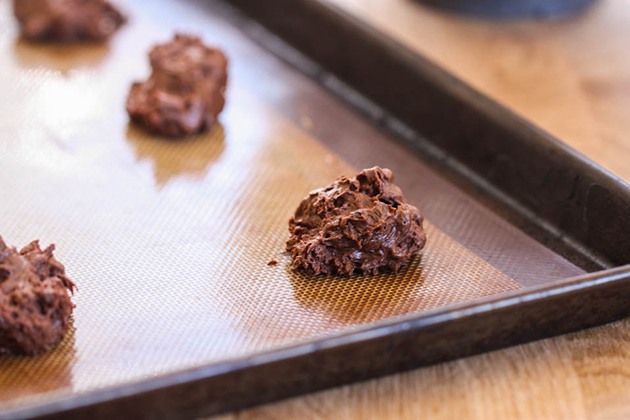 Drop big ol' spoonfuls of cookie dough onto your prepared sheets about two inches apart. Resist the urge to lick the spoon here!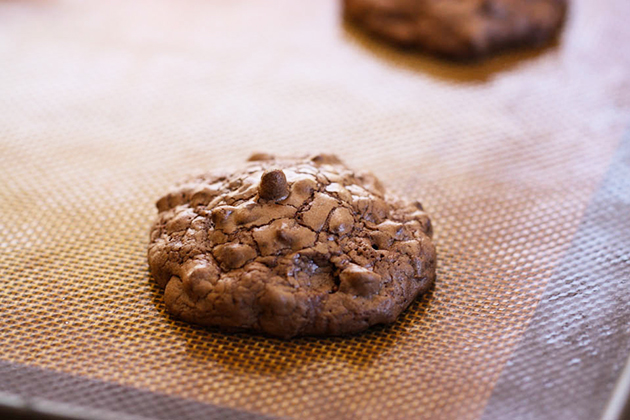 Bake the cookies at 375ºF for just eight minutes. When done, the center of the cookies should still feel slightly soft but the edges should be set. Let 'em cool while you make the yummy filling!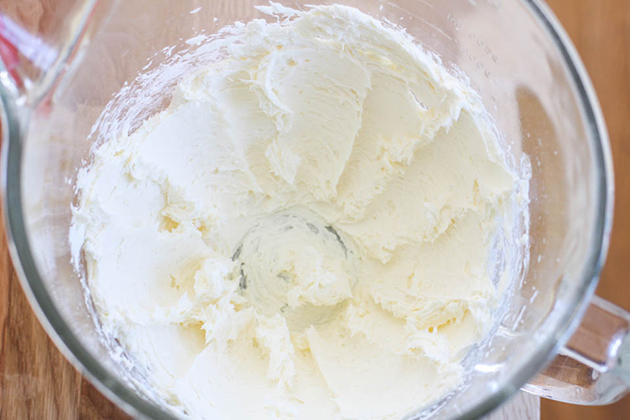 To make the filling, beat together the marscapone cheese and the cream cheese. Then, add the powdered sugar and keep beating until smooth. Sort of like cream cheese frosting without the butter!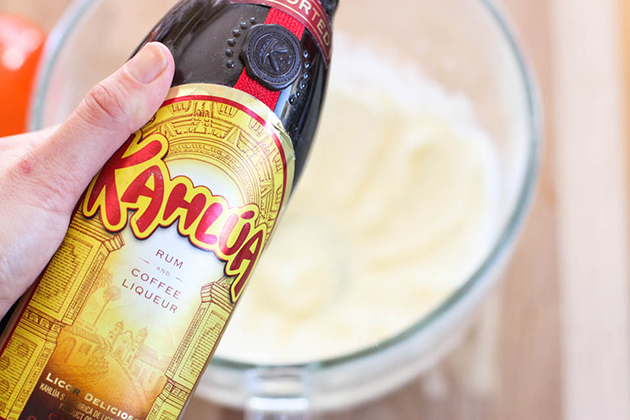 Then, add the special ingredient. Just two tablespoons of the good stuff. It goes a long way. Also add the vanilla extract here and continue beating until smooth. Drool.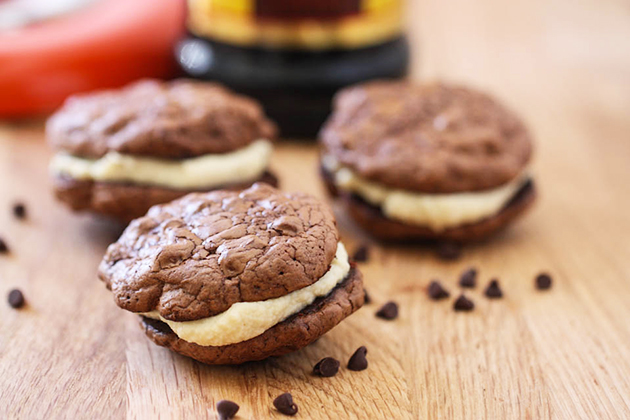 Sandwich the cooled cookies together with the filling and voila! You're done. These are great freshly made, but I found that I liked them even better after a few hours in the fridge—if you can wait that long, that is. Seriously delicious!
Thank you Tanya for providing the recipe for this treat! We thoroughly enjoyed every last crumb and I can't wait to make them again soon. Visit her blog Lemons for Lulu for more of her creations!
Printable Recipe
See post on Tanya Schroeder @lemonsforlulu's site!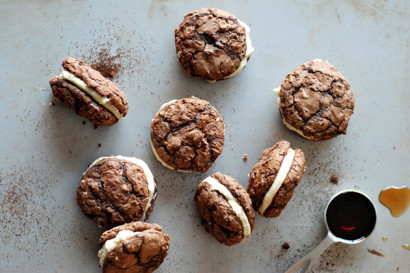 Description
Espresso chocolate cookies hugging a creamy Kahlua and mascarpone filling.
Ingredients
FOR THE COOKIES:
5 ounces, weight Semi-sweet Chocolate, Chopped
2 ounces, weight Unsweetened Chocolate, Chopped
2 Tablespoons Butter
¼ cups Flour
¼ teaspoons Baking Powder
¼ teaspoons Salt
¼ teaspoons Espresso Powder
2 whole Eggs
⅔ cups Sugar
1 teaspoon Vanilla
¾ cups Mini Chocolate Chips
FOR THE FILLING:
8 ounces, weight Mascarpone Cheese Softened
2 ounces, weight Cream Cheese, Softened
¼ cups Powdered Sugar
½ teaspoons Vanilla
2 Tablespoons Kahlua Liqueur
Preparation Instructions
For the cookies:
In a small saucepan, combine chocolates and butter. Heat over low heat until both have melted. Stir until smooth then remove from heat and set aside.
In a small bowl, combine flour, baking powder, salt and espresso powder. Set aside.
In a mixing bowl, beat together eggs, sugar and vanilla until mixture begins to thicken. Stir in cooled chocolate mixture followed by flour mixture. Beat until combined. Fold in chocolate chips. Let batter stand for 10 minutes in order to thicken up.
Preheat oven to 375 F. Drop dough by the tablespoon full onto a parchment paper- or Silpat-lined baking sheet, keeping each cookie about 2 inches apart.
Bake for 8 minutes or until edges are set and cookies are slightly cracked. Remove pan from oven and set it on a rack. Let cookies cool for 1 minute before removing them from the pan to a cooling rack.
For the filling:
In a medium sized bowl beat together mascarpone and cream cheese. Add in powdered sugar, vanilla and liqueur and mix until combined.
Spread a healthy tablespoon of filling on the flat side of one cookie then top with another cookie. Repeat until you've used all of the cookies.
Makes 12 sandwich cookies. Store assembled cookies in an airtight container.
Recipe adapted from Better Homes and Gardens.


_______________________________________
Jenna is a food writer who has worked as a pastry chef and bread baker. Her blog Eat, Live, Run has great recipes, travel stories, and the perfect slogan: "Celebrating life, one crumb at a time."