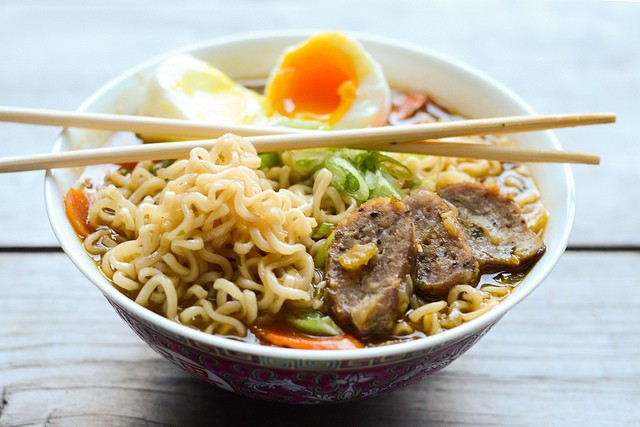 When we were kids, we loved packaged ramen. Mom would try to make it herself, but we weren't fooled: Nothing could live up to the MSG-laden packets. 
Fast forward a few years and my taste in food has changed a bit. Don't get me wrong, I still enjoy an occasional pre-packaged ramen for a guilty snack. But it hurts me to know how many icky ingredients I'm consuming.
Then one day my sisters made traditional ramen from scratch. It opened my eyes to the idea that perhaps the humble ramen could be a delicious meal. 
To my surprise, I was able to make a soup that was as good (or better!) than the little processed version I remembered from my childhood. If you put in a little extra effort, you'll be surprised at the complexity of the flavors of this Ramen Noodle Soup from Tasty Kitchen member Justine. With the eggs and sausage for protein it's definitely a filling, satisfying supper.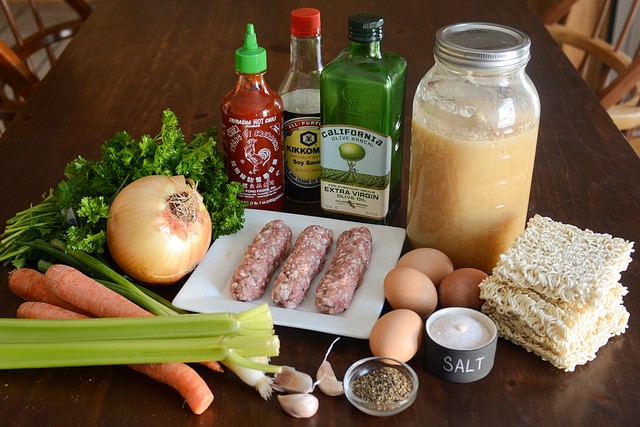 Here's everything you'll need to make the ramen: olive oil, onion, carrots, celery, garlic, parsley, salt and pepper, beef broth (I made mine from scratch), Sriracha (or any hot sauce you prefer), soy sauce, eggs, Italian sausage links (I made my own), ramen (or another Asian-style noodle), eggs, and green onions.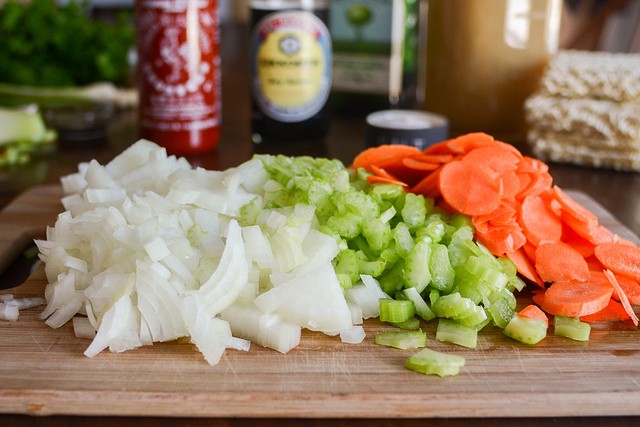 Begin by chopping up your onions, celery and carrots.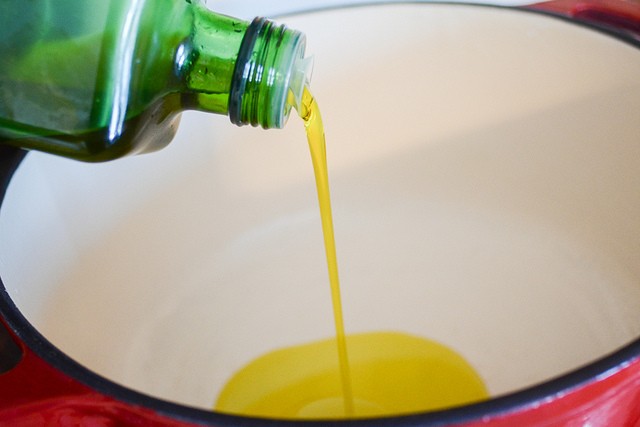 Heat the olive oil in a Dutch oven (or a big soup pot) over medium heat.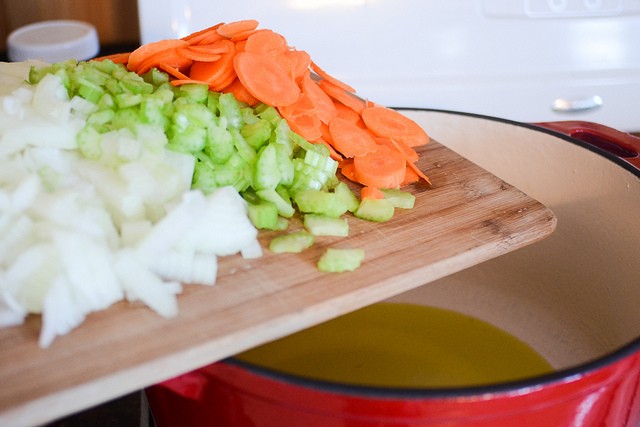 Once the oil is hot, add your veggies.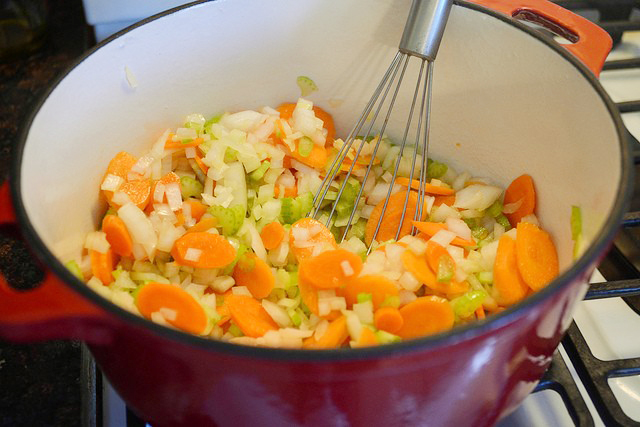 Give it a good stir.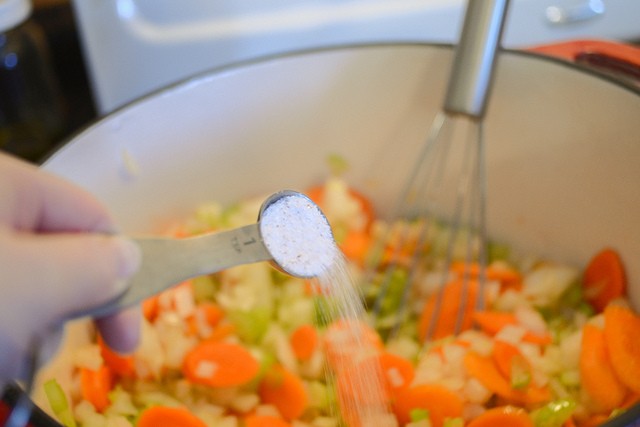 Add the salt …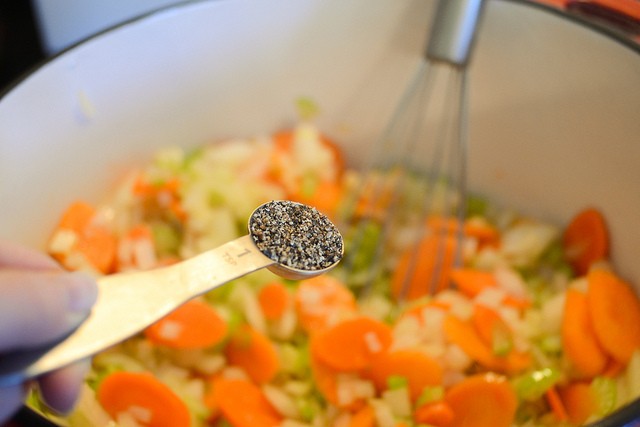 And pepper. Cook, stirring every once in a while, until everything is nice and tender.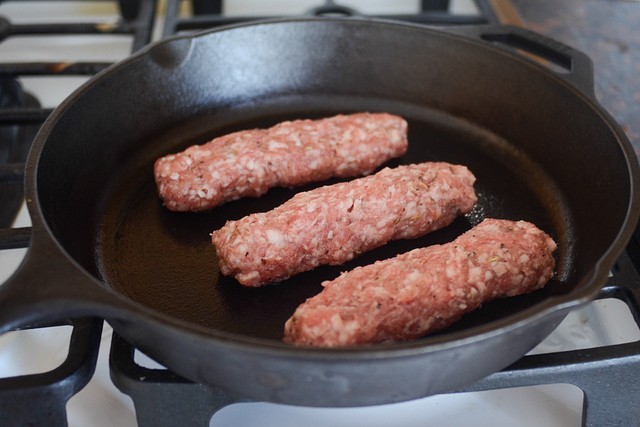 Meanwhile, cook your sausages until no longer pink.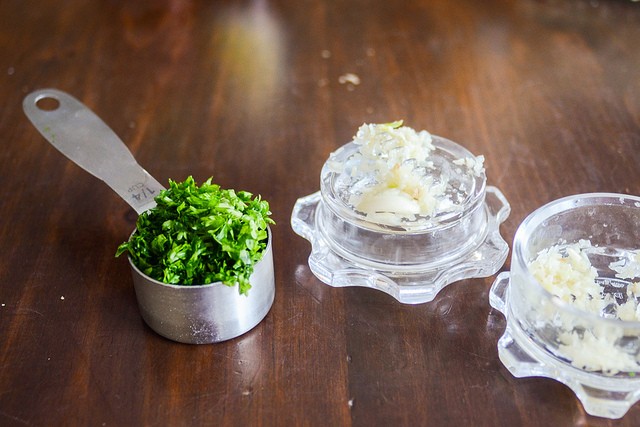 Chop up the parsley and garlic.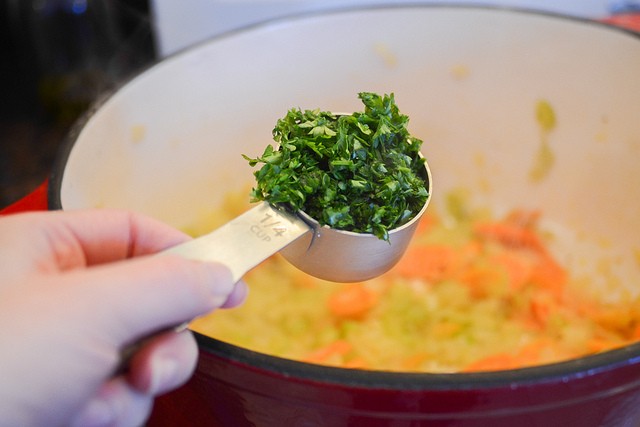 Once the veggies in the pot are soft, add the parsley …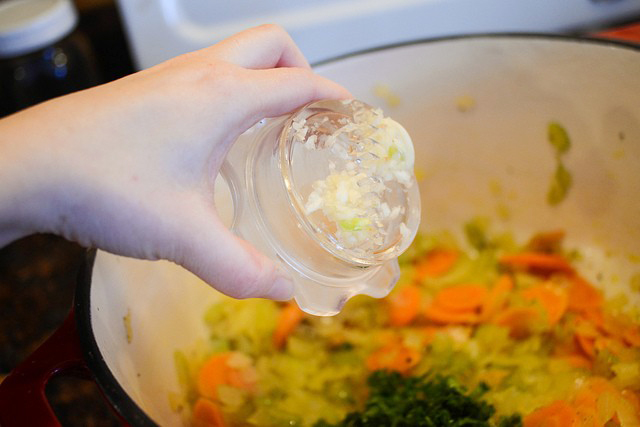 And the garlic. Cook for a couple more minutes.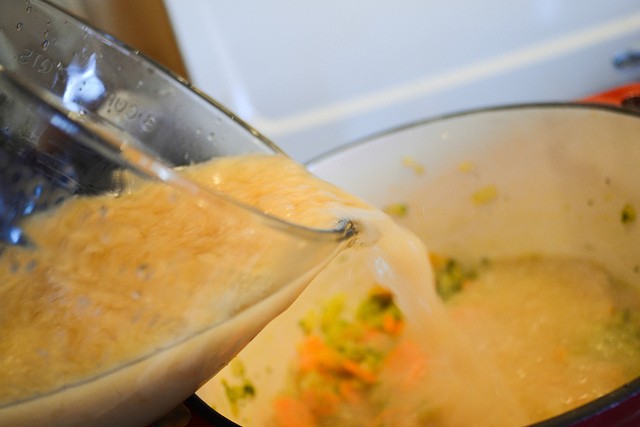 Add the beef broth, water (I just used more broth in place of the water) …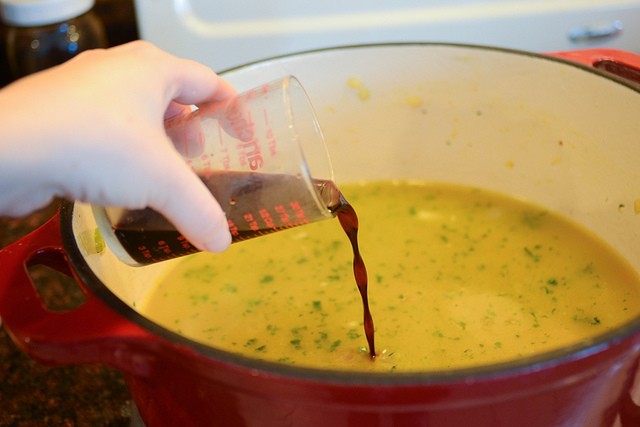 And soy sauce. Stir and bring to a boil. Lower the heat so the soup is just simmering and simmer for 20 minutes.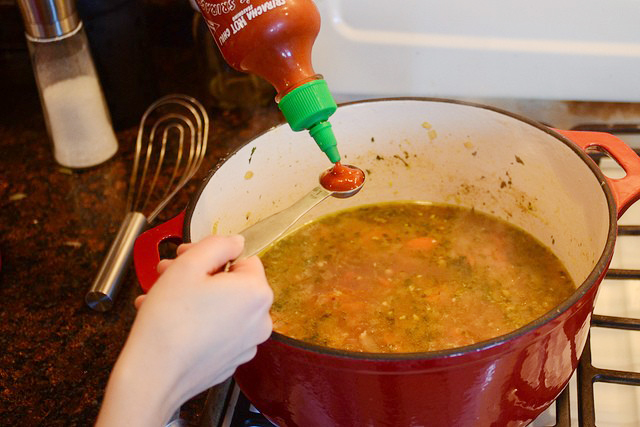 Add the Sriracha …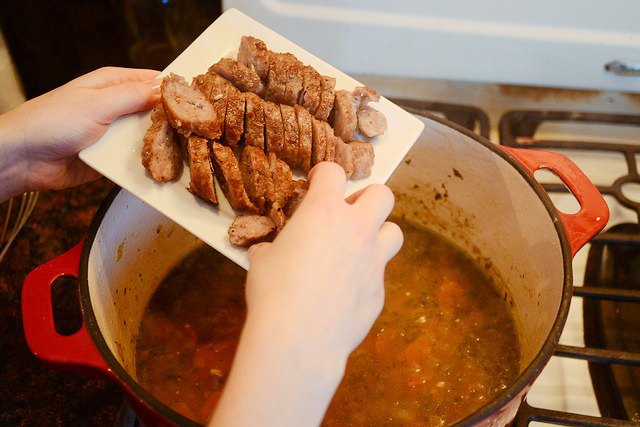 Cooked sausages …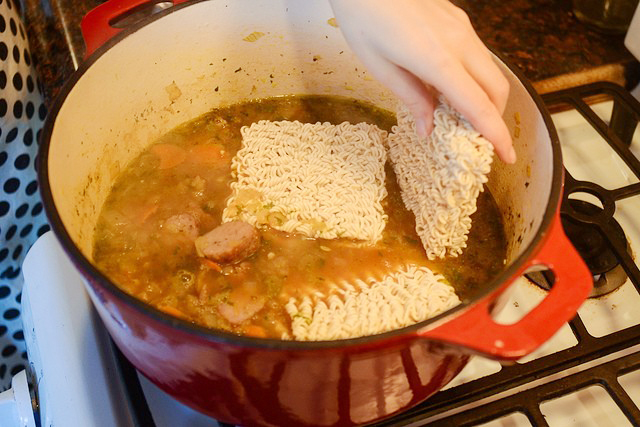 And noodles. Boil until the noodles are cooked to your preferred softness. Taste and adjust the seasonings if necessary. Boil up some eggs to your preferred doneness (I like mine soft boiled, or about 7 minutes).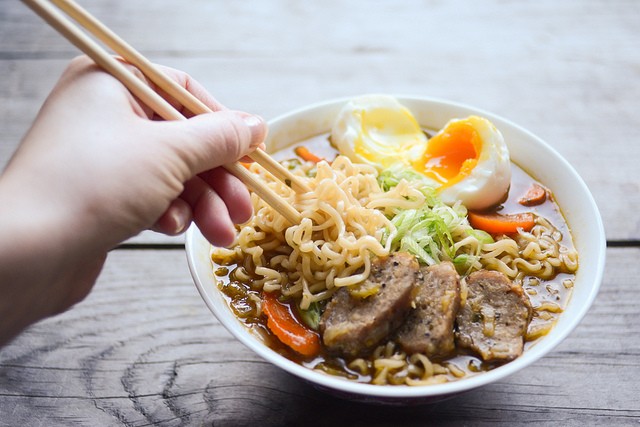 Serve up a big bowl with lots of sausage and an egg and green onions for garnish. Chopsticks optional (don't make fun of my chopstick skills, or lack thereof).
Note: My sister and I thought this was the bomb-diggity, but our husbands thought it was too spicy. If you don't like your ramen with any heat, you may want to scale back on or leave out the hot sauce.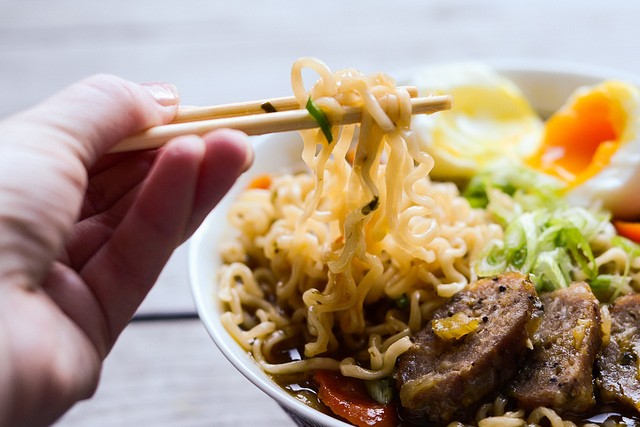 Thank you so much to Justine for sharing this awesome soup with us. Make sure to stop by her blog Cooking & Beer for more recipes. Her Asian Wings look particularly yummy.
Printable Recipe
See post on Justine Sulia (Cooking and Beer)'s site!
Description
This soup brings the subtle flavors of Asian cuisine and wholesome warmth into one great recipe!
Ingredients
3 Tablespoons Olive Oil
1 whole Large Onion, Diced
3 whole Medium-sized Carrots, Diced
2 stalks Celery, Diced
1 teaspoon Salt + More As Needed
1 teaspoon Pepper + More As Needed
3 cloves Garlic, Minced
¼ cups Fresh Parsley, Chopped + More For Garnish
4 cups Low Sodium Beef Broth
1 cup Water
3 Tablespoons Soy Sauce
2 teaspoons Sriracha
½ pounds Asian-style Noodles Or Ramen
3 whole Italian Sausage Links, Fully Cooked And Sliced
4 whole Hard Boiled Eggs For Garnish
¼ cups Green Onions, Chopped For Garnish
Preparation Instructions
In a 5-quart Dutch oven, heat the oil over medium heat. Add the onion, carrots and celery. Season with salt and pepper and cook until tender, about 8 minutes. Add the garlic and the parsley and cook for another 2 minutes or until you begin to smell the garlic. Now, add the beef broth, water and soy sauce. Stir to combine. Bring to a boil then lower the heat to simmer and cook for 20 minutes.
Add the Sriracha, noodles, and sausage and continue to simmer until the noodles are al dente, about 6-7 minutes (or according to package instructions for al dente). Adjust the seasoning by adding more salt, pepper and/or Sriracha.
Serve hot and garnish with hard-boiled eggs, green onions and parsley. Enjoy!


_______________________________________
Newly-married Erica Kastner shares her wonderful recipes and amazing food photography on her blog, Buttered Side Up. She also writes about crafts and posts more of her beautiful photography in her personal blog, Simple Days. There really isn't much that this amazing young wife and mother can't do, and we're thrilled she does some of it here.