As soon as cold weather hits, I get an overwhelming urge to sit on the couch, wrapped in a blanket, with a bowl of soup in my hand for each and every meal. It doesn't really matter what kind of soup it is. If it's hot and it's tasty, I will happily slurp my way into catatonic soup bliss. That being said, there are certain recipes that make it into the "make, eat, repeat" file. This Coconut Curried Sweet Potato Soup by Tasty Kitchen member Jenna falls into that category.
The curry flavors add a depth to this soup, balancing the sweetness of the sweet potato perfectly. Since it is made with coconut milk rather than cream, it can be considered vegan. You will probably want leftovers and, luckily, this soup recipe can easily be doubled.
Let's move on to this amazing recipe.
Preheat the oven to 400ºF. Poke the sweet potato all over with the tines of a fork. Bake the sweet potato on a baking tray for 45 minutes or until very tender.
Remove from the oven and let cool. Once cooled, peel the sweet potato.
Cut the sweet potato into chunks and place it in the bowl of a food processor.
Add the coconut milk …
Vegetable broth …
Salt, curry powder …
Garam masala and cayenne pepper.
Blend until smooth.
Transfer the mixture to a saucepan set over medium heat and cook until heated through. Garnish with chopped cilantro and serve.
Thanks so much to Jenna for this wonderful recipe. Be sure to check out her site, Eat Live Run. If you're like me, you won't be able to click away before you sift through some of Jenna's tempting recipes, such as Crock Pot Creamy Chicken Tortilla Soup or Butternut Spice Blondies.
Printable Recipe
See post on EatLiveRun's site!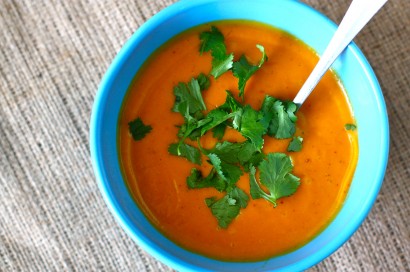 Description
Quick, easy and delicious.
Ingredients
1 whole Large Sweet Potato, Pricked All Over With A Fork
½ cups Light Coconut Milk
1 cup Vegetable Stock
¼ teaspoons Salt
1 teaspoon Curry Powder
½ teaspoons Garam Masala
⅛ teaspoons Cayenne Pepper
Optional Topping: Chopped Fresh Cilantro
Preparation Instructions
Preheat the oven to 400 degrees F.
Bake sweet potato on a baking tray for 45 minutes or until very tender. Remove from oven and let cool. Once cooked, peel it.
In a food processor, blend together sweet potato (minus the skin) and all other ingredients. Then add the mixture into a soup pot over medium heat. You just need to keep it on the heat until everything is heated through. Serve with chopped cilantro on top.


_______________________________________
Dara Michalski is a doll and a sweetheart who clearly knows her way around the kitchen. She blogs at Cookin' Canuck, where she shares her flavor-packed recipes and fun, engaging writing. The photography's pretty incredible, too.