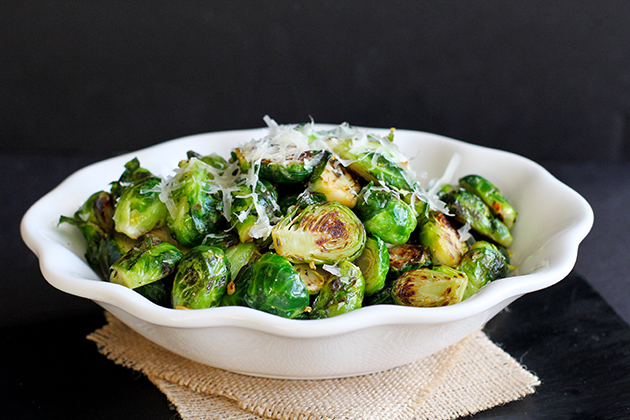 Looking for a side dish that you can make throughout the fall and winter? These Lemon and Garlic Drenched Brussels Sprouts by Tasty Kitchen member Gaby will fit the bill. Honestly, it's hard to resist anything that's drenched in lemon and garlic.
If you have never been a fan of Brussels sprouts (and I get it, because I used to feel the same way), I beg you to try this recipe. When the sprouts cook in the olive oil and begin to caramelize, they turn from those unfortunate Brussels sprouts of your childhood into something magically delicious. Trust me on this one.
Let's get started.
For this recipe, you will Brussels sprouts, olive oil, lemon zest and juice, garlic, salt and pepper. It doesn't get much easier than that!
Trim the ends off the Brussels sprouts and remove the outer layer of each sprout. Often, those outer leaves are a little tough or even slightly shriveled, so you want to ditch those.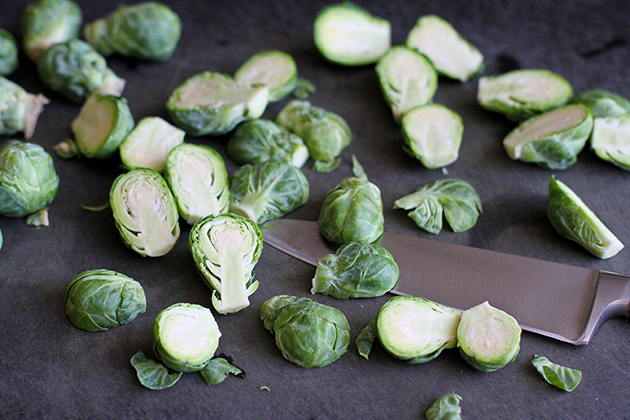 Cut each Brussels sprout in half lengthwise. This will help them cook faster and makes for a really pretty presentation.
Pour the olive oil in a large skillet set over medium heat and let the oil get hot.
Add the Brussels sprouts and cook, stirring occasionally, until the sprouts start to caramelize and turn that gorgeous golden brown color. The insides of the Brussels sprouts should be tender when pierced with a fork.
While the Brussels sprouts are cooking, mince some garlic.
Add all of that fragrant garlic to the sprouts about halfway through cooking. Now it's time to do some more frequent stirring so that the garlic doesn't burn.
Once the Brussels sprouts are cooked, turn the heat to low and grate in the lemon zest. This adds an amazing bright flavor!
Squeeze the lemon juice into the pan and stir well to coat the sprouts.
Transfer the Brussels sprouts to a serving dish and sprinkle that nutty grated Gruyere cheese over top. Heavenly!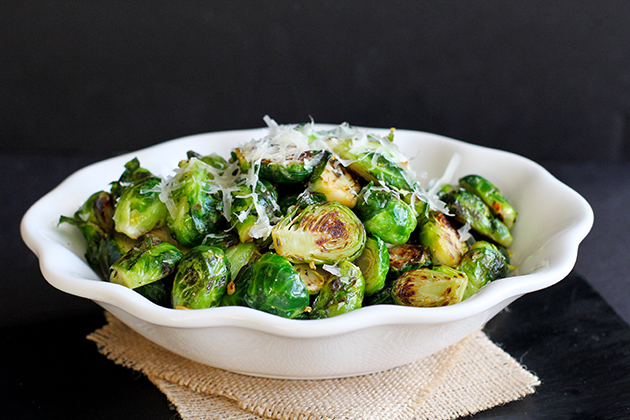 Thanks so much to Gaby for this wonderful recipe. Be sure to check out her site, What's Gaby Cooking. It is filled with recipes that will make you ravenously hungry. Her Caramel Brownies and Avocado Mushroom Toast are making my mouth water!
Printable Recipe
See post on whatsgabycooking's site!
Description
These lemon-and-garlic-coated Brussels sprouts are healthy, delicious and the perfect side dish for starting off the new year!
Ingredients
2 pounds Brussels Sprouts
4 Tablespoons Olive Oil
5 cloves Garlic
1 whole Lemon, Zest And Juice
3 Tablespoons Gruyere
Salt And Pepper, to taste
Preparation Instructions
Clean the Brussels sprouts by trimming off the ends and peeling the outer layer of the sprout off. Cut each one in half. Heat the oil in a large skillet over medium high heat. Once heated, add the halved Brussels sprouts to the pan and saute for about 7-8 minutes on each side until the outer part is a caramelized brown and the inside is soft and fully cooked. Add the garlic halfway through the cooking. Reduce the heat to low and add the lemon zest, juice, salt and pepper. Stir to combine and taste. Adjust seasoning if needed. Add the cheese on top and serve.


_______________________________________
Dara Michalski is a doll and a sweetheart who clearly knows her way around the kitchen. She blogs at Cookin' Canuck, where she shares her flavor-packed recipes and fun, engaging writing. The photography's pretty incredible, too.