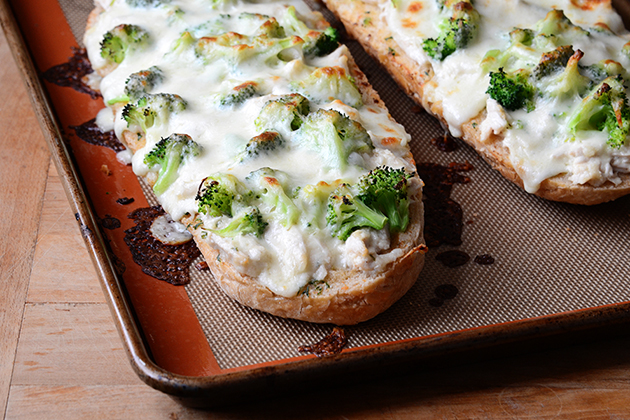 Tasty Kitchen member Jennifer is the mastermind behind the brilliant idea that is Chicken Alfredo Garlic Bread Pizza.
Did you hear that? Chicken Alfredo. Garlic Bread. Pizza. All rolled into one!
Those are three pretty fantastic reasons to make this recipe.
This is perfect as an appetizer, party finger food, or even a weeknight main dish along with a side salad. It literally has layer upon layer of flavor: buttery garlic bread spread, then chicken in a creamy Alfredo sauce, broccoli, and finally a layer of gooey cheese. It doesn't get any more satisfying.
You know you want to make it!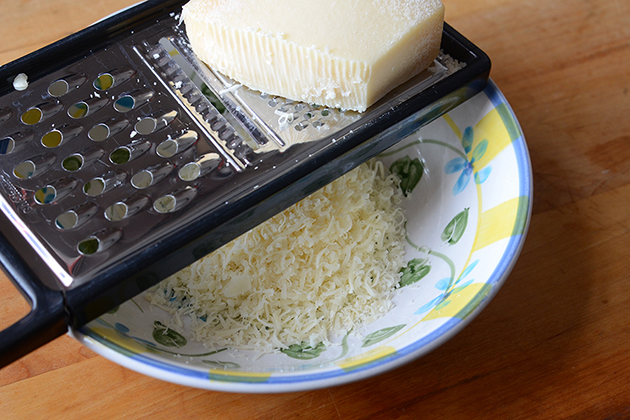 The recipe starts off by shredding a couple different kinds of cheese. First, some Parmesan for making the Alfredo sauce …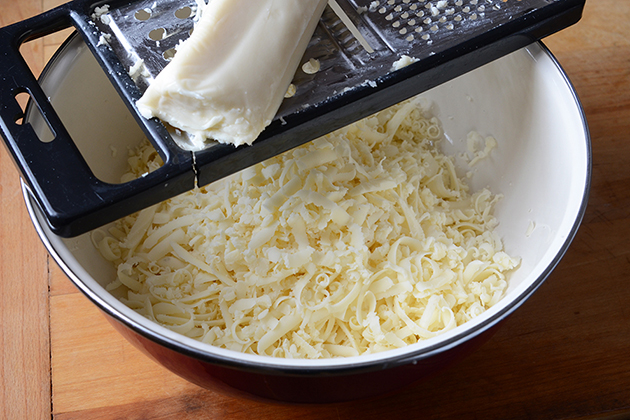 And mozzarella for topping. Mmm, cheese.
The ingredient list is fairly short for something so delicious! You'll need cooked, shredded chicken, steamed broccoli, butter, half and half, mozzarella cheese, Parmesan cheese, parsley flakes, garlic powder, salt, pepper, a loaf of Italian bread, and a clove of garlic (which I think was hiding behind my bread in the photo above!).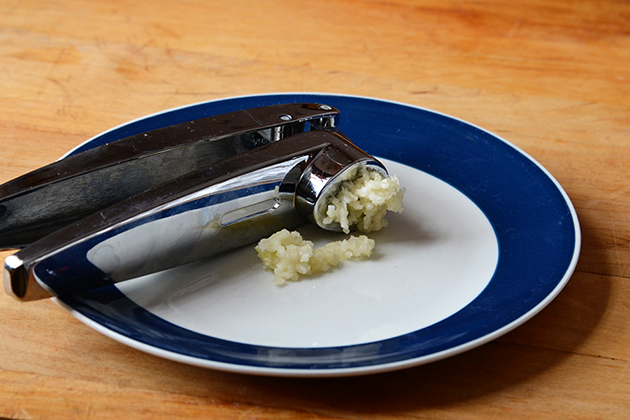 Press or mince the garlic.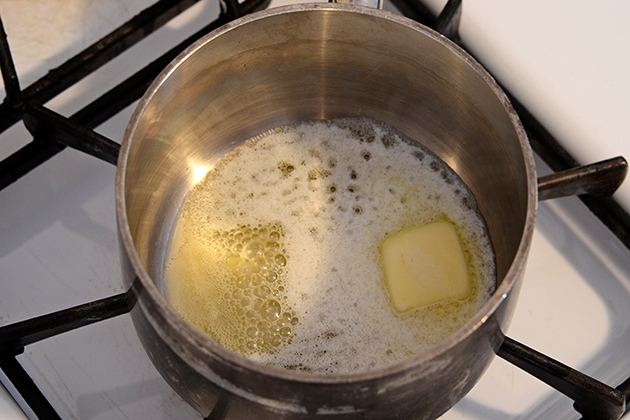 Melt the butter.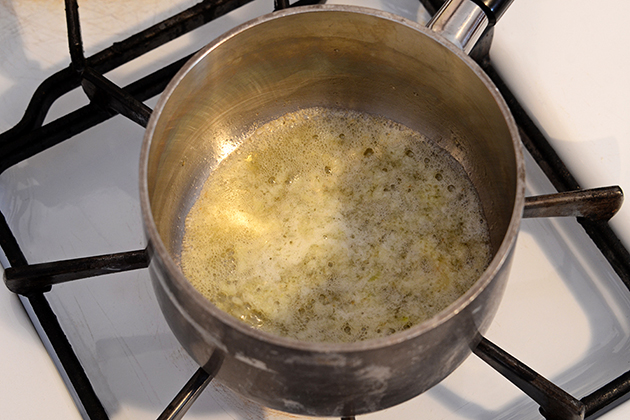 Add the garlic and cook for a minute.
Slowly stir in the half-and-half. I had a little bit of a half-and-half mishap while trying to simultaneously stir, slowly pour, and shoot a picture. I won't get into it but suffice to say, you'll have to use your imagination to visualize the adding of the half-and-half.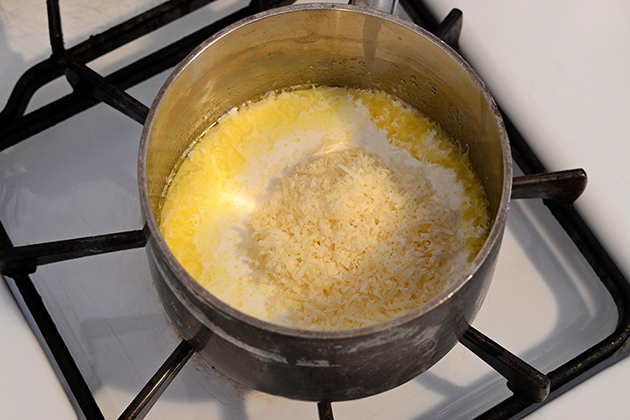 Add the Parmesan cheese.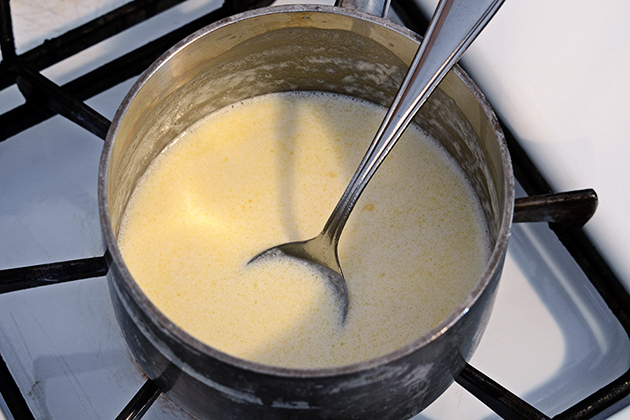 Give it a stir, cooking a couple minutes until thickened.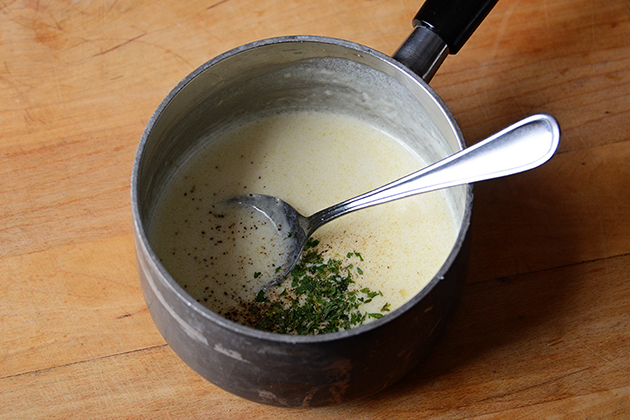 Take the Alfredo sauce off the heat and add parsley flakes, salt, and pepper. Try not to eat it with a spoon.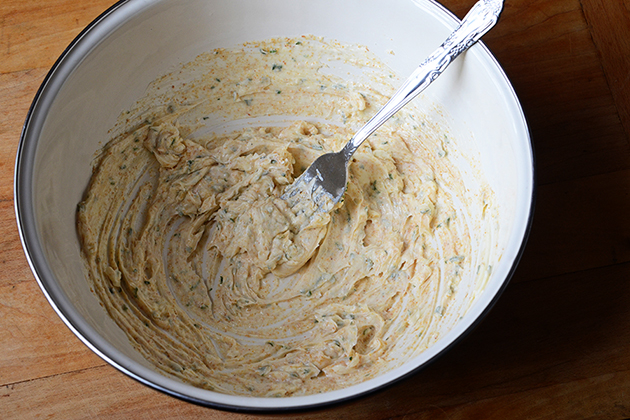 For the garlic bread, blend together more butter, garlic powder, and more parsley flakes in a bowl.
In another bowl, stir together the chicken and Alfredo sauce.
Preheat the oven to 375ºF. Line a large baking sheet with foil or a Silpat liner. (I was out of foil.)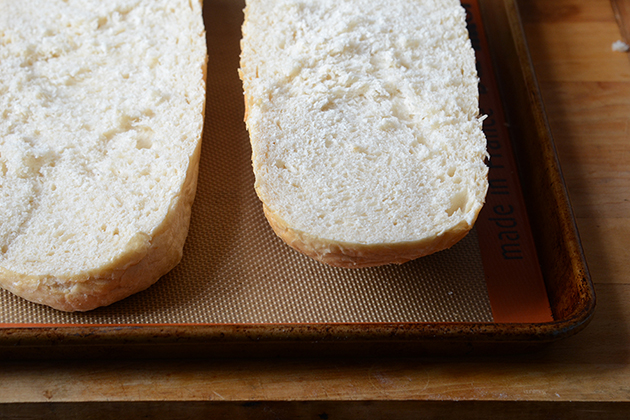 Slice the loaf of bread in half lengthwise and place it on the prepared baking sheet.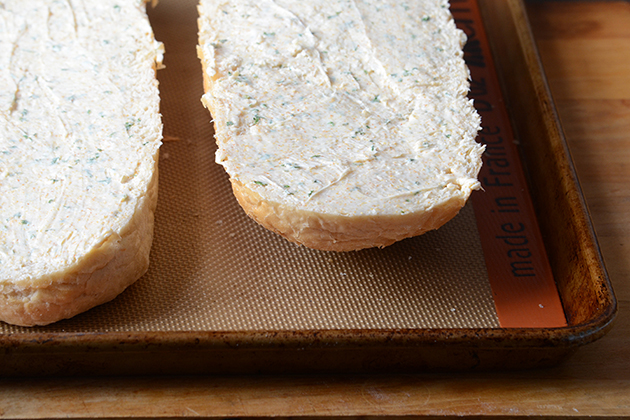 Top with the butter spread.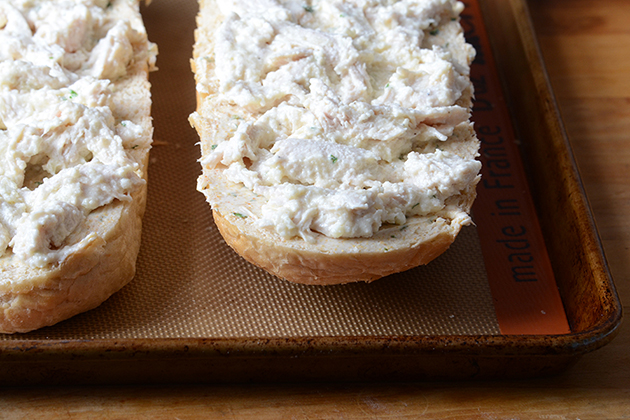 Then the chicken-Alfredo mixture.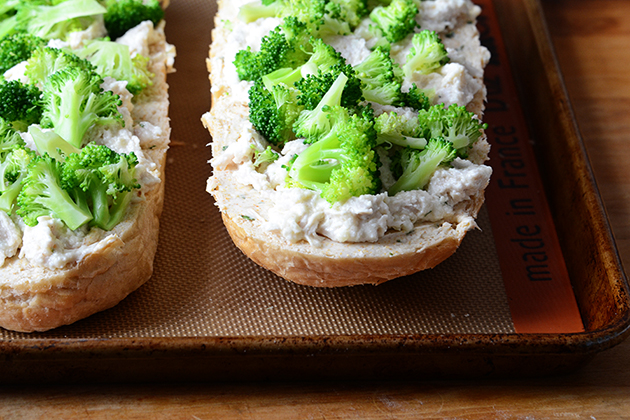 And the broccoli …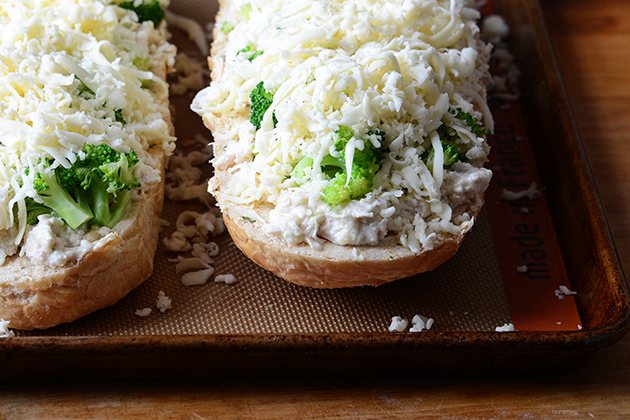 And then finally that beautiful mountain of mozzarella.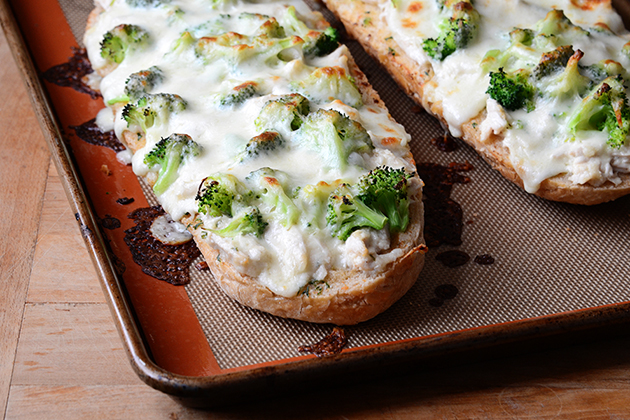 Bake until the cheese is melted, about 15 to 18 minutes. I wanted my pizza browned a bit in places, so I briefly ran it under the broiler after the cheese was melted (after about 15 minutes). Stay with it if you decide to broil though—it can go from perfect to burned in a matter of seconds!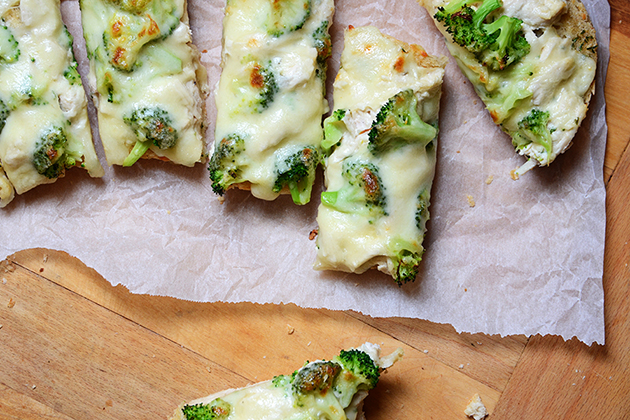 Slice it up and serve.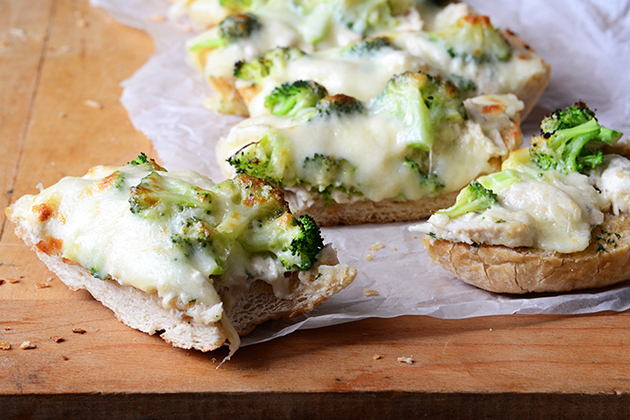 Just try to resist a slice! Give it a try and I'm sure you'll have found a new favorite way to enjoy garlic bread, chicken Alfredo, and pizza. Thank you to Jennifer for the delicious inspiration. Be sure to check out the great recipes on her lovely blog Mother Thyme!
Printable Recipe
See post on Jennifer | Mother Thyme's site!
Description
Crusty Italian bread smothered with garlic butter and topped with Alfredo sauce, chicken and cheese for one tasty pizza.
Ingredients
FOR THE ALFREDO SAUCE:
2 Tablespoons Butter
1 clove Garlic, Minced
½ cups Half And Half, Regular Or Fat Free
1 cup Grated Parmesan Cheese
1 pinch Parsley Flakes
1 pinch Freshly Cracked Black Pepper
Salt To Taste
FOR THE PIZZA ASSEMBLY:
1 loaf Italian Bread
½ cups Butter, Room Temperature
2 teaspoons Garlic Powder
½ teaspoons Parsley Flakes
1-½ cup Cooked Chicken Shredded
2 cups Cooked Broccoli Florets (a Steamable Bag Works Great)
3 cups Shredded Mozzarella Cheese
Preparation Instructions
For the Alfredo sauce:
Melt butter in a medium saucepan over medium heat. Then add garlic and cook for about one minute longer. Gradually stir in half-and-half followed by Parmesan cheese and continue stirring until blended and sauce thickens.
Reduce heat to a simmer, stirring occasionally until heated through.
Remove from heat. Stir in parsley flakes, pepper and salt.
For the pizza:
Preheat oven to 375 F. Line a large baking sheet with aluminum foil and set aside. Slice Italian bread in half lengthwise. Put the bread halves onto the sheet, cut side up.
In a medium bowl mix butter, garlic powder and parsley flakes until blended. Generously spread over bread.
In a medium bowl toss chicken with prepared Alfredo sauce. Spread evenly over the Italian bread slices. Top with broccoli then sprinkle with cheese.
Bake for 15-18 minutes until cheese is melted. Cut into desired slices and serve.
Note: Leftover chicken, store bought rotisserie chicken works great for this recipe.


_______________________________________
Faith Gorsky is the writer, receipt developer, photographer, and food stylist behind the blog An Edible Mosaic, and the cookbook author of An Edible Mosaic: Middle Eastern Fare with Extraordinary Flair (Tuttle Publishing; November 2012). She was born, raised, and spent most of her life in Upstate New York, and she currently lives in Kuwait. When it comes to cooking, her favorite thing to do is go into the kitchen hungry, open the fridge, and start creating. She loves to travel, especially to places steeped in rich culture and history. She also enjoys reading (cookbooks mostly), vintage shopping (especially in old markets), watching movies (of all genres), and is enamored with ancient cultures (especially Rome and Egypt.