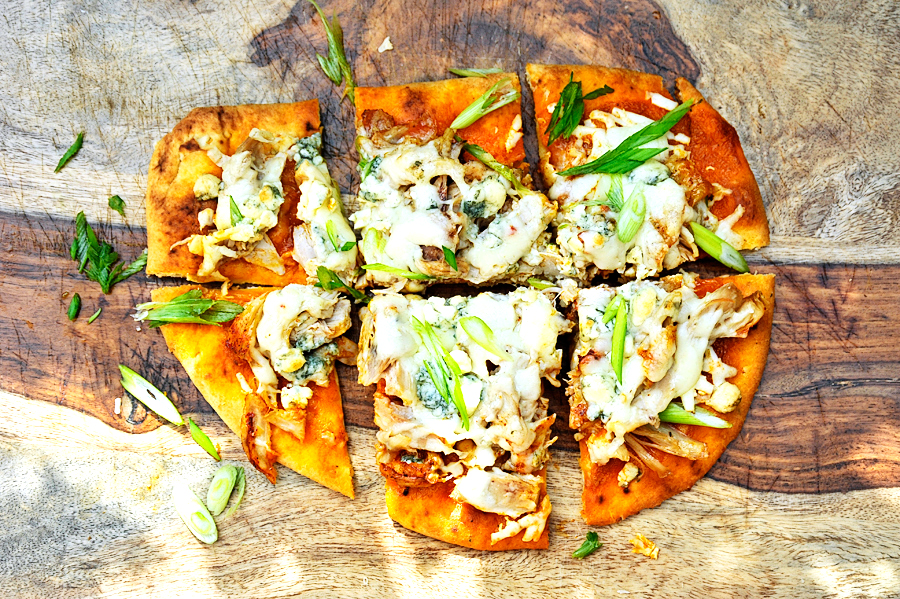 I have a thing for Frank's Red Hot sauce, so when I saw this Buffalo Chicken Flatbread Pizza from TK member (and fellow TK Blog contributor) Laurie, I knew this was a recipe for me. The combination of roasted chicken and salty tangy blue cheese along with this special sauce was heavenly. You really want to try this one! Especially if you have leftover roasted chicken or any other meat on hand.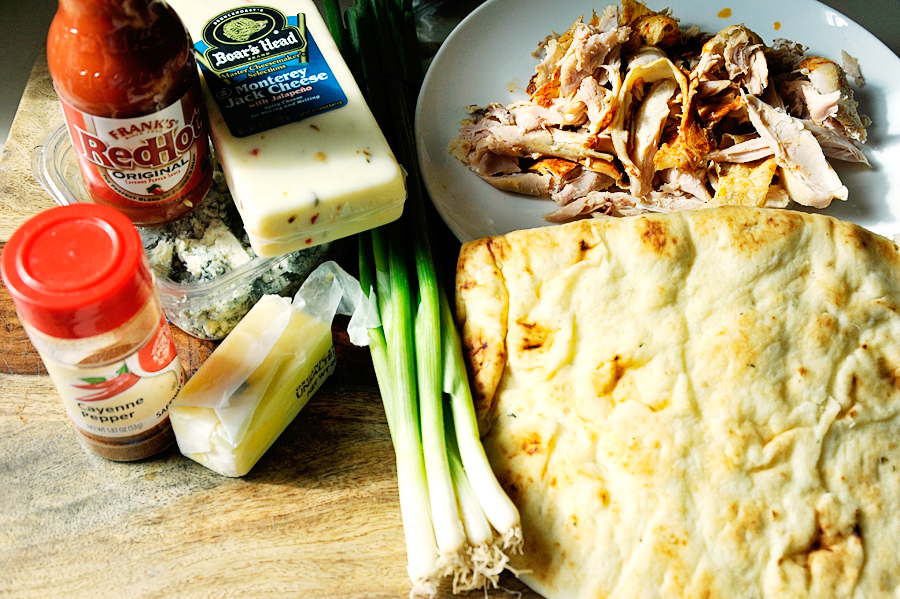 To make it you will need: garlic naan, green onion, roasted chicken, butter, cayenne, Frank's Red Hot, blue cheese and pepper jack cheese.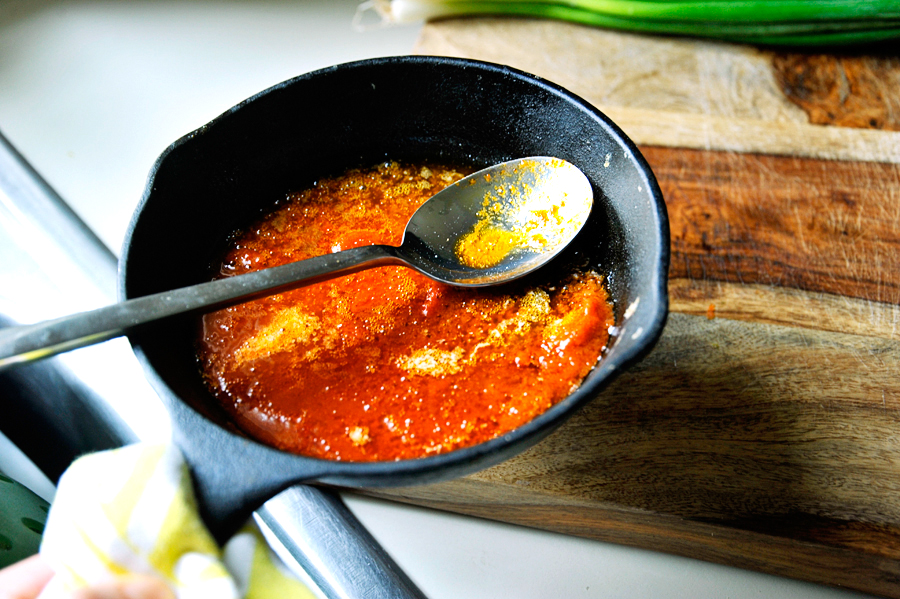 In a small saucepan over low heat, combine the Frank's, butter, cayenne, salt and pepper. Whisk until combined and slightly bubbling and remove from the heat.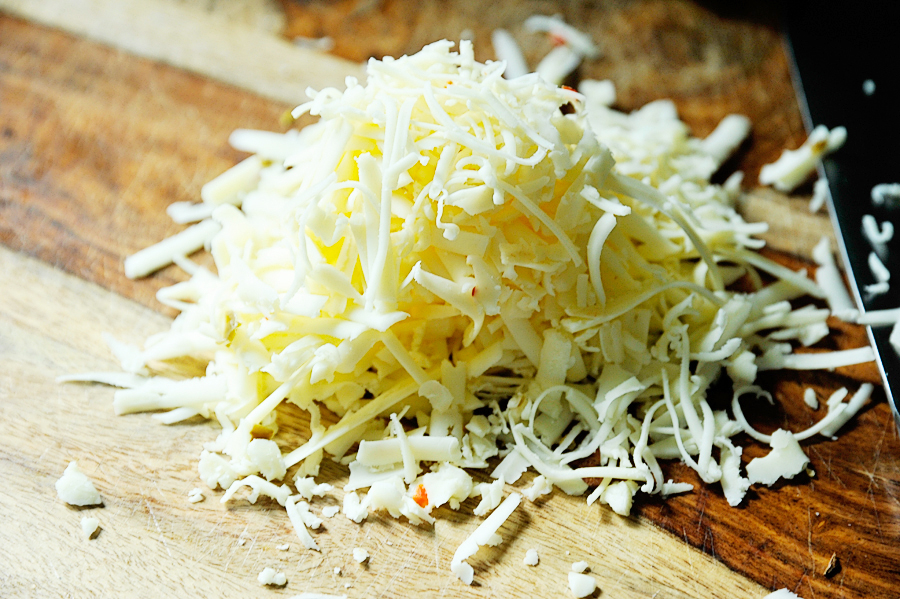 Meanwhile, shred your cheese!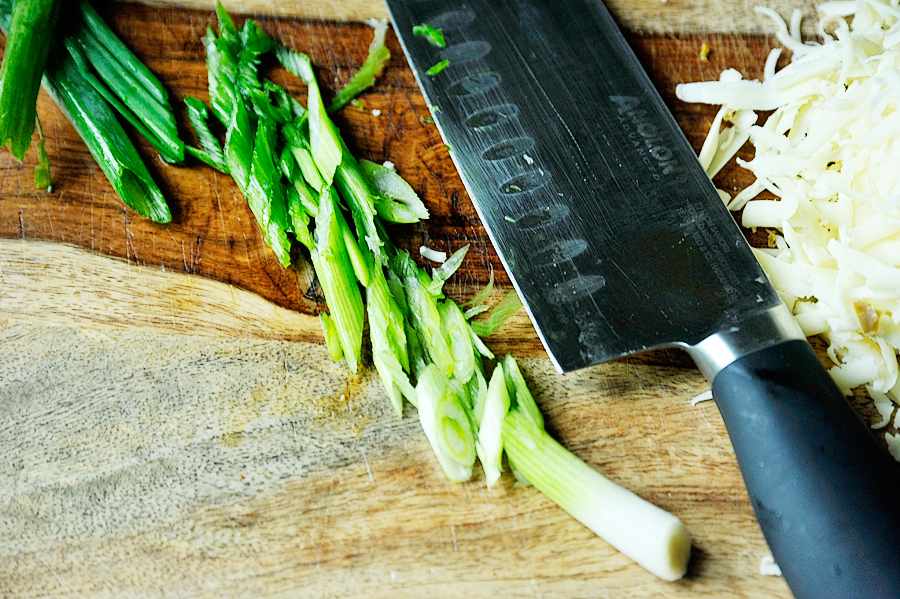 And dice your green onion.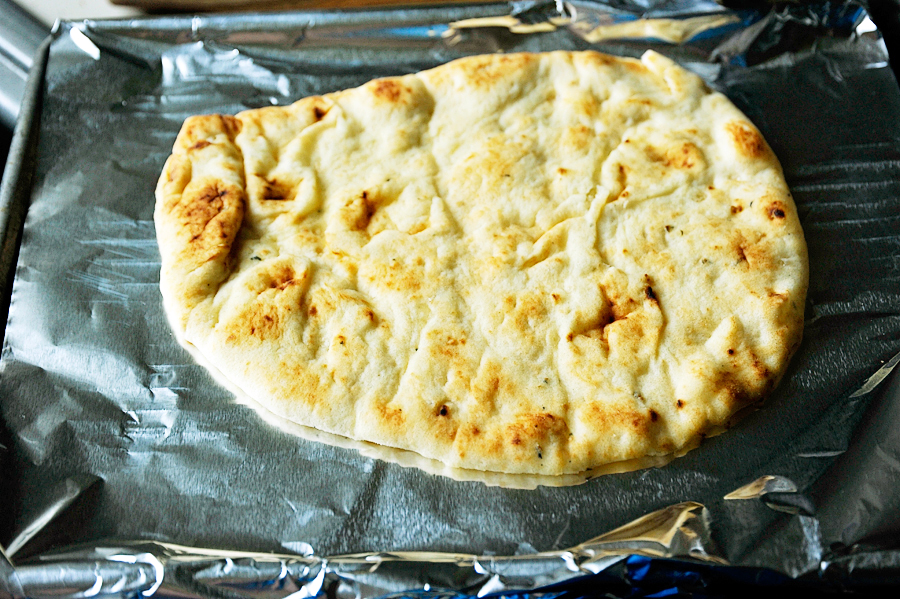 Preheat the oven to 425ºF and lay the naan on a baking sheet covered in foil or sprayed with cooking spray.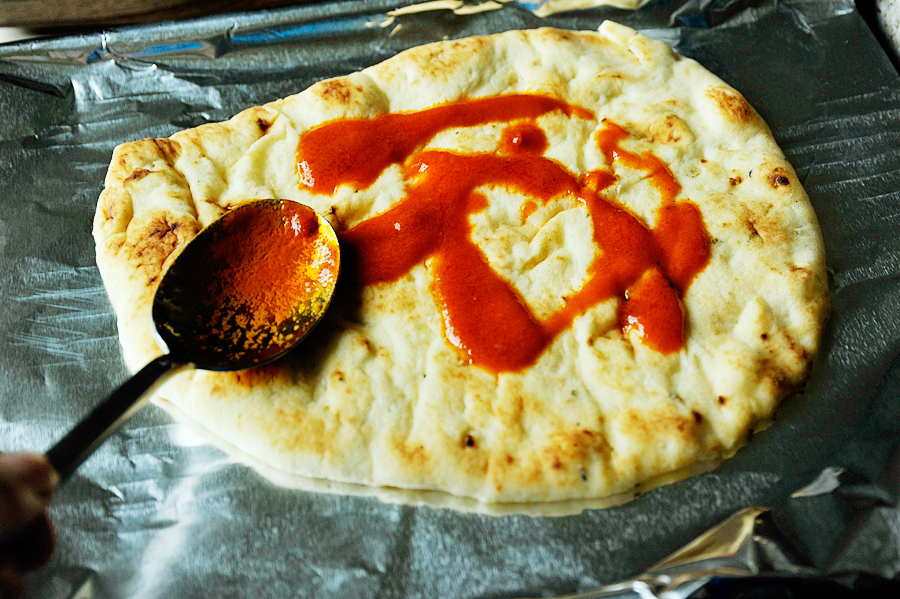 Spoon the Buffalo sauce all over the naan …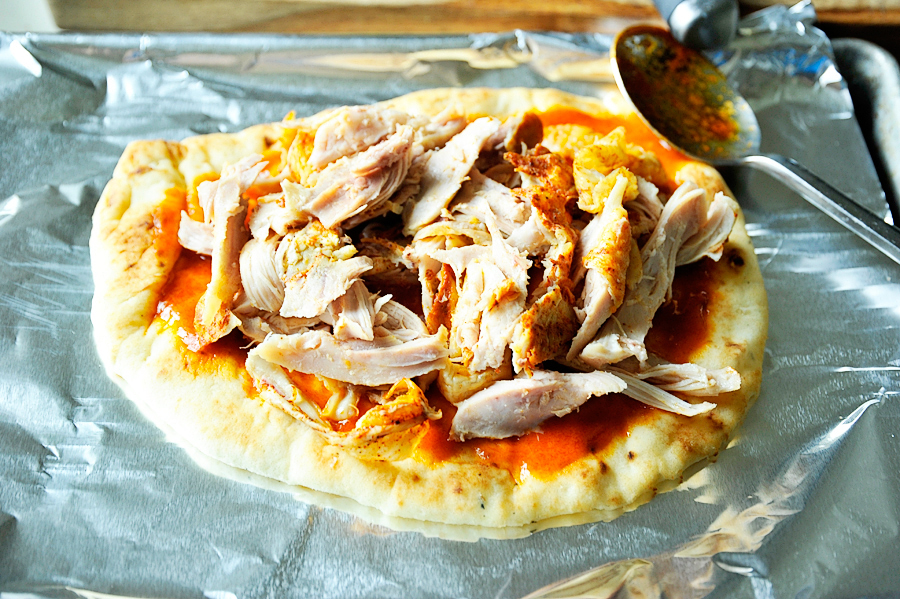 Pile on the roasted chicken …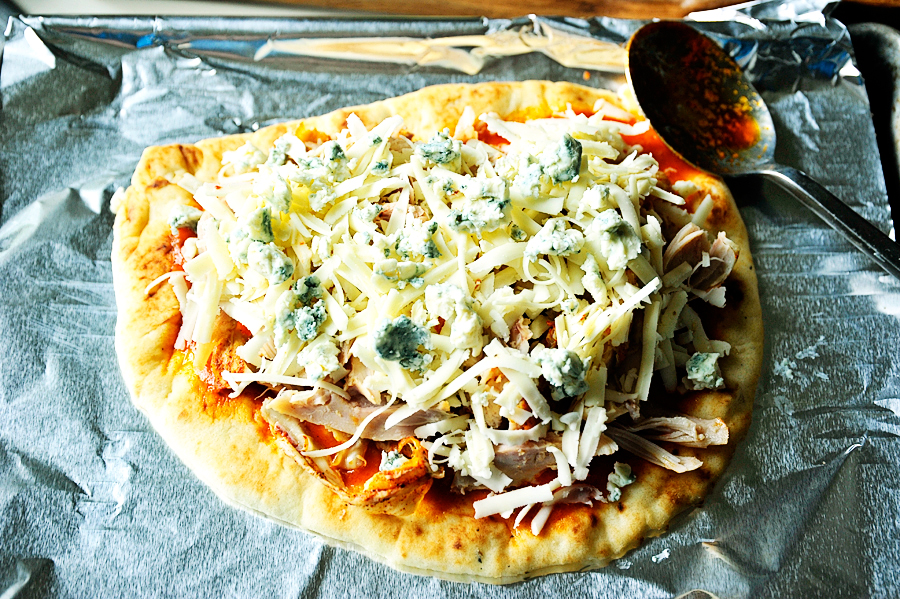 Then the blue cheese and pepper jack. Pop it in the oven for 10-12 minutes, until the cheese is melted and the naan is browned and crispy.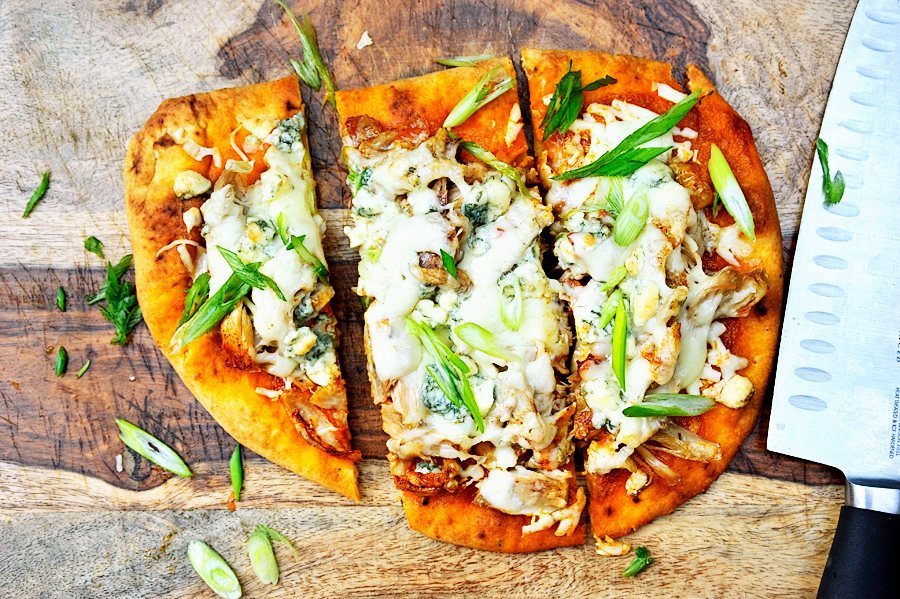 Top it with green onions and slice it into pieces. Small sizes make it a great appetizer!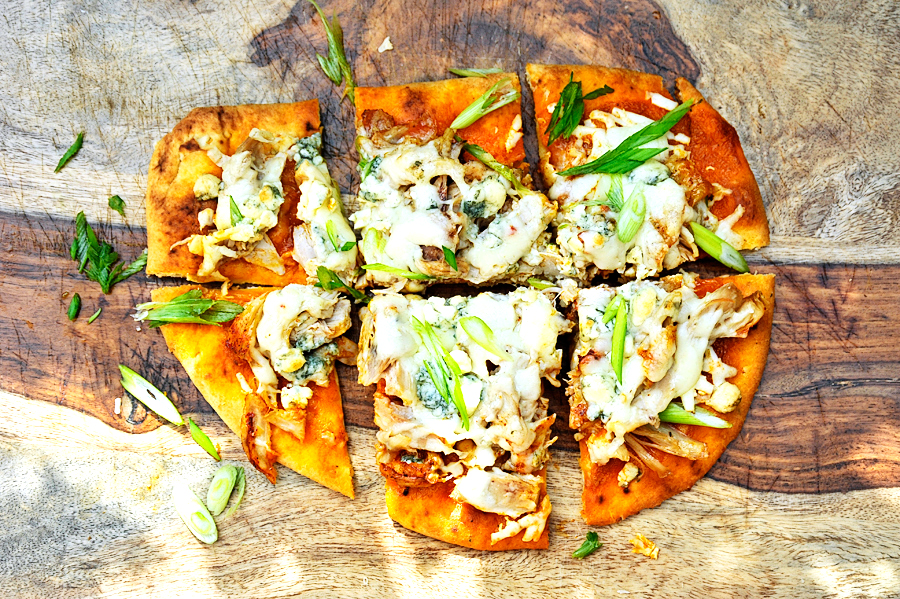 These delicious bites will not last; the salt and tang and crunch are oh-so-addictive. Thank you Laurie for another winner. Visit her website Simply Scratch for more delicious treats!
Printable Recipe
See post on Laurie - Simply Scratch's site!
Description
All things Buffalo, in pizza form.
Ingredients
1 cup Frank's Red Hot Sauce
4 Tablespoons Unsalted Butter
½ teaspoons Cayenne Pepper, More Or Less To Taste
Kosher Salt And Black Pepper To Taste
2 whole Garlic-flavored Naan
2 cups Cooked And Shredded Chicken
1 cup Grated Farmers Or Monterey Jack Cheese
2 Tablespoons Blue Cheese, Crumbled
2 whole Green Onions, Sliced And Roughly Chopped
Preparation Instructions
In a small saucepan over low heat combine the Frank's hot sauce, butter, cayenne, salt and pepper. Whisk until combined then remove from heat.
Preheat your oven to 425 F and lightly spray a rimmed aluminum baking sheet with cooking spray.
Place the two naan on the sheet pan and then spoon the desired amount of Buffalo sauce onto both, spreading to cover most of the naan but leaving an uncovered space around the edge. Then top each with shredded cooked chicken, shredded farmers or monterey jack cheese and then sprinkle with the crumbled blue cheese. Drizzle a little bit more of the Buffalo sauce over the top and save the rest for a different recipe.
Bake in the oven for 10-12 minutes or until the naan is crispy and the cheese is melted and slightly golden brown in spots.
Remove it from the oven, let the pizzas cool before slicing and then top with sliced green onions.


_______________________________________
There's so much to say about Georgia, we don't know where to start. Leaving Wall Street for the French Culinary Institute, followed by a stint at the Gramercy Tavern and La Chassagnette in France, her passion for food and food traditions are evident and inspiring. Visit her site at Georgia Pellegrini, where you'll find more recipes, photos, learn all about her wonderful books Girl Hunter and Food Heroes, and enjoy her latest adventures.