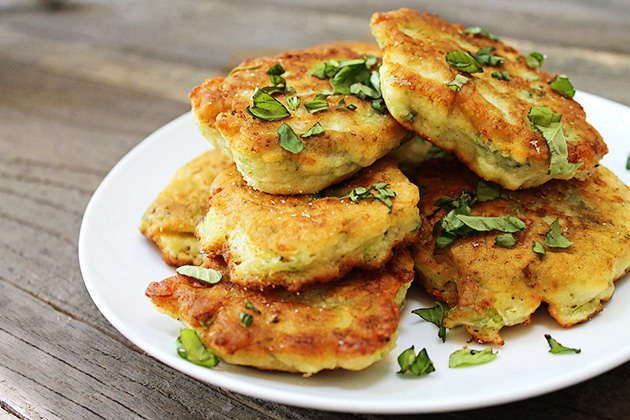 These Zucchini Blossom Fritters are a family recipe shared by TK member Katie. They are wonderfully unique, and contain the delicious flowers that bloom from a zucchini plant before the fruit forms. We're coming up to zucchini season, so if you can find the blooms in your market or your own garden, you should definitely try this using fresh zucchini blossoms! Since the blossoms can be difficult to find in some locales, we were inspired to use grated zucchini instead. With this slightly modified dish, you can now now enjoy a batch of fritters anywhere and any time of the year!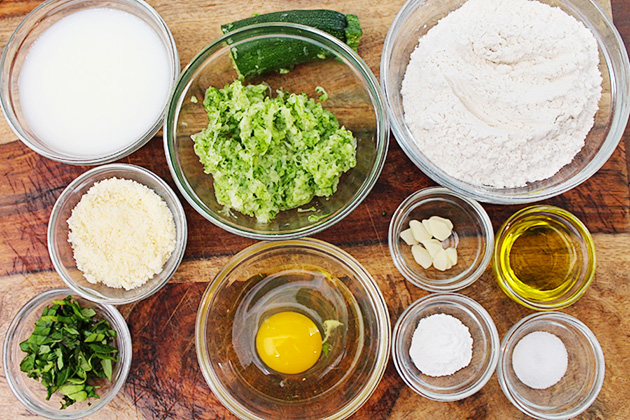 To make the fritters you will need: extra virgin olive oil, grated Parmesan cheese, flour, milk, a whole egg, sliced garlic, baking powder, fresh basil, Salt, ½ cup grated zucchini (or 7-8 squash blossoms if you can get them), and cooking oil for frying. Try your best to drain the zucchini of excess moisture.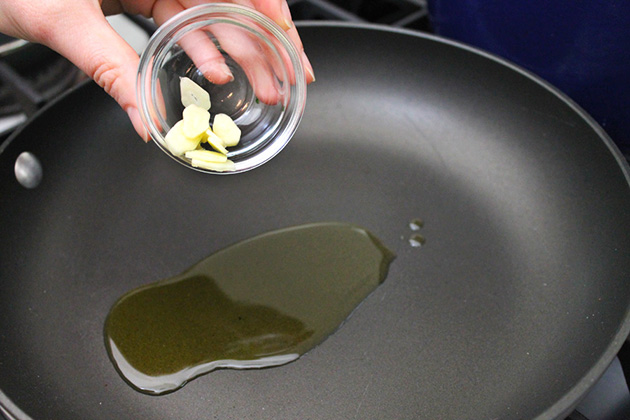 Heat the olive oil in a pan and sauté the garlic over medium high heat until lightly browned.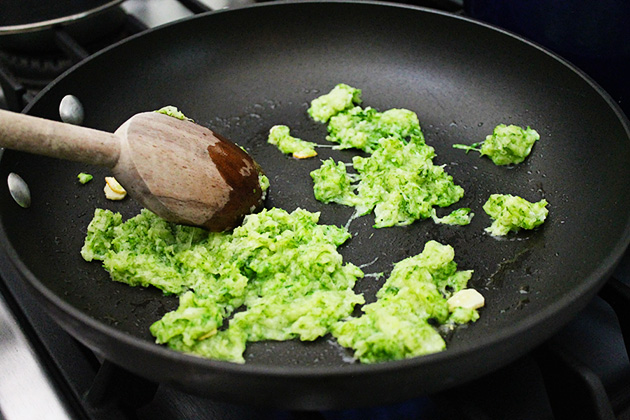 Add the grated zucchini and continue to sauté until cooked through and most of the watery liquid has cooked off.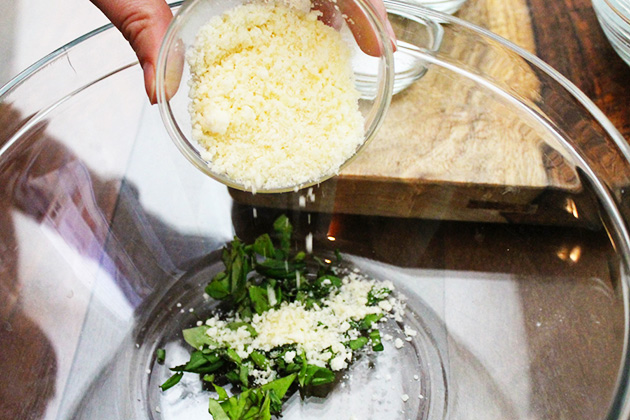 Next, in a large bowl add 1 tablespoon of freshly chopped basil and 3 tablespoons of grated parmesan cheese.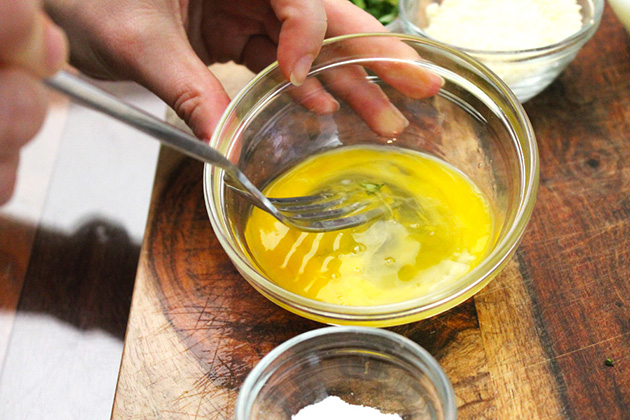 Whisk the egg, and then add it to the large bowl.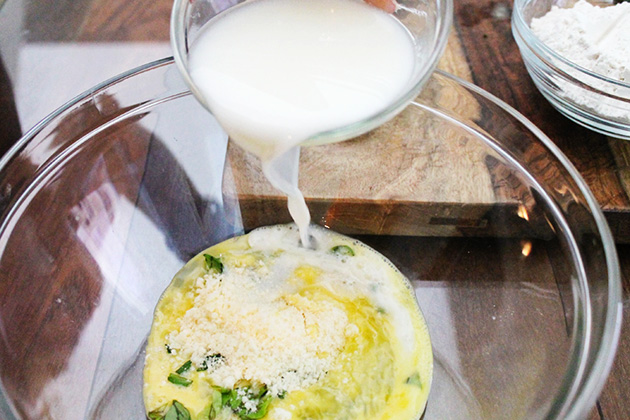 Pour ½ cup milk into the large bowl as well. Start whisking all of these ingredients together.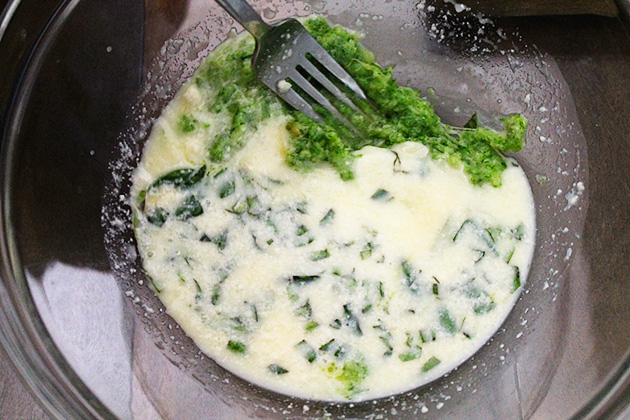 Add the zucchini mixture and give it a stir.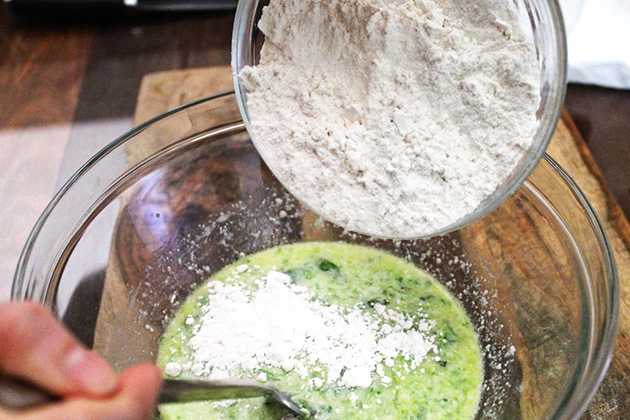 In a separate bowl, combine 1 cup flour, 1 teaspoon baking powder, and ½ teaspoons salt.
Combine the dry ingredients into the wet ingredients.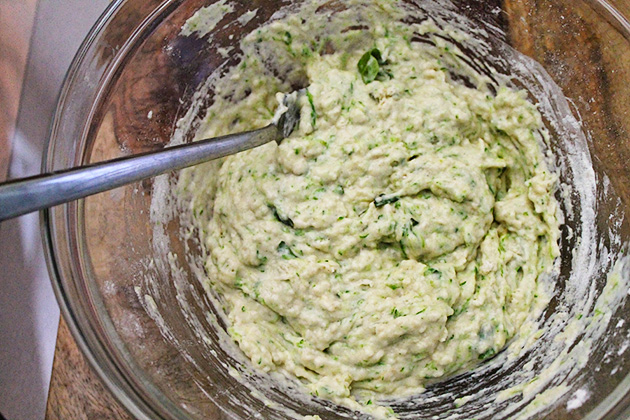 Mix everything together until it is a little thicker than pancake batter.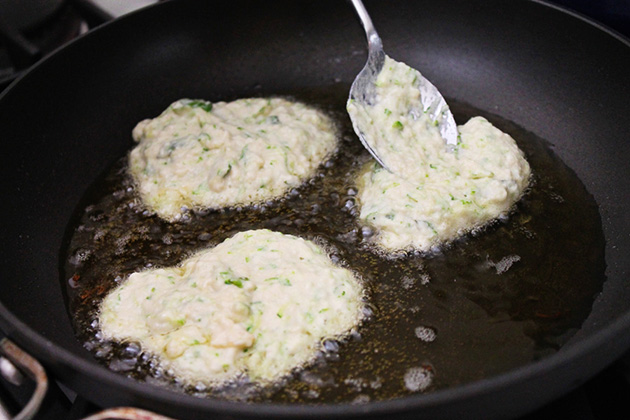 Pour about ¼ inch of oil into a skillet; heat over medium high heat. Scoop the batter (a full tablespoon) and drop it into the hot oil. Gently press down on the top of the fritter with a spoon to flatten.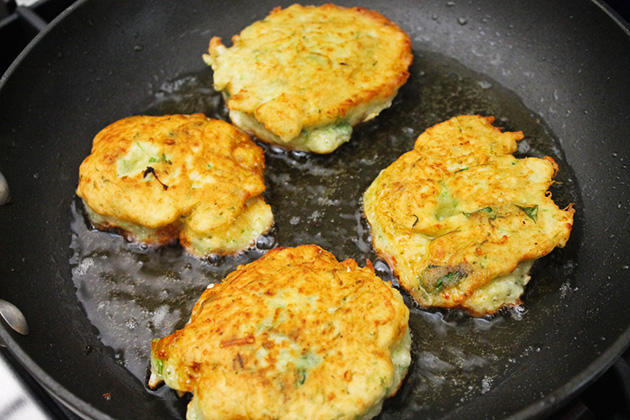 Once you have placed a few in the pan, fry the fritters until golden brown on one side, about 3–4 minutes. Flip them over and continue to fry for an additional 3-4 minutes.
Remove from the pan and place onto a plate covered with paper towels (the towels soak up the excess oil). Let cool.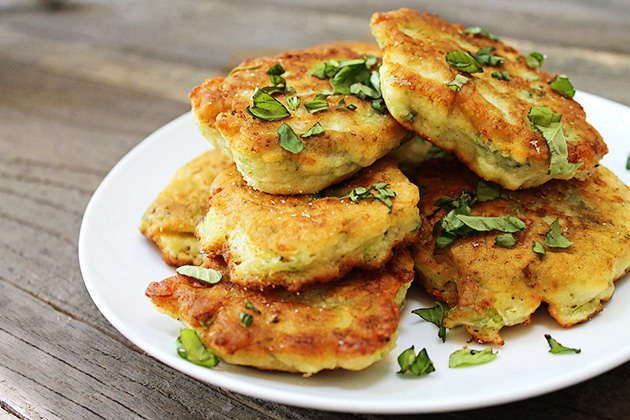 All golden brown and delicious, your fritters are now complete. Top with additional chopped basil or brush the tops with butter. Enjoy them while they are still warm, crispy, and full of goodness. They make the perfect appetizer, party food, or afternoon lunch and would work well with all kinds of condiments, from crème fraiche to diced ham.
Go check out more recipes from Katie in her TK recipe box or the recipe index of her blog, The Parsley Thief!
Printable Recipe
See post on theparsleythief's site!
Description
Zucchini blossoms are the edible flowers that grow from a zucchini plant. In this family recipe, the flowers are lightly sauteed in garlic, then chopped and used as the base for a fritter batter, along with fresh basil and Parmesan cheese. They're delicious!
Ingredients
8 whole Squash Blossoms
1 clove Garlic, Sliced
1 Tablespoon Olive Oil
1 Tablespoon Chopped Fresh Basil Leaves, Plus More For Optional Garnish
3 Tablespoons Freshly Grated Parmesan Cheese
1 whole Egg
½ cups Milk
1 cup Flour
1 teaspoon Baking Powder
½ teaspoons Kosher Salt
Vegetable Oil, For Frying
Preparation Instructions
Prepare the squash blossoms by inspecting each flower for dirt, or bugs (little critters do like to hide inside them). Give them a gentle rinse with water and dry with paper towels. Remove the pistil from inside each flower. Note: For this application, it's fine to cut a slit alongside the length of each flower, to make removal easier. You wouldn't want to do this if you were stuffing the blossoms. I also like to remove the little green spikes from around the stem of the flowers.
Saute the blossoms with the garlic and olive oil, in a skillet over medium high heat until softened and lightly browned. Remove from the skillet and coarsely chop. Transfer to a bowl and add in the chopped basil leaves, Parmesan cheese, egg, and milk. Use a fork to gently beat the ingredients together. In a separate bowl, whisk together the flour, baking powder, and salt. Pour the wet ingredients into the bowl and stir to combine. The mixture should be slightly thicker than pancake batter. If needed, add in a bit more milk.
Pour enough vegetable oil into a skillet to coat the bottom by about a 1/4″; heat over medium high heat. Scoop the batter by the heaping tablespoonful and drop into the hot oil. Use the back of a spoon to flatten each fritter slightly. Cook until golden brown, about 3 minutes. Flip the fritter over and brown the other side. Transfer to a paper towel-lined plate. Sprinkle lightly with some coarse salt and chopped fresh basil. Serve while hot.


_______________________________________
There's so much to say about Georgia, we don't know where to start. Leaving Wall Street for the French Culinary Institute, followed by a stint at the Gramercy Tavern and La Chassagnette in France, her passion for food and food traditions are evident and inspiring. Visit her site at Georgia Pellegrini, where you'll find more recipes, photos, learn all about her wonderful books (including her latest one, Modern Pioneering, and enjoy her latest adventures.