Lamb lovers, you will love me for this one. Ok, actually, you will love Tasty Kitchen members (and sisters!) Vanessa and Ingrid for this one. Their recipe for Lamb Meatballs in a Spicy Curry might seem like an ordinary meatball recipe, but the secret is in the sauce. Truthfully, these are no ordinary meatballs. Drown meatballs in a curry that's spiced just right, and they become a fun and exotic meal. And as far as curries go, this one comes together pretty quickly!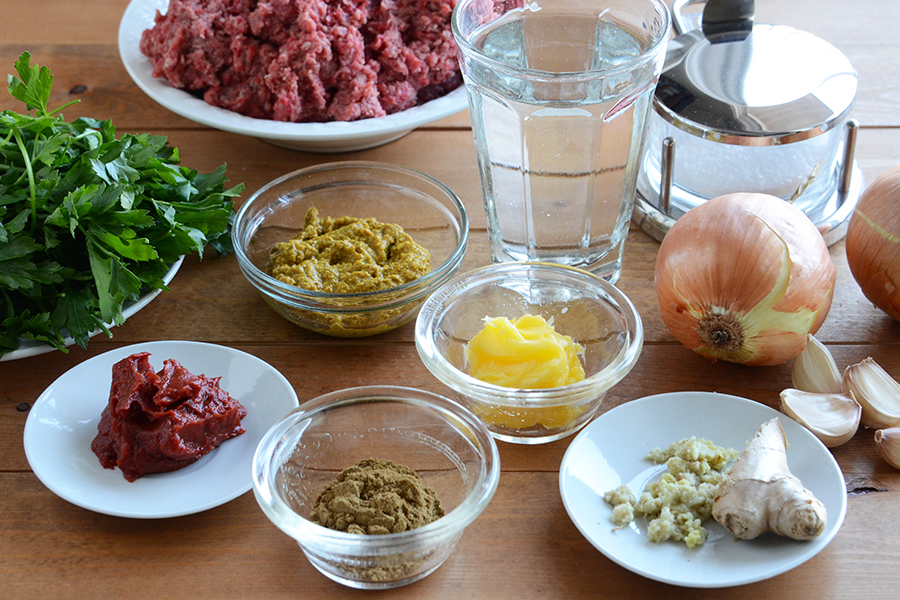 To get started, get out the ingredients you'll need: lamb, Madras curry paste (I used homemade curry paste but store-bought is fine), water, salt, onion (I used 2 medium onions instead of 1 large onion), garlic, fresh ginger, ghee (or you can use butter), tomato paste, and parsley (instead of cilantro). You can use cilantro (fresh coriander leaves), but I am one of the unfortunate cilantro-averse people who taste soap instead of the loveliness that everyone else tastes when they eat cilantro. It's genetic, what can I say? Such a shame though.
Alright, I'm over it.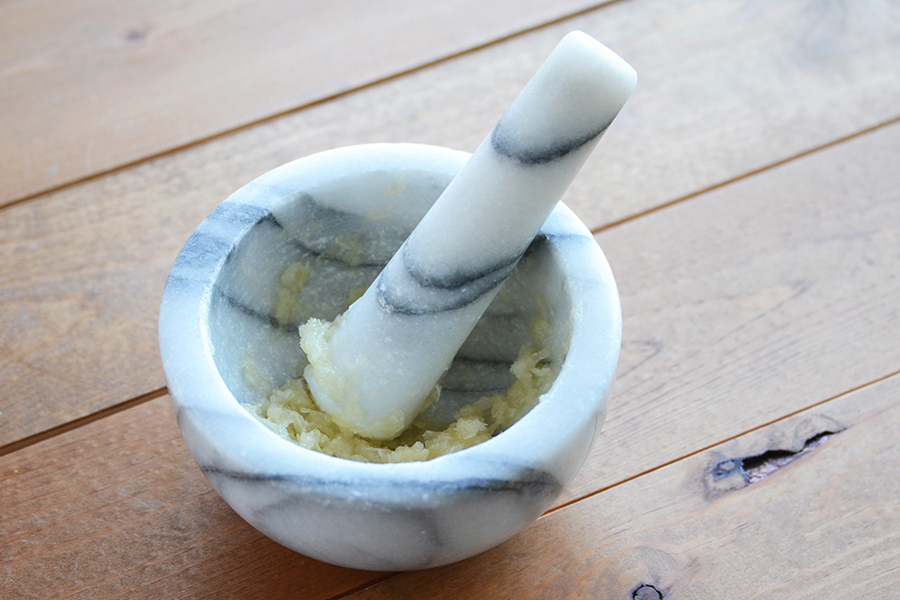 Crush the garlic.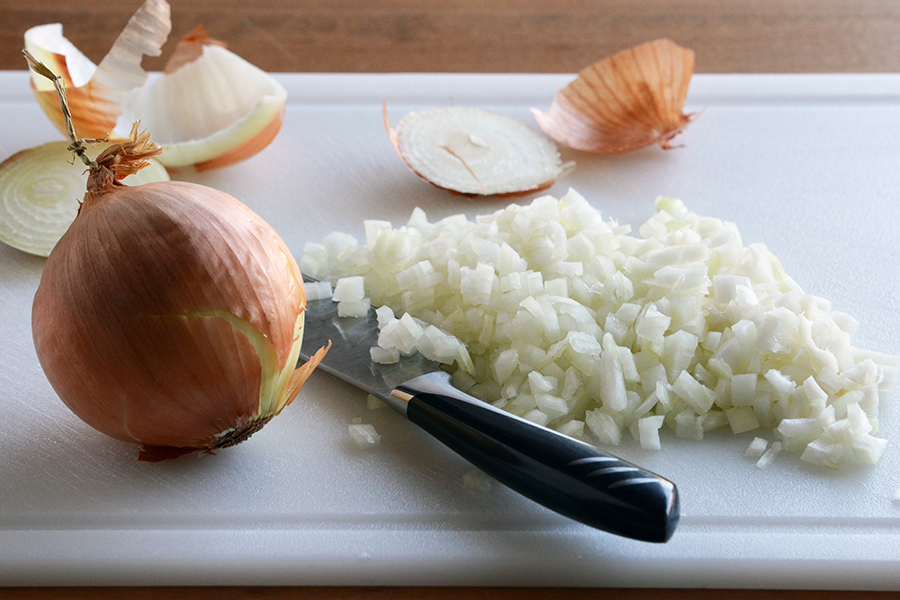 Dice the onion.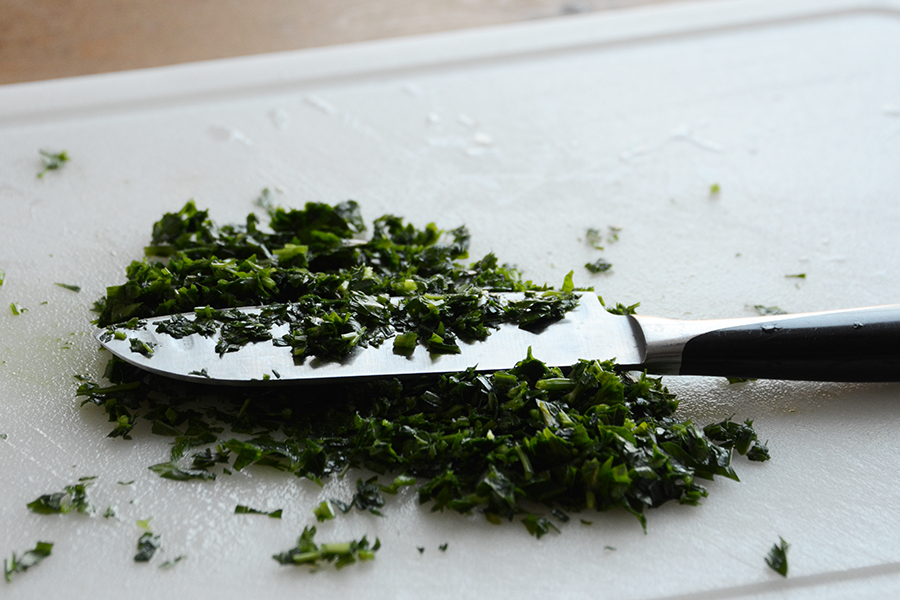 Chop the parsley (or cilantro). I sort-of went chop-crazy and minced it without realizing that the recipe just called for a rough chop. Oops!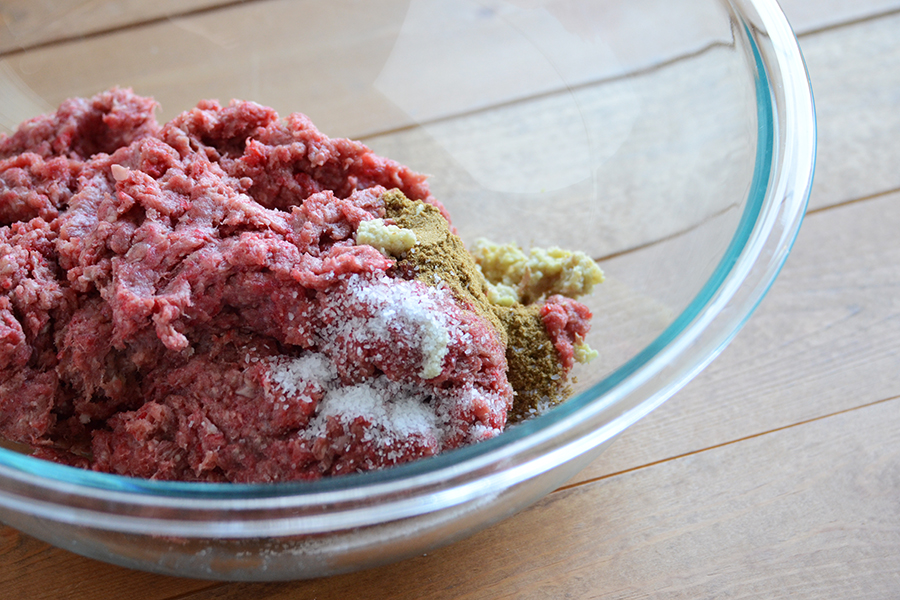 Add the lamb, cumin, ginger, and salt to a large bowl and give it a good mix with your hands.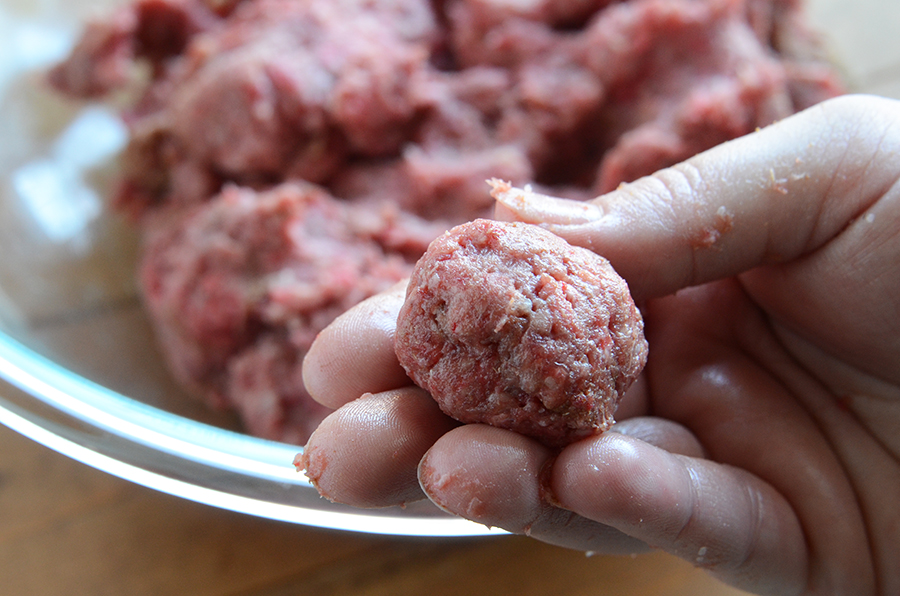 Then shape the meat mixture into meatballs about 1 tablespoon big. Please excuse the meat all over my hands. It's the price you pay when rolling meatballs, but it's oh-so-worth-it, especially for a dish this good.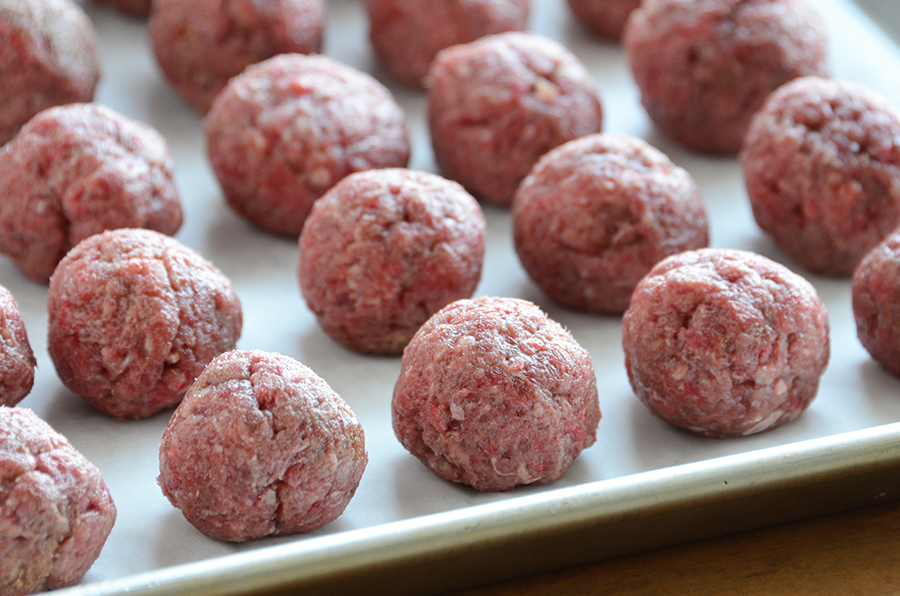 All lined up and ready to go!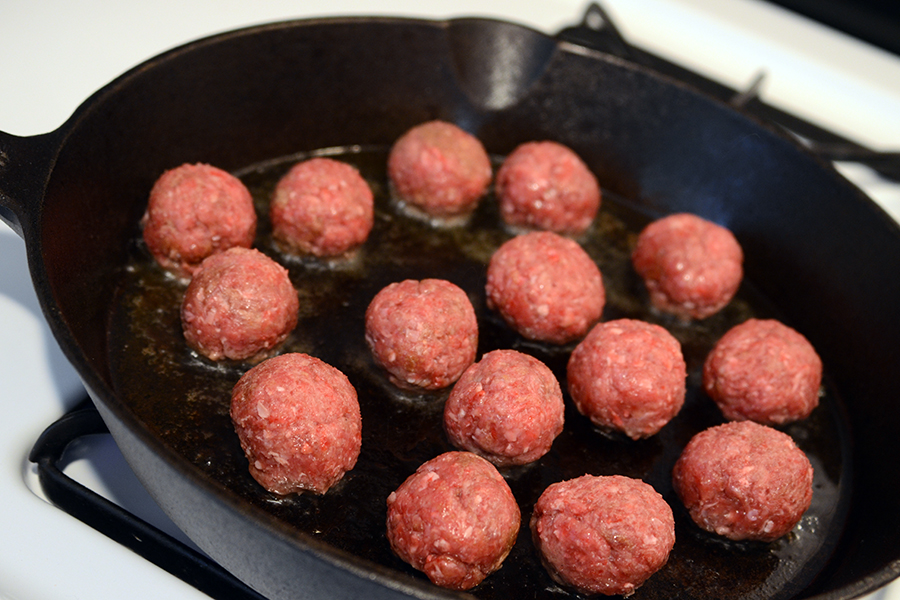 Melt the ghee (or butter) in a large skillet over medium heat and add the meatballs.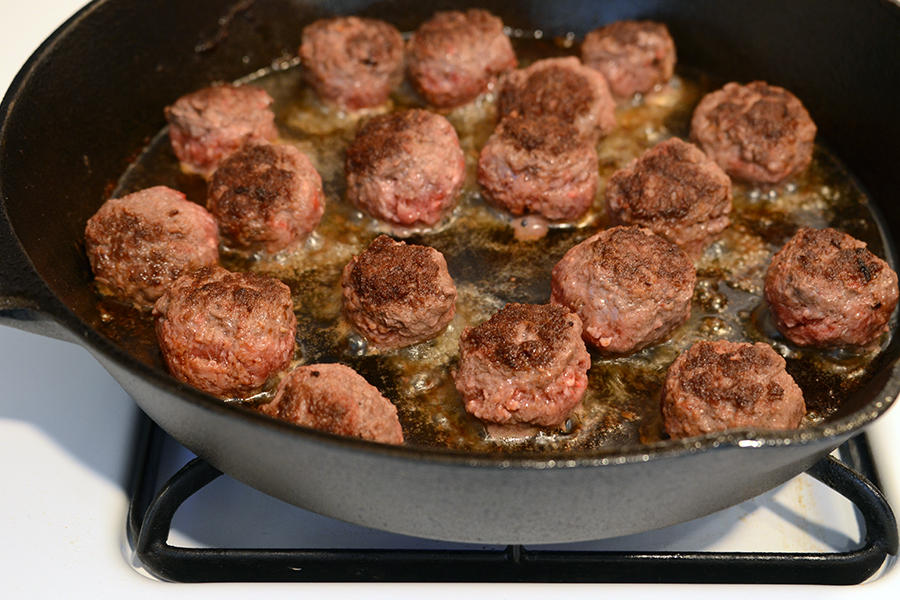 Brown them on both sides. I cooked the meatballs a little longer than the recipe says to let them get nice and brown on each side, about 4 to 5 minutes per side. I like them to develop a nice deep color. Oh, and I had to cook the meatballs in 2 batches so the skillet wasn't overcrowded.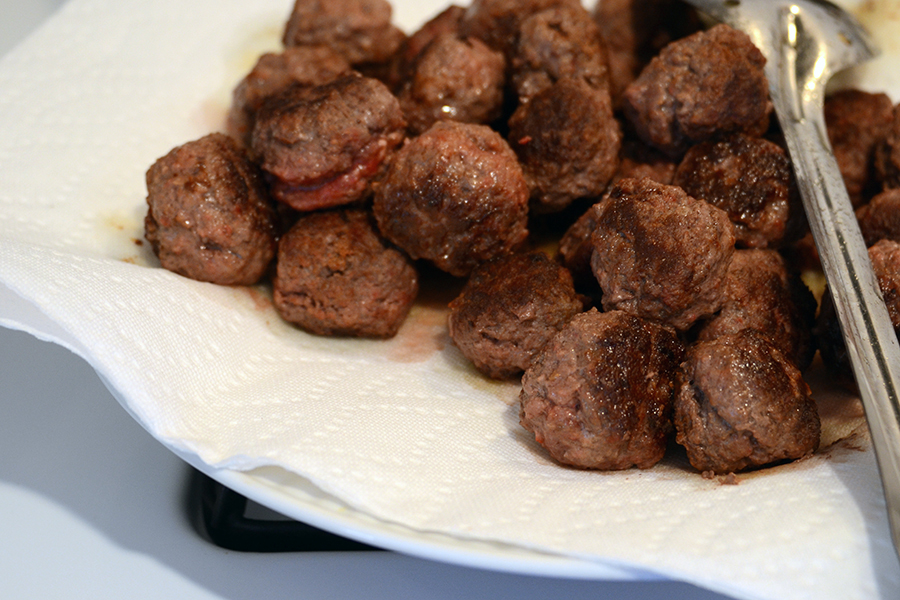 Don't forget to let the excess oil drain off the meatballs by putting them onto a paper towel-lined plate. Notice that even though the meatballs are nicely browned, they aren't cooked all the way through, so don't taste one yet (you'll finish cooking them in the curry sauce).
And now get back to that same skillet! It's like gold at this point, with all the nice brown bits in the bottom. You might need to add more oil to the skillet if your lamb was really lean; otherwise, if your lamb wasn't so lean, drain off all but 2 tablespoons of oil from the pan.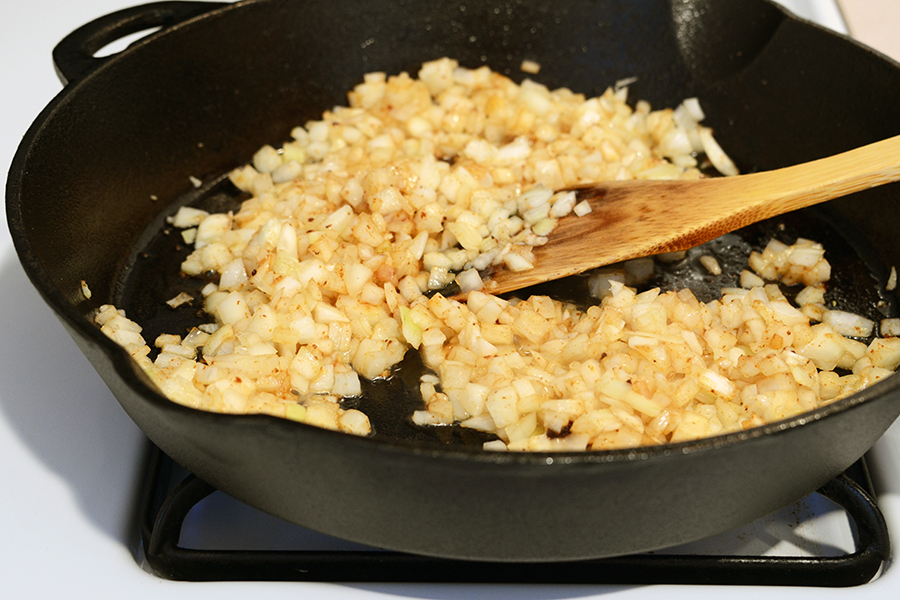 Still over medium heat, add the onion and scrape up those gorgeous brown bits from the bottom.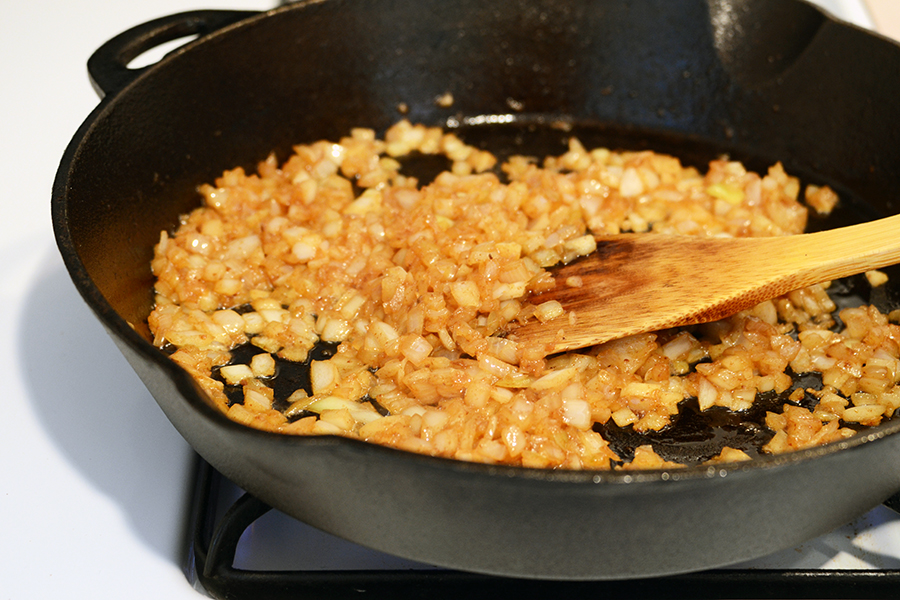 You can add the garlic at the same time like the recipe says, but I like to give the onion a little head start. I cook the onion until it starts to soften and brown, about 5 minutes. Don't forget to stir!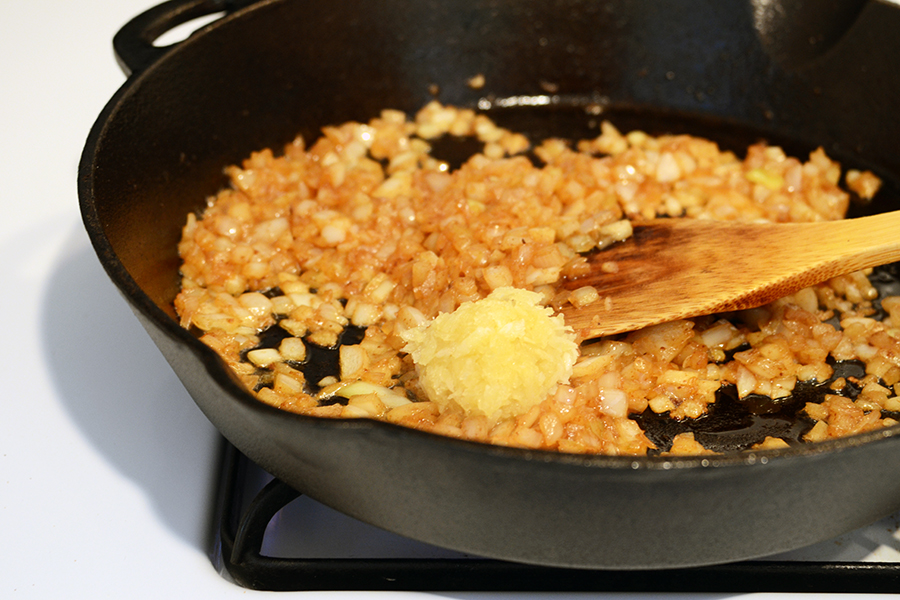 Then I add the garlic, stir it around, and cook it until it's fragrant, about 1 minute.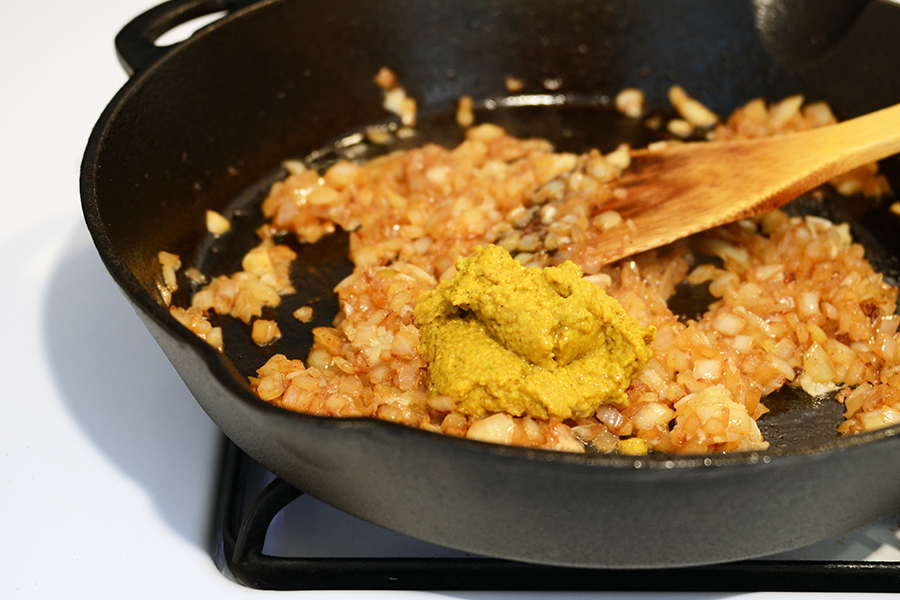 Now add the curry paste. It should be starting to smell insanely delicious!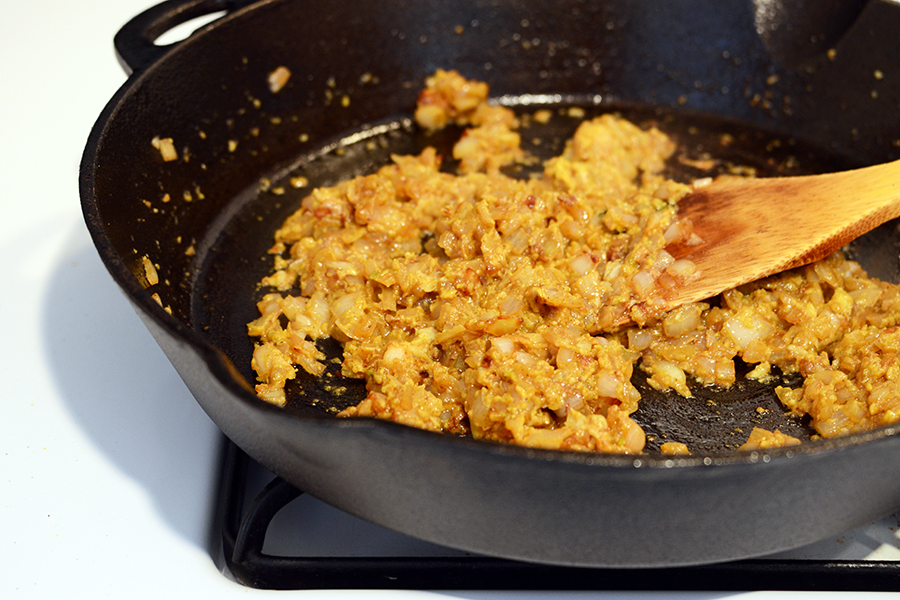 Stir it in and cook for another minute.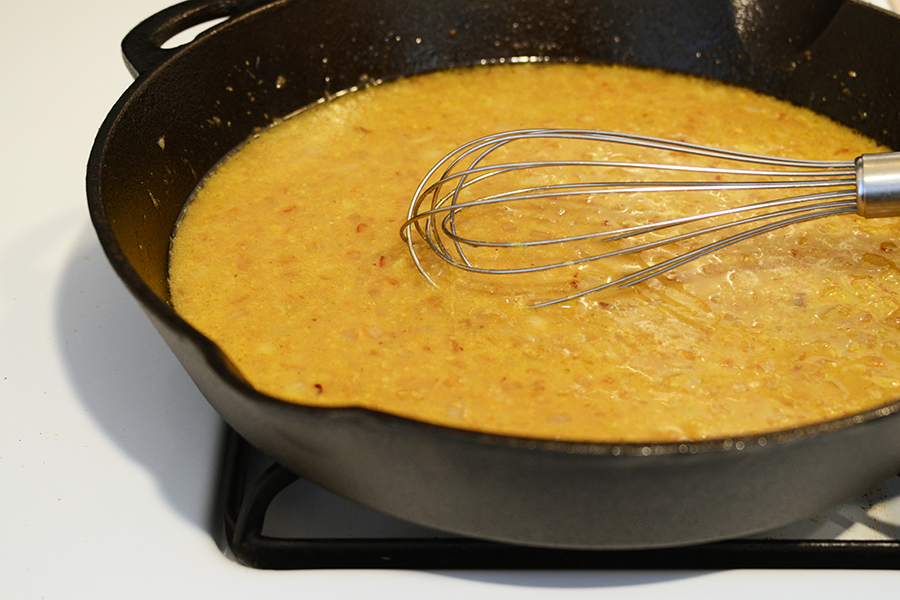 Stir (or whisk) in the water.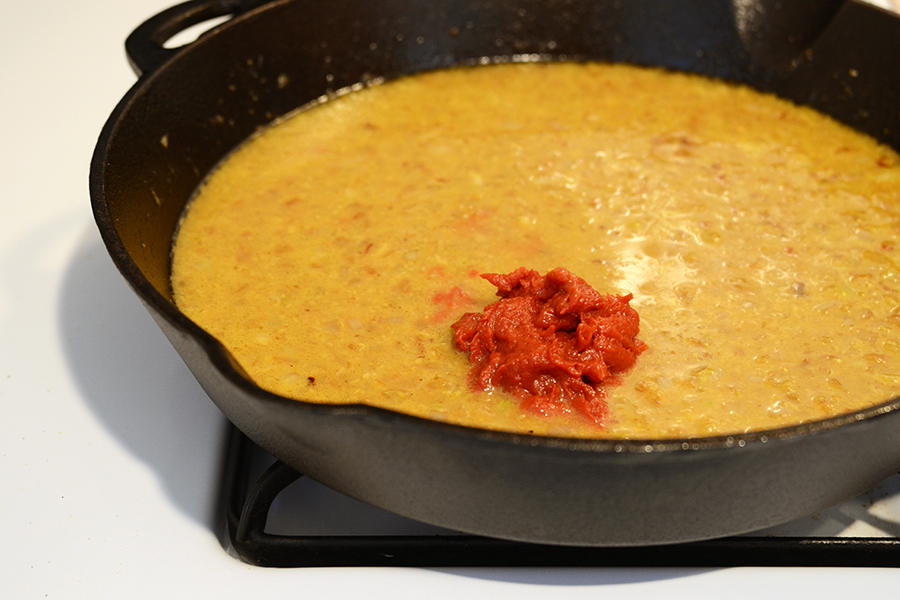 Add the tomato paste …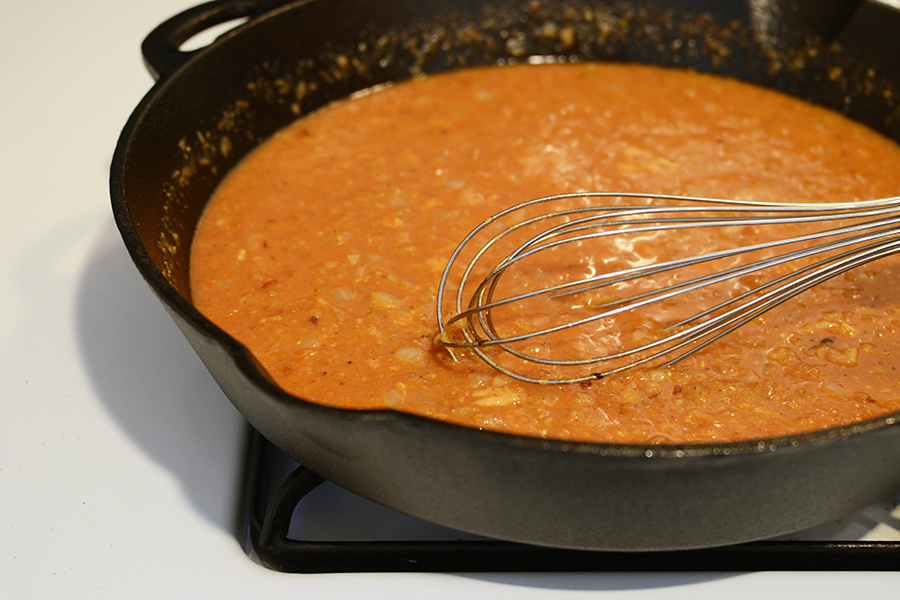 And give it a stir.
Bring the sauce up to a boil, then cover and simmer it until thickened. This took about 5 minutes for me.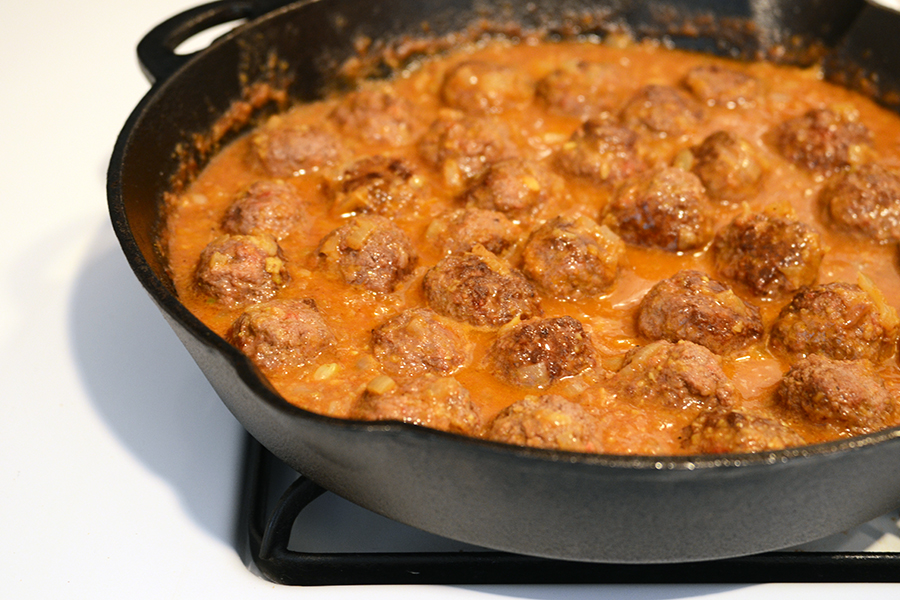 Add the meatballs to the sauce and let them finish cooking (covered), about 5 minutes.
And it's ready! Don't forget to sprinkle the cilantro (or parsley) on top.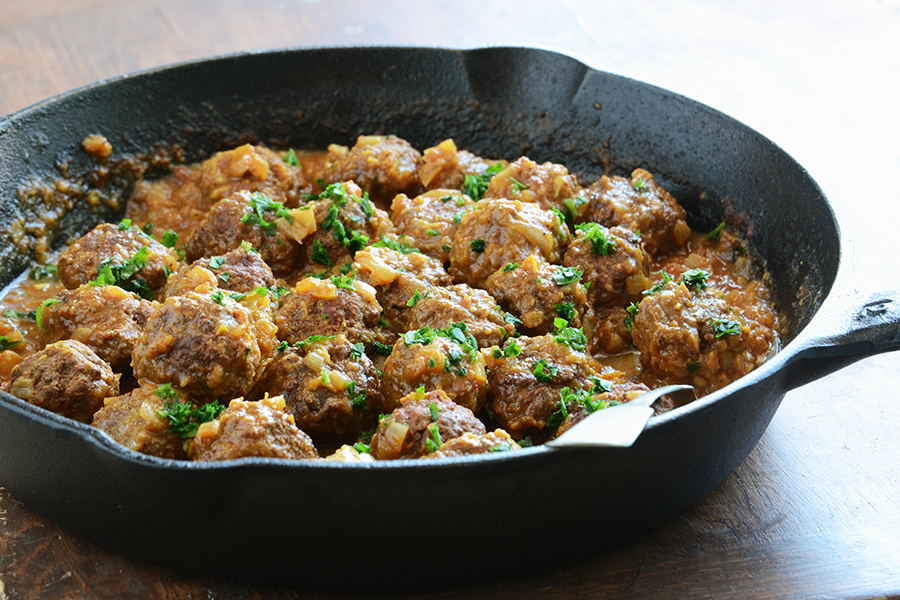 You can serve this beautiful dish "rustic-style" right out of the pan it was cooked in. Love when that happens.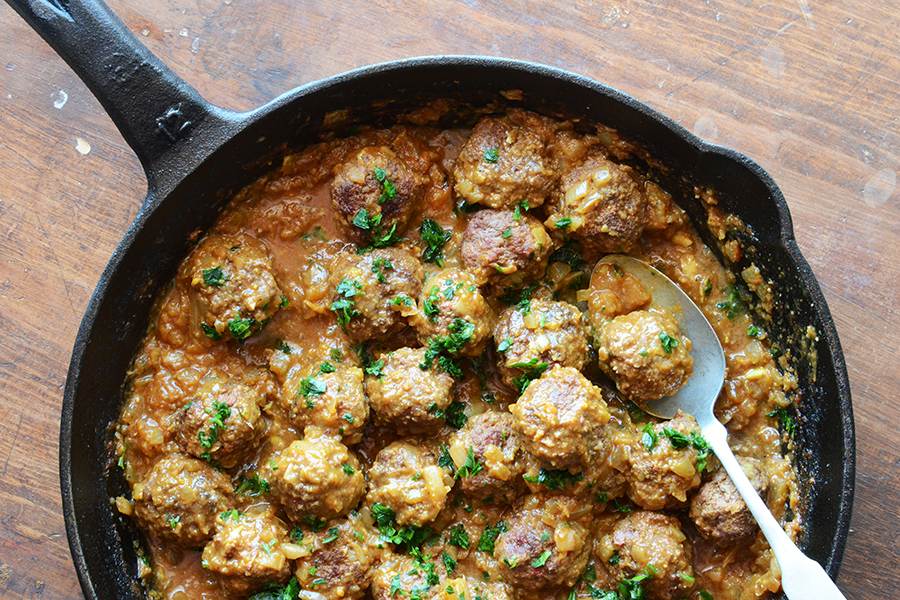 Vanessa and Ingrid suggest serving this curry with rice and/or roti and adding a dollop of yogurt or raita on top; both suggestions sound fabulous to me. I eat curries the way normal people eat soup or stew, so I ate this as-is, but for my hubby I made a quick basmati rice pilaf to serve alongside. It got a thumbs-up from both of us.
Thanks to sisters Vanessa and Ingrid for their delicious recipe! Be sure to check out their beautiful blog Food Opera for more of their tasty dishes!
Printable Recipe
See post on Vanessa and Ingrid's site!
Description
I used to be a bit overwhelmed by the amount of spices needed to cook a curry, and with a 3 1/2-year-old and a 1-year-old, I'm really time poor. I want easy, everyday dishes, but I certainly don't want to compromise on taste. This is a great weekday family curry recipe for those with busy lives.
Ingredients
1-⅔ pound Lamb Mince
1 Tablespoon Ground Cumin
1 Tablespoon Grated Fresh Ginger
1 teaspoon Salt
2 Tablespoons Butter Or Ghee
1 Large Onion, Peeled And Finely Diced
4 cloves Garlic, Peeled And Crushed
4 Tablespoons Madras Paste
1 cup, 4 tablespoons, ¾ teaspoons, 1-⅞ pinches Boiling Water
2 Tablespoons Tomato Paste
½ cups Coriander Leaves, Roughly Chopped
Preparation Instructions
1. In a large bowl, add the mince, cumin, ginger and salt, and using clean hands, mix until combined. With wet hands to prevent sticking, roll into tablespoon-sized balls.
2. In a large frying pan, on a medium heat, melt the butter and brown the meatballs, turning for 2-3 minutes. Remove and drain on a paper towel. Set aside.
3. Using the same pan (add more butter if needed), fry the onion and the garlic until soft.
4. Add the Madras paste, mix through and fry for a further minute. Add the water and stir through.
5. Add the tomato paste, stir, bring sauce back to the boil, then simmer, covered, for 10 minutes until thickened.
6. Drop the meatballs into the sauce and simmer for 5 minutes.
7. Serve on rice and/or with roti, scatter coriander and add a dollop of natural yoghurt or store-bought raita.
Notes:
1. You can make most of this curry ahead of time, just hold back dropping the browned meatballs into the sauce until five minutes before serving.
2. You could add some greens to the dish, Add frozen peas or spinach into the sauce 5 minutes before serving.
3. Chicken mince will also work well with the flavours of this dish.
4. This curry sauce freezes well.


_______________________________________
Faith Gorsky is the writer, recipe developer, photographer, and food stylist behind the blog An Edible Mosaic. She lives in Upstate New York and loves to travel, especially to places steeped in rich culture and history. She also enjoys reading, vintage shopping, watching movies, and is enamored with ancient cultures. She just released her first cookbook, "An Edible Mosaic: Middle Eastern Fare with Extraordinary Flair" (Tuttle Publishing), a collection of authentic Middle Eastern recipes handed down to her from her husband's family.