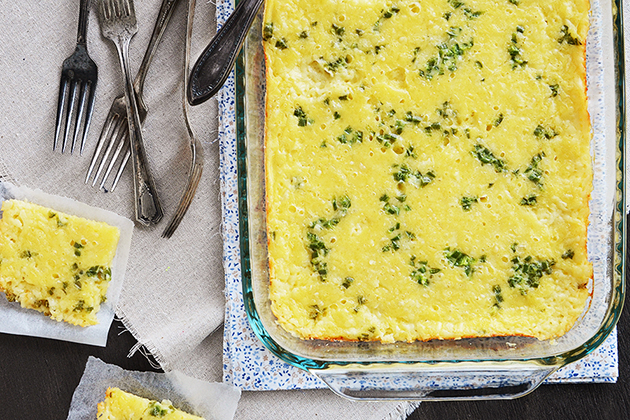 I don't know about you, but I love making unique recipes. I think part of the fun for me is when I serve them to my family and everyone tries to guess what they are because no one has ever seen them before! After seeing the title for Monica's recipe for Cheese Brownies I was so intrigued, I knew I had to make them even before I knew what they were. I had no idea what to expect: Are they sweet? Savory? Is there chocolate involved?
These brownies are savory. Cheese is the base ingredient, a very simple batter of milk, eggs, and flour is poured on top, and jalapeño adds fantastic flavor. These brownies remind me very much of poppers (jalapeño peppers that are stuffed with cheddar cheese, breaded, and deep-fried), but in casserole form. Swoon.
This dish reheats well (just cover with foil and bake at 350ºF until warm to reheat), and these brownies are wonderful along with a hearty meal like chili, but equally delicious served with a poached egg and fruit salad for breakfast. Of course they'd also be the perfect appetizer as part of a big spread.
And they're so easy to make!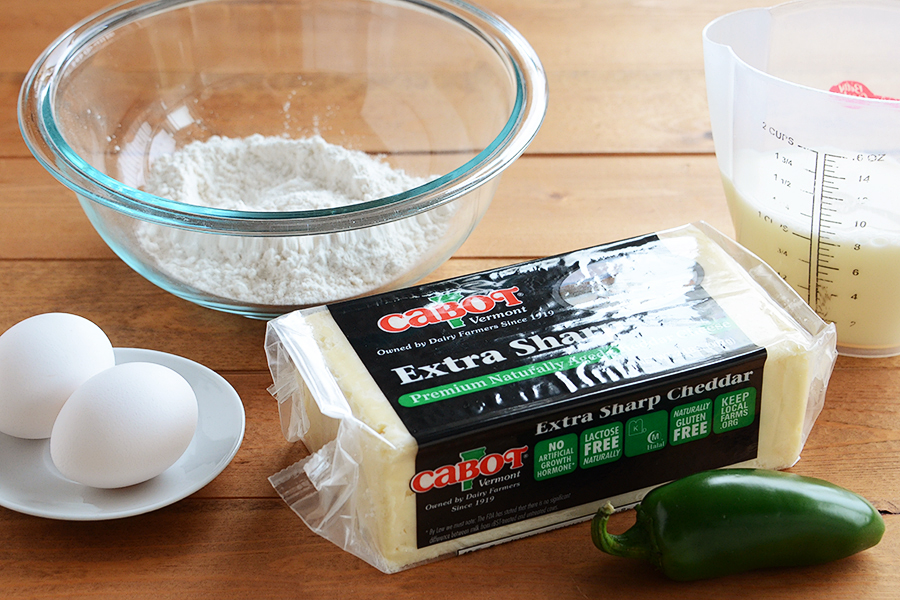 Love me a recipe that has only five ingredients! Note that the block of cheese in the picture is actually a 2-pound block and I only needed half of it for this recipe. And while we're talking about the cheese, be sure to use something you really like, since these brownies are all about the cheese (I used sharp white cheddar). Oh, also note that I only used 1 jalapeño even though the recipe calls for 2. I was making this dish for some hot-food-averse (ahem, hi Mom!) and I wanted to make sure it wasn't too spicy for them (more on that later though).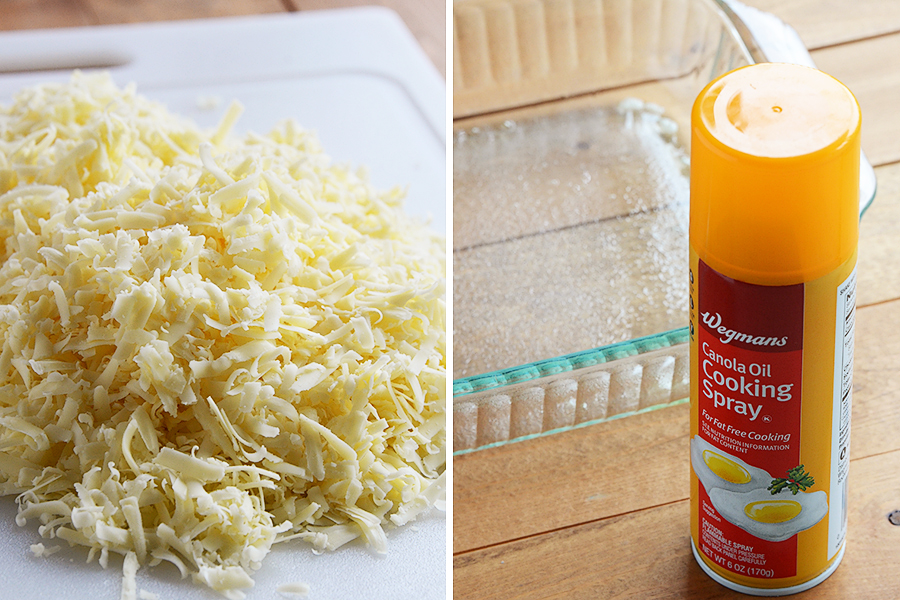 Shred your mountain of cheese, and then spray a 9 by 13-inch baking dish with cooking spray.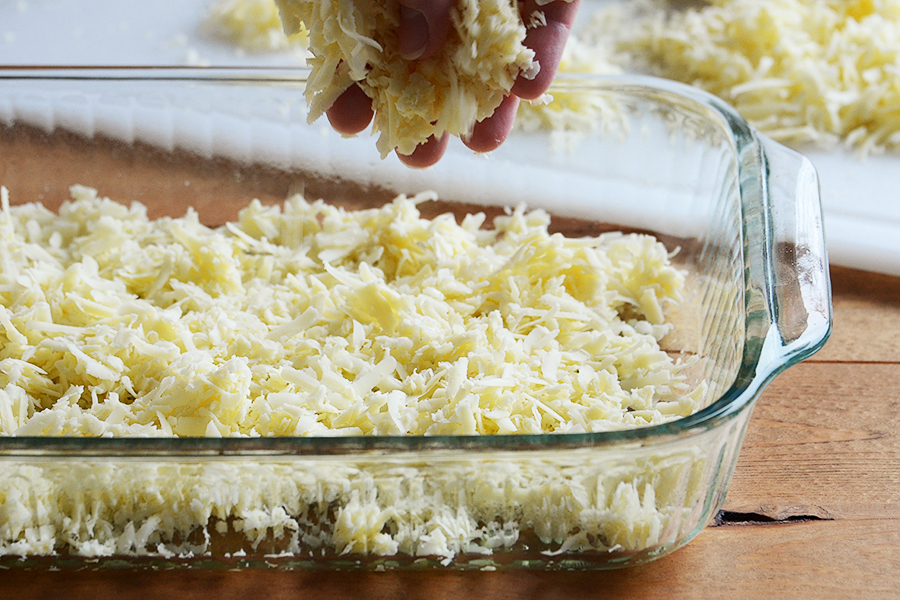 Spread the cheese out in the baking dish.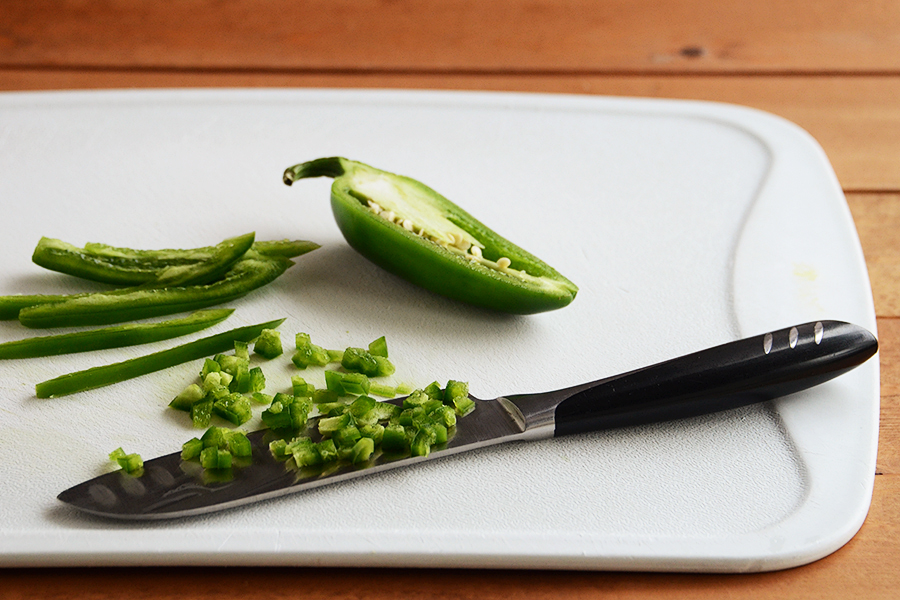 Cut your jalapeño in half, scrape out the seeds and ribs, and finely dice. Be sure to use gloves if you have sensitive skin (or paper cuts!). And even if you use gloves, be sure not to touch your eyes until after washing your hands. (Yes, I might be speaking from experience here.)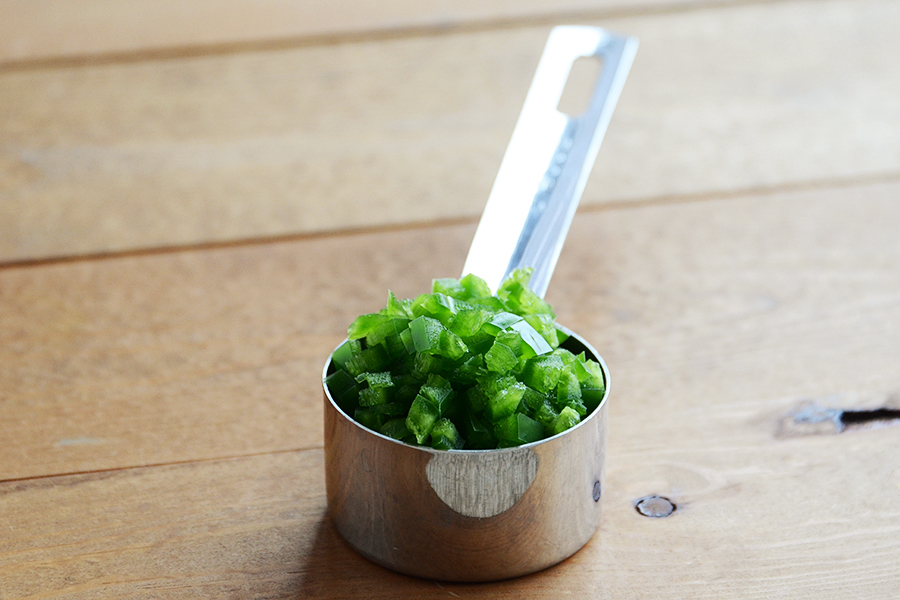 Ok, so remember how I said I only used 1 jalapeño instead of 2? It was a pretty big one—once chopped it was a heaping 1/4 cup. Everyone who tasted the brownies said they were delicious and not spicy at all (even the hot-food-averse!). I think next time I will be using 2 whole jalapeños, even if they are big (and if they're normal-sized, I'll be using 3). Just remember that not all jalapeños are created equal, so check the heat level of your peppers before deciding how much to add, just to be safe.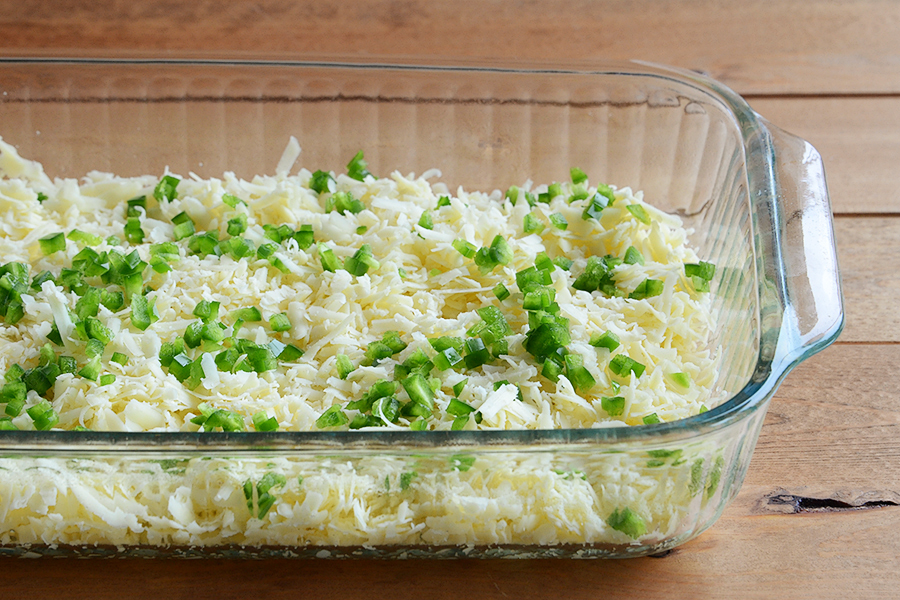 Sprinkle the chopped jalapeño onto the cheese.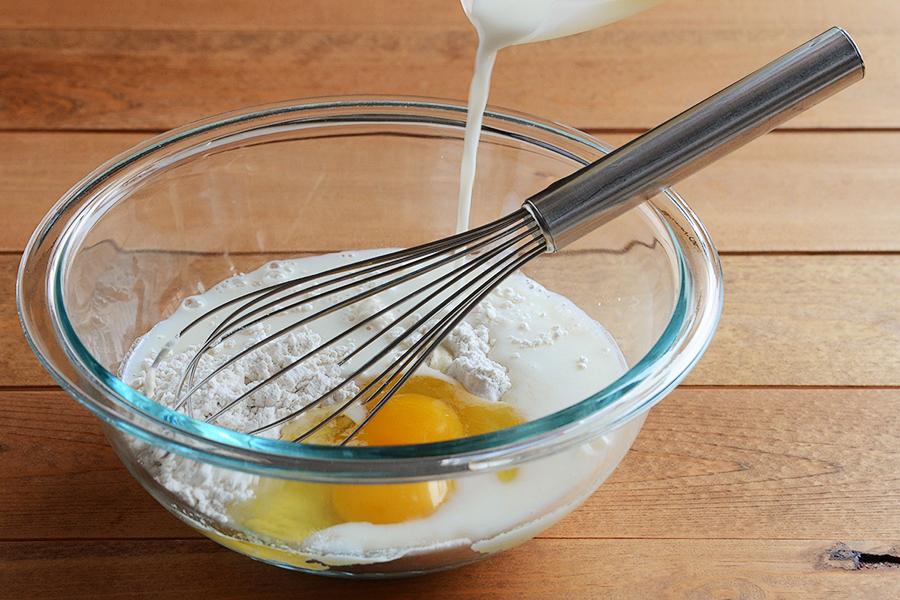 Whisk together the batter. It's super simple, just milk, eggs, and flour!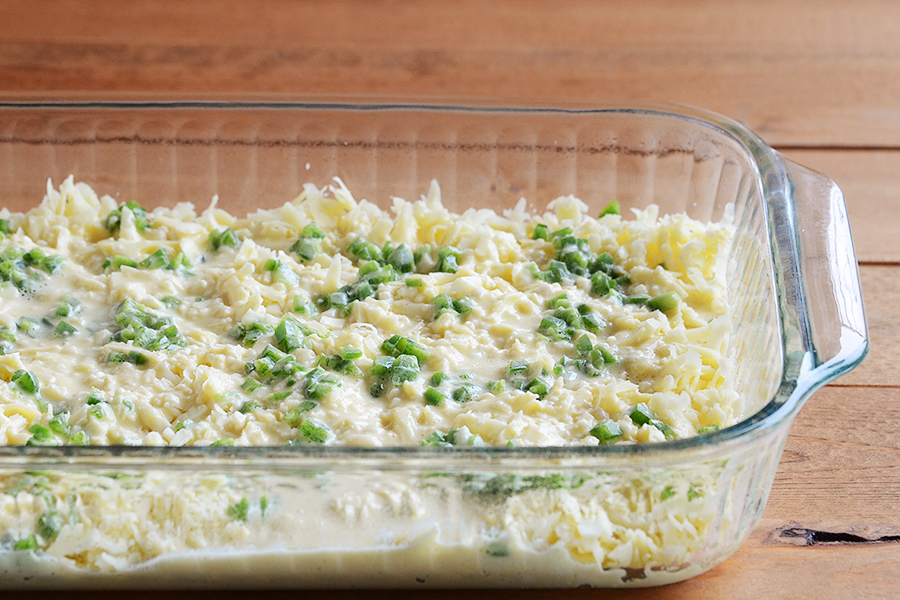 Pour the batter onto the cheese and jalapeño in the dish—but don't stir!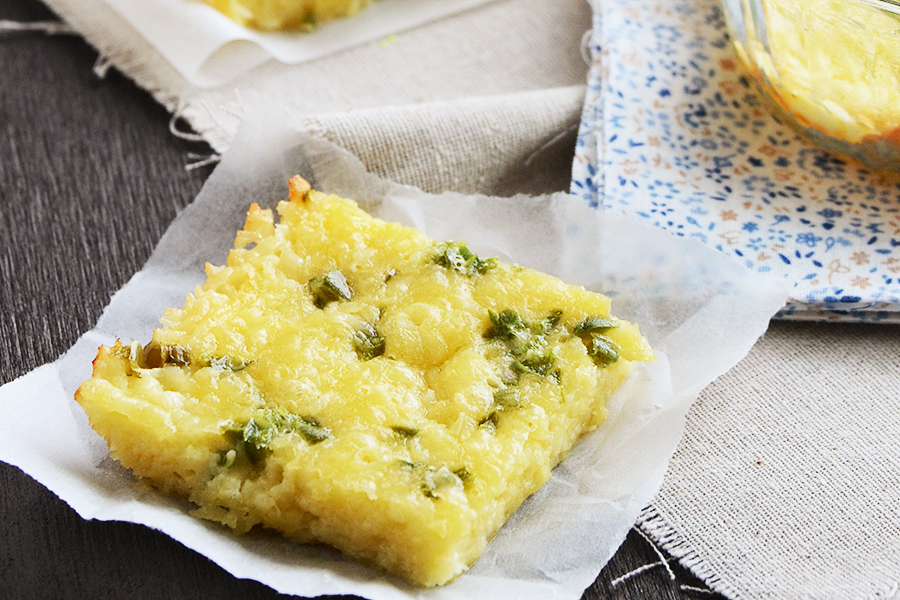 After baking for 30 minutes and letting them cool for 10 to 15 minutes, these little beauties are ready to go!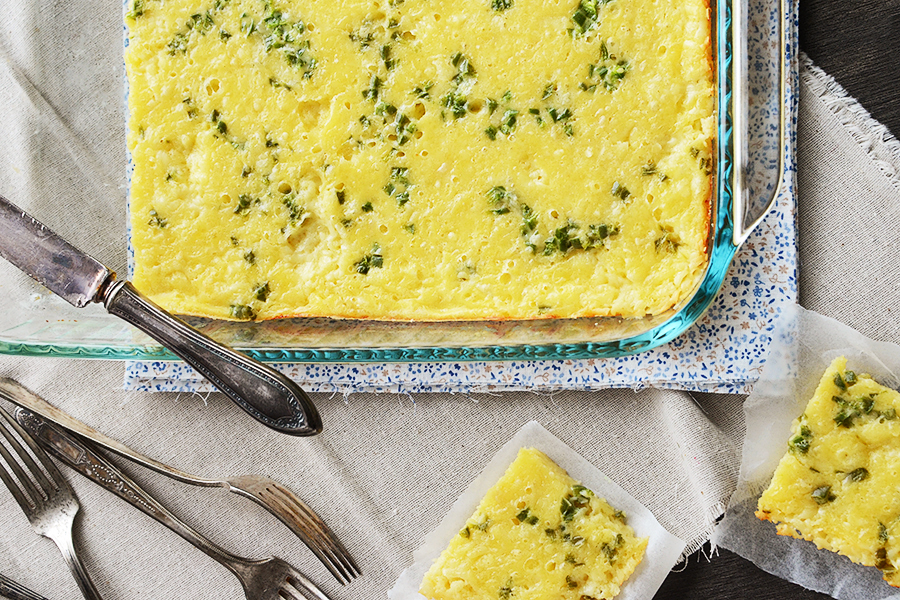 And there you have it. This recipe couldn't be easier and it is a huge crowd-pleaser. Thanks to Monica for a real winner. I know I will be making this again soon!
Printable Recipe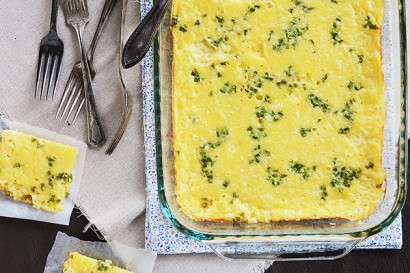 Description
I received this recipe from my mother-in-law 20 years ago. She doesn't remember where it came from and I've never seen it in any cookbooks. Hope you enjoy as much as we do!
Ingredients
16 ounces, weight Colby Jack Or Cheddar Cheese, Shredded
2 whole Jalapeño Peppers, Seeds And Ribs Removed, Chopped
1 cup Milk
1 cup All-purpose Flour
2 whole Eggs
Preparation Instructions
Preheat the oven to 350ºF. Spray a 9×13 baking dish with nonstick cooking spray and place cheese evenly in the bottom of the dish. Sprinkle the chopped jalapeños over the cheese, do not stir.
In a bowl whisk together the milk, flour and eggs. Drizzle over the cheese and jalapeño as evenly as possible, still not stirring.
Bake for 30 minutes. Cool for 10–15 minutes and cut into squares. Enjoy!
Update July 5, 2016: I made these for our family 4th of July potluck and used a jalapeño cheddar cheese that I bought at the local farmers market and sprinkled the top with some very very mild jalapeños. Everyone thought they tasted great that way! If you like it spicy be sure and try a spicier cheese!


_______________________________________
Faith Gorsky is the writer, recipe developer, photographer, and food stylist behind the blog An Edible Mosaic. She lives in Upstate New York and loves to travel, especially to places steeped in rich culture and history. She also enjoys reading, vintage shopping, watching movies, and is enamored with ancient cultures. She just released her first cookbook, "An Edible Mosaic: Middle Eastern Fare with Extraordinary Flair" (Tuttle Publishing), a collection of authentic Middle Eastern recipes handed down to her from her husband's family.