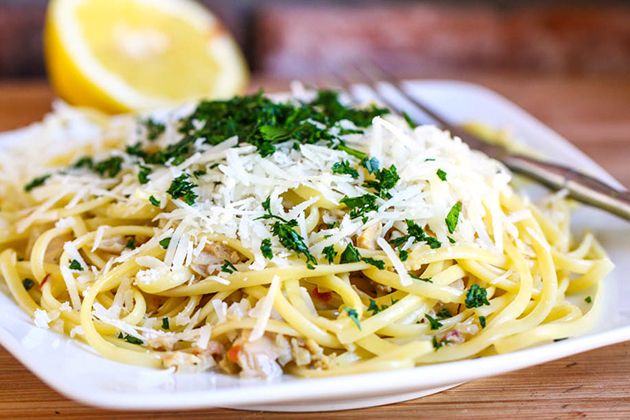 Hello friends! I'm here today to share a recipe out of my new book, White Jacket Required. It feels a bit odd to say "my new book", as if I ever had an old book (I did not!). I'm still getting used to this whole author thing — so far, it's pretty cool! The book is a memoir about my time at culinary school, and it includes about thirty of my very favorite family recipes. I'm really excited to share one of them with y'all today, and that is Linguine and Clam Sauce.
I LOVE linguine and clam sauce. It's been my absolute favorite meal since about the time I was six years old (what six year old loves clams?) and it's the one I most often request when I go home to visit my parents. My mom can make a mean clam sauce! My version is very simple … and very delicious! I hope you enjoy it as much as I do.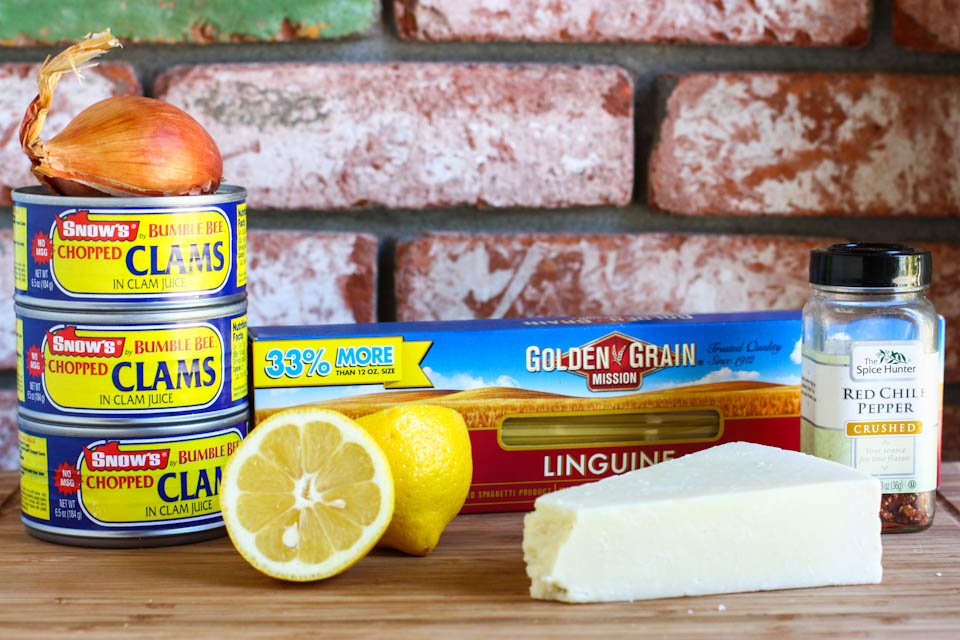 Here are all the ingredients you'll need, minus extra virgin olive oil and parsley for serving. So grab your linguine, lemon, red pepper flakes, three cans of clams, shallot and Parmesan cheese. No need to get fancy clams from the seafood counter at the store—I actually prefer using canned clams here!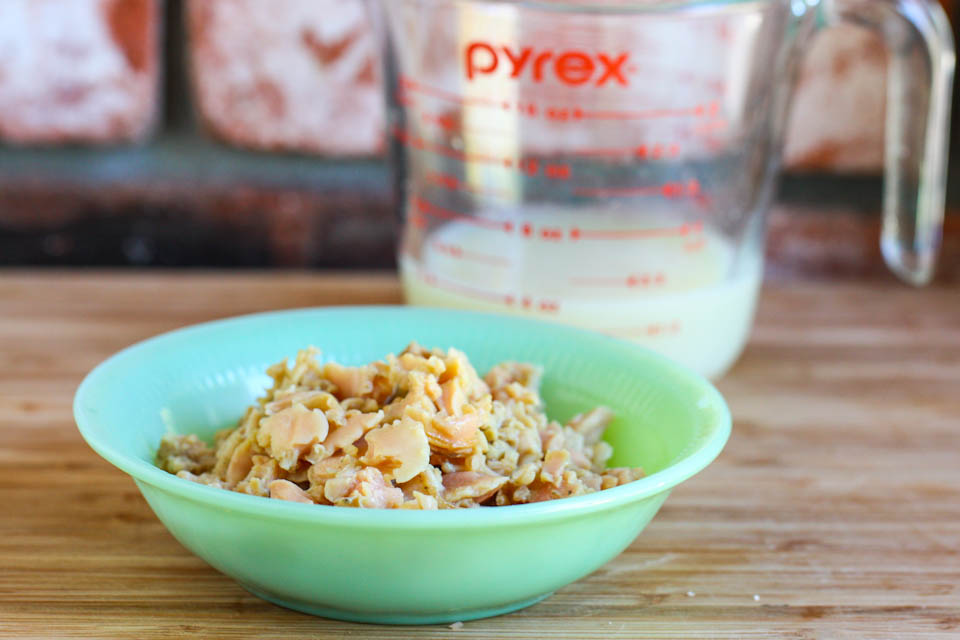 First, you'll want to drain your clams and reserve about a half cup of clam juice for the sauce. I usually just toss all my drained clams in a small bowl for easy access later.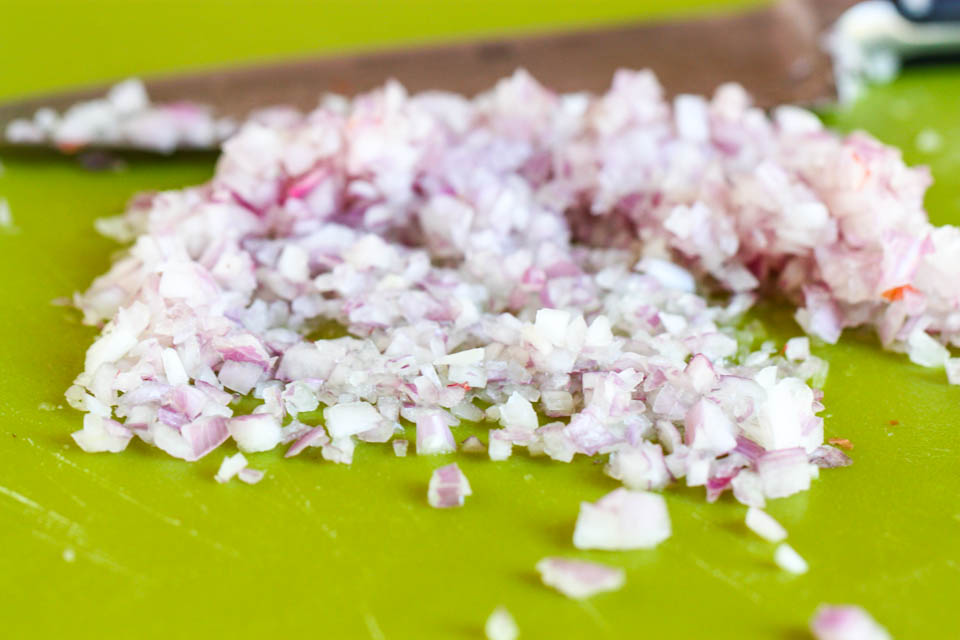 Now, mince your shallot. (I almost chopped my finger off thirty seconds before taking this photo. Don't follow my lead! Pay attention to what you're doing; your fingers depend on it.)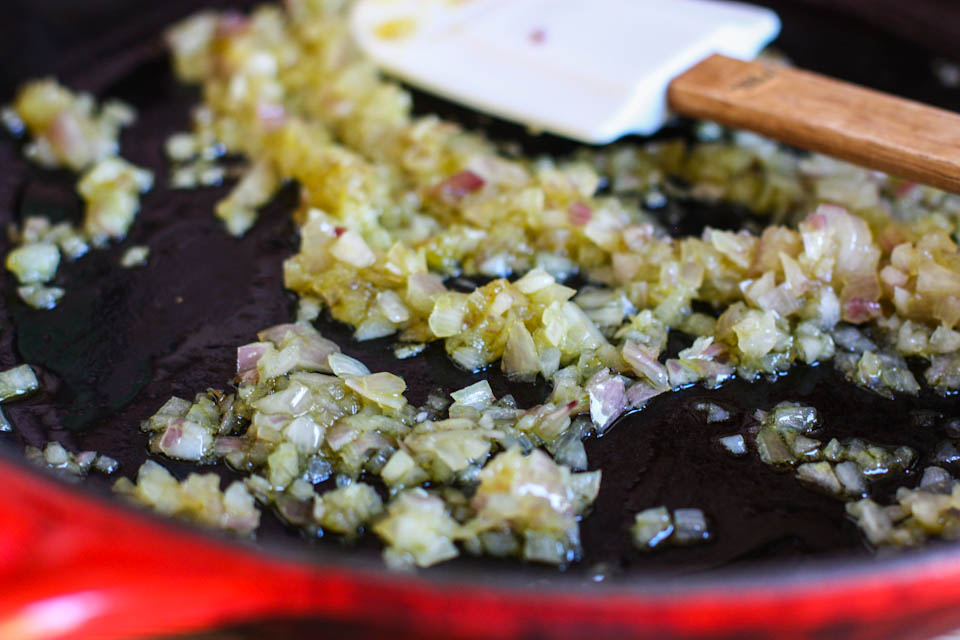 Heat up a tablespoon of olive oil in a large skillet and add your minced shallots.
I absolutely love using my shiny red Le Creuset cast iron skillet for this—and anything, for that matter! It was a gift when I was going through culinary school and the first "nice" piece of cookware I ever owned. I love it so.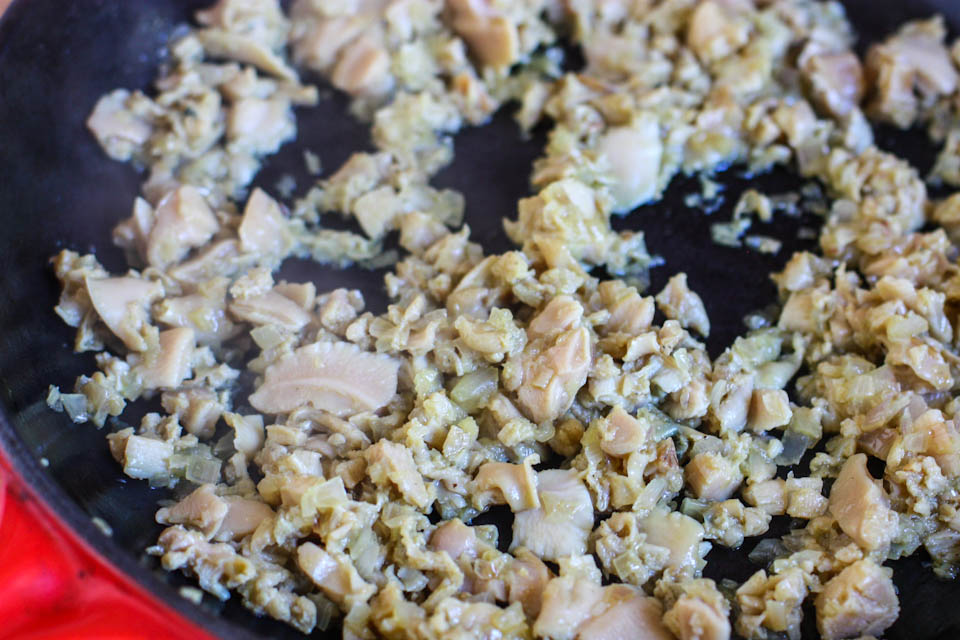 Sauté the shallots for about five minutes till soft, then add the clams. Continue cooking for another couple minutes here.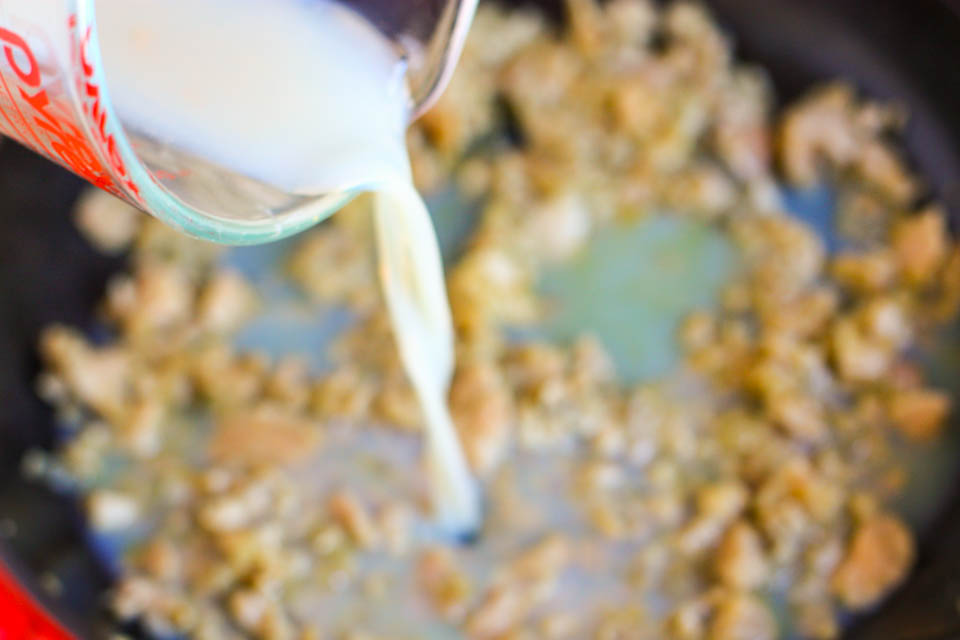 Then, pour in the reserved clam juice …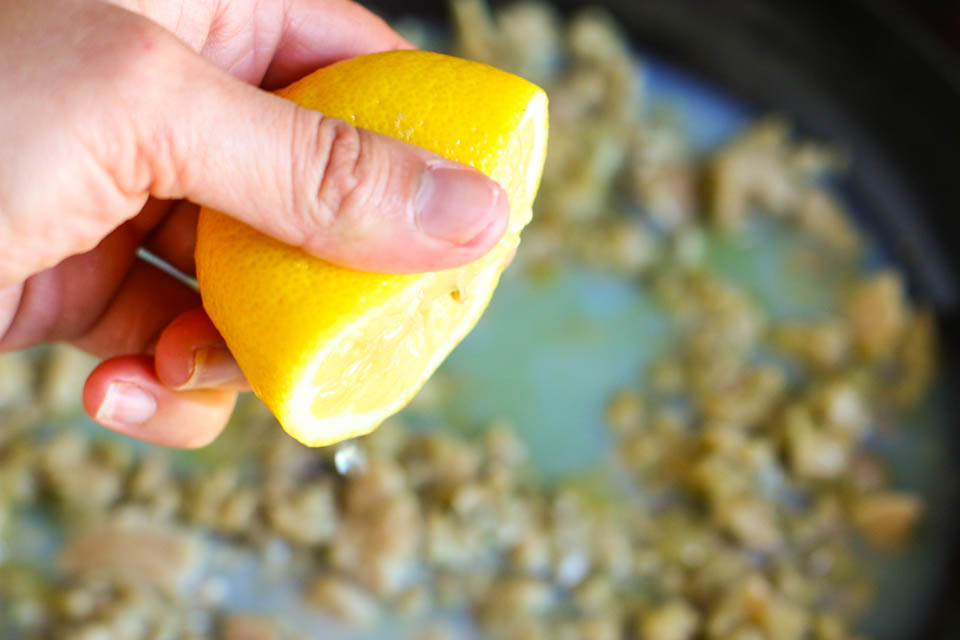 Add a squeeze of lemon …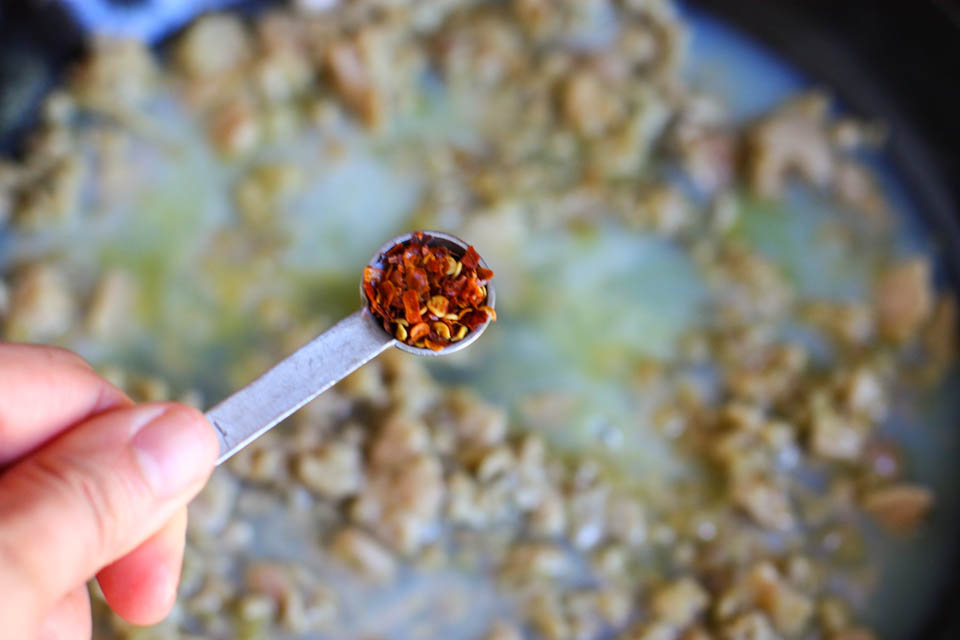 And, finally, a sprinkle of red pepper flakes. You can adjust the amount of red pepper flakes according to how spicy you'd like your sauce to be. Personally, I'm a huge fan of spice so I love to add more hot pepper flakes here!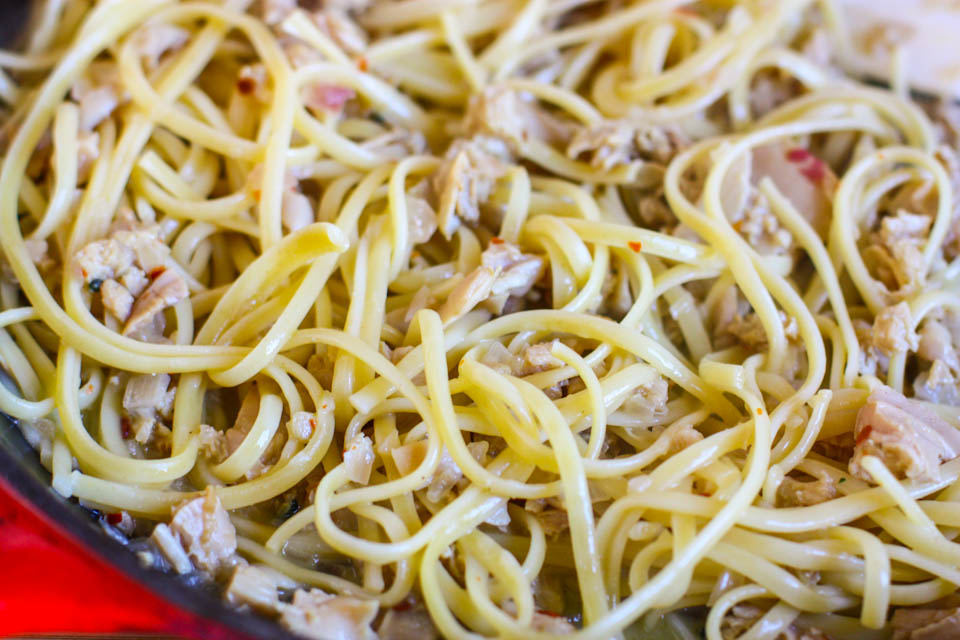 Bring sauce to a boil, then reduce heat and simmer for three minutes. Then, add your hot cooked linguine to the pan and toss well.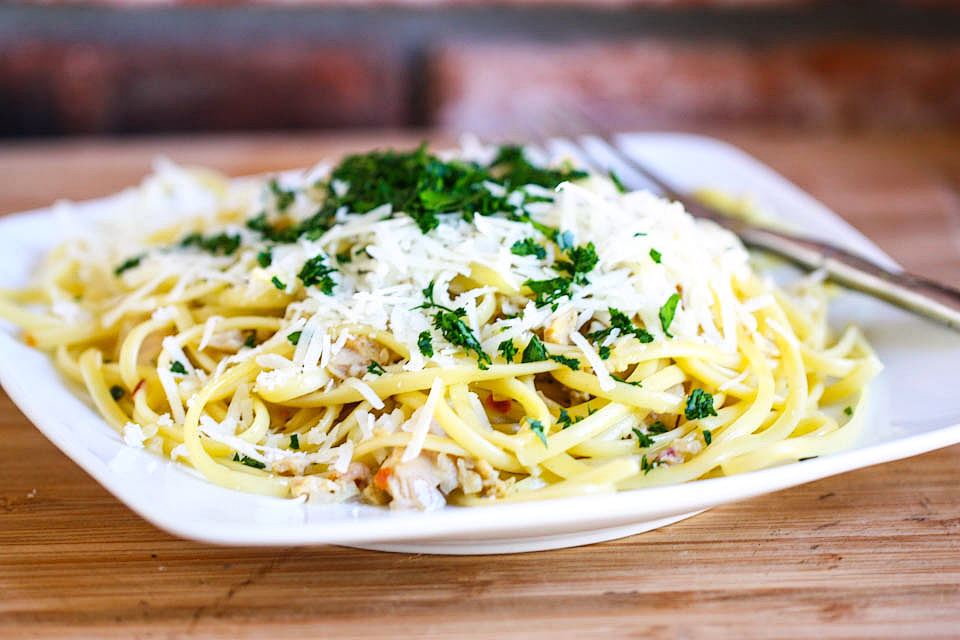 Divide linguine and clam sauce amongst four plates and top with the freshly grated Parmesan cheese and minced parsley. The parsley is optional but oh so pretty!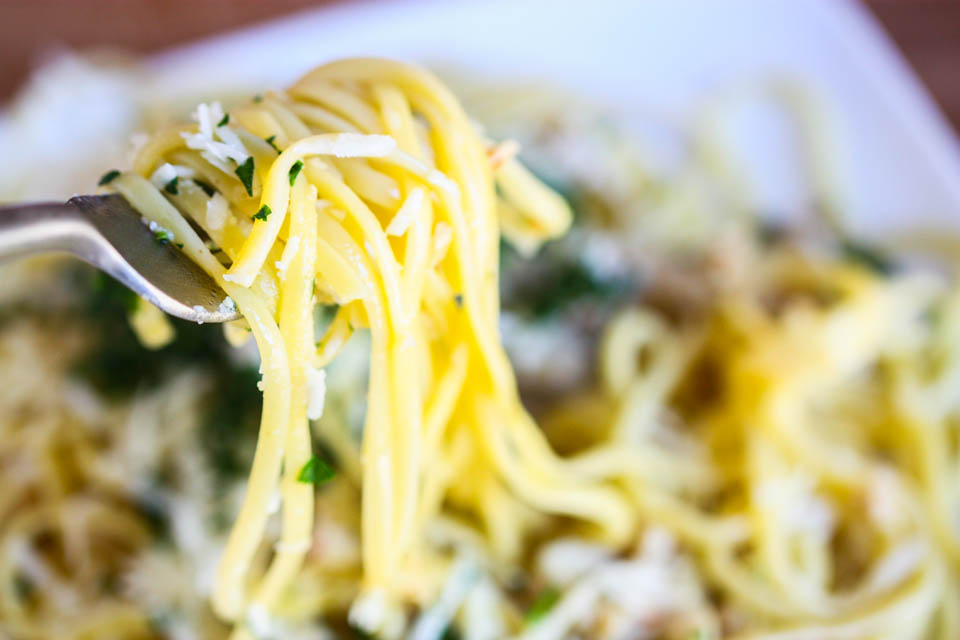 Enjoy! I entered the recipe in my Tasty Kitchen recipe box so you can print it out and enjoy your own delicious linguine and clam sauce at home soon. And speaking of making it at home, check back here tomorrow for a chance to win little special something that'll help you do just that. I promise I won't reveal more than that.
P.S. It's red. (Sorry, I couldn't help myself.)
Printable Recipe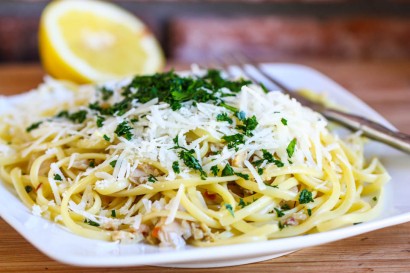 Description
Delicious and nutritious linguine and clams!
Ingredients
8 ounces, weight Dry Linguine Pasta
1 Tablespoon Extra Virgin Olive Oil
1 whole Large Shallot, Minced
3 cans (6.5 Oz. Size) Clams, Drained With 1/2 Cup Juice Reserved
1 whole Lemon, Juiced
¼ teaspoons Red Pepper Flakes
½ cups Freshly Grated Parmesan Cheese
Minced Parsley, For Garnish
Preparation Instructions
Cook the pasta according to package directions. Drain and set aside.
In a skillet, heat the olive oil over medium heat. When hot, add the minced shallots and saute for about 5 minutes, until very soft. Add the drained clams and continue cooking for another 4-5 minutes.
Add the 1/2 cup reserved clam juice, lemon juice and red pepper flakes to the skillet. Bring mixture to a boil, then simmer for 3 minutes.
Add hot cooked linguine to the pan and toss well with the sauce. Divide amongst plates and top each dish with Parmesan cheese and minced parsley (optional).


_______________________________________
Jenna is a food writer who has worked as a pastry chef and bread baker. Her blog Eat, Live, Run has great recipes, travel stories, and the perfect slogan: "Celebrating life, one crumb at a time."