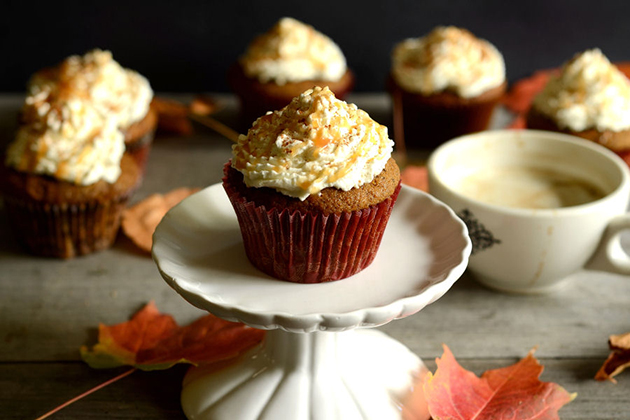 Fall is, hands down, my favorite season. Who's with me? This is our excuse to put pumpkin, apples and spices in whatever recipe we can!
While I was browsing through the Tasty Kitchen database looking for something fall-ish to make, and I stumbled across these Pumpkin Spice Latte Cupcakes from TK member annmarsh. Pumpkin + espresso + spices + whipped cream frosting? Count me in, I thought.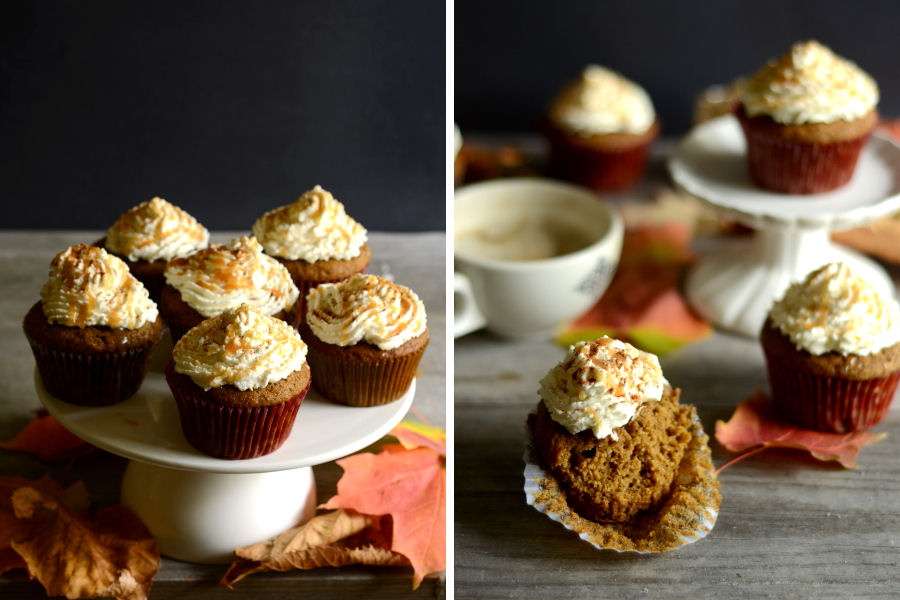 We absolutely loved these cupcakes. As my husband and I drove home from a birthday party for my little niece (I made these for the occasion), I mentioned that I was going to eat a cupcake when we got home. "My cupcake?!" Reuben protested. I assured him there were two left.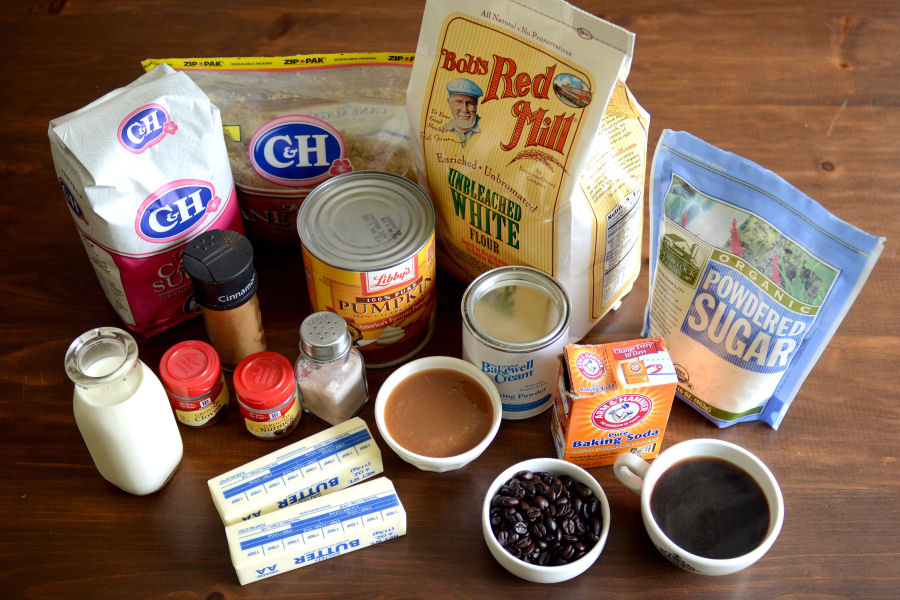 Here's what you'll need to make these scrumptious treats: flour, espresso powder (I simply ground espresso beans very fine), baking soda, baking powder, cinnamon, nutmeg, cloves, salt, pumpkin puree, granulated sugar, brown sugar, butter (or vegetable oil), brewed coffee or espresso, heavy cream, confectioner's sugar and caramel sauce. Whew!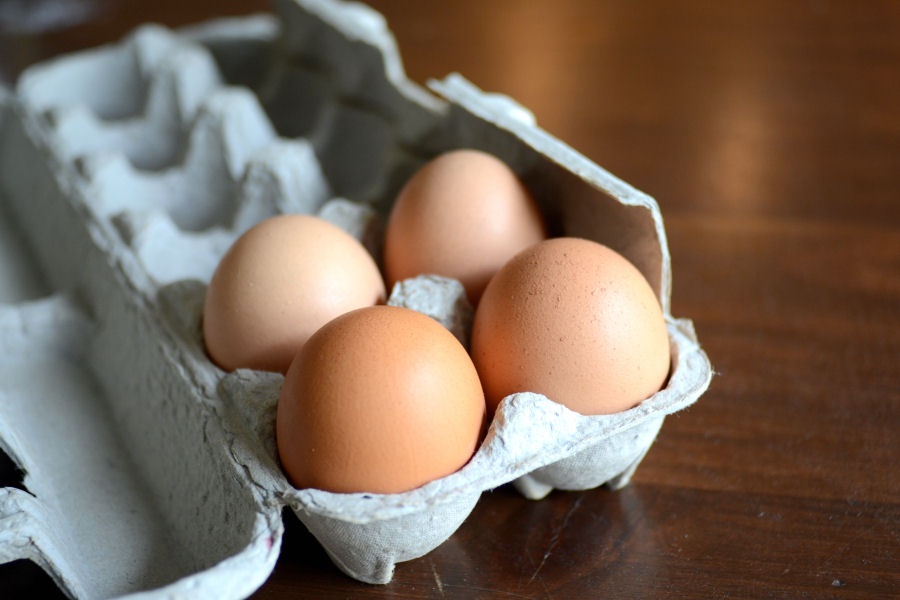 I forgot the eggs in the above photo, so here they are.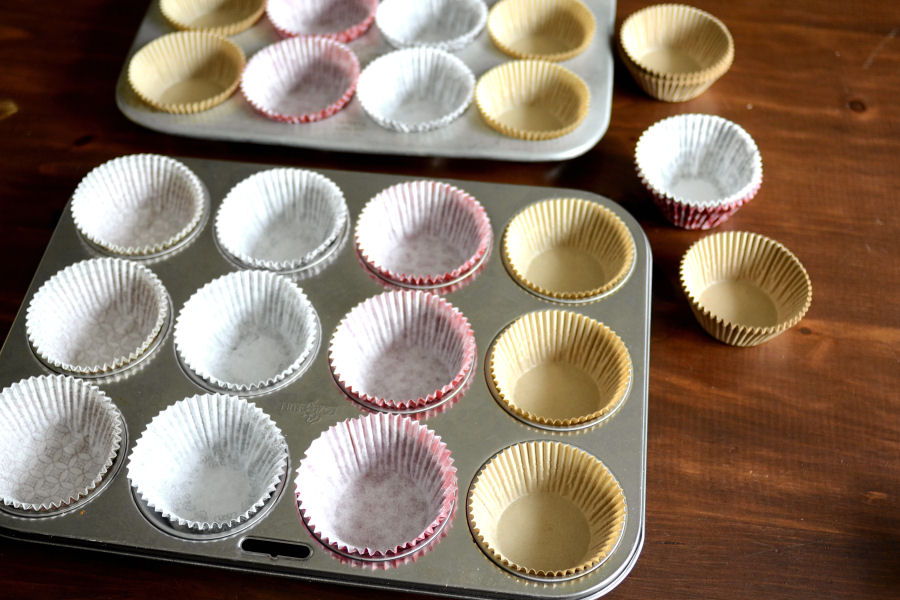 Line your cupcake tins with papers. I love fancy cupcake liners.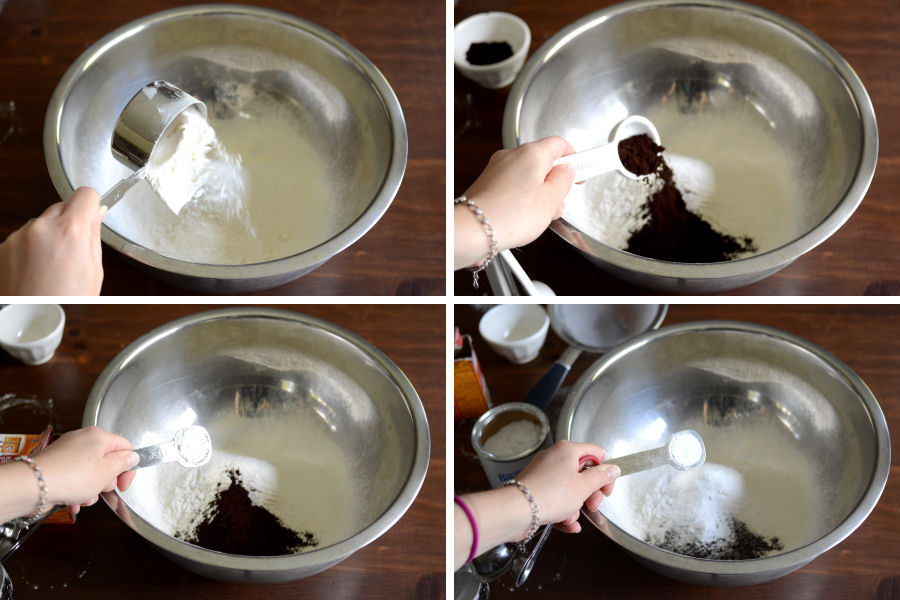 In a medium bowl, place the flour, espresso powder, baking soda, baking powder …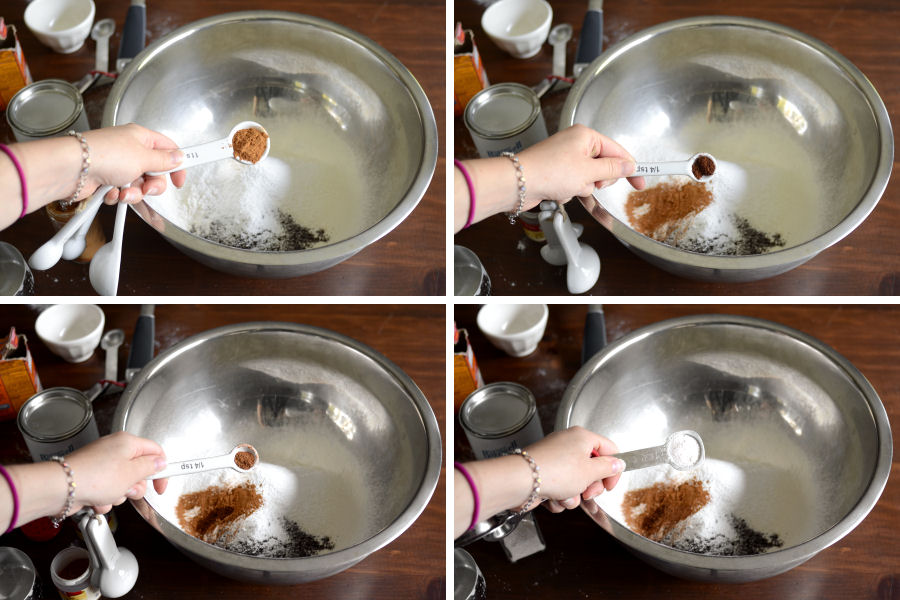 … cinnamon, nutmeg, cloves and salt.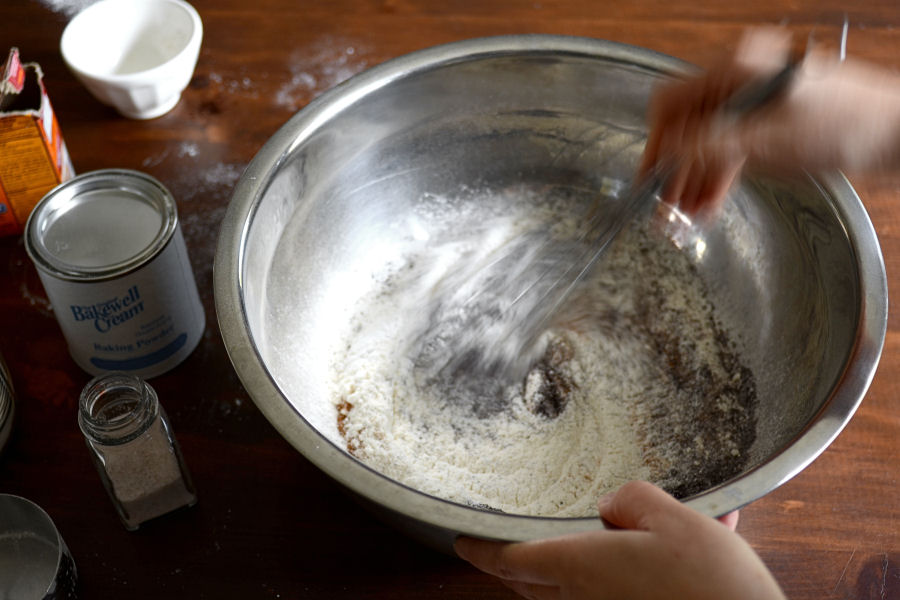 Whisk it all together.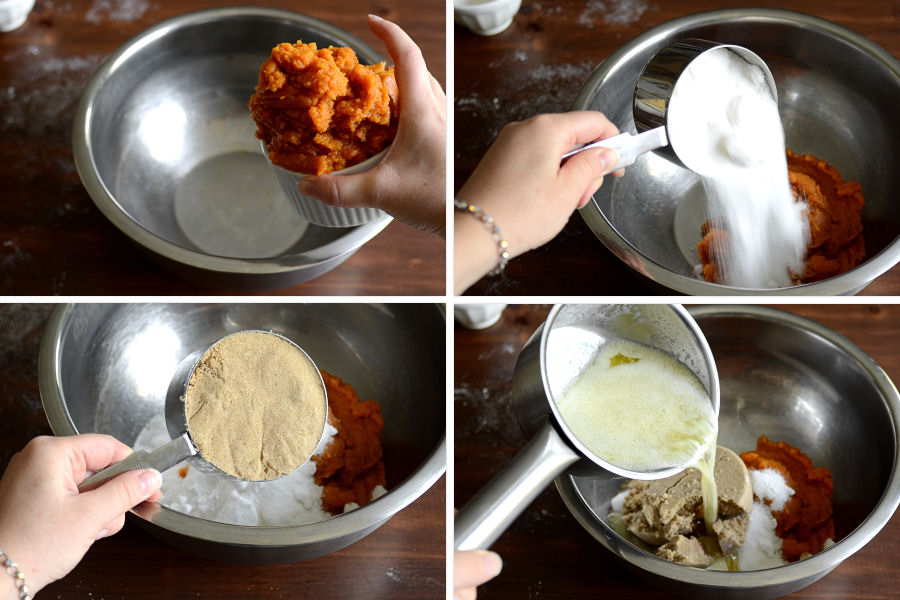 In a large bowl place the pumpkin, both sugars and melted butter (you can use vegetable oil instead of butter, but I'm too in love with butter to opt for oil).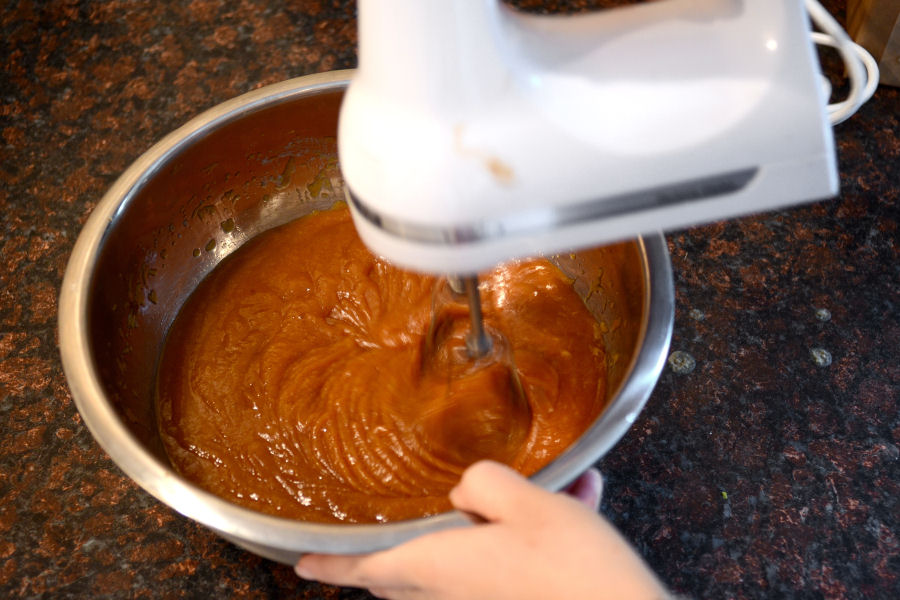 Blend it together until nice and smooth.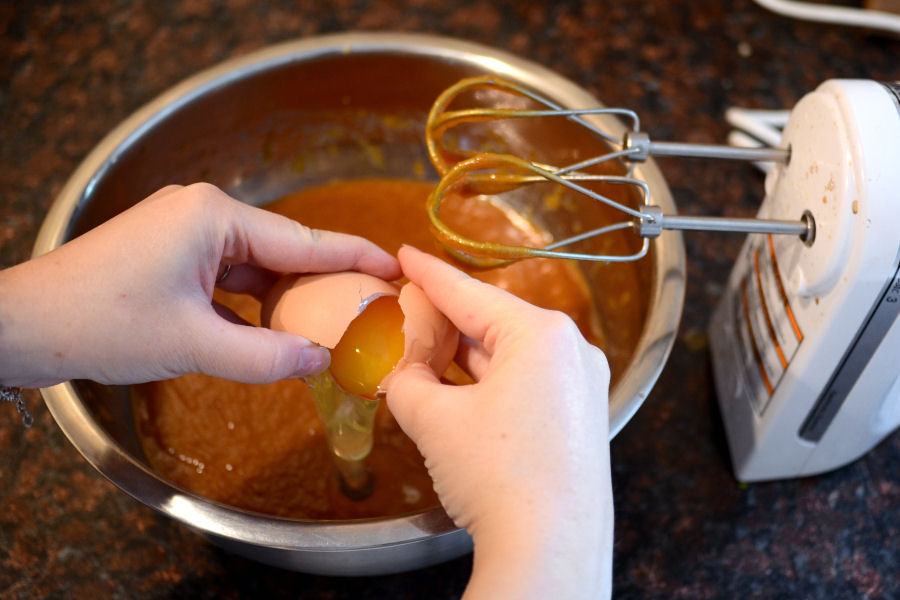 Add the eggs one at a time, beating well after each addition.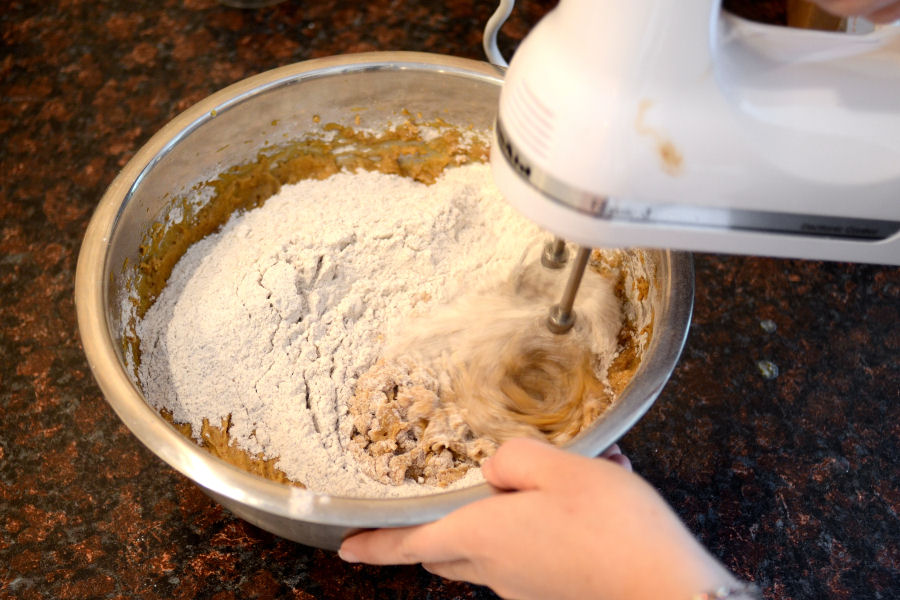 Add half the flour, mix, add the other half, and mix just until combined.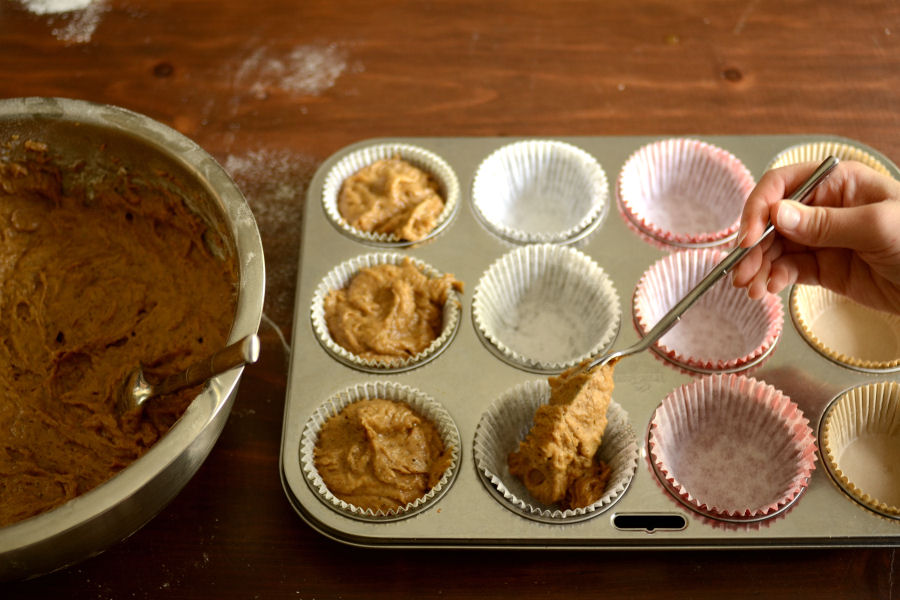 Fill your muffin papers about 3/4 full with the batter.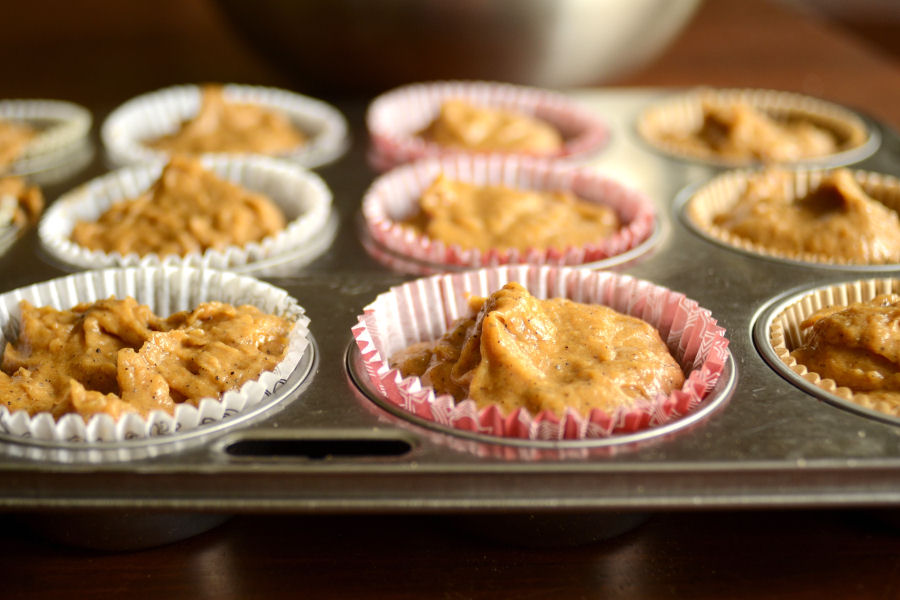 I think I filled mine a little too full—they spilled over a bit.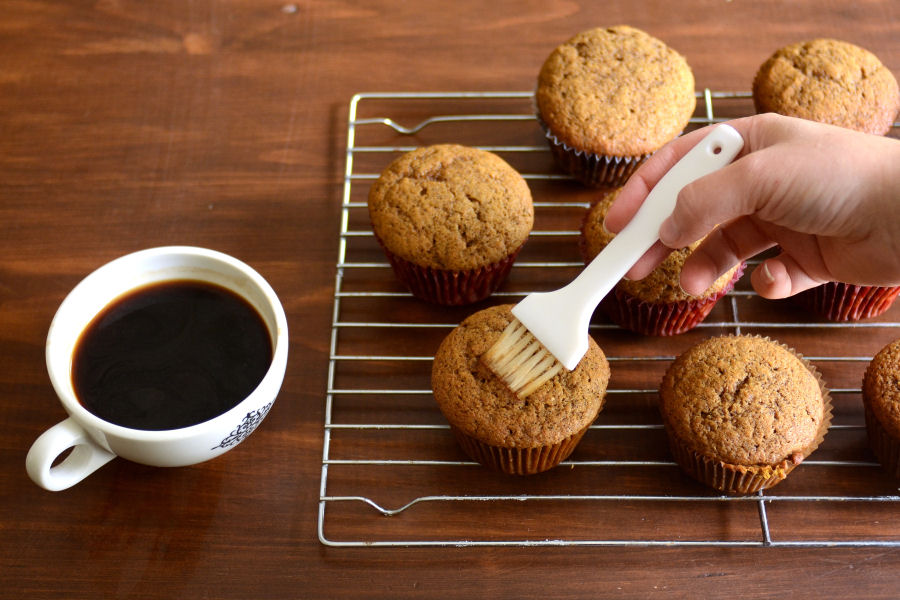 Bake in a preheated 350ºF oven for about 18-20 minutes, or until a toothpick inserted near the center comes out clean. While the muffins are still nice and warm, brush them with a few coats of espresso goodness.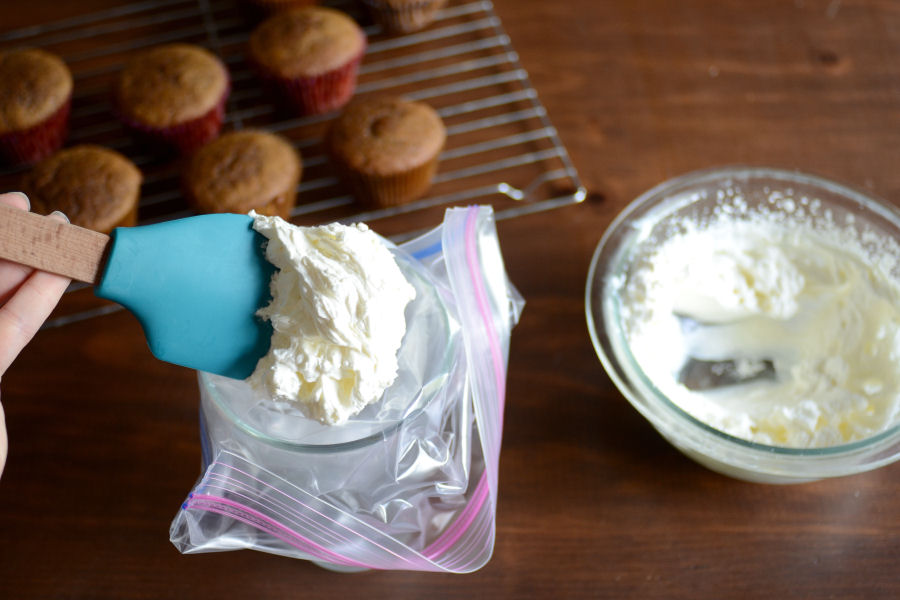 Now for the whipped cream frosting! Simply beat the cream and powdered sugar together until stiff peaks form.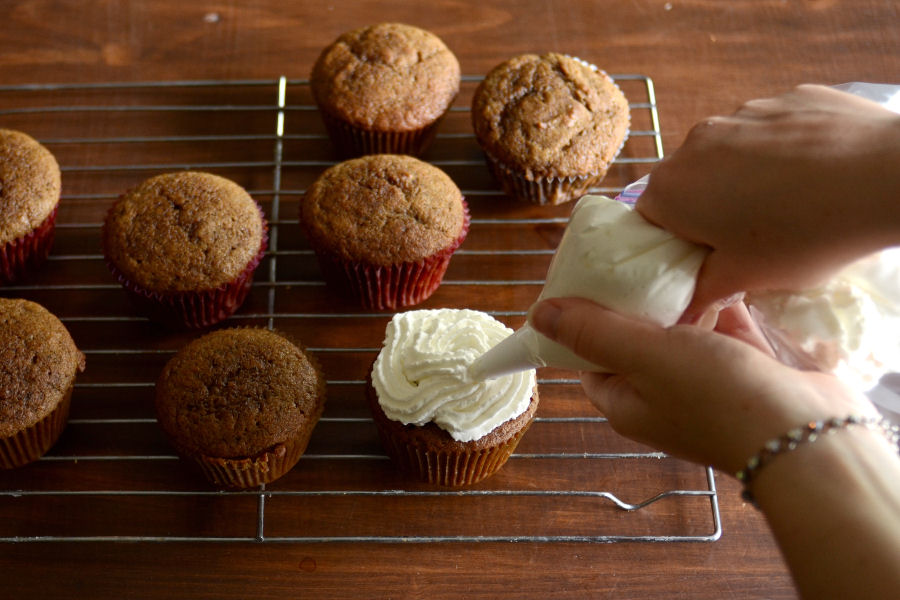 I just used a star tip in a disposable bag to frost the cupcakes. Hopefully you're better at frosting than I am!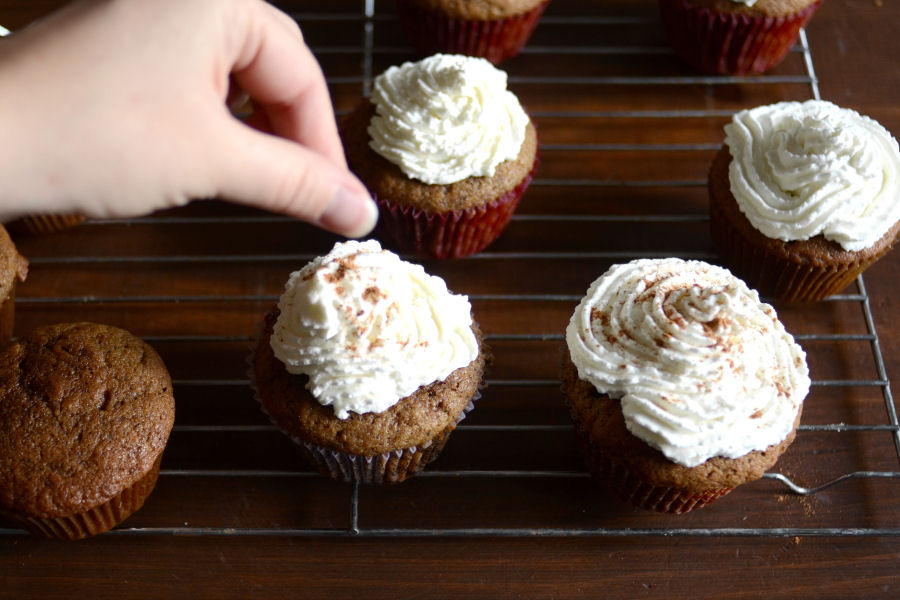 Sprinkle each cupcake with a bit of cinnamon.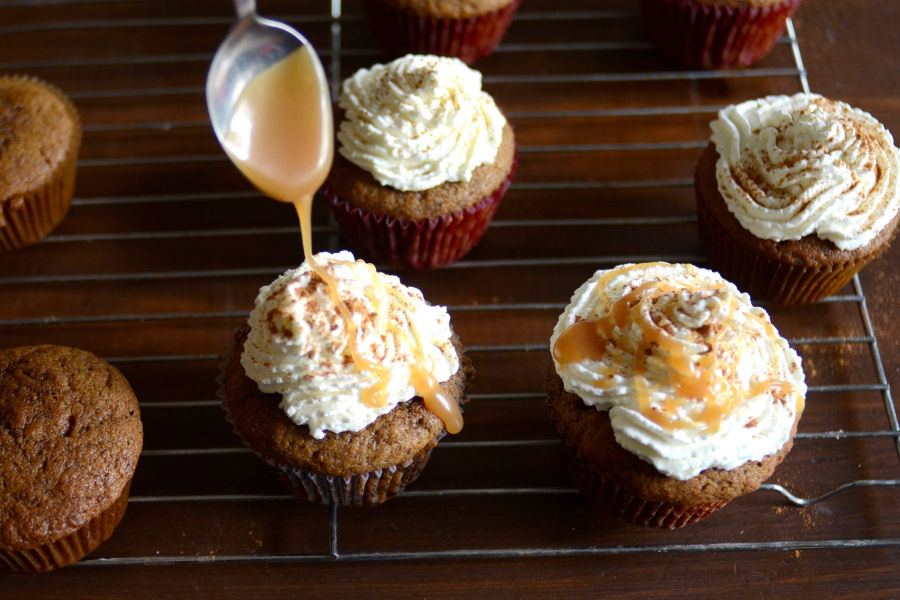 Top with some awesome caramel sauce. Mmhmm.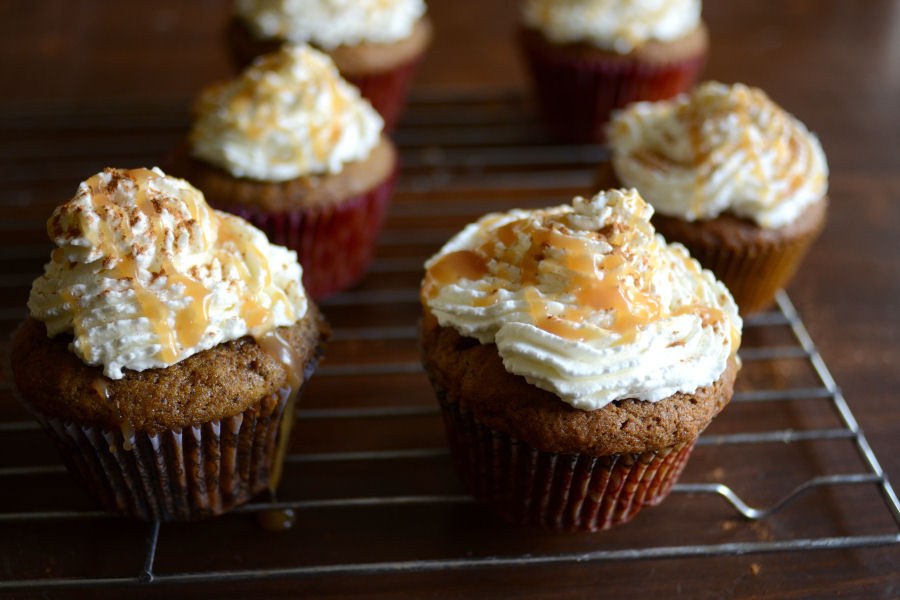 Try not to eat too many before serving.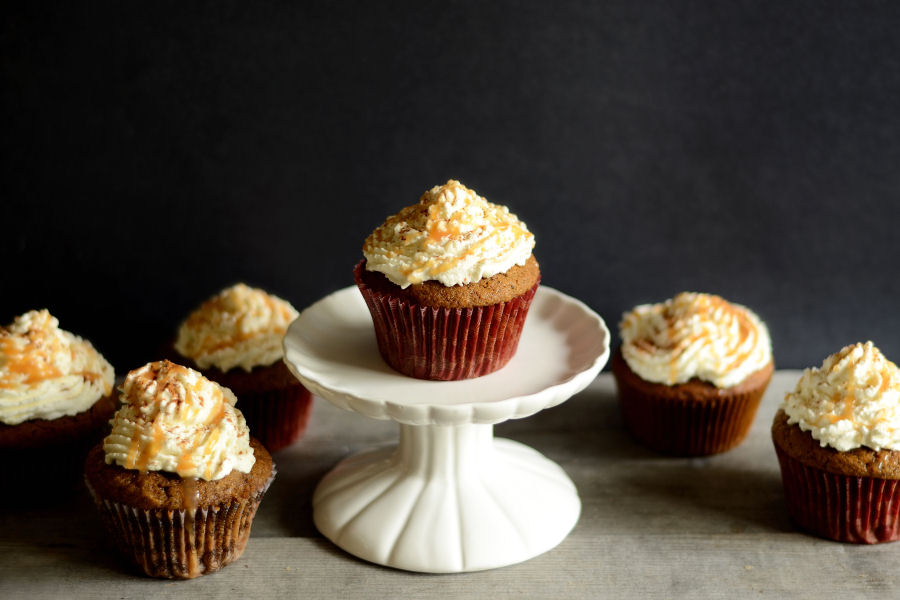 Recipe notes:
1. The sweetness was spot on in these cupcakes. I don't often say that about a recipe unless much of the sugar has been cut out.
2. Do not neglect the caramel sauce. It was my favorite part. You can use store bought if you like, but this recipe for homemade caramel sauce is so easy and dynamite.
3. Next time I might add a splash of vanilla extract to the cupcake batter. Just for kicks.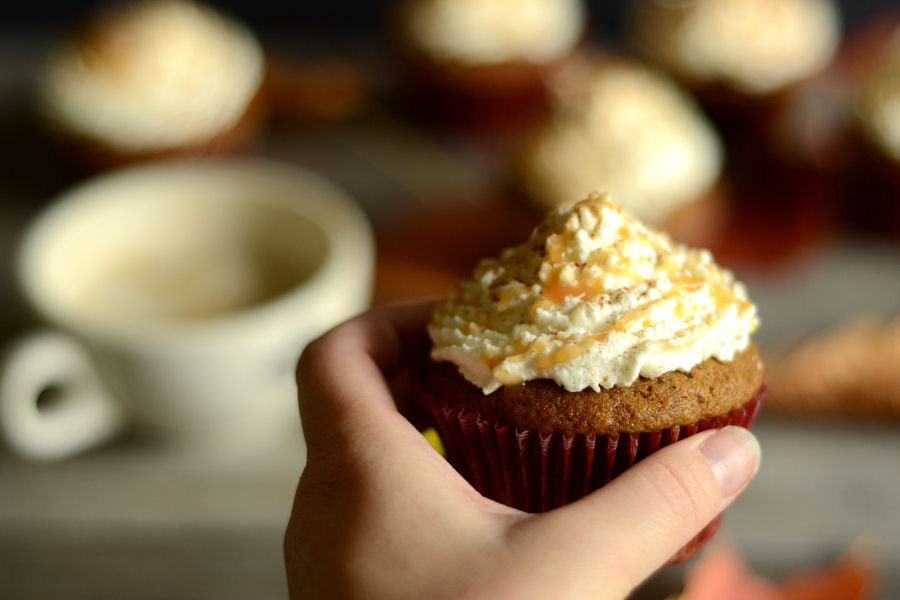 Major thanks to Annie for sharing this recipe with us! I'm sure you've all seen her gorgeous blog, Annie's Eats. It's chock full of irresistible recipes.
Printable Recipe
See post on annmarsh's site!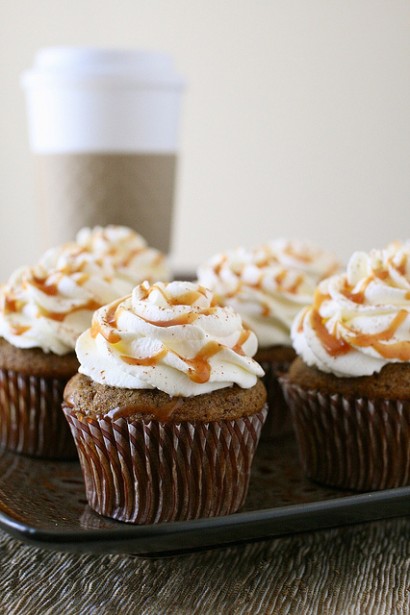 Description
Espresso-laced pumpkin spice cupcakes topped with whipped cream and caramel, these sweet little cakes are a cupcake version of everyone's favorite seasonal beverage.
Ingredients
2-⅔ cups All-purpose Flour
3 Tablespoons Espresso Powder
2 teaspoons Baking Soda
2 teaspoons Baking Powder
1 teaspoon Ground Cinnamon, Plus Extra To Sprinkle On Frosted Cupcakes
⅛ teaspoons Grated Nutmeg
⅛ teaspoons Ground Cloves
1 teaspoon Salt
15 ounces, weight Pumpkin Puree
1 cup Granulated Sugar
1 cup Brown Sugar
1 cup Canola Or Vegetable Oil
4 whole Large Eggs
½ cups Brewed Coffee Or Espresso, For Brushing
2-¼ cups Heavy Cream
¼ cups Confectioners Sugar
¼ cups Caramel Sauce
Preparation Instructions
To make the cupcakes, preheat the oven to 350°F. Line cupcake pans with paper liners. In a medium bowl, combine the flour, espresso powder, baking soda, baking powder, cinnamon, nutmeg, cloves and salt. Stir together and set aside. In the bowl of an electric mixer, blend together the pumpkin, granulated sugar, brown sugar and oil. Add the eggs one at a time, beating well after each addition. With the mixture on low speed, add the flour mixture in two additions, mixing just until incorporated.
Fill the cupcake liners about three-quarters full. Bake until the cupcakes are golden and a toothpick inserted into the center comes out clean, 18-20 minutes. Transfer the pans to a wire rack and let cool for 10 minutes, then remove the cupcakes from the pans. While the cupcakes are still warm, brush them two or three times with the coffee or espresso, allowing the first coat to soak in before repeating. Let cool completely.
To make the frosting, place the heavy cream in the bowl of an electric mixer fitted with the whisk attachment. Whip on medium-low speed at first, gradually increasing to high speed. Blend in the confectioners' sugar gradually. Whip until stiff peaks form, being careful not to over-beat. Use a pastry bag fitted with a decorative tip to frost the cooled cupcakes. Sprinkle with additional ground cinnamon and drizzle with the caramel sauce. Store in an airtight container and refrigerate.


_______________________________________
Newly-married Erica Kastner shares her wonderful recipes and amazing food photography on her blog, Cooking for Seven. She also writes about crafts and posts more of her beautiful photography in her personal blog, EricaLea.com. There really isn't much that this amazing young lady can't do, and we're thrilled she does some of it here.