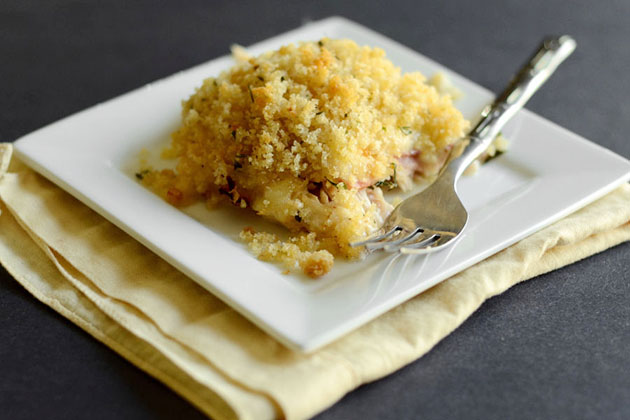 Sometimes, you just need a warm, comforting supper; something that will fill your belly and keep you satisfied.
This casserole (or, as I like to call it, hotdish) is admittedly not the most healthy on earth. But, trust me, Terri's recipe is worth the extra calories.
Let me show you how it goes together.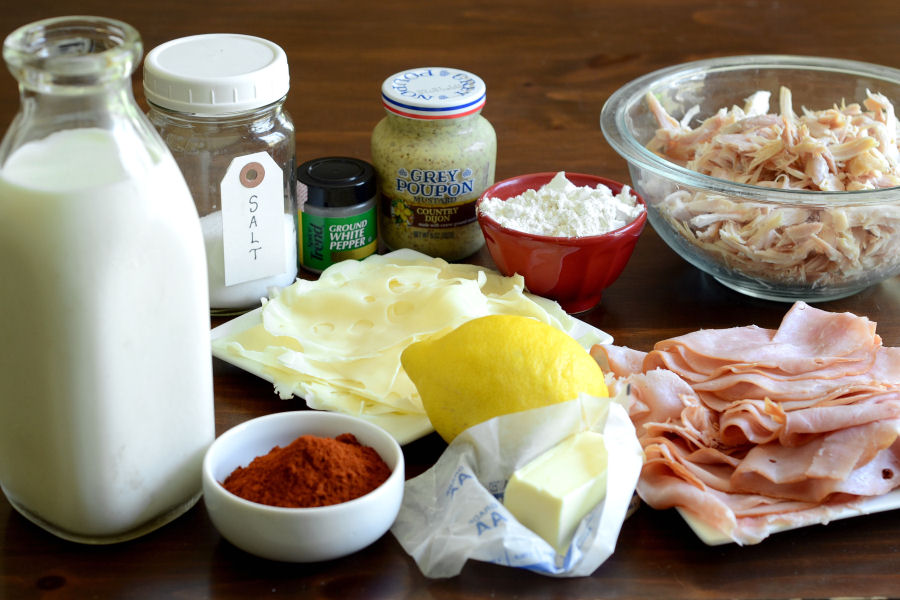 Here's what you'll need: 1 whole chicken (I used a rotisserie chicken), thinly sliced honey ham, thinly sliced baby Swiss cheese, butter, flour, milk, lemon, Dijon mustard, salt, smoked paprika and white pepper.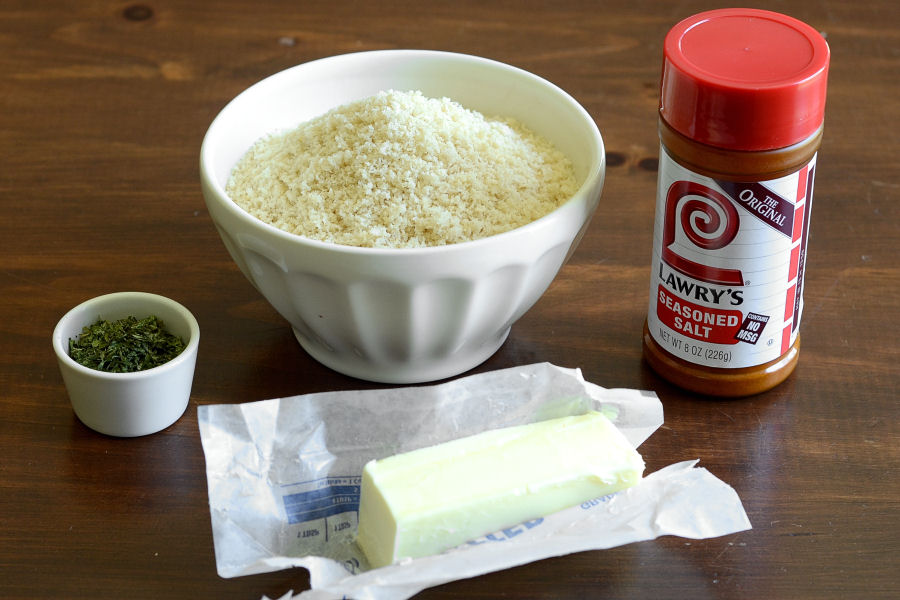 For the topping you will need: more butter (duh!), panko bread crumbs, seasoning salt and parsley.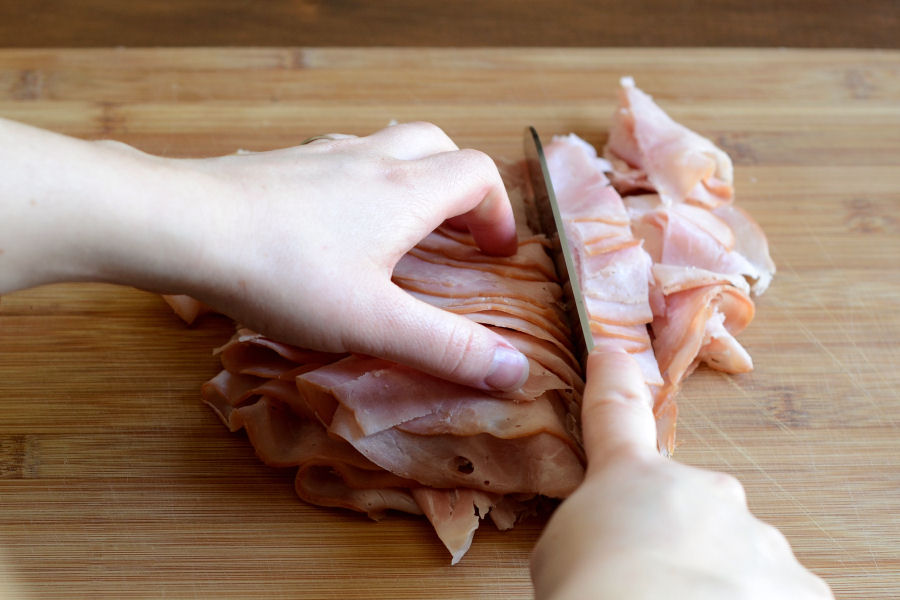 Roughly chop the ham.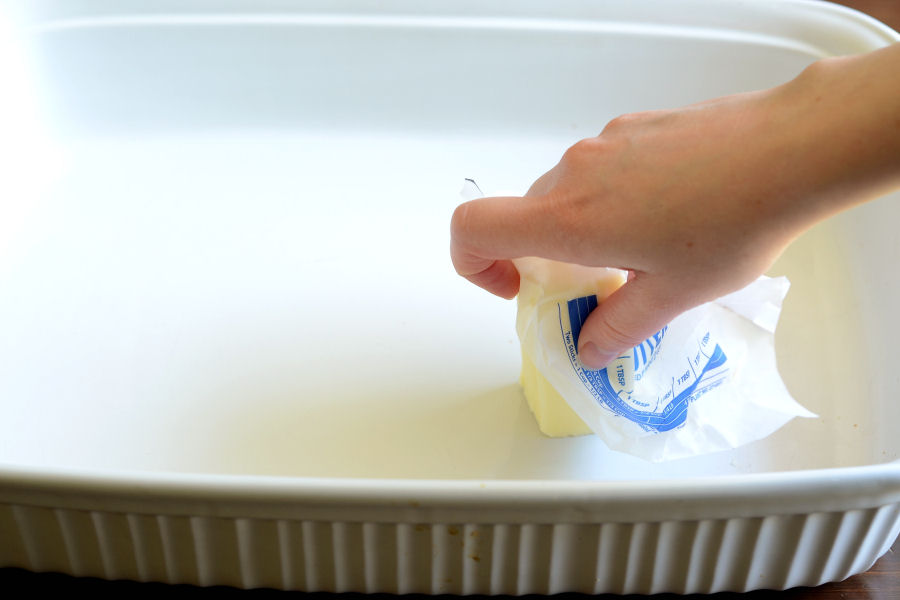 Butter a baking dish. I like to hold onto a stick of butter with the wrapper, but if you like to get your hands greasy, that's alright, too.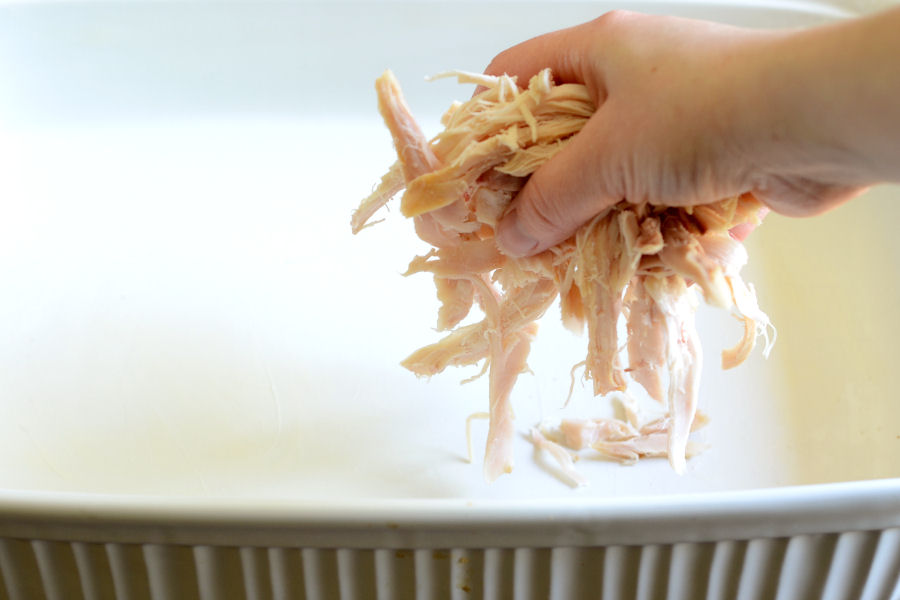 Place the shredded or diced chicken in the bottom of the pan.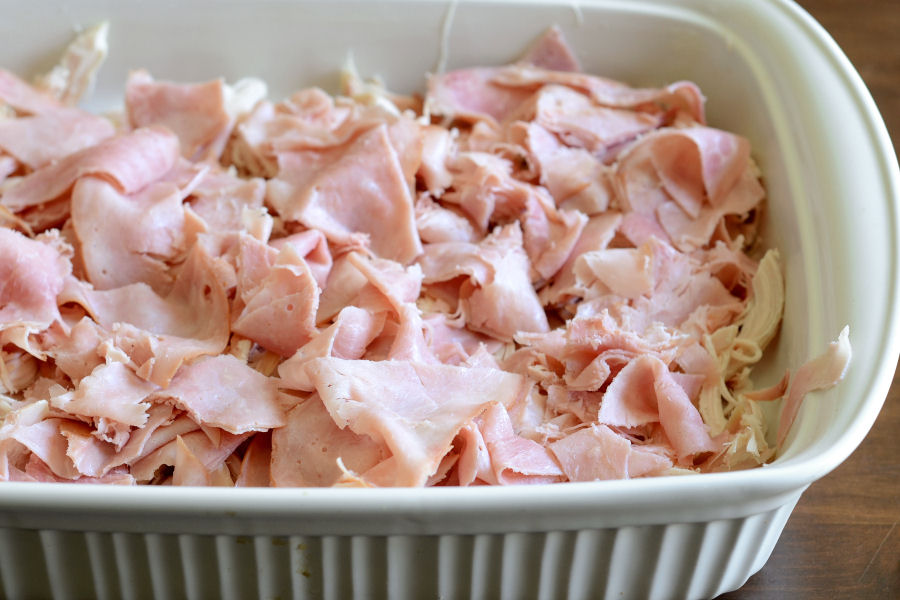 Put the chopped ham on top.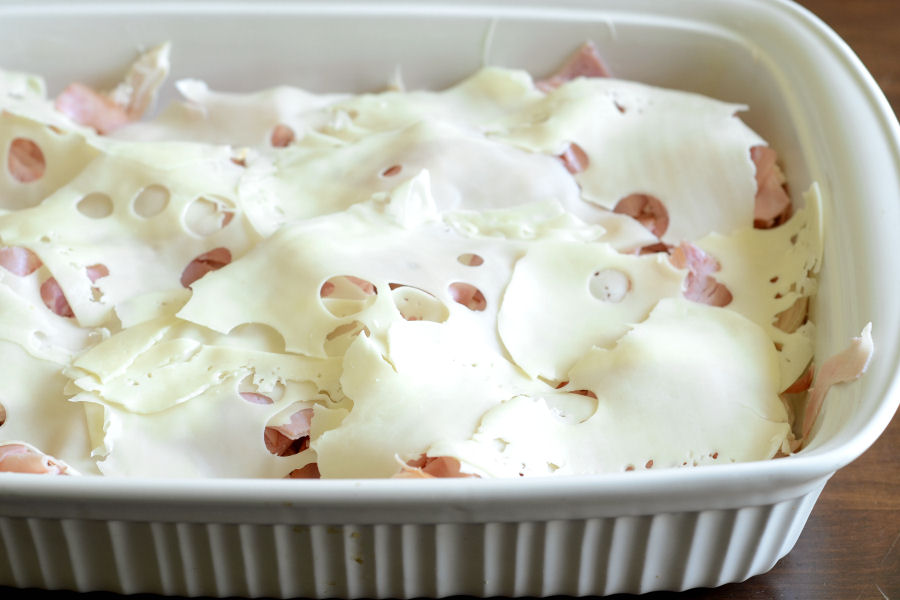 Place the sliced cheese on top of the ham.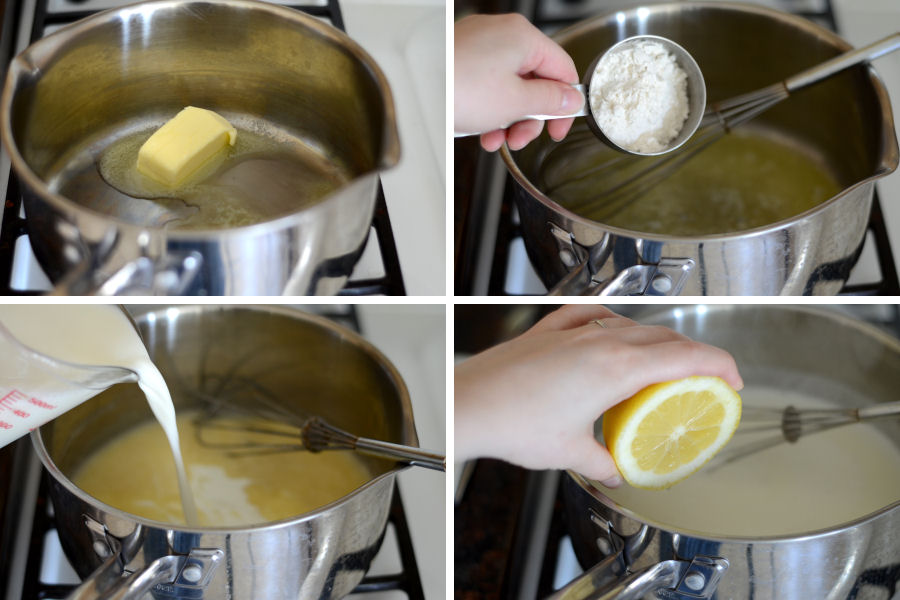 Now make the white sauce: Melt the butter in a saucepan over medium heat. Whisk in the flour and cook until bubbly and smooth. Slowly add the milk. Cook until thickened. Add the lemon juice …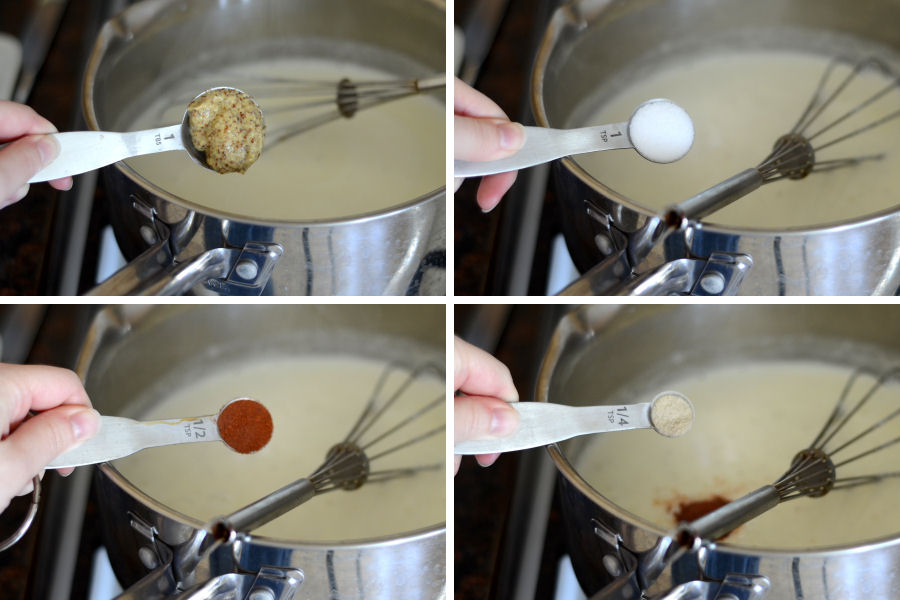 … mustard, salt, paprika and white pepper. Bring up to a boil and remove from heat.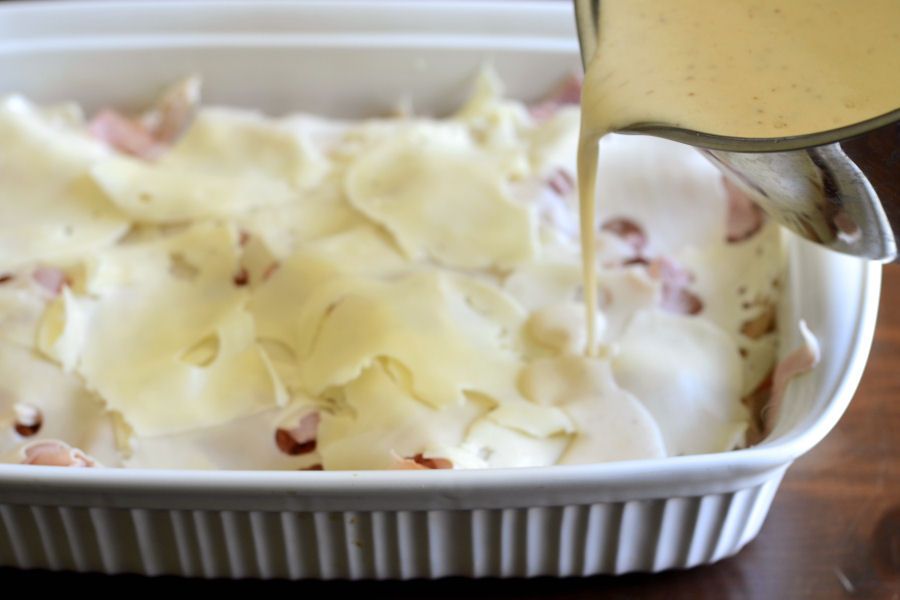 Pour the sauce over the chicken/ham/cheese in the pan.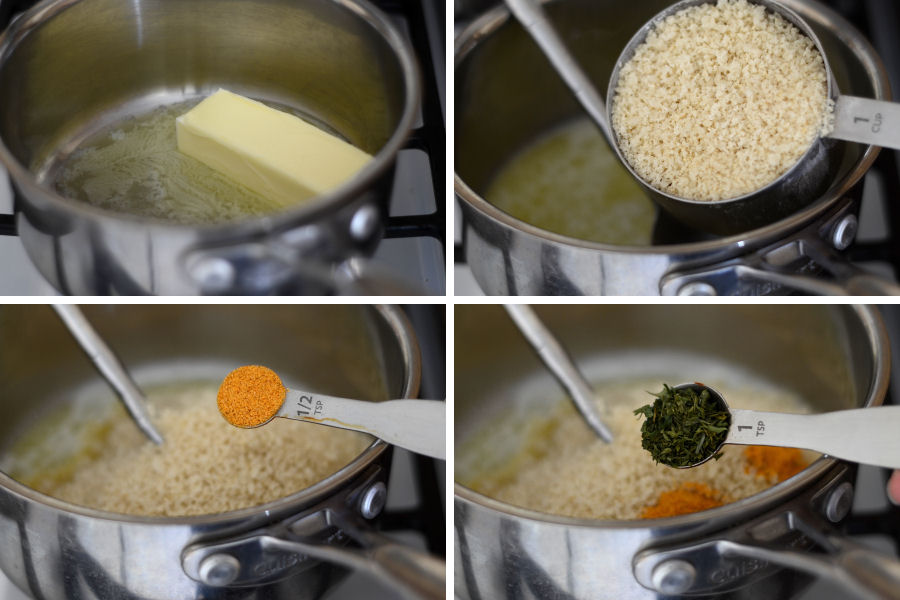 Time to make the topping: Melt the butter. Stir in the breadcrumbs, seasoning salt and parsley.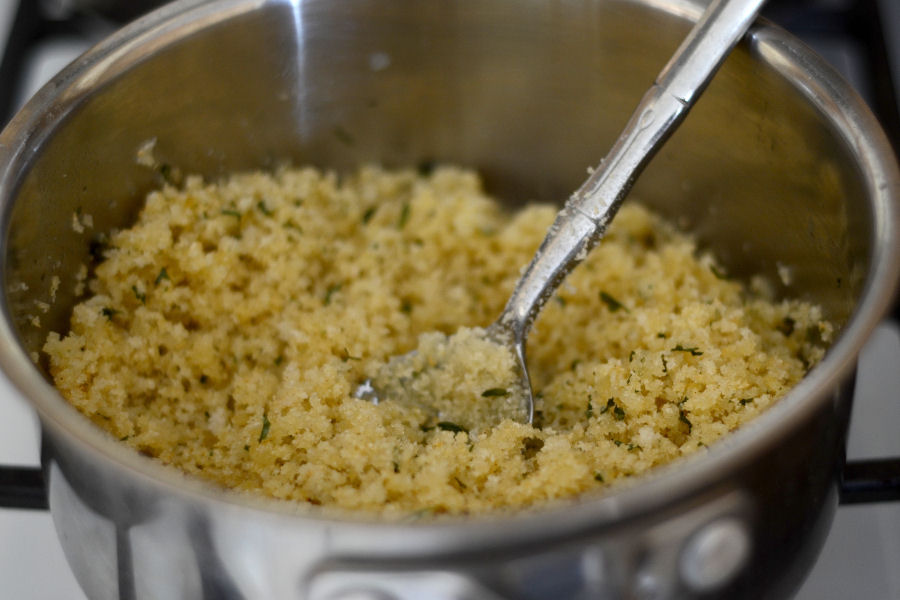 Just look at that buttery goodness. Mmhmm.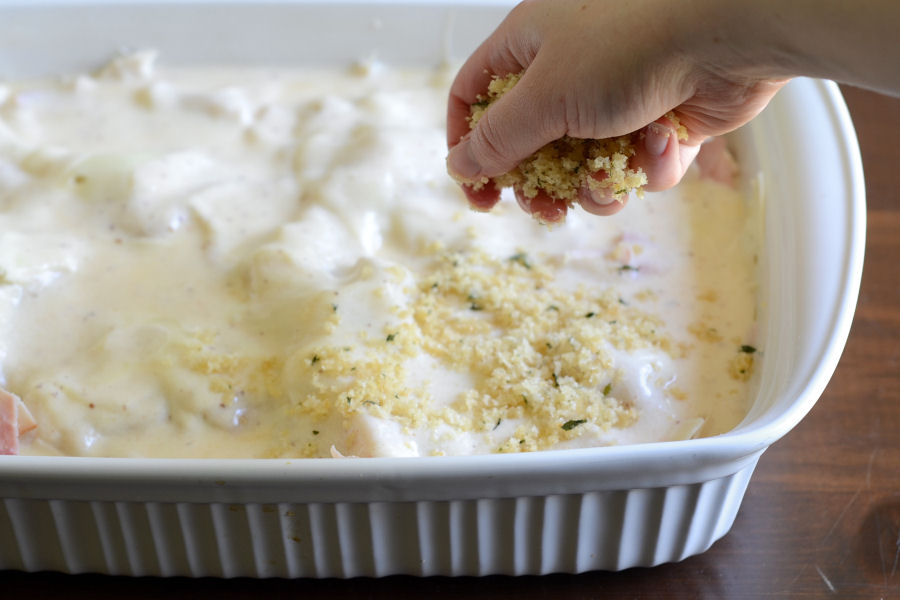 Sprinkle the topping over the sauce-laden chicken/ham/cheese. Oh yeah.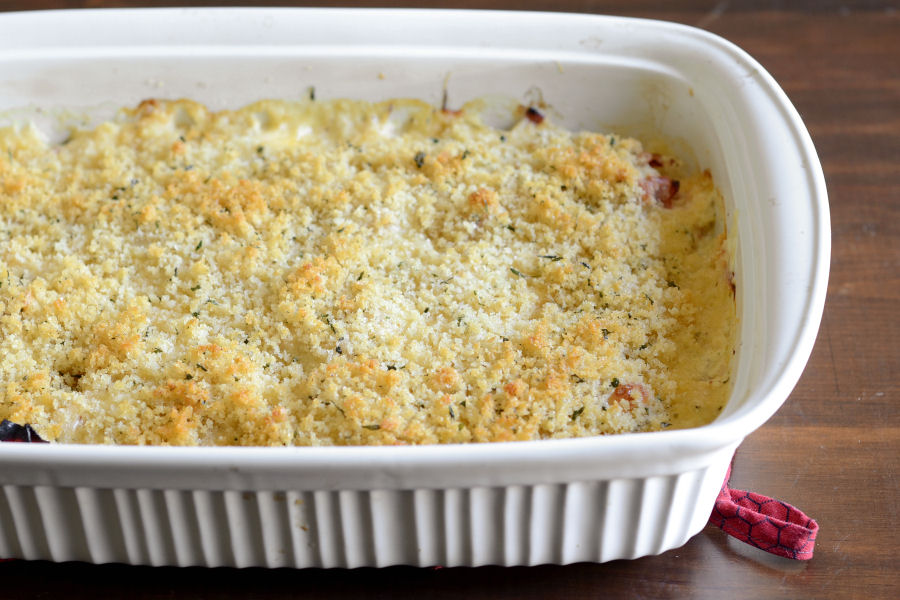 Bake at 350ºF until bubbly and the topping is lightly browned.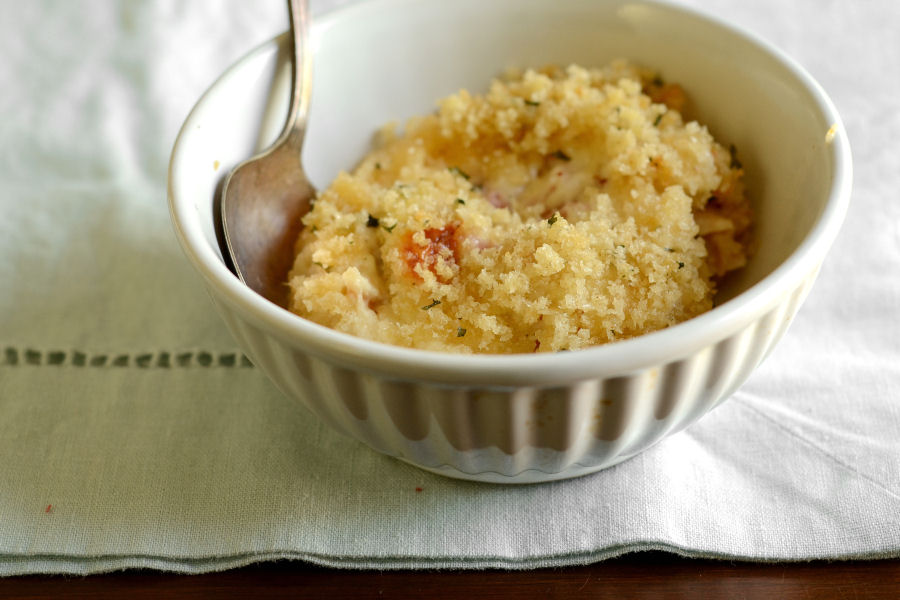 Allow to cool for 5-10 minutes before serving. Then, dig in!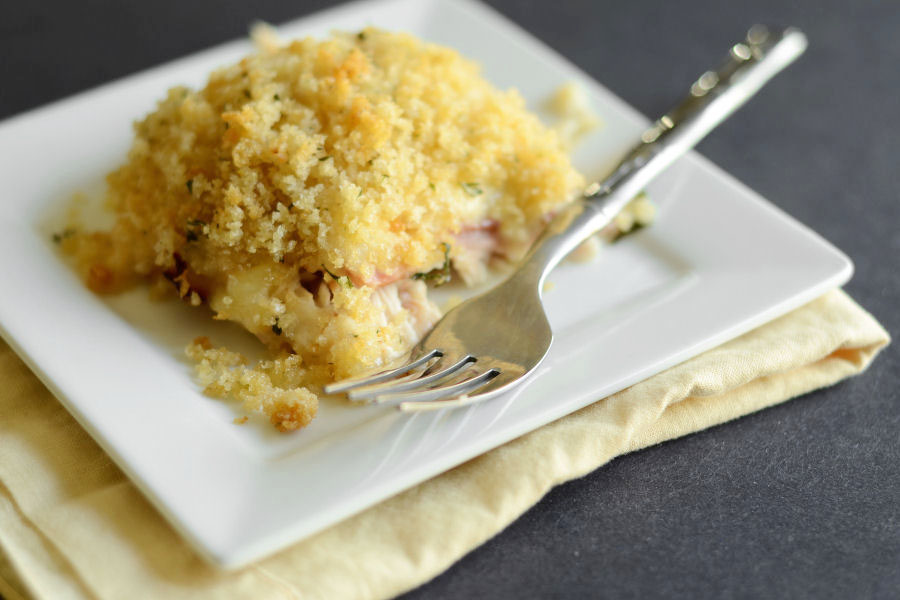 Recipe Notes:
1. I thought this was brilliant. It tasted a lot like Chicken Cordon Bleu, only richer and creamier. Which is always good, in my book.
2. The sauce didn't seem to want to thicken up too well for me. Next time I might add a bit more flour.
3. The lemon in the sauce was brilliant. It added just the right amount of tang.

Thanks so much to Terri for sharing this delicious recipe! Make sure to check out her blog, That's Some Good Cookin', for more lip-smacking recipes. This Cinnamon Roll Cake looks insane. And this Browned Butter Banana Bread sounds scrumptious.
Printable Recipe
See post on Terri @ that's some good cookin''s site!
Description
Classic flavor, homespun ease.
Please note: due to comments about the salt content of this recipe, the amount of salt has been reduced.
Ingredients
FOR THE CASSEROLE:
1 whole Cooked Chicken, Bones Removed, Meat Diced Or Shredded (rotisserie Chicken Is Excellent, Should Be 5-6 Cups Of Chicken
½ pounds Very Thinly Sliced Deli-style Honey Ham, Rough Chopped
¼ pounds Thin Sliced Baby Swiss Cheese
FOR THE SAUCE:
4 Tablespoons Butter
4 Tablespoons Flour
3 cups Whole Milk (or A Bit More If Needed; Whole Milk Is Required)
2 Tablespoons Fresh Squeezed Lemon Juice
1 Tablespoon Dijon Mustard
¾ teaspoons Salt
½ teaspoons Smoked Paprika
¼ teaspoons White Pepper
FOR THE TOPPING:
1-½ cup Panko Breadcrumbs
4 Tablespoons Butter, Melted
½ teaspoons Seasoning Salt
1-½ teaspoon Crushed Dried Parsley
Preparation Instructions
(2/19/2015—Please note: due to comments about the salt content of this recipe, the amount of salt has been reduced.)
Preheat oven to 350 F. Butter a 9×13-inch baking dish. Set aside.
Put cooked shredded or diced chicken on the bottom of the baking dish. Rough chop the ham and scatter it over the top of the chicken. Lay the Swiss cheese on top of the ham.
For the sauce:
Melt the butter in a large sauce pot over medium heat. When butter is melted, quickly stir in the flour to form a smooth roux. Do not brown! Once the roux is smooth and bubbly, slowly pour in the cold milk while stirring briskly to make a smooth sauce. Cook over medium heat, stirring constantly until the sauce thickens. Stir in the lemon juice, Dijon mustard, salt, smoked paprika and white pepper. Bring sauce just back to a low boil and turn off heat. Pour sauce evenly over the casserole, being certain to get some of the sauce around the edges of the pan.
For the topping:
Melt the butter in the microwave in a medium sized microwaveable bowl. Heat it for 30 seconds at a time and stop once it's melted. Take the bowl out of the microwave and stir in the panko bread crumbs, crushed dried parsley. Sprinkle over the top of the casserole.
Bake casserole uncovered for 45 minutes until hot and bubbly throughout and topping has turned a light golden brown. Remove from oven and allow to cool for 5-10 minutes prior to serving.


_______________________________________
Newly-married Erica Kastner shares her wonderful recipes and amazing food photography on her blog, Cooking for Seven. She also writes about crafts and posts more of her beautiful photography in her personal blog, EricaLea.com. There really isn't much that this amazing young lady can't do, and we're thrilled she does some of it here.