Once upon a time I loathed mushrooms. I mean, really. I wouldn't even consider eating them—I didn't care if they were on pizza or piled high atop a filet. Didn't matter. It wasn't happening.
Then I got married.
My husband goes through these huge phases with different foods (I once caramelized onions every day for what was probably three or four months) and sure enough, mushrooms made the list. For a few weeks he wanted soft and juicy sauteed mushrooms in every meal that I could fit them. And one day? Well, I got hungry and took a bite.
Pleasantly surprised, I kept on eating. My aversion quickly turned to love and soon enough, I was the one who couldn't get enough of mushrooms. These days I find myself including them in grilled sandwiches, pasta dishes and even grains. Sometimes I eat them (gasp!) plain as a side dish. It gets pretty crazy over here.
And then … then I saw Lauren's recipe for Pizza Stuffed Mushrooms. Seriously? Could my life get any better? I knew they'd be happening—like, immediately. And they did. And they were to die for. And now I want to eat more. For breakfast.
Here's how you make 'em!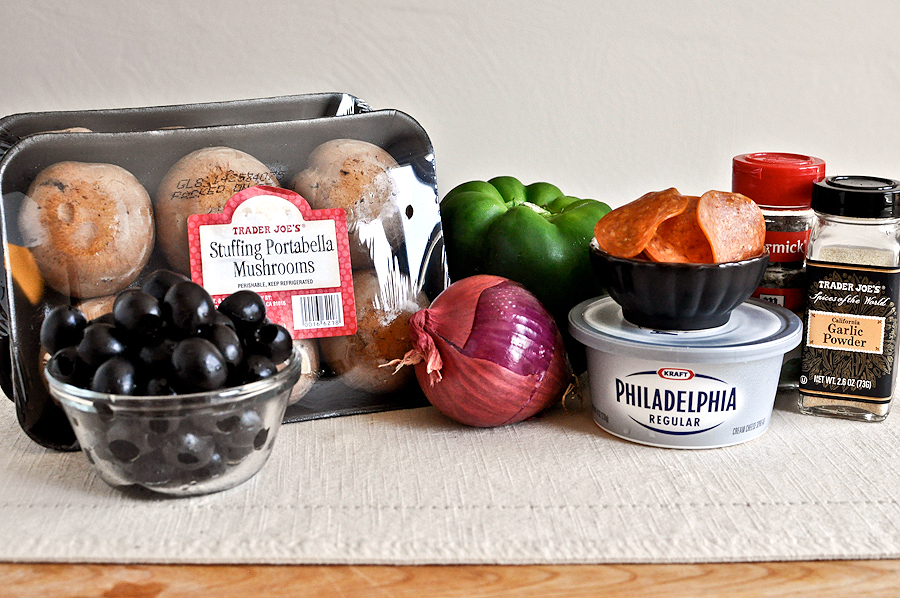 You need: baby bella stuffing mushrooms, cream cheese, green pepper, red onion, pepperoni, black olives, garlic salt or powder, dried basil and oregano and black pepper. And also some grated Parmesan or mozzarella cheese!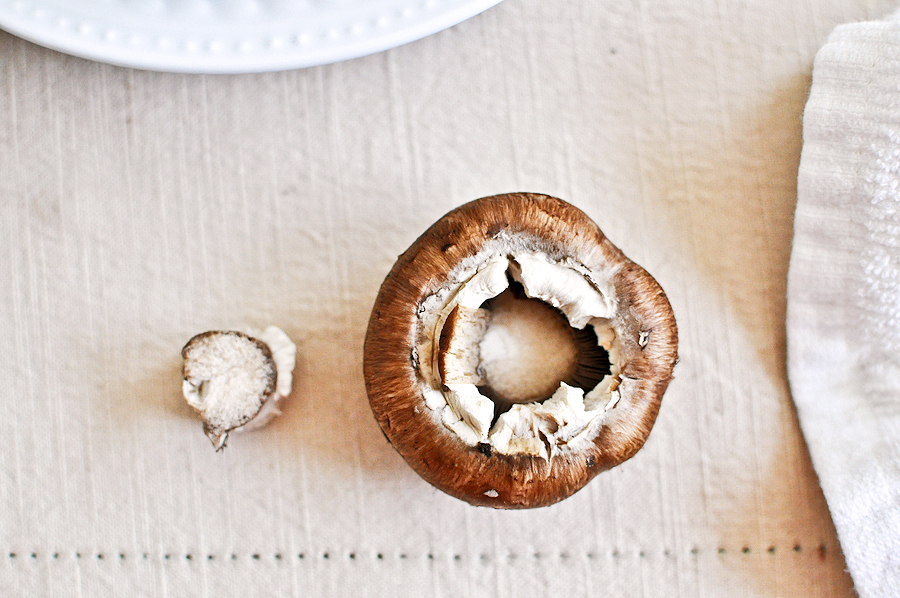 First up, clean those mushrooms. Using a damp rag or paper towel, simply wipe the dirt off each. Then remove the stem. It should pop right out.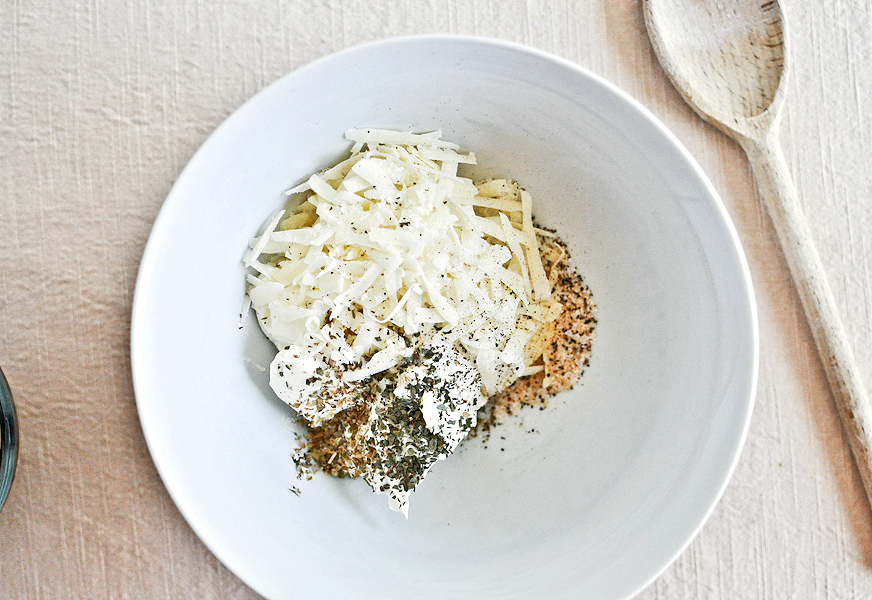 In a bowl, mix together the cream cheese, grated cheese, garlic powder, basil, oregano, salt and pepper.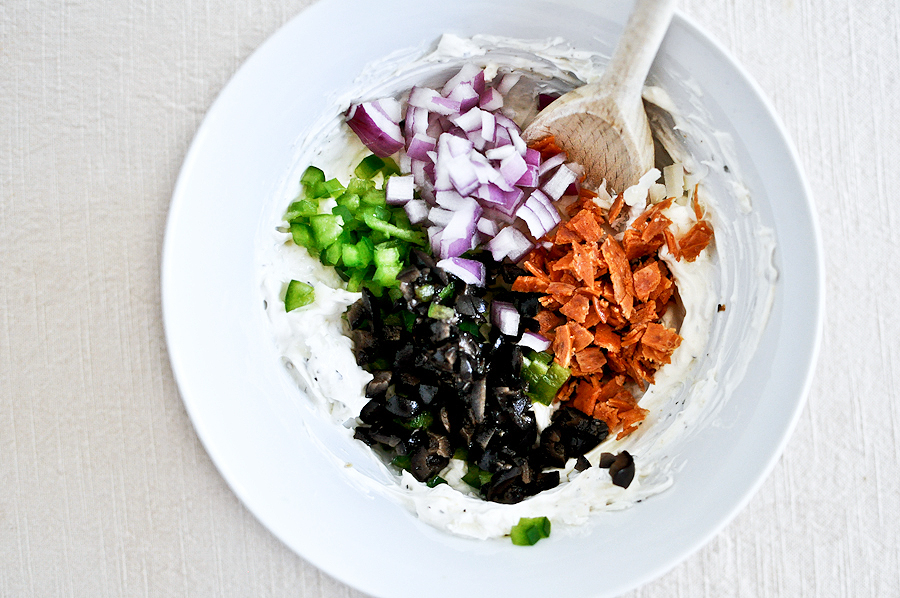 Add in the chopped green peppers, olives, pepperoni and red onion. Mix it together well.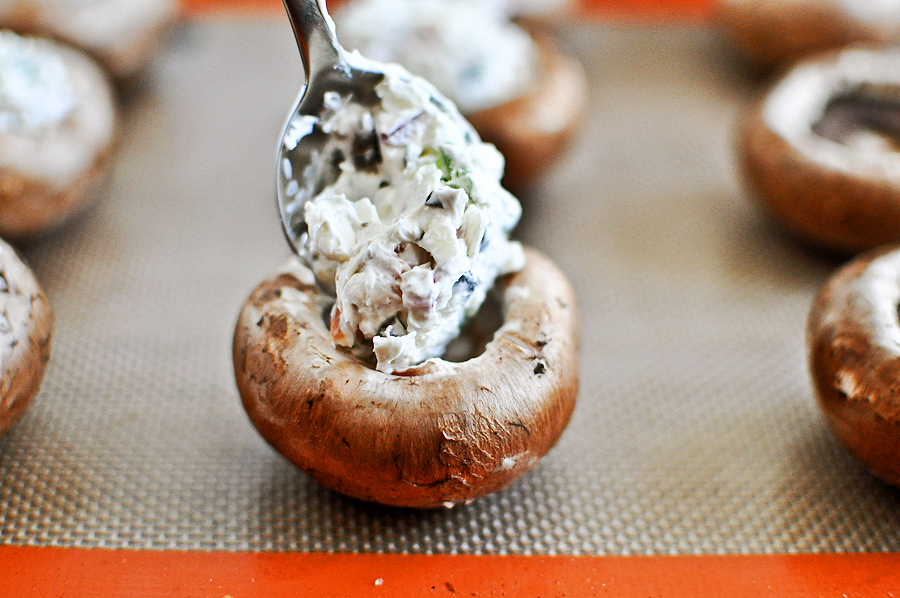 Stuff about a teaspoon or so of the cheesy mix into each mushroom.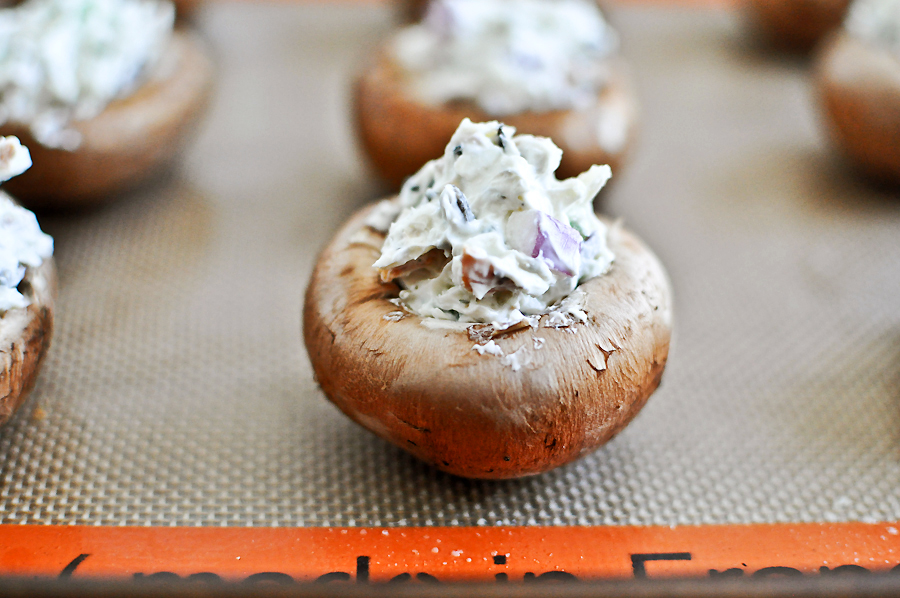 After every mushroom is stuffed, you want to bake them for 20 minutes. When 20 minutes has passed, switch on the broiler and broil until the cheese is golden and bubbly …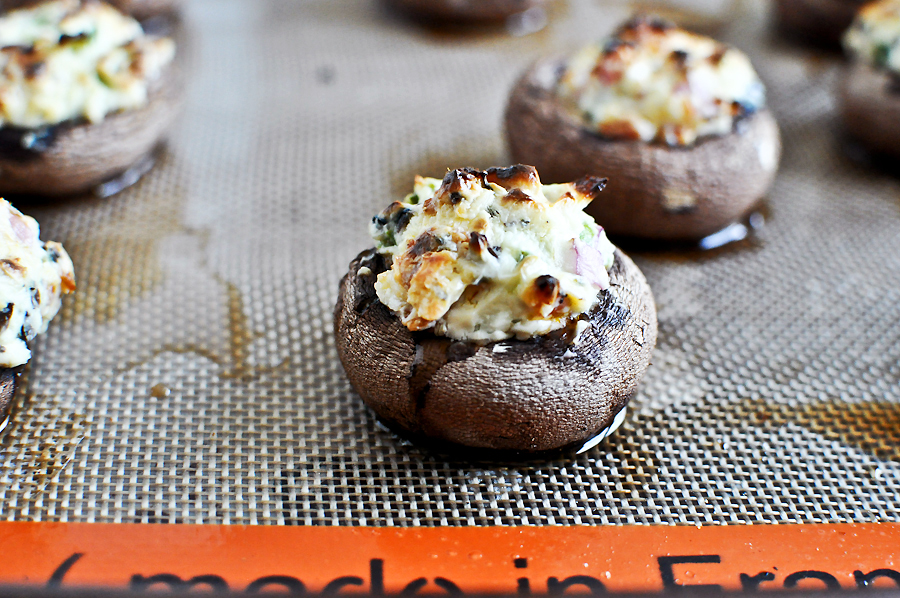 Just like this.
Serve warm, so the cheese is melty and creamy. Like a mini portable pizza!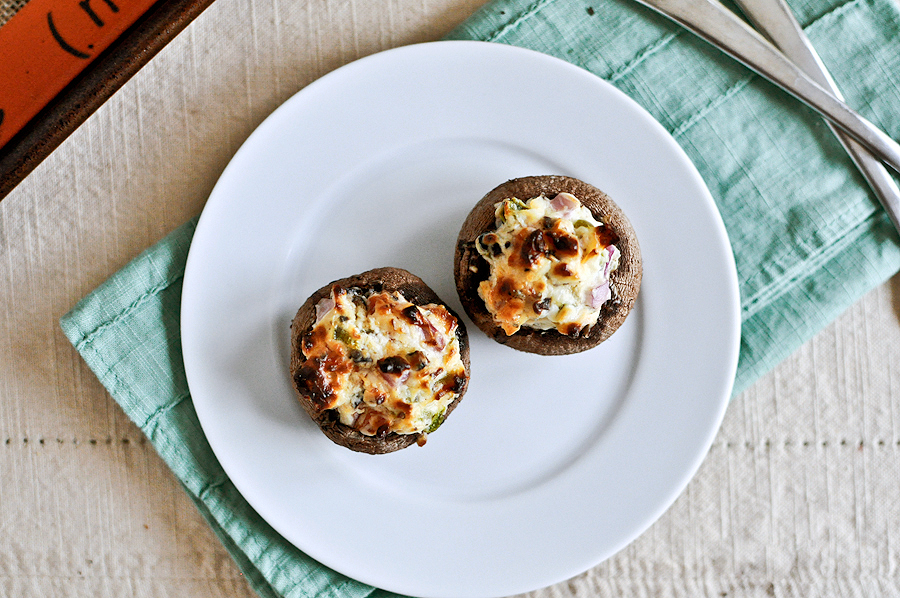 We couldn't believe how much the mushrooms really did taste like pizza. Even my husband, who isn't a huge fan of black olives, scarfed three right out of the oven, searing his taste buds out of existence. These are truly fantastic and will surely be one of my go-to appetizers.
Thanks so much to Lauren's for the recipe. Check out her fabulous blog Lauren's Latest where she shares her incredible culinary creativity.
Printable Recipe
See post on Lauren's Latest's site!
Description
A great way to turn mushroom haters into lovers!
Ingredients
10 whole Baby Bella Or Crimini Mushrooms
4 ounces, weight Cream Cheese, Softened
¼ cups Grated Parmesan Or Mozzarella Cheese
¼ teaspoons Dried Basil
⅛ teaspoons Dried Oregano
Garlic Salt And Pepper, To Taste
¼ cups Finely Diced Pepperoni
2 Tablespoons Finely Chopped Green Pepper
2 Tablespoons Finely Chopped Red Onion
2 Tablespoons Finely Chopped Black Olives
Preparation Instructions
Preheat oven to 350ºF. Spray two mini iron skillets with non stick cooking spray and set aside. (A sheet tray will work just fine, too!)
Wash mushrooms with a damp cloth and remove stems. (They should just pop out!) Set aside.
In a small bowl, stir cream cheese, parmesan, basil, oregano, garlic salt and pepper together until combined. Stir in remaining ingredients, excluding the mushrooms.
Spoon into prepared mushroom caps by the heaping teaspoonful. Place 5 in each skillet and bake 20 minutes. After 20 minutes, switch your oven from bake to broil and brown the tops of each mushroom. Remove and serve hot.


_______________________________________
Jessica Merchant is a personal trainer turned food writer and blogger. Her blog, How Sweet Eats, is where she proclaims her love for all things sweet, all things bacon, and everything else in between. She works her magic in her Pittsburgh kitchen, which she shares with her husband of 2 years.