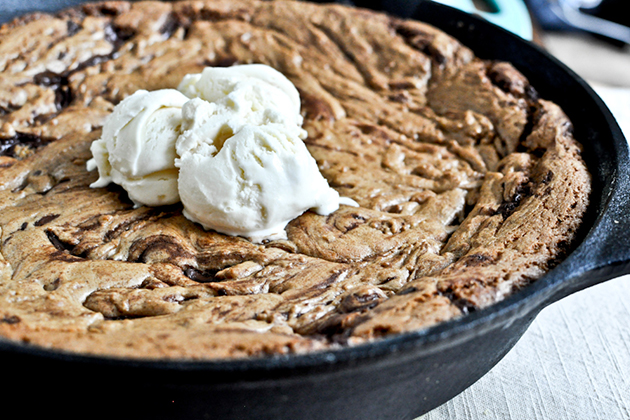 Everyone loves a chocolate chip cookie, right? And do you know what's better than a chocolate chip cookie? A GIANT chocolate chip cookie. Massive. We are talking huge.
I think chocolate chip cookies—warm and gooey—are one of life's greatest comfort foods. They usually have a time and a place: rainy days, snowy nights, summer afternoons, and my favorite, the worst day ever. Everyone has a worst day ever. Sometimes they even occur weekly. Fortunately, chocolate chip cookies usually solve everything. Unfortunately for me, my time and place for chocolate chip cookies is … all the time and all of the places. But let's pretend that's a fabulous thing. Because it is.
And thanks to Jaime, my life (and yours) just got even easier, because you can make one gigantic chocolate chip cookie in a single pan. That's right, a One-Pan Dark Chocolate Chunk Skillet Cookie. One skillet, I tell you. Pure genius and sort of dangerous. Let's take the risk!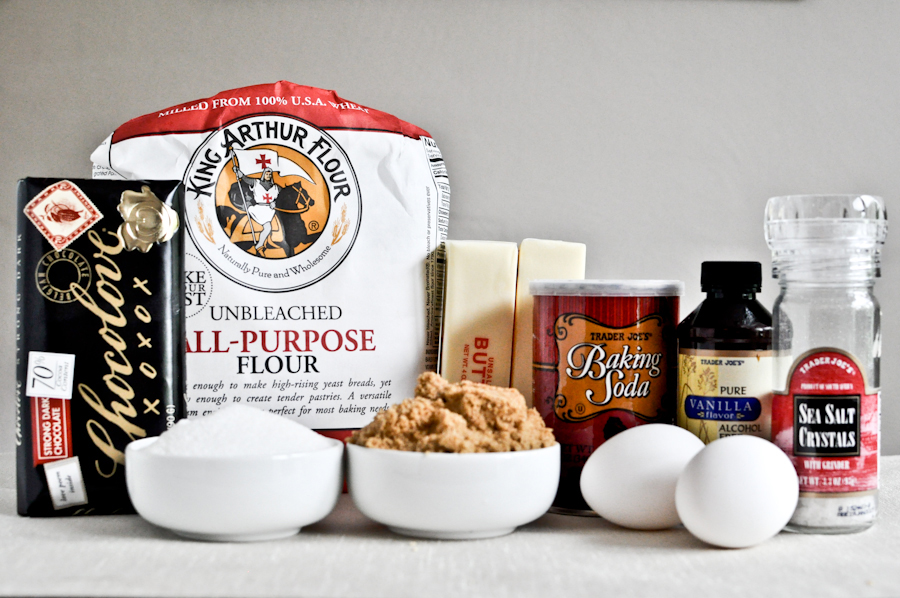 You need all your basic cookie goods: flour, baking, baking soda, salt, granulated sugar, brown sugar, butter, eggs, vanilla extract and chocolate.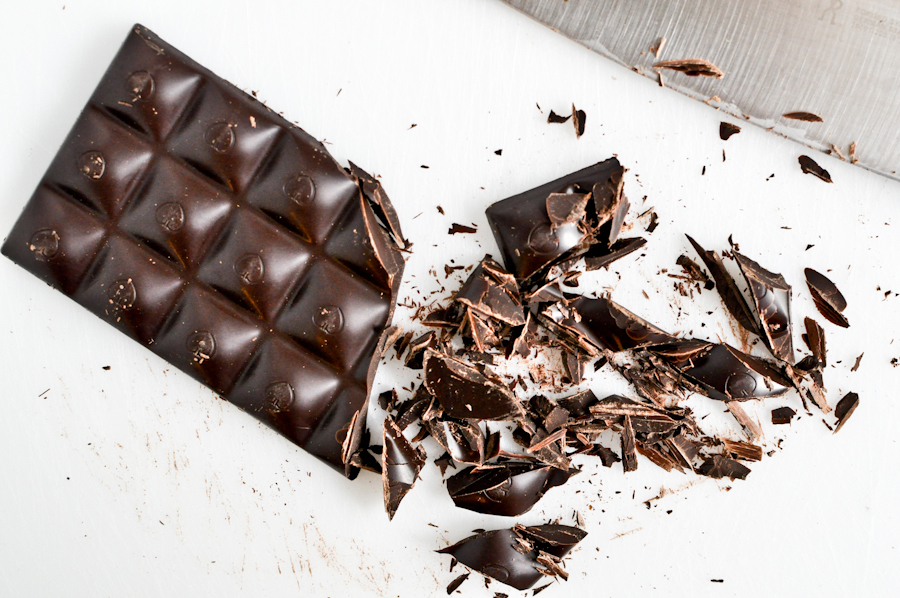 First up, chop that chocolate bar. You can surely use chocolate chips if that's all you have on hand, but I love the random and unequally-sized chocolate chunks strewn throughout the cookie. Also, using dark chocolate makes this healthy! Antioxidants my friends.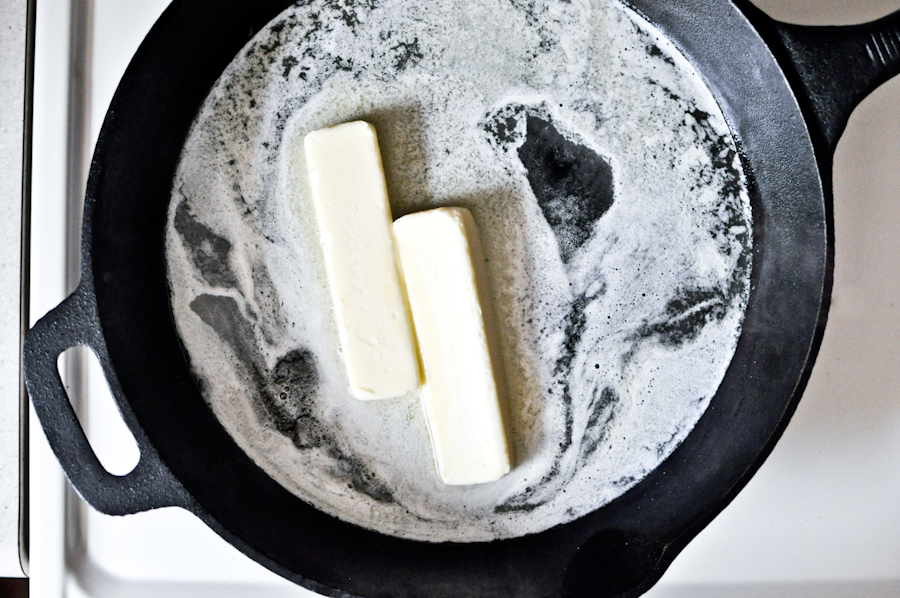 Next, heat your cast iron skillet and melt the butter. Jaime's recipe was made for an 8-inch skillet, but I don't have one in my possession. My skillet is very large, so I actually doubled the recipe and it worked perfectly. So yes, I made an even bigger cookie.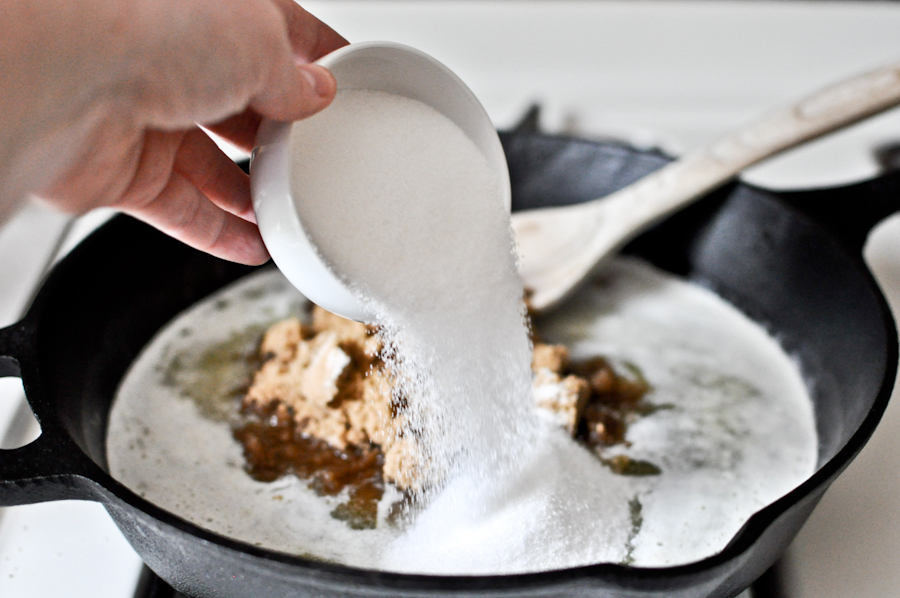 Add your sugars.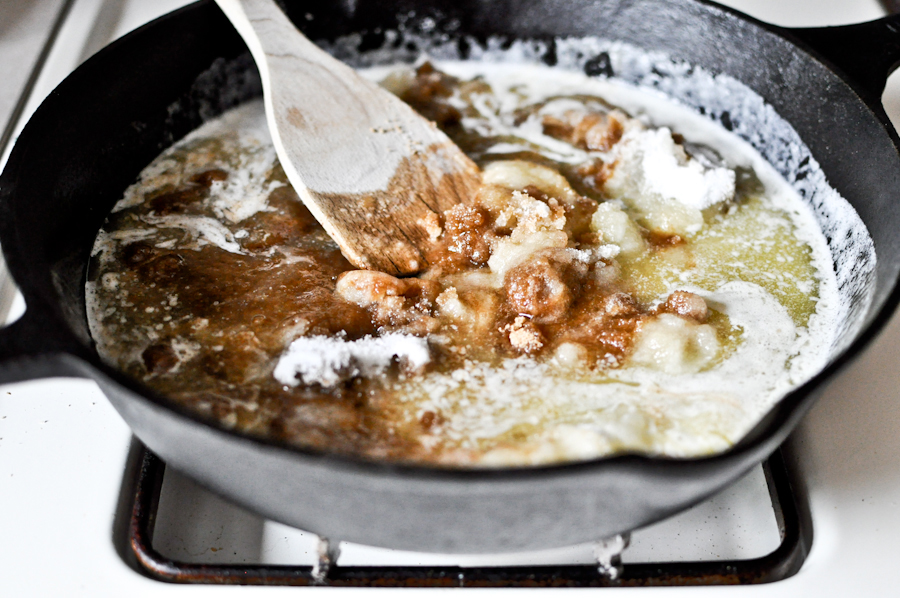 Mix until caramelly and smooth.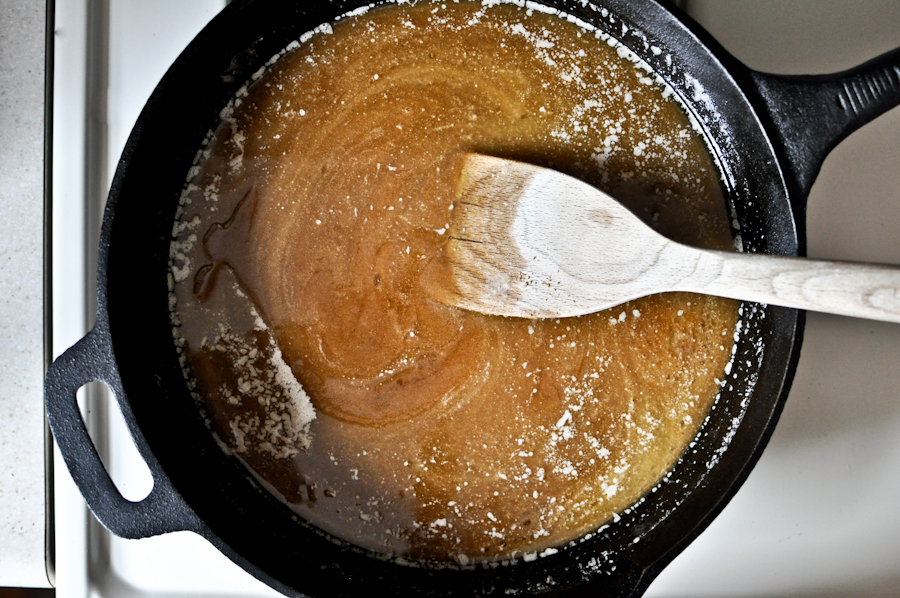 It should look like this! Remove the skillet from the heat and let sit for a few minutes. You don't want it to be hot, but it should still be a bit warm.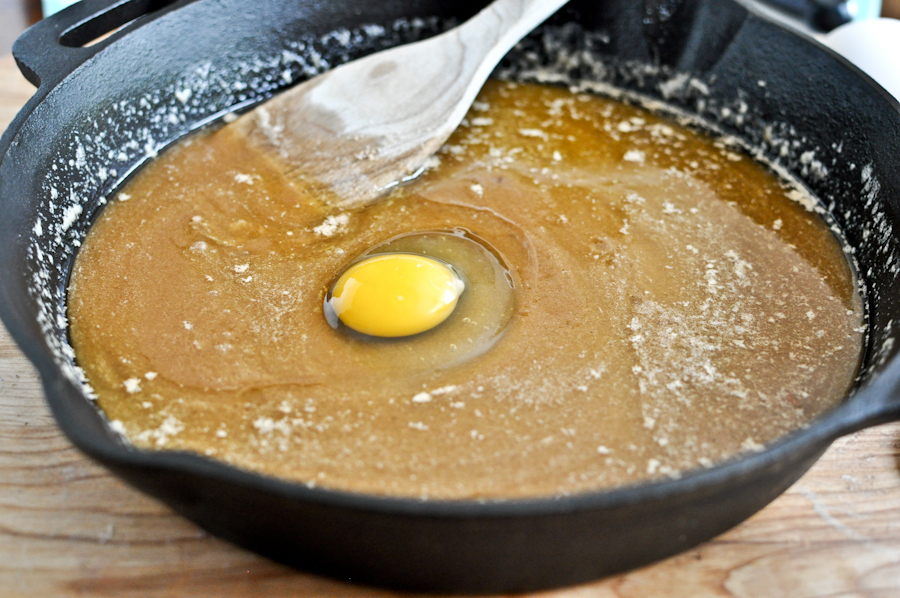 Then whisk in your egg and vanilla extract.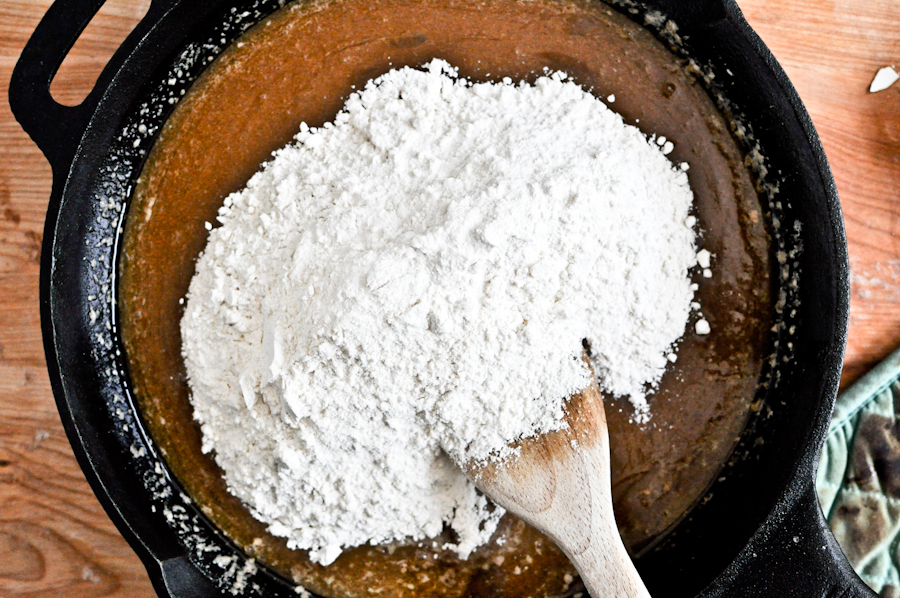 Stir in your dry ingredients. It may take a few minutes to come together, but keep stirring.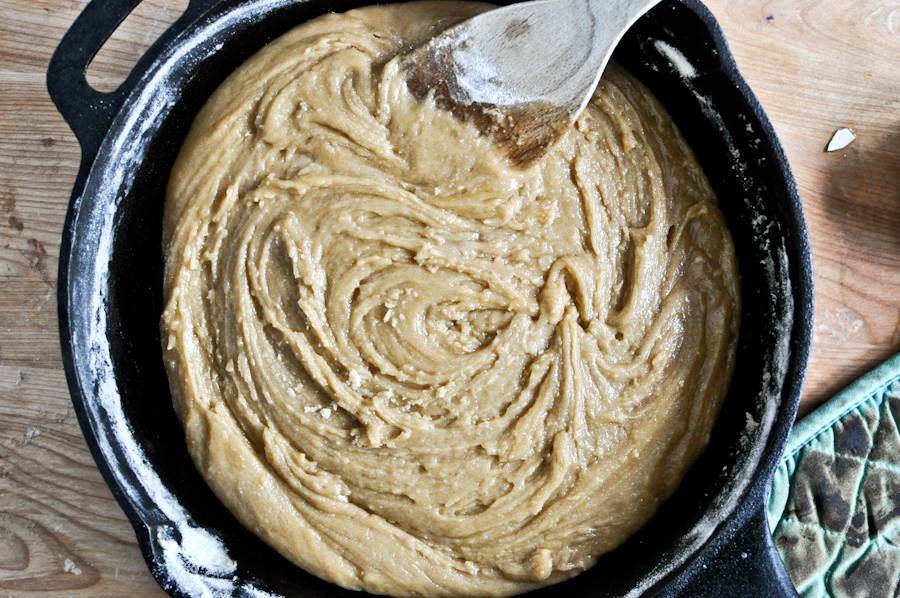 We have a batter!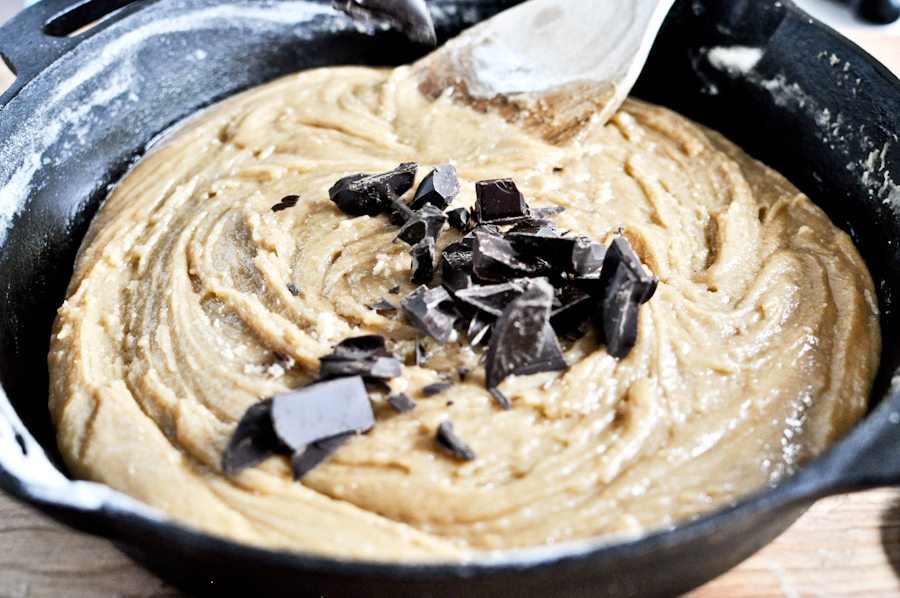 Fold in all of your chocolate. Well, all of your chocolate that you didn't eat already.
Then toss that skillet in the oven and watch the cookie work its magic. It should be a little soft on the inside and a bit golden on the edges when you bring it out.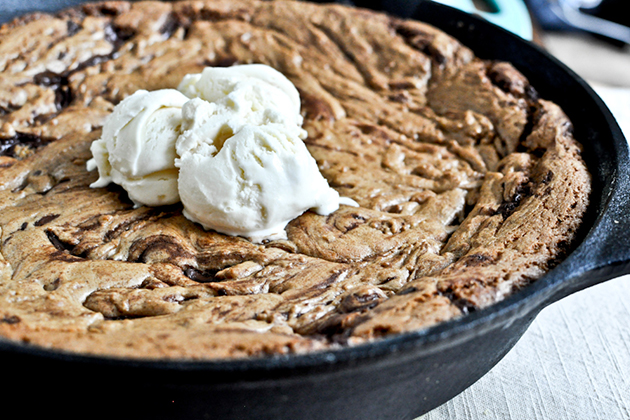 While it's hot, top it with ice cream! I know. This just keeps getting crazier.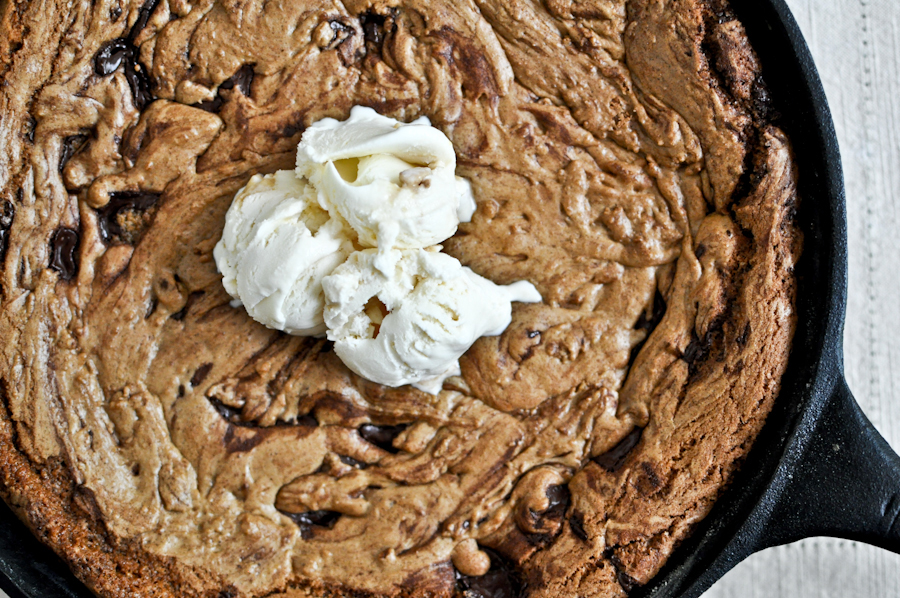 Then dig in. I'd love to tell you that I cut this into beautiful slices on pretty little places but um … we definitely dug in with forks. And spoons. This melty, gooey and chewy cookie is never leaving my recipe box. It's fabulous!
Be sure to check out Jaime's fabulous blog Sophistimom, where she discusses delicious food and fantastic books. Thanks so much for the recipe, Jaime!
Printable Recipe
See post on sophistimom (Jaime)'s site!
Description
Mix up and bake a warm cookie, oozing with rivers of chocolate, all in one cast iron skillet.
Ingredients
1 stick Butter
½ cups Granulated Sugar
½ cups Light Brown Sugar
1 teaspoon Pure Vanilla Extract
1 whole Egg
1-½ cup All-purpose Flour
½ teaspoons Baking Soda
¼ teaspoons Salt
1 cup Semi-sweet Chocolate, Cut In Chunks
Preparation Instructions
1. Preheat oven to 350 degrees F. Melt butter in an 8 inch cast iron skillet set over medium-low heat. Stir in sugars and vanilla and remove from heat. Let rest until pan is warm, but no longer very hot, about 5 minutes.
2. Crack an egg onto the butter and sugar mixture, and use a fork to whisk it into the mixture. Place flour, baking soda, and salt on top, and very carefully stir into the mixture until smooth and well-mixed. Stir in chocolate chunks. Place in the oven for 15-25 minutes, or until starting to turn golden on the top and around the edges, but still soft in the center. Serve with vanilla ice cream.


_______________________________________
Jessica Merchant is a personal trainer turned food writer and blogger. Her blog, How Sweet Eats, is where she proclaims her love for all things sweet, all things bacon, and everything else in between. She works her magic in her Pittsburgh kitchen, which she shares with her husband of 2 years.