Republished from our original Pancakes theme post circa 2010. If you're thinking we're doing this to whet your appetite for a possible part deux tomorrow to celebrate National Pancake Week and Shrove Tuesday, you may or may not be right. (Spread the word! You know, just in case you're right.)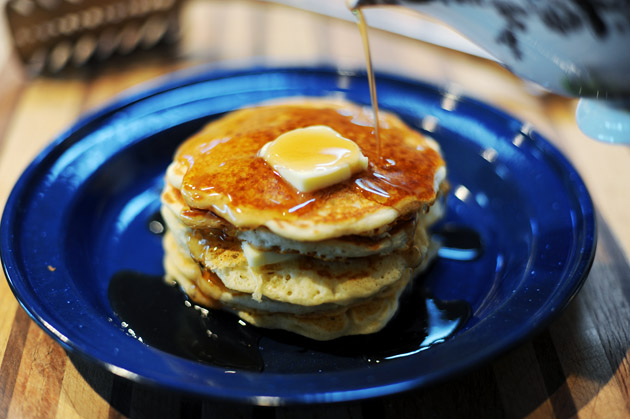 Ready for another new Tasty Kitchen Blog feature? Today, we're doing Theme Day, where a specific dish, ingredient, cooking method, or even cuisine gets the spotlight. Guess what today's theme is?
If you're like me, a quick way to make breakfast instantly special is to whip up a stack of pancakes. I don't know what it is about fried batter that just makes mornings feel right. I think the whole "ceremony" involved plays a part in it, too. Pancakes are generally not a grab-and-go kind of breakfast. No, you sit down for pancakes. Pancakes demand that you use proper utensils, and when they're ready, you'd better be sitting at the table. Pancakes wait for no one.
Pancakes rule.
Since pancakes are a special way to start a day, we thought it was only fitting that we start off this new themed series with, well, pancakes. Many of you already know PW's Perfect Pancakes pictured above. It's got all the usual suspects in the ingredients, but it's made with cake flour and a good amount of vanilla. Ree feels strongly about adding vanilla to your pancake batter.
How about you? When it comes to pancakes, what's your poison? Do you like them with fruit, either mixed in or on top? Nuts? Chocolate chips? Savory rather than sweet? Or are you a straight up pancake purist?
I thought I'd seen my share of pancake variations, but I was blown away by the wonderful creations you clever, clever members have shared with us. Let's take a look at some of them, shall we?
How gorgeous do these Carrot Cake Pancakes by multiplydelicious2 look? I found myself wondering how they might taste with some cream cheese frosting on them. Because carrots are vegetables, right? So they cancel out the cream cheese? Yes?
We've also got our own lineup of international pancakes: German Pancakes, Dutch Babies, Swedish Pancakes, French Crepes, and these beauties from down under:
These are Yoghurt Pikelets from Bindi. Bindi says they can be eaten warm or cold, although I'm not sure a stack of these would last long enough in my house to get cold.
Or, if you've got some leftover ricotta from last night's lasagna …
… that ricotta can find a home in these Lemon-Poppy Seed Ricotta Pancakes from A Cozy Kitchen.
Because their base is so simple, pancakes are one of the easiest dishes to customize. You can add fruits, nuts, cheese, bacon, sausage, baking chips, different extracts, and with all the possible combinations, they can quickly be made seasonal, too. Or, they can also be turned into something completely different.
Have you seen these delightful Mini Maple Chocolate Chip Pancake Muffins from Bakerella? She says they can be served with butter, with a small bowl of maple syrup for dipping. Genius, I'm telling you. Sheer genius.
And look, we even have gluten-free pancakes. These Easy Morning Gluten Free Pancakes from tallmisto look so good, you can almost taste them.

These are only a few of the many wonderful pancake recipes here, and boy do I want to make them all. Check out the Pancakes category and see what strikes your fancy. Or come up with your own special blend, and share it with us!
Oh, and if anyone can get back to me on that whole vegetables-cancel-out-cream-cheese thing, please let me know. But only if the answer is yes.