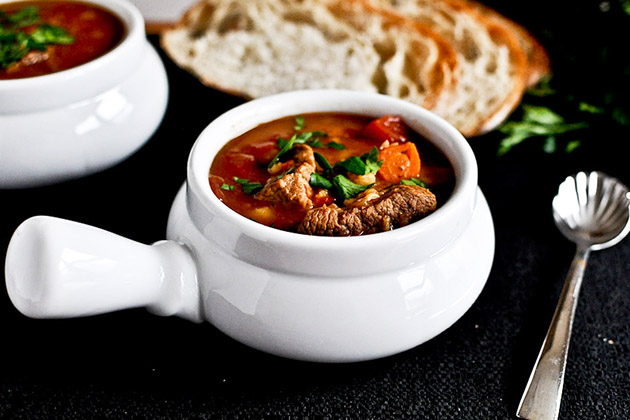 I don't know about you, but it's finally winter in my neck of the woods. It's cold. I'm hungry. And I'm ready to hibernate.
I could live off soups year round, and find that nothing is more satisfying that a big bowl of stew (or two) followed by a few cookies. Maybe some bread. Maybe a salad. But the soup is where it's at. According to my mom, my grandma made an excellent beef and barley soup. However, it was never one of the recipes she made in my lifetime. It's been hidden in my recipe box since she passed away, and I had all but forgotten about it until I came across this Beef with Barley Soup recipe from Terri. I could hardly wait to whip up a pot; it just screamed comfort. And it's much easier than I thought it would be. Win!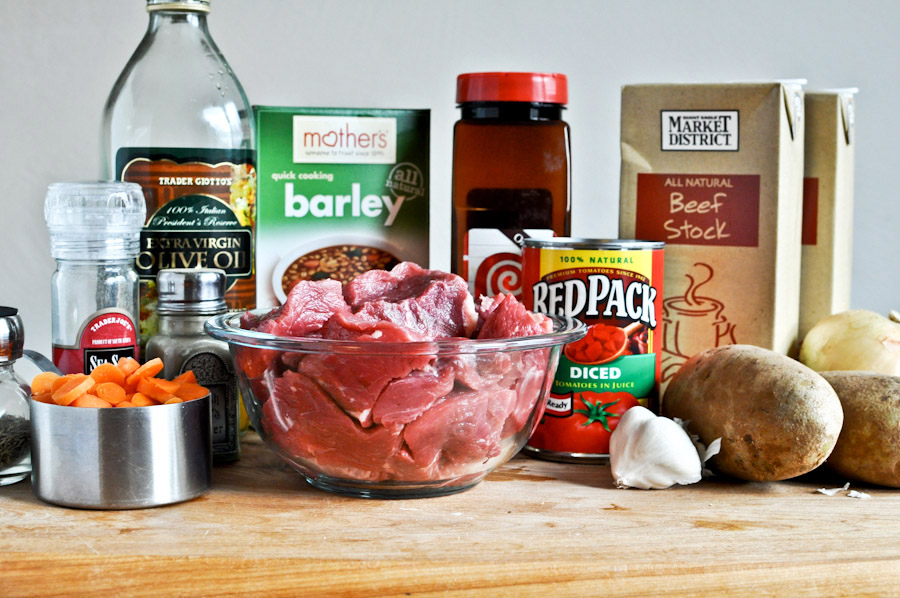 Here are your super simple ingredients: salt, pepper, thyme, carrots, olive oil barley, stew beef, season salt, diced tomatoes, beef stock, garlic, potatoes, onions and 1 bay leaf.
It should be noted that I had a difficult time finding pearl barley and had to resort to a quick cooking barley. Because of this, I reduced my simmer time a bit, and while I was afraid the barley would be a hot mess, it still came out great! More on that later.
Begin by dicing your onion. Also peel and chop your potatoes.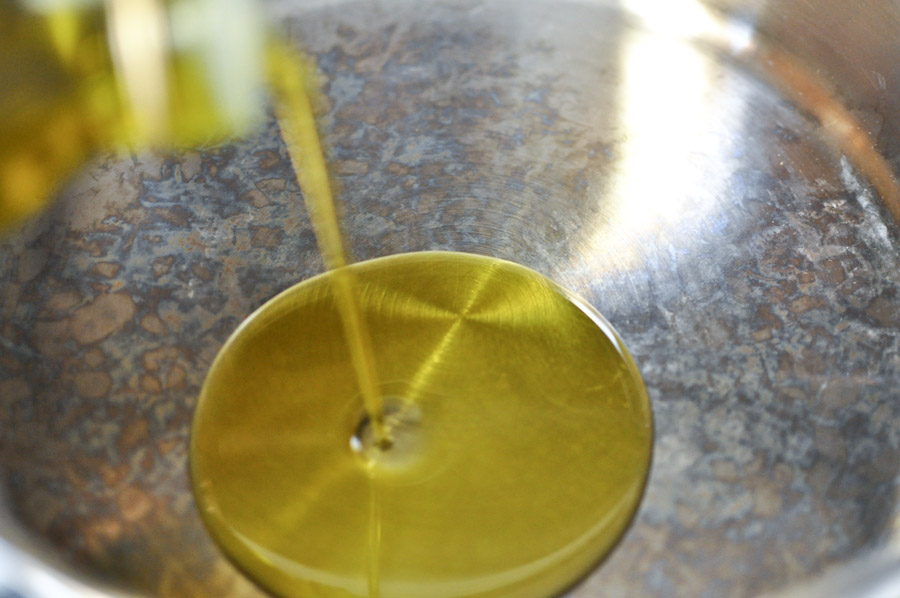 Next up, add your olive oil to a large stock pot and let it get nice and hot. Once hot, add your beef and DON'T TOUCH IT. Let it sear first, then once it can easily be flipped (and is not sticking to the pot), toss it.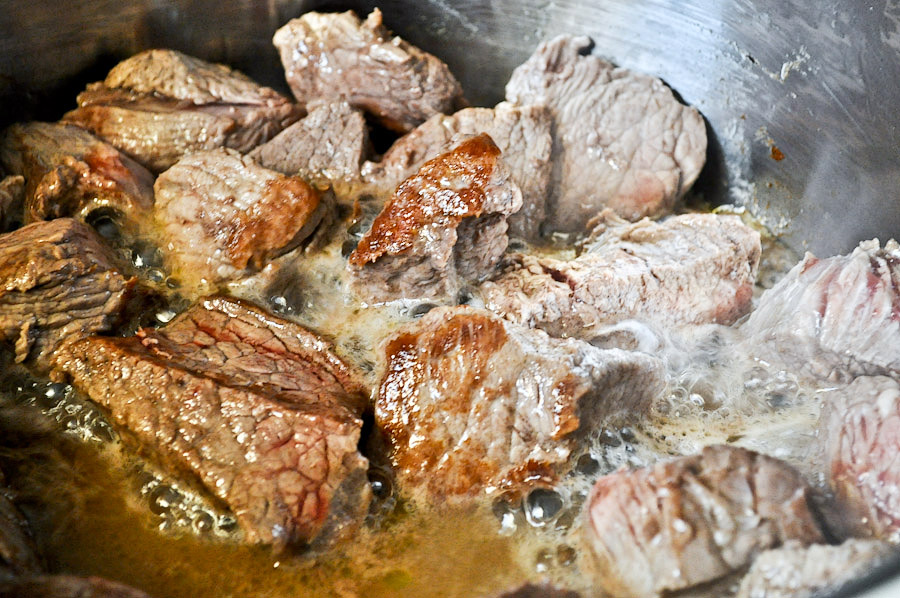 See the caramelly brown color? That's what you want. Gray meat is the worst. Trust me. Give it some color!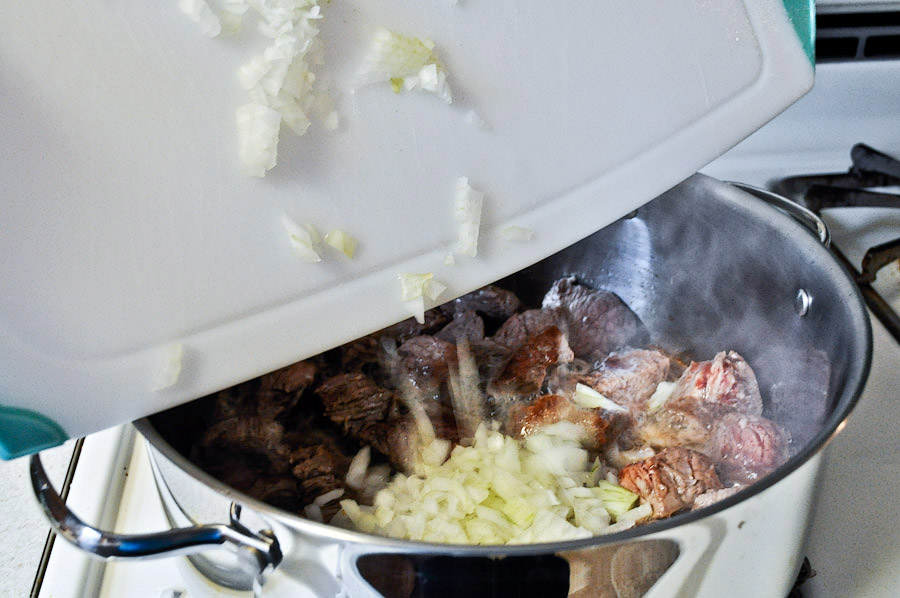 After about 5 minutes your meat should be browned, and it's time to add your onions and garlic. Stir everything together.
Continue stirring every few minutes until the onions become caramelized. You can add a little more oil here if needed, but it wasn't necessary for me.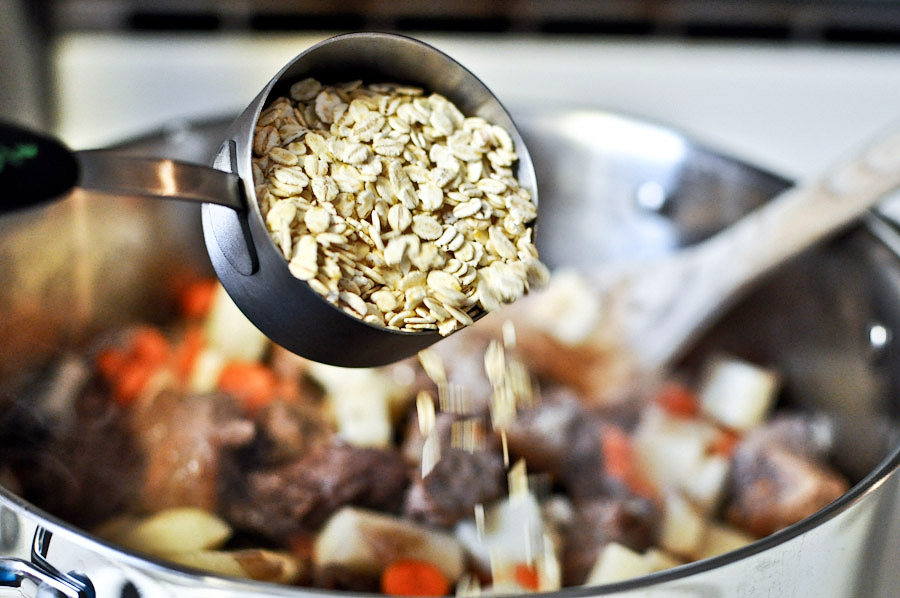 Now it' time to add everything else! Throw in the potatoes and carrots and barley …
Dump in the stock …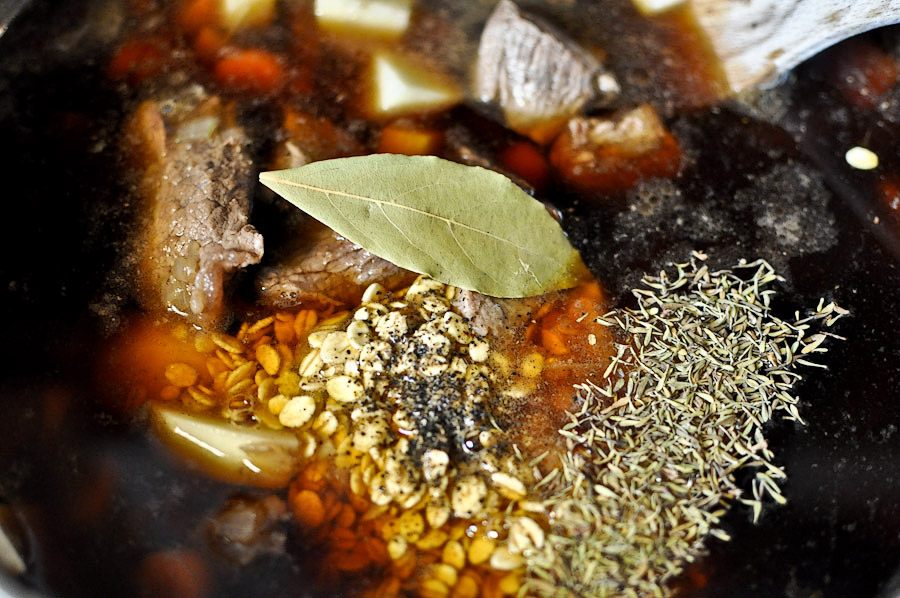 Then add your seasonings and bay leaf.
Bring the soup to a boil, then reduce it to a simmer and let it cook for about 2 hours, stirring occasionally. Again, I shaved a bit of time off here since I used the quick cooking barley. I let mine simmer for about 45-60 minutes.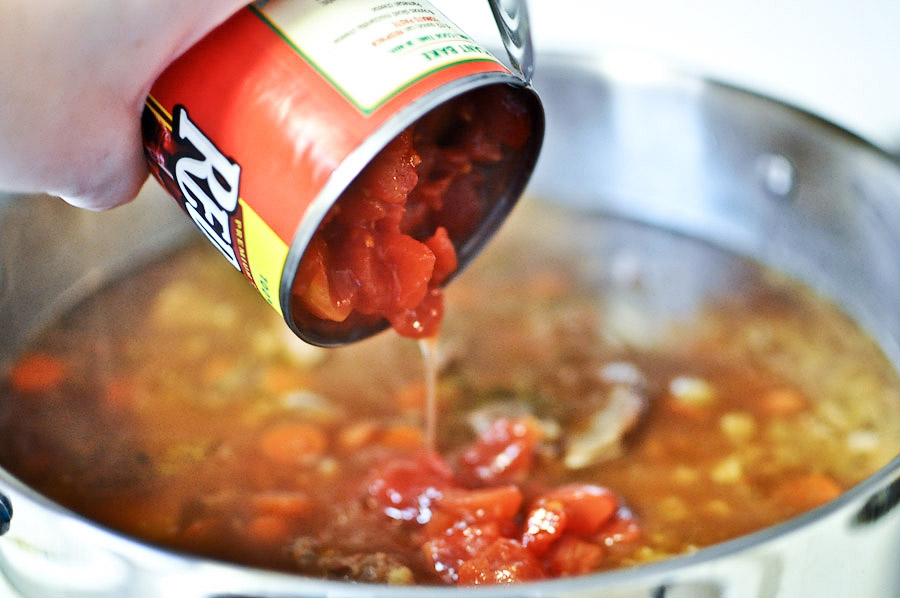 After the 2 hours (or 45-60 minutes, in my case), add in your diced tomatoes. Give it a good stir and let it simmer for another hour. Easy!
Give it a taste and adjust your seasonings. I snuck multiple spoonfuls for about 2 hours straight.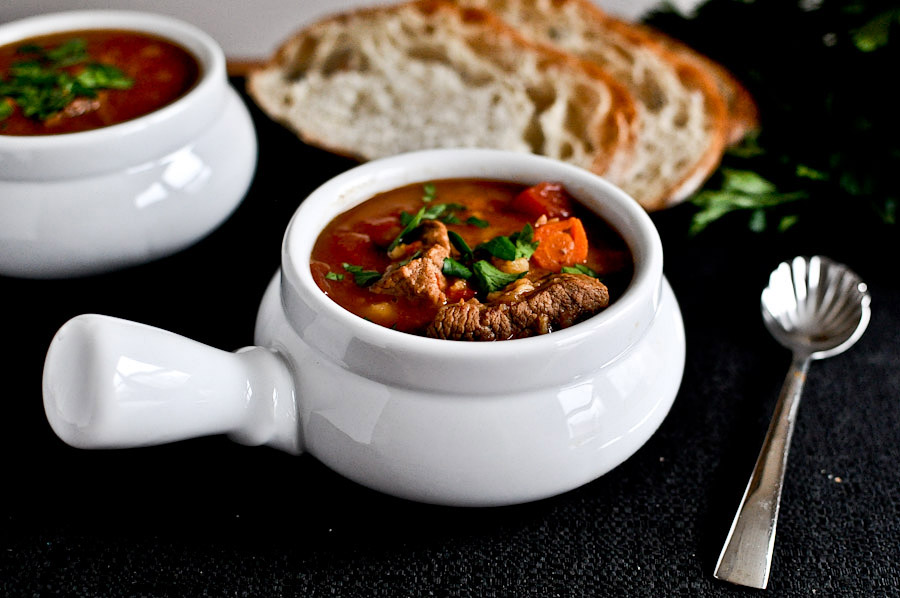 Remove your bay leaf and serve it hot with a sprinkle of fresh parsley. I added some crusty bread with butter for dipping. Crackers would be good, too!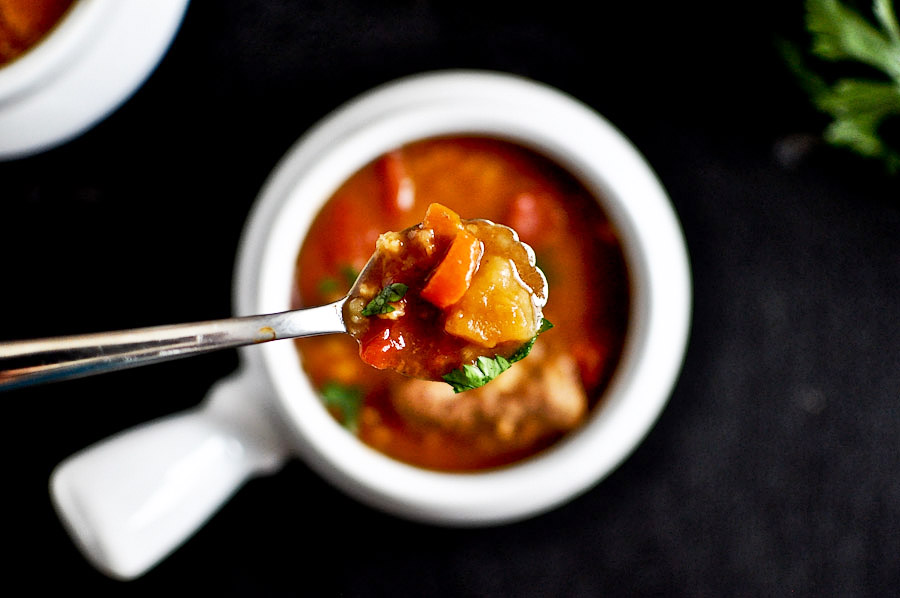 Dig in!
This soup actually warmed me to the core and the flavor was just incredible. It is a perfect dish for cold winter nights, and if you use the quick cooking barley, you can even make this as an easy weeknight meal. I didn't even care that I burn every inch of my mouth.
Thanks so much Terri for the delicious recipe! Be sure to check out her blog That's Some Good Cookin'. It's chock full of fabulous dishes and stories.
Printable Recipe
See post on Terri @ that's some good cookin''s site!
Description
Take the chill off with a warm bowl of this filling soup.
Ingredients
2 Tablespoons Olive Oil
1 pound Beef Cubes (for Stew)
1 whole Large Onion, Medium Diced
2 cloves Minced Garlic
2 whole Carrots, Smaller Ends Cut Into Rounds, Larger Ends Diced
2 whole Potatoes, Large Dice
1-½ teaspoon Seasoning Salt
1 teaspoon Sea Salt (or To Taste)
Ground Black Pepper To Taste
6 cups Beef Stock
2 cups Water Or As Needed
½ cups Pearl Barley
½ teaspoons Thyme
1 whole Bay Leaf
1 can (14.5 Oz. Size) Diced Tomatoes
Preparation Instructions
Heat a large stock pot over medium high heat. Add the olive oil.
Brown the beef cubes for three minutes in the oil, then add the onions and garlic. Lower the heat to medium low and cook until the onions are cooked and just start to caramelize. Stir as needed to keep onions and garlic from burning. Lower heat if necessary; drizzle a little more olive oil if needed to keep food from sticking.
Add everything except the tomatoes to the pot and stir well. Increase the heat and bring the soup to a boil, then turn heat to low, cover pot, and simmer for two hours, stirring occasionally. Adjust heat as necessary to keep soup at a slow simmer. If the soup thickens too much, add a little more water or broth.
Taste to correct seasonings, then add tomatoes and simmer for another hour. Remove bay leaf before serving.


_______________________________________
Jessica Merchant is a personal trainer turned food writer and blogger. Her blog, How Sweet Eats, is where she proclaims her love for all things sweet, all things bacon, and everything else in between. She works her magic in her Pittsburgh kitchen, which she shares with her husband of 2 years.