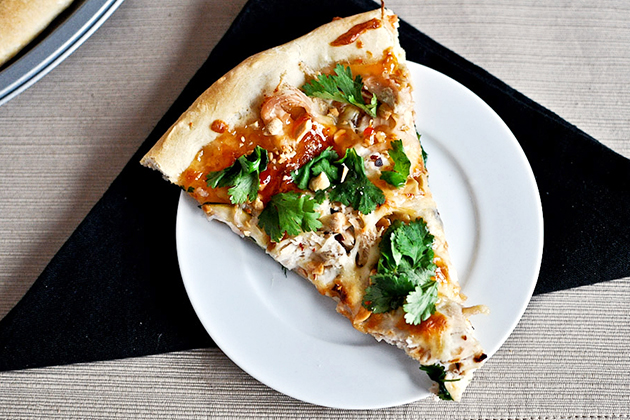 While my favorite cuisine has always been Mexican, Thai is coming in at a very, very close second. On any given day, I am craving something with peanut sauce, a giant bowl of pineapple curry, summer rolls with sweet, syrupy chili flavor and pad thai … oh pad thai. Who would have thought that combining chicken or shrimp, peanuts, sweet sauces and bright cilantro would taste so utterly fantastic? Not I.
So when we ate Thai chicken pizza out a few weeks ago, I went on a mission to recreate it at home. After a quick glance, I knew this recipe from TK member Dax Phillips was just the ticket. There was no way I was going one more day without this homemade pizza in my life. I whipped up Erica Lea's awesome homemade pizza dough and I was ready to roll.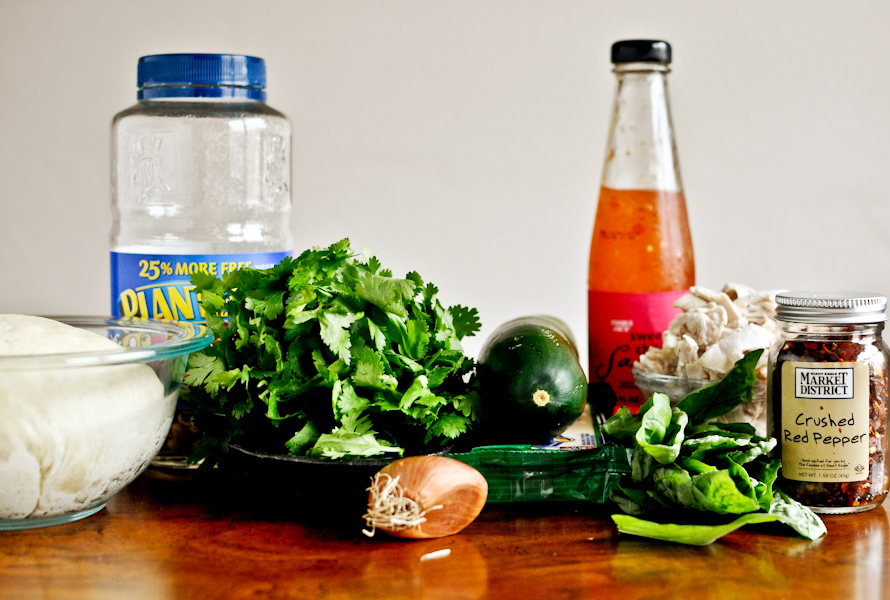 To make the pizza, you need one batch of your favorite pizza dough, peanuts, fresh cilantro and basil, zucchini, one shallot, mozzarella cheese, sweet chili sauce, shredded chicken and crushed red pepper. Spicy spicy. And a little sweet.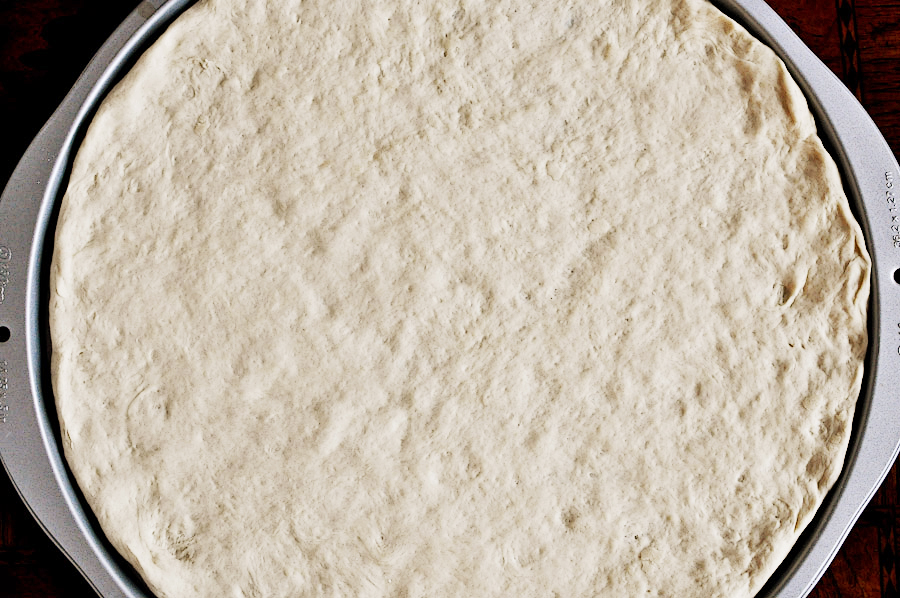 To begin, flour your workspace and shape your pizza dough into the desired circle, rectangle, or goofy blob. The original instructions called for using a pizza stone, which unfortunately I do not have. I know! So deprived. I can almost promise you that this tastes better on a pizza stone. If you use one, make sure to preheat it first! You can also add a few teaspoons of cornmeal under your crust. So delicious and crunchy.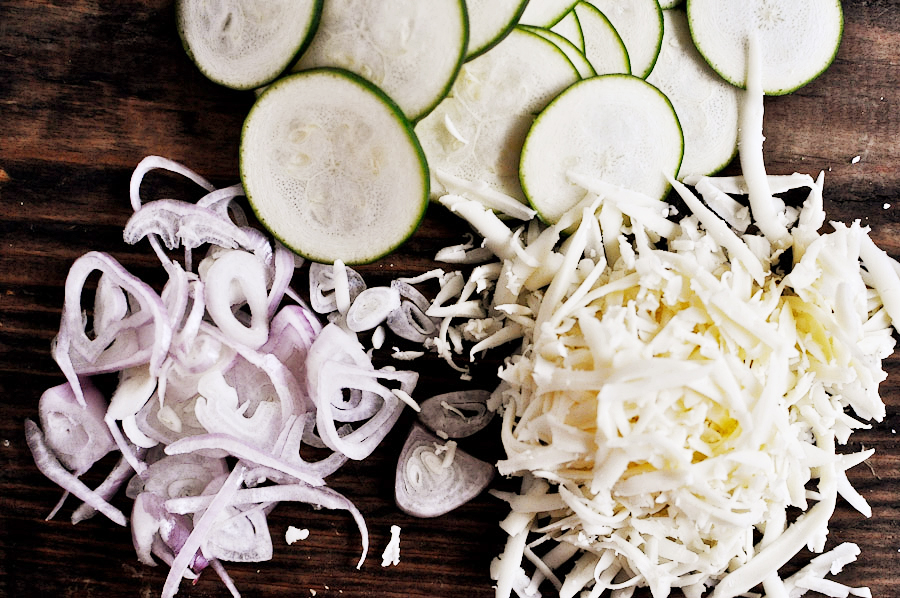 Slice your zucchini and your shallot. A mandolin would probably work best here for uniformly thin slices, but alas, another kitchen gadget I do not own! That's okay—it's not completely necessary.
I also grated my mozzarella at this point. You can use pre-shredded mozz in a bag, but trust me, nothing tastes as delicious as freshly grated cheese.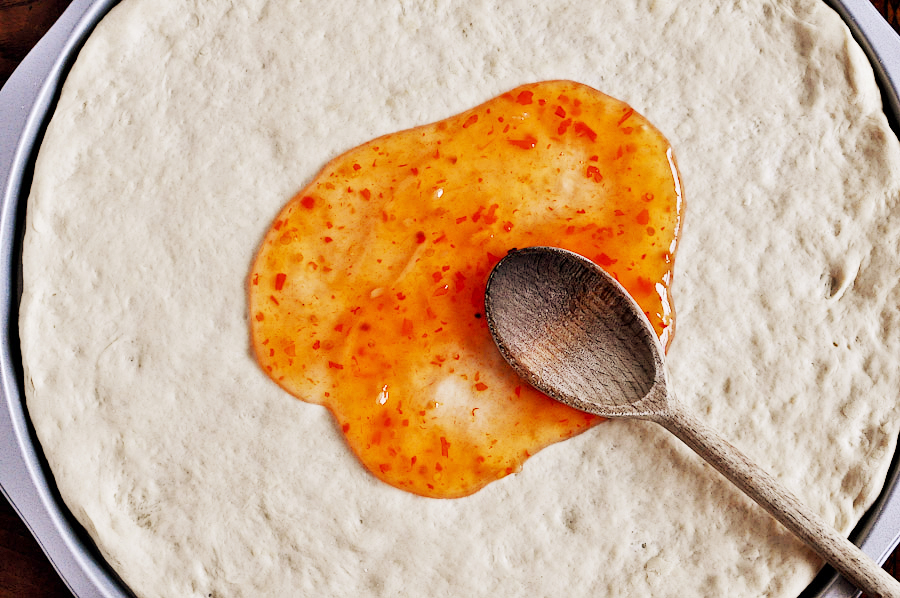 Spread the chili sauce on the dough. You want a thin layer, but enough to cover the dough.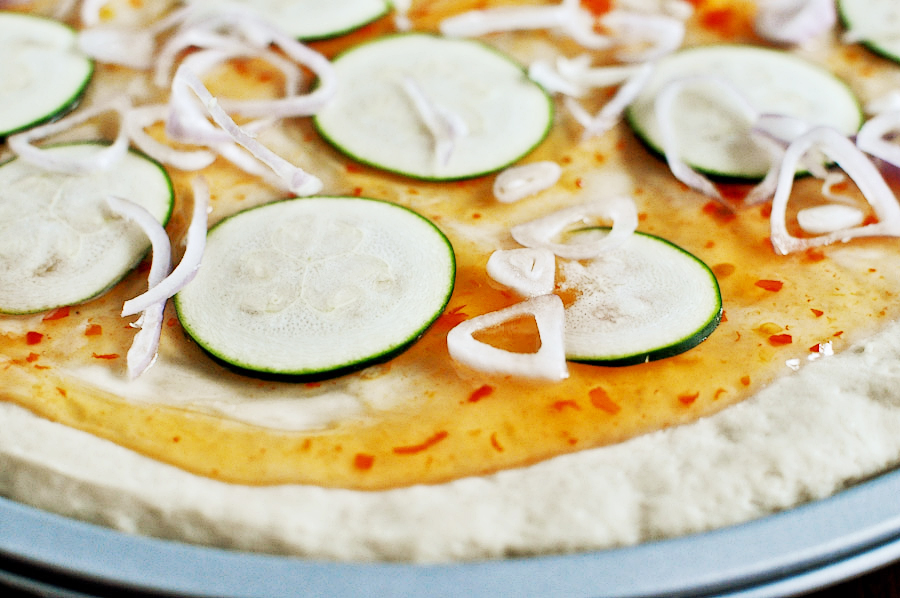 Layer on your zucchini and shallots …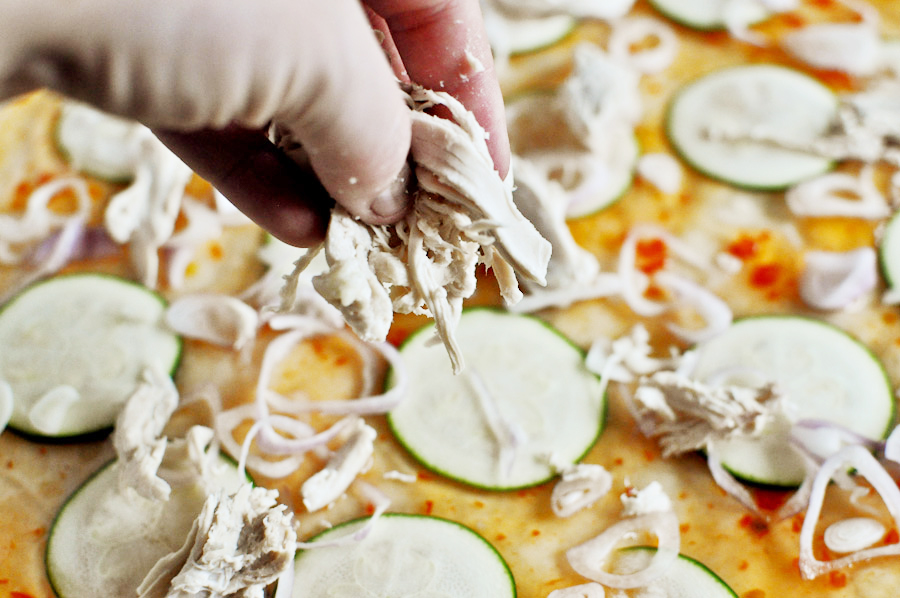 Then add your shredded chicken. The original recipe called for one cup of chicken, but I used about 1 1/4 cups. To get this amount, I cooked 3 thinly-sliced chicken breasts. Easy!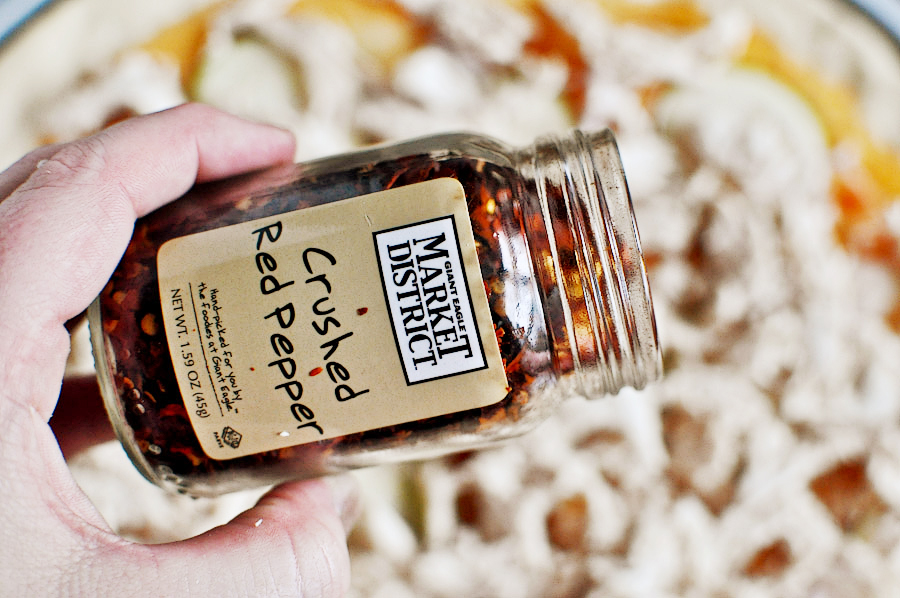 Add on your crushed red pepper. More for heat, less for wimpy taste buds like my own. Except I dropped a huge spoonful in one spot on the pizza, which of course ended up being the slice that I ate. My mouth was on fiyah!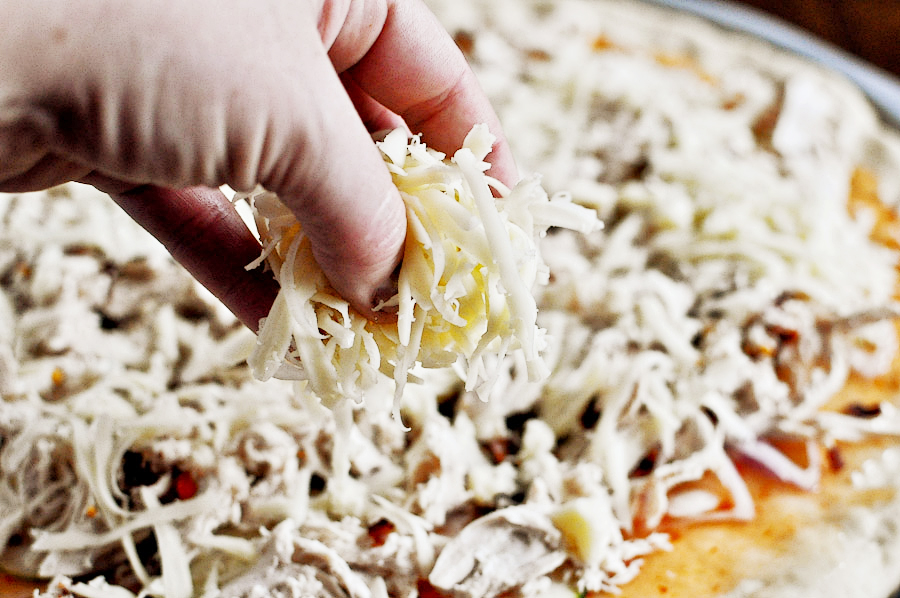 Throw on your cheese.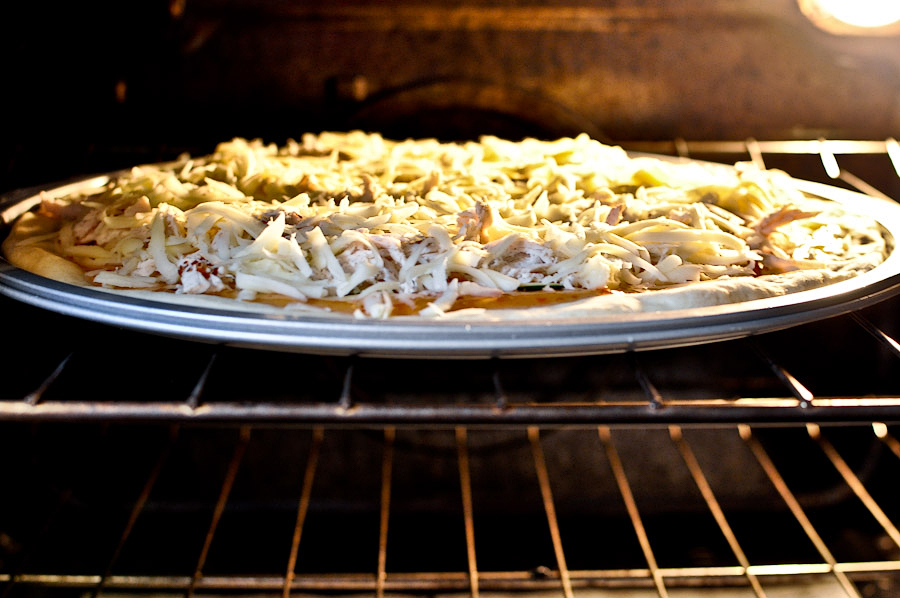 Then place that baby in the oven and watch it get all golden and bubbly.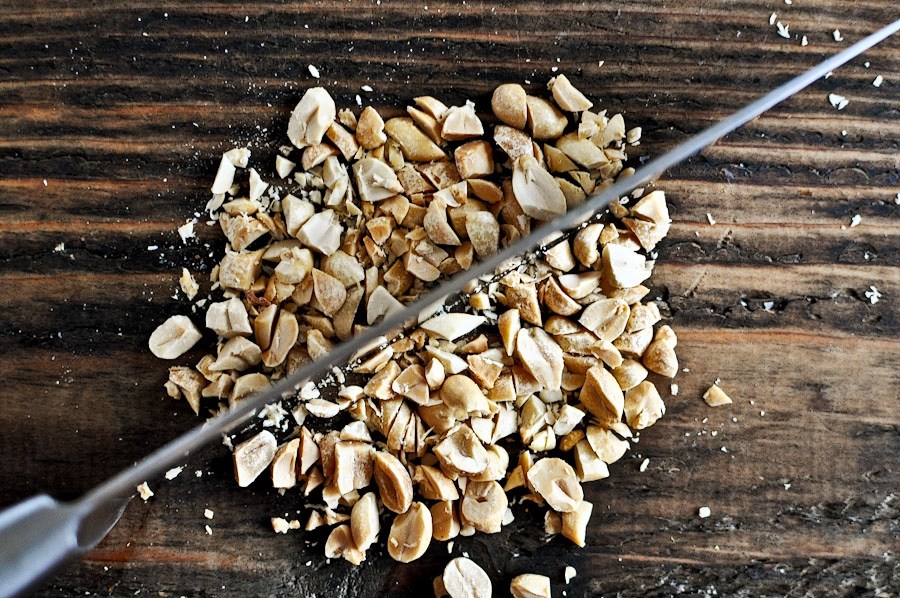 While the pizza is in the oven, chop your peanuts. Do NOT be afraid of the peanuts here, friends! They totally MAKE the pizza. They take it over the Thai edge. They are completely thrilling.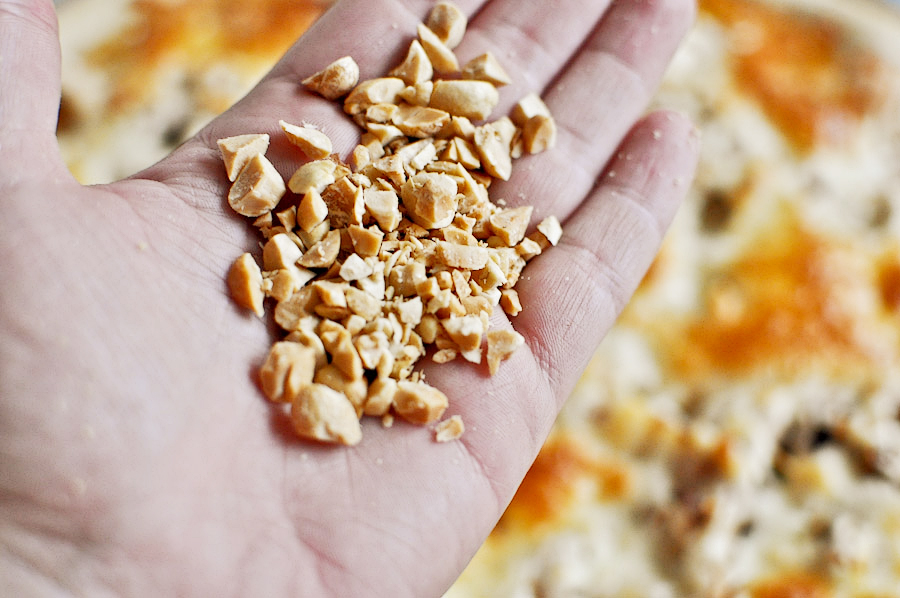 As soon as the pizza comes out of the oven, sprinkle on the peanuts …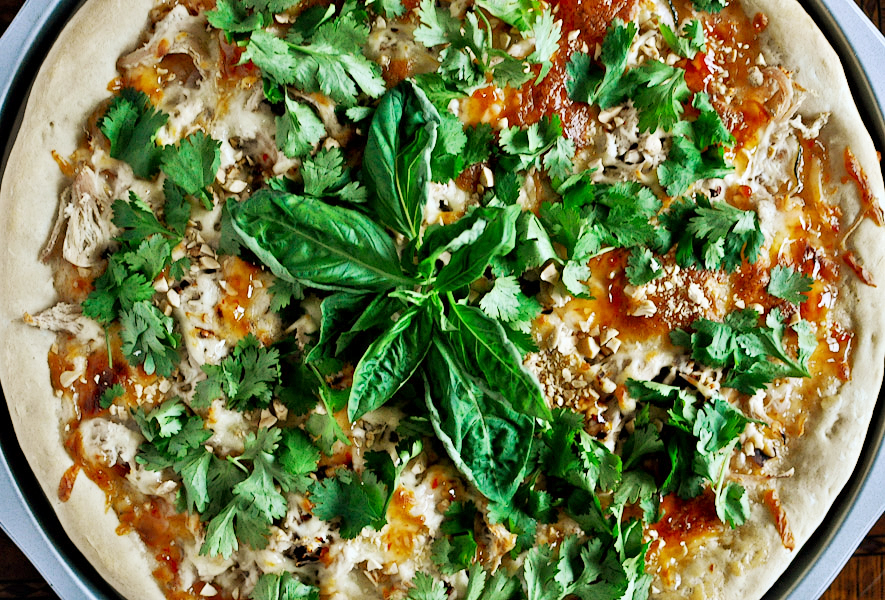 Then top if off with lots of fresh cilantro and basil. Even though it's nearing winter, I was able to find fresh cilantro and basil at my grocery store for about 98 cents, which is totally unheard of in the Pittsburgh area. Hopefully you can find some too, but if not (or if you choose to make this pizza in say, February or March when the pickin's are even slimmer) I would go ahead a throw on a little dried basil and cilantro. These two herbs maximized the Thai flavor and I can't imagine the pizza without them.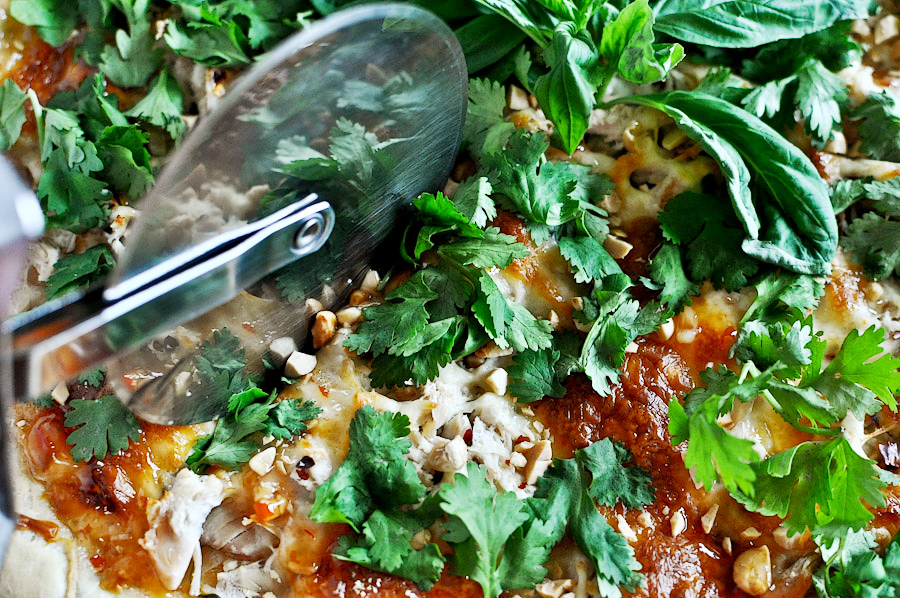 Cut yourself a nice big slice …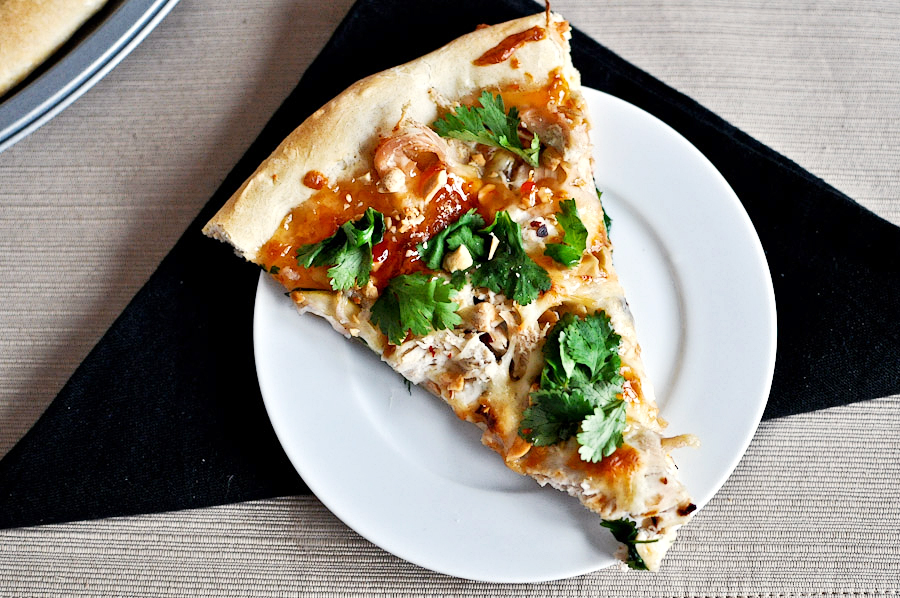 And enjoy!
This pizza was absolutely out of this world. Not only was it delicious, but the flavors were incredibly fresh, which was a nice change of pace from the typical comfort food this time of year. On top of that, using high quality ingredients combined with some whole wheat pizza crust and all-white meat chicken means one thing: healthier pizza! Which obviously translates to: have an extra slice (or two!).
Thanks so much to Dax Phillips for the fabulous recipe. Be sure to check out his blog, Simple Comfort Food—I think the title says it all!
Printable Recipe
See post on Dax Phillips's site!
Description
A great pizza that has just the right amount of sweet heat to keep you coming back for more.
Ingredients
1 whole Batch Of Your Favorite Pizza Dough, Rolled Out To About A 1/4 Inch, 12 Inch Diameter
¼ cups Flour
1 Tablespoon Fine Corn Meal
½ cups Sweet Asian Chili Sauce, Plus 1 Tablespoon For Drizzle
1 whole Shallot, Thinly Sliced
½ whole Zucchini, Thinly Sliced
1 teaspoon Red Chili Flakes
1 cup Cooked Chicken Shredded
⅔ cups Shredded Mozzarella Cheese
¼ cups Chopped Peanuts
2 Tablespoons Fresh Cilantro
2 Tablespoons Fresh Basil (optional)
Preparation Instructions
Preheat your oven to 500 degrees F with a pizza stone in the oven. If you do not have a pizza stone, put a large baking sheet in the oven (make sure to use one that is large enough to house your dough).
Begin by adding some flour to your rolling surface. Take your dough that has already risen, and lightly knead it. Roll out the dough to about a 1/4 inch thick, or however your like the thickness of your crust.
Lay the dough down on a pizza peel (if you have one) that's covered with corn meal. Otherwise put the dough on a surface that you can use to slide the entire pizza onto the hot pizza stone or pan. The corn meal helps assist with the pizza dough – so it slides off easily.
Spread the Asian chili sauce on the surface of the dough. Not too thick, not too thin. Add the sliced shallots and zucchini. Top with the red chili flakes and shredded chicken. Top with the cheese.
Using your pizza peel, place the pizza into the oven on your cooking surface (stone or pan) and cook for about 15 minutes, keeping an eye on your crust and toppings so they do not burn. Every oven is different.
Once the pizza dough is golden around the edges and the cheese is nice and bubbly, remove pizza from the oven.
Drizzle more of the Asian chili sauce over the top, top with the crushed peanuts and fresh cilantro. If you are feeling naughty, top it off with some fresh basil.
Slice and serve.
Every bite was pretty darn awesome. You get the great pizza crust with the sweet heat from the chili sauce, and the shallots, cilantro, and zucchini, along with the great crunch from the peanuts. All of this combined made this one a pizza that is hard to beat. Enjoy.
Printable Recipe
See post on Erica Lea's site!
Description
Can you believe that this dough is 100% whole wheat? Yet it handles so well – better than any pizza dough recipe I've ever tried.
Ingredients
½ cups Warm Water (about 110° F)
2-¼ teaspoons Instant Yeast
1-¼ cup Water At Room Temperature
2 Tablespoons Extra-virgin Olive Oil Plus Extra For Greasing The Bowl
4 cups White Whole Wheat Flour
1-½ teaspoon Sea Salt
Preparation Instructions
1) Place the 1/2 cup warm water in a small bowl. Add the yeast and stir. Let sit for about 5 minutes, or until the yeast begins to swell. Add to the room temperature water and oil and stir.
2) Place the flour and salt in the bowl of a stand mixer fitted with the paddle attachment. Mix briefly until combined. With mixer on low speed, slowly add the liquid ingredients. Mix just until a cohesive dough forms. Let the dough rest for 5 minutes.
3) Change to the dough hook attachment. Knead the dough until it becomes smooth and elastic, about 5 more minutes.
4) Oil or butter a medium-sized bowl. Transfer the dough to the prepared bowl. Cover with a kitchen towel or plastic wrap and place in a warm spot. Allow to rise for 1 ½-2 hours, or until it doubles in volume. The dough is now ready to be used in your recipe.
Makes enough dough for approximately 3 thin-crust, large-sized pizzas.


_______________________________________
Jessica Merchant is a personal trainer turned food writer and blogger. Her blog, How Sweet Eats, is where she proclaims her love for all things sweet, all things bacon, and everything else in between. She works her magic in her Pittsburgh kitchen, which she shares with her husband of 2 years.