When I hear "fudge," I immediately think of the holidays. When cut into bite-sized pieces, it makes the perfect gift to hand out to neighbors or a lovely welcome hostess gift when you arrive at a cocktail or dinner party. It also makes for an addictive little treat that you want to pop into your mouth whenever you pass by the fridge. As much as I try to convince myself that it is calorie-free, the seams on my jeans tell a different story. Ah well, that's what the holiday are all about—those treats that we get to indulge in once a year.
This recipe for Sweet Potato Fudge is brought to us by Tasty Kitchen member, Lauren's Latest. The sweet potatoes are mashed and mixed with white chocolate and toasted pecans for a seasonal treat that not only comes together quickly, but will make your family very happy.
Now, let's get started.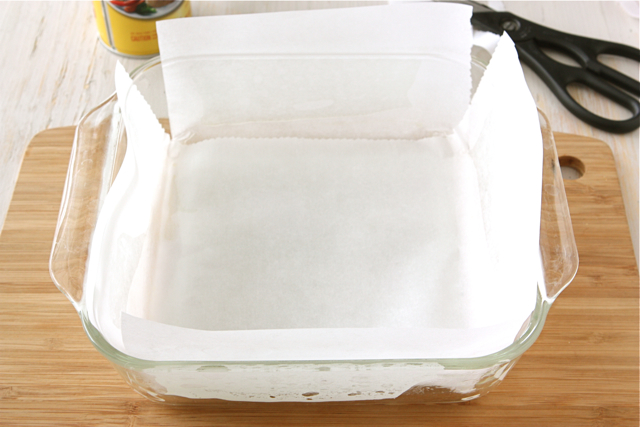 First, line an 8- by 8-inch square baking pan with waxed or parchment paper. Use extra paper so that there are 2 to 3 extra inches on each side. These "handles" will make it easier to lift the fudge out of the pan later. I like to coat the pan with cooking spray first so the parchment paper lies flat against the pan. It's not necessary, but it satisfies my need for order in my baking pan. Don't judge.
The first thing you will need to do is to boil or steam some sweet potato chunks (peeled) until soft and then mash them with the back of a fork. Set aside to cool.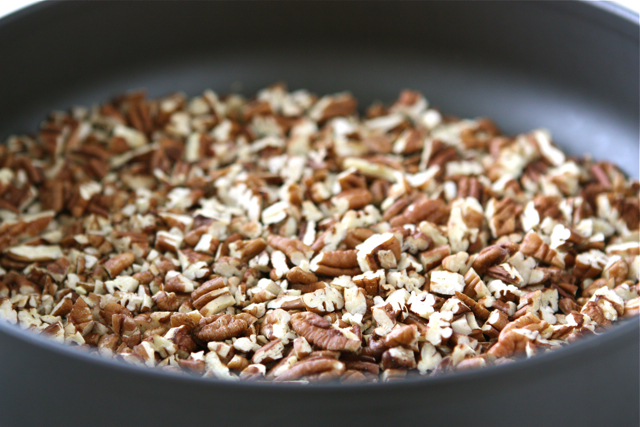 While the sweet potato is cooking, place the pecans pieces into a medium frying pan set over medium heat and toast the pecans. Be sure to watch them. Those little suckers like to burn as soon as you turn your back.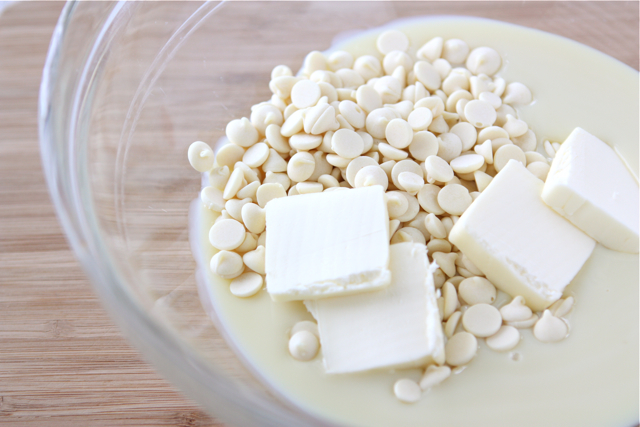 In a medium-sized bowl, combine the white chocolate chips, sweetened condensed milk and butter. Now that sounds like a perfect holiday baking list.
Place the bowl in the microwave and, in 15-second increments, heat the mixture until melted and smooth when stirred. When I am using the microwave to heat chocolate mixtures, I typically use 50% power so that the chocolate doesn't seize.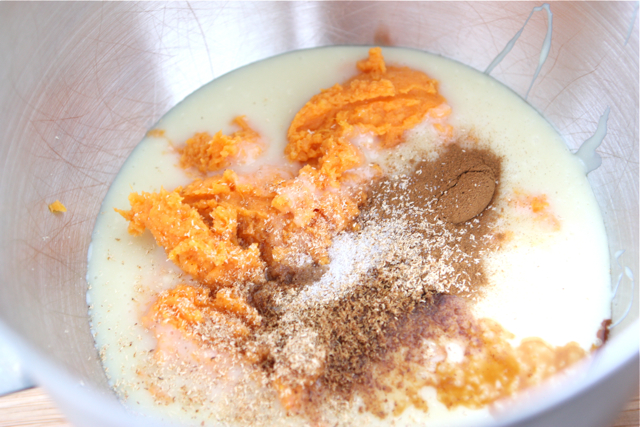 Pour the chocolate mixture into the bowl of a stand mixer. Add the mashed sweet potatoes, vanilla extract, ground cinnamon and salt. As per Lauren's suggestion under her Recipe Notes, I also added ½ teaspoon of freshly ground nutmeg because it screams "holidays" to me.
Add half of the powdered sugar to the mixer bowl and mix until combined. Scrape the sides with a rubber spatula and mix again.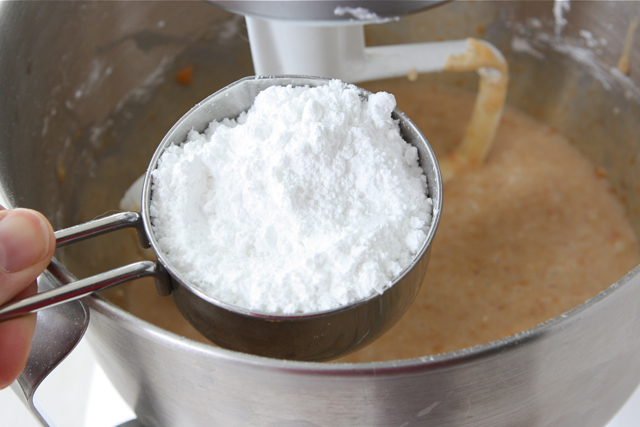 With the mixer running, add the remaining powdered sugar, ½ cup at a time, until fully incorporated.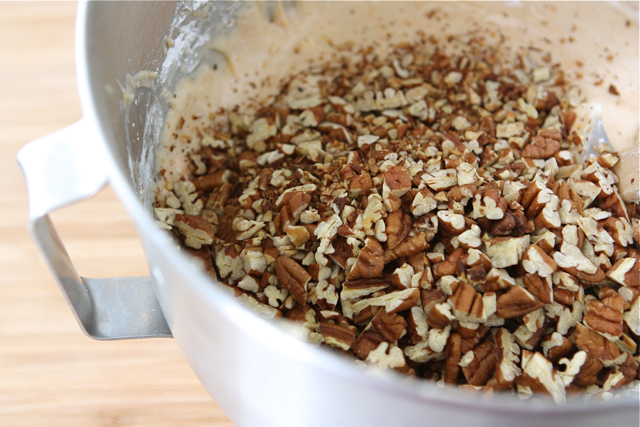 Remove the bowl from the mixer. Pour in the toasted pecan pieces and mix by hand with a rubber spatula.
Transfer the fudge mixture to the prepared baking pan, press down until even and smooth the top.
Refrigerate until the fudge has hardened. The recipe calls for the fudge to be chilled for 2 hours, but I left it in my refrigerator overnight to make sure it was fully set.
Using the waxed or parchment paper "handles" lift the fudge out of the pan and peel off the paper. Use a sharp knife to cut into squares and serve. Store extra pieces in the refrigerator.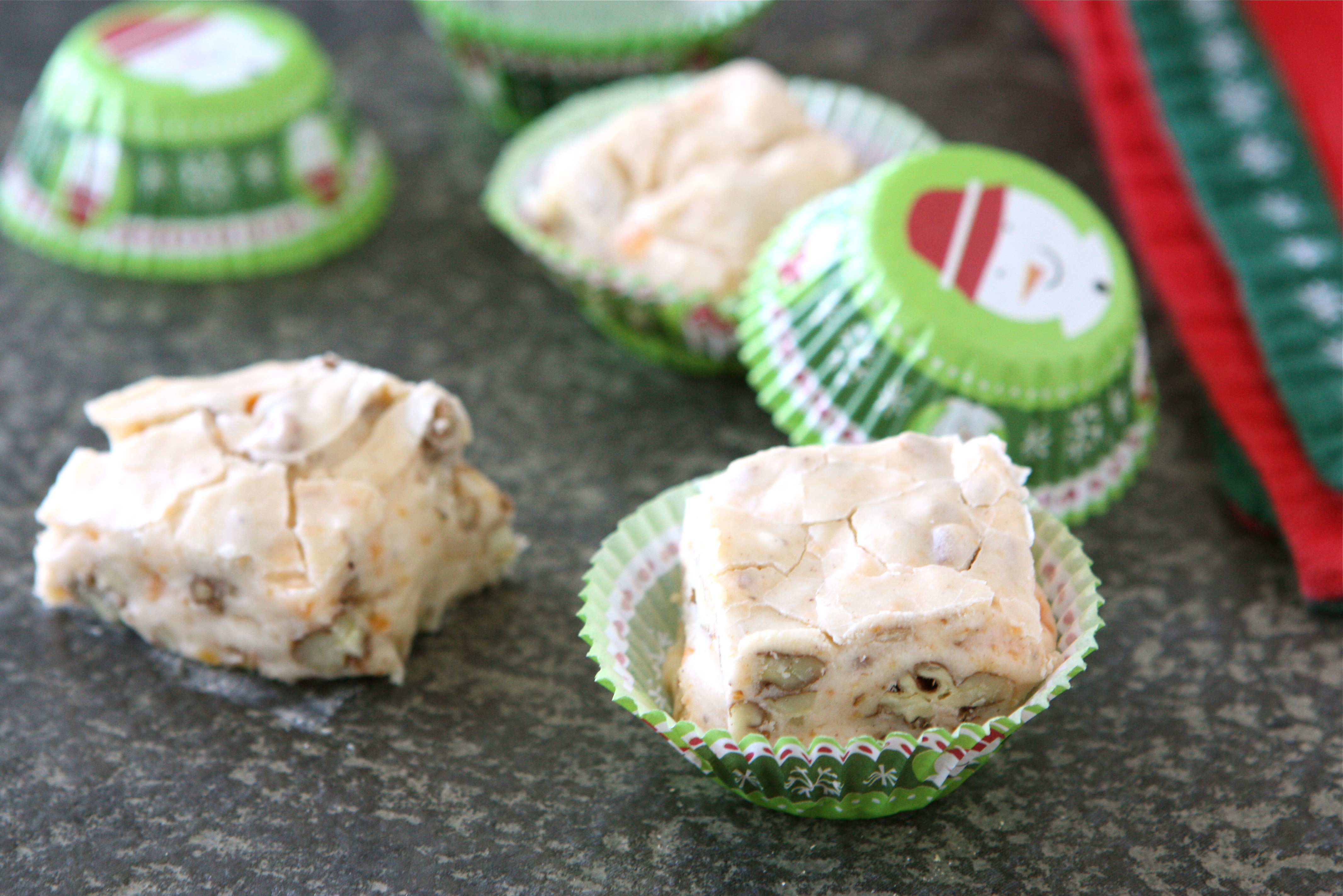 In the recipe, Lauren mentioned that this fudge can also be made using a 9- by 13-inch baking pan to achieve thinner pieces. Next time I make this recipe (and I can assure that there will definitely be a next time), I plan to do this so the fudge pieces are a little smaller.
I am sending a huge "thank you" to Lauren for a recipe that is sure to become a holiday favorite for my family. Be sure to check out Lauren's large selection of fantastic recipes at her blog, Lauren's Latest.
Printable Recipe
Description
Spicy, sweet, crunchy, delicious and a little out of the ordinary. Makes for a fabulous after dinner treat around the holidays.
Ingredients
1 cup White Chocolate Chips
¼ cups Butter
1 can Sweetened Condensed Milk (14 Oz)
¾ cups Mashed Sweet Potato
1 teaspoon Vanilla Extract
¾ teaspoons Cinnamon
⅛ teaspoons Salt
8 cups Powdered Sugar
2 cups Toasted Chopped Pecans
Preparation Instructions
Line an 8×8 glass dish with waxed paper and set aside, if desired.
In a large bowl, melt white chocolate, butter and sweetened condensed milk together until smooth in consistency. (I do this in 15 second increments in the microwave.) Once melted, pour into the bowl of a stand mixer and stir in sweet potato, vanilla, cinnamon, salt and half of the powdered sugar. Scrape the sides and mix again. With the machine on, add in remaining powdered sugar by the 1/2 cup until all is incorporated. Fudge should look very thick but still sticky. Pour in nuts and stir them in by hand. Pour into prepared pan and smooth the top.
Refrigerate until fudge has hardened, about 2 hours. Remove fudge from refrigerator and using the waxed paper edges, remove entire block of fudge. Using a sharp knife, cut into small squares. Serve.
Recipe Notes:
– Feel free to add in any other spices you'd like. Nutmeg and/or cloves would be a nice addition.
-I like a thick fudge, but if you would prefer a thinner piece, pour fudge into a 9×13 pan.


_______________________________________
Dara Michalski is a doll and a sweetheart who clearly knows her way around the kitchen. She blogs at Cookin' Canuck, where she shares her flavor-packed recipes and fun, engaging writing. The photography's pretty incredible, too.