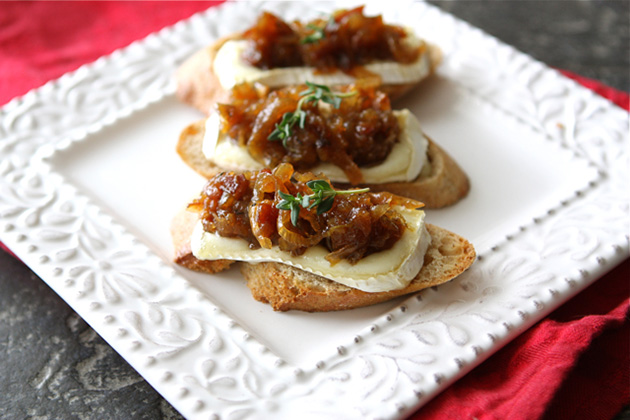 New Year's Eve is always a time of celebration. For one, it is the "last hurrah" of the holiday season, one last chance to pull out the finery and raise our glasses to family and friends. Well, it's also about the food. I would be lying if I said otherwise. New Year's Eve celebrations are a time to pull out all of the hors d'oeuvres recipes in my recipe box and get to work preparing little tastes of multiple flavors. We are always looking for new recipes to shake things up a bit and, as soon as I saw this Onion and Bacon Marmalade by Tasty Kitchen member patiodaddio, I knew it would hit the mark. That would be an understatement.
If you watch the daily featured recipes regularly on Tasty Kitchen, you have likely seen John's recipes flash across the screen. And you know what? Every single one of them looks good. Really good. This recipe mixes the saltiness of thick cut bacon and the brightness of fresh thyme with the sweetness of onions slowly caramelized in apple cider, sherry vinegar and brown sugar. The beauty of this recipe is that it can take on many forms. I served it on toasted baguette pieces with melted brie, while John suggests pairing it with goat cheese or mixing it into a bowl of grilled brussels sprouts. Really, you can't go wrong any way you choose to serve this wonderful mixture.
Now, let's get started.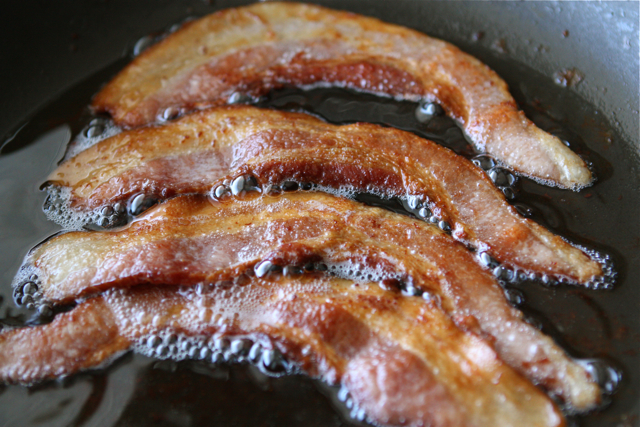 Place the bacon in a large saucepan set over medium-high heat. Cook until the bacon is just crisp. Remove from the pan, drain on a piece of paper towel and set aside. Do not discard the rendered fat in the pan.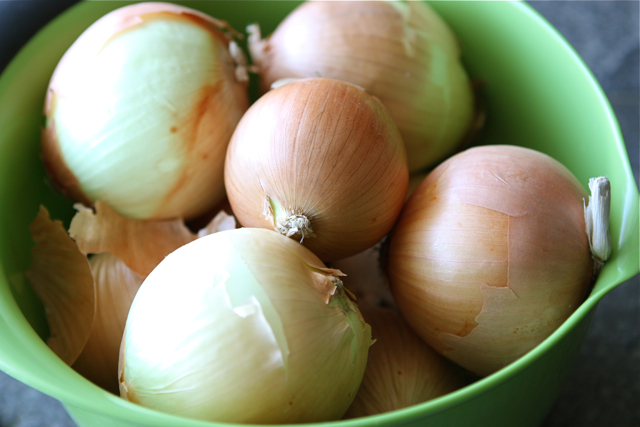 This recipe uses 4 pounds of onions. That may seem like a lot but they will cook down significantly. And, believe me, you are going to want as much of this marmalade as you can get your hands on.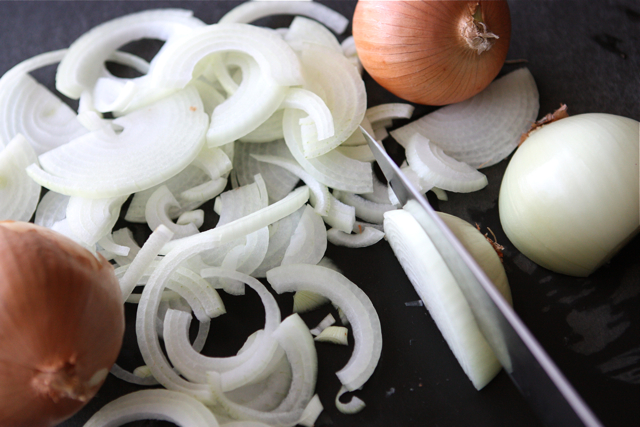 Cut the onions in half, peel them and cut into ¼-inch slices. Keep a tissue nearby for the inevitable running-of-the-mascara and burning eyes. Ahh, but it is worth every tear.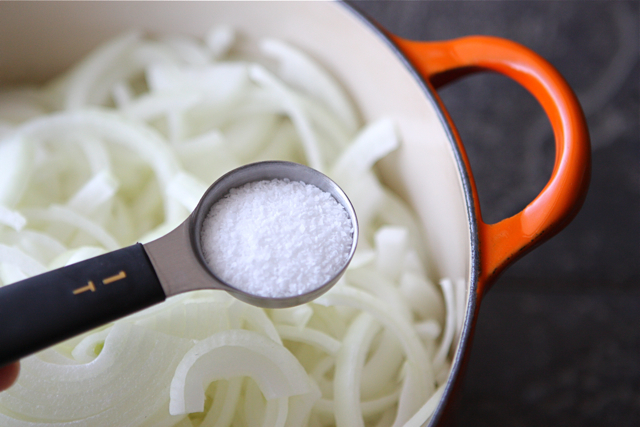 Add the onions and salt to the fat in the pan. Reduce the heat to medium, cover the pan, and cook until the onions are soft, about 15 minutes.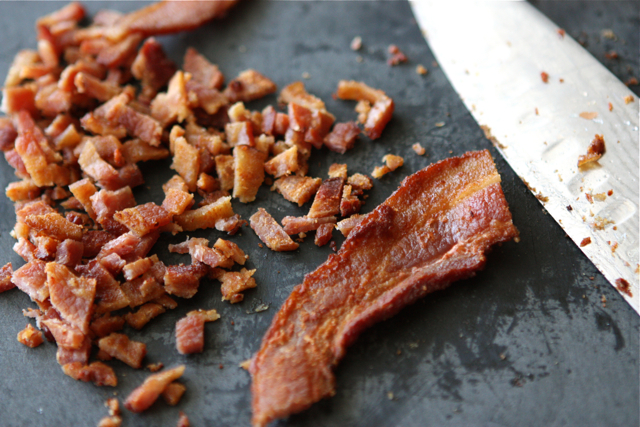 Chop the bacon finely and add it to the pan.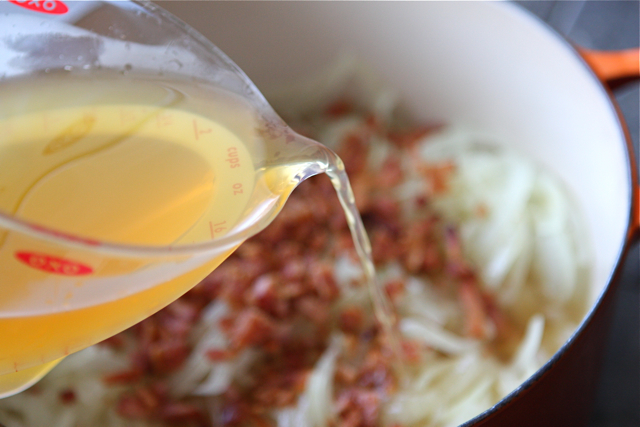 Add the apple cider …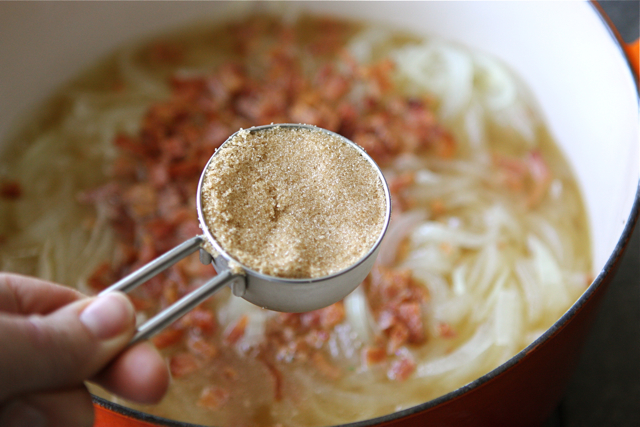 Brown sugar …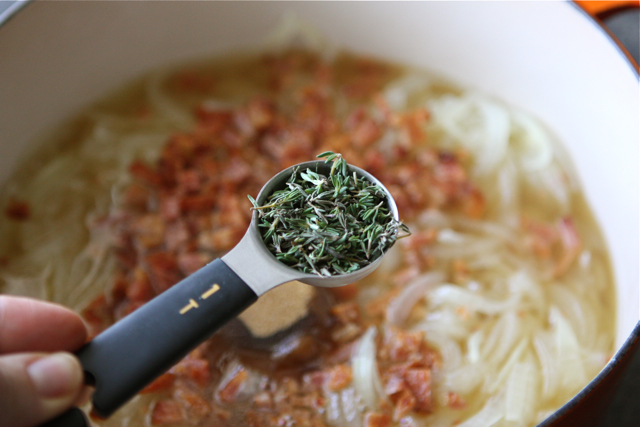 Fresh thyme and black pepper.
Stir well and cook, uncovered, until the liquid is almost completely reduced, stirring occasionally, about 1 hour.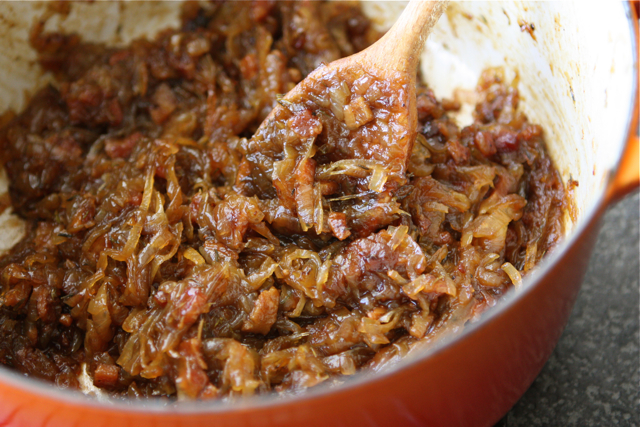 Reduce the heat to low and continue to cook, stirring frequently, until the onions are a deep brown color, about 10 minutes. If the mixture begins to looks dry, add water, ¼ cup at a time.
Remove the pan from the heat and allow the mixture to cool. Serve on crostini, in sandwiches, on pizzas or mixed in with roasted veggies.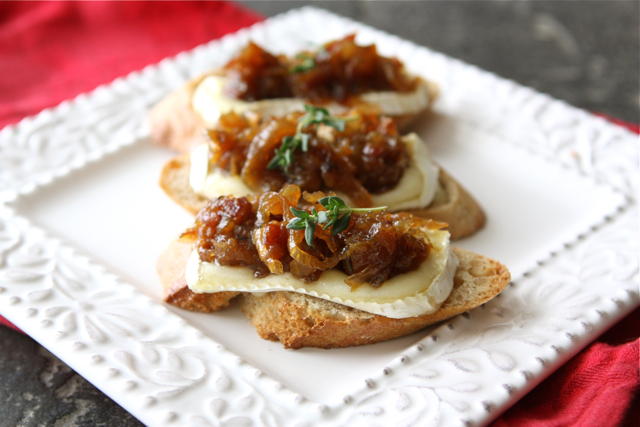 Thank you so much to patiodaddio for this amazing recipe. Besides serving the onion marmalade as crostini with brie cheese, we have also layered them into sandwiches and eaten them straight off a fork. Yes, they are that good. Be sure to check out his blog, Patio Daddio BBQ for more of his mouthwatering recipes. Want to read even more about him? Head over to his Tasty Kitchen Blog feature!
Printable Recipe
See post on patiodaddio's site!
Description
This marmalade is very versatile, and it's also just this side of addictive. It's amazing on a warm slice of baguette with some goat cheese, as you see pictured here, but with the addition of some thinly-sliced leftover steak. It's also wonderful tossed into roasted potatoes.
This takes a while to make, but your patience will be richly rewarded.
Ingredients
4 slices Thick Bacon
4 pounds Yellow Onions, Halved And Sliced To 1/4"
1 Tablespoon Kosher Salt
2 cups Apple Cider
¼ cups Sherry Vinegar (white Wine Vinegar Is Fine)
¼ cups Brown Sugar
10 sprigs Thyme, Leaves Stripped From The Stem (about 2 Tablespoons)
2 teaspoons Black Pepper
Preparation Instructions
Heat a Dutch oven or large heavy sauce pan over medium-high heat.
Cook the bacon until it's just crisp, then remove the slices and set aside, leaving all of the rendered fat in the pan.
Add the onions and salt to the pan, reduce the heat to medium, cover the pan, and cook until the onions soften (about 15 minutes).
Chop the bacon fine and add it and the remaining ingredients to the pan. Cook uncovered until the liquid is reduced to almost nothing, stirring occasionally (about an hour).
Reduce the heat to low and continue cooking until the onions are a rich medium brown color, stirring frequently (about 10 minutes). If it starts looking too dry, add water 1/4 cup at a time.
Remove from the heat, set aside, and let cool.


_______________________________________
Dara Michalski is a doll and a sweetheart who clearly knows her way around the kitchen. She blogs at Cookin' Canuck, where she shares her flavor-packed recipes and fun, engaging writing. The photography's pretty incredible, too.