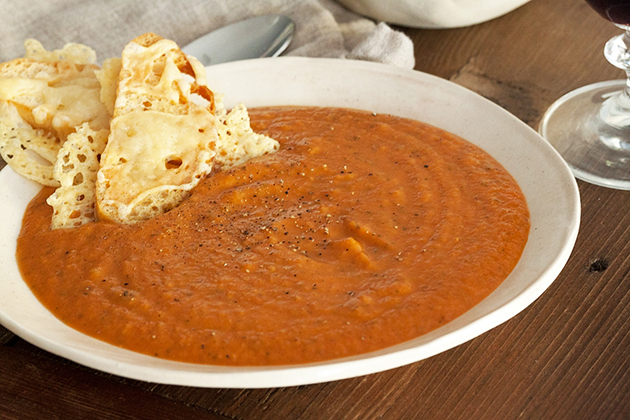 Tomato soup is something that is near and dear to my soul. I grew up eating it with the classic grilled cheese sandwich. Oh, what am I talking about, I still make tomato soup and eat it with a grilled cheese sandwich! Is there really anything better? Well, this recipe has me thinking that I can skip the grilled cheese, make this amazing soup and cheese crusted crouton (kind of a fancy grilled cheese) and call it a day!
This fabulous recipe was submitted The Cozy Apron. Here's how to do it.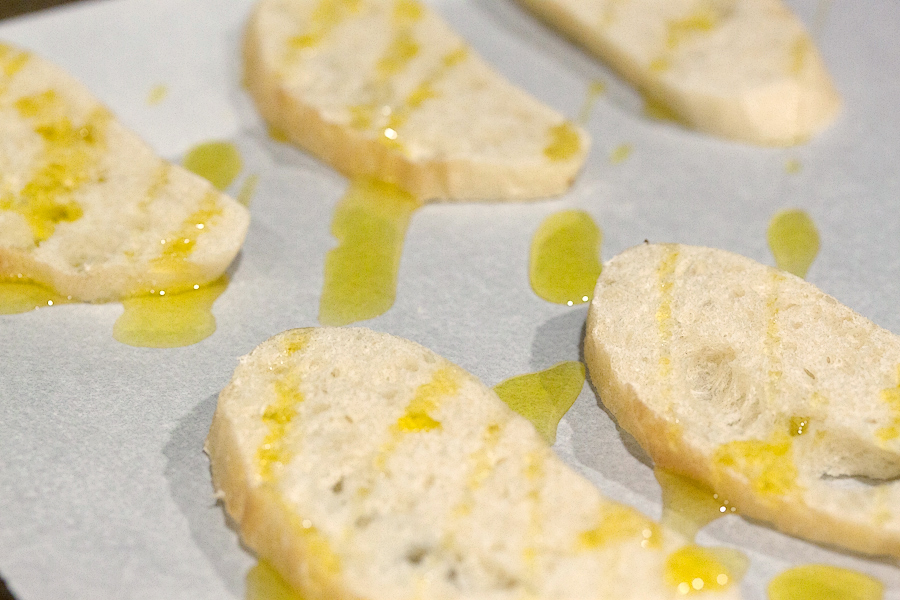 First you're going to start with some thinly sliced bread. Give it a drizzle of olive oil and then pop it into the oven for a few minutes until it turns golden brown.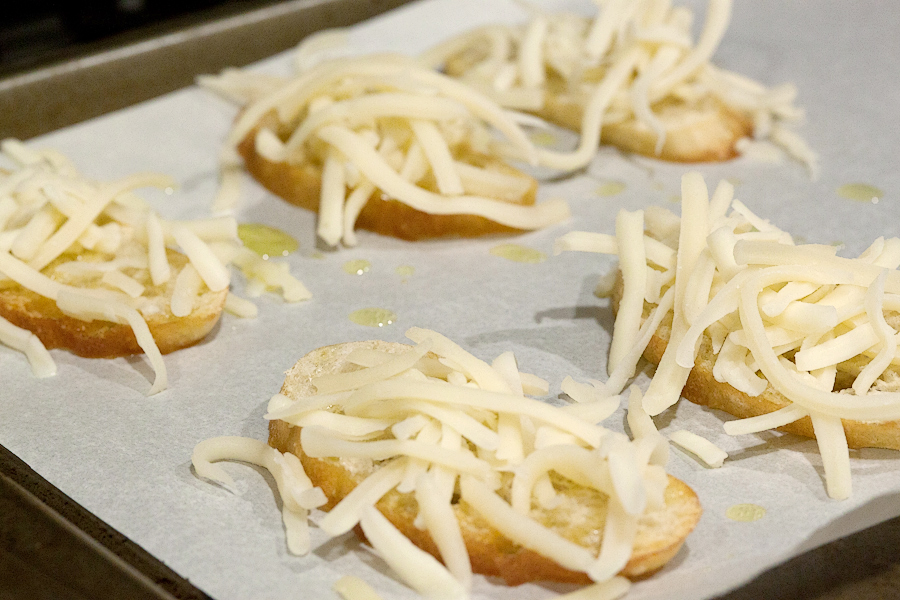 Once the slices of bread have toasted, sprinkle them with some cheese. Don't be shy with the cheese—the more the merrier! Then pop the bread back into the oven.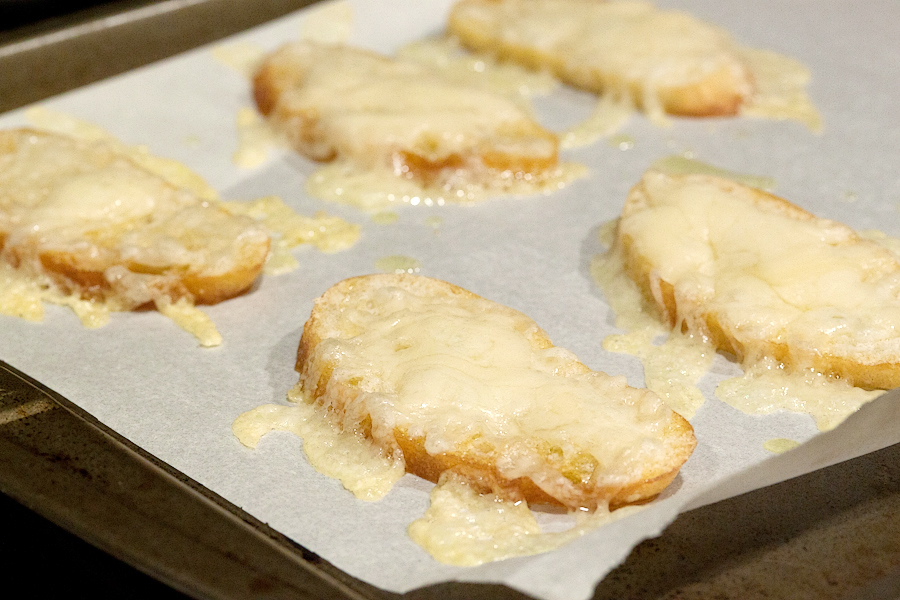 Once the cheese has melted, remove the baking sheet from the oven and set it aside.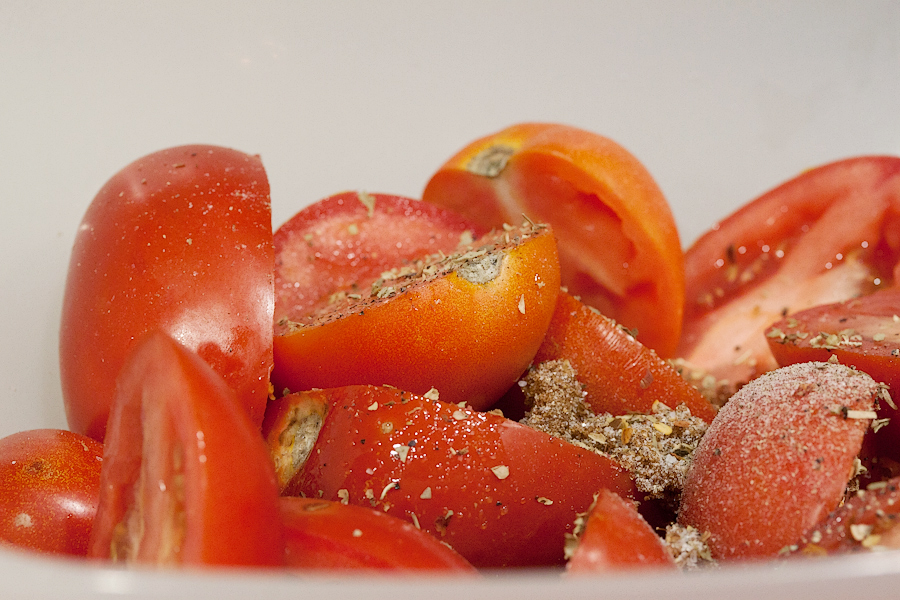 Next you're going to place some halved tomatoes in a large bowl. Give them a drizzle of olive oil, a sprinkle of brown sugar, then throw in the balsamic vinegar, salt, pepper, red chili flakes and Italian seasoning. Give the tomatoes a good toss so that the seasoning is evenly distributed.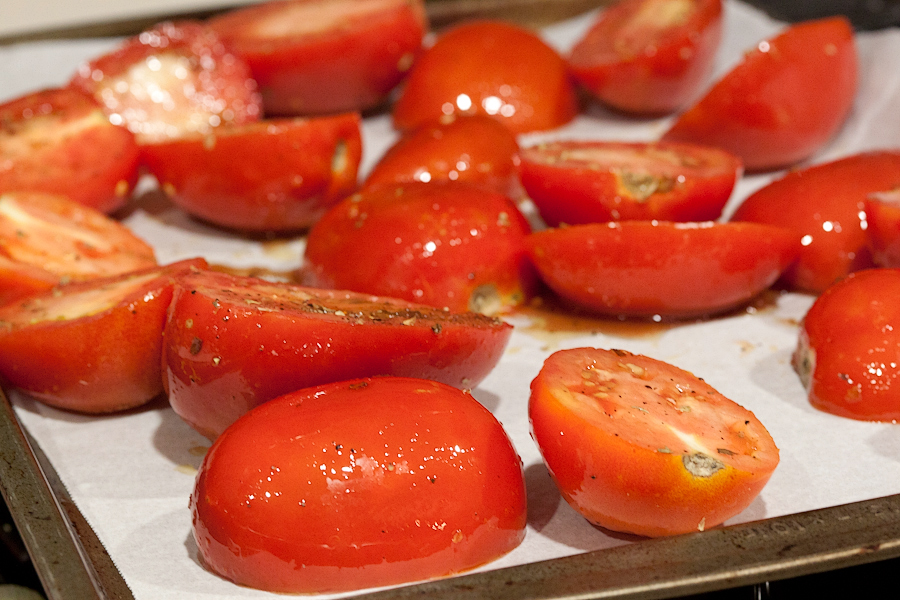 Place the tomatoes on a parchment-lined baking sheet and pop them into the oven for 45 minutes.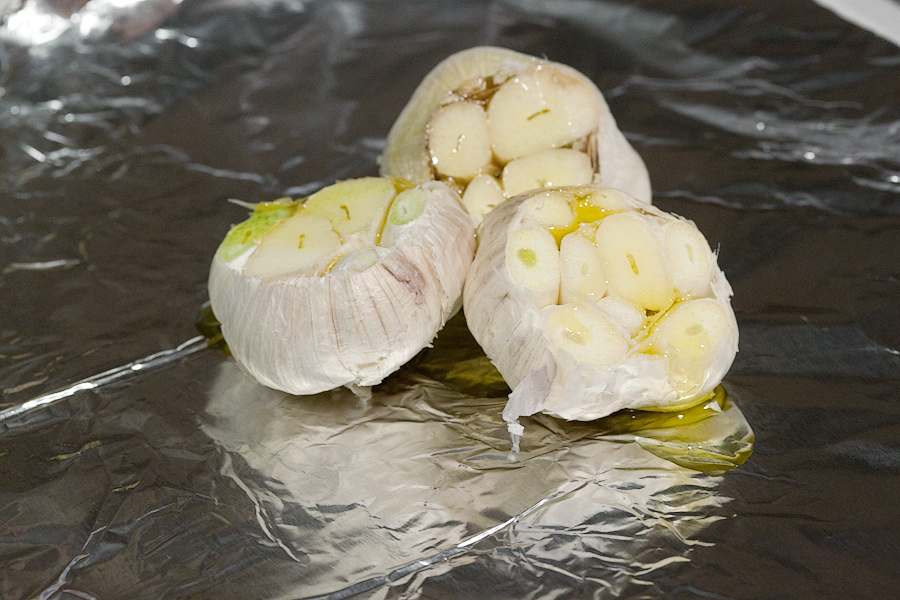 Cut the tops off of a few heads of garlic and drizzle some olive oil over the garlic.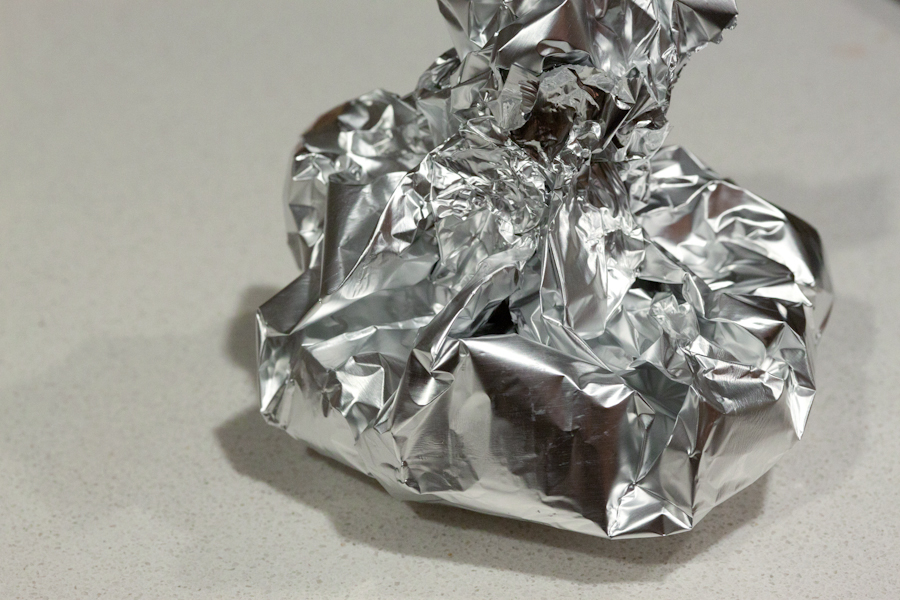 And then wrap it up in some foil. Pop it into the oven next to the tomatoes and let it bake for about 40 minutes. Now sit back, relax, perhaps watch some Real Housewives of Beverly Hills, and wait for the tomatoes and garlic to finish up in the oven.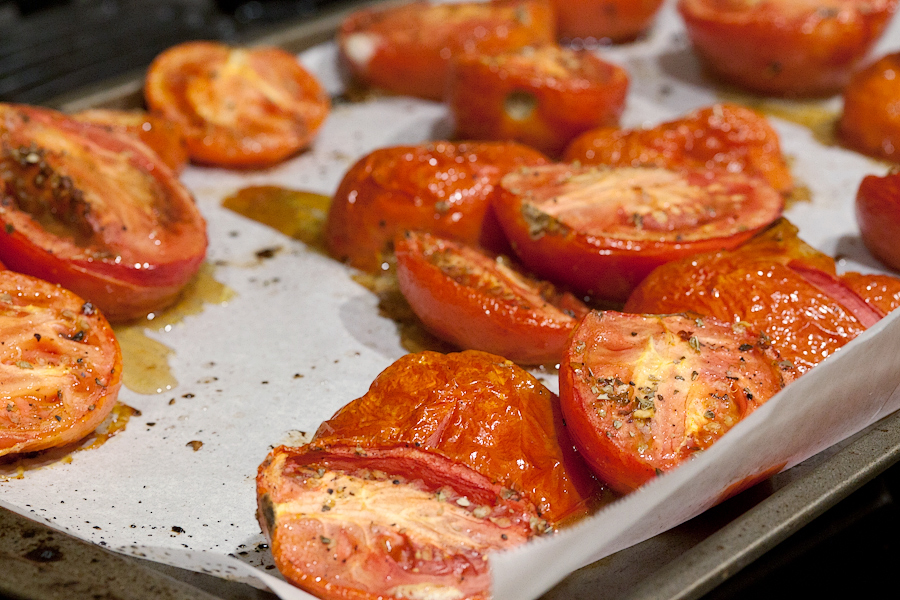 Once the tomatoes are done, they will look like this. Just let them hang out in their juices for a bit and set them aside.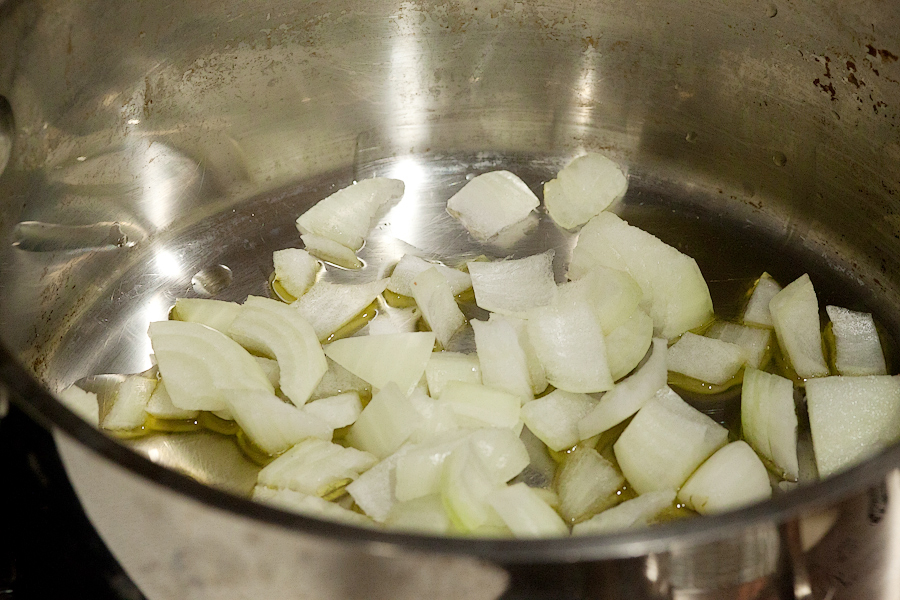 Meanwhile, in a large pot, sauté some onions.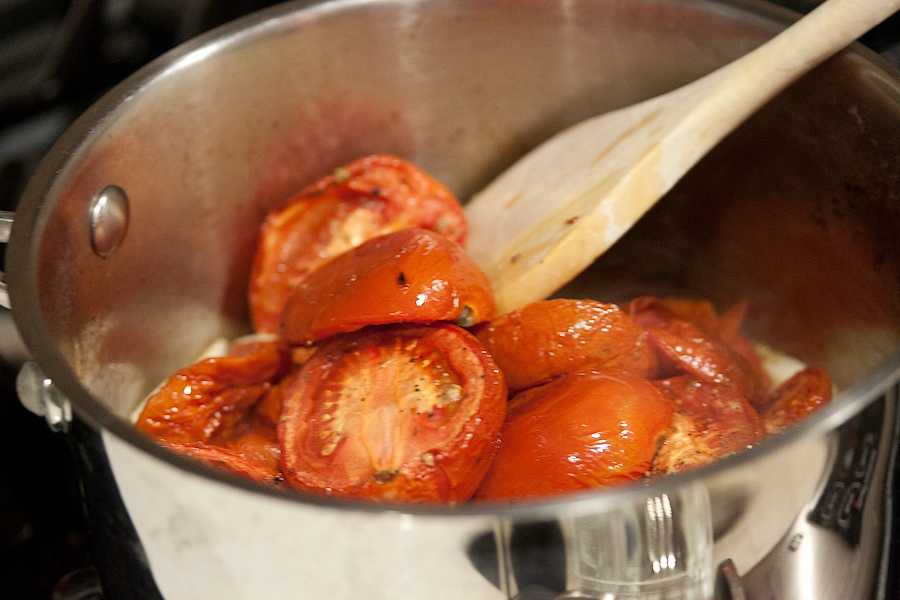 Add the roasted tomatoes along with all of their juices.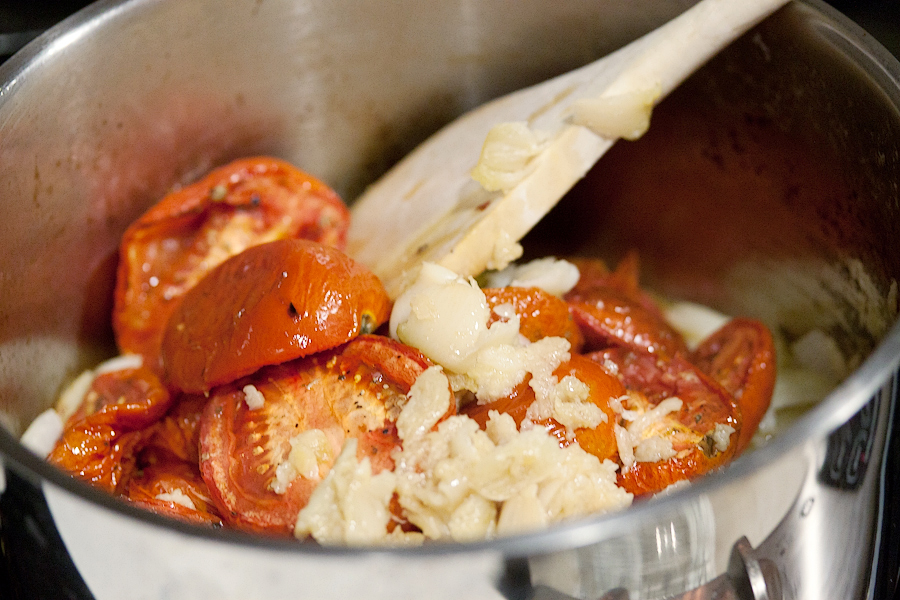 Next, squeeze out all the garlic from the paper and add it into the pot.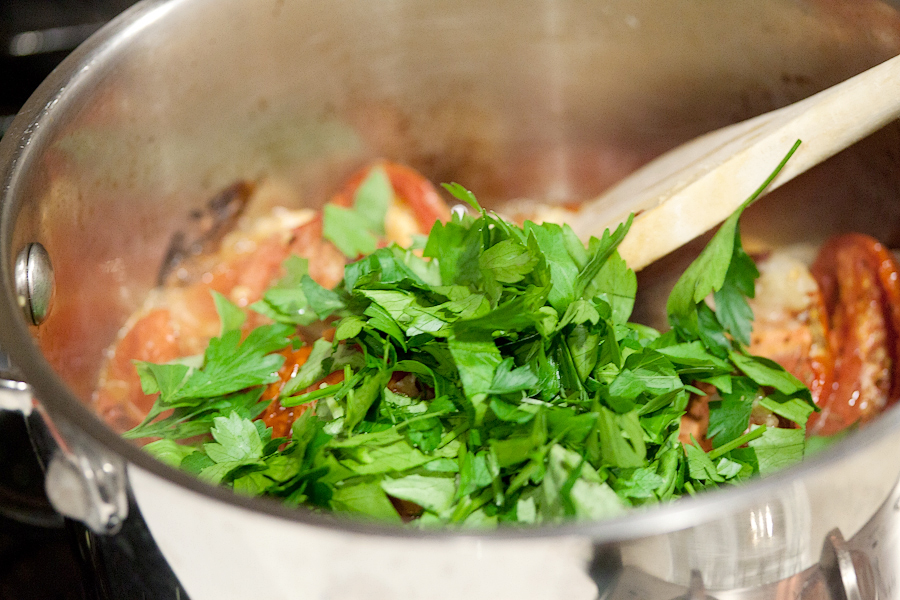 Throw in the basil, and then the parsley.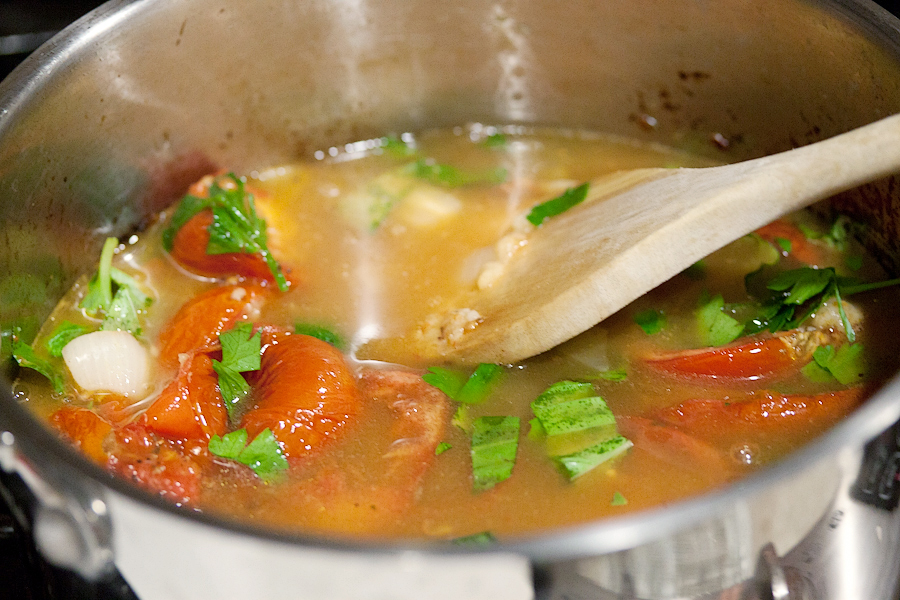 Next goes the chicken stock.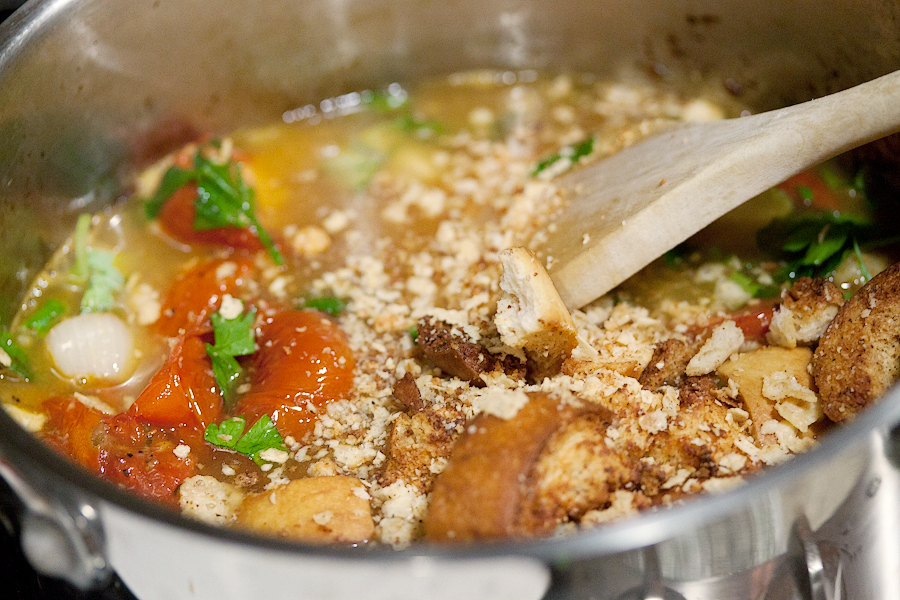 And then some croutons. (I know, sounds a little odd, right? Trust me, it'll blow you away!) Let this boil for a little bit.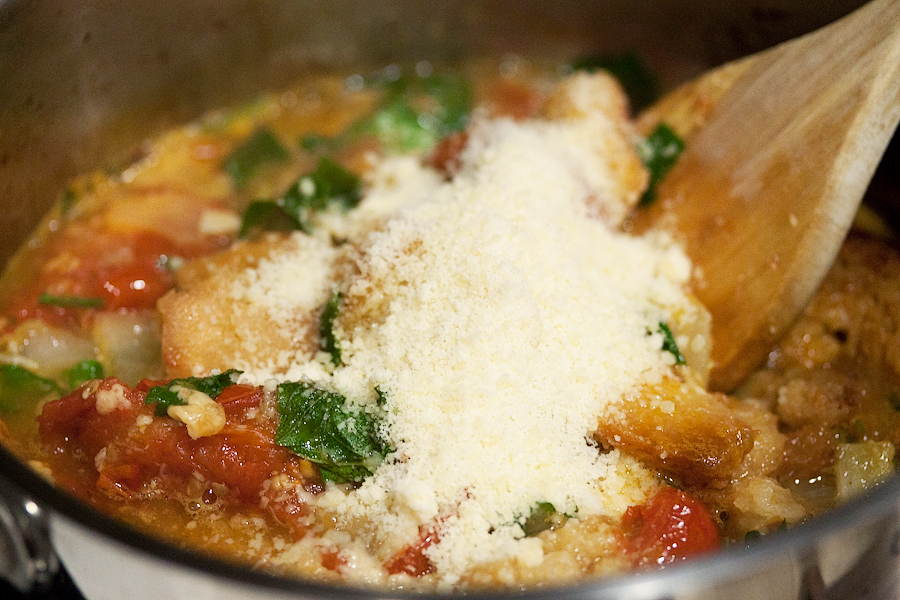 Then add some Parmesan cheese.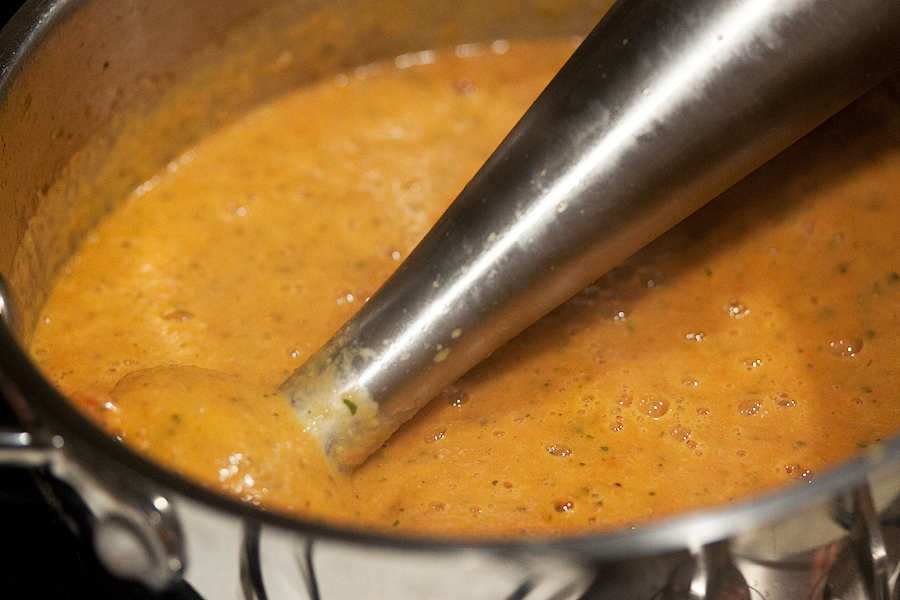 Give the mixture a blend with an immersion blender until it's nice and smooth.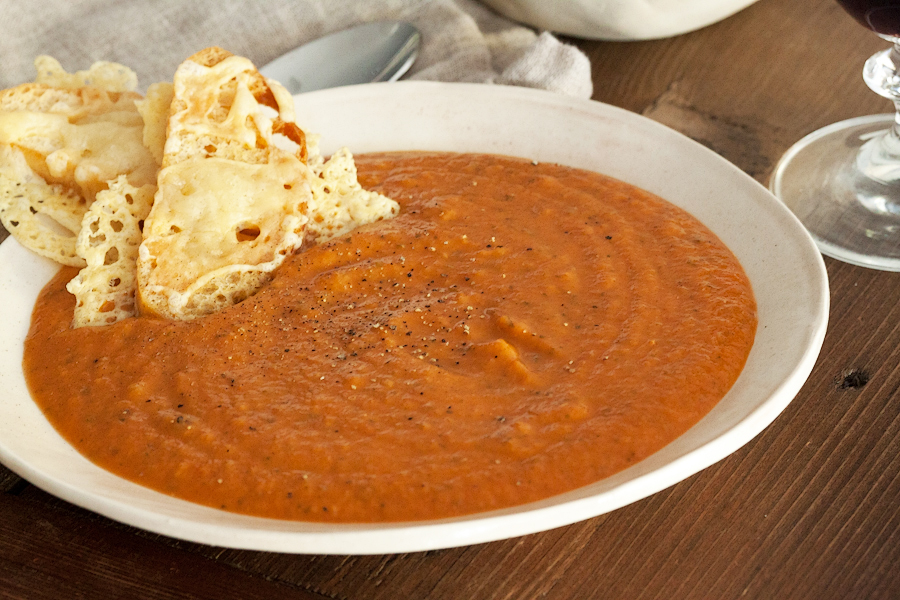 Serve the soup immediately with some of the cheesy garlic toasts!
A big thank you to Ingrid for creating the best tomato soup recipe I've ever tasted! I'll be making this one for years to come. Visit her blog, The Cozy Apron, for more of her recipes and beautiful food photography!
Printable Recipe
See post on The Cozy Apron's site!
Description
If spicy foods tickle your tongue, then this warming and rich soup is sure to please. Roasted garlic and Roma tomatoes are the sweet, deep base for this soup, while fresh herbs and parmesan round out the heat. Cozy up with a big bowl of this soup to melt away the cold!
Ingredients
1 loaf Ciabatta Bread
7 Tablespoons Olive Oil, Divided
6 Tablespoons Gruyere Cheese, Shredded, Divided Use
15 whole Roma Tomatoes
1-½ Tablespoon Balsamic Vinegar
3 Tablespoons Brown Sugar
1 Tablespoon Salt
1 teaspoon Fresh Cracked Black Pepper
1 Tablespoon Red Chili Pepper Flakes
2 teaspoons Italian Seasoning
3 whole Heads Of Garlic (Peels Left On) Plus 2 Cloves, Chopped, Divided Use
1 whole Onion, Chopped
1 bunch Lemon Basil (or Regular Basil), Stems Removed And Chopped
¼ cups Flat-leaf Parsley, Chopped
3 cups Chicken Stock
1 cup Croutons (packaged)
½ cups Grated Parmesan Cheese
Preparation Instructions
Preheat oven to 400 degrees F and line 2 baking sheets with foil.
1. Cut the ciabatta bread into six 1/2″ slices, drizzle with 1 Tablespoon of olive oil, and place on baking sheet; toast until golden. Remove bread from oven, top each with 1 Tablespoon of the gruyere cheese and place in oven once again, just until cheese is melted. Remove bread from oven, cut each slice on the bias (making 12 pieces), and keep warm.
2. Cut the Roma tomatoes in half and place in a large bowl; add the 2 Tablespoons of olive oil as well as the balsamic vinegar and other ingredients down through the Italian seasoning to the tomatoes, and toss to coat. Add this to the second baking sheet and roast in the preheated oven for 45 minutes.
3. Cut the tops off of the 3 heads of garlic and add 2 Tablespoons of the olive oil. Wrap the heads tightly in foil; place them next to the tomatoes to roast for 40 minutes.
4. Once tomatoes and garlic are roasted, set aside to cool slightly, until they can be handled. Squeeze the roasted garlic cloves out of their papers, discard papers and set aside the roasted garlic aside.
5. In the meantime, in a large pot over medium heat, add the remaining 2 Tablespoons of olive oil, the chopped onion and 2 fresh, chopped garlic cloves. Allow them to become aromatic and translucent. Then add the roasted tomatoes (and all of their juice from the baking sheet), and the roasted garlic. Add the lemon basil and parsley and stir to combine. Add the hot chicken stock and the croutons, and allow to simmer without lid, for about 20 minutes.
6. Add the grated parmesan cheese, and stir. Using a hand immersion blender, puree the soup until smooth and all tomatoes are completely pureed (if using a blender, work in small batches to puree. Be careful to not overfill the blender, as hot soup can splatter). Check the salt/pepper, and adjust to taste, if necessary.
7. Ladle into serving bowls, and garnish with 2 pieces of the ciabatta cheese toasts. Enjoy!


_______________________________________
Gaby Dalkin is the young lady behind What's Gaby Cooking, a food blog that's bursting at the seams with incredible recipes and food photography. She's a personal chef and professional recipe developer, and if you follow her on Twitter, you'll soon discover her two-fold obsession: guacamole and cheese. She has small feet, a large heart, and a smile that can light up the whole building. We're pretty stoked to have her here.