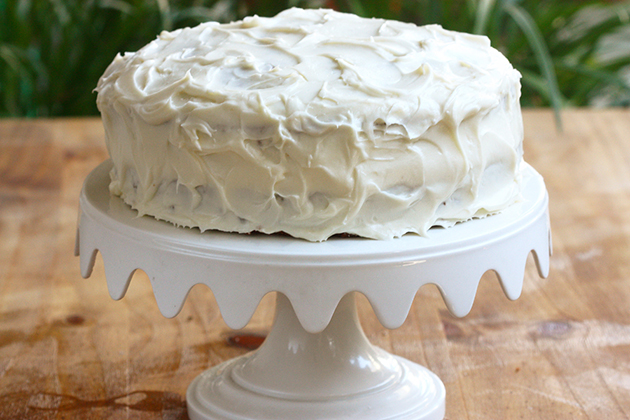 There's nothing quite like a moist piece of carrot cake speckled with a variety of coconut, nuts, dried fruit and carrots. Carrot cake truly does make my heart pitter-patter. And what I love most of all is that the bits of shredded carrots make the entire thing healthy, right? Right?
Regardless of whether that last statement is actually true or not, there's plenty of reasons—healthiness aside—to make this carrot cake. Like its appropriate title, this was in fact the best carrot cake I've had to date. Big-ups to TK member Kpurwin (who adapted it from Southern Living) for providing us with such an honest and delightful recipe.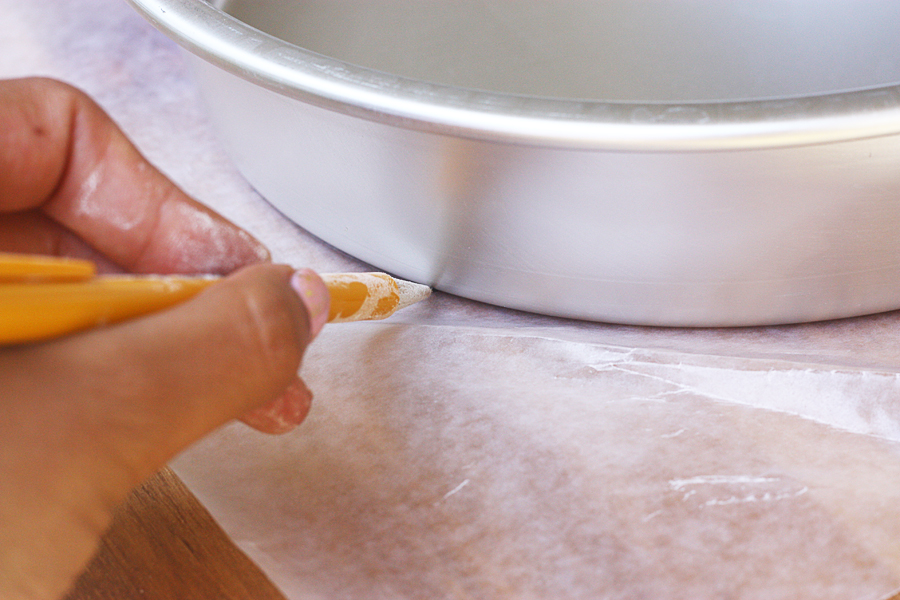 To kick off this carrot cake endeavor, you're going to start by lining (and greasing) your cake pans with wax paper. This makes for easy carrot cake extraction later on.
Time to get all of the dry ingredients together: all-purpose flour, baking soda, salt and cinnamon. Do a little sift action and set aside.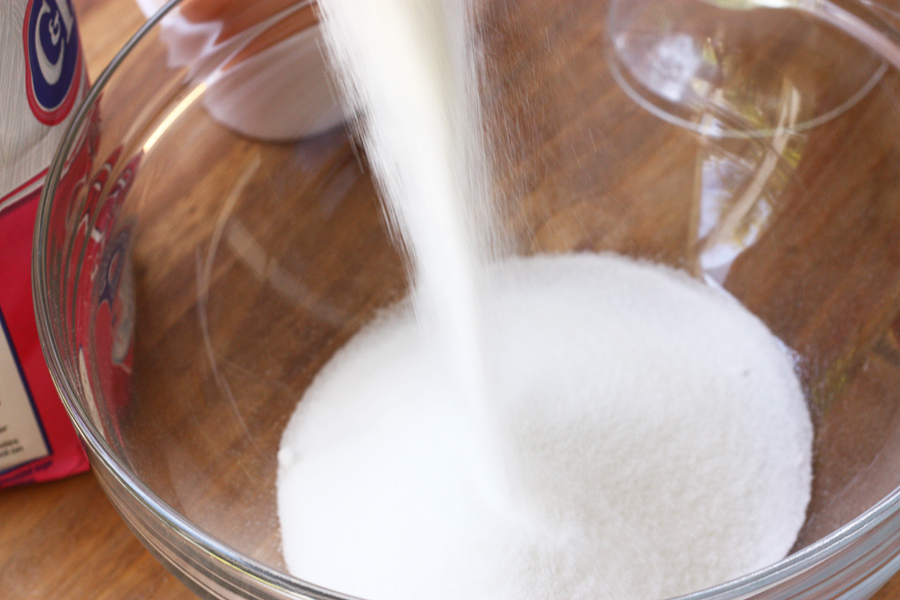 Next up, the wet ingredients. Start with the sugar.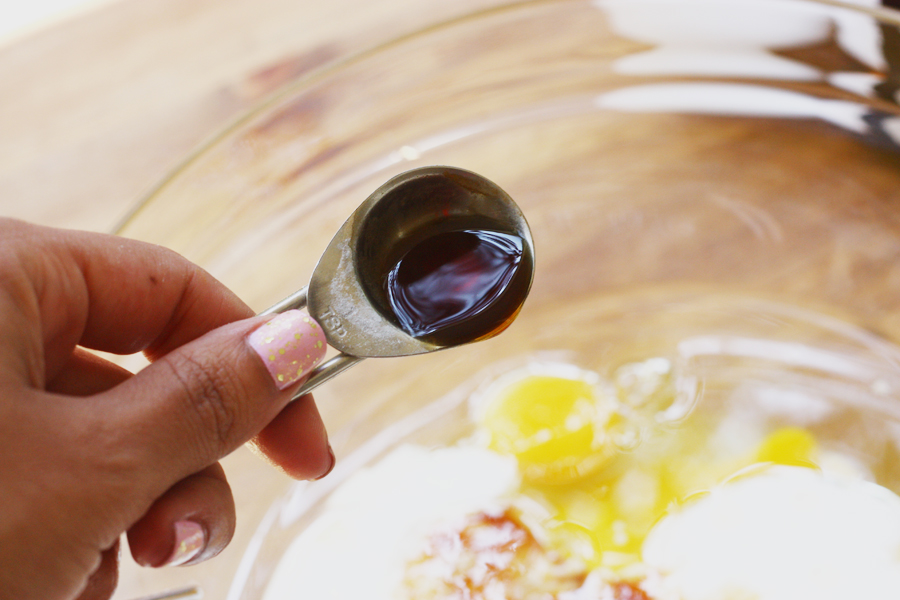 Add the eggs and vanilla.
Lastly, add the buttermilk. And then, using a hand mixer, beat everything together until completely blended.
Add the flour mixture in a few batches and beat, on low, until juuuust combined.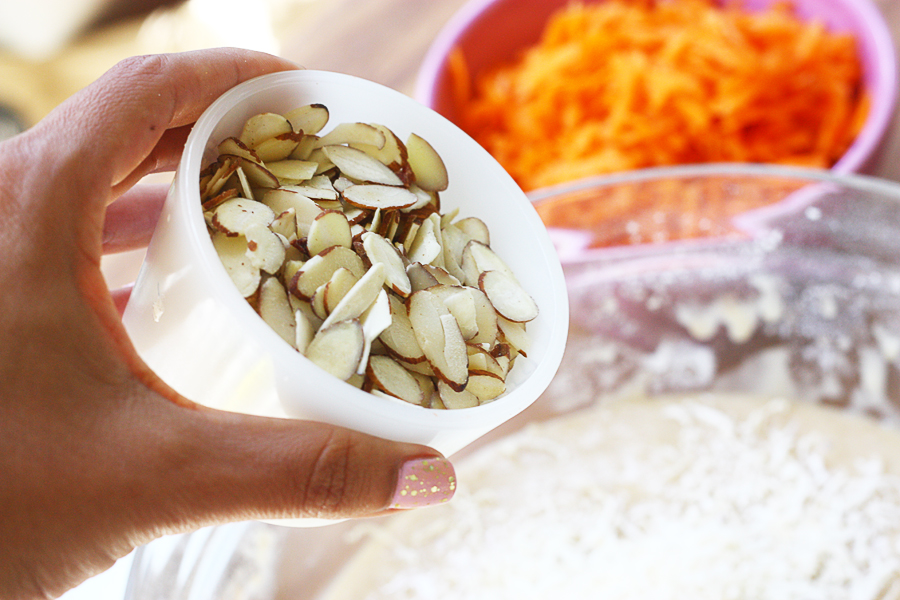 Let's be honest. The best part about carrot cake is all the stuff it's studded with. Let's start with the coconut and pecans. And if you're all out, substituting almonds is totally a good idea.
Add the grated carrots and cubed pineapple. Everyone will thank you later for this.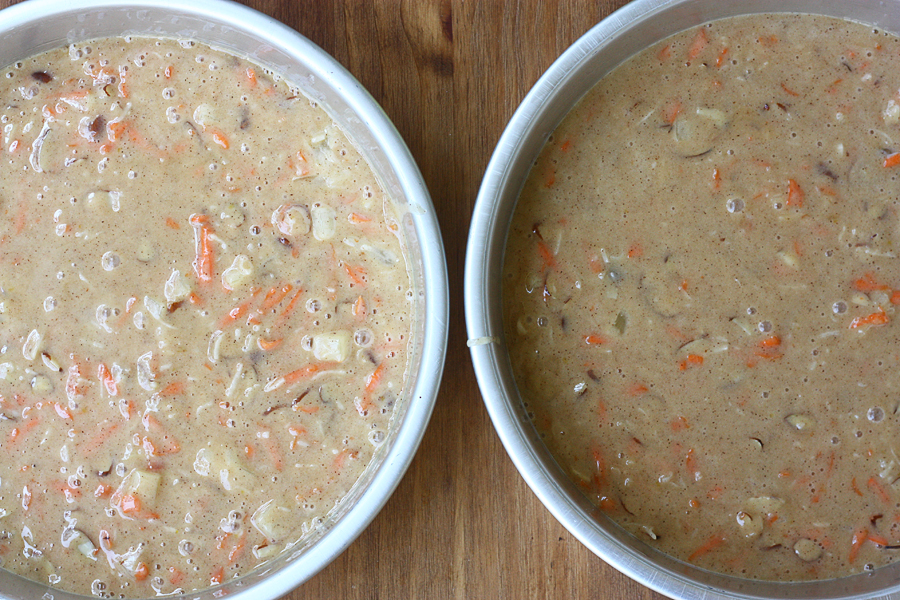 Transfer the batter to your two lined and greased cake pans. That's some gorgeous looking batter, isn't it?
 
Stick it in a preheated 350ºF oven for 25 to 30 minutes, or until an inserted wooden pick comes out clean. 
While it's baking, turn your attention to the buttermilk glaze. It's a breeze. Add everything to a saucepan (minus the vanilla) and cook until it reaches a boil and just mix. And then add the vanilla at the end.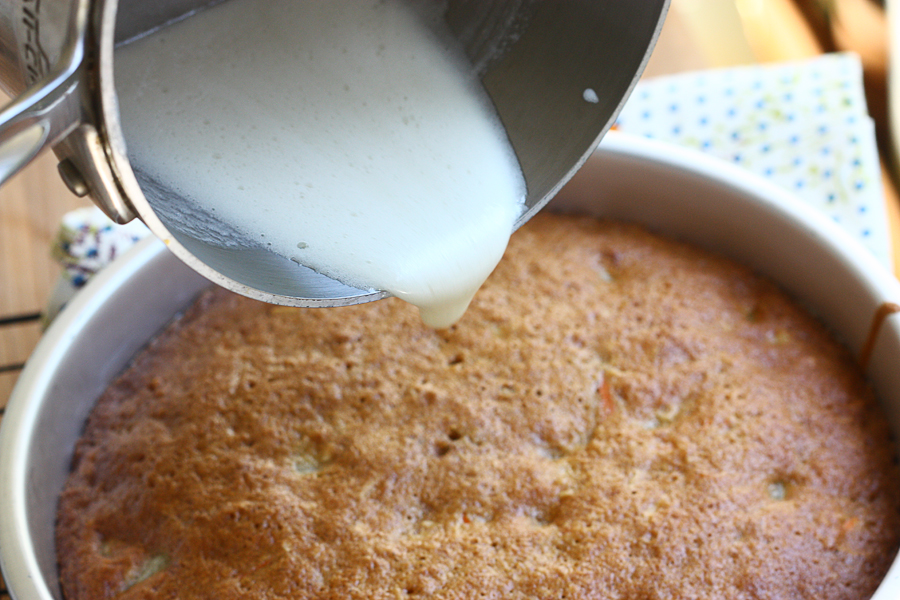 Right when your cakes come out of the oven, pour the buttermilk glaze over them. This will give them a good dose of extra awesomeness.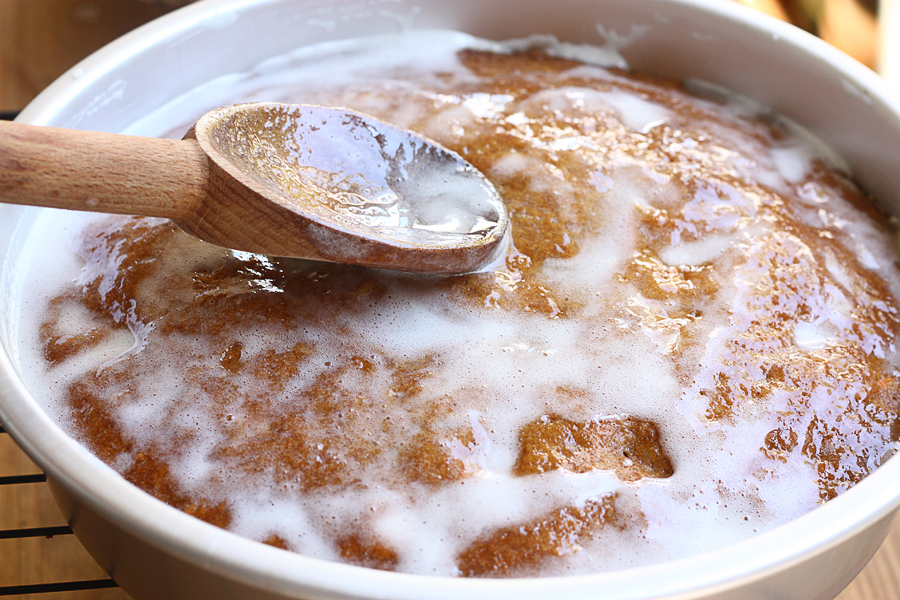 You're gonna wanna spread it all around evenly, making sure the entire cake is coated and smothered in it.
 
Let the cake cool completely and come to room temperature. While it's doing its cooling-down action, you can get started on the cream cheese frosting.
Pretty standard stuff. Just add everything to a bowl and beat until completely smooth. 
After your cake is done cooling, you're going to transfer the first layer of the cake to a big plate or cake stand. You can line the cake stand by placing squares of parchment underneath the cake. Then when you're done icing your cake, all you have to do is remove the parchment squares, and tadaaa! Clean cake stand.
Place a big scoop of icing on top of the cake. This would be a perfect time for an off-set spatula, but since I have a kitchen that eats things, my big spatula had to do.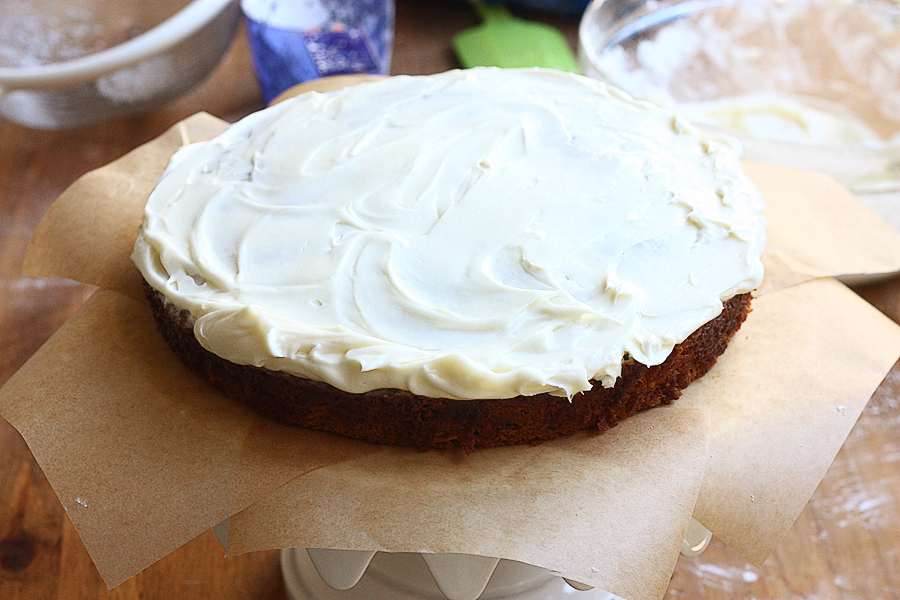 Just be sure to lay it on thick! You want a good layer of icing in between the two layers.
Gently place the second cake atop the first one.
Evenly distribute icing on the top and on the sides. If you want to get fancy, you can stick this in the fridge so the icing can set and then add on one more even layer of icing.
OR you could be lazy and, taking a knife, swirl on a second layer of frosting.
Take the parchment from the sides and you're set to present, eat, and devour your carrot cake.
As promised, this recipe really is for the best carrot cake ever. There's loads of texture, plenty of moistness and the combination of the buttermilk glaze and cream cheese frosting absolutely result in the best carrot cake of all time. This carrot cake deserves a place in everyone's recipe box/arsenal.
Thank you Katy and Christine for creating two towers of heaven! Visit their site Young and Hungry for more of their recipes.
Printable Recipe
See post on kpurwin's site!
Description
A buttermilk glaze quickly poured over hot cake layers and allowed to cool results in the moistest cake you've ever had! It's finished, appropriately, with a cream cheese icing.
Ingredients
FOR THE CARROT CAKE:
2 cups All-purpose Flour
2 teaspoons Baking Soda
½ teaspoons Salt
2 teaspoons Ground Cinnamon
3 whole Large Eggs
2 cups Sugar
¾ cups Vegetable Oil
¾ cups Buttermilk
2 teaspoons Vanilla Extract
2 cups Grated Carrot
1 can (8 Oz. Can) Crushed Pineapple, Drained
3-½ ounces, weight Flaked Coconut
1 cup Chopped Pecans
_____
BUTTERMILK GLAZE:
½ cups Sugar
¾ teaspoons Baking Soda
¼ cups Buttermilk
¼ cups Butter Or Margarine
½ Tablespoons Light Corn Syrup
½ teaspoons Vanilla Extract
_____
Cream Cheese Frosting
¾ cups Butter Or Margarine, Softened
11 ounces, weight Cream Cheese, Softened
3 cups Sifted Powdered Sugar
1-½ teaspoon Vanilla Extract
Preparation Instructions
CAKE:
Heat oven to 350 degrees. Line two 8-inch (or 9-inch) round cakepans with waxed paper. Lightly grease and flour the waxed paper. Set pans aside.
Stir together the flour, baking soda, salt, and cinnamon.
Beat eggs, sugar, oil, buttermilk, and vanilla at medium speed with an electric mixer until smooth. Add the flour mixture, beating at low speed until blended. Fold in grated carrot, pineapple, coconut, and pecans. Pour batter into prepared cake pans.
Bake at 350 degrees for 25 to 30 minutes or until a wooden pick inserted in the center come out clean. Drizzle Buttermilk Glaze evenly over layers; cool in pans on wire racks for 15 minutes. Remove from pans, and cool completely on wire racks. Spread Cream Cheese Frosting between layers and on the top and sides of cake.
BUTTERMILK GLAZE:
Bring sugar, baking soda, buttermilk, butter or margarine, and light corn syrup to a boil in a large Dutch oven over medium-high heat. Boil, stirring often, for 4 minutes. Remove from heat and stir in vanilla.
CREAM CHEESE FROSTING:
Beat butter and cream cheese at medium speed with an electric mixer until creamy. Add powdered sugar and vanilla; beat until smooth.


_______________________________________
Adrianna and Caroline are the lovely ladies behind the scrumptious blog A Cozy Kitchen. It's filled with all kinds of mouthwatering recipes and gorgeous photography. Whether you're in the mood for something vegetarian or meaty, fancy or pure comfort, light or decadent, there's sure to be something there for everyone.