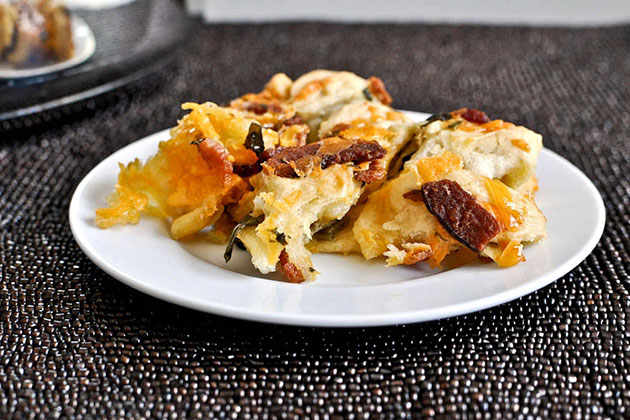 With one look at this title, I knew the recipe would be a winner. Let's be honest: bacon + cheddar + bread? Who in the world could go wrong with that? I couldn't have found this at a more perfect time with the start of football season and knew it would be a great game day snack. I also had so much success with Rebecca's General Tso's Chicken that I was already imagining how we'd devour this bread.
And devour it we did!
This recipe is ideal when it comes to leftovers. Leftover dough, leftover bacon, bunches of grated cheese … I just wish I knew what it was like to have leftover bacon, because somehow all of mine disappears. But even if you don't have leftovers, you can fry the bacon and whip up your favorite dough recipe—pizza or bread—in order to make this when you're really craving it.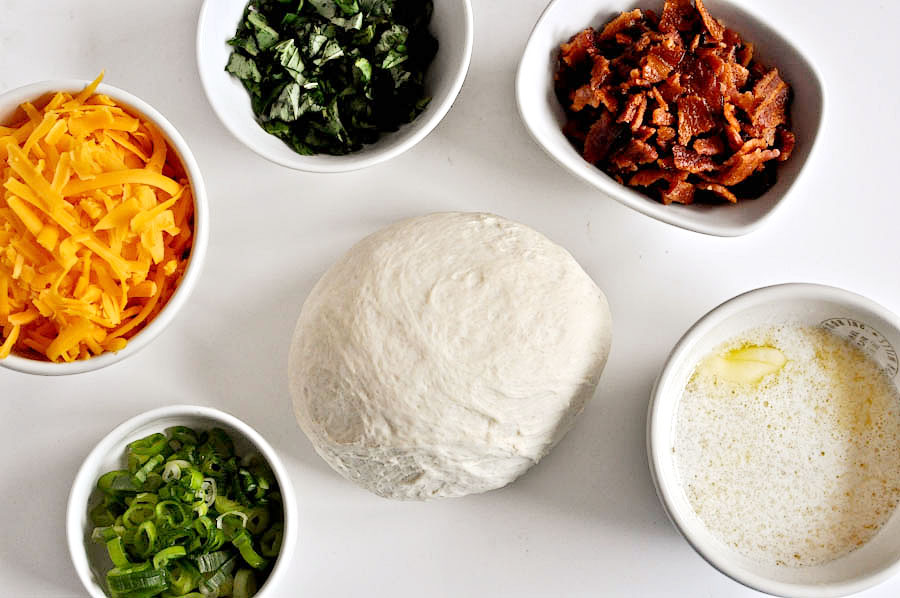 You need a batch of bread dough, crumbled bacon, melted butter, shredded cheddar, chives (or in my case, scallions) and chopped parsley. These flavors work magic together.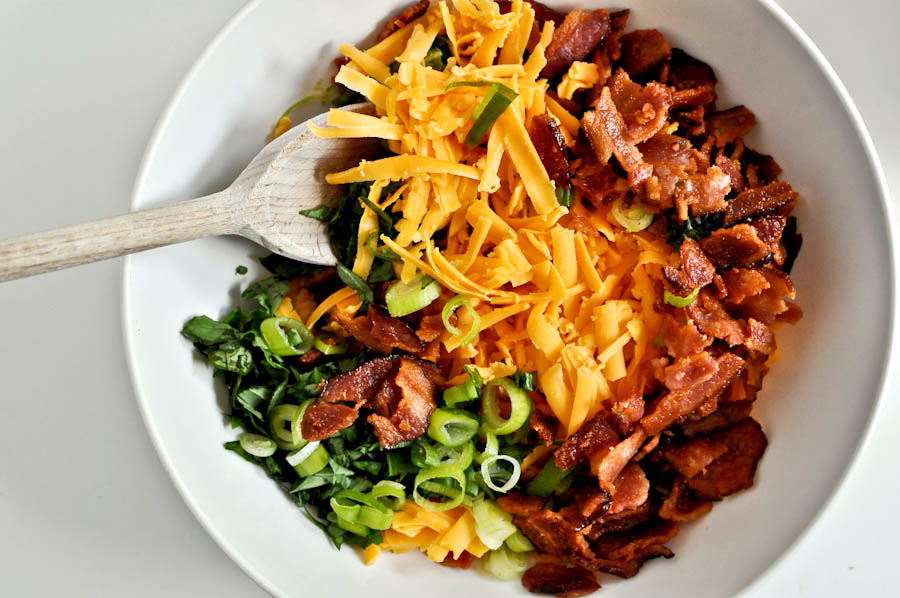 Start by preheating your oven to 350ºF. In a bowl, mix 1 cup of the cheese, and the bacon, scallions and parsley together, then set aside.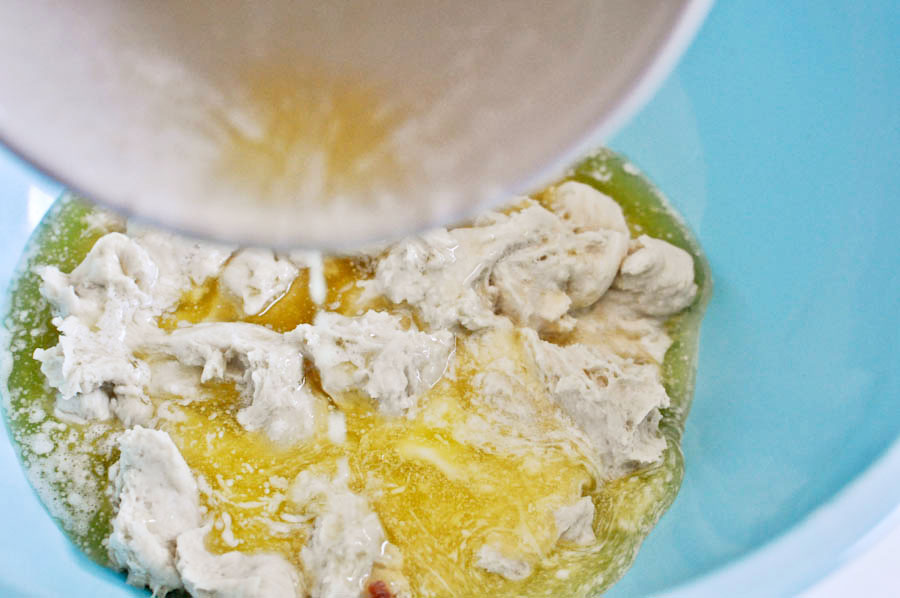 Tear your dough into 32 pieces. You can cut it with kitchen shears or do whatever works best for you, but I simply tore it with my hands. I loved that the pieces were not uniform in size. Add the dough to a bowl and pour melted butter on top. Yes it looks like a lot, but it's butter—and it's never too much. Trust me.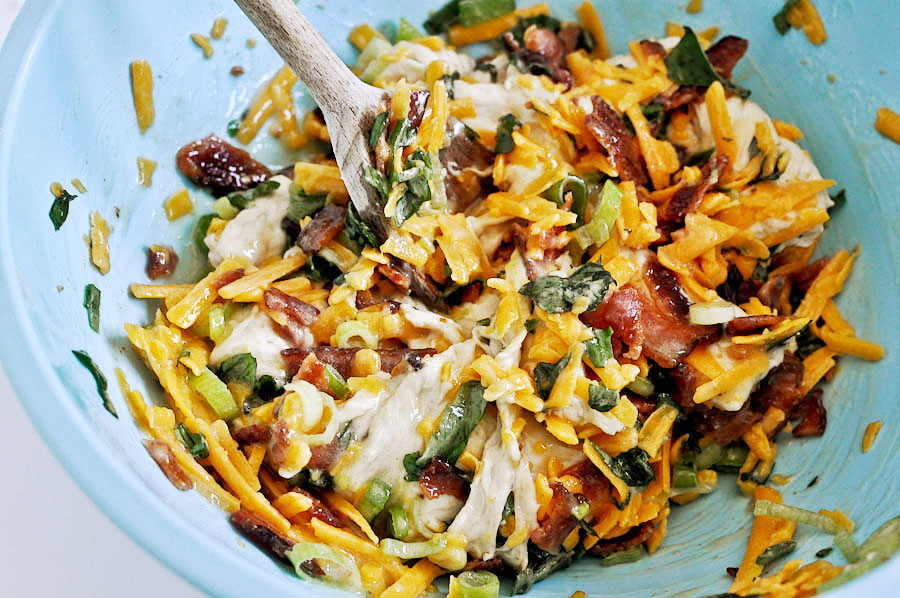 Add in the cheese and bacon mixture then mix thoroughly with a spoon, making sure to coat each and every piece.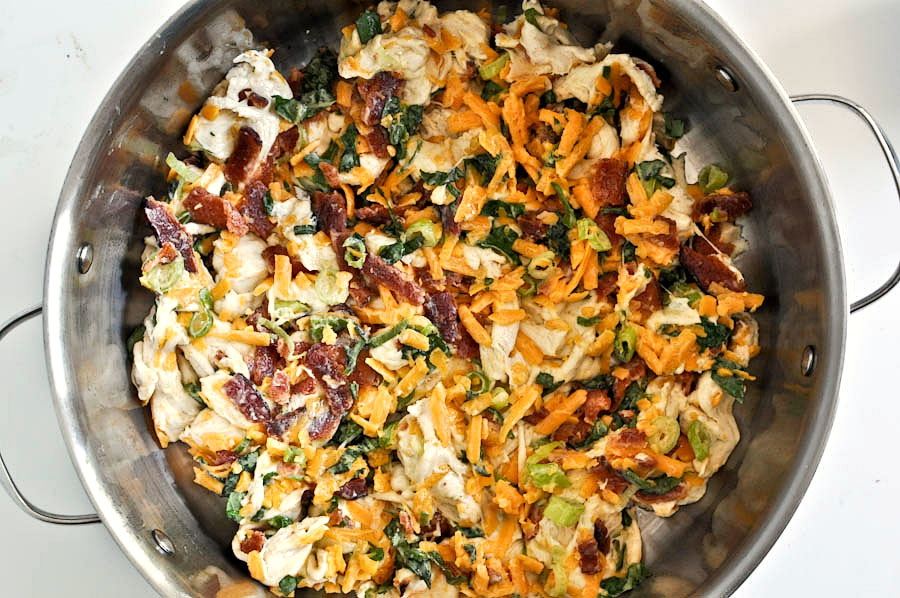 Add the bread pieces to the bottom of an oven-safe stock pot or a large cast iron skillet. The recipe calls for baking the bread for 25-30 minutes, but I found that the time depends on the dough. I baked mine for about 40 minutes and it was golden and chewy. I recommend watching it and removing it when it's a bit brown on top.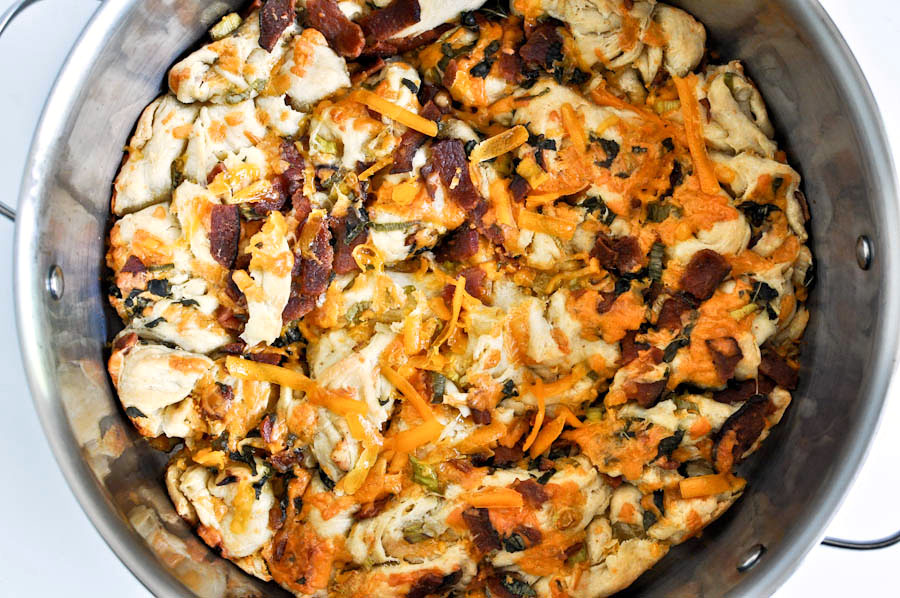 As if this is some cruel joke, let it cool for 10 minutes or so. I definitely burned three of my fingertips picking random strands of melted cheese and crispy bacon from the top of the bread. At this time, you can add the remaining cheese on top so it gives the bread a melty, gooey blanket. Heaven.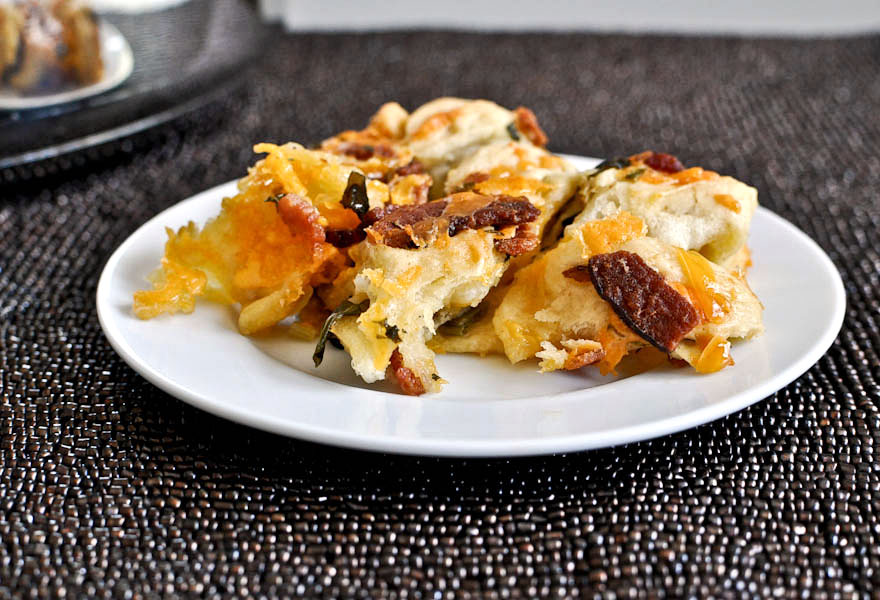 Don't let it get too cool. Nothing beats a warm chunk of bread.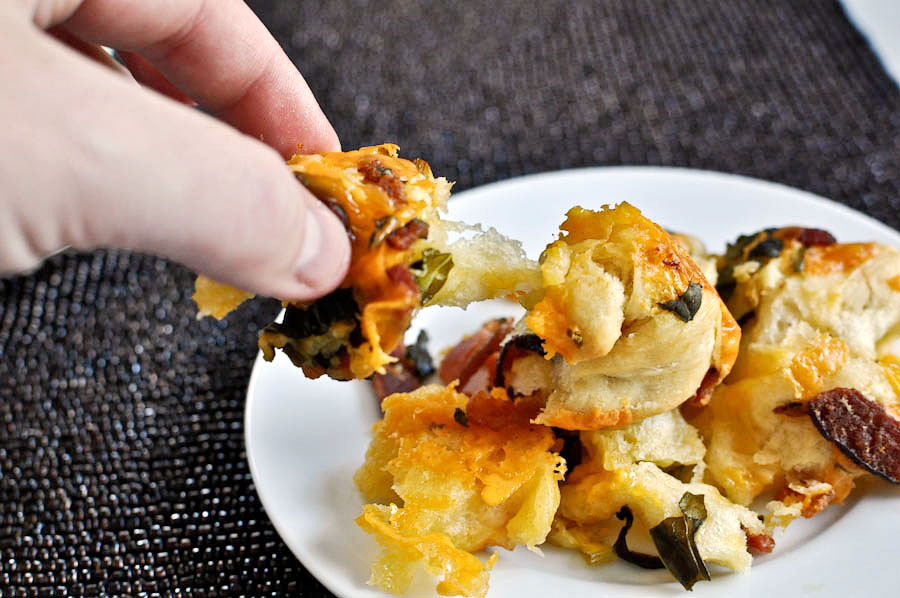 Especially when you can pull it apart with your fingers. Oh! And especially when cheddar and bacon are involved. No words.
Thanks so much to Rebecca for another fabulous recipe! Be sure to check out her blog, Foodie with Family, which has quickly risen to the top of my favorites. If you do one thing today, make this bread!
Printable Recipe
See post on Rebecca's site!
Description
When bacon and cheese talk, you'd better be ready to listen. Thankfully, it's easy to listen when this is what you're craving. Made of leftover bacon, shredded cheese, refrigerated bread dough, butter, and a handful of herbs and spices, this throws together in five minutes and bakes in thirty.
Ingredients
½ cups Butter, Melted
1-½ cup Finely Shredded Cheddar (or A Mixture Of Cheddar And Monterey Jack), Divided Use
1 cup Crumbled Leftover Cooked Bacon
2 Tablespoons Chopped Fresh Chives, Parsley, Or A Combination Of The Two
1 Tablespoon Minced Onions, Optional
1 pound Refrigerated (or Thawed, Previously Frozen) Bread Dough
Nonstick Cooking Spray Or Additional Butter Or Oil For The Pan
Preparation Instructions
Preheat oven to 350°F.
Generously grease (or spray with nonstick cooking spray) an oven-safe 12-inch skillet or a bundt pan.
In a small mixing bowl, stir together the butter, 1 cup of the cheese cheese, bacon, chives or parsley, and minced onions. Set aside.
Divide the bread dough into 32 pieces and place the pieces in a large mixing bowl.
Pour the butter mixture over the bread and toss gently to distribute everything evenly and coat all the dough well.
Use your hands to arrange the dough evenly over the bottom of the greased pan. Sprinkle the remaining cheese over the top of the dough.
Bake for 25-30 minutes or until the cheese on top is fully melted and crisped and the bread is golden brown.
Either turn out onto a serving plate or wait until the pan is comfortable to the touch before serving.


_______________________________________
Jessica Merchant is a personal trainer turned food writer and blogger. Her blog, How Sweet Eats, is where she proclaims her love for all things sweet, all things bacon, and everything else in between. She works her magic in her Pittsburgh kitchen, which she shares with her husband of 2 years.