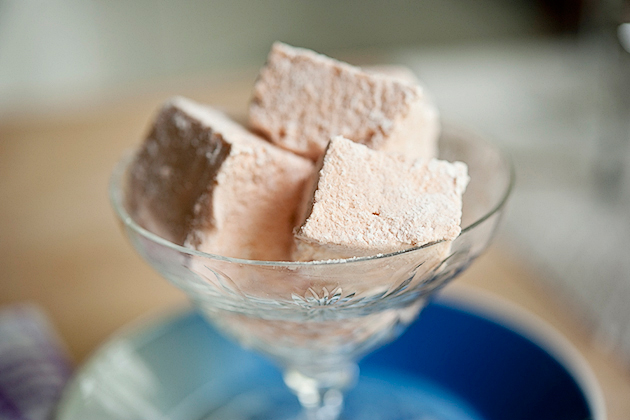 During my restaurant days, I used to make marshmallows from time to time. It was a rather complicated affair, with complicated ingredients like "inverted sugar." I was delighted to see several recipes for marshmallows here on Tasty Kitchen that were much simpler. This one is by TK member Calamity Anne, and is originally for plain homemade marshmallows. I decided to add my own twist to it just like the olden days and make them flavored. Can you guess which flavor?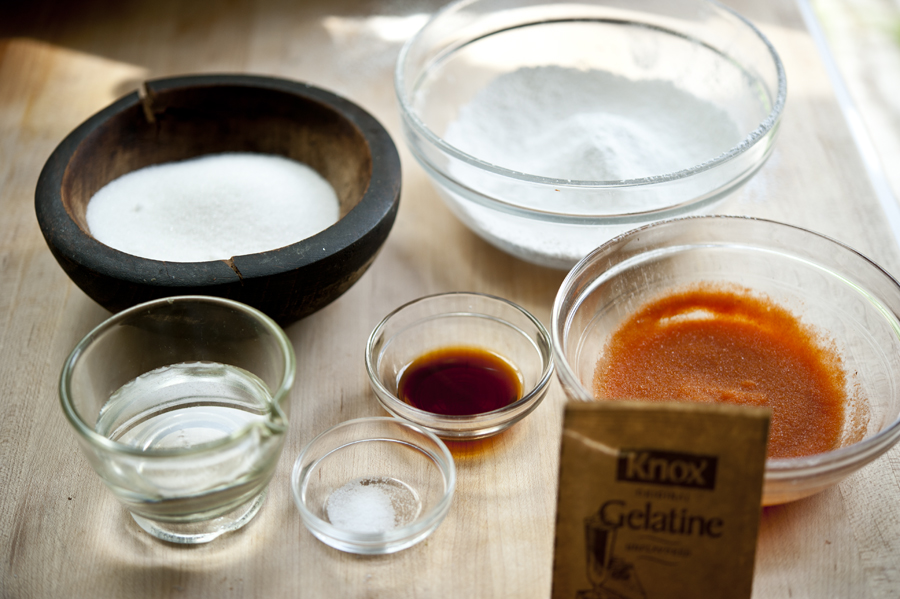 The ingredients that you need are sugar, light corn syrup, salt, vanilla, a mixture of cornstarch and powdered sugar, gelatin mixed with … water or your flavoring liquid—in this case, carrot juice!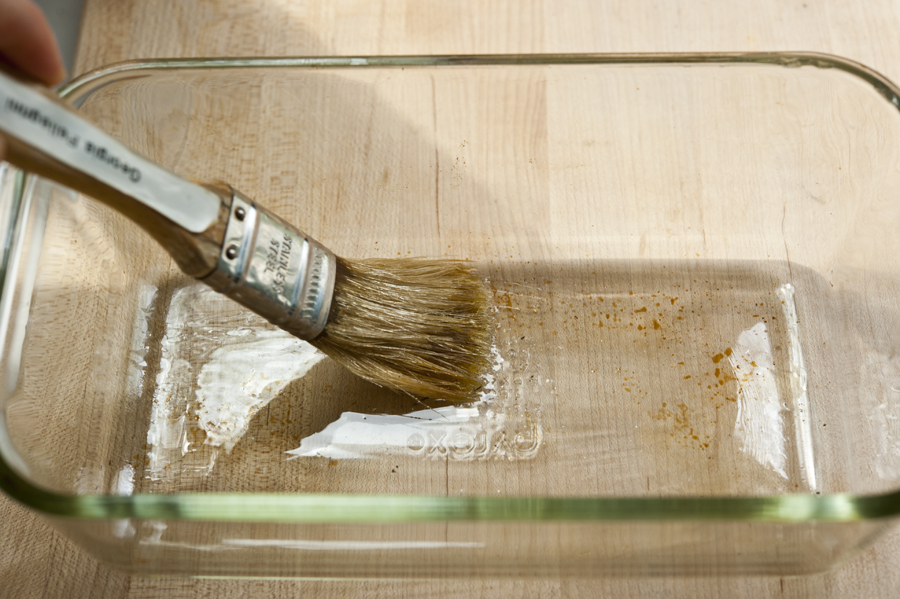 You can really use any sized dish with sides. It just serves as a mold out of which you will cut your marshmallows. You'll need to coat the dish with a bit of oil.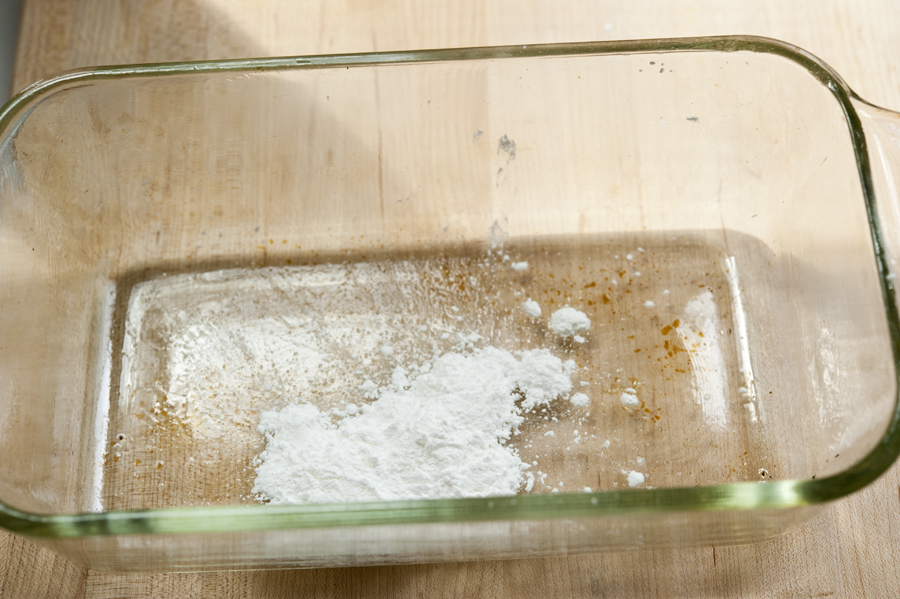 Then add a few tablespoons of the powdered sugar and cornstarch mixture.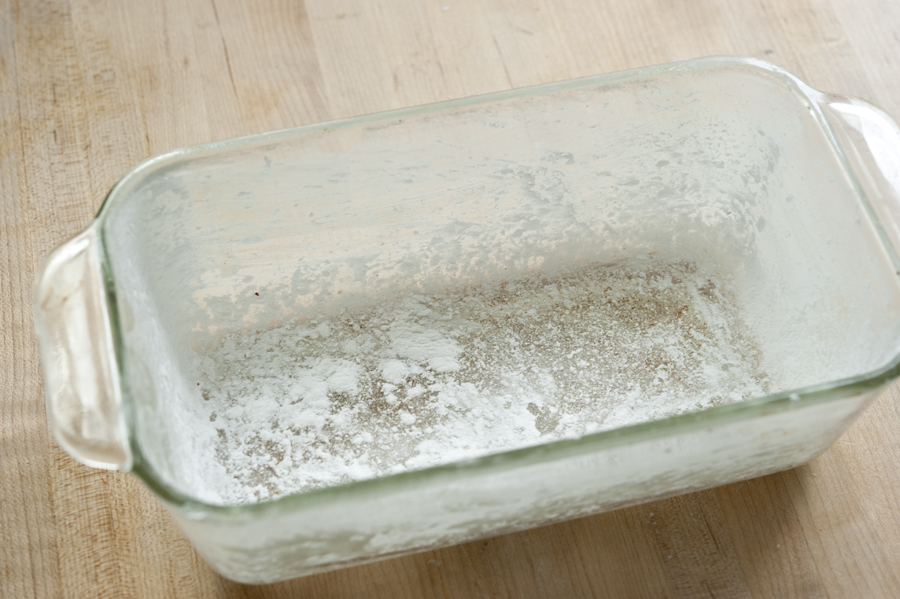 Shake the mixture around the pan until it is well coated. You can leave the excess mixture in the bottom of the dish.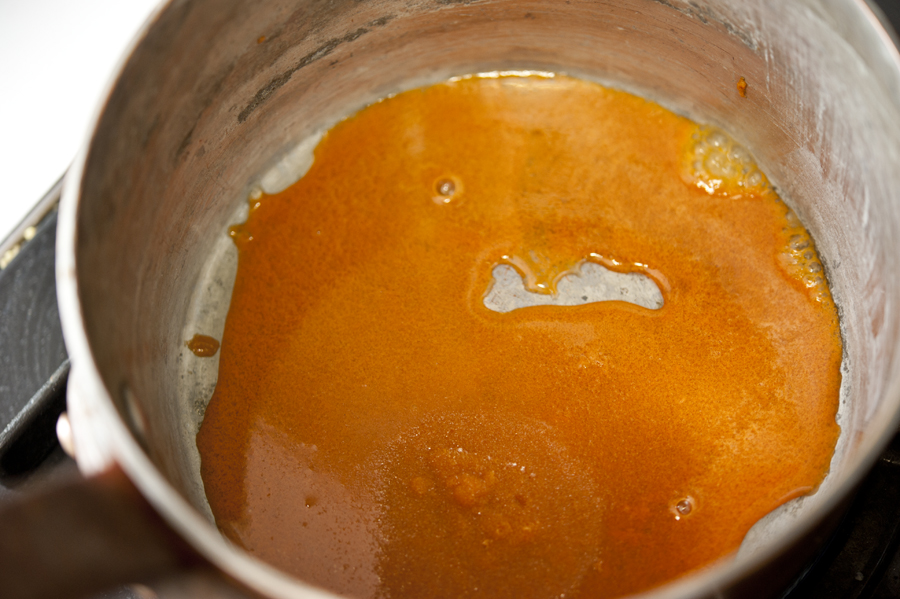 Next, let the gelatin and carrot juice mixture dissolve in a saucepan.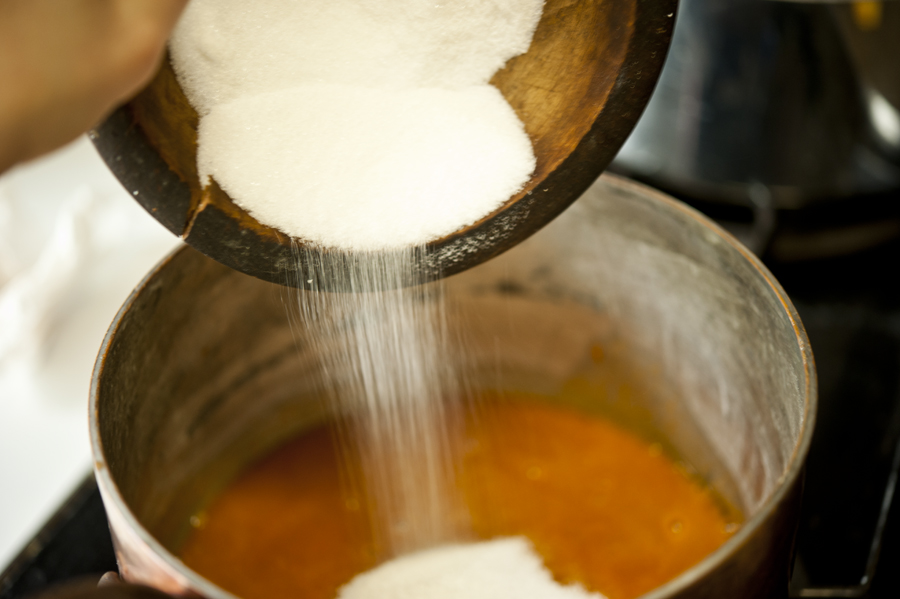 To that, add your granulated sugar.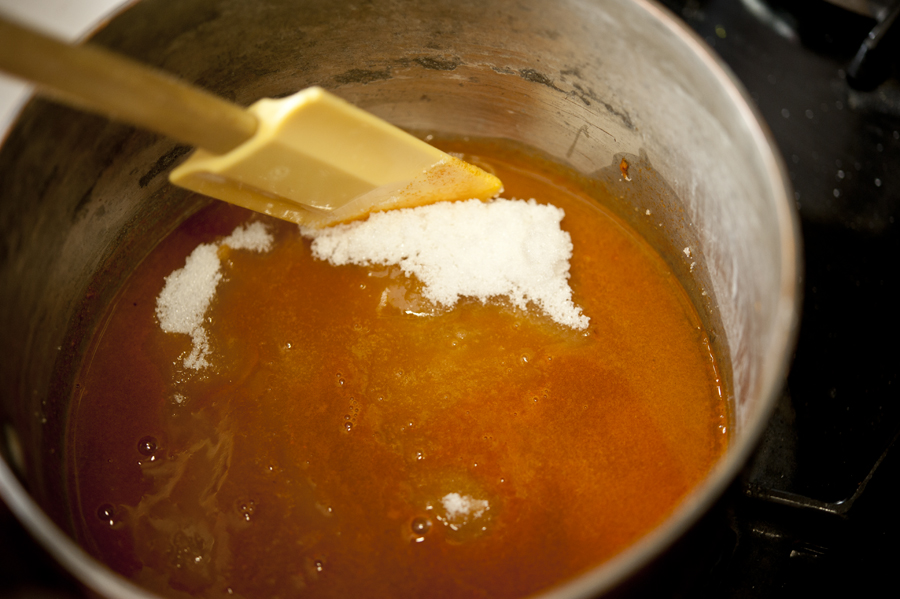 Give it a stir and let it dissolve completely, then turn off the heat.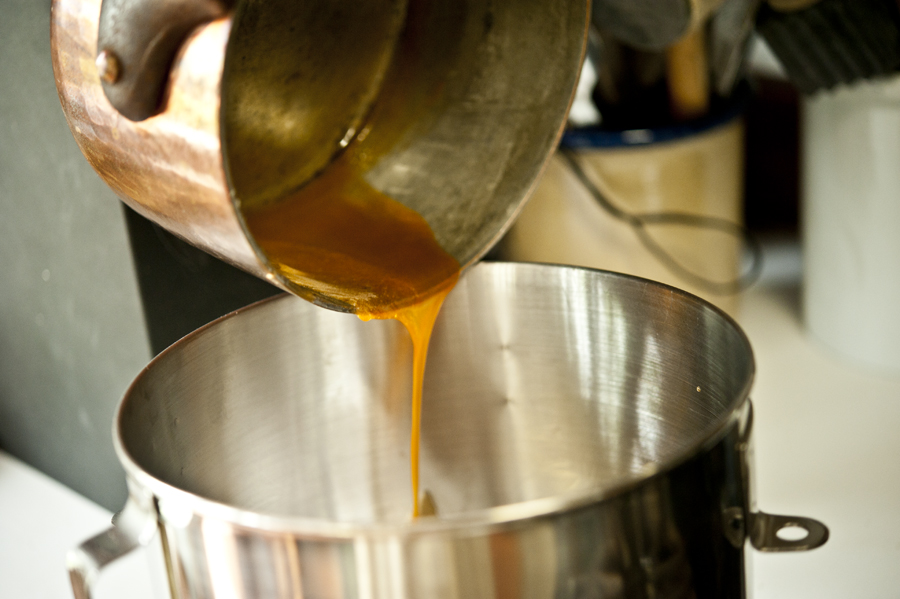 Pour the mixture into a mixing bowl that will fit to an electric mixer with a whisk attachment. You'll need to scrape the liquid out of the saucepan since it's very sticky.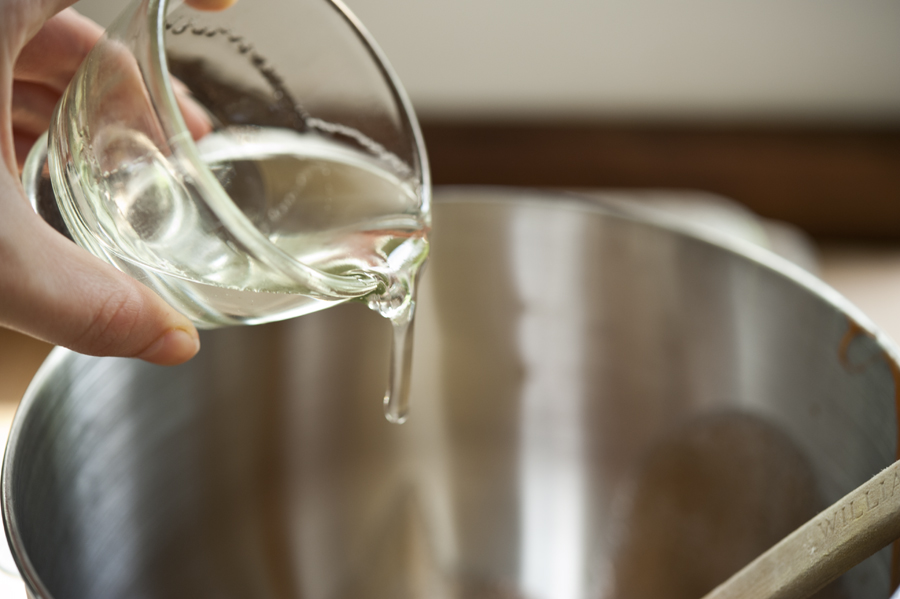 To the bowl, add the corn syrup.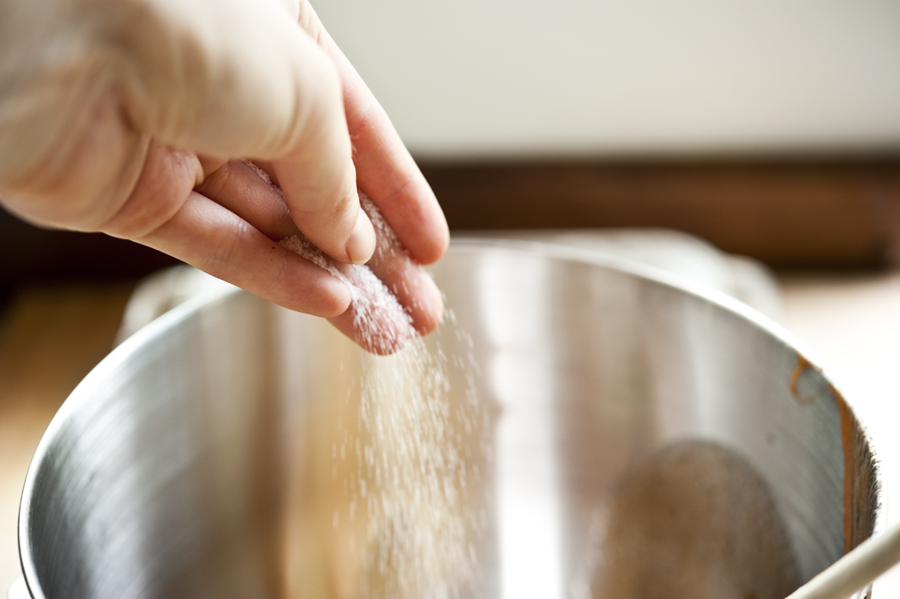 And the salt.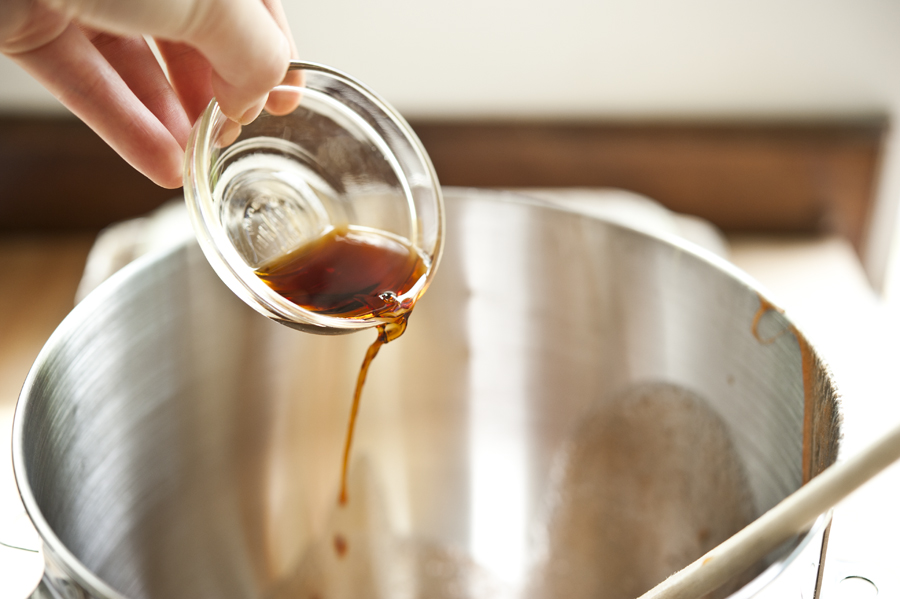 And the vanilla.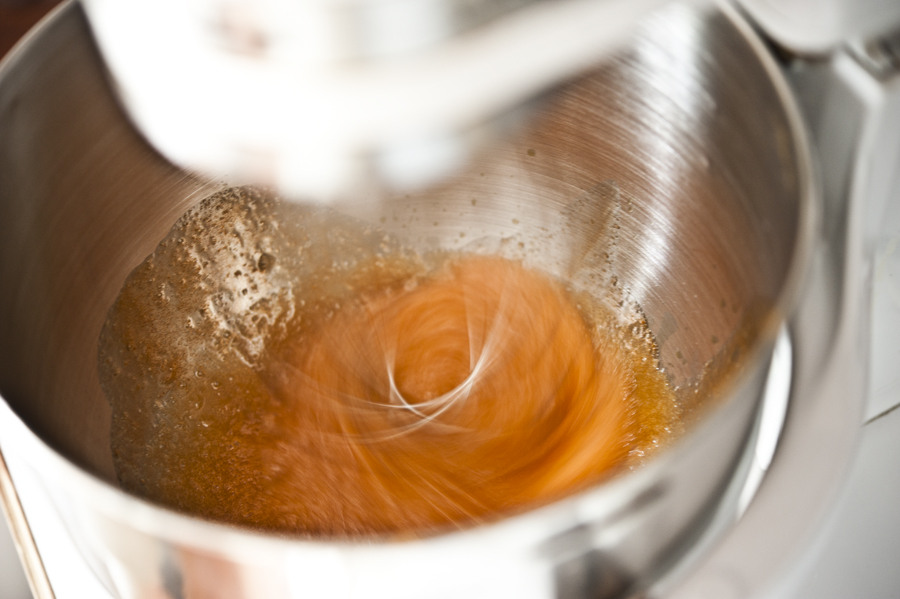 Whisk away for a while, and watch the mixture completely transform itself!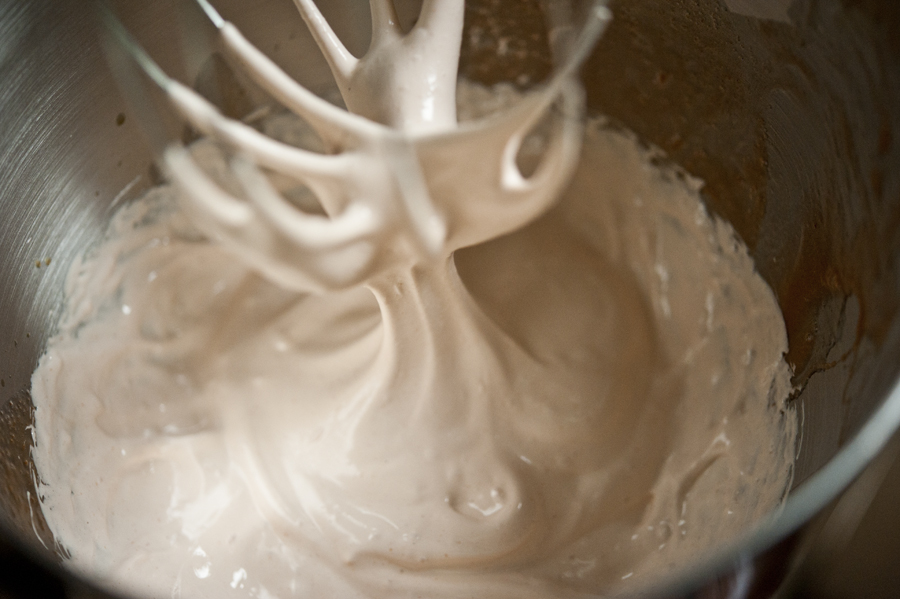 In about 15 minutes, it will be light and fluffy like, well, marshmallow fluff.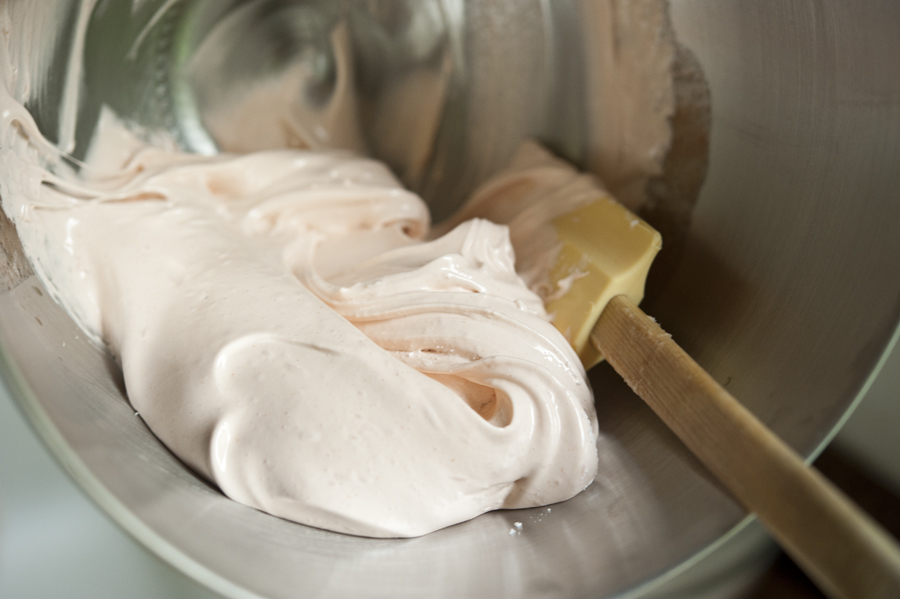 With a spatula, coax it out of the bowl. This is a sticky situation as well.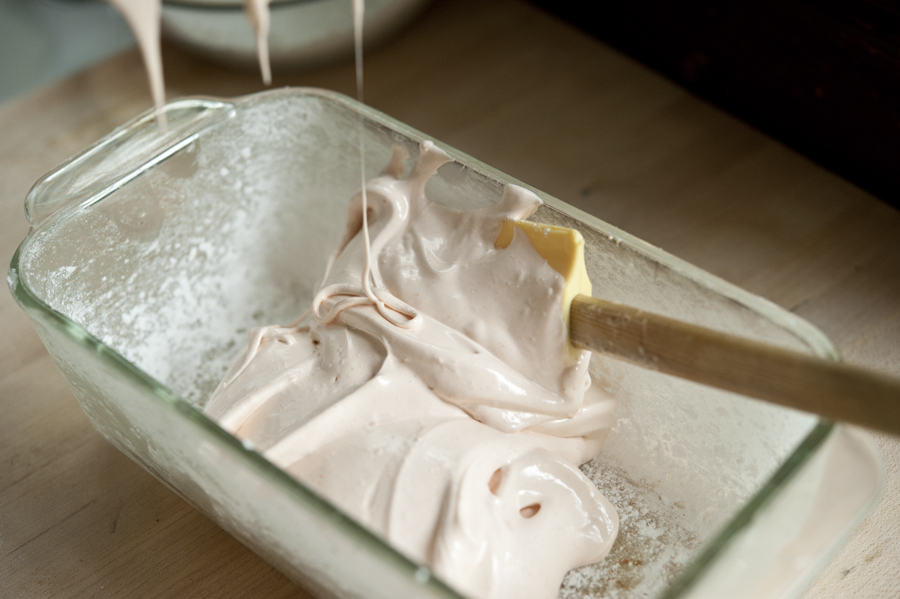 Spoon it into your coated baking dish…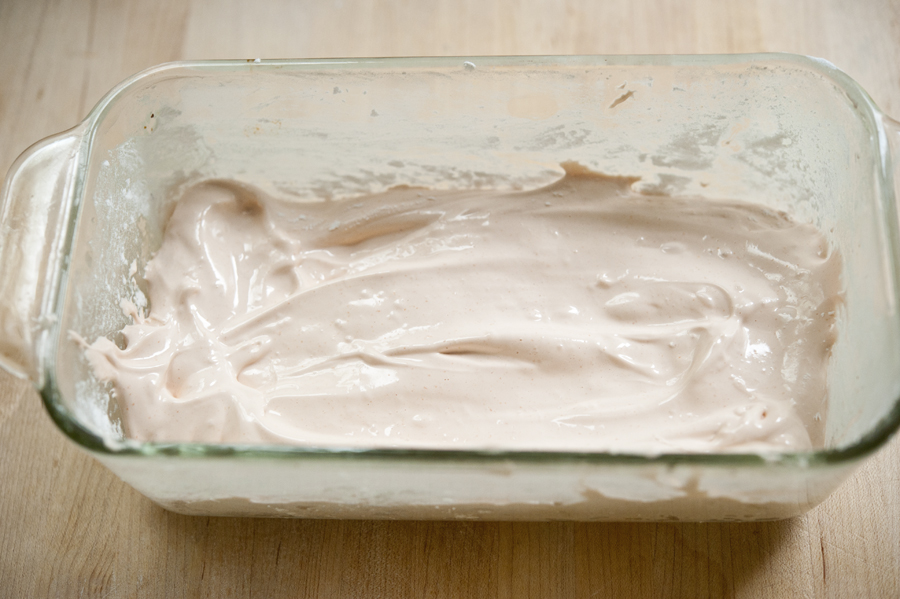 And smooth it out with a spatula.
Now let it sit for about 2 hours so that it sets.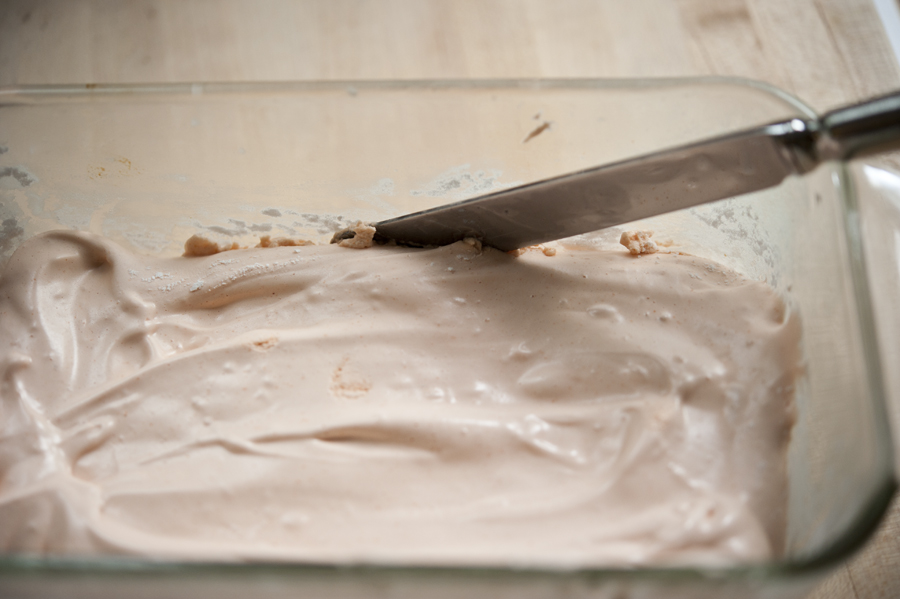 Once it is set, wet a knife and loosen the outsides of the marshmallow from the sides of dish.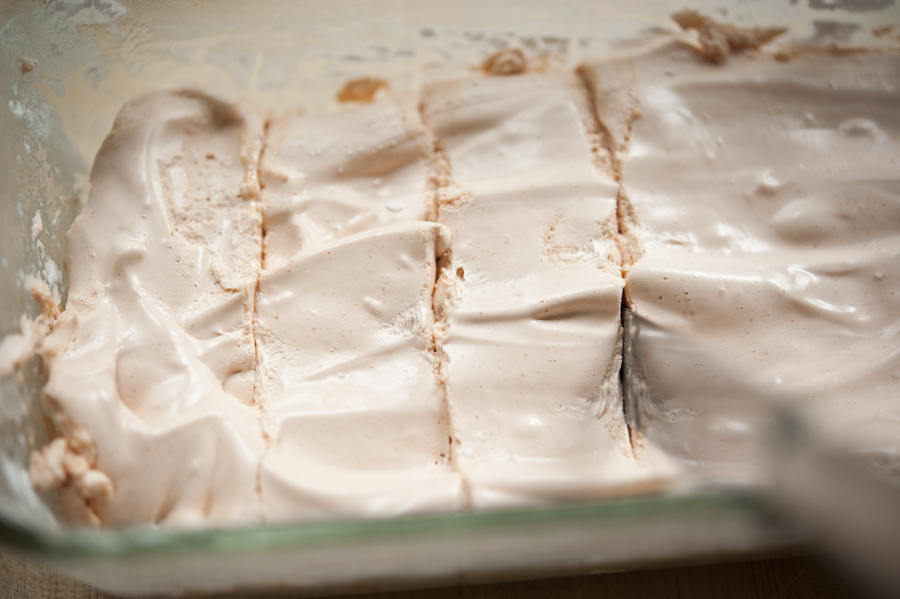 Then you can cut them into any shape you please, wetting your knife every so often to make smooth cuts.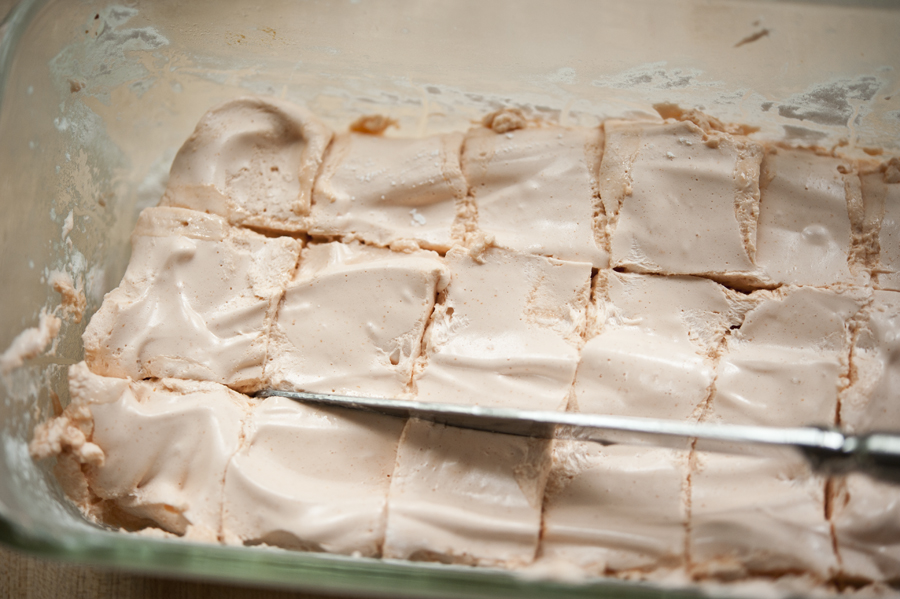 I went for the square look, but you could even use a cookie cutter if you're feeling adventurous.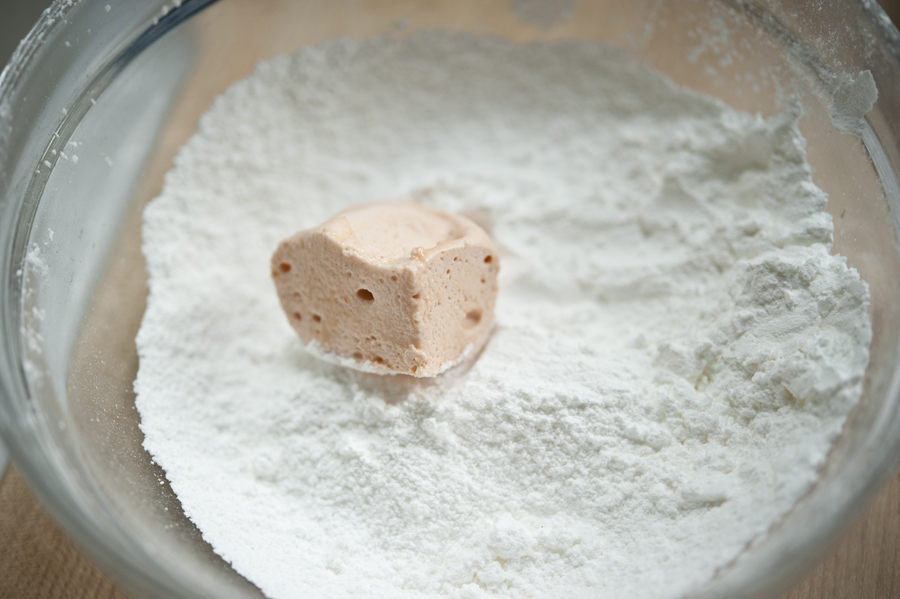 Toss each cube into the rest of your cornstarch and sugar mixture.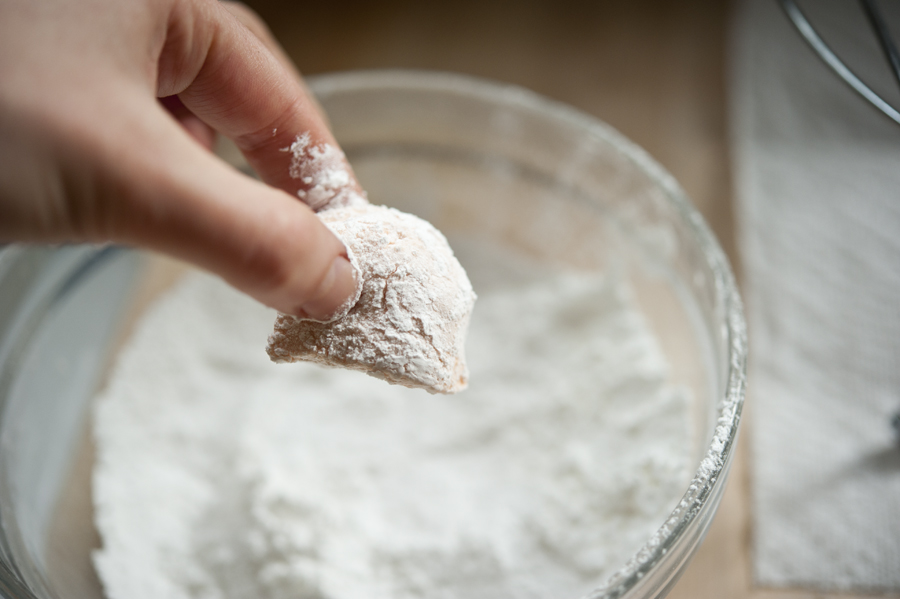 Pull them out one by one and give them a shake to remove any excess powder.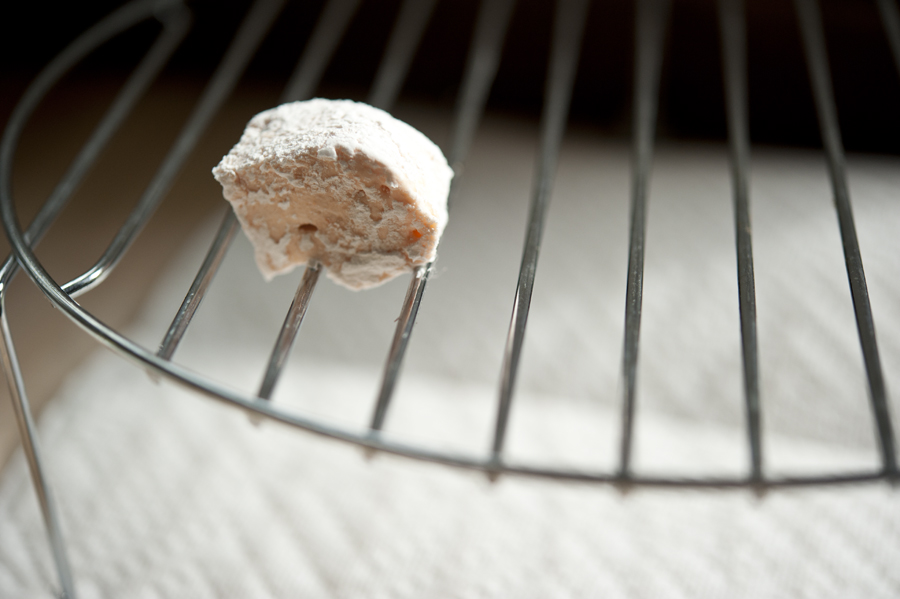 Set them on a wire rack, set over paper towels. This will help the outer skin dry out.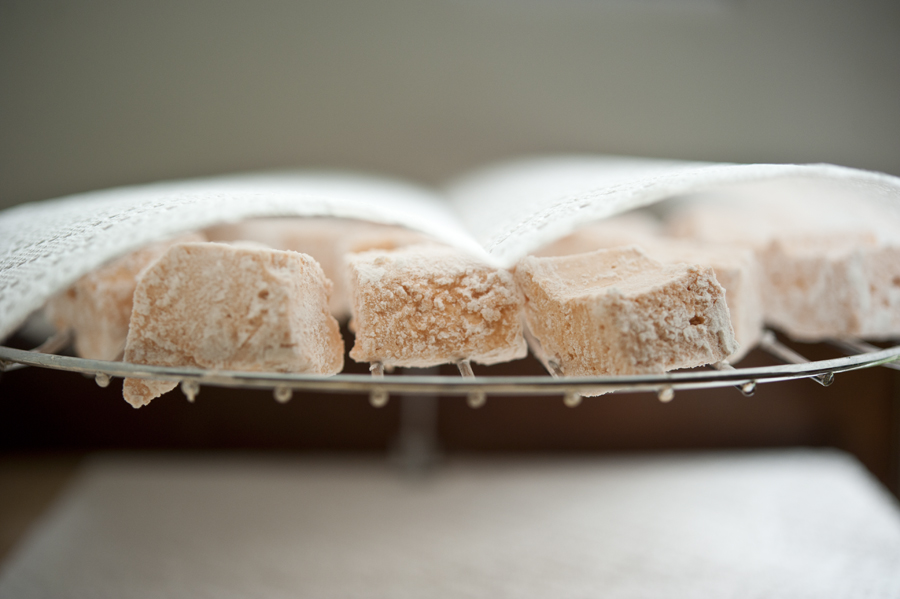 Then cover the whole affair with a paper towel and let them sit for up to 24 hours. If you're feeling impatient you could skip this part, but it will help them store well and prevent them from sticking together.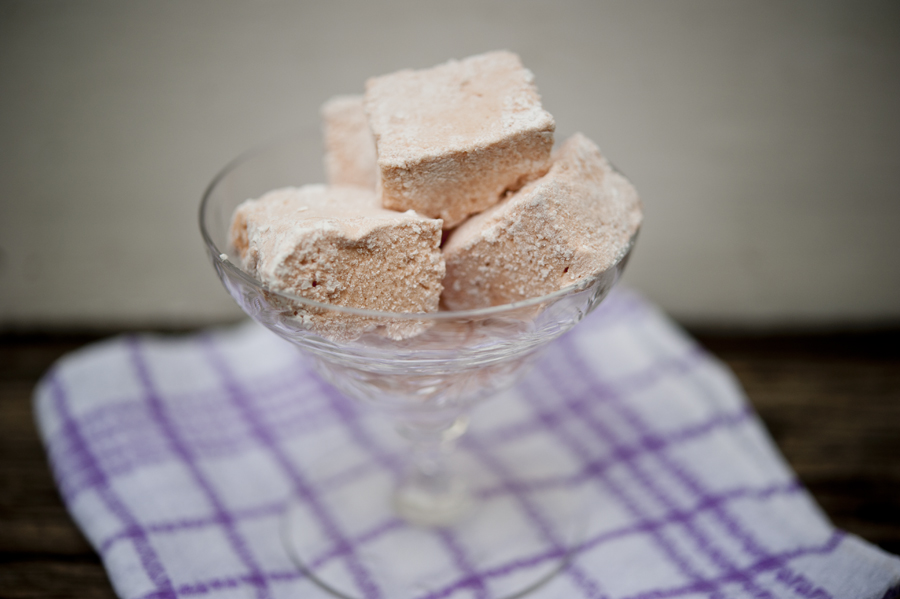 Give these a try sometime! They're a fun treat for a party or holiday. And think about the flavoring possibilities—they are endless! I've also tried lime juice and grapefruit juice, among others. Thanks to Calamity Anne for this great recipe! (Also check out this other marshmallow recipe from katydid.)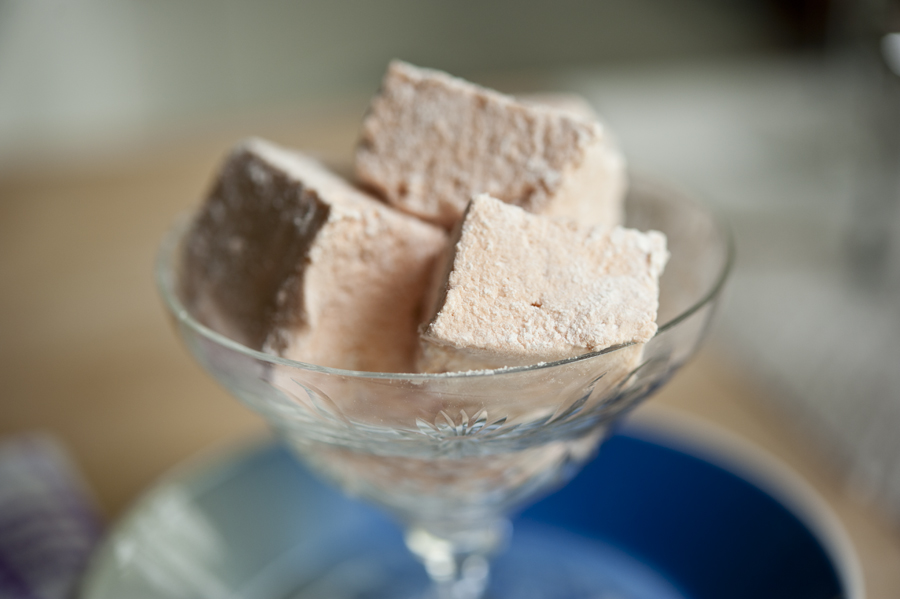 Visit Calamity Anne's blog for her own step-by-step instructions and photos for these homemade marshmallows.


_______________________________________
There's so much to say about Georgia, we don't know where to start. Leaving Wall Street for the French Culinary Institute, followed by a stint at the Gramercy Tavern and La Chassagnette in France, her passion for food and food traditions are evident and inspiring. Visit her site at Georgia Pellegrini, where you'll find more recipes, photos, learn all about her wonderful book Food Heroes, and enjoy her latest adventures.