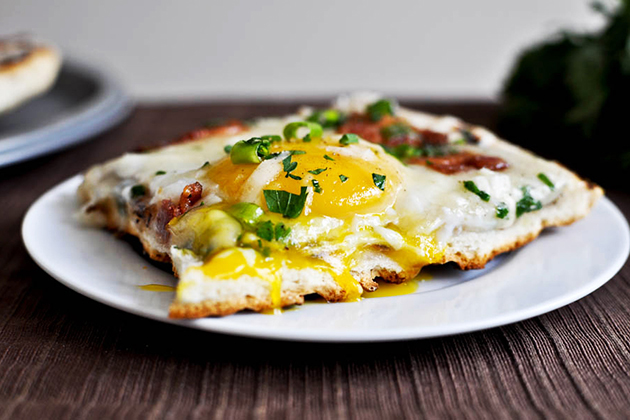 Grilling pizza has been on my bucket list, right smack in between eating baklava on a beach in Greece and owning more shoes than Imelda Marcos. It's been intimidating, perhaps because I'm often afraid of lighting up the grill on my own and sending my immediate surroundings into flames. But then I spied this Grilled Breakfast Pizza from A Cozy Kitchen and my mouth started to water. It seemed easy … and delicious … and not scary … and cheesy … and delicious. Cheese was bought. Bacon was fried. Dough was made. Scallions were sliced. It's quite possible I may never be able to eat pizza again without the signature char marks of a great grilling experience. Fabulous doesn't even begin to describe it.
To begin, I made a batch of whole wheat pizza dough from Sunshine Mom. You can use any pizza dough —make your own or buy it at the store, just make sure you love it.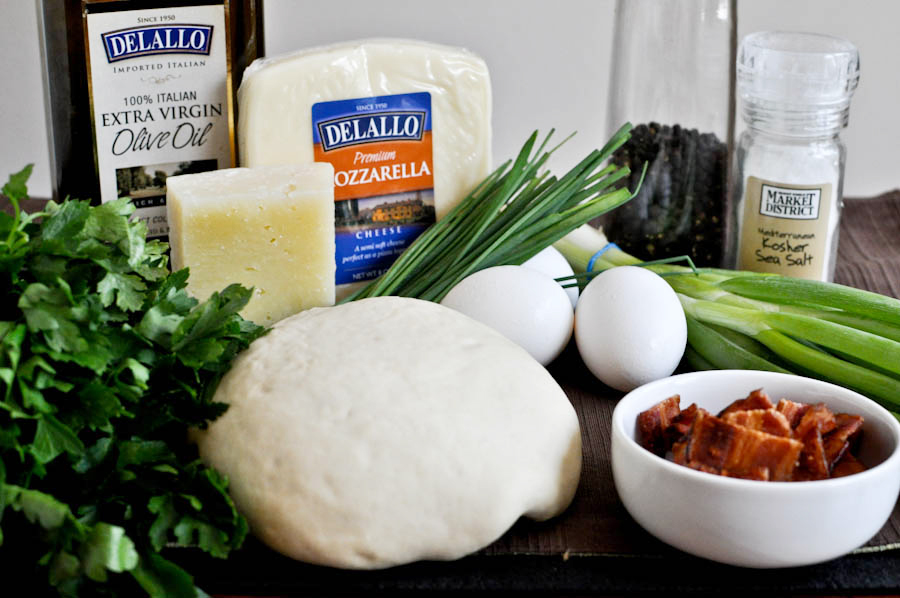 Along with your pizza dough, you need mozzarella cheese, parmesan cheese, fried bacon, eggs, scallions, fresh parsley, chives, olive, kosher salt and black pepper. The perfect breakfast ingredients, right?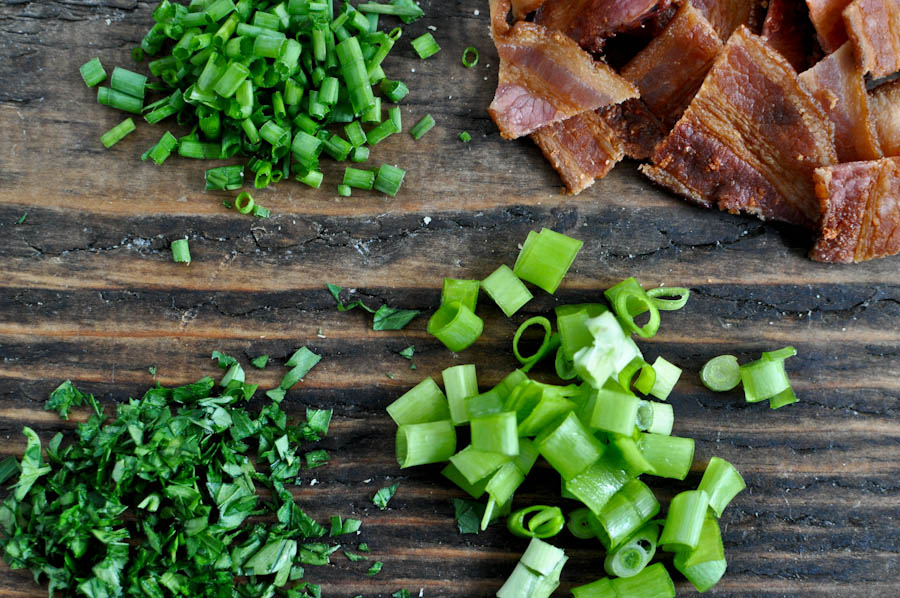 To make it easy on yourself, begin by slicing you greenery and bacon. Set it aside. Make sure to fry an extra piece of bacon because you will easily eat too much. Or maybe that's just me?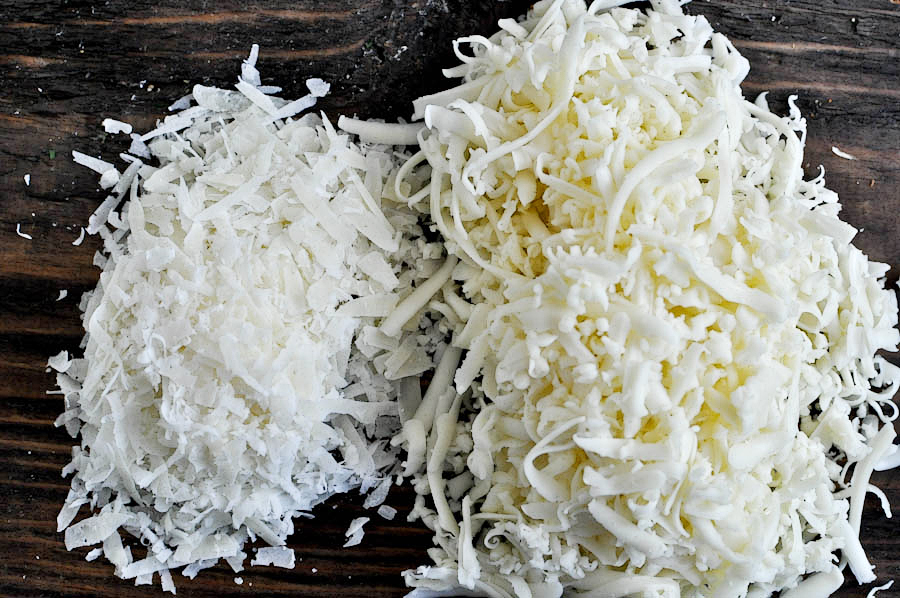 Also grate your cheese. I recommend buying the cheese in the brick and grating it yourself. It is so much better. And you get an arm workout. Makes up for the extra slice of bacon.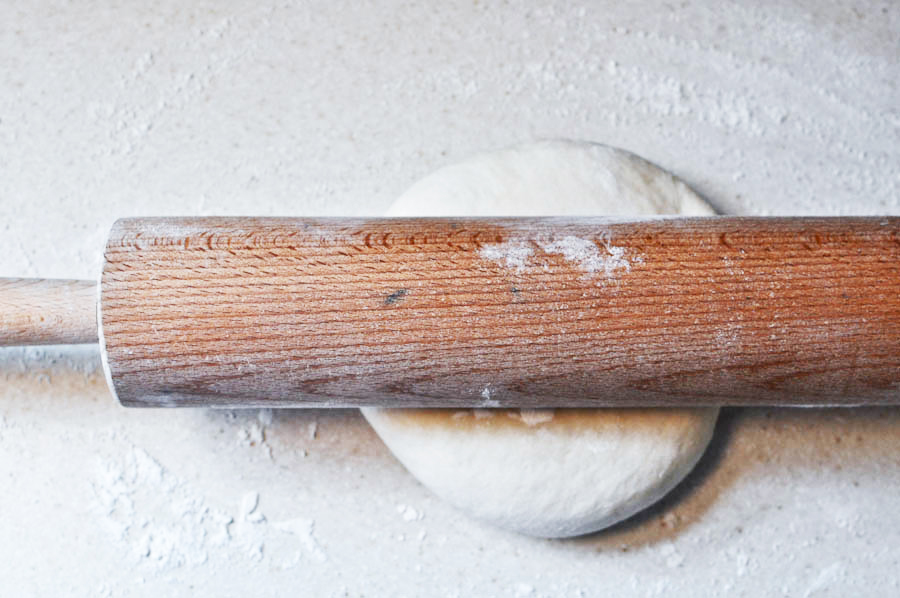 Lay your pizza dough on a floured surface and grab your rolling pin. If you don't have a pin, a great bottle of wine works too.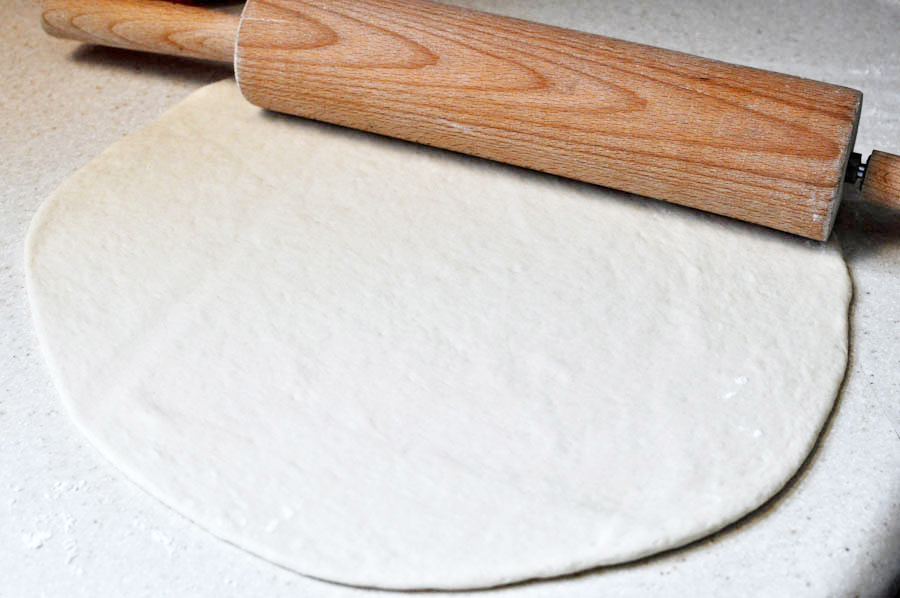 Roll it out to 1/4-inch thickness. This is important! If it is too thick, it won't cook properly.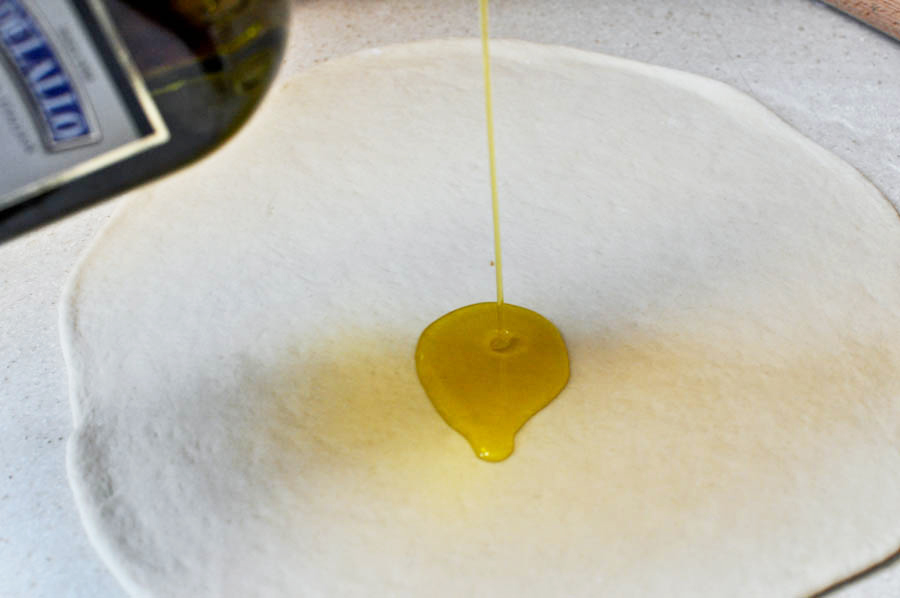 Drizzle it with olive oil …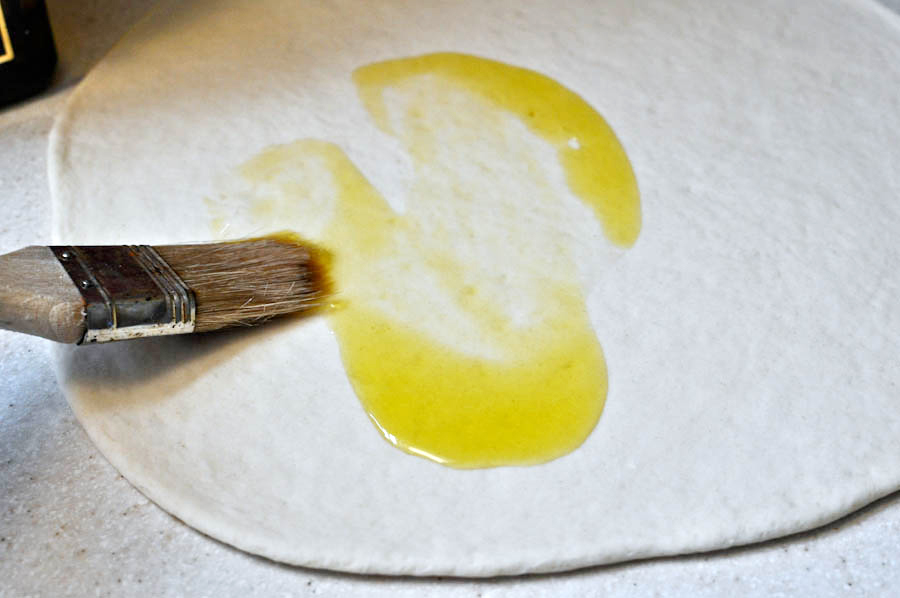 And brush it all around.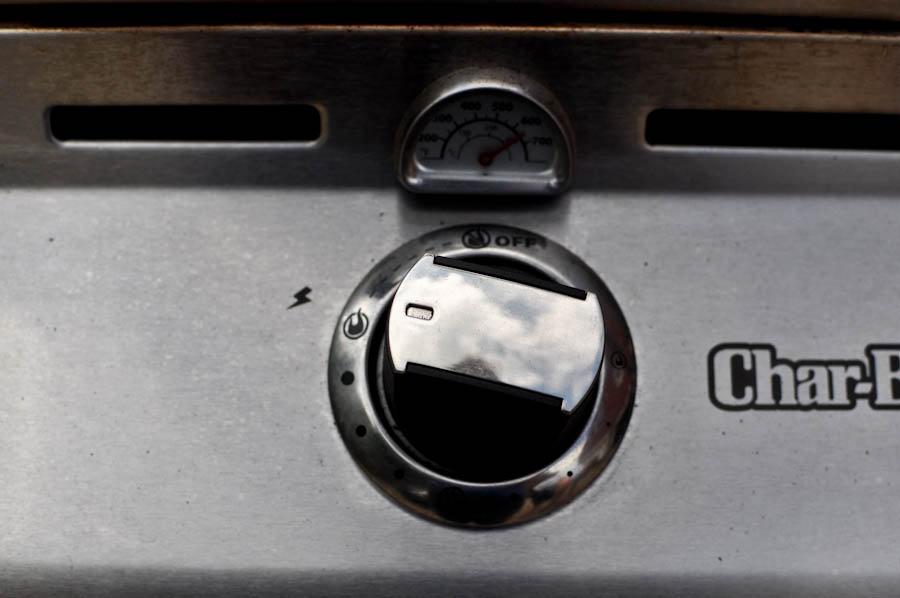 Preheat your grill to the highest setting.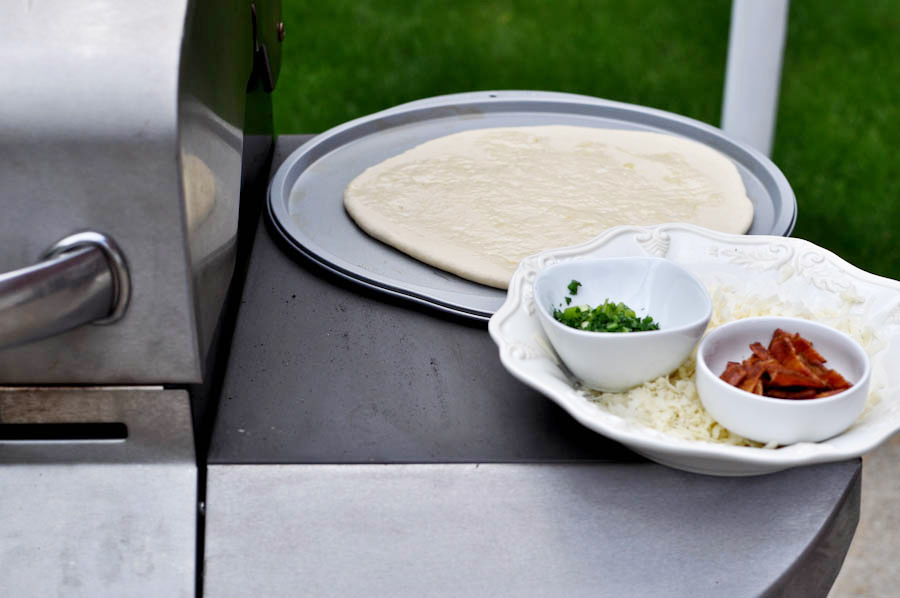 Lay your pizza dough on a large round pizza sheet (I found this easier than a plate) and carry your ingredients to the grill.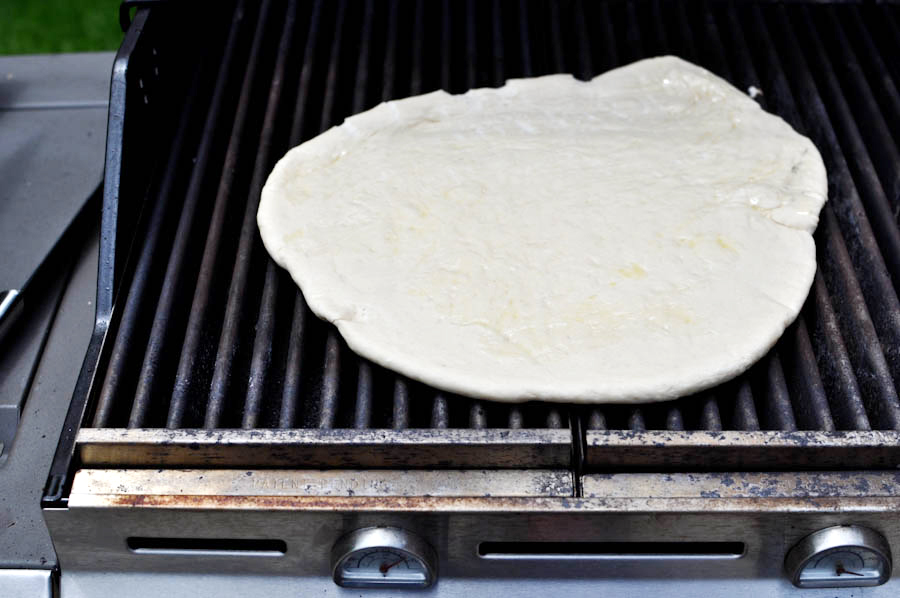 Using a pair of kitchen tongs, place your dough directly over the heat. I found using a large spatula in conjunction with the tongs helped.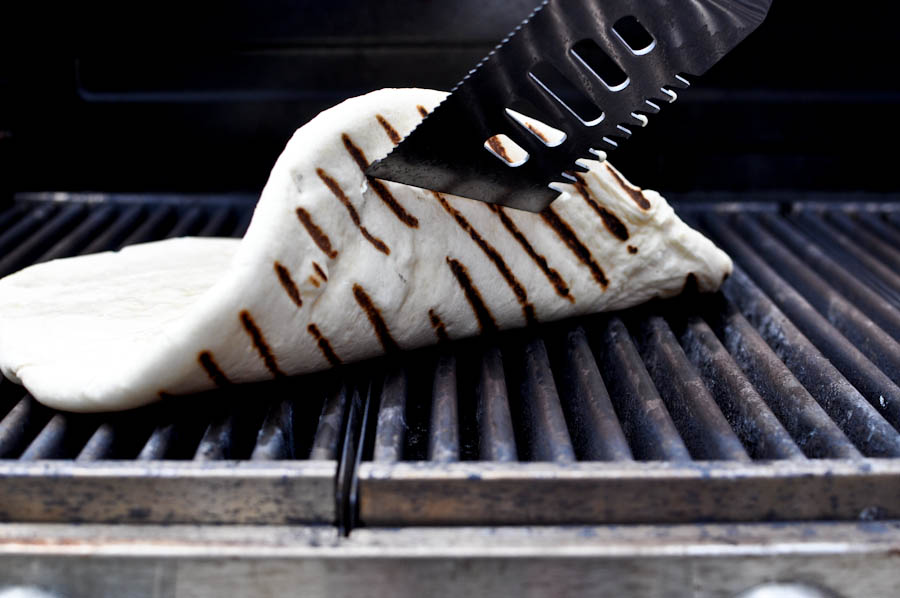 Grill the dough for about 30 seconds, just until char marks appear.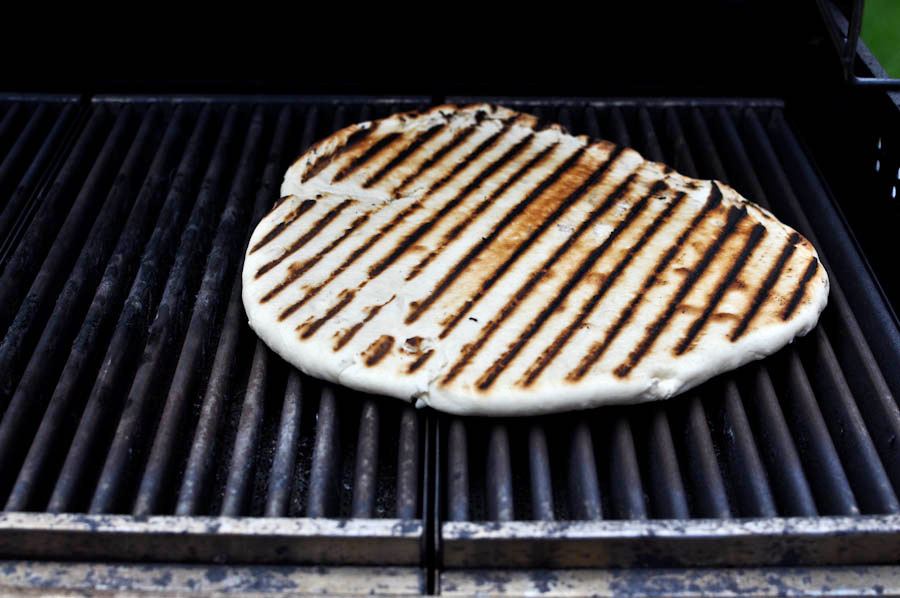 Then flip it over and place it on a side of the grill without direct heat.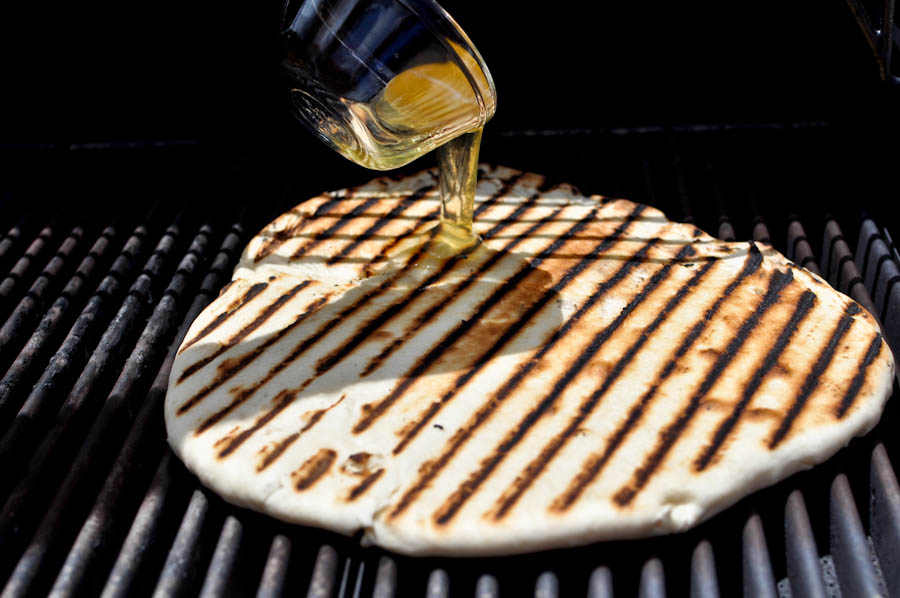 Crack your eggs into a bowl to make sure no shells get mixed in and gently drop each egg onto the dough. Before doing this, make sure that your grill is on a level surface! I may have had 4 eggs take a ride on the slip and slide pizza dough and drop inside the grill. Oops.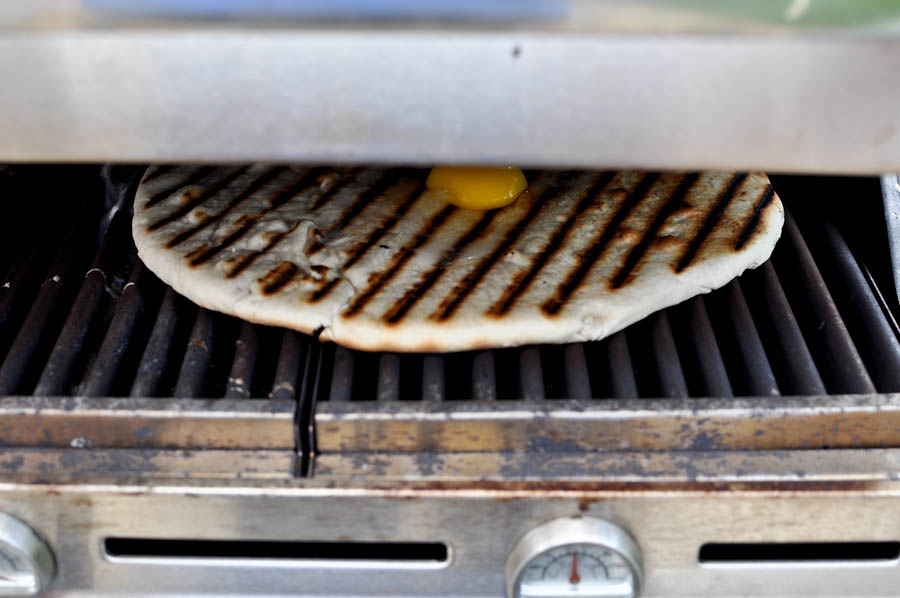 After cracking the eggs, close the lid and cook for 5-6 minutes, or just until the eggs are almost set.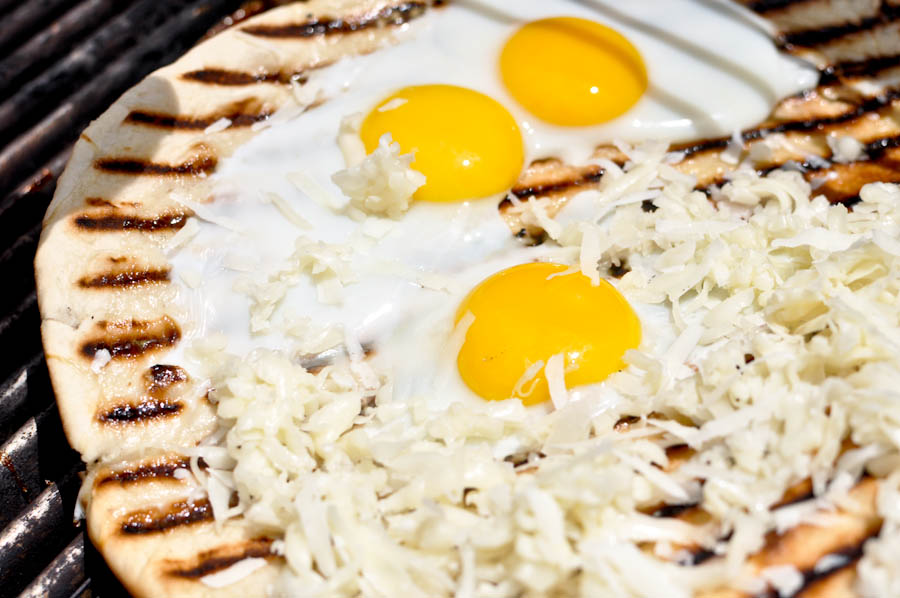 Once set, cover the pizza with cheese.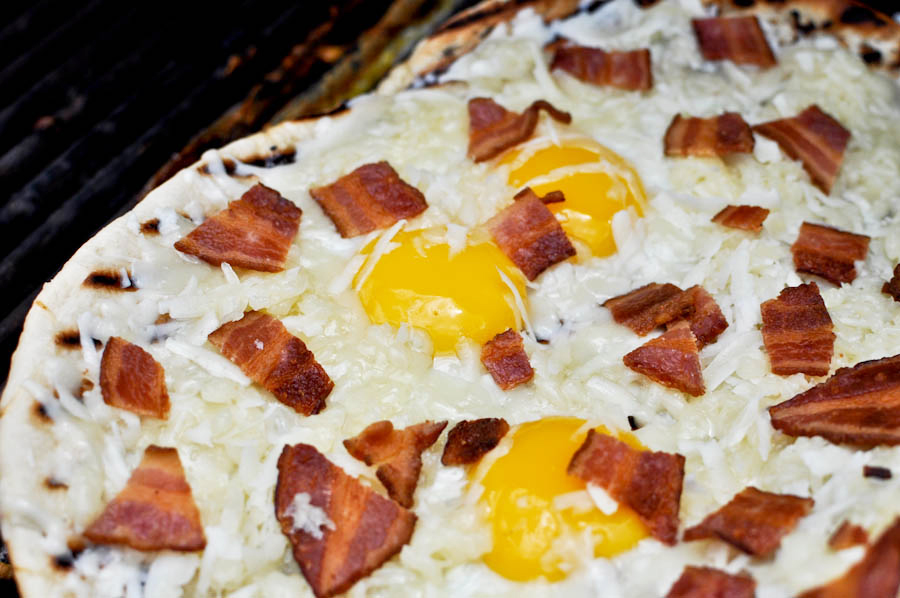 Then add your bacon and close the lid for another 2-3 minutes.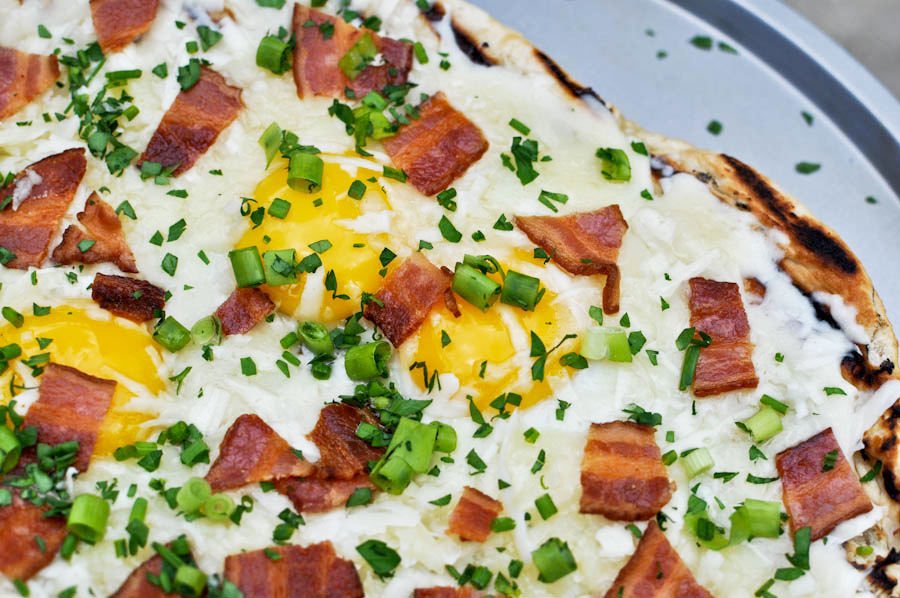 By this point the crust should be crispy and the pizza is done. Gently lift it again with a pair of kitchen tongs and a spatula and place it back on the pizza sheet. Top it with your greenery: chives, scallions and parsley!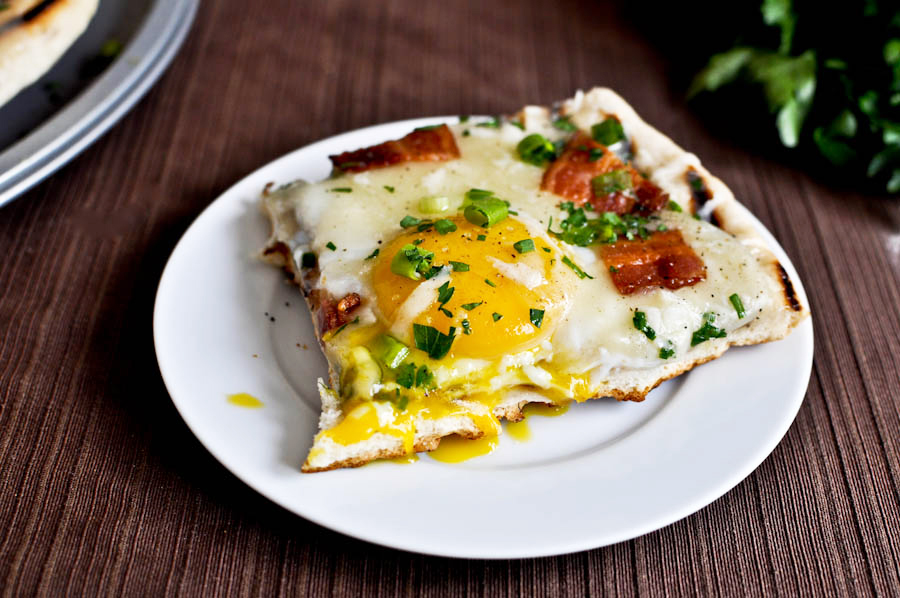 Cut yourself a big ole' slice. I love a little runny egg, but if that's not your thing, just let the pizza cook a big longer right after you crack the eggs.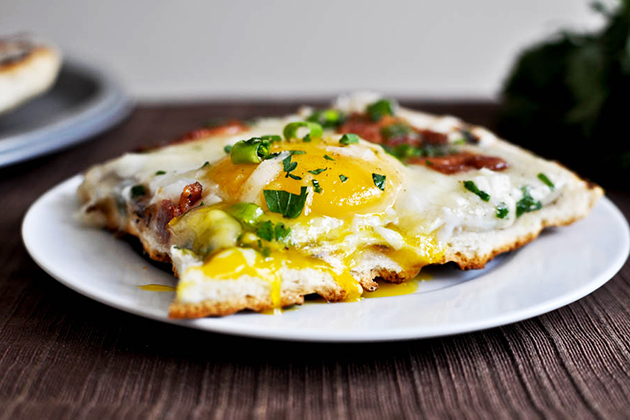 Breakfast is served!
This was a fabulous way to spice up our weekend breakfast. It was a nice change of pace and kept us full for hours. You can experiment with your own toppings and different cheeses. And who says this is only for breakfast? I think it makes for a fantastic dinner, too. Thanks so much Adrianna and Caroline for the recipe—it was definitely a winner. Be sure to check out the girls' blog A Cozy Kitchen for more delicious recipes. My favorites are their fabulous cocktails. I wonder if I could pass one of those off for breakfast?
Printable Recipe
See post on A Cozy Kitchen's site!
Description
Grill some pizza dough, crack three eggs on top, add some bacon and cheese and voila! Grilled Breakfast Pizza. (Check the related blog post for step-by-step pictures.)
Ingredients
12 ounces, weight Prepared Pizza Dough
Olive Oil, For Drizzling On Pizza Dough
3 whole Eggs
3 strips Cooked Bacon, Cut Up In Pieces
1 cup Grated Mozzarella
¼ cups Grated Parmesan
1 pinch Kosher Salt
1 pinch Freshly Cracked Pepper
1 Tablespoon Minced Flat-leaf Parsley
1 Tablespoon Minced Chives
1 whole Scallion, Trimmed And Thinly Sliced
Preparation Instructions
Adapted from The Big Sur Bakery Cookbook.
Generously dust the surface of your kitchen counter with flour and roll pizza dough to a 1/4-inch thickness. Drizzle both sides of dough with olive oil and set aside on a plate. Gather all the toppings and dough and move outside next to the grill.
Once your grill is nice and hot, place the pizza dough on the hottest part of the grill, making sure to check it every 30 seconds or so to ensure proper cooking. Once grill marks appear, flip it and move the dough to a place on the grill that does not have direct heat. Crack the three eggs onto the dough and cover for 2-3 minutes. Once the eggs are just about set, sprinkle the cheeses, bacon and salt and pepper. Cover for an additional 1-2 minutes, or until cheese is melted. Move promptly to a plate and sprinkle with parsley, chives and scallions.
Note: If you're not in the mood to spark up the grill, then here's the way to cook it in the oven. My advice is to get yourself a "pizza stone" from Lowes or Home Depot. Simply pre-heat your oven to 450F, roll out the dough, crack the eggs on top, sprinkle with mozzarella and parmesan cheese, then add the pieces of bacon and salt and pepper. Cook in the oven for 8 to 12 minutes, checking on it after 5 minutes and rotating it if necessary. When the crust is golden, the cheese is melted and the eggs yolks are cooked to medium, remove from the oven.


_______________________________________
Jessica Merchant is a personal trainer turned food writer and blogger. Her blog, How Sweet Eats, is where she proclaims her love for all things sweet, all things bacon, and everything else in between. She works her magic in her Pittsburgh kitchen, which she shares with her husband of 2 years.