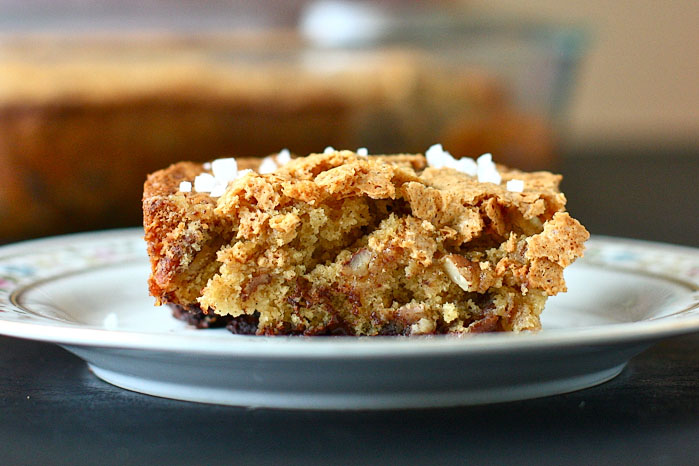 If you haven't noticed yet, I really have a thing for sweet and savory baked goods. I'm of the firm belief that a little sea salt sprinkled on top of a piece of cake or a brownie makes everything better, and for that reason, was incredibly excited when I found these Salted Chocolate and Pecan Cake Bars from Tasty Kitchen member Claireg12. The recipe seemed simple enough and didn't even contain any butter, a typical cake staple. Needless to say, I was intrigued so I got in my kitchen and whipped up a batch!
I'm very glad I did. These bars were delicious and just as easy as the recipe claims!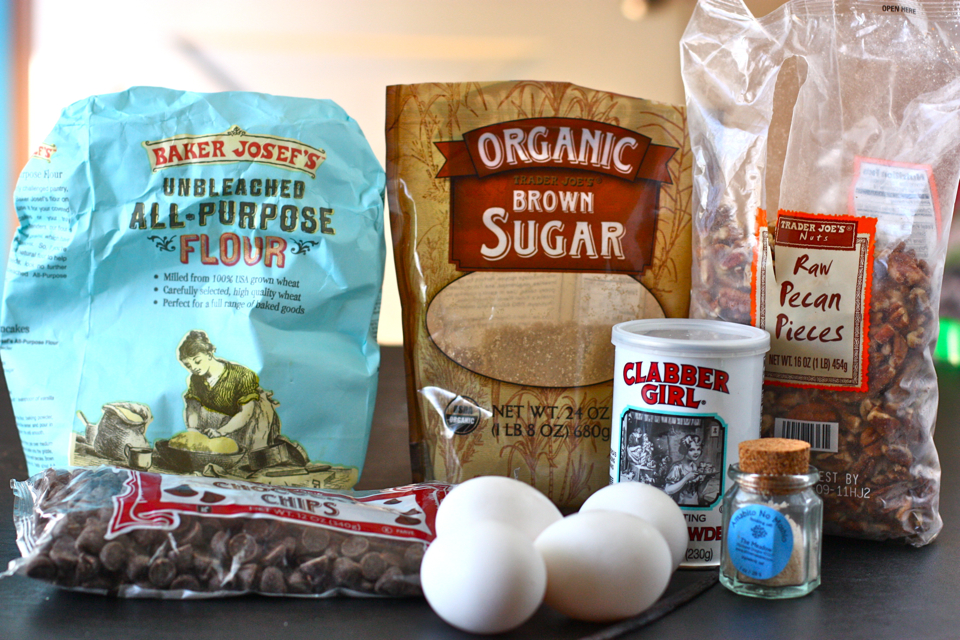 See? No butter! I, too, was a little skeptical going in (apparently I'm used to using at least two sticks of butter in my own cakes and bars!) but very glad I kept at it. Claire is an aspiring nutritionist who blogs at The Realistic Nutritionist, so I listened to her. Her recipe calls for vanilla extract but I was out so I substituted one whole vanilla bean instead. Delicious!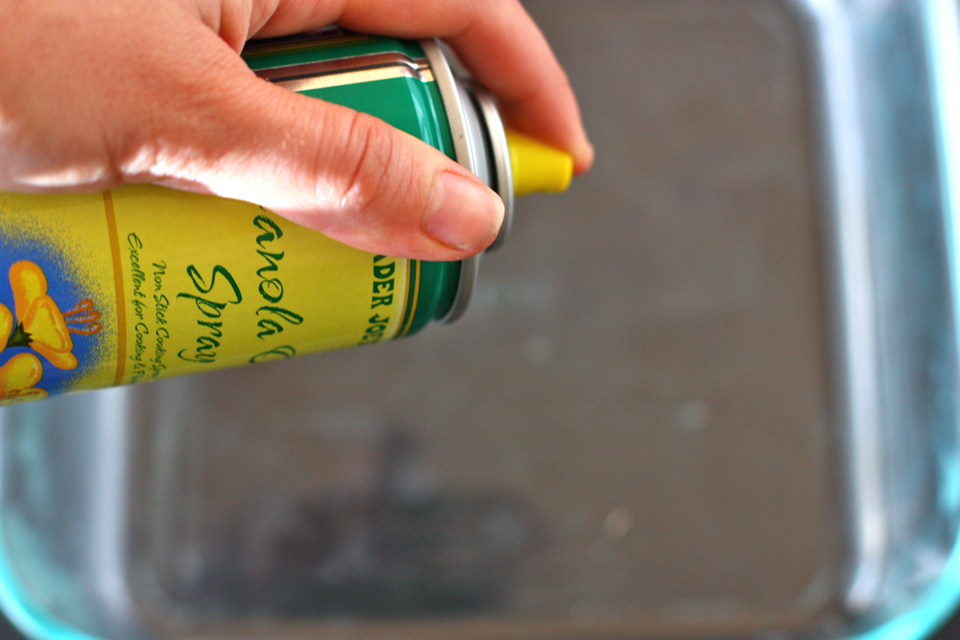 Now, first things first: you gotta grease your pan. The recipe called for an eight-inch square pan so that's what I used!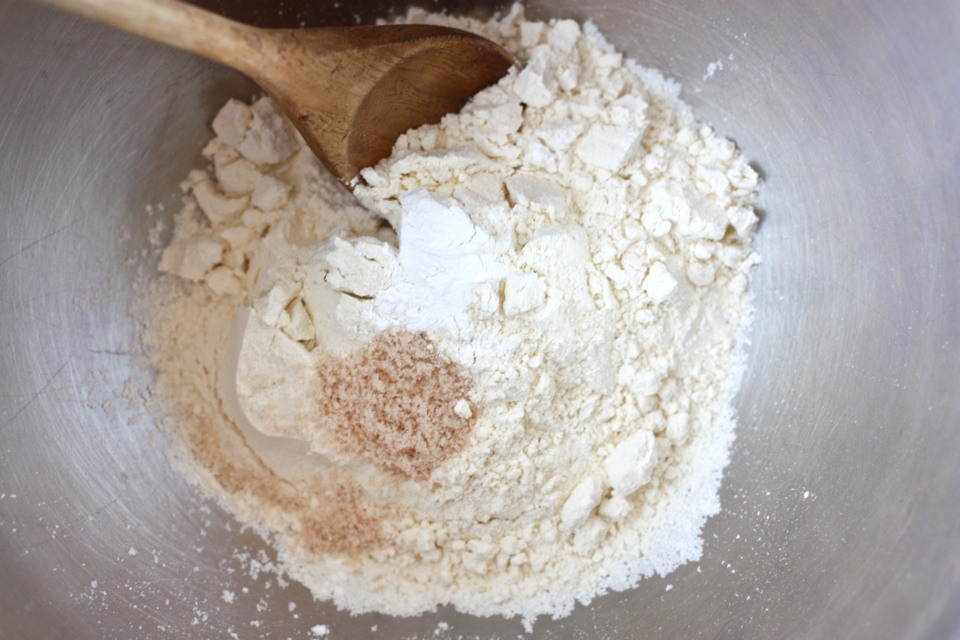 Next, I mixed together my dry ingredients: flour, baking powder and sea salt.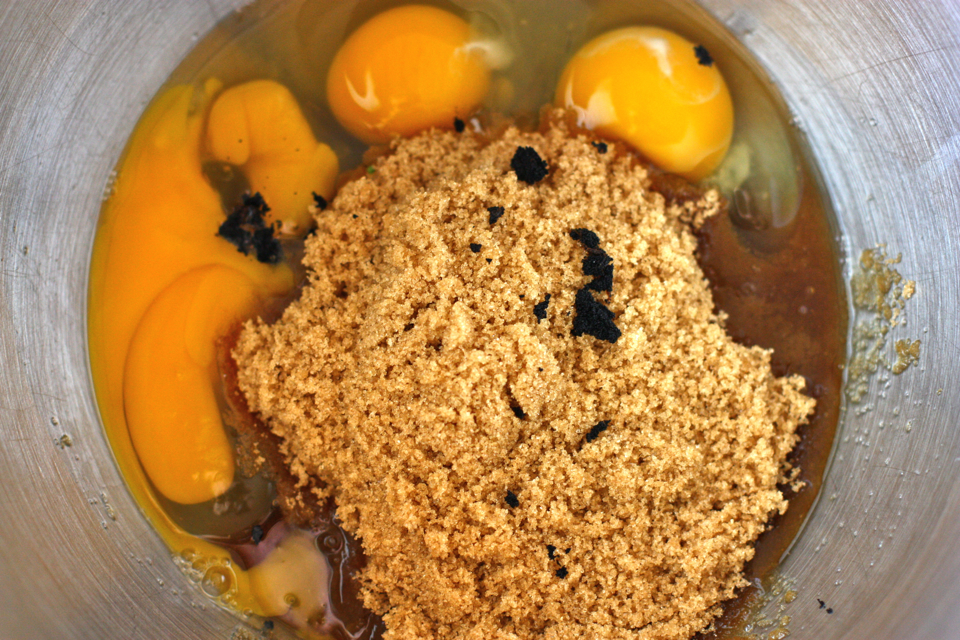 And then in another bowl, I whisked together my four eggs, brown sugar and vanilla.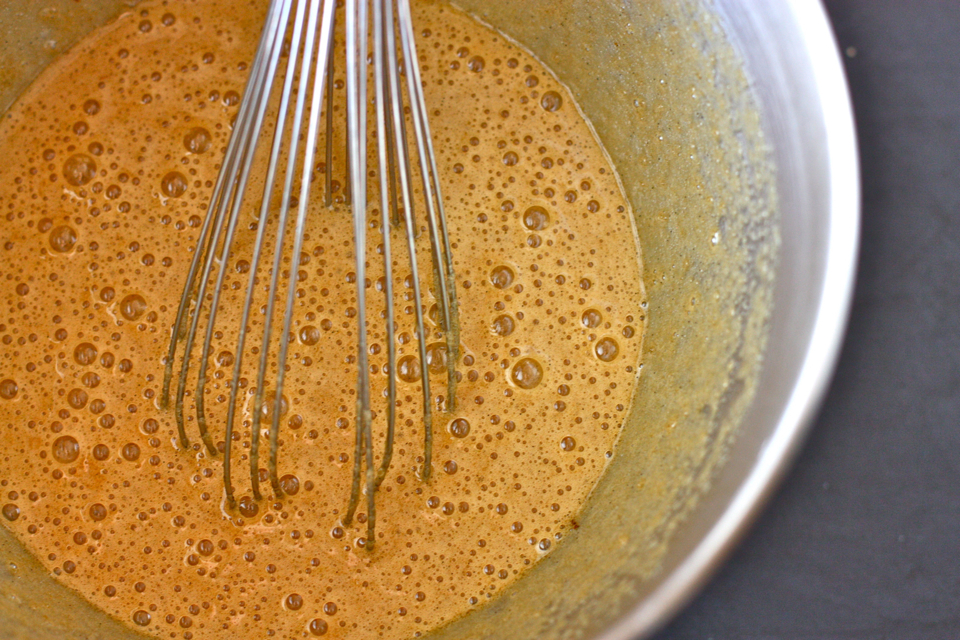 Sick of the gym? Try whisking! You'll get both strong triceps and a delicious treat with one simple exercise.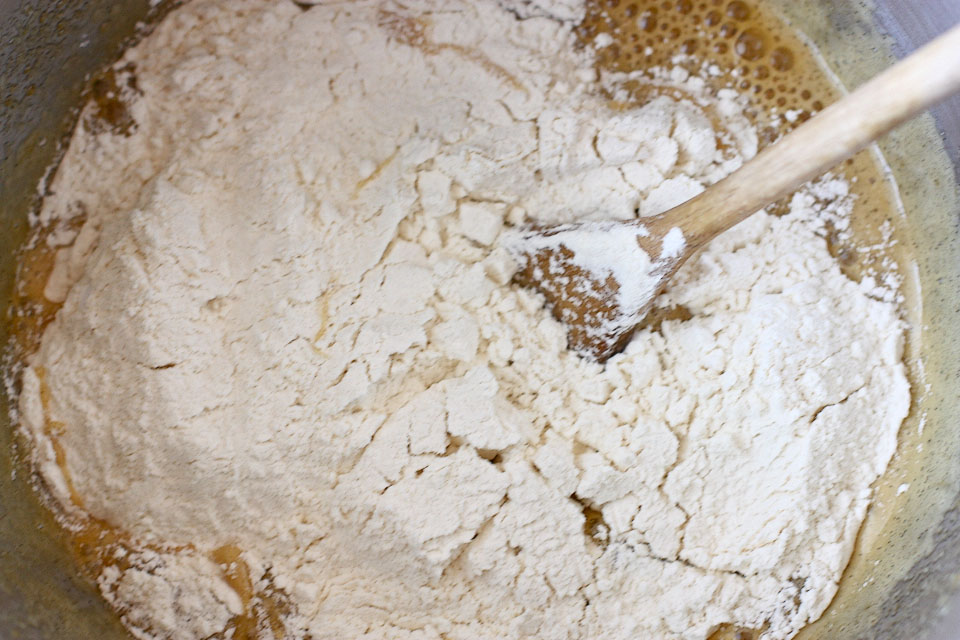 Once the egg and sugar mixture was smooth with no bumps, I added the dry ingredients and mixed well.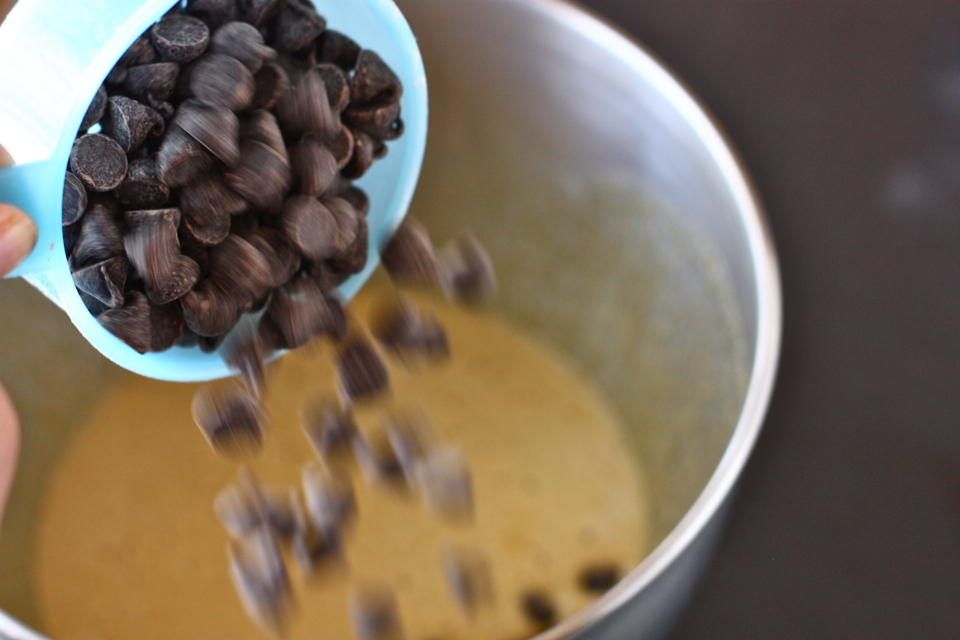 Followed by a cup and a half of dark chocolate chips…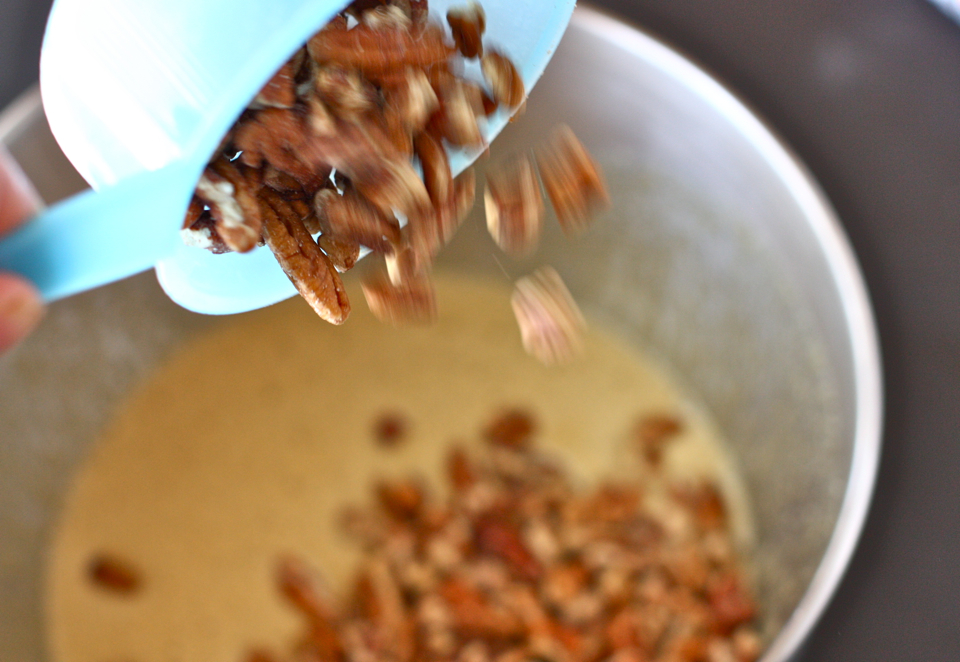 And then the pecan pieces! The original recipe didn't say that the pecans should be toasted, although I can't imagine it would hurt. I just used raw pecan pieces from Trader Joe's.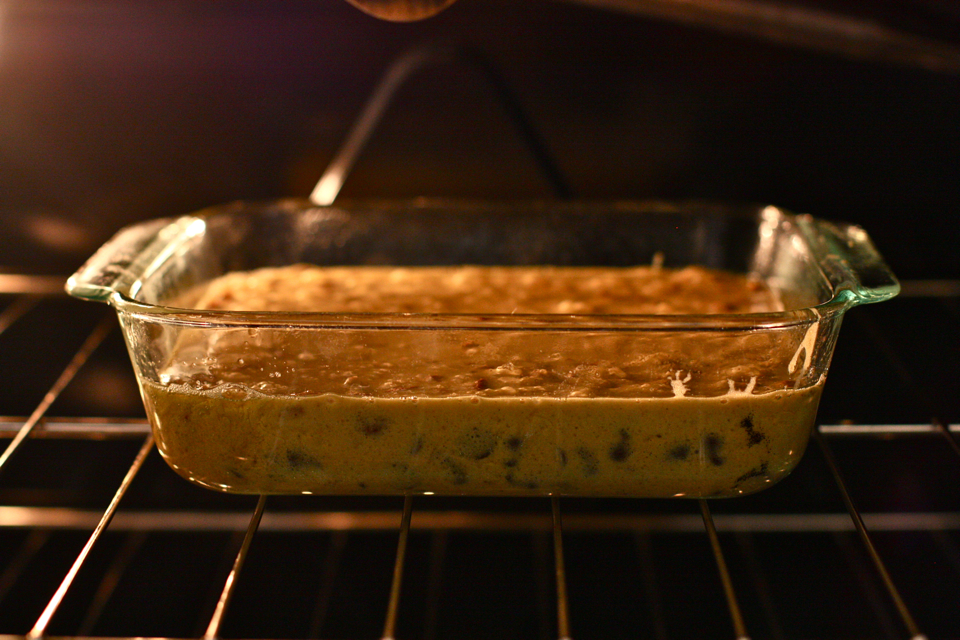 After everything was combined, I poured my batter into my greased pan and baked it for half an hour in a 350ºF oven.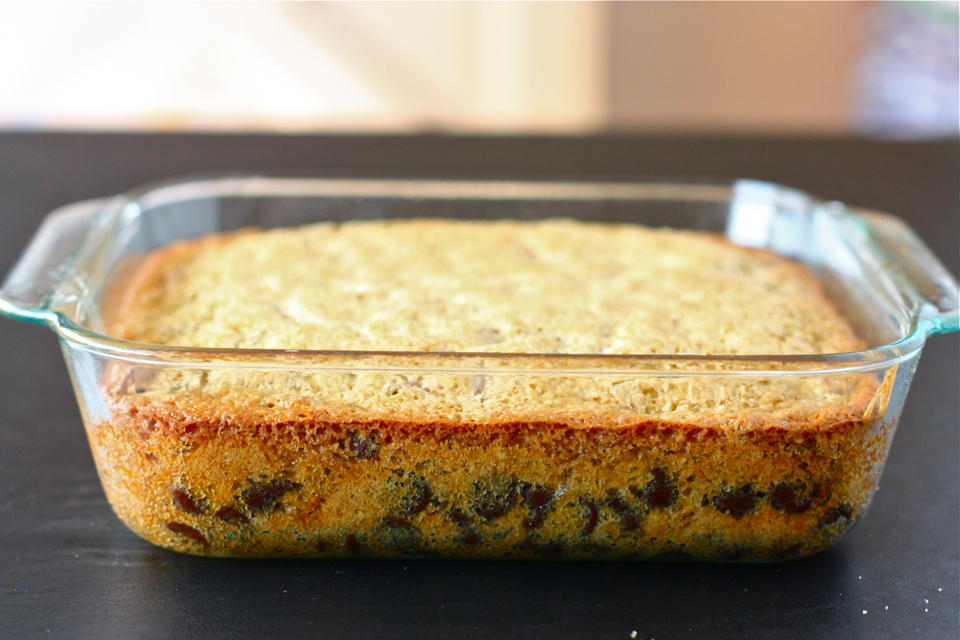 The cake bars took me a little longer to bake than the recipe predicted, and were finally done after almost 50 minutes. I didn't mind though; they smelled amazing!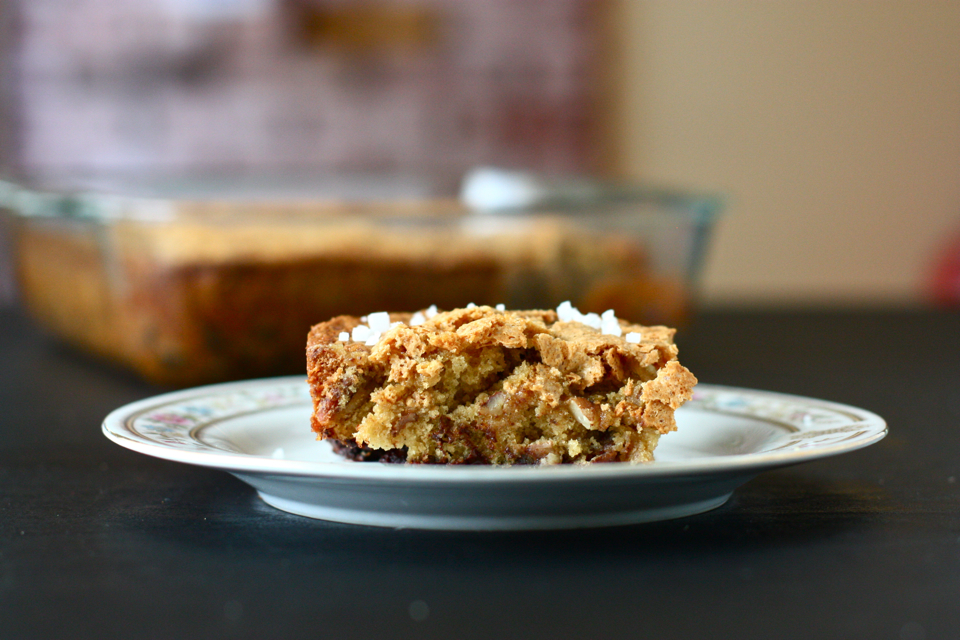 Only by the grace of God was I able to let the bars cool completely before cutting into one. The chocolate chips and pecans had sunk to the bottom and formed a delicious fudge-like layer topped with vanilla cake. The only thing that would make these bars better would be another sprinkle of sea salt and a big scoop of Blue Bell vanilla ice cream!
Thanks, Claireg12 for this easy yummy dessert recipe! (See her original blog post for these incredible bars. You'll discover that these bars have less than 7 grams of fat. Score!)
Printable Recipe
See post on claireg12's site!
Description
A perfect dessert for people who are craving something salty and sweet!
Ingredients
1 cup Flour
½ teaspoons Baking Powder
1 teaspoon Sea Salt
4 whole Eggs
2 teaspoons Vanilla Extract
2 cups Light Brown Sugar
1-½ cup Semi-Sweet Chocolate Chips
1 cup Crushed Pecans
Preparation Instructions
Preheat oven to 350ºF. Lightly grease an 8-inch square baking pan with cooking spray.
In a small bowl, mix flour, baking powder and salt. Set aside.
In a larger bowl, mix eggs, vanilla and brown sugar until lumps are gone.
Mix flour and sugar/egg mixture together. Stir in chocolate chips and pecans.
Pour batter into the greased 8-inch pan. Bake at 350ºF for 25–30 minutes until cake is soft. Sprinkle with powdered sugar and extra sea salt and enjoy!


_______________________________________
Jenna is a food writer who has worked as a pastry chef and bread baker. Her blog Eat, Live, Run has great recipes, travel stories, and the perfect slogan: "Celebrating life, one crumb at a time."