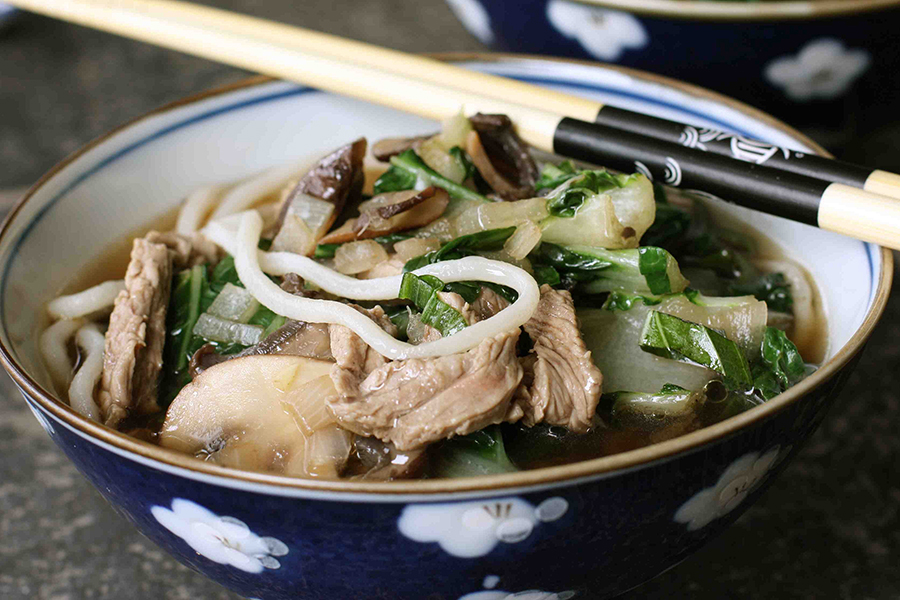 When I headed off for college (which may or may not have been more than 15 years ago), friends and family members regaled me with tales of inedible cafeteria food and the legendary "Freshman Fifteen". To a certain extent, they were right about the cafeteria food choices. By the end of the first month, I was decidedly sick of chili and chicken noodle soup (not the kind grandma made). The sandwich bar, with its choice of whole wheat bread and fresh veggies, became my solace.
I wasn't much of a cook at that time. Just ask my parents and they will confirm that whenever it was my turn to cook at home, I made baked potatoes with various toppings. Every time. Well, they say that necessity is the mother of invention, and my taste buds deemed it necessary for me to learn to cook a few dishes to ward off complete food boredom. Before leaving Vancouver and heading to Colorado for college, I bought a beautiful Japanese bowl. I'm not sure what possessed me to do so, but that bowl became the inspiration for many hearty noodle soups that I learned to cook in the dormitory kitchen.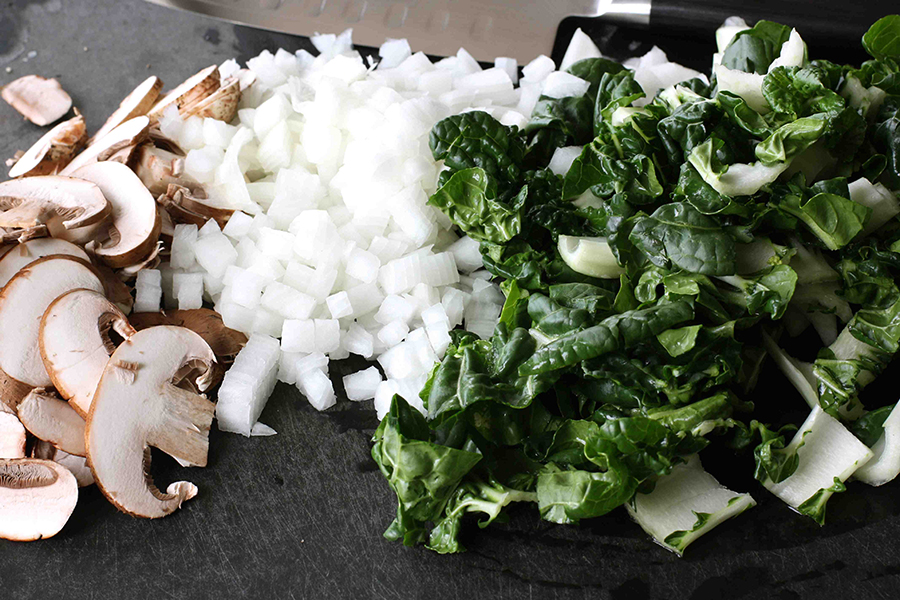 This quick and easy soup is from Tasty Kitchen member, Mary Helen, who also blogs at Mary Makes Dinner. It takes me back to the nourishing soups I made in college and still make today for my family. The New York strip steak, which is cut paper thin, cooks quickly in the savory broth. Rounded out with Chinese noodles, mushrooms, and baby bok choy, this soup is a full meal in a single bowl.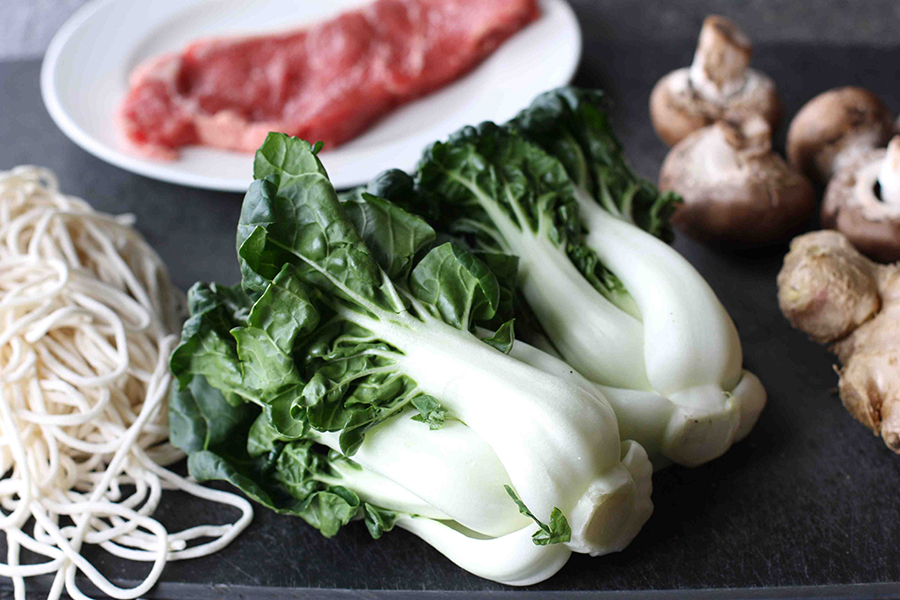 Cook Chinese noodles or thin pasta according to package instructions. Drain and shock with cold water. This will stop the noodles from cooking further and becoming too soft. Set aside.
In a large saucepan, combine beef broth, soy sauce and fresh grated ginger. Bring to a low simmer.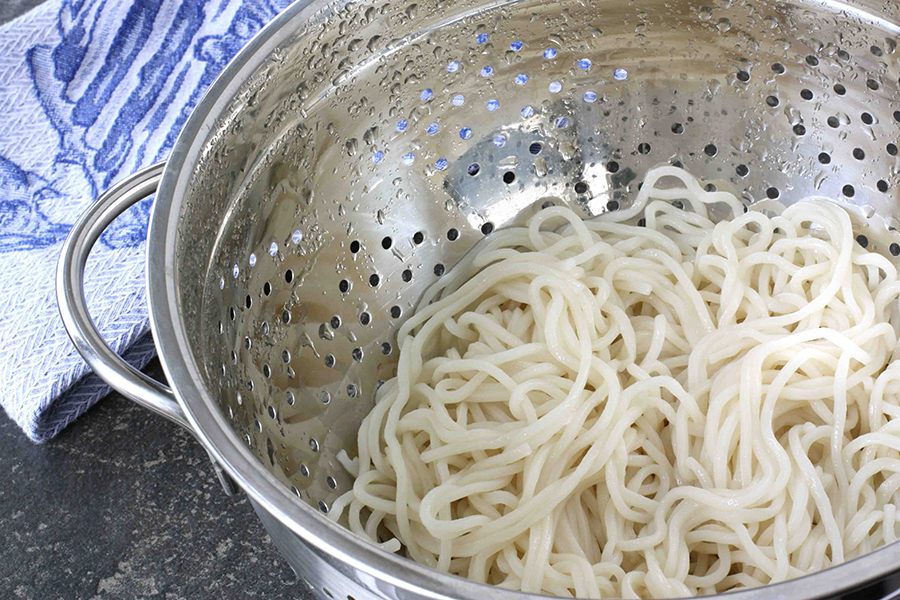 Chop a white onion and two heads baby bok choy (white and green parts). Slice mushrooms. I used crimini mushrooms because the selection of portobello and shiitake mushrooms at my grocery store was pitiful. The crimini worked well, but the shiitake would really put this soup over the top.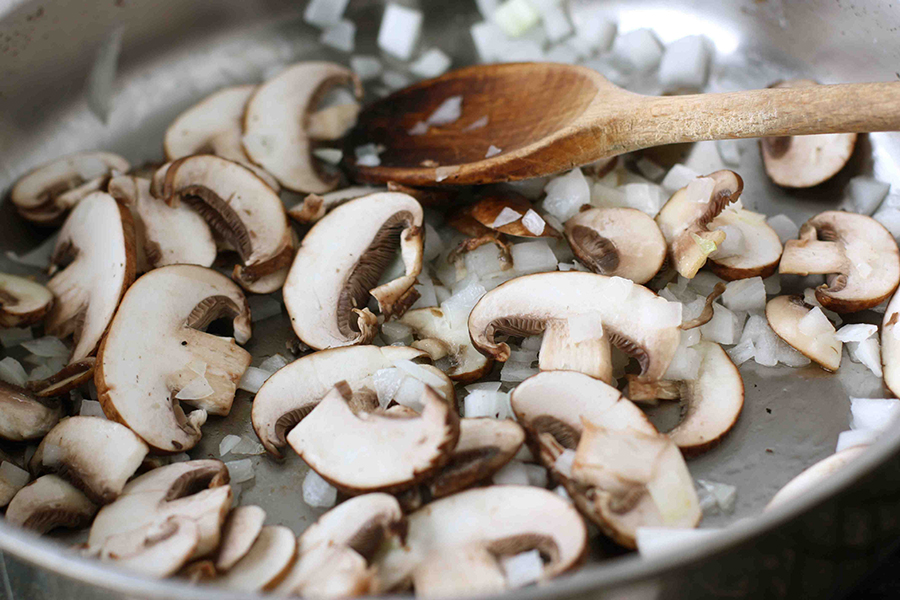 Heat half of the canola oil in a large sauté pan set over medium-high heat (Mary Helen didn't actually specify what level of heat to use, but medium-high worked well to brown the mushrooms). Add the mushrooms and half of the chopped onion, and cook the mushrooms until lightly browned. Add the mushroom and onion mixture to the broth.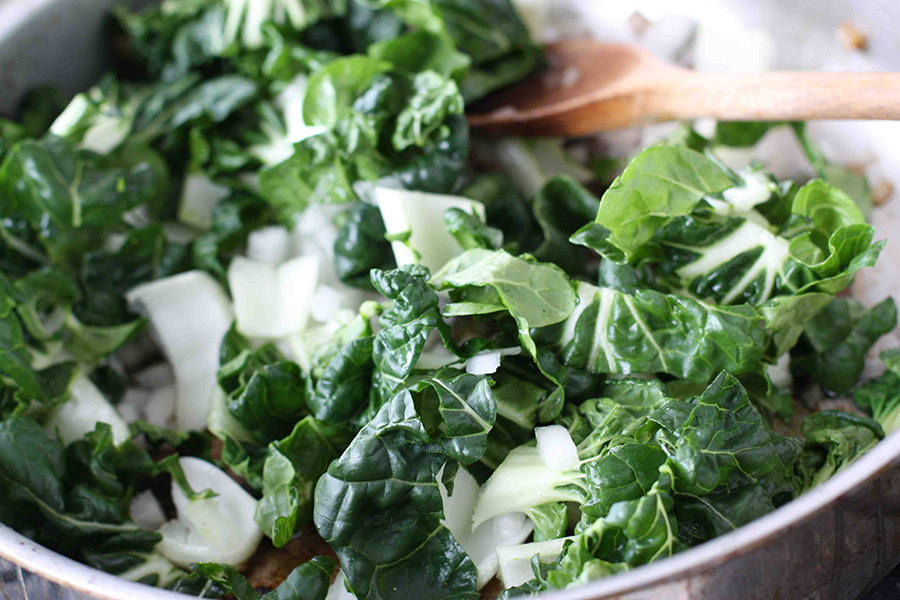 Add the rest of the canola oil and add the chopped bok choy. Cook until the greens are slightly wilted, which won't take more than 1 to 2 minutes.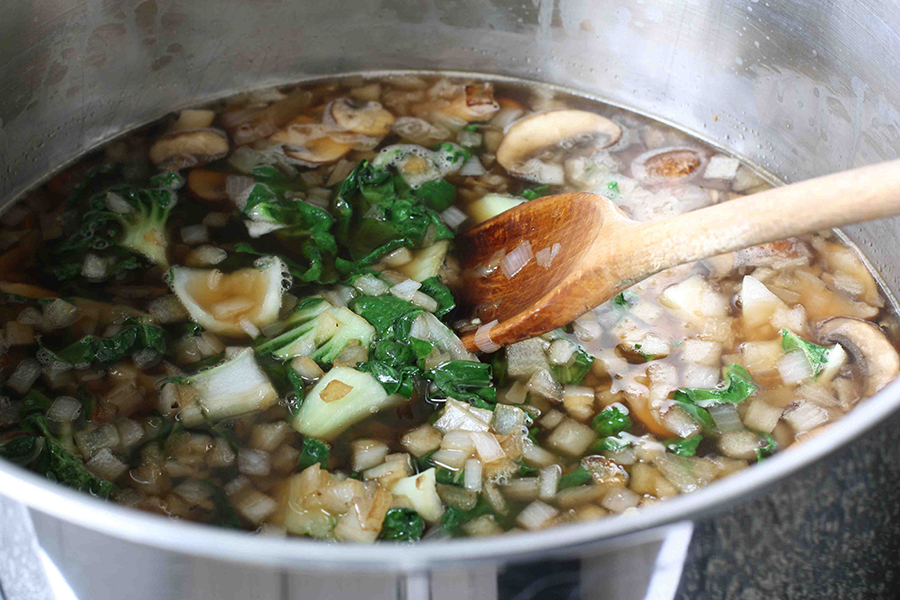 Add to the broth mixture.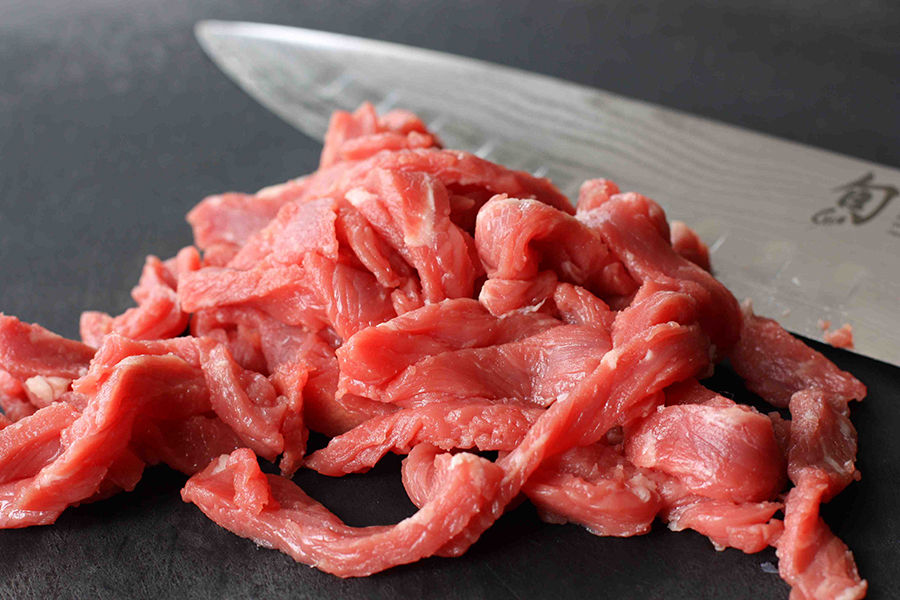 Slice the boneless New York strip steaks very thinly. Make sure to use a sharp knife. This well help you keep all ten fingers intact. Very important.
If you let the meat sit in the freezer for 10 minutes before slicing, it will cut very easily.
Add the meat strips to the soup and simmer until the meat is just cooked through. Given that the meat is cut very thinly, this won't take more than a couple of minutes.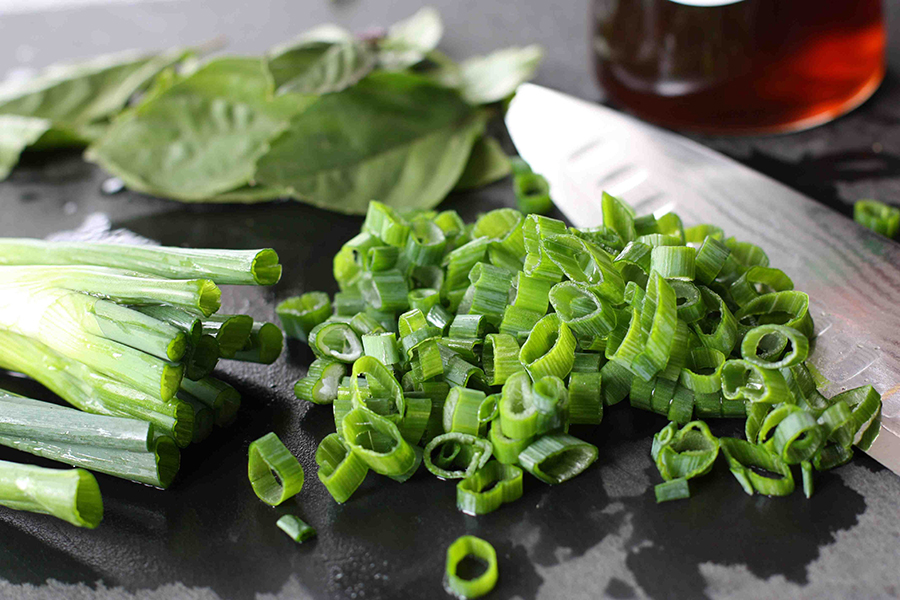 Remove the saucepan from the heat. Stir in chopped scallions, sliced fresh basil, and sesame oil. Season to taste with salt and pepper.
Divide the noodles between four bowls and ladle the soup over top. Serve.
Mary Helen suggests add some crushed red pepper flakes or sriracha sauce for a little kick. I concur.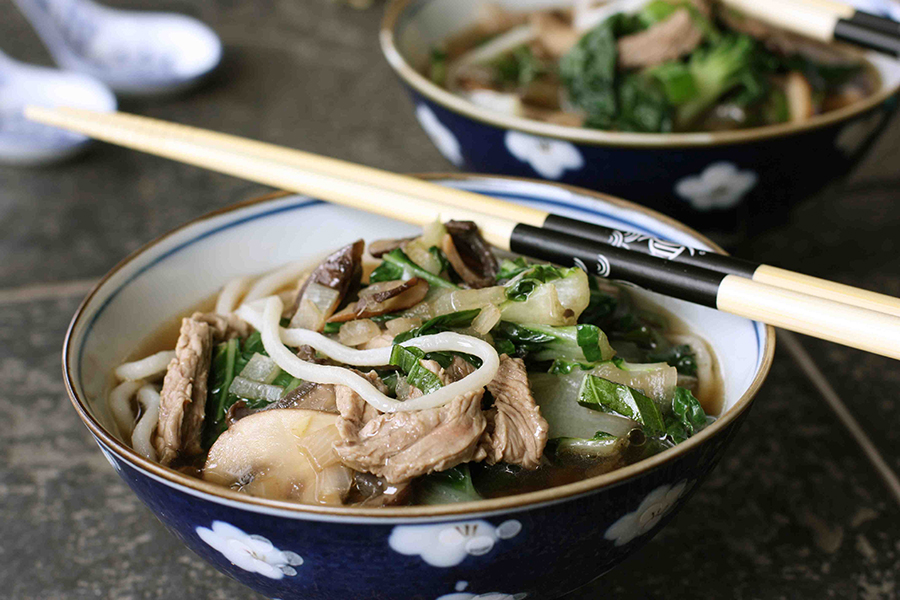 Thank you, Mary Helen, for a soup that will take a regular place in our dinner rotation. Visit her blog, Mary Makes Dinner, for more of her delicious recipes!
Printable Recipe
See post on Mary Helen's site!
Description
A pho-inspired Noodle Soup made quick, tasty and simple.
Ingredients
8 ounces, weight Chinese Noodles Or Thin Pasta
1 quart Light Beef Stock
2 Tablespoons Soy Sauce
½ teaspoons Ginger, grated
2 Tablespoons Vegetable Oil, For Frying
4 ounces, weight Mushrooms, Sliced (White, Shitake, Or Portobello)
1 whole Small White Onion, Minced
2 whole Baby Bok Choy, Chopped
8 ounces, weight Boneless NY Strip Steak, Sliced Very Thin
1 bunch Scallions Sliced Thin
1 Tablespoon Toasted Sesame Oil
¼ cups Basil, Chiffonade/Shredded
1 pinch Salt And Pepper, to taste
Preparation Instructions
Cook noodles according to package instructions, then shock with cold water and set aside. In a large soup pot, combine stock, soy sauce, and ginger. Bring to a low simmer. Warm vegetable oil in a fry pan and saute the mushrooms along with half of the minced onion until browned. Add the mushroom mixture to the soup, then repeat with the bok choy and the remaining onions.
Slice the steak as thinly as possible and add the strips to the soup. Allow the meat to cook through, then remove the pot from the heat. Add the scallions, sesame oil, and basil, and salt and pepper as needed. The noodles can either be added to the pot, or to soup bowls. Ladle soup into each bowl over or along with the noodles. You can enjoy the noodles as is, or you can add a little crushed red pepper or Siracha Sauce if you'd like them hot n' spicy.


_______________________________________
Dara Michalski is a doll and a sweetheart who clearly knows her way around the kitchen. She blogs at Cookin' Canuck, where she shares her flavor-packed recipes and fun, engaging writing. The photography's pretty incredible, too.