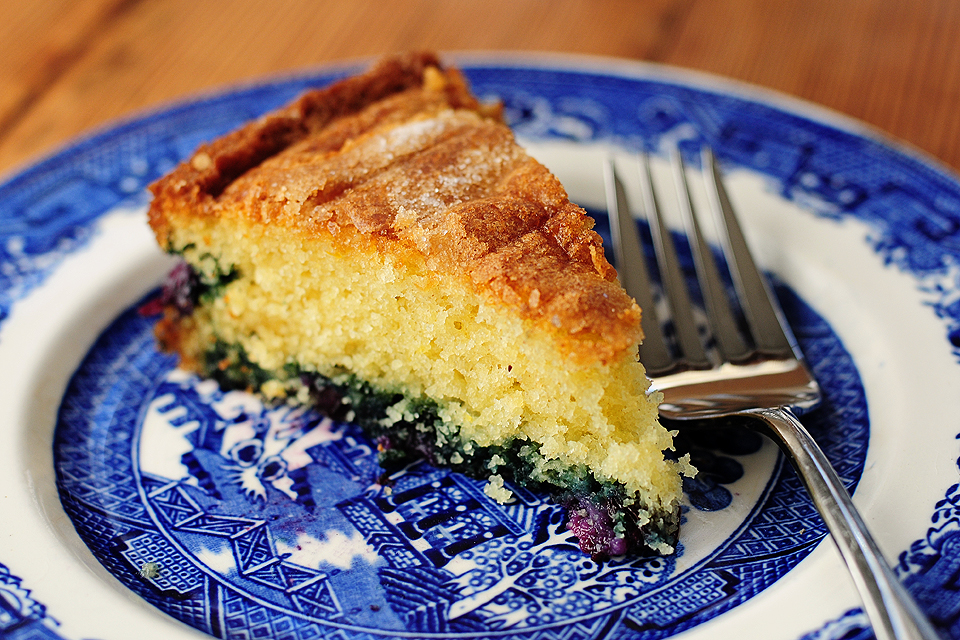 Signs of spring are popping up all around. There aren't many thing that say "spring" to me more than lemon and blueberry flavor combos. While looking for something fresh and springy to make for an upcoming baby shower, I ran across Blueberry Lemon Buttermilk Cake from Tasty Kitchen member vbunnell. The cake is quick to put together, full of fresh lemon and blueberry flavor. And I think will be just perfect for a springtime baby shower.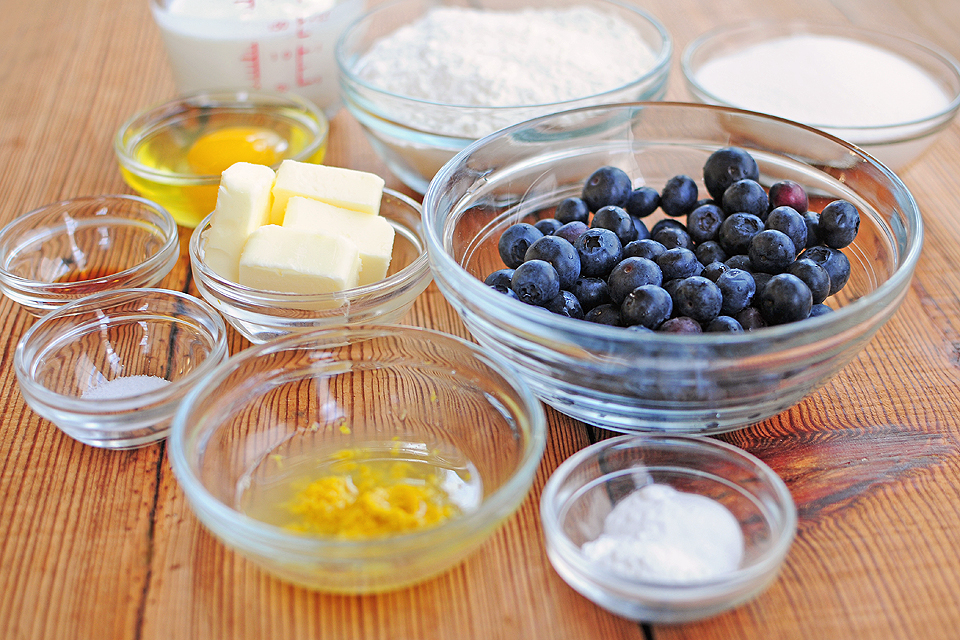 Let's get started. You'll need basic ingredients: flour, baking powder, baking soda, salt, butter, sugar, vanilla extract, lemon juice and zest, an egg, buttermilk, and fresh blueberries.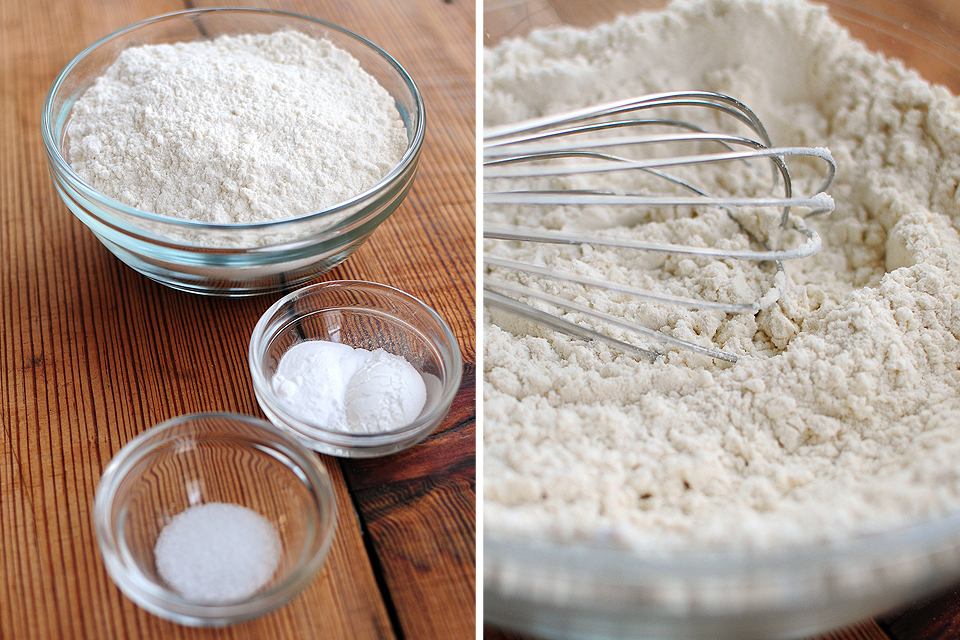 Begin by whisking together the flour, baking powder, baking soda and salt. Set aside.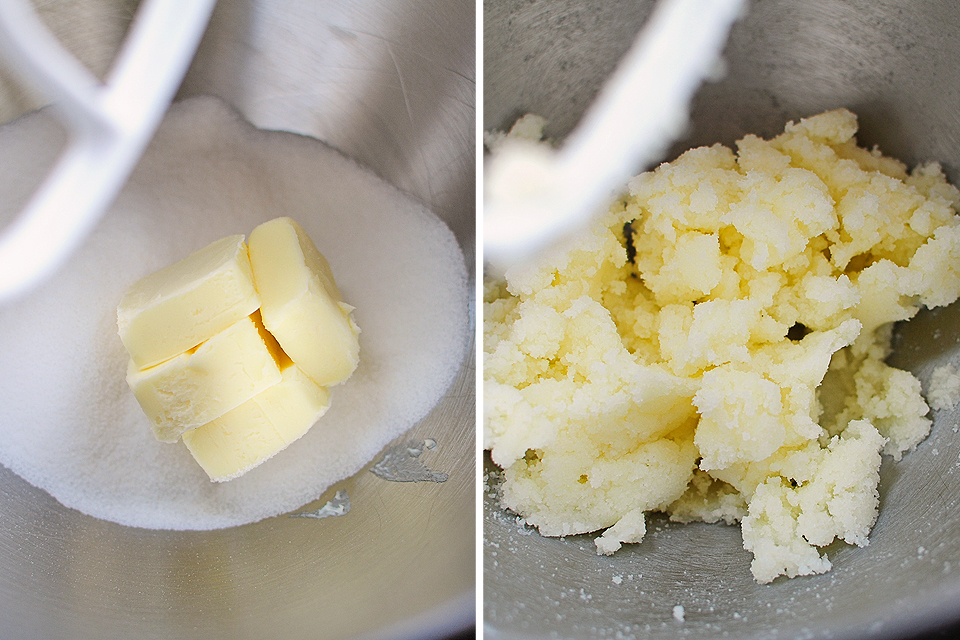 In a separate bowl beat together the butter and 2/3 cup sugar for about 2–3 minutes, until light and fluffy.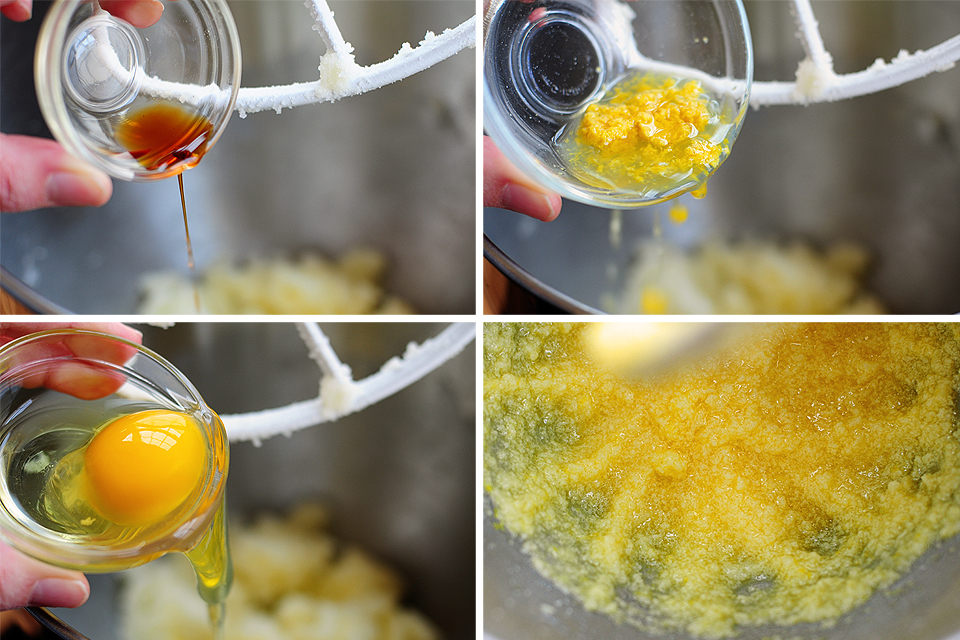 Add vanilla extract, lemon juice and zest, egg, and beat well.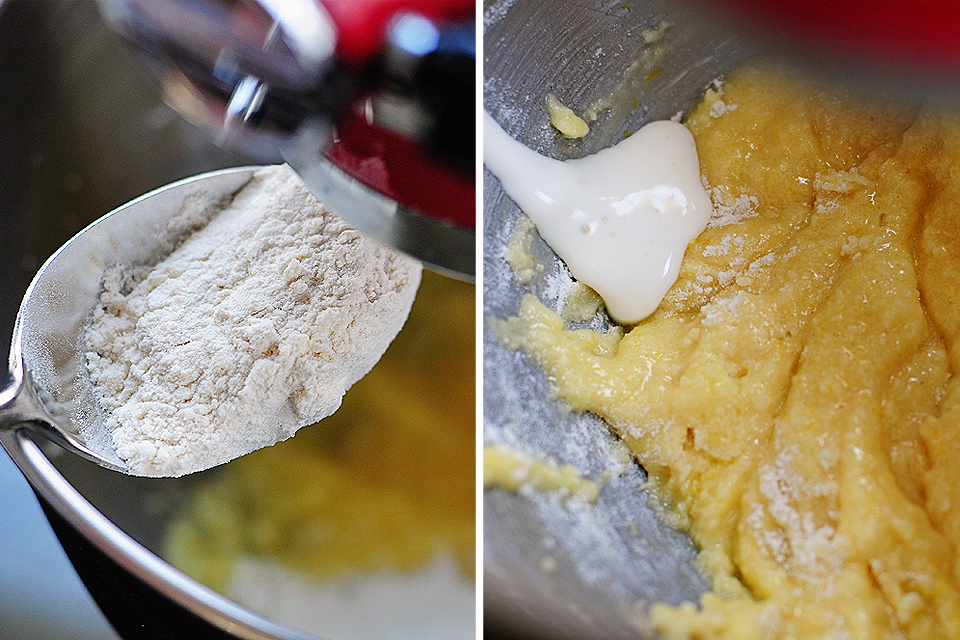 On low speed, alternate adding flour mixture in three batches, with two batches of buttermilk, until just combined.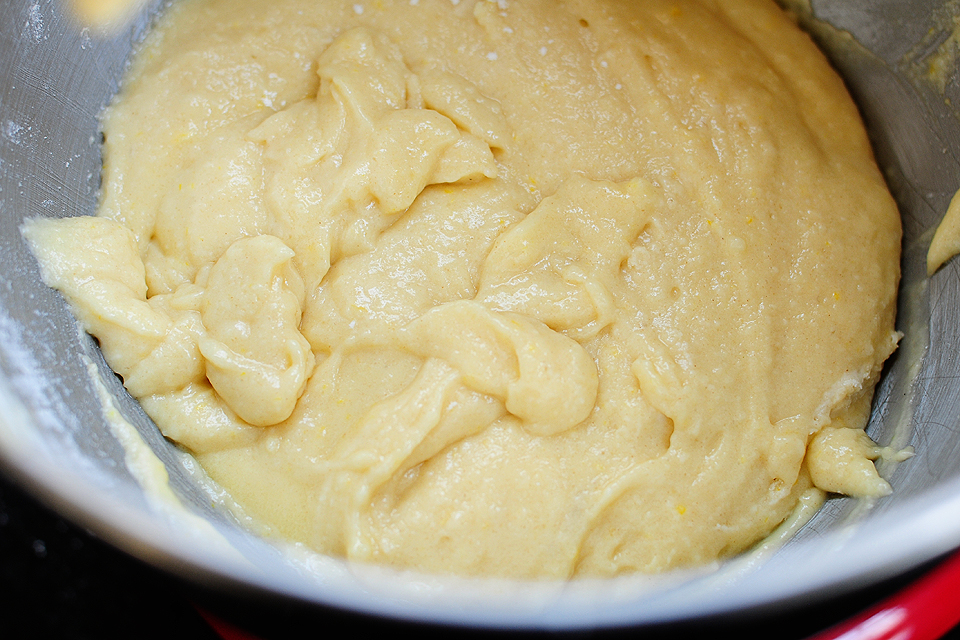 Right about now it should be smelling like lemon fresh springtime.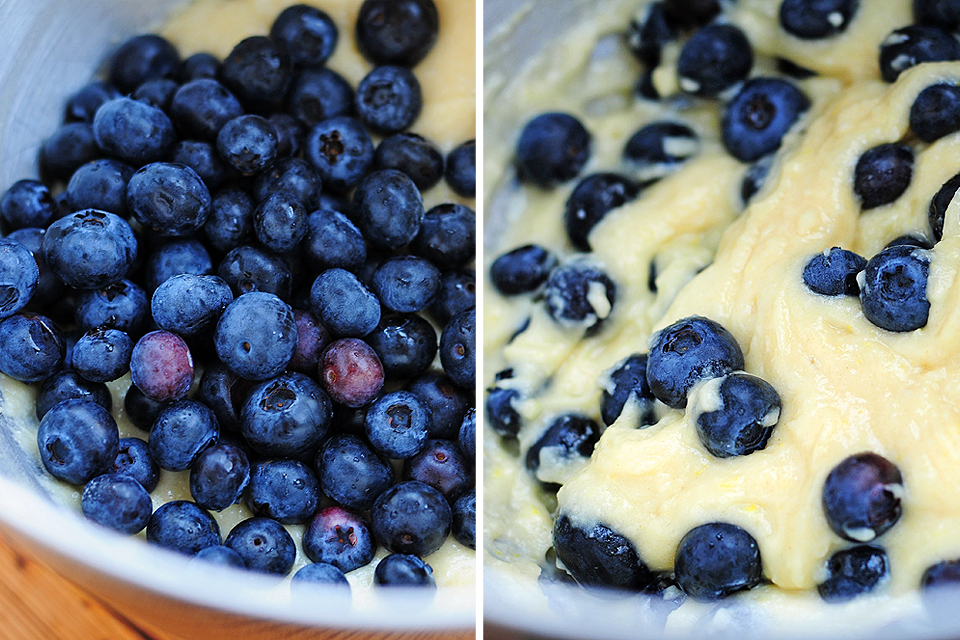 Time for the berries! Fold in the blueberries.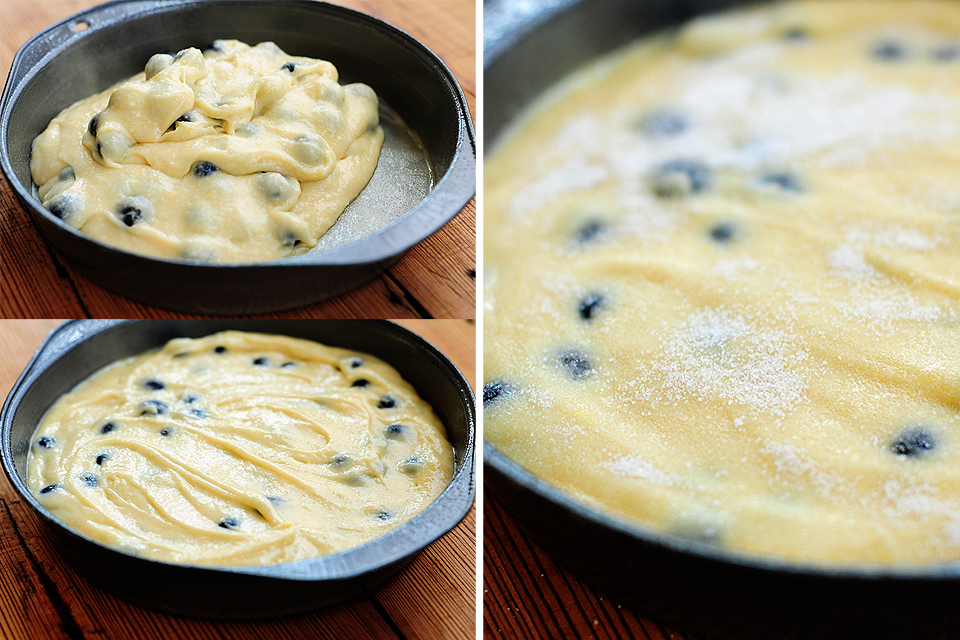 Pour batter into a sprayed and lined cake pan. Spread batter evenly in the pan and smooth. Sprinkle the top with the remaining sugar.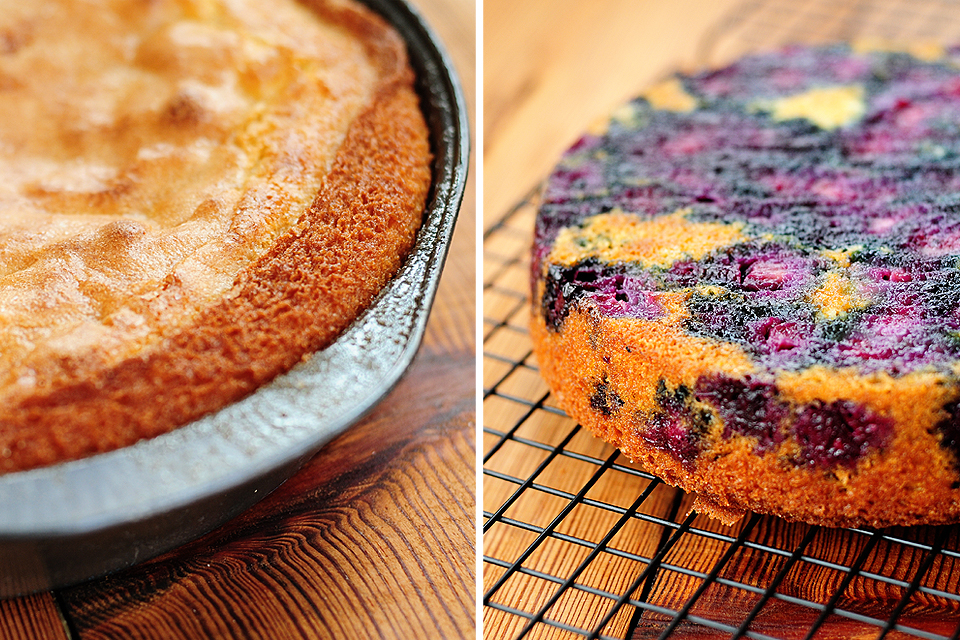 Bake until golden and a cake tester or toothpick inserted in the center of the cake comes out clean. I baked the cake a little longer than the time called for in the recipe, about 30 minutes. Cool in the pan, then invert onto a cooling rack and continue to cool for another 10–15 minutes.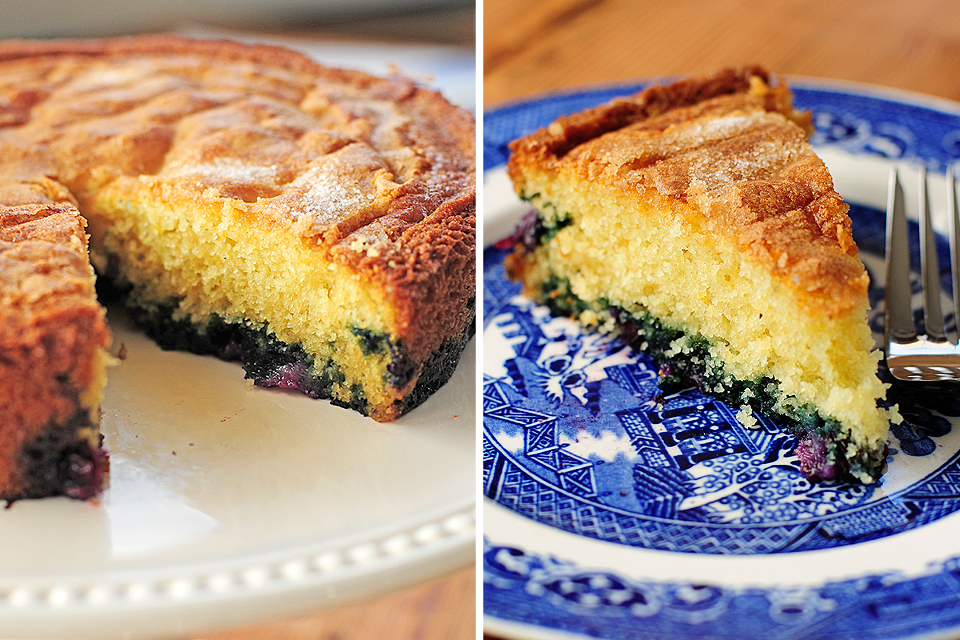 When cooled (if you can wait that long), invert onto a plate, cut and serve.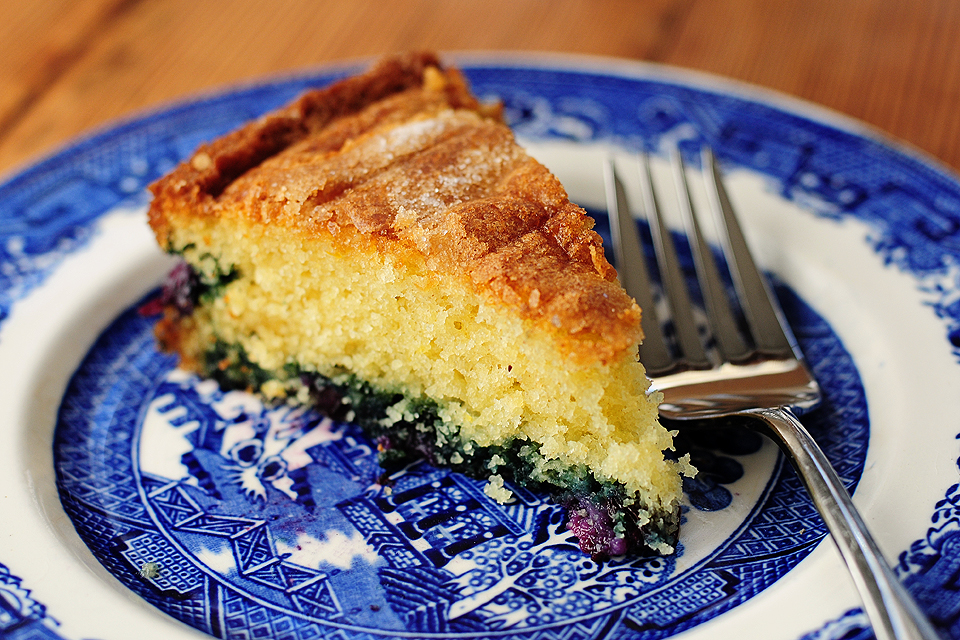 What a delightful dessert! It disappeared quickly.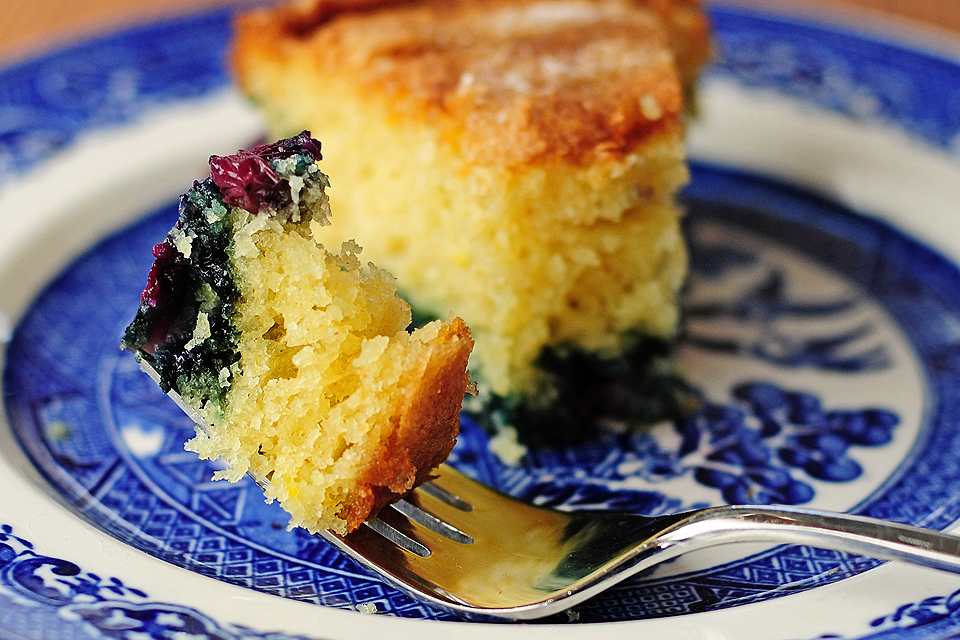 I think we need to make another.

Enjoy! And thanks so much to Valery for sharing the perfect dessert to welcome spring! Valery is an amazing photographer, and if you like beautiful babies and adorable family portraits, you should go visit her photography site.
Printable Recipe
Description
So delicious! This is perfect for a brunch, party or weekend breakfast side.
Ingredients
1 cup All-purpose Flour
½ teaspoons Baking Powder
½ teaspoons Baking Soda
¼ teaspoons Salt
½ sticks Butter, Softened
⅔ cups Sugar Plus 1 1/2 Tablespoons For Sprinkling On Top
¼ teaspoons Vanilla Extract
1 Tablespoon Lemon Juice
1 teaspoon Lemon Zest
1 whole Egg
½ cups Buttermilk, Well Shaken
5 ounces, weight Fresh Blueberries
Preparation Instructions
Preheat oven to 400 degrees with the rack in the middle of oven. Spray an 8-inch round cake pan and line with waxed paper. Spray the waxed paper.
Whisk together flour, baking powder, baking soda and salt; set aside. Beat butter and 2/3 cup sugar on medium-high until pale and fluffy, about 2-3 minutes. Add vanilla extract, lemon juice and lemon zest. Add egg and beat well.
At low speed, mix in flour mixture in three batches, alternating with the buttermilk in two batches, mixing until just combined. Add berries and fold in with a spoon. Pour batter into cake pan, spreading and smoothing the top. Sprinkle with 1 1/2 tablespoons sugar (this makes it a little crispy on the top)
Bake until cake is golden and a toothpick inserted into the center comes out clean, 20 to 25 minutes. Cool in the pan for 10 minutes then turn out onto a rack and cool to warm, 10 to 15 minutes more. Invert onto a plate and cut into 8 slices.
Serve plain or with a dollop of fresh whipped cream.


_______________________________________
Amy Johnson is a blogger who writes about food, travel, the home (both inside and out), and various observations and random musings about anything and everything. Visit her blog She Wears Many Hats for a dose of deliciousness, practicality, hilarity, or just plain fun. She lives in South Carolina with her husband and two children.