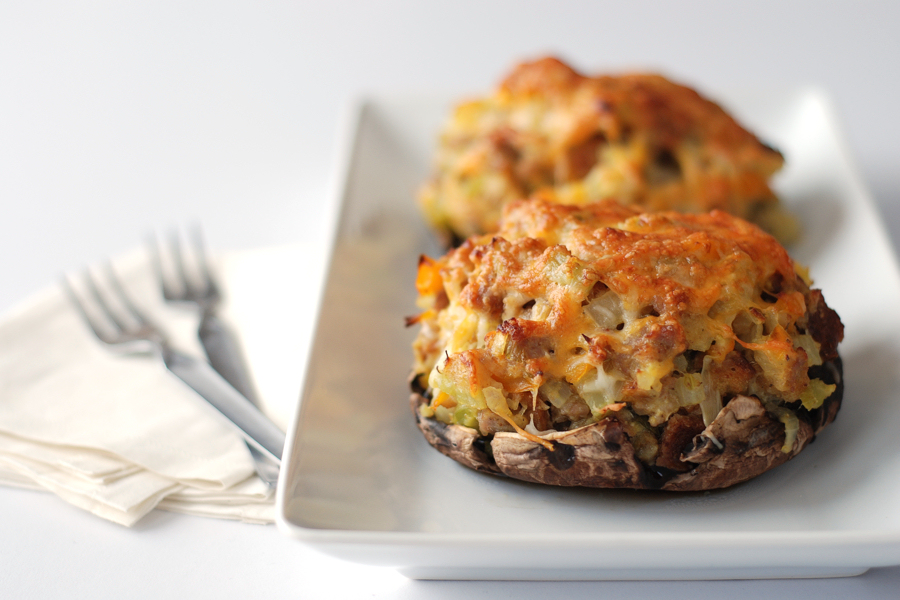 Tender, tasty portobello mushrooms stuffed with flavorful vegetables and spices and sprinkled with cheese. Baked until golden. Hungry yet?
Today's recipe, brought to us by acher, would be a splendid starter for a dinner or a full course at lunch. The stuffing is hearty and filling, but has a complexity of flavors. White wine, fresh fennel, and Italian sausage all lend lovely notes.
All you need is a few ingredients from the market.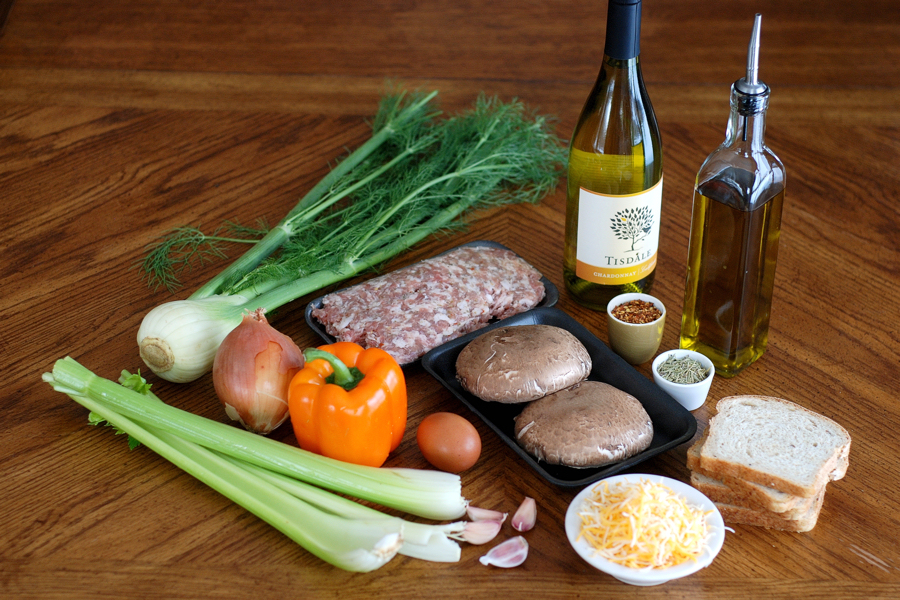 Portobello mushroom caps, olive oil, white wine or broth, Italian sausage, fennel, onion, bell pepper, celery, garlic, egg, cheese (I used marble jack), sandwich bread (I used homemade), rosemary (I used dried, but you can use fresh), and crushed red pepper flakes.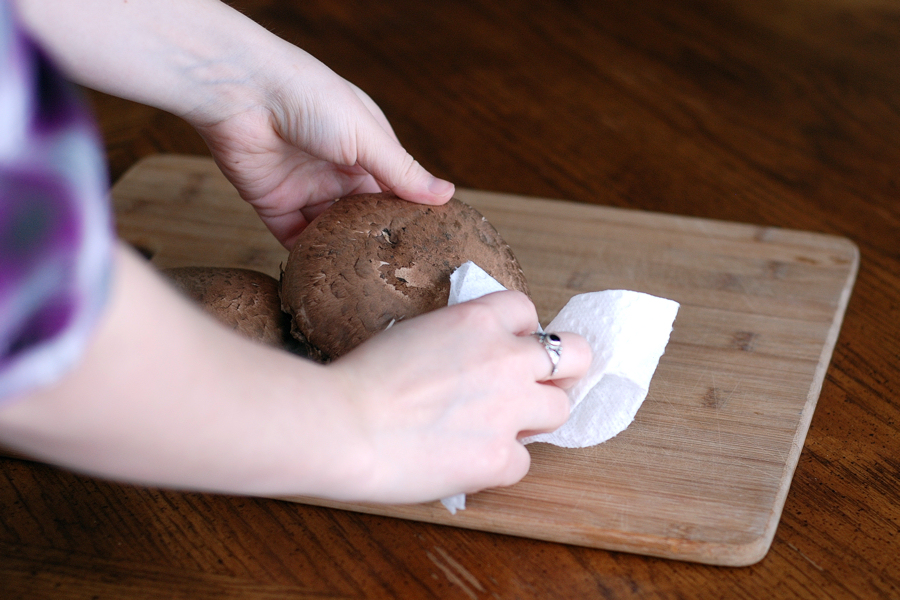 Preheat your oven to 450° F. Wipe the mushrooms with a paper towel to remove any dirt.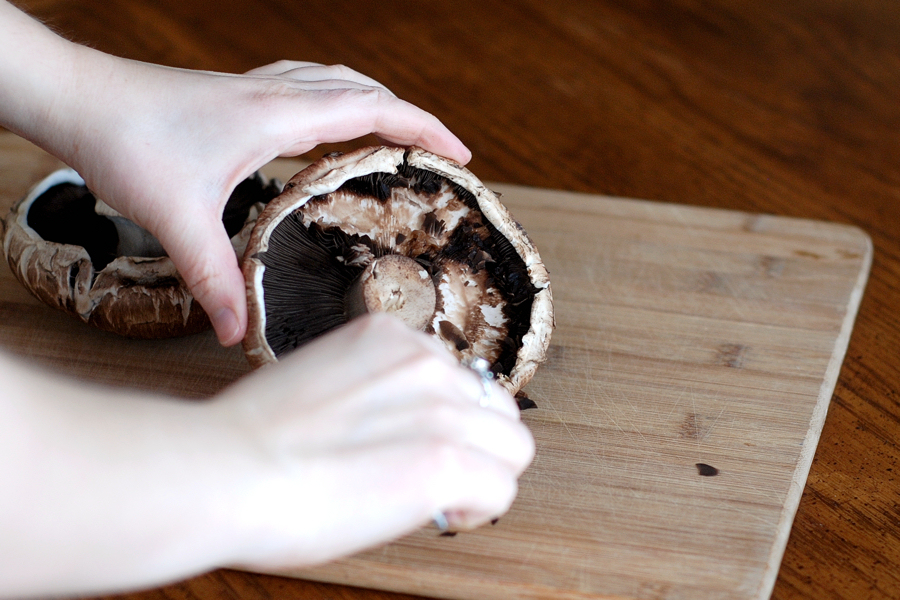 Scrape out the gills with a spoon.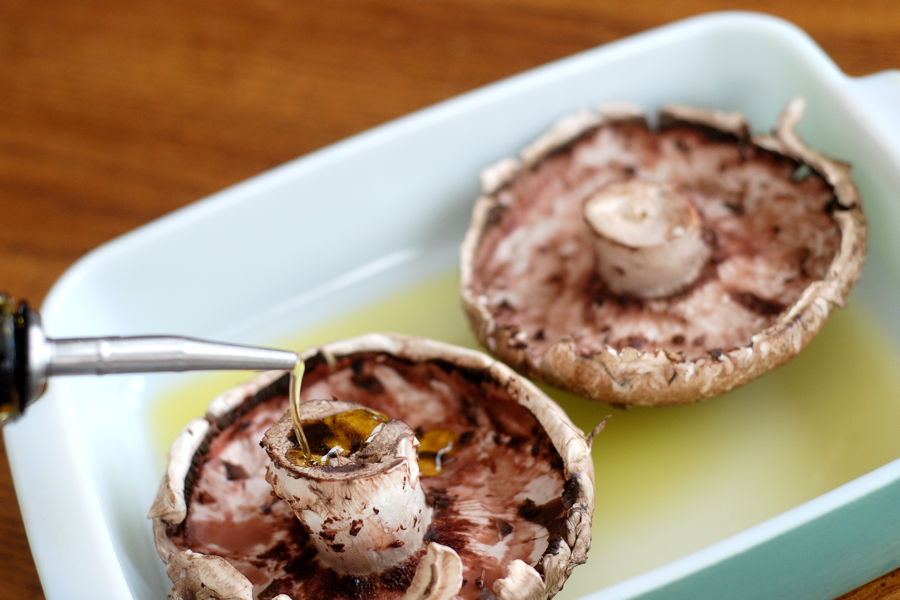 Drizzle some oil in the bottom of a baking dish and place the mushrooms on top. Drizzle a bit of oil on top of the mushrooms. Set aside.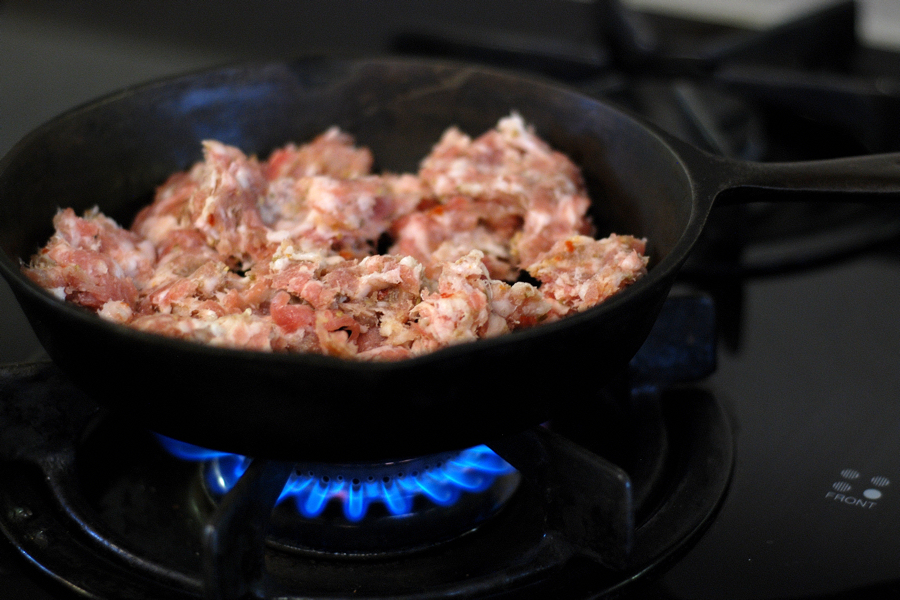 Brown the sausage over medium-high heat.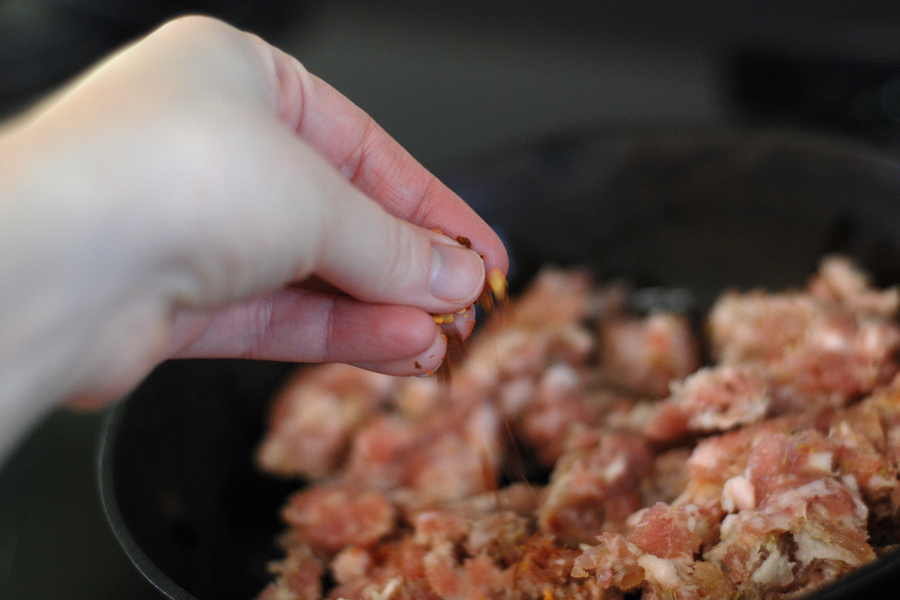 Add a sprinkling of crushed red pepper flakes.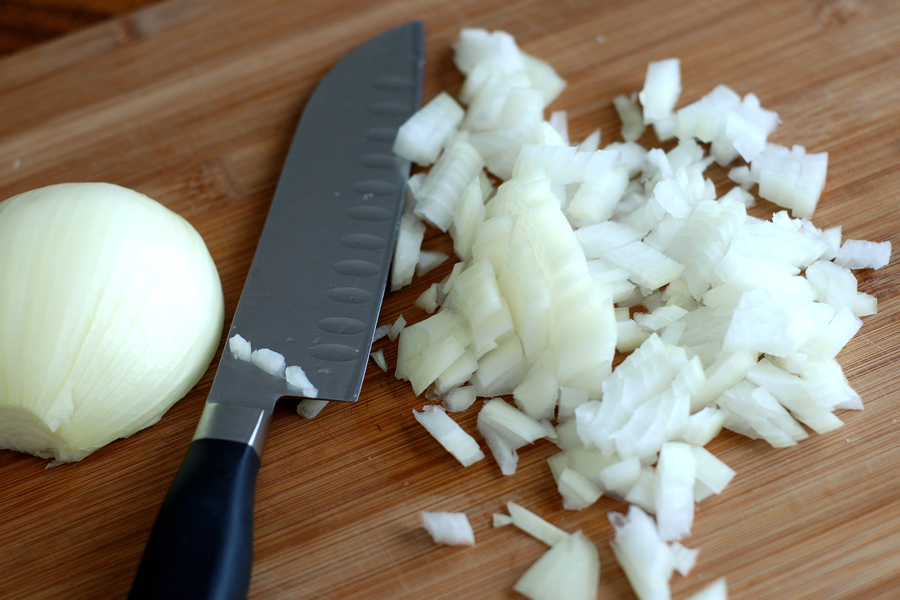 As the meat is browning, chop up the vegetables: onions …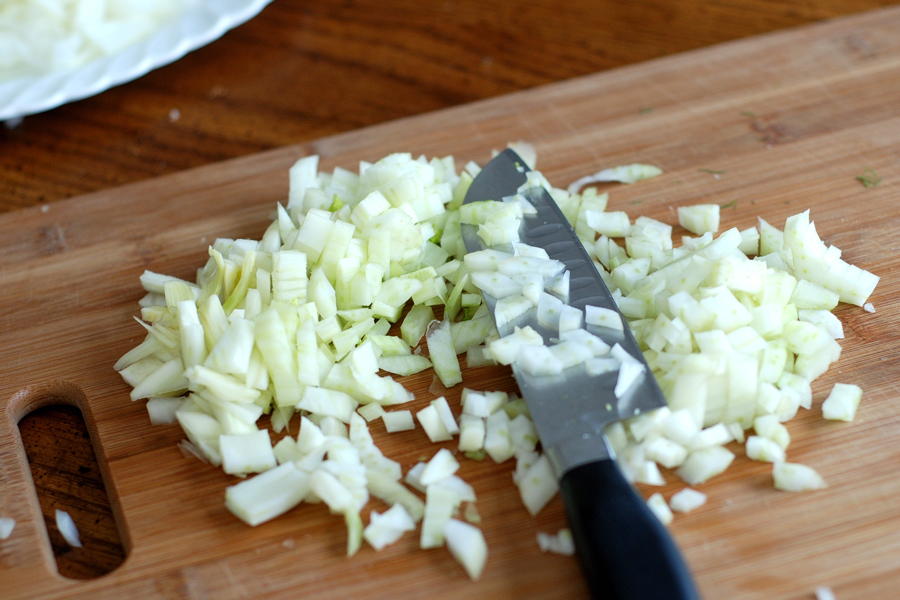 Fennel …
Bell pepper …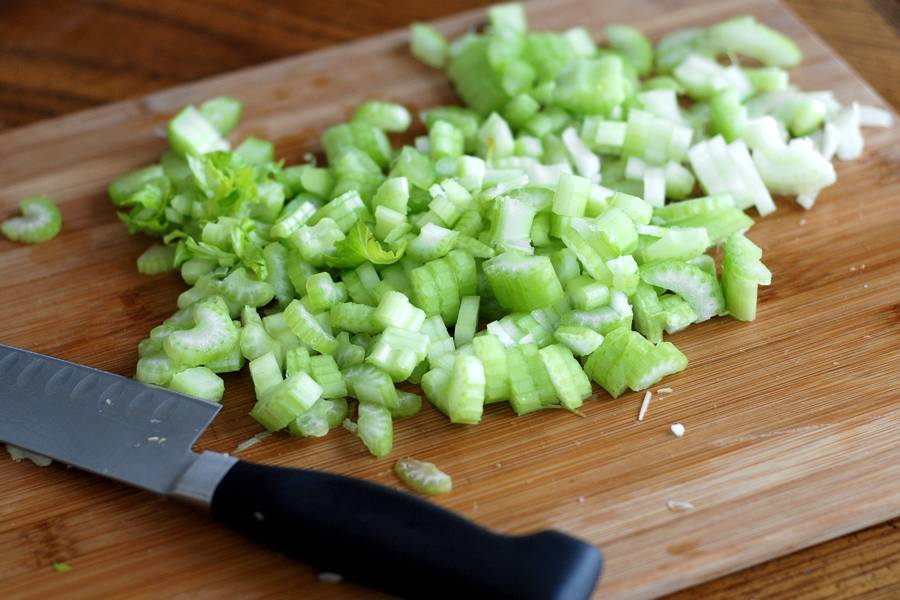 And celery. Whew!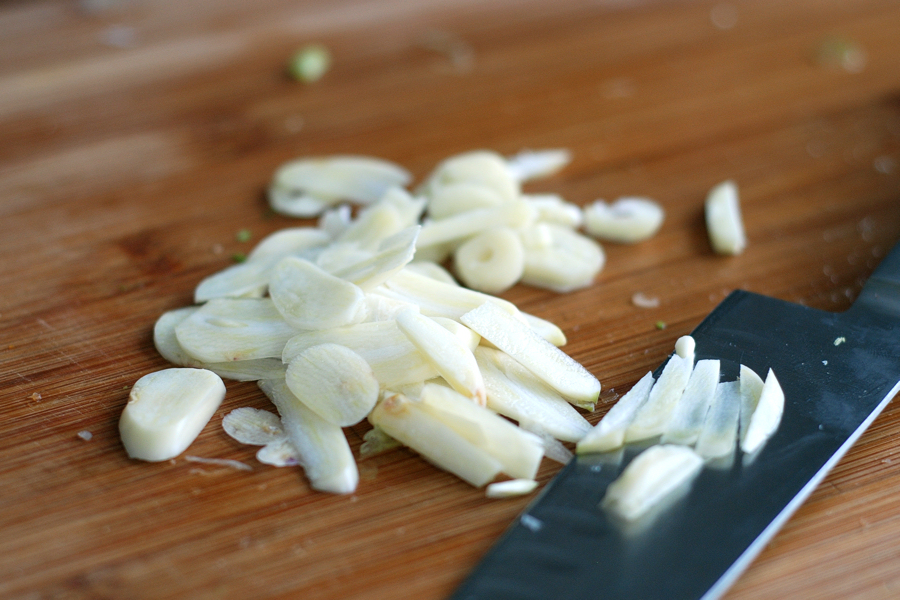 Slice the garlic very thinly.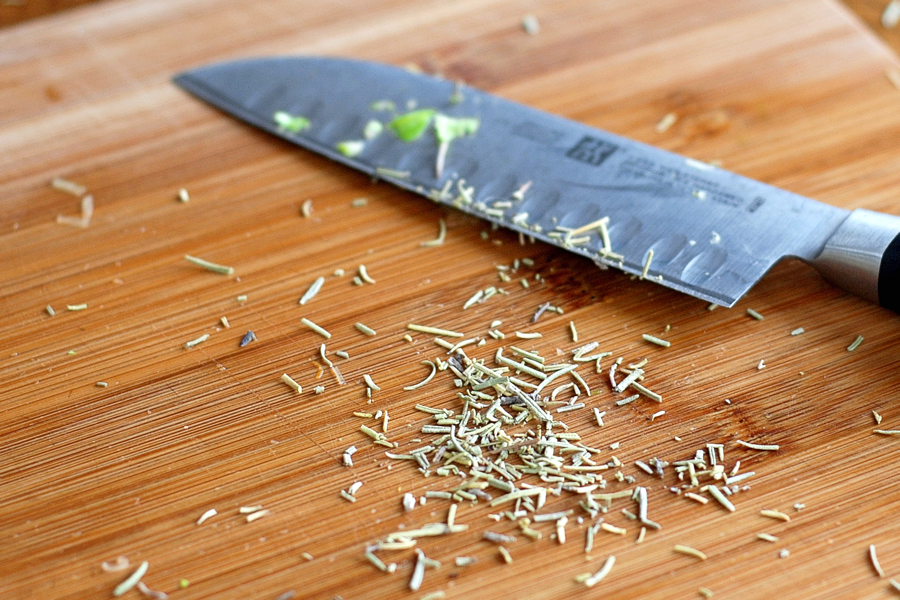 Chop the rosemary finely.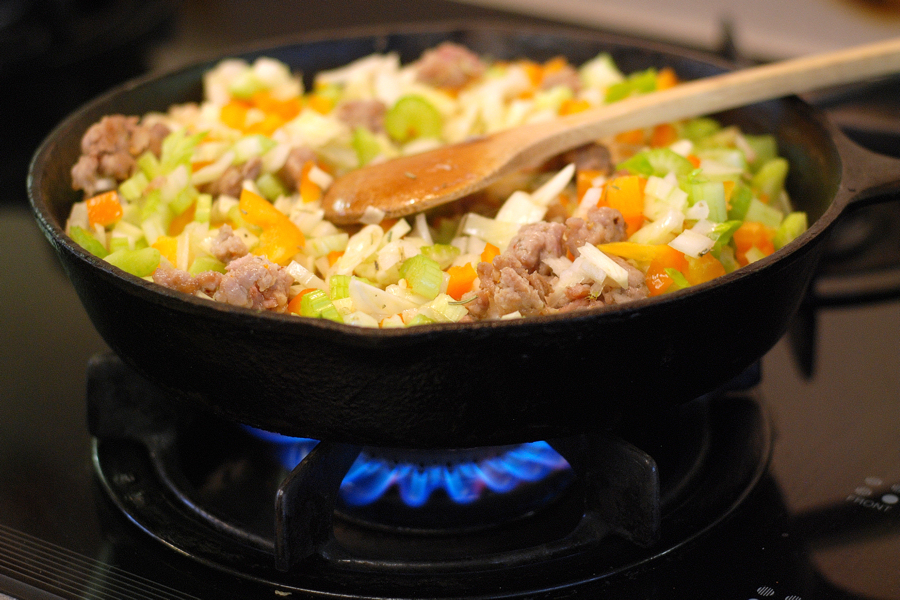 Add the vegetables and rosemary to the sausage and saute until crisp-tender, about 5-10 minutes.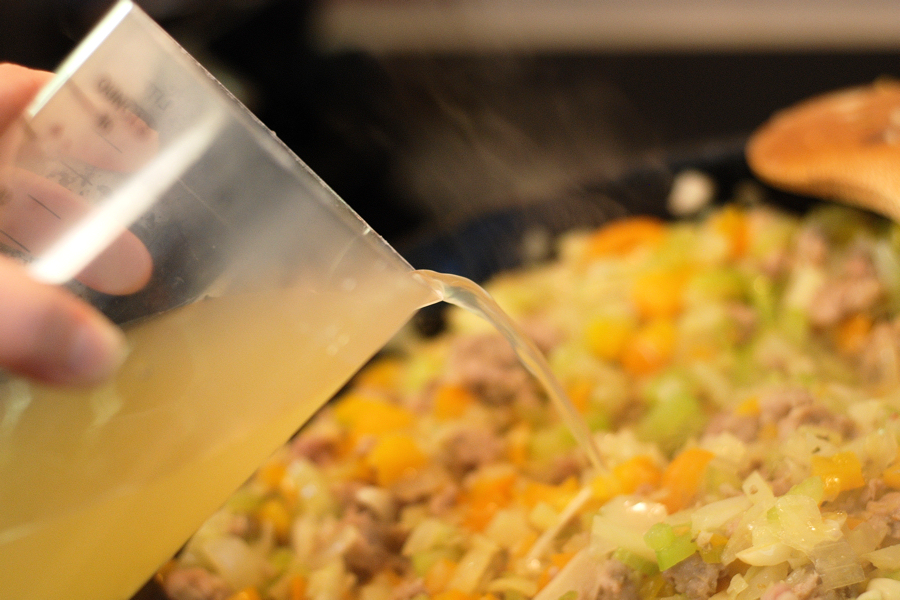 Add the wine or broth to deglaze the pan. Cook for about 5 minutes.
Meanwhile, toast the bread.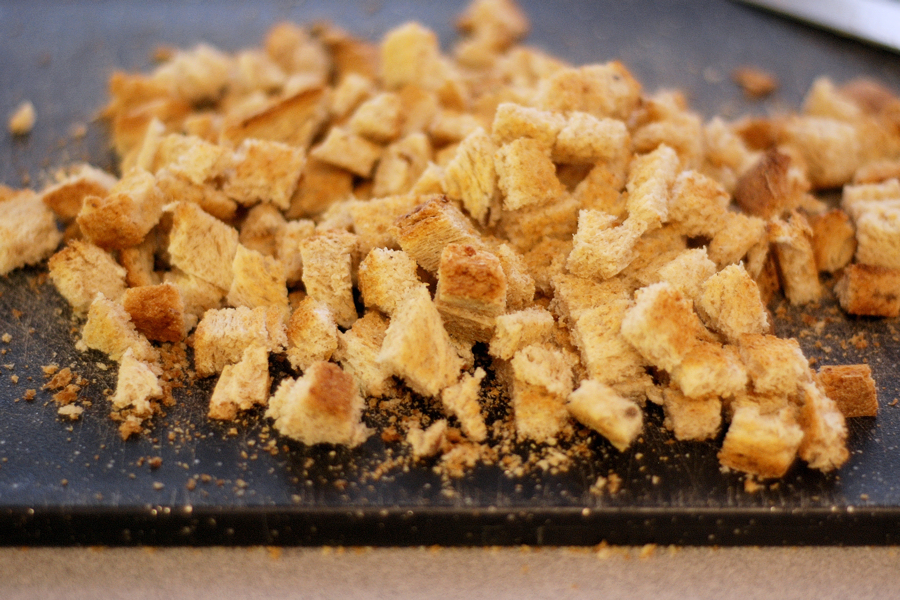 Cut the toasted bread into cubes.
Stir the bread cubes and cheese into the sausage/veggie mix. The bread will soak up the wine/broth. Taste and add salt and pepper if needed.
Lightly beat the egg.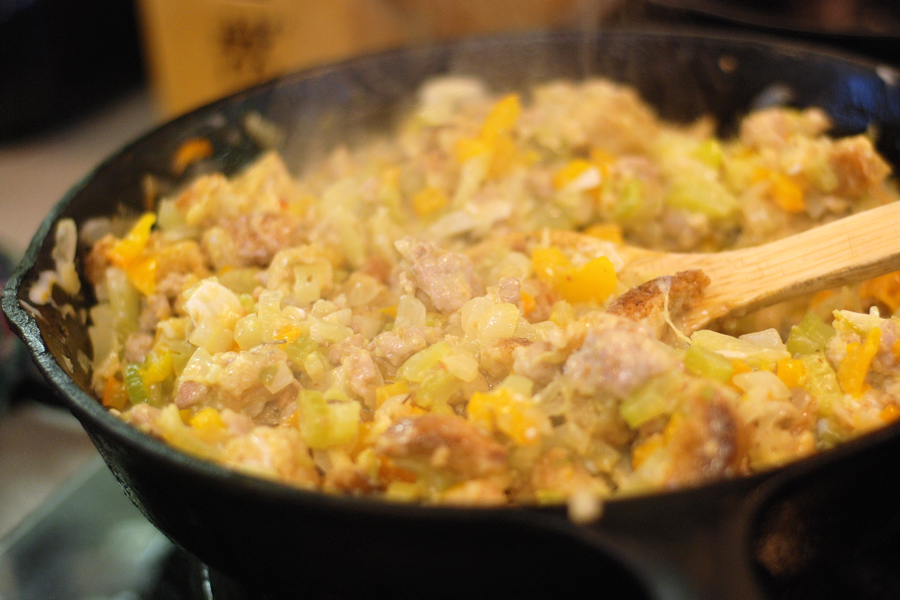 Remove pan from heat and stir in the egg.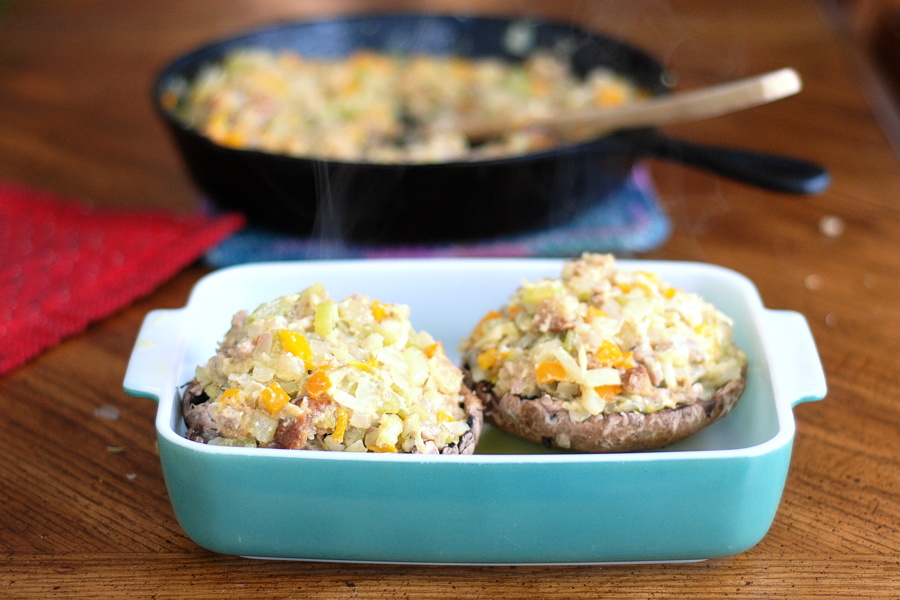 Mound the stuffing mixture into the mushroom caps.
Sprinkle with a bit of extra cheese.
Bake in preheated oven for 30-40 minutes or until the mushrooms are tender and the stuffing is browned.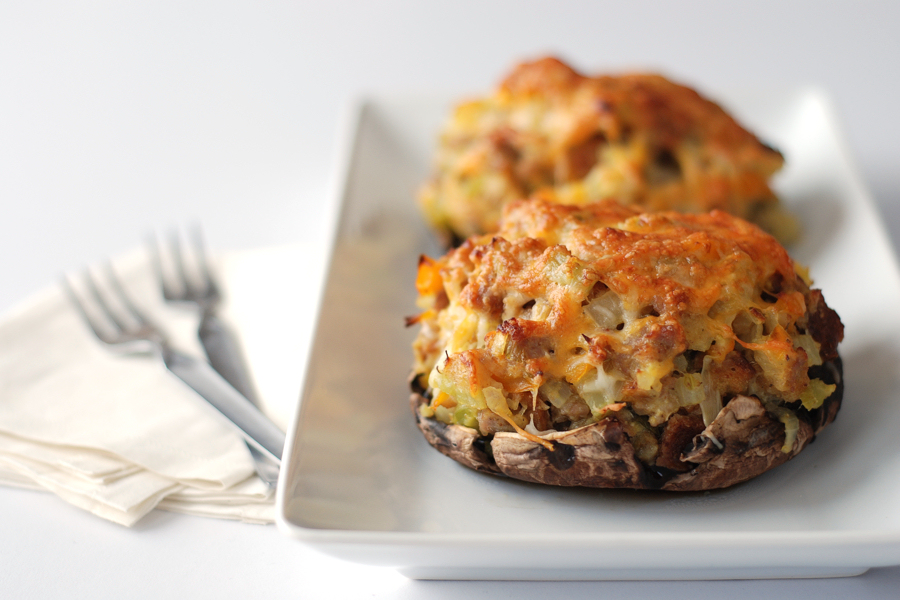 Glorious.
Notes:
1. There was much more stuffing than could fill two mushroom caps. Thankfully I had some baby bellas on hand to fill.
2. I found that I only needed to cook the mushrooms for around 25 minutes. You should set your timer to 15 minutes and check the mushrooms every so often so they don't burn.

Thank you, acher, for sharing this delicious recipe with us!
Printable Recipe
Description
What to do when you have odds and ends of veggies and two beautiful portobello caps? Make stuffed mushrooms of course! The amount of filling in this recipe will stuff two large portobello caps, and easily feeds 4 with a loaf of crusty bread and a salad.
Ingredients
2 whole Portobello Mushroom Caps
Olive Oil
½ pounds Bulk Italian Sausage, Or Links With Casings Removed
2 teaspoons Crushed Red Pepper Flakes
1 whole Onion
1 bulb Fresh Fennel
1 whole Bell Pepper, Any Color
3 stalks Celery, With Leaves
4 cloves Garlic
3 sprigs Rosemary
¾ cups White Wine (can Substitute Stock/broth)
½ cups Shredded Monterey Jack, Plus Extra For Sprinkling
4 slices Good Sandwich Bread, Toasted And Cubed
1 whole Egg, Lightly Beaten
Preparation Instructions
Preheat oven to 450F.
Wipe the portobellos clean with a paper towel and scrape out the gills with a spoon. Drizzle enough olive oil in the bottom of a glass baking dish to coat. Place portobello caps in the baking dish, top down, drizzle with oil, and set aside.
Brown sausage in a large skillet with a little bit of olive oil and the crushed red pepper over medium high heat.
While the sausage is browning, dice the onion, fennel, and bell pepper, chop the celery, and slice the garlic as thin as you can get it.
Remove the rosemary leaves from the stems and finely chop. Add the veggies and garlic and rosemary to the skillet and saute with the sausage until crisp-tender, about 5-7 minutes.
Add the wine to deglaze the pan and allow to cook for another 5 minutes or so.
Stir in the shredded cheese and bread cubes. The bread cubes should soak up whatever wine remains in the pan.
Taste it at this point, and add salt and freshly ground black pepper to taste (or more red pepper!). Stir in the beaten egg. The stuffing mixture should seem a little wet.
Mound stuffing mixture into portobello caps. It's ok to pack it down a little bit to make sure that it stays in place.
Sprinkle with a little extra shredded cheese. Bake at 450F for 35-40 minutes, or until the portobello is tender and the stuffing is golden brown.


_______________________________________
Erica Berge shares her wonderful recipes and amazing food photography on her blog, Cooking for Seven. She also writes about crafts and posts more of her beautiful photography in her personal blog, EricaLea.com. There really isn't much that this amazing young lady can't do, and we're thrilled she does some of it here.