Note from Ree: I'm so excited to welcome Jessica from HowSweetEats as a new contributor here on Tasty Kitchen. Jessica's bulging recipe box (149 recipes, anyone?) is a goldmine of deliciousness, and a testament to Jessica's love for cooking and baking. For her inaugural post, Jessica brings us the step-by-step instructions for this Gooey Butter Cake from The Newlywed Chefs. I'm officially hungry.
Take it away, Jessica!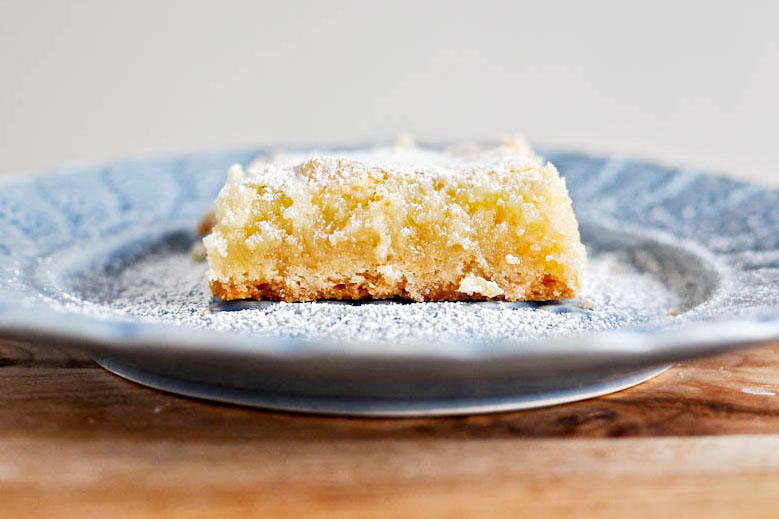 The title of this cake alone sold me. Gooey? Butter? I'm in. I didn't need to convince myself. I had never tasted Gooey Butter Cake before and I'm always up for a challenge. And with a name like that, how could I go wrong?
Gooey Butter Cake is a St. Louis tradition, often served at breakfast. Cake for breakfast? This just keeps getting better. The method of the cake is quite different from any other cake I've made. The actual "cake" becomes a crust, which is topped with a creamy filling made of cream cheese, butter and sugar. Rumor has it that this cake originally came about as a mistake—a bakery employee in St. Louis accidentally mixed up a recipe—but they went ahead and baked the cake anyway. It sold so well that they continued to bake the cake that way, which eventually turned into this delicious tradition.
This recipe comes from The Newlywed Chefs and is quite easy, too. Chances are, you have all the ingredients in your kitchen right now. You know what that means. Start baking.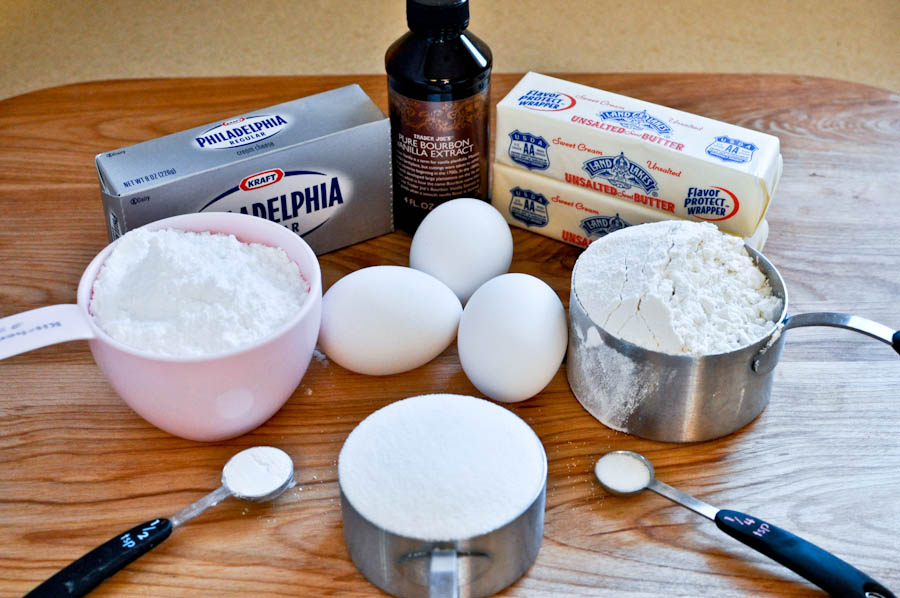 You need flour, sugar, butter, cream cheese, vanilla extract, eggs, baking powder, and salt. That's it!

The original recipe calls for a box of yellow cake mix, but I chose to use the Favorite Yellow Cake recipe here on Tasty Kitchen by sweetebakes. It's super simple and delicious. I used the flour, sugar, baking powder and salt measurements from the recipe, along with an additional 1/4 cup milk added with the wet ingredients.
After combining the flour, sugar, baking powder and salt (replacing the yellow cake mix in the original recipe), you melt one stick of butter in a saucepan or in the microwave.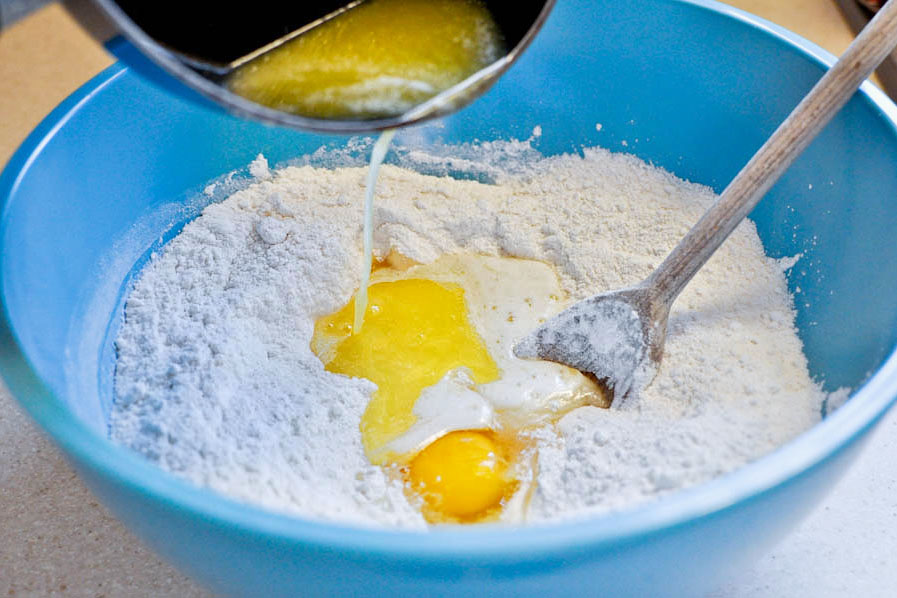 Add the melted butter and egg to the flour mixture.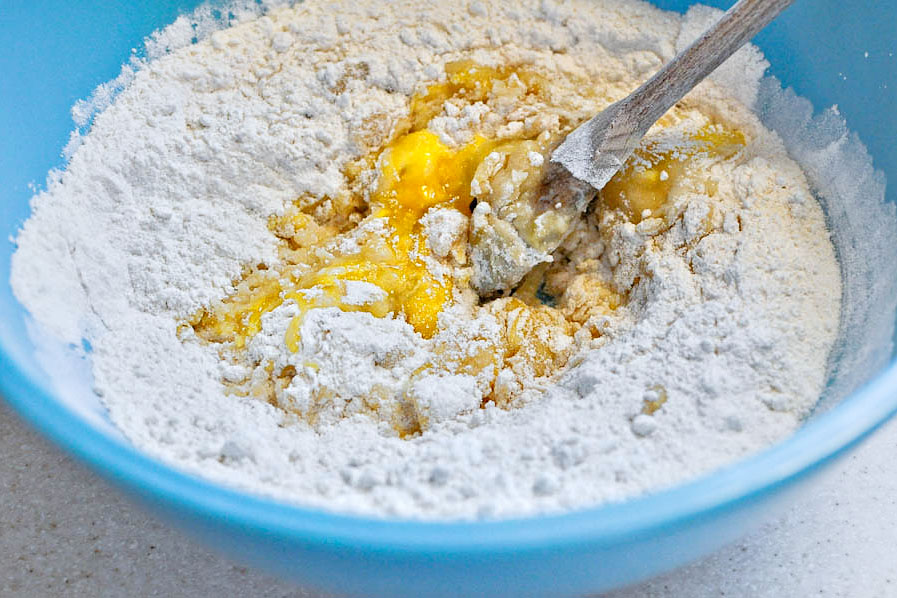 Mix it up to moisten the dough.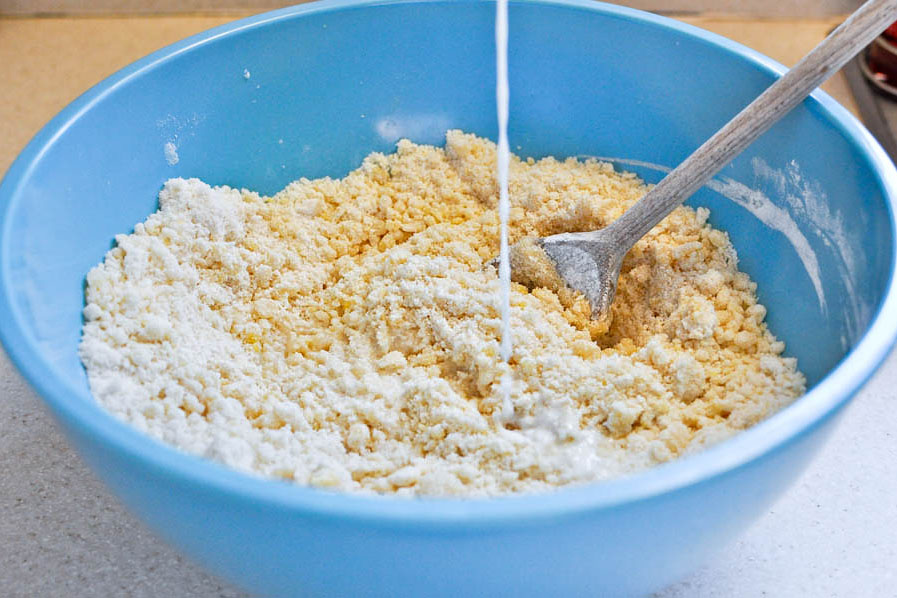 I added in 1/4 cup of milk since I used the Favorite Yellow Cake recipe. If you use a boxed cake mix, there is no need for the milk. Continue to stir until the mixture is crumbly. You may need to get in there with your hands and help it come together. That's the fun part!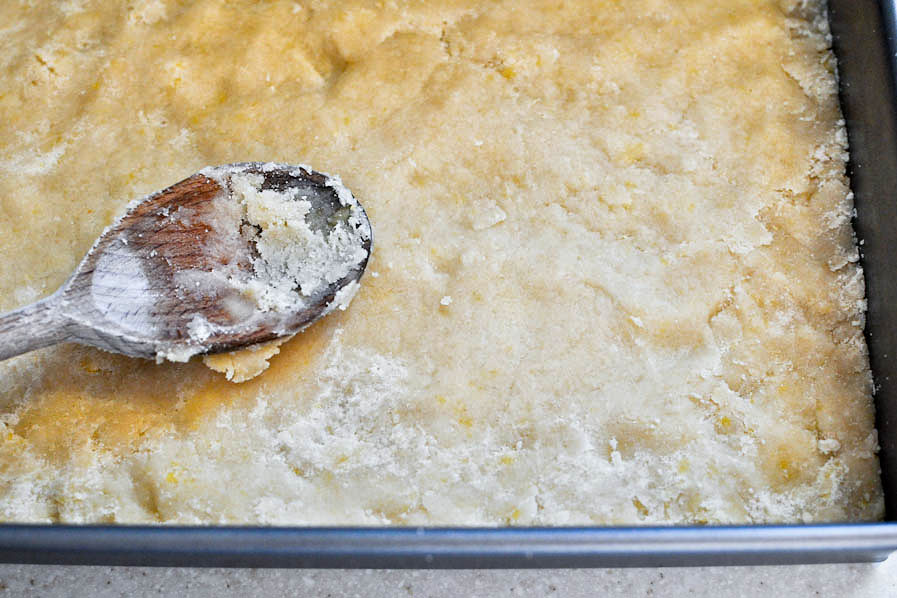 Press the dough into an ungreased 13 x 9 baking pan using a spoon and your hands to even it out.
Now it's time to make the mouth-watering filling.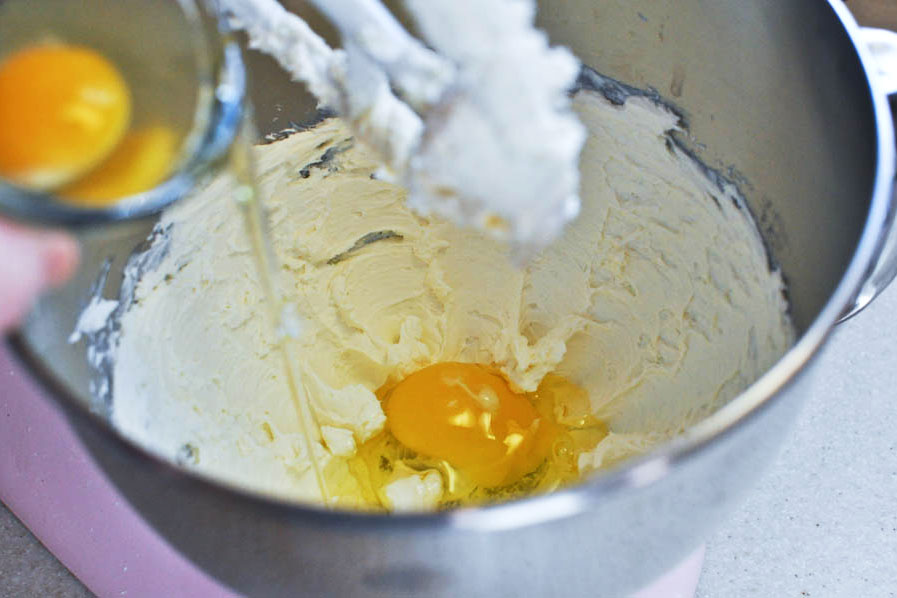 Cream the cream cheese in the bowl of an electric mixer, and add the eggs one at a time.
Mix well, making sure to scrape down the sides. While you are mixing the filling, carefully melt another stick of butter in a saucepan or in the microwave.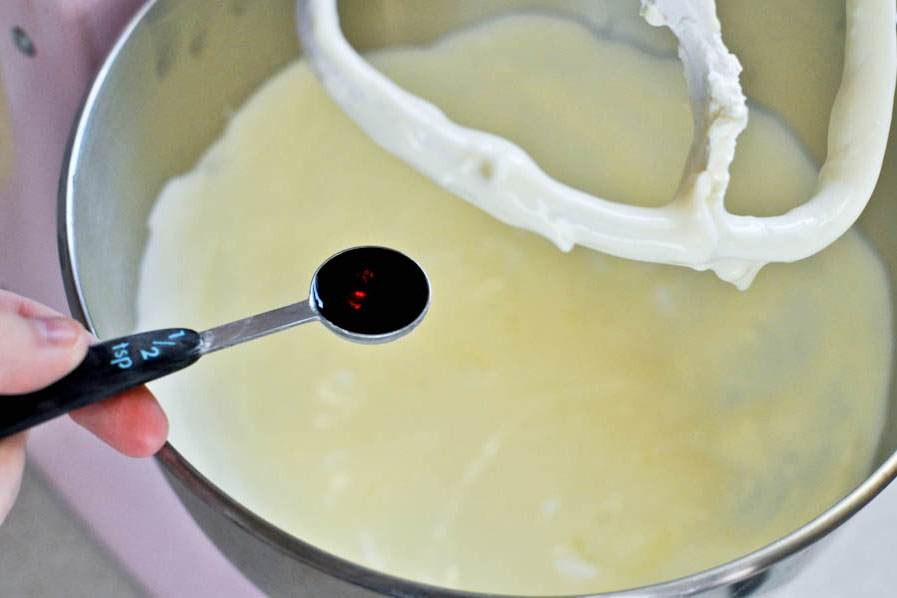 Add the vanilla extract and beat some more. The mixture will look very creamy.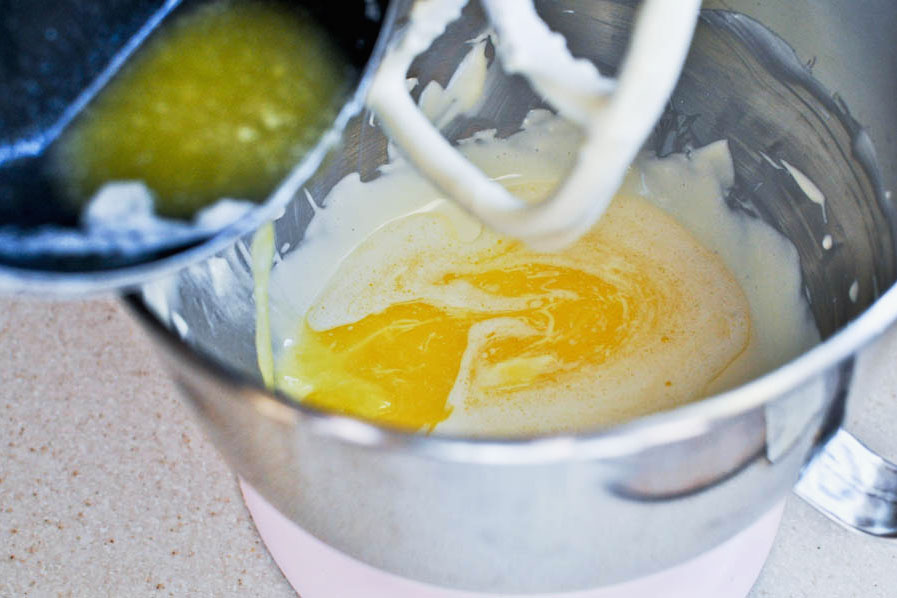 Here comes the shocker: add the melted butter! It's not called gooey butter cake for nothing.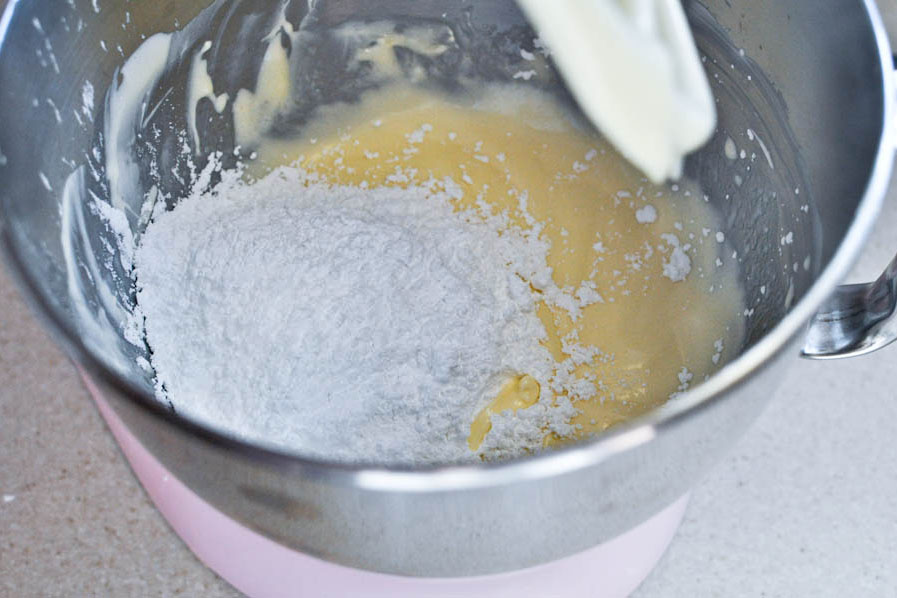 And finally, add the powdered sugar one cup at a time, stirring gently on low speed until just combined.
Oh, and don't forget the most important part: licking the beaters!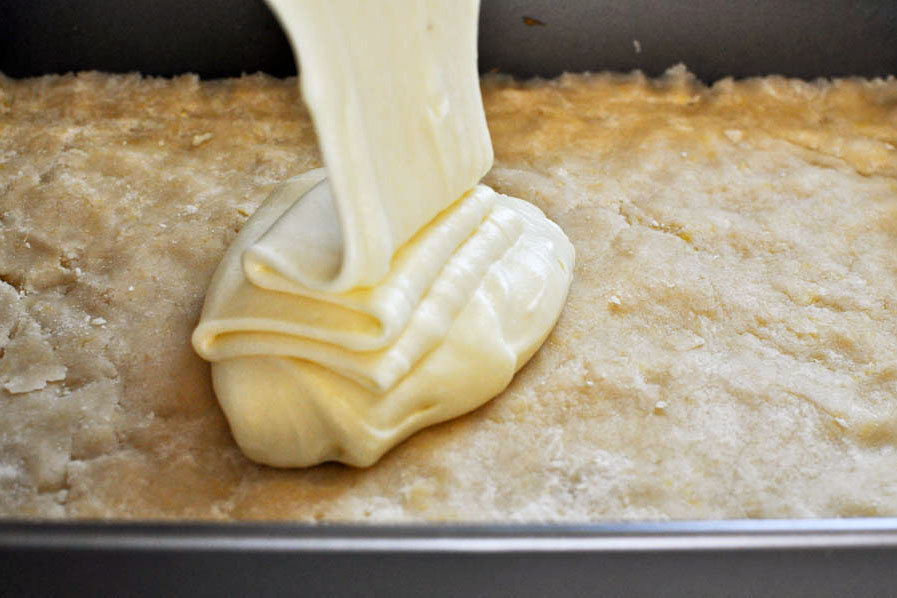 Pour the filling on top of the crust.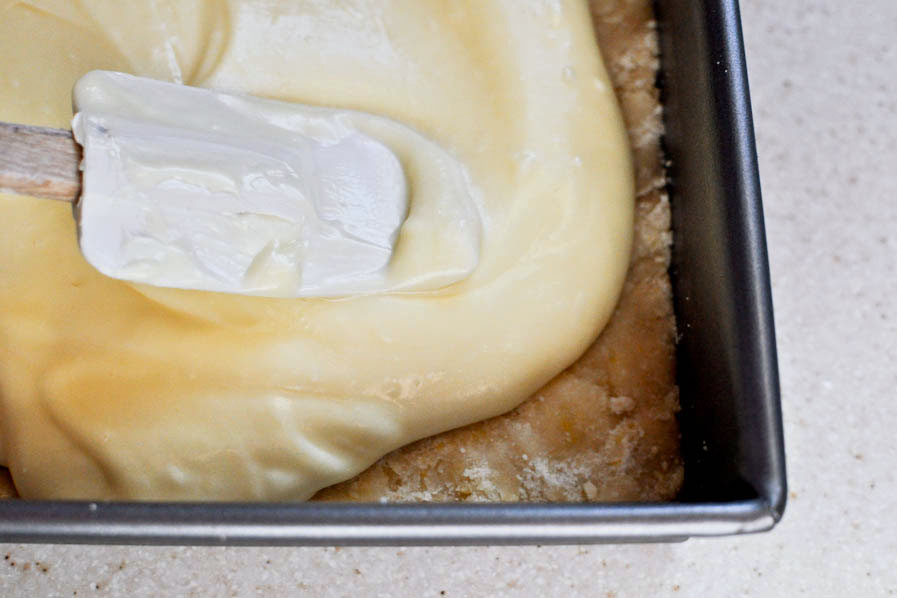 Smooth it with a spatula.
Then pop it into the oven for 45 minutes. While it's baking, ask your husband to clean the kitchen while you relax on the couch. Baking is hard work!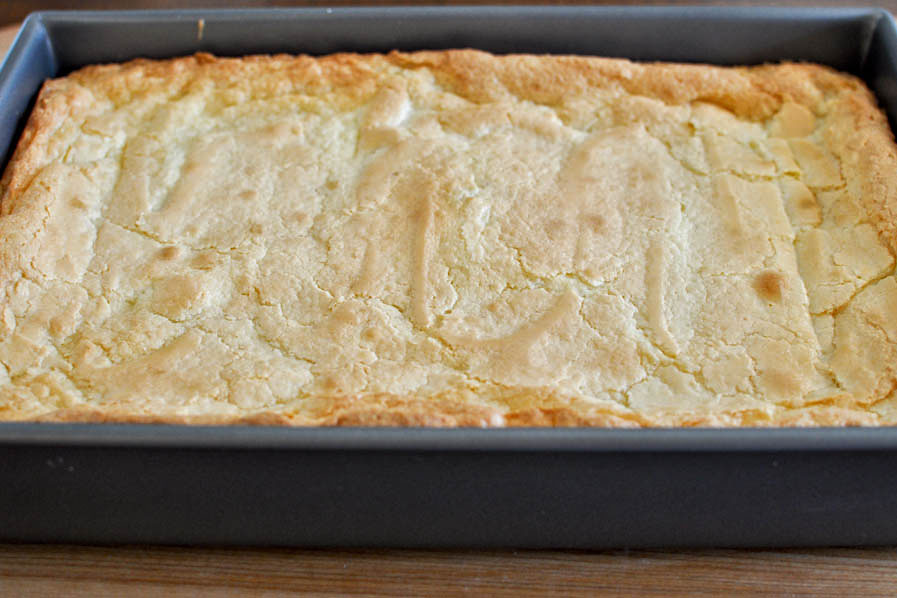 After 45 excruciating minutes with the scent of buttery goodness wafting through your house, remove the cake from the oven. You want to make sure that the outside is golden and the middle still jiggles a little bit.
But don't cut it yet. You must suffer and watch this cake cool for a full 30 minutes. Put it out of your eyesight. Munch on some celery. You will be glad you ate vegetables after having three consecutive pieces of cake. Trust me. In the meantime, don't sweat it if the middle of your cake falls a bit. I made this cake twice already and it fell a bit each time. It certainly doesn't affect the deliciousness.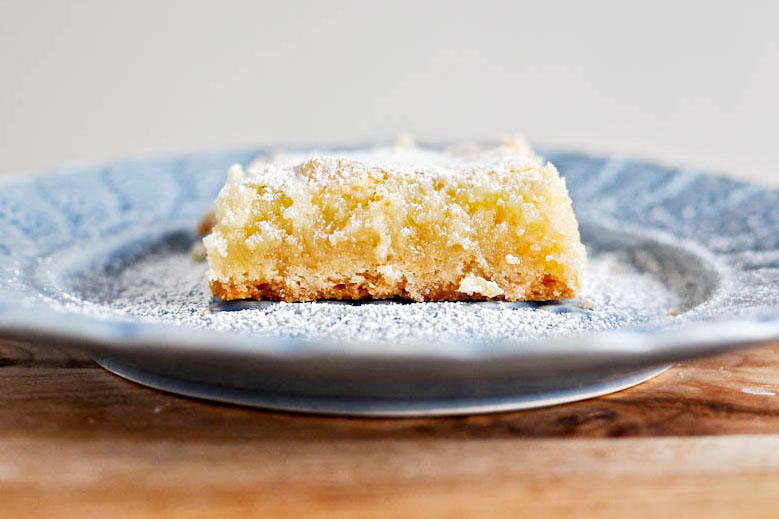 Luckily, the wait is worth every second.
Could the title be anymore perfect? Gooey and buttery, for sure. And the crunchy, crackled top is the icing on the cake.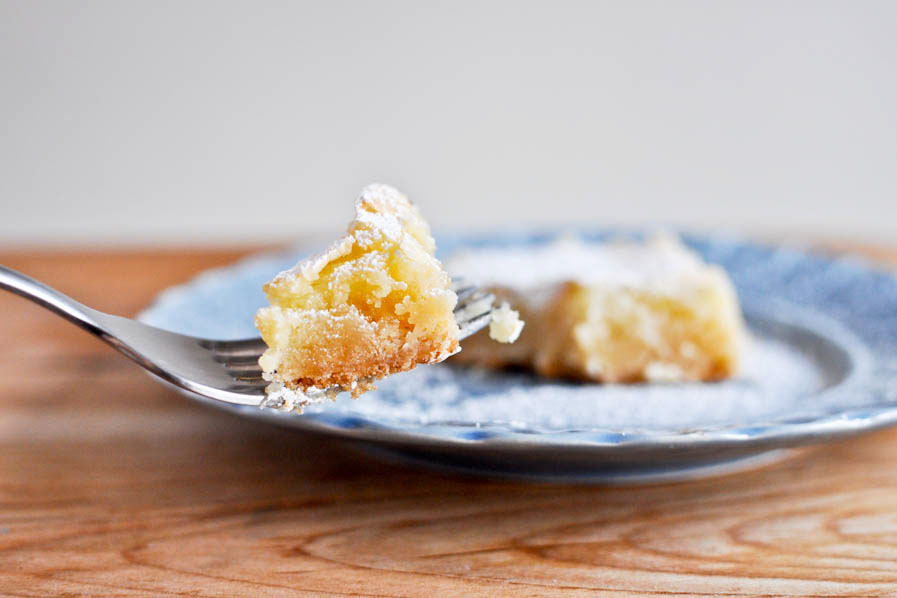 At first glance, the cake seemed to be a bit naked. I thought it deserved a topping of some sort.
But after the first bite, I knew it could stand on its own. It is extremely rich and decadent. The sprinkling of powdered sugar on top is perfect.
Thank you to The Newlywed Chefs for the incredible recipe and for expanding my waistline. This is now one of my go-to desserts!
Note: I also used My Favorite Yellow Cake from sweetebakes to replace the boxed cake mix in the original recipe. If you want to do the same, just use the flour, sugar, baking powder and salt measurements. Then add in 1/4 cup milk when the Gooey Butter Cake crust is moistened and just about ready to be transferred to the baking dish.
Printable Recipe
See post on The Newlywed Chefs's site!
Description
This recipe was given to us by our dear friend, Allison Pautler. Allison and Whitney are childhood friends, and this recipe was one that they would make together at sleepovers. Yes, it's that easy. A St. Louis tradition, Gooey Butter Cake is typically served for breakfast but really, it's good any time of day, and also doubles as a great dessert!
Ingredients
FOR THE CRUST:
1 package (18.25 Oz. Box) Plain Yellow Cake Mix
1 stick Unsalted Butter, melted
1 whole Egg
FOR THE FILLING:
8 ounces, weight Cream Cheese, At Room Temperature
2 whole Eggs
1 teaspoon Pure Vanilla Extract
1 stick Unsalted Butter, melted
3-¾ cups Confectioners Sugar
Preparation Instructions
Preheat oven to 350°. Prepare crust first. In a large mixing bowl, combine the crust ingredients with a wooden spoon until moist. Transfer to a 13″x9″ ungreased baking pan and spread evenly over the bottom of the pan. Set aside.
Next, prepare the filling. In a large mixing bowl, beat cream cheese with an electric mixer until fluffy. Add the eggs, vanilla, and melted butter, and continue to mix. Next, add the confectioner's sugar one cup at a time until all sugar is mixed in. Pour filling over the crust, and spread evenly with a spatula.
Bake gooey butter cake for 40-45 minutes until it is browned, but the center is still jiggles when the pan is shaken. Cool for 30 minutes. Sprinkle with additional confectioner's sugar and serve.
Printable Recipe
See post on sweetebakes's site!
Description
I found this recipe a while back and has now become my go-to yellow cake recipe. Because oil is used instead of butter, the recipe yields an extremely moist, not too sweet yellow cake perfect for any occasion! It can be easily used as a base for other flavors of cake as well.
Ingredients
2 cups Sugar
1 cup Oil
1 teaspoon Vanilla Extract
4 whole Eggs
2-½ cups All-purpose Flour
2 teaspoons Baking Powder
½ teaspoons Salt
¾ cups Milk
4 Tablespoons Sour Cream
Preparation Instructions
Preheat oven to 350 degrees.
Beat sugar, oil, and vanilla extract.
Beat in eggs one at a time.
Whisk flour, baking powder and salt.
Add to the sugar mixture, alternating between flour mixture and milk/sour cream. Mix until combined.
Transfer to the oven and bake for 35 minutes or until an inserted toothpick comes out clean.
Frost with 'The Best Frosting I've Ever Had."


_______________________________________
Jessica Merchant is a personal trainer turned food writer and blogger. Her blog, How Sweet Eats, is where she proclaims her love for all things sweet, all things bacon, and everything else in between. She works her magic in her Pittsburgh kitchen, which she shares with her husband of 2 years.