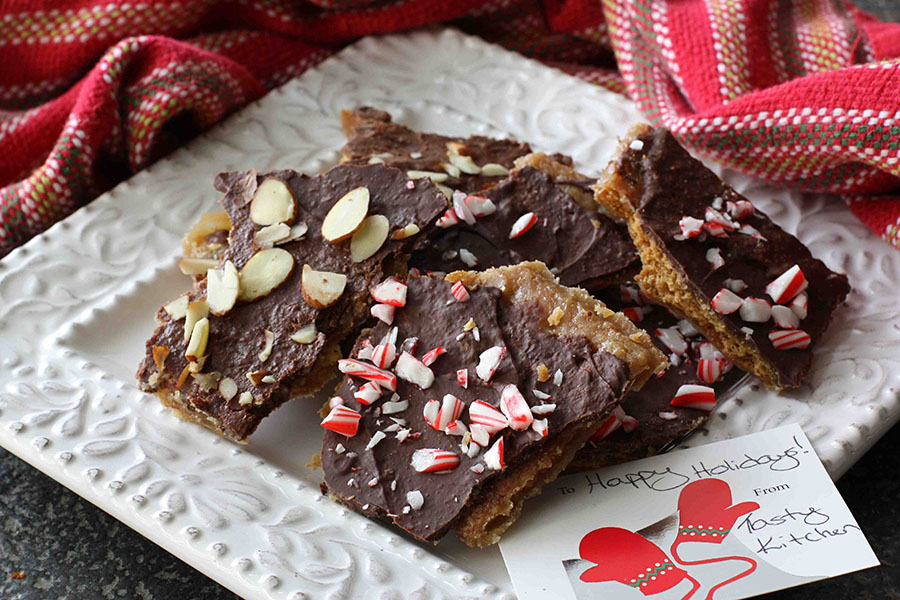 Every year at this time, I grapple with the decision of what holiday treat to give my neighbors. The first year we were married—you know, when I was young, ambitious, and naïve—I made a loaf of our favorite zucchini bread for every neighbor. About ten hours into the process and pounds of zucchini later, my holiday spirit was sucked dry and the joyful Christmas carols I had been singing were replaced by depressing 80s pop songs (think "Everybody Hurts" by REM). It was a scene straight out of The Grinch. My heart was at least four sizes too small.
The candy cane-striped lining of this dark snow cloud was that I learned that it is truly the thought that counts. Plus, simplicity is key. Every year since then, I have sought out recipes that take little time and effort, and do not cost a fortune to make. That is where these treats by marathea come in. Drenched in rich caramel and a layer of chocolate, these Graham Cracker Cookie Bars come together in a flash, and are filled with all the flavors of the holidays. I am happy to report that my heart grew five sizes once I tasted these.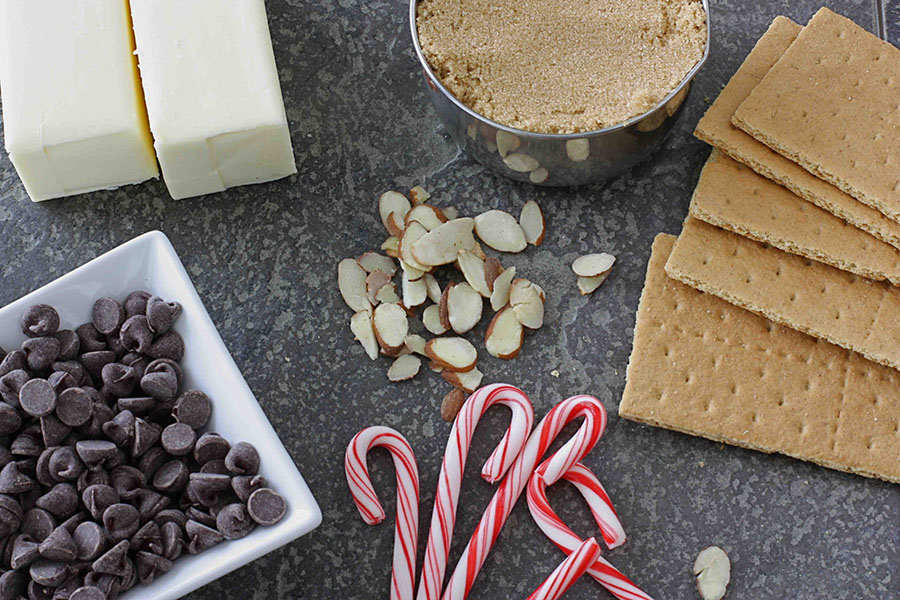 In the recipe posted on Tasty Kitchen, marathea tops these treats with slivered almonds. I decided to experiment with candy cane pieces as well. Really, the possibilities are endless. You could try hazelnuts, pistachios, pretzel bits (for that salty-sweet combo), or even dried fruit. Whatever you try, I guarantee that you will not be disappointed.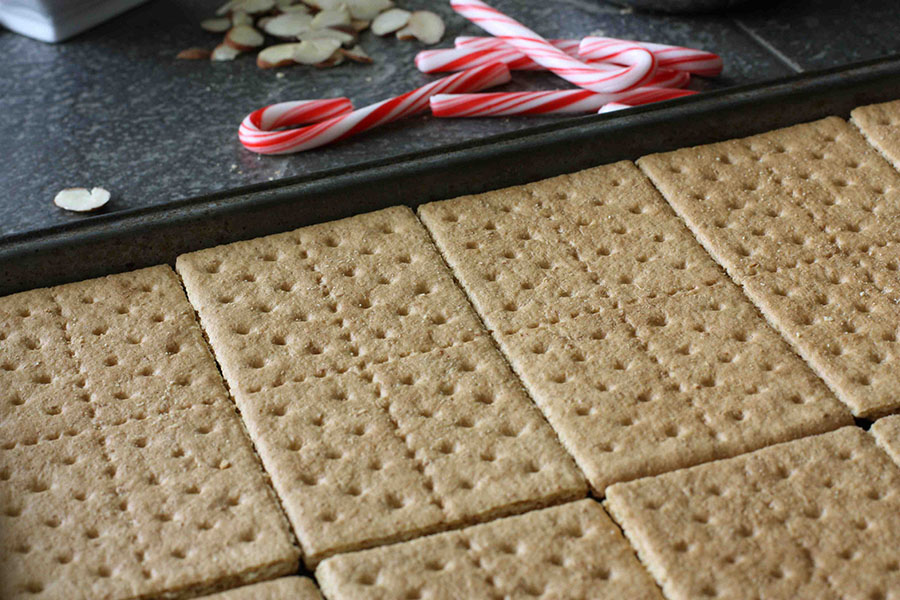 Preheat oven to 350 degrees F.
Line a 11- by 15-inch cookie sheet with graham crackers. There will be a little bit of space left at the end of the pan. That space will later be filled with runaway caramel, which you can peel off and eat in privacy. Or is that just me?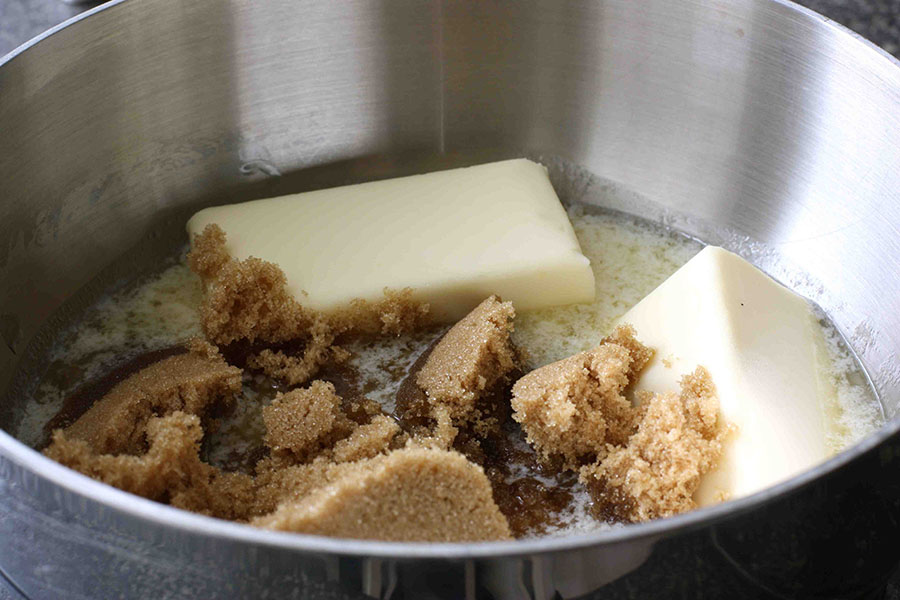 In a medium saucepan set over medium-low heat, combine brown sugar and butter.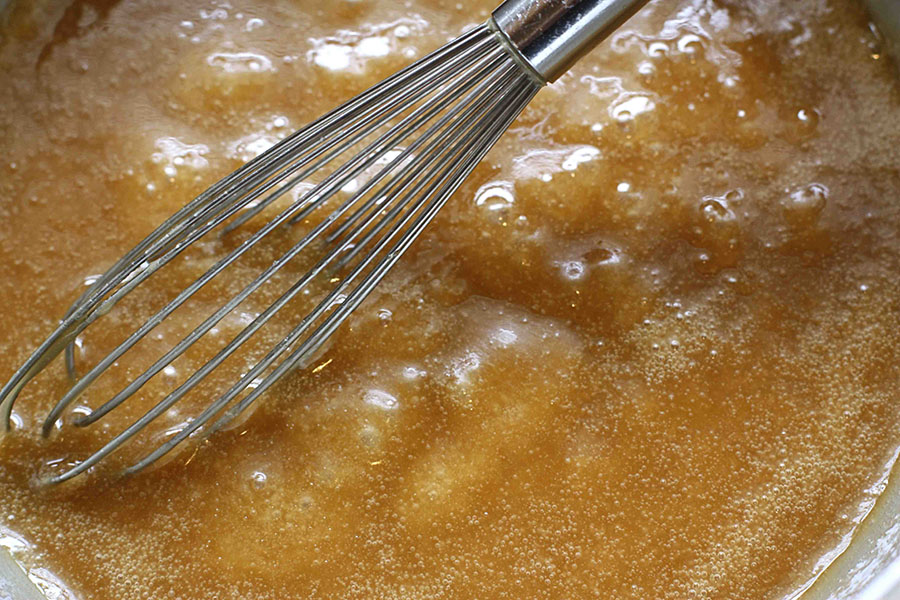 Melt, stirring constantly, and bring to a gentle boil. Turn the heat to low and cook for 5 minutes, stirring constantly. If bubbles are not coming to the surface, increase the heat slightly.
Oh yeah, now that's what holiday baking is all about.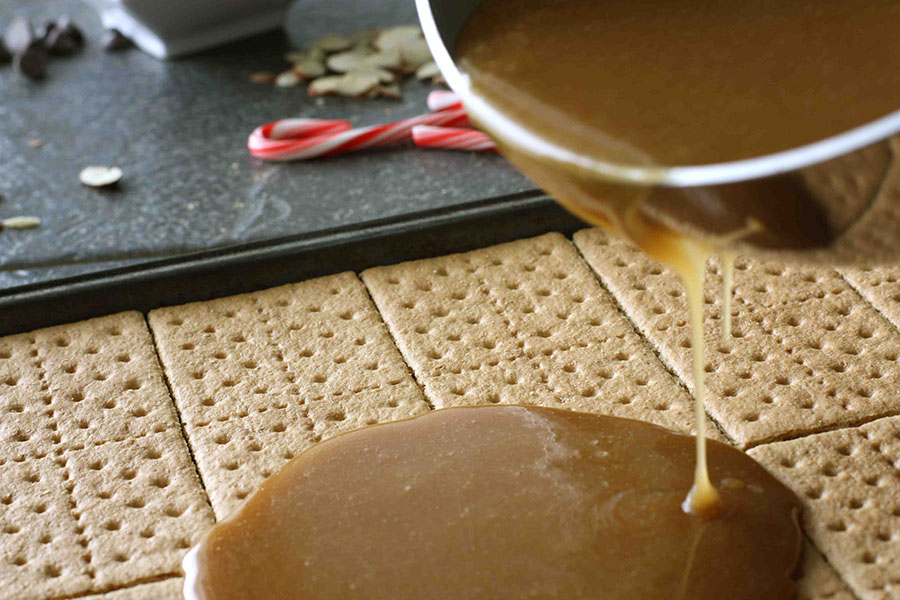 Pour the mixture over the graham crackers. Be careful—this is hot caramel and, believe me, pouring it on any part of your skin will ruin your holiday spirit faster than you can say, "Humbug."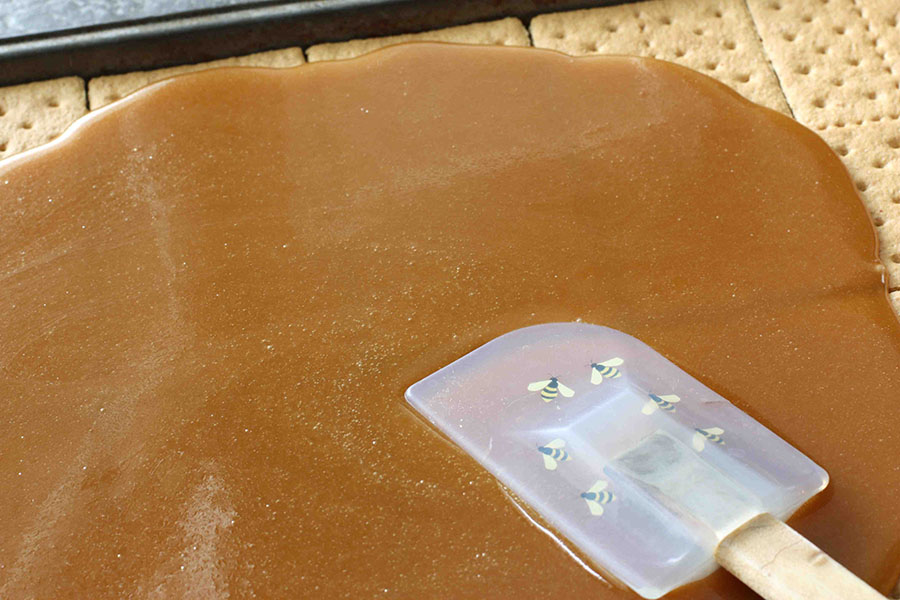 Spread the mixture evenly over the graham crackers.
Bake for 7 minutes. Don't worry if the mixture is bubbling up while baking. That just means you are developing a richer caramel flavor. That is all good.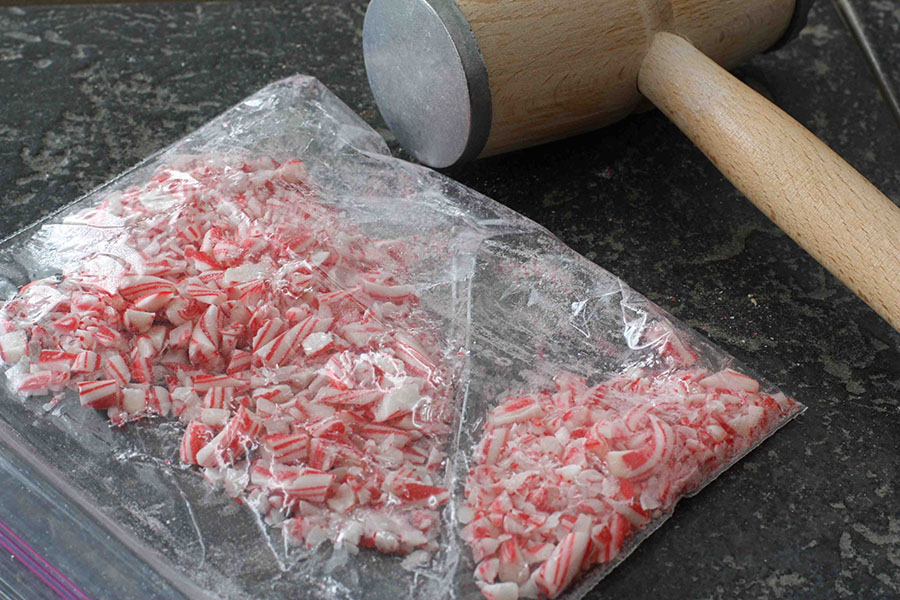 While the graham crackers are baking, put 4 mini candy canes in a small resealable plastic bag and smash with a mallet or rolling pin. Get out all of that aggression so you can avoid the holiday road rage later. Your family will thank you.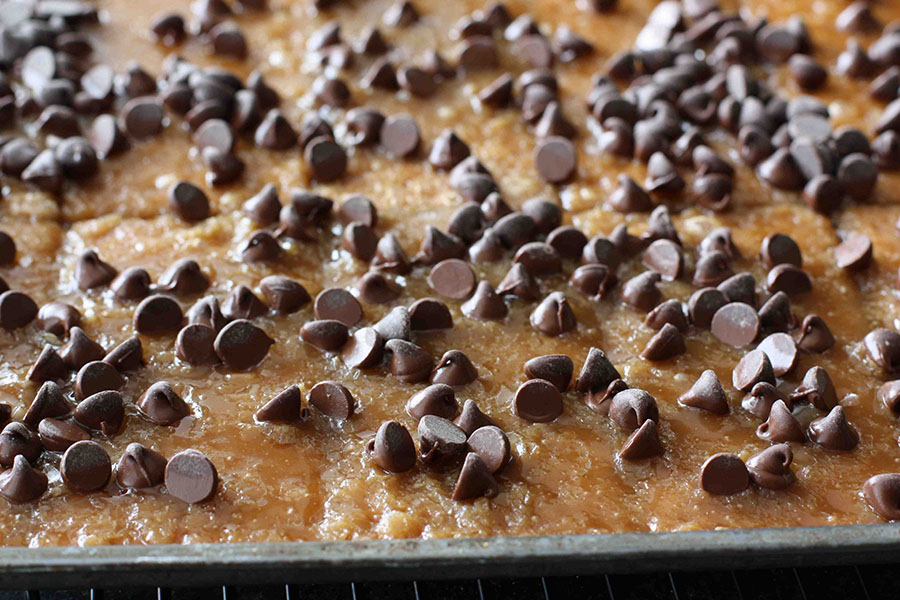 Sprinkle chocolate chips over the hot caramel and let sit for 1 minute to allow the chocolate chips to melt slightly.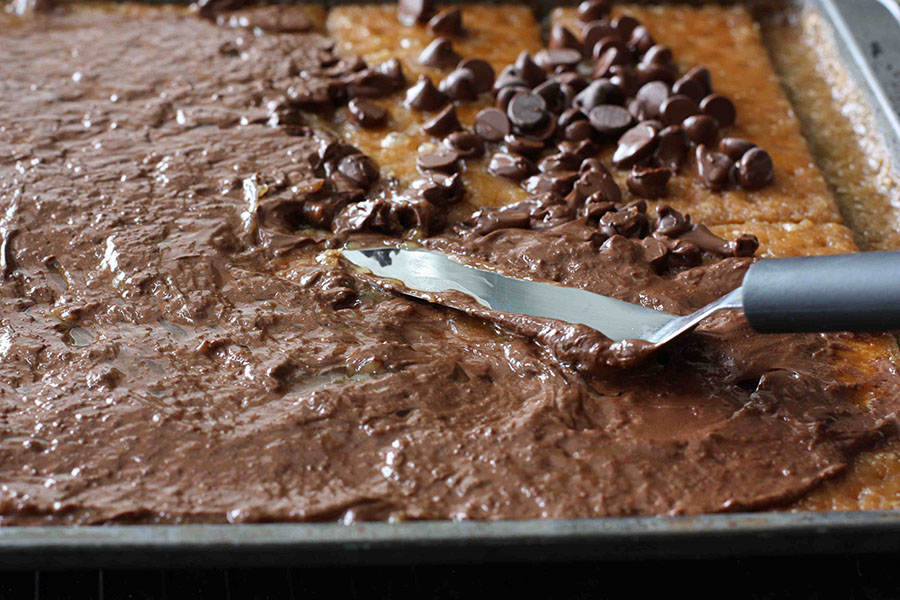 Using an offset or rubber spatula, spread the soft chocolate chips over the caramel layer.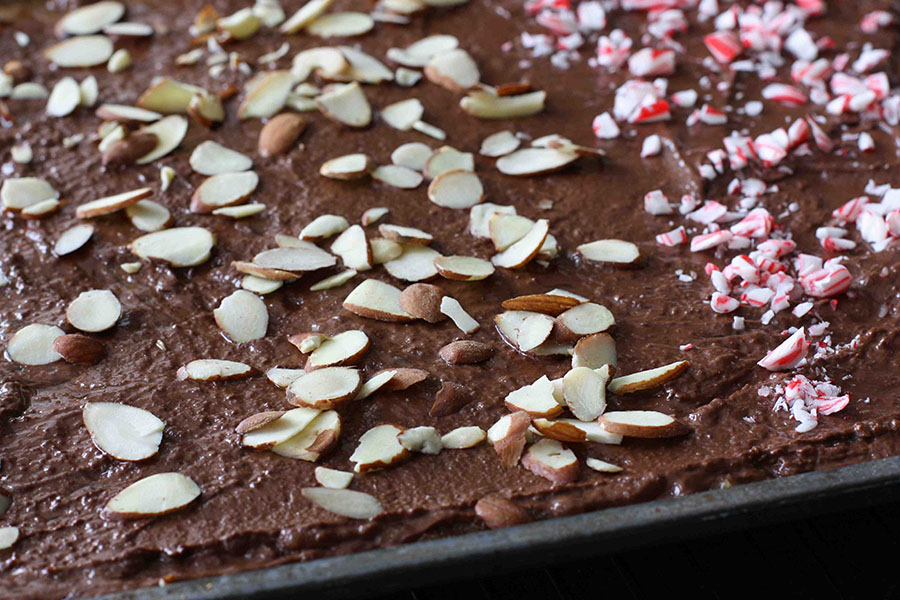 Sprinkle nuts or candy canes over the chocolate. Or you could do half and half. Or you could sprinkle pretzels over top. The possibilities are endless.
Place the cookie sheet in the fridge and cool for about 20 minutes. If the cookie sheet is still hot, place it on a rack in the fridge. Break into pieces and serve or store in an airtight container.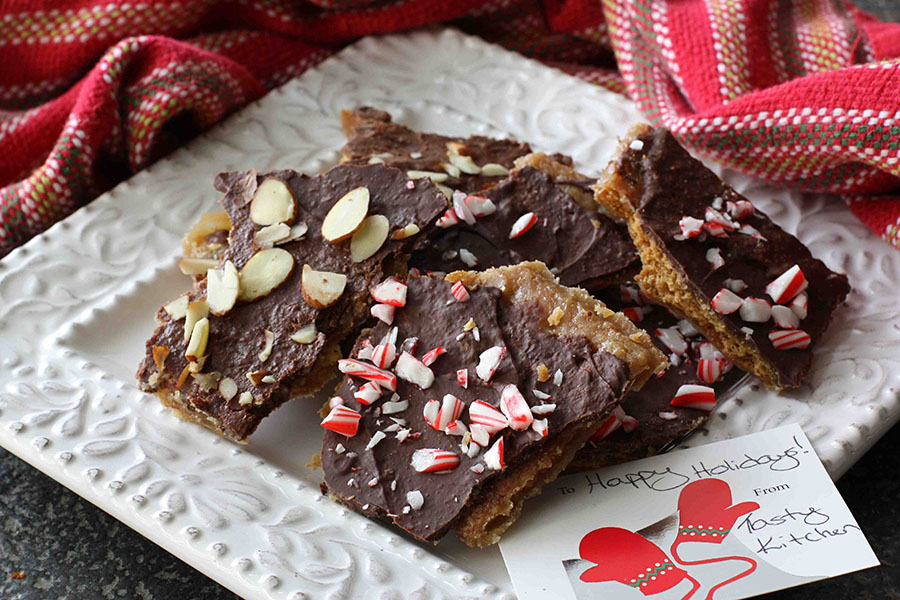 Thank you to margaretha for this wonderful holiday treat.
Printable Recipe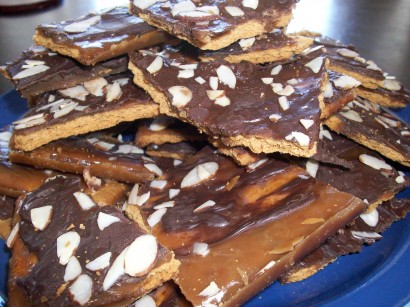 Description
Super easy, super yummy bars. Perfect to wrap up in a cellophane bundle and hand out as little treats. Great with a cup of coffee. And so quick to make.
Ingredients
1 package (10 To 12 Pieces In A Package) Graham Crackers
2 sticks Butter
1 cup Brown Sugar
1 cup Chocolate Chips
½ cups Slivered Or Sliced Almonds
Preparation Instructions
Line an 11×15 inch cookie sheet with whole crackers. It will fill up pretty much the whole space. Use as many whole crackers as you need to fill the space.
Mix butter and brown sugar in a pan to boil. Stir for 5 minutes while boiling on low.
Spread the butter/sugar mixture over the crackers and bake at 350 degrees for 7 minutes. Sprinkle with chocolate chips and nuts when it comes out of the oven. Cool for 10-20 minutes in the fridge.
Break into pieces.
Alternative: After sprinkling with chocolate chips, let the chocolate melt for a minute, then spread it out over the caramel, then sprinkle the nuts. This is what I did on the ones photographed.


_______________________________________
Dara Michalski is a doll and a sweetheart who clearly knows her way around the kitchen. She blogs at Cookin' Canuck, where she shares her flavor-packed recipes and fun, engaging writing. The photography's pretty incredible, too.