Just in time for Labor Day, we'd like to sharing this fabulous bunch of grilling recipes from Tasty Kitchen. There are some magnificent jewels in here!
(Republished from May 2010.)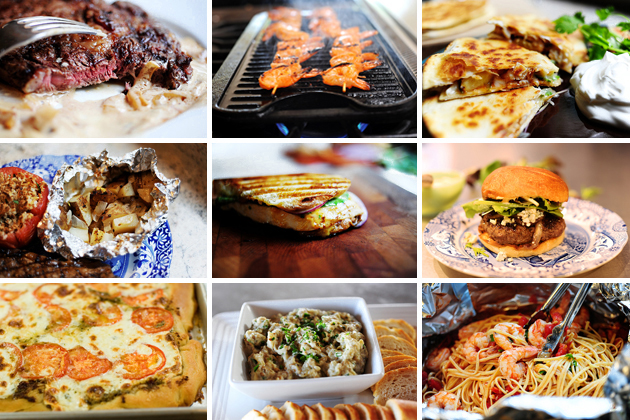 I thought about asking you to guess what today's theme is just by looking at the collection of some of Ree's recipes above. But then I realized that the title might—just might—give it away.
I'm smart.
This weekend is Laborl Day weekend, and as is customary for most warm weather holiday weekends, lots of folks will be breaking out the grill. Grilled food has that lovely, smoky flavor enhanced by those little charred bits, and it can make even a plain ol' burger or hotdog taste special. But of course, why stick to plain and old when you have a wealth of choices like we do here at Tasty Kitchen. Let's look at some of them, shall we?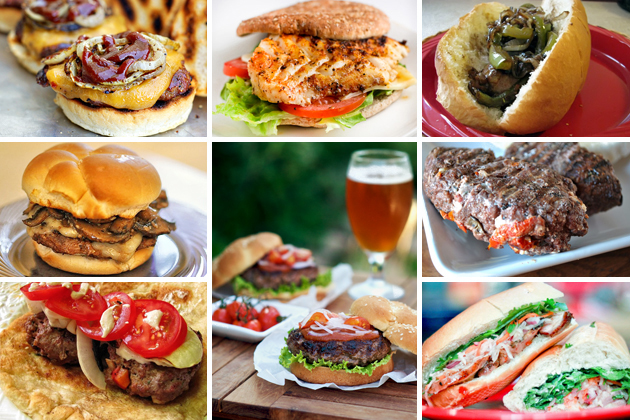 Clockwise from top left: Western BBQ Burgers from patiodaddio, Grouper Sandwich from big2beautiful, Brooklyn Style Sausage and Peppers from calou84523, Greek Burgers from meeshiesmom, Vietnamese Sandwich – Bánh Mì from nancyvnjourney that features grilled pork, Ultimate Umami Burger from whiteonricecouple, Losh Kebab (Armenian Style Lamb Burgers) from jennifera, and Garlic Parmesan Shroom Burgers from julie23.


Of course, the grill isn't just for burger-style sandwiches. Jaden, for example, loves her Grilled Lobster with Garlic Butter Sauce. And believe me, if lobsters are in your horizon, do try her recipe. It's all kinds of amazing. Or if you prefer chicken, lamb, pork, or even salmon, maybe one of the recipes below has your name on it.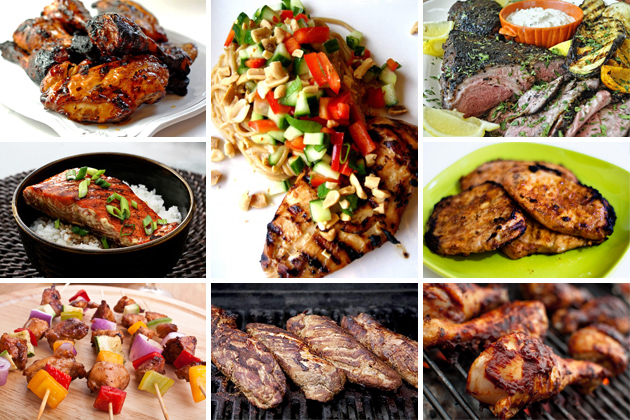 Clockwise from top left: Candy Chicken from Chez Us, Spicy Chicken Peanut Noodles from gitskt, Tandoori-Spiced Grilled Butterflied Lamb from ThreeManyCooks, Southwest Summer Pork Chops from Karly Campbell, Grilled Chipotle Chicken from lifesambrosia, Audrey's Pork Tenderloin from julip1882, Charcoal-Grilled Chicken Kebabs from bethanderson, and Grilled Teriyaki Salmon from savorysweetlife.


One thing I've come to realize about grilling is that, while the meat or vegetable being grilled is the star of the show, the marinade or seasoning can sometimes be just as essential. Or sometimes, it's the sauce that you serve on the side that really brings it all together. Offer your guests a choice of sauces, and just like that, you add instant variety to the meal with minimal effort.

I raided our Condiments category to find some great spice rubs, marinades, and sauces. I even found cosibar's Chocolate Spice Rub for Ribeye Steaks, which gives you an excuse to grill chocolate. Here are a few others you might want to try.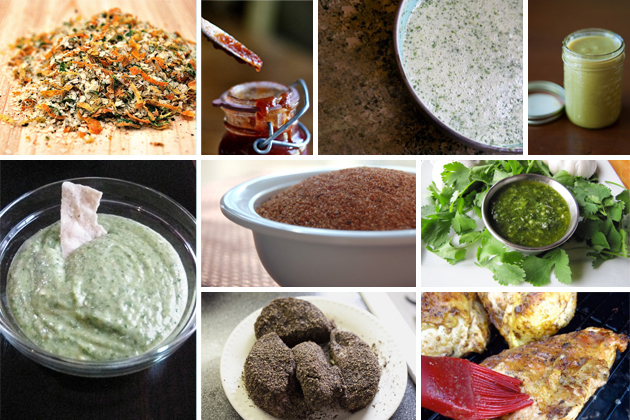 Top row, left to right: Smoky Citrus Seasoning from patiodaddio, Smoky BBQ Sauce from ericalea, Thai Marinade from cilantrolime, aka Beth, and Jalapeno Tequila Lime Hot Sauce from paxye. Bottom left: Cilantro-Lime Chimichurri with Avocado from erinmcb33. Middle row, center to right: All-Purpose BBQ Seasoning from patiodaddio and Chimichurri Sauce from missinthekitchen. Bottom row, center to right: Kona Crusted Steak from julip1882 and Chicken Marinade from oneordinaryday.

Don't forget one of our most popular marinades, the Firehall Steak Marinade (Works on Chicken, Too!) from themomdept. Many members have tried and loved it!

How about some appetizers, snacks, and sides to go along with your lovely entrees? Here are some options that—you guessed it—are also made on the grill. Hey, I'm serious about keeping you out of the kitchen! Unless, of course, your grill is in your kitchen. Then I would have failed miserably.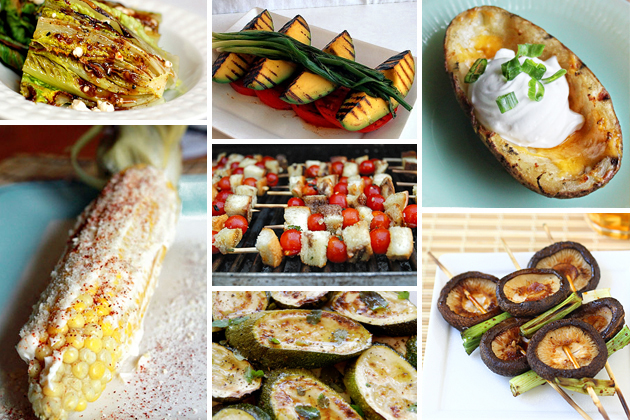 Left column, top to bottom: Grilled Salad from patiodaddio and Mexican Corn from daxphillips. Center column, top to bottom: Grilled Guacamole Salad from culinarysherpas, Grilled Cherry Tomato and Bread Skewers from steamykitchen, and Marinated Zucchini from Bindi. Right column, top to bottom: Grilled Loaded Potato Skins from Dana (The Homesteading Housewife) and Shiitake Mushroom Yakitori from fujimama.


Finally, this wouldn't be a Tasty Kitchen post without rounding out the meal with dessert. Oh yes, I'm serious. Dessert on the grill? You betcha.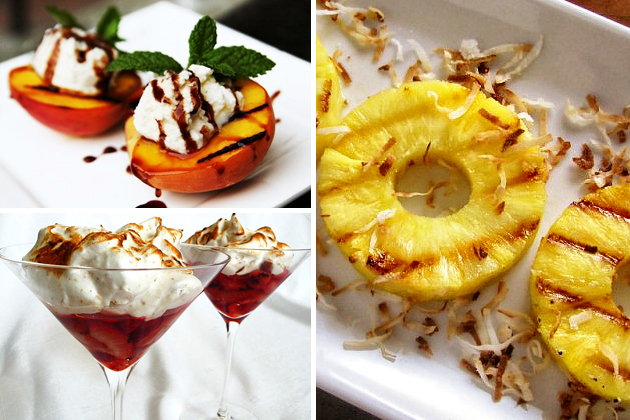 Clockwise from top left: Grilled Peaches with Ricotta Cheese and Balsamic Reduction from savorysweetlife, Grilled Pineapple with Toasted Coconut and Lime from HowSweetEats, and Grilled Strawberries with Gingersnap Meringue from cookincanuck.

And you thought I was kidding, too.

So what are your plans this upcoming weekend? Will you be putting the backyard grill to use like many of us? What's your favorite thing to make on the grill? Do share, because as we all know, Fire plus Food equals Good. Very, very good.