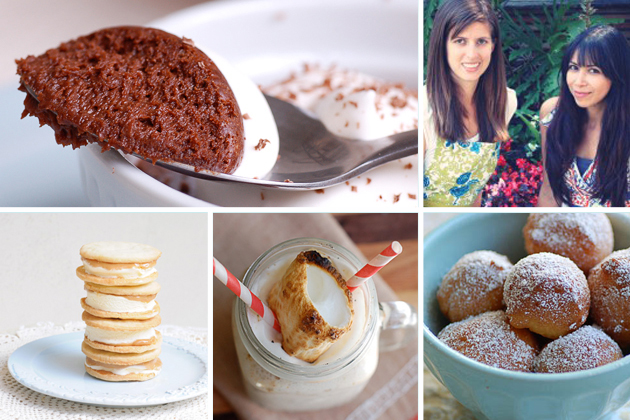 Today is a bonus day for us, because we'll all get to meet two lovely ladies: Adrianna and Caroline. They're the ones behind those incredibly mouthwatering recipes you see above, and together, they make A Cozy Kitchen.
Adrianna and Caroline met in film school at the North Carolina School of the Arts. "It was there," they say, "in the depths of a depressing cafeteria, that we realized we had a love for food and cooking." Both currently based in Los Angeles, their blog A Cozy Kitchen is a vast collection of recipes that range from pure comfort, elegantly simple, creatively exotic, and just about everything in between.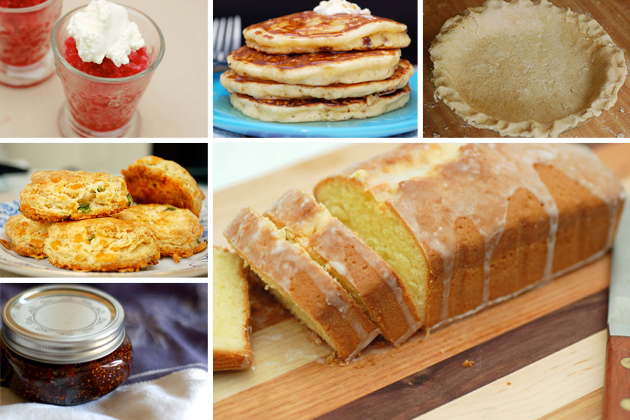 Clockwise from top left: Blood Orange Granita with Whipped Cream, Maple Bacon Pancakes, Cream Cheese Pie Crust, Lemon Olive Oil Pound Cake, Fig Cinnamon Jam, and Buttermilk Cheddar Jalapeno Biscuits.



They make a wonderful team because they seem to have just the right balance of shared tastes. When pressed for time, Adrianna's snack of choice is bananas dipped in Nutella. Caroline's secret (well, not so secret anymore) favorite food combo? Nutella on saltine crackers. They both need to have stock or broth always on hand. Caroline is Italian and can whip up a pasta dish in no time, and Adrianna? She loves to eat raw pasta. Which sort of counts as a pasta dish in no time too, right?
As much as they have in common, there are other things, too, that set them apart. For one, Caroline is (mostly) meat-free. Her favorite ingredients are typical Italian basics, like garlic, lemon, tomatoes, and cheese. Adrianna, on the other hand, loves salty and sweet, and confesses to eating those maple bacon pancakes above for dinner. I don't blame her, but then again, neither would I pass up a chance to have any of their dinner recipes below.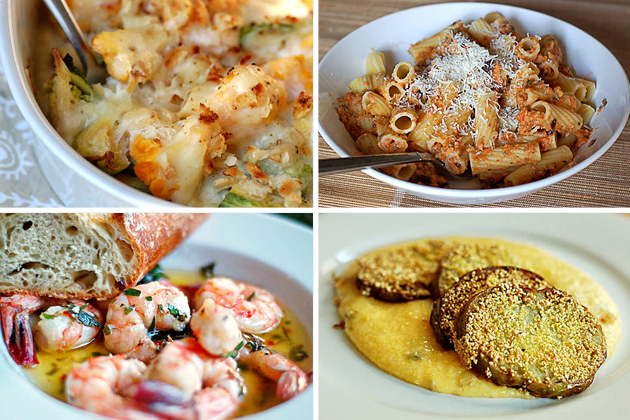 Clockwise from top left: Cauliflower and Brussels Sprout Gratin, Rigatoni with Eggplant Puree, Fried Green Tomatoes with Jalapeno Cheese Grits, and Shrimp Scampi.



If you're in the mood for a snack, they've got that covered too. From corn dogs to simple sandwiches to an amazingly delicious twist to regular popcorn, I wouldn't miss the Nutella if I could enjoy any one of these snacks instead.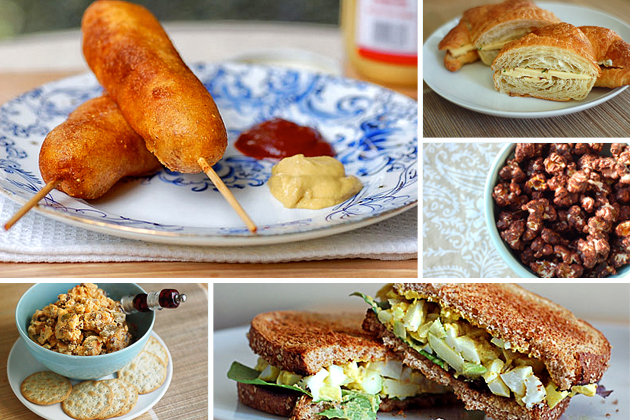 Clockwise from top left: Homemade Corn Dogs, Smoked Gouda Croissant with Tarragon Mayonnaise, Chocolate Popcorn with Sea Salt, Curry Egg Salad Sandwich, and Mom's Holiday Cheese Dip.



Their recipe box is packed with so many wonderful recipes, and that includes drinks. Strawberry basil spritz? Check. Sangria? Check. Watermelon Limeade? Check. Toasted marshmallow milkshake? Oh yeah.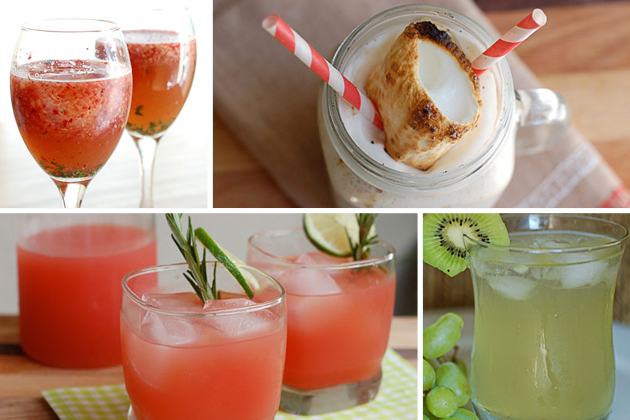 Clockwise from top left: Strawberry Balsamic Basil Spritzer, Stand's Toasted Marshmallow Milkshake, White Kiwi-Apple Sangria, and Watermelon Limeade.



Caroline says that she loves using cooking as a creative outlet, in the same way that painters or musicians use their art. "Except of course," she adds, "I get to eat my results, and that's really awesome." For Adrianna, being able to "marry a few ingredients together and create a unique, shared experience with people you love" is what she enjoys most about cooking. I would like to go on record and say that, in my book, the collection of recipes below easily qualifies as high art, and that if they make these and share them with me, I will love them forever and ever.
And ever.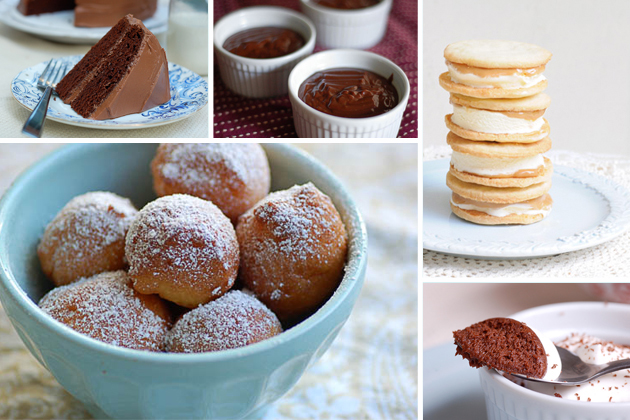 Clockwise from top left: Chocolate Mayonnaise Cake, Coconut Chocolate Pudding, Dulce de Leche Ice Cream Sandwiches, Salted Caramel Chocolate Mousse, and Vanilla Ricotta Doughnuts.



I'm going to stop right here because I need to go fan myself with something big. Like maybe a vat of that mousse.
In the meantime, I'll let Adrianna and Caroline take over for a moment while I recover. You're on, ladies!


Q: Any favorite chefs or food celebrities? Who inspires you?
Adrianna: My dad is a great cook who's like this mad scientist in the kitchen; he's always experimenting with things like his own puff pastry and French bread. I think his yearning to learn new techniques and skills in the kitchen is pretty inspiring.
Caroline: Well, my mom is the best cook I know, and a lot of my favorite memories from childhood revolve around the amazing food that used to come out of her kitchen. As for celebrities, my absolute favorites are Giada De Laurentiis and Ina Garten. Both use very simple ingredients and techniques to produce sophisticated and extraordinary meals. They make good food accessible to anyone, which is exactly how it should be.

Q: What is your go-to dish or meal?
Adrianna: My go-to meal is pasta that's cooked like risotto. I learned the technique from Mark Bittman a while back and it's super quick and easy. I can make it in 20 minutes tops and throw any random things that I have in my fridge in the dish. It's awesome!
Caroline: Pasta with homemade tomato sauce. I could probably eat this once a day and never get tired of it. I'm a McGyver of tomato sauce; give me a can of tomatoes and a few pantry ingredients and I can always come up with some tasty.

Q: Do you have a memorable kitchen disaster?
Adrianna: Making soufflés. I tried to make a coffee almond soufflé last year and failed miserably. Souffles have the ability to put me in tears, but I keep telling myself I'm going to master them one of these days.
Caroline: It isn't actually my flop, but the most memorable one is when my fiancée tried to make mac and cheese and forgot to cook the pasta first. It's still one of my favorite stories to tell. As for me, I've forgotten to check something in the oven and burned it black, or gotten halfway through a recipe before realizing that I skipped a step or am missing an ingredient, but there are almost too many incidents to pinpoint just one.

Q: Is there anything else that gives you trouble in the kitchen?
Adrianna: Making custards can be quite tricky. I feel like I have it down now, but there were a few times where I made milky scrambled eggs. Yuck!
Caroline: I'm probably the only vegetarian that can't cook tofu. In fact, I have meat-eating friends who cook tofu better than I can. Not sure what my issue with it is, but nowadays I've given up trying and just avoid cooking it.

Q: Okay, enough of kitchen troubles. Let's end on a high note! Give us one of your favorite kitchen tips that you wish you'd always known.
Adrianna: I wish I always knew the secret to searing scallops or a piece of fish. The cardinal rule: never use frozen scallops or fish. If you do, make sure they're super dry. That ensures you'll get that beautiful, caramelized crust.
Caroline: I wish someone had told me that recipes are meant to be a general guidelines, not set-in-stone rules. It isn't important that you sauté the garlic for precisely 60 seconds, and a recipe isn't lost if it calls for a 15 oz. can and you only have a 14.5 oz. one. Once you become familiar with ingredients and with your own taste, it's easy to improvise and adjust recipes as you cook.
_______________________________________

Thank you both for taking the time to answer our questions!

If you're looking for inspiration or just need a reason to stare at all kinds of scrumptious food, head to A Cozy Kitchen to see all the incredible recipes that Adrianna and Caroline have posted. From breakfast fare to vegetarian and non-vegetarian dishes, appetizers, and decadent desserts, there's sure to be something there for everyone. The photography is simply gorgeous too, so you might want to keep a fan handy. I'm still using mine.