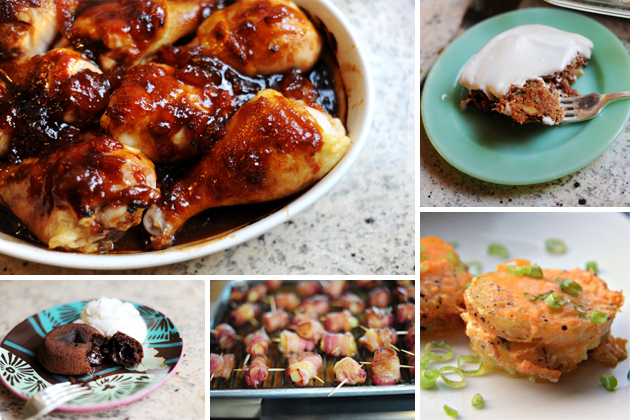 Clockwise from top left: Hot & Sweet Drumsticks from Teri L., Pineapple Zucchini Sheet Cake with Cream Cheese Frosting from lindainmo, Individual Scalloped Potatoes from The Noshery, Bacon Wrapped Pineapple Bites! from wendydarling, and Molten Chocolate Cake from brandielle.

(Cue my preppy Casey Kasem radio voice.) It's the Tasty Kitchen Top 40! Okay, maybe give or take a couple. Or 12.

This week, we'll be doing something a little different than our usual theme posts. Since all the ratings and reviews have been reset after our latest wonderful and important change, we thought we'd do a quick rundown of the most popular and top-rated recipes before the reset. It'll hopefully help remind you of some of the wonderful recipes that you've rated before, and give you a chance to go back in and give them the props they deserve.

These are in no particular order, and are simply the recipes that were the most-rated and the highest rated B.C. (that's Before the Change). Of course, some have gotten a nice bump because they were mentioned over at Ree's little cooking blog. Those are the ones you see in the top image . But we've got lots more. And you know, looking through the list is like getting a neat little snapshot of the kinds of dishes y'all have been loving the most. It's quite revealing, actually. I even considered trying to draw some CSI-type of profile based on the entries, but I was too distracted by the yummy-looking photos. So I had some chocolate truffles instead.

I thought the best way to do this recipe countdown would be to divide them up by food groups. In other words, appetizers, dessert, sides, soup, main courses, and breakfast.

(Clearly, I need to go back and take another health class.)

Let's start with appetizers. I was surprised to find two entries that were both little ham sandwiches. Which I interpret as a sign that you like delicious and cute food. Just look at the yumminess overload below.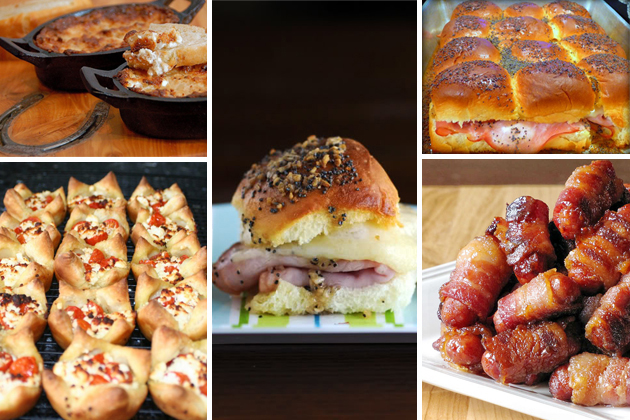 On the left, from top to bottom: Baked Sweet Onion Dip from whiteonricecouple and Tapenade Tarts/Pesto Tarts from lshanahan. Center: Oven Ham Sammies from dineanddish. On the right, from top to bottom: Mini Ham and Swiss Party Rolls from tidymom and Bacon-Wrapped Li'l Smokies in a Brown Sugar and Maple Glaze from Cooking Ventures.


It also appears that you like breakfast food, particularly pancakes and French toast. The three recipes below were also in the top-rated list.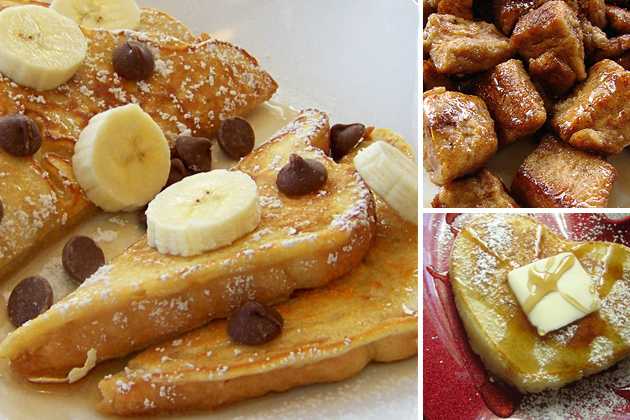 Clockwise from left: Fluffy French Toast from Siggy Spice, French Toast Bites from crystalcozykitchen, and Papa's Buttermilk Pancakes from Emily.


Soups were big, too. Hearty, rib-sticking soups that could be the star of a meal. There were five of them that you liked best.
Clockwise from top left: Spicy Tuscan Soup from iamcaressa, Fully Loaded Baked Potato Soup from Annalise, Chicken Enchilada Soup from realmomkitchen, and The Cheater's Guide to Homemade Chicken and Noodles from Noshings. Not pictured: Baked Potato Soup from Calamity Anne.


For main courses, the diversity of your tastes showed, with top picks that had influences from Asian, Italian, and good ol' American cuisines. (There was also a very highly rated Slow Cooker French Dip from Megan that's simply delicious and ridiculously easy. It's not in the collage because it had no photo, but that didn't stop more than 25 members from giving it an average rating of 4.89 mitts.)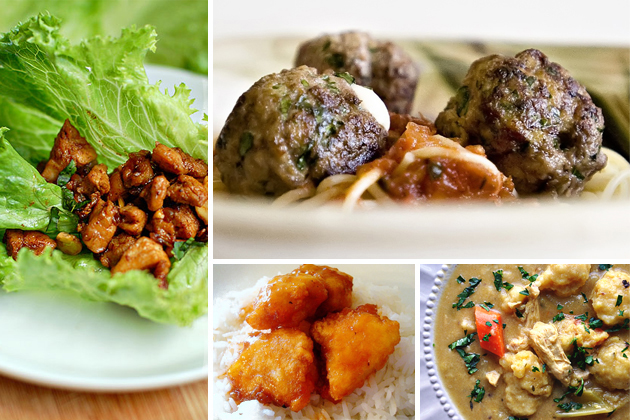 Clockwise from left: Chicken Cashew Lettuce Wraps from missamy, Mozzarella Stuffed Meatballs from Angela [YourEverydayMama], Chicken and Dumplings from theparsleythief, and Sweet and Sour Chicken from Melanie.


We also had a few recipes for sides that made it to the list, and one for a steak marinade (Firehall Steak Marinade from themomdept) that works great for chicken, too.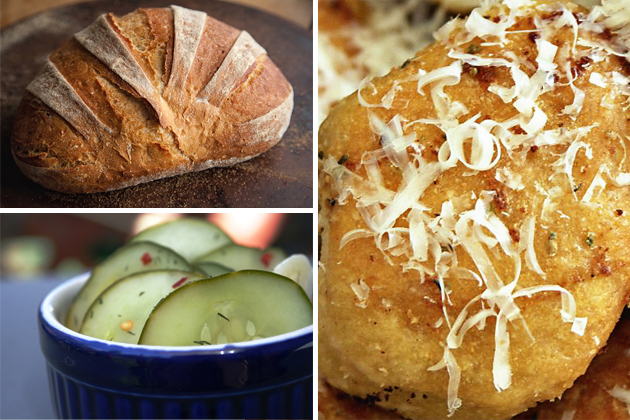 Clockwise from top left: Boule from ivoryhut, Garlic Butter Crusty Bubble Bread from Rebecca, and Garlic Fridge Pickles from mixerstar.


But of course, I wasn't surprised to see quite a few desserts in the countdown. In fact, maybe the surprise was that they didn't overwhelmingly dominate the list. Here are the dessert stars.
On the left, from top to bottom: Chocolate Chip Cookie Dough Truffles from loveandoliveoil and Oreo Balls from Calamity Anne. Middle column, from top to bottom: Mini Maple Chocolate Chip Pancake Muffins and Cream Cheese Pound Cake both from Bakerella, and Perfect Snickerdoodles from Megan. On the right, from top to bottom: Red Velvet Cake Balls from Bakerella (yes, she's that good!) and Death by Chocolate from bringingupboys.


And there you have it! That was our quick rundown of the most-rated and highest-rated recipes B.C. You might notice that I left out the recipes that have been featured here at the Tasty Kitchen Blog, which have all been generously rated as well. If you've tried any of those and want to review them, feel free to browse the Tasty Recipe archive and pick them out from there. Each post will always have a link to the original recipe on Tasty Kitchen. I do recommend waiting until after you've eaten before going through the archive. It's a dangerous place for empty tummies.

Do you have any favorite recipes that you know other members have tried and loved? Go ahead and give them a shout-out in the comments below!

Until next time, this is Erika signing off, reminding you to keep your feet on the ground, and keep reaching for the flour.

(If you're too young to get that reference, I might cry.)