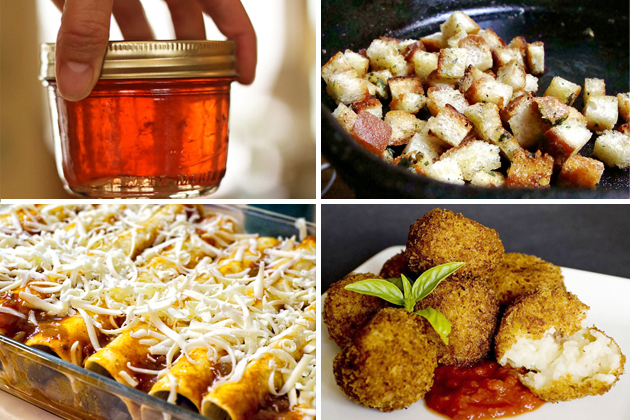 This week, we'll do a bit of a twist on a spring theme. For many people, spring is not only the time for flowers and vegetables and fruits to start coming alive again, but it's also the time to dust winter off our shoulders and tackle that annual routine of spring cleaning. The sweaters and heavy jackets are put away, closets and attics and basements and bookshelves are cleared, and the warmer weather seems to empower us with newfound energy to do it all.
For the life of me, I never could figure out how we can end up getting rid of so much stuff every year. Where did all these things come from? Didn't we just throw out a bunch of things last spring? Sometimes I wonder if my house is a bottomless pit. Or a "stuff" magnet. Do you ever get that same feeling?
Today, however, we'll talk about a different kind of spring cleaning. The yummy kind. Because we've all got things in our fruit basket, bread box, refrigerator, pantry, and cupboard that somehow get left behind. The remnants or neglected ones that, if we don't do something about them soon, might very well start walking away on their own. And if you're like me and cringe at the thought of wasted food, then get ready for all the incredible ideas that Tasty Kitchen members have shared that may just make you start planning to have leftovers!
Let's begin with the photo above. If you've got any apples past their prime (maybe they've got some brown spots, are quirkily irregular in shape, or you made some pie and have a bunch of cores and peels), jemnenke shares a wonderful Apple Rosemary Jelly that doesn't even use pectin. If you have old bread, one of the classic ways to use it is to make croutons, and jenniferperillo's Parmesan Skillet Croutons will make a delicious addition to your salad. Got some leftover risotto sitting in the refrigerator? Make some Arancini from Angela [YourEverydayMama] and turn dinner into the next day's snack item! Or if you're looking for ideas to use up some canned beans and spaghetti sauce sitting in your cupboard, Super Veggie Vegan Enchiladas from Jessica can take care of that.
Let's get back to cleaning out that refrigerator for a moment. We all saw the wonderful idea that Jaden shared using leftover Easter ham in last week's post, and in the photo below, you'll see cookincanuck's take on leftover ham, with her Tarragon Crepes with Ham, Asparagus and Mascarpone Cheese. Or if it's some extra chicken that's languishing in there, Annalise has an awesome Slow Cooker Lemony Chicken Noodle Soup that also makes use of any leftover parmesan cheese rinds! Or throw together an Easy Veggie Ramen from foodwoolf, using ham, pork, beef, chicken, turkey, or whatever kind of meat you might have on hand. If it's bags of frozen vegetables that you want to put to good use, try lizzygoesdutch's Vegetarian Pot Pie below and make a hearty, healthy meal out of it. And since turkey is often the star of many big gatherings, try some Turkey and Stuffing Scallop from julip1882 the next time you find yourself looking for things to do with leftover turkey and stuffing. (Oh, and it works with chicken, too.)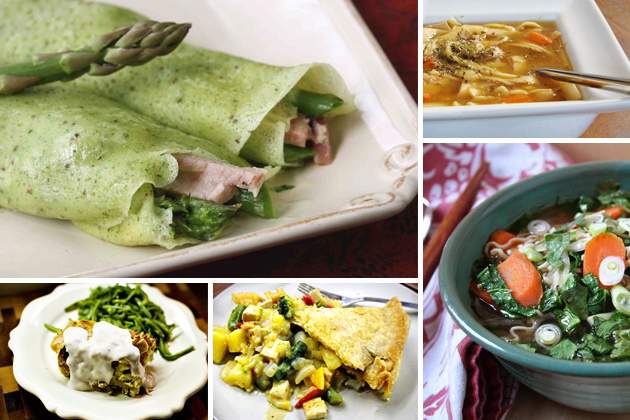 If you're like me, you've probably already done the "make a pizza using leftovers as the toppings" trick a few times. But what if it's just regular non-leftover pizza night at your house, and you end up with extra slices and toppings the next day? If you've also got a lone pie crust hoping to be used soon, then throw together the Leftover Pizza Quiche from jodiecoston seen in the photo below (top left). If you've got old rice, try steamykitchen's delicious Tomato and Egg Fried Rice. Or try bell'alimento's Thursday Night Rice, which uses both leftover risotto and macaroni.
If it's your vegetable bin that you'd like to empty, fire up a wok or skillet and make Ree's Easy Monday Night Stir Fry, or some clever little Mini Vegetable Frittatas from whatsgabycooking. Got some herbs that need a home? The Homity Pie from thingswemake seen below can take them in. Or if you still have some wickedly spicy habaneros from the time you had to buy a whole pack just to use one or two, then make this Sweet and Spicy Habanero Jam from Jessica, which would really kick up your sandwiches!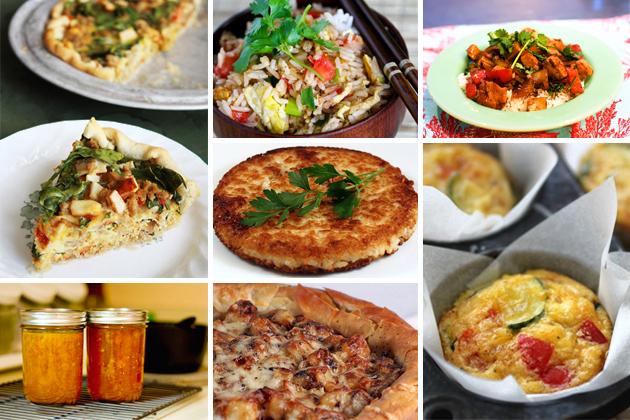 Now let's head to the cupboard where you keep your baking supplies. If you've got a little bit of this and a little bit of that in terms of grains, oats, nuts, dried fruit, baking chips and other add-ins, you can try mixing them all up to make a batch of mybakingaddiction's Homemade Granola like you see on the left in the photo below. Or make ivoryhut's Leftover Cookies and throw in all those little handfuls of leftover crunchies. If granola is actually what you have left over, then bake up some Granola Blueberry Muffiins from A Cozy Kitchen or throw them into Hyacinth's Everything Cookies posted by Ree. Believe me, those things are amazing.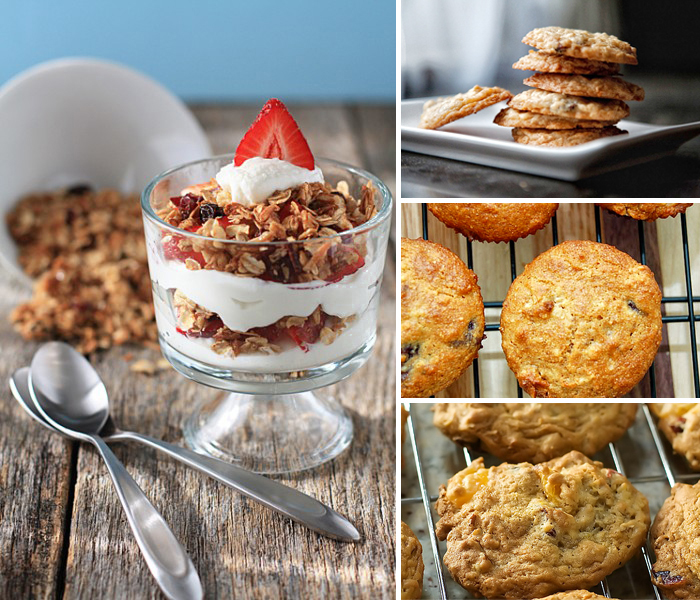 And those are just some of the great ideas I found for leftovers here at Tasty Kitchen! They all look so good that no one can tell they're actually rescue missions in disguise. So the next time you … what? You want just a few more? Maybe something with chocolate?

Okay. Just for you, let's do a few more. Maybe some Chocolate Chip Jam Bars from Tracy (sugarcrafter) that will help you use up that bottle of jam or jelly, or a Chocolate Bread and Butter Pudding from Bindi in case you don't want to make croutons with your leftover bread. Or if it's your fruit basket that needs attention, Cindy has some Petite Fruit Tarts that can empty it out in one afternoon.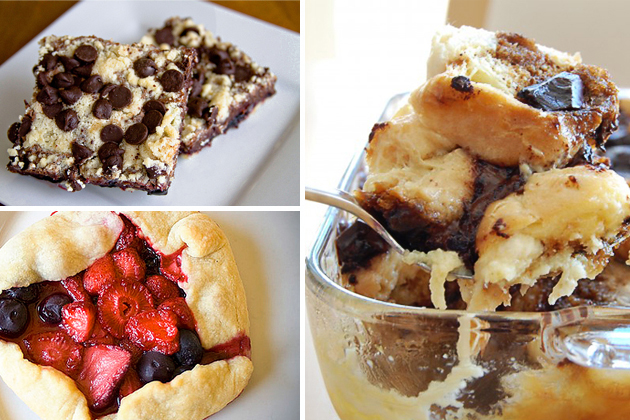 There you go! I hope these showed you some new ways to make kitchen spring cleaning more interesting and delicious. Plus, it helps us all save money and expand our kitchen repertoire at the same time. It's a win-win!

Now we want to hear from you. What's your take on leftovers? Do you try your best to cook just enough to never ever have leftovers? Or do you look forward to creating new dishes with what you have on hand? Do you have any favorite leftover tricks? Do share!