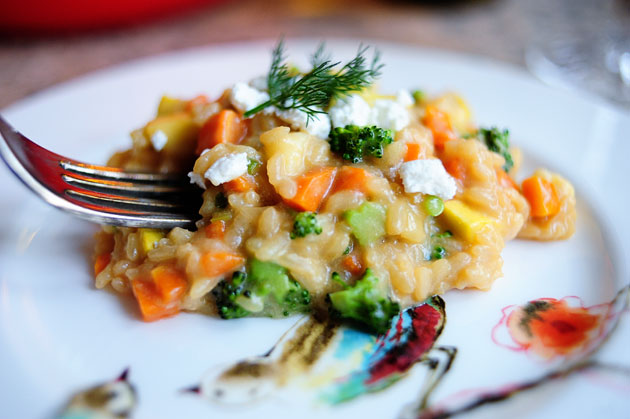 Ah, finally. Spring has sprung, at least for many of our members. It's the season when we say goodbye to winter coats, snow shovels, and early sunsets, and start saying hello to those green things coming up from the ground, the sound of birds chirping, and rain showers instead of snow.
The advent of spring also means some of our favorite fruits and vegetables come into season. It's when those young leaves and shoots of edible plants start emerging from the ground, and eventually end up in our plates as "field greens" or "spring mix."
One of the lovely vegetables that enjoy their peak season in spring is asparagus. Did you know that a serving of asparagus (1 cup) will give you 114% of your recommended daily allowance of vitamin K? It's also loaded with folate, and vitamins A and C. We've got a wealth of recipes here that make use of this wonderful vegetable, so now that it's in season, why not give some of these a try?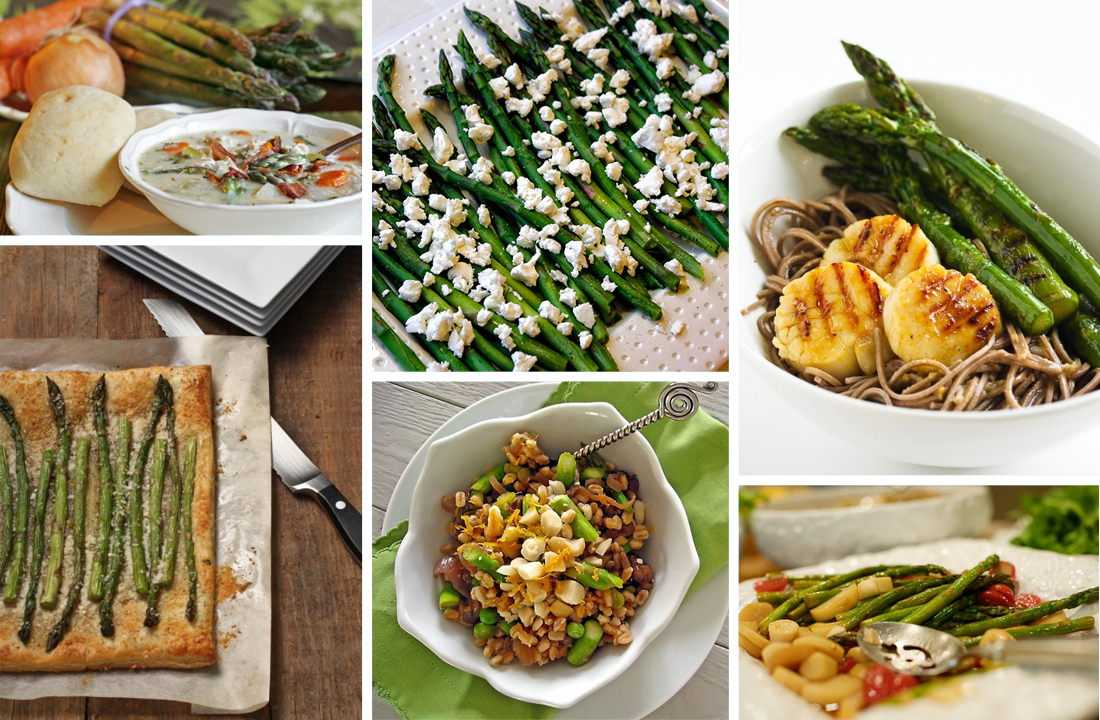 Clockwise from top left: Creamy Chicken Asparagus Soup from taracooks, Asparagus with Goat Cheese Dressing from whatmegansmaking, Soba Noodles with Grilled Sea Scallops and Asparagus from steamykitchen, Patsy's Marinated Asparagus and Hearts of Palm posted by Ree, Meyer Lemon-Scented Farro and Asparagus Salad from activefoodie, and a beautiful Asparagus, Gruyere and Parmesan Tart from whatsgabycooking.

Of course, there are a lot of other vegetables also coming into their peak during spring. Like artichokes, which are high in fiber, calcium, potassium, iron, and phosphorous. They're multitaskers, and they look pretty, too. Fennel is another one that really loves the spring, and it's loaded with antioxidants. Vidalia onions and radishes are also at their sweetest and crunchiest in the spring, as well as new potatoes, peas, and beautiful greens like crisp lettuce and arugula.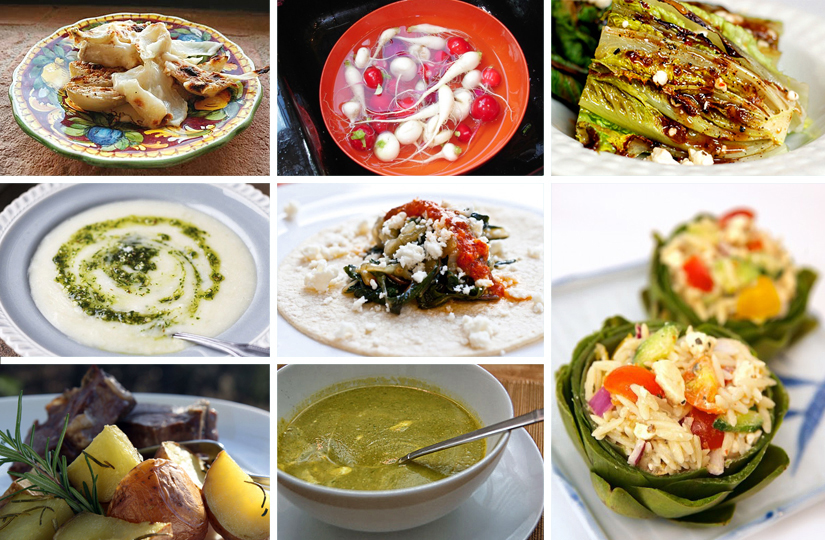 Top row, from left to right: Fennel in Bechamel Sauce with Parmesan Cheese, Radish Pickles from muskegharpy, and Grilled Salad from patiodaddio. Middle row, from left to right: Potato Parmesan Soup with Parsley-Fennel Pesto from runningwithtweezers, Swiss Chard and Caramelized Onion Tacos from ashleyrodriguez, and Artichokes with Orzo Salad from wynk52. Bottom row, from left to right: Lamb Chops and New Potatoes from bell'alimento, and Arugula Soup with Goat Cheese from A Cozy Kitchen.

Of course, with the abundance of the spring harvest, we don't have to limit ourselves to featuring just one or two vegetables in a dish. After all, the dish named after the season, Risotto Primavera (in the photo at the top of this post), has all the lovely fresh vegetables of spring in it. So why not go on a true "spring mix" spree and combine all your favorites in one dish, whether it be in a salad, soup, or a nice hearty casserole?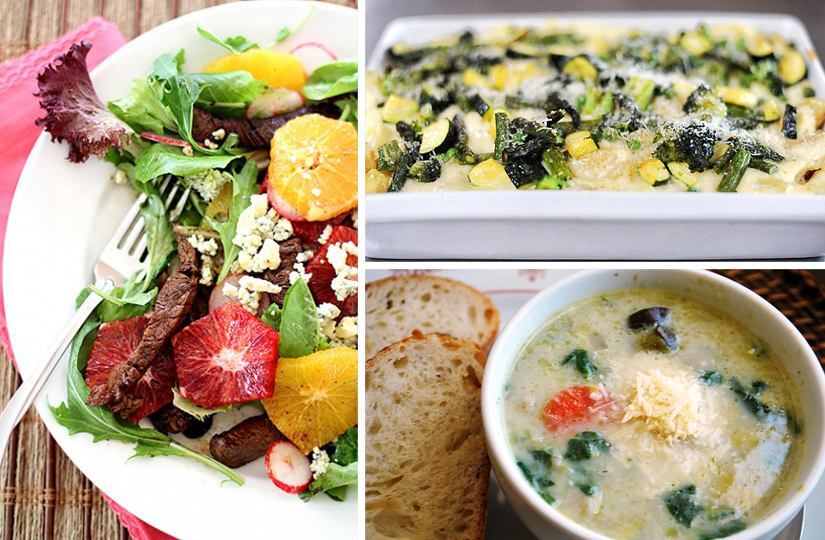 Clockwise from left: Mixed Greens with Oranges and Balsamic Steak from goodlifeeats (hint: now would be a good time to grab some navel oranges, because they're ending their season right about now), those wonderful Springy Shells from Ree, and a creamy French Spring Soup from barefootbelle.

Aside from vegetables, spring also ushers in the season for some lovely fruits, like strawberries. We've got tons of recipes here using strawberries, and not just as dessert items. There's a delicious Fresh Strawberry Vinaigrette from butterbean, and a refreshing Strawberry Salad with Spicy Pecans from callimakesdo.

I'll also mention strawberry's usual partner rhubarb here, although rhubarb is technically a vegetable. But they like each other and play together all the time, so who am I to separate them?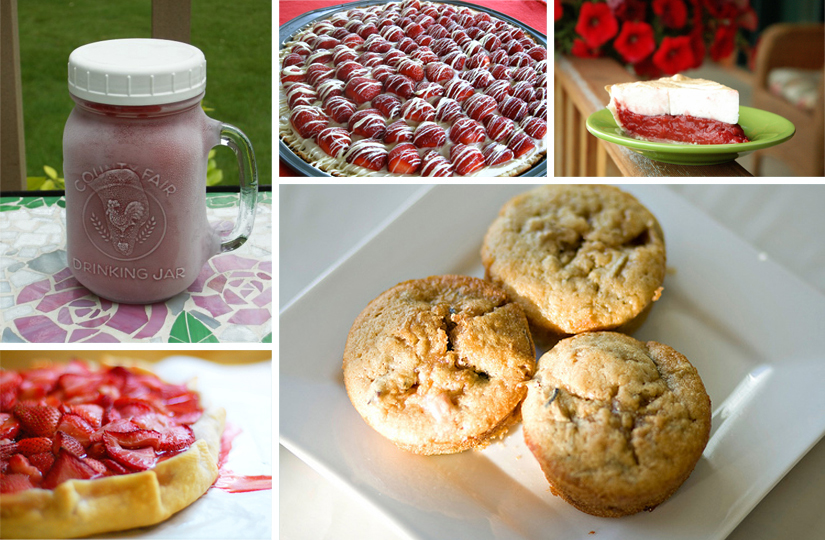 Clockwise from top left: Strawberry Rhubarb Freezer Jam from kathyingreendale, an impressive-looking Strawberry Pizza from oneordinaryday, a beautiful Strawberry Meringue Pie (Lovebird Pie) from Farmer Gal, wonderful Rhubarb Ginger Peach Muffins from Tracy (Sugarcrafter), and an elegant Strawberry Crostada from Karly Campbell.

There are so many things to look forward to now that spring is here! Of course, the specific vegetables and fruits that come into season around this time will really depend on where you live. So tell us! What are you looking forward to cooking in the coming weeks? Do you have any favorite ingredients that are just coming into season? Or maybe there's that one special dish that just reminds you of spring and makes your heart sing. We'd love to hear from you!

In the meantime, I'll leave you with a few more strawberry recipes that can help you celebrate the new season. To me, nothing says "finally, some warm weather!" quite like a refreshing drink, or a frozen treat. Here are some of my favorites.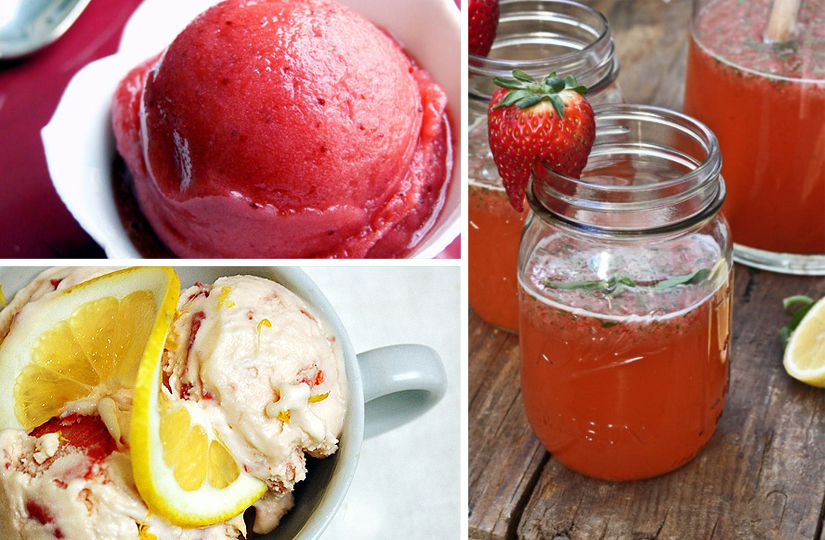 Clockwise from top left: An irresistible ButterYum's Strawberry Sorbet from, you guessed it, ButterYum, a thirst-quenching Strawberry Basil Lemonade from whatsgabycooking, and a tantalizing Meyer Lemon Strawberry Ice Cream from Dandy.

I hope you enjoy the season, wherever you may be. Happy Spring everyone!