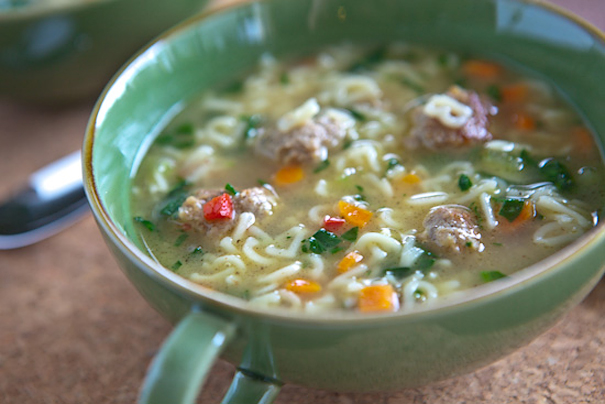 One of my dreams is to write a children's cookbook. One that doesn't promote sneaking brussels sprouts in brownies or spending an hour carving a bunny rabbit out of an apple. Not that I don't think it's cute, but I just don't have an hour to play with an exacto knife on my vegetables and fruit.
So how do I get my kids to eat vegetables? Most of the time it's easy, as long as the vegetable is a "not-tomato." And I'll confess that one of my tricks is to cut the vegetables so small that it's too much of a bother for them to pick them out one by one.
You see, my kids are hungry and impatient just like me, and I sure know how to work it.
With a soup like this, my kids are so preoccupied with spelling silly words like "poopypants" and "gyarwk" (Nathan doesn't quite know how to spell yet) that they really don't notice or mind the vegetables.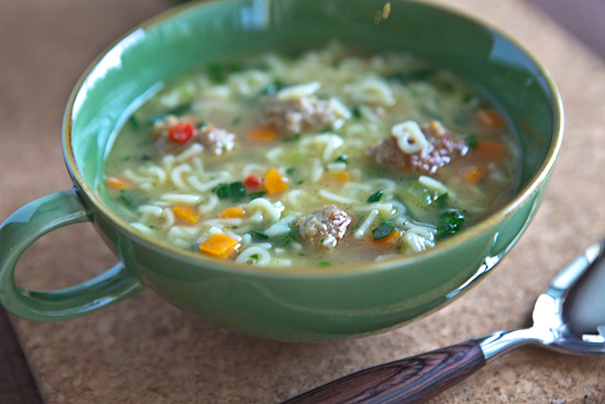 These meatballs are made out of ground turkey, and are shaped into teensy tiny-sized "boulders," perfect for kiddy mouths.
My assistant, Shelisa, whipped together this soup for my kids while I was frantically arranging and rearranging Japanese mushrooms for a client photoshoot.
Here's the recipe for the ABC Meatball Soup.
How do you get your kids to eat and enjoy their vegetables?
Printable Recipe
See post on steamykitchen's site!
Description
Combining fun, the chance to spell silly words, and vegetables cut so small that it's too much work to pick them out, this soup is one of the ways I get my kids to eat and enjoy their vegetables.
Ingredients
½ pounds Dry ABC-shaped Pasta
4 ounces, weight Fresh Baby Spinach, Chopped
2 Tablespoons Olive Oil, Divided
_____
FOR THE TURKEY MEATBALLS:
½ pounds Ground Turkey
½ teaspoons Kosher Salt
Freshly Ground Pepper, to taste
¼ cups Breadcrumbs
1 whole Egg
¼ teaspoons Poultry Seasoning
_____
FOR THE SOUP:
1 whole Carrot, Diced
1 stalk Celery, Diced
½ whole Bell Pepper, Diced
½ whole Small Onion, Diced
½ teaspoons Ground Cumin
½ teaspoons Ground Coriander
2 cups Prepared Chicken Broth (or Vegetable Broth)
2 cups Water
Preparation Instructions
There are a couple of tricks here. Sauté your vegetables first before adding the broth so that you get a nice mellow, sweet caramelization going on with the vegetables. Also, cook your pasta separate from the soup, and then combine them at the end just before serving. Dry pasta releases flavorless starch (which is why your pasta water is cloudy), and you don't want that in your precious soup.
1. In a large bowl, combine the meatball ingredients and roll into three-quarter inch meatballs.
2. Heat a large pot over medium-high heat with just half of the olive oil. When hot, add the meatballs, not touching. Cook the meatballs until browned on all sides, about two minutes. You don't have to cook the meatballs through, as you will be adding them back into the soup to finish cooking. Scoop out the meatballs and set aside.
3. Pour in the remaining olive oil, and when hot, add the diced carrots, celery, bell pepper, onion. Sauté until the vegetables have softened, about two minutes. Season with the ground cumin and ground coriander. Give it a good stir. Pour in the chicken broth and water. Add the meatballs back in. Bring to a boil then turn the heat to low and let simmer for 20 minutes.
4. In the meantime, boil a pot of water and cook the pasta according to package instructions. Drain and set aside.
5. When the soup is ready, taste and season the soup with salt to your liking. Stir in the chopped spinach and the cooked pasta. Simmer for an additional 2 minutes and serve.


_______________________________________
Jaden Hair is a food writer, television personality, and food photographer based in Tampa Bay, Florida. Find more of her recipes in her blog, Steamy Kitchen, where you can also read more about Jaden's new book, The Steamy Kitchen Cookbook, and the rave reviews it's received!