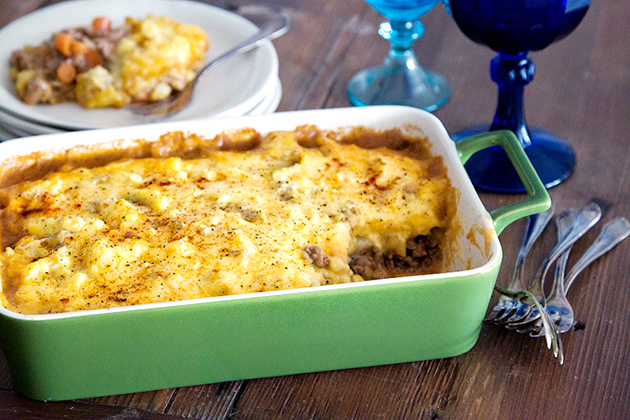 How many of us grew up with Cottage Pie? Or maybe you knew it as Shepherd's Pie. I know I certainly did! The main difference between the two is that Cottage Pie is made with ground beef and Shepherd's Pie is traditionally made with ground lamb. And while both are delicious, I think ground beef is a little more widely used, so we totally have to make one!
This recipe for Cottage Pie comes to us from TK member Sheilah. Ready for this? Okay, let's go!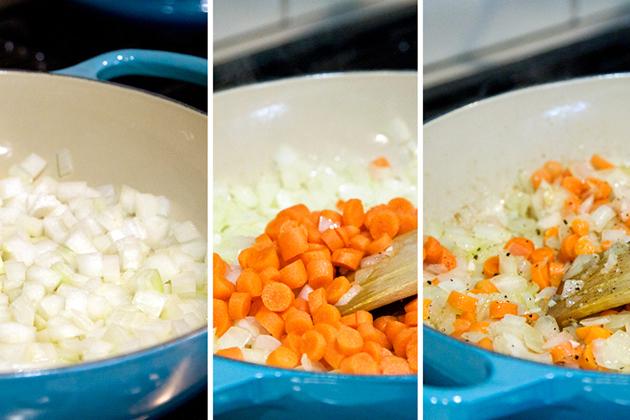 Let's start by sautéing some onions, since they are the base of this flavorful recipe. After the onions sweat it out for a few minutes, go ahead and add a bunch of chopped carrots. Give the onions and the carrots a quick mix and then let them sauté over medium high heat for a few minutes.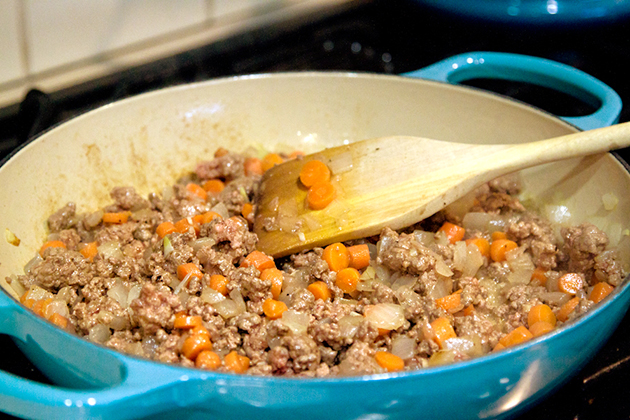 Next, add the ground beef and break it up so it cooks evenly and is crumbled into little bits. Give it a good stir until all the meat has been cooked and is no longer pink.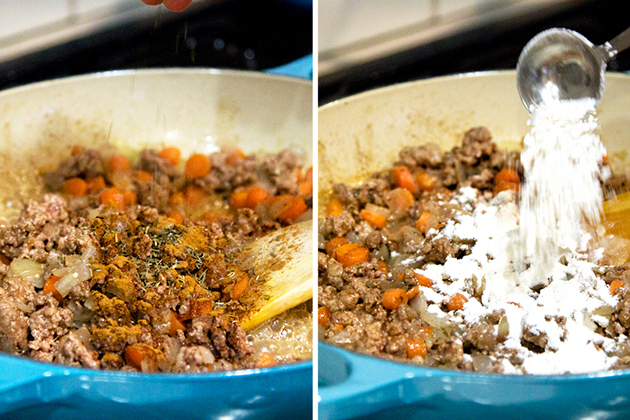 Next we are going to start layering in some flavor! Let's start with a bit of cinnamon, followed by a pinch of thyme. Give that a quick stir to make sure the herbs are evenly distributed throughout the pan.
Then we are going to add in some flour. Stir everything around so the flour soaks up all the excess liquid and the mixture thickens up a bit.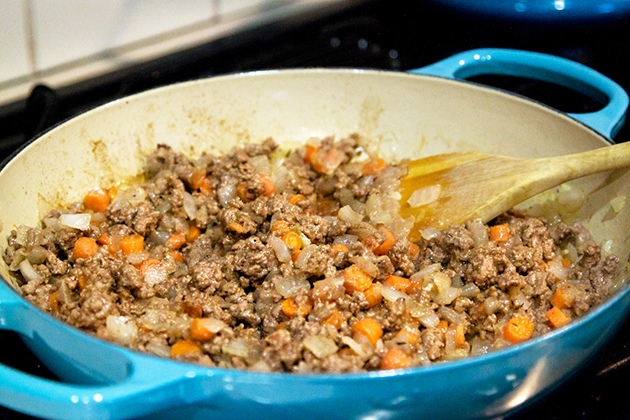 Look at it. Doesn't it look good enough to eat right now? But let's make it a little more delicious, shall we?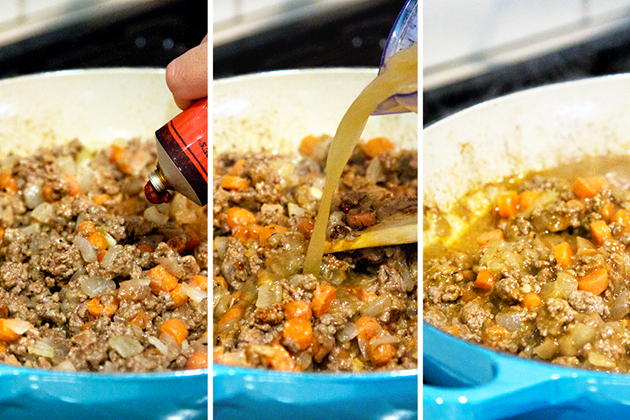 Add a squeeze or two of tomato paste, followed by some stock. Give everything a good mix and let it cook for a bit.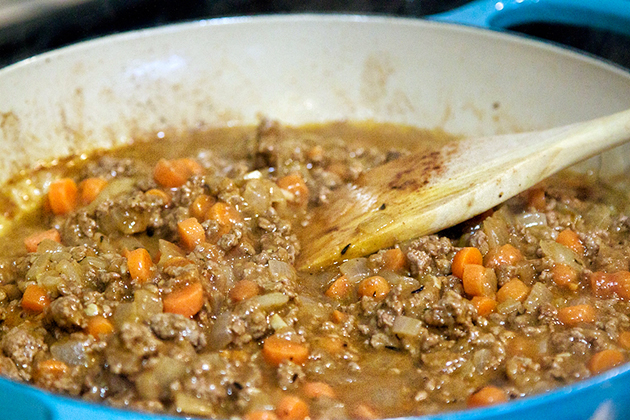 You just want to cook down the liquid so it continues to thicken and form a gravy-like consistency. Once it's simmered, remove it from the heat and set it aside.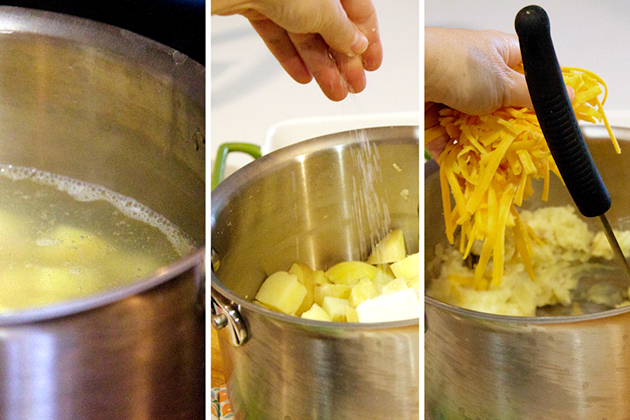 Now let's make some tots. Put a bunch of chopped Yukon gold potatoes into a pot of water and boil them off until they are fork tender. Drain the potatoes and then season them with salt, butter and a splash of milk.
Next we are going to add in some cheese! Oh yes. Lots and lots of cheese. I added about an extra ½ cup because who doesn't want a cheesier topping?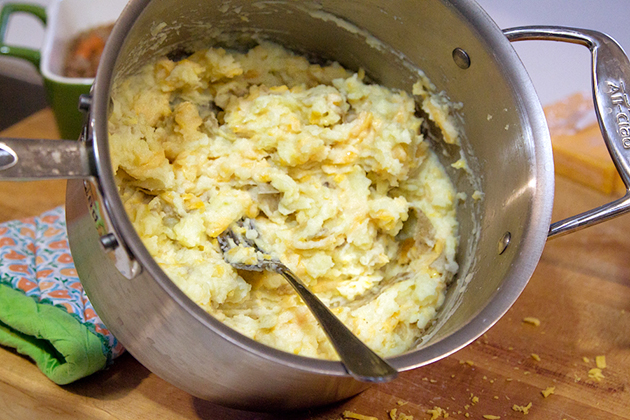 Go ahead and mash everything up, skins, cheese and all! Side note: I typically leave the skin on Yukon gold potatoes because I'm not into peeling them when the skin is delicious, but you could take the skin off before cooking the potatoes if you want. Mmm, love me some mashed potatoes.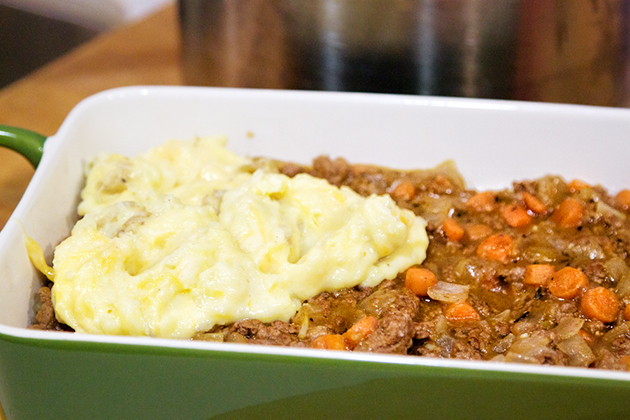 Next, place the meat mixture into the bottom of a casserole dish and then layer on the mashed potatoes. Place the whole thing into the oven. Bake until the top is golden brown and then dust it with some salt, pepper and paprika.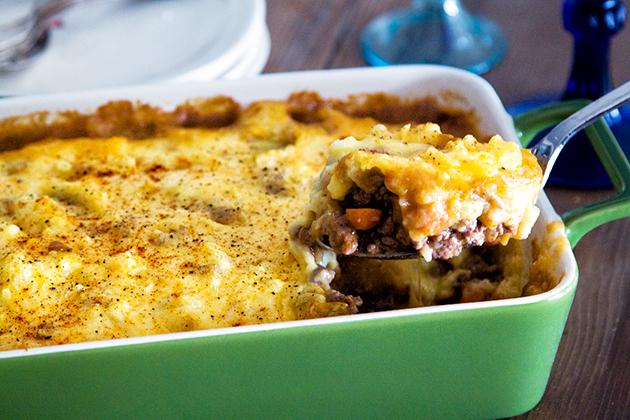 And then serve it up because it's going to be delectable!
A huge thank you to Sheilah, who blogs at Sheilah's Kitchen, for such a fun, easy and delicious recipe. This would be a super great idea to make when you have guests over!
Printable Recipe
See post on sheilahskitchen's site!
Description
A unique and tasty alternative to your everyday Shepherd's Pie.
Ingredients
1 Tablespoon Olive Oil
1 whole Medium Onion, Diced
2 whole Large Carrots, Peeled And Chopped
1 pound Ground Beef
½ teaspoons Ground Cinnamon
2 teaspoons Thyme, Chopped
1 Tablespoon All-purpose Flour
1 Tablespoon Tomato Paste
1-¼ cup Beef Broth
1 pound Yukon Golden Potatoes, Peeled And Diced
3 Tablespoons Butter
⅔ cups Milk, Cream, Or Half And Half
½ cups Cheddar Cheese, Shredded
2 pinches Paprika
Preparation Instructions
In a large frying pan, heat olive oil over medium heat. Add the onions and simmer until translucent, about 5 minutes. Add the carrots and cook for another five minutes.
Add the meat to the same pan with the onions and carrots and cook on medium heat until meat is no longer pink. Continue to break up the meat with your spoon. When meat if fully cooked, carefully spoon off any fat. Return pan back to stove top on medium heat and stir in the cinnamon, thyme and the flour (the flour will help thicken things up and make your gravy). Once all of the ingredients are coated in the flour, add the tomato paste and gradually add the beef broth. Simmer for 30 minutes which will make a nice thick gravy.
While the meat is simmering, boil your potatoes in a pot of water until done. Depending on the size of the dice this will take between 10 and 20 minutes. When done drain the potatoes.
Preheat oven to 400 F.
In a large bowl, mash the potatoes and add the butter, milk and cheddar cheese. Season with salt and pepper to taste.
In an 8×8 square or pie pan spread your meat mixture, top with the cheddar potatoes and spread evenly.
Bake in a 400 F oven for 25-30 minutes until golden. Sprinkle with paprika and serve.


_______________________________________
Gaby Dalkin is the young lady behind What's Gaby Cooking, a food blog that's bursting at the seams with incredible recipes and food photography. She's a personal chef and professional recipe developer, and if you follow her on Twitter, you'll soon discover her two-fold obsession: guacamole and cheese. She has small feet, a large heart, and a smile that can light up the whole building. We're pretty stoked to have her here.