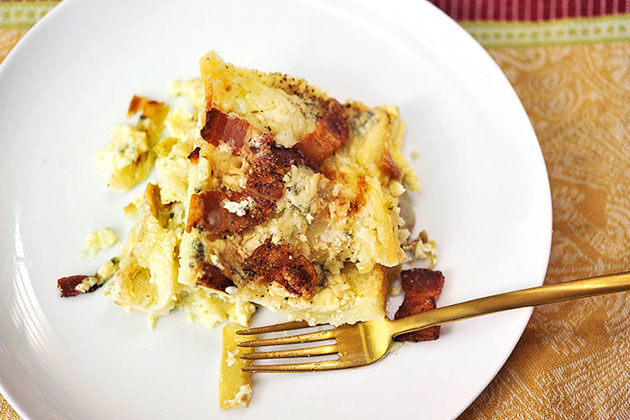 I am always looking for new and interesting dishes to add to my lists of favorites. This creative recipe is full of bold and exciting flavors that work wonderfully together. Lauren's recipe for a filling and satisfying Artichoke Bread Pudding from is inexpensive to make and leaves plenty to share with others.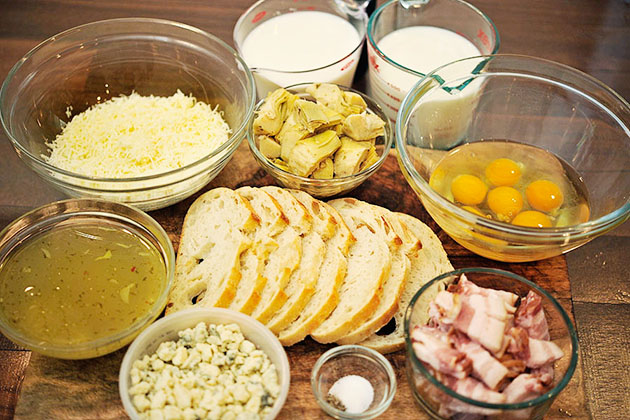 To create this delicious dish, you will need: brioche bread, jarred artichokes (in olive oil, drained and oil reserved), shredded mozzarella, Gorgonzola crumbles, bacon, eggs, and milk. (I didn't have any brioche bread on hand and used what I had. It turned out great all the same!)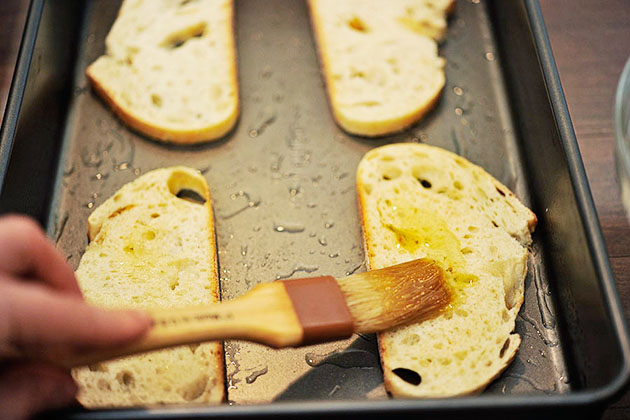 To start preparing, take non-stick cooking spray and evenly coat a 9 x 13 casserole dish. Evenly distribute the bread on the bottom of the dish. Lightly brush the tops of each slice with the artichoke oil that was reserved. (Tip: Make sure to lightly brush each slice. Using too much oil will make your bread soggy and your dish greasy.)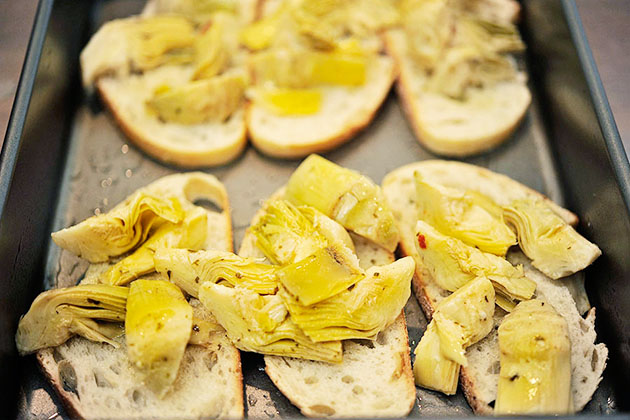 Next, just like you add toppings to a pizza, add artichokes on top of the bread.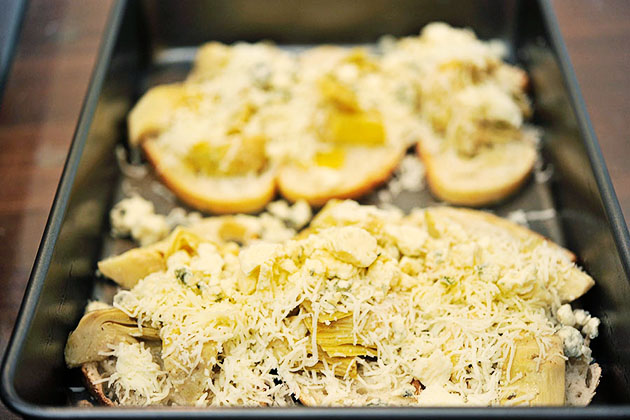 Sprinkle mozzarella cheese and Gorgonzola cheese on top.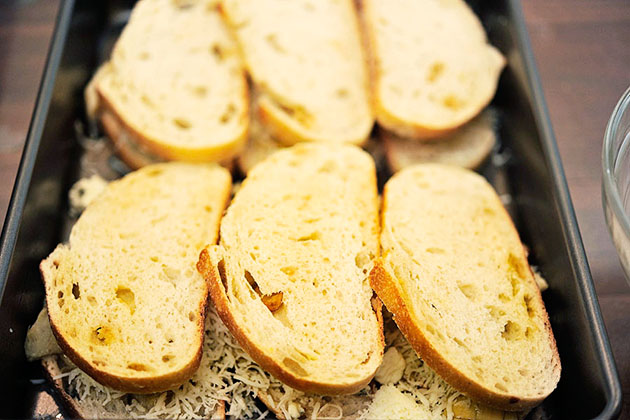 Sandwich your bottom layer by adding remaining slices of bread on top to create a second layer. Lightly brush the tops of each slice.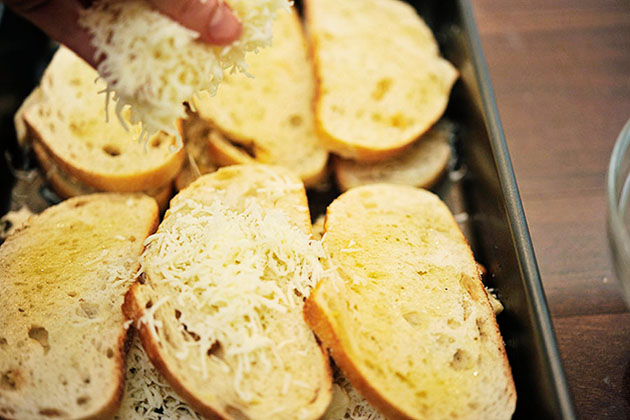 Add the remaining mozzarella on top …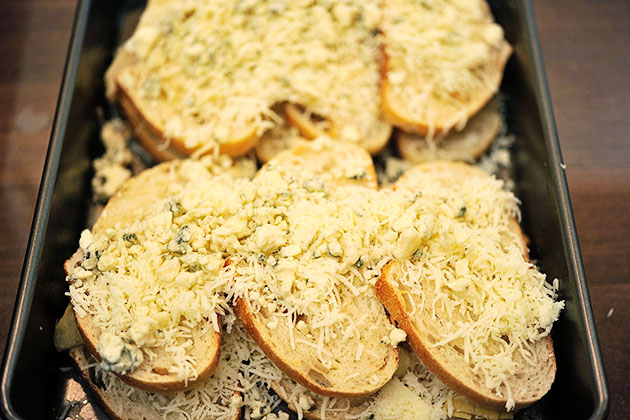 … and then add the Gorgonzola.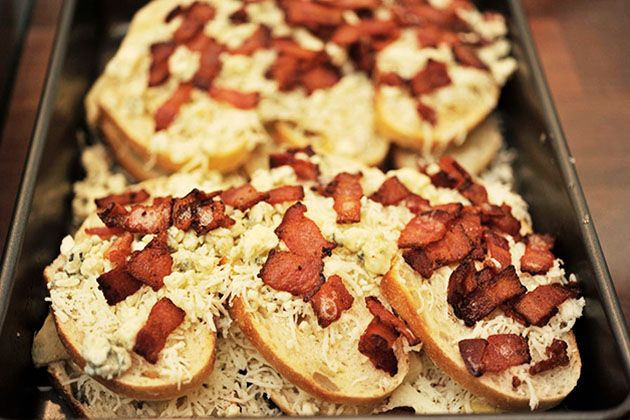 Take diced bacon (cooked) and sprinkle on top.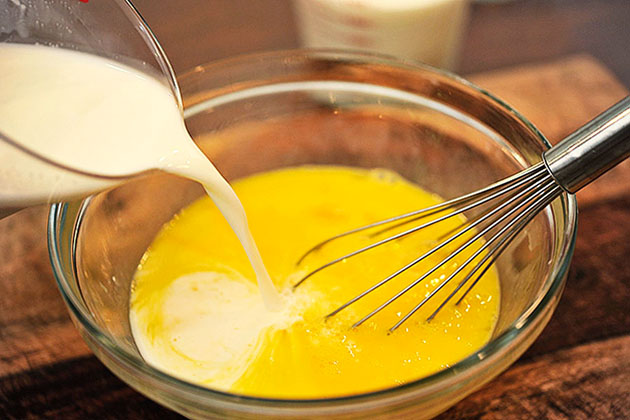 In a medium-sized mixing bowl, whisk eggs. Add milk to the whisked eggs.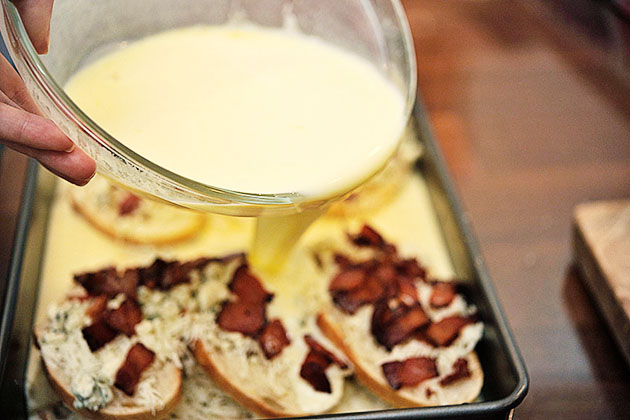 Take the egg mixture and pour it over the bread.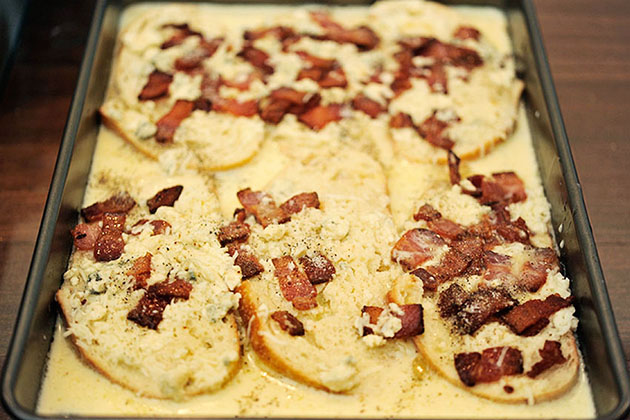 Let the pudding sit for 15 minutes, or until the bread slices are properly soaked.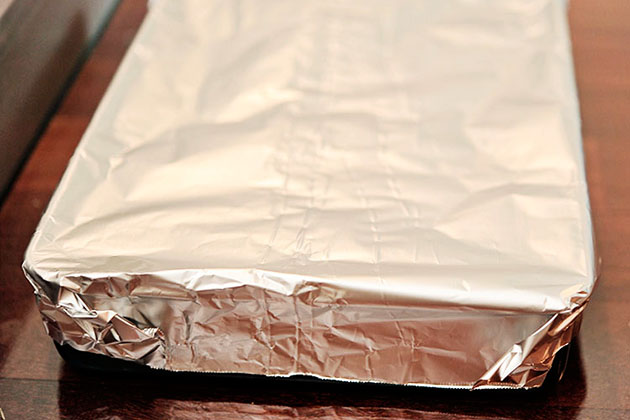 Cover the baking dish with foil and heat the oven to 375ºF. Bake for 30 minutes and then remove foil and continue to bake for 15 additional minutes, or until the top of the dish is golden brown and cheese is nice and hot.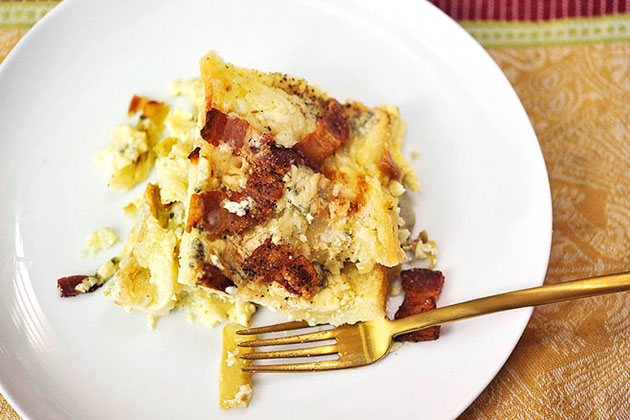 You are now ready to dig in!
Explore more uniquely wonderful dishes like this one at Climbing Grier Mountain!
Printable Recipe
See post on Climbing Grier Mountain's site!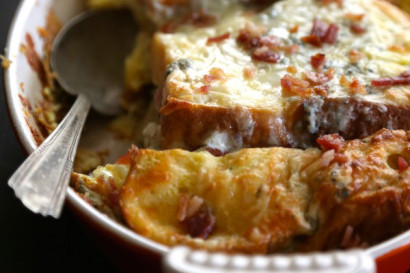 Description
A savory pudding for any occasion!
Ingredients
8 whole 1/2 Inch Slices Brioche Bread
2 cups Jarred Artichokes In Olive Oil, Drained, Oil Reserved
1-½ cup Mozzarella, Shredded
1 cup Gorgonzola Crumbles
6 whole Pieces Bacon, Cooked, Diced
6 whole Eggs
4 cups Whole Milk
Salt And Pepper, to taste
Preparation Instructions
Preheat oven to 375 F. Spray a 9 x 13 casserole dish with non-stick cooking spray. Lay four slices of bread in the bottom of the baking dish. Brush the top of the bread slices with some of the leftover artichoke oil. Place the artichokes on top of the bread and sprinkle half of the mozzarella and half of the Gorgonzola over top. Lay the final four slices of the bread on top. Brush the tops with more of the artichoke oil. Sprinkle the tops with the remaining cheese and the bacon.
In a bowl, whisk eggs and milk together. Pour egg mixture over the bread and let the pudding soak for about 15 minutes. Put some foil over the top of the dish and bake for 30 minutes. Remove foil and continuing baking for another 15 minutes or until golden brown and bubbly.
Recipe adapted from bon appetit.


_______________________________________
There's so much to say about Georgia, we don't know where to start. Leaving Wall Street for the French Culinary Institute, followed by a stint at the Gramercy Tavern and La Chassagnette in France, her passion for food and food traditions are evident and inspiring. Visit her site at Georgia Pellegrini, where you'll find more recipes, photos, learn all about her wonderful books (including her latest one, Modern Pioneering, and enjoy her latest adventures.