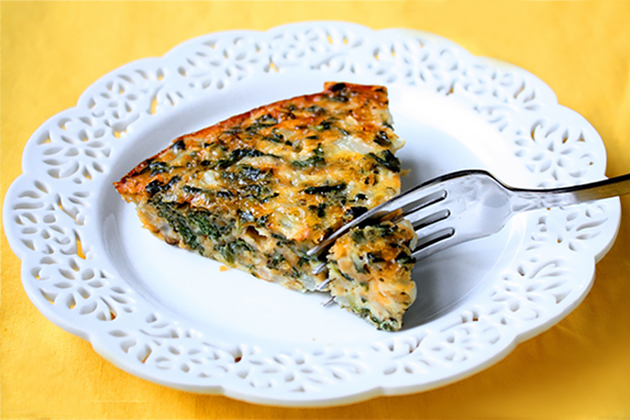 Photo from Ali of Gimme Some Oven.

The beautiful thing about a quiche is that you can throw many ingredients into one dish and all of the flavors complement one another. Since the traditional quiche is baked in a buttery crust, we are going to lighten it up with this Crustless Spinach Quiche from TK member Ali. This recipe will work not only with spinach but also with any of your favorite vegetables. Let the flavors unfold during your first bite of this hearty breakfast dish.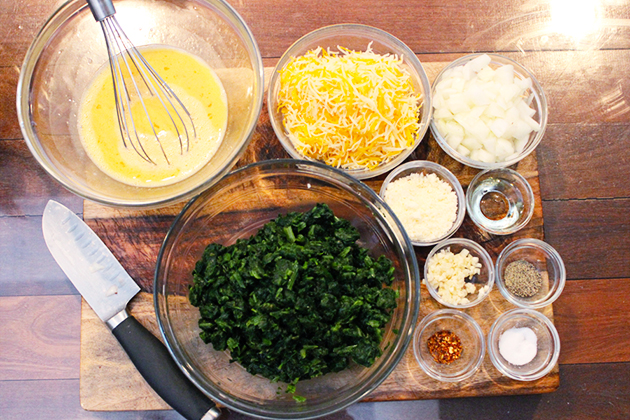 For this recipe you'll need the following ingredients: vegetable oil, garlic, onion,
chopped spinach (frozen then thawed and drained), 6 eggs, Muenster cheese, Parmesan cheese, salt, black pepper, and crushed red pepper.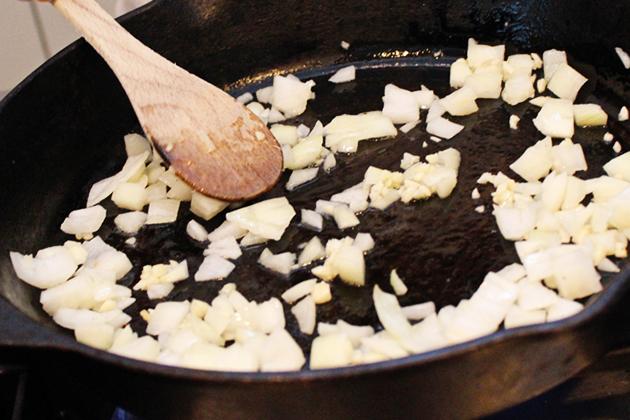 To start, drizzle olive oil over a hot skillet. Add the garlic and chopped onion, sautéing until they are nice and soft.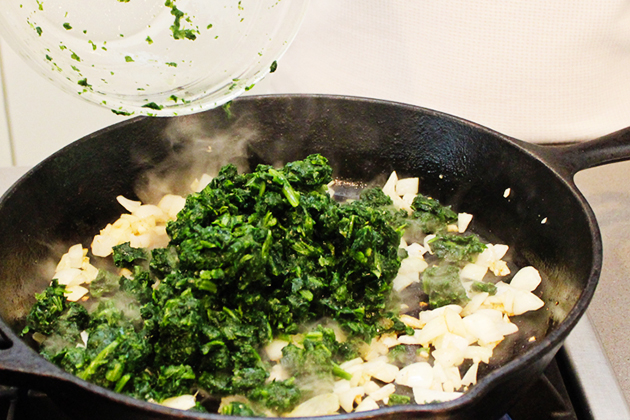 Next, add the spinach and cook until the excess moisture has evaporated.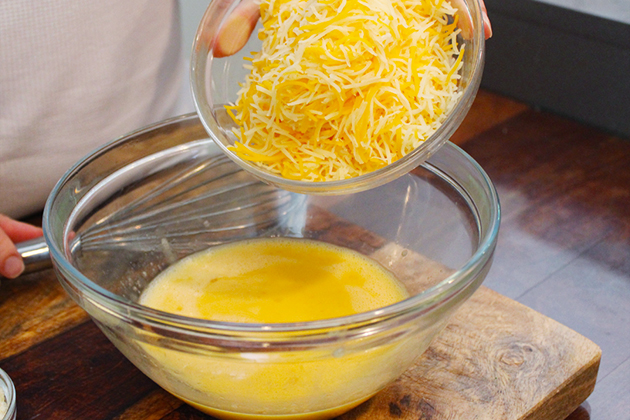 In a large bowl, beat the eggs and then add in the Muenster cheese.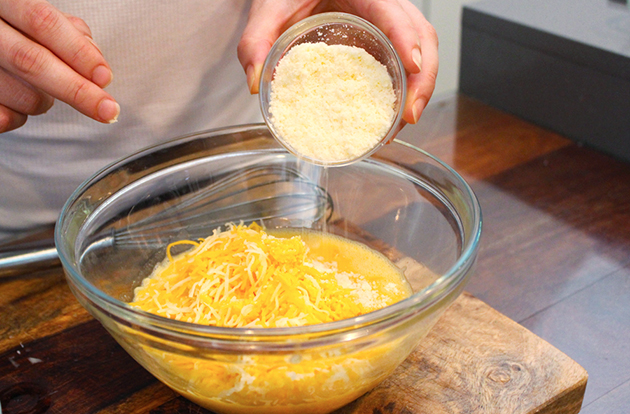 And the Parmesan cheese as well.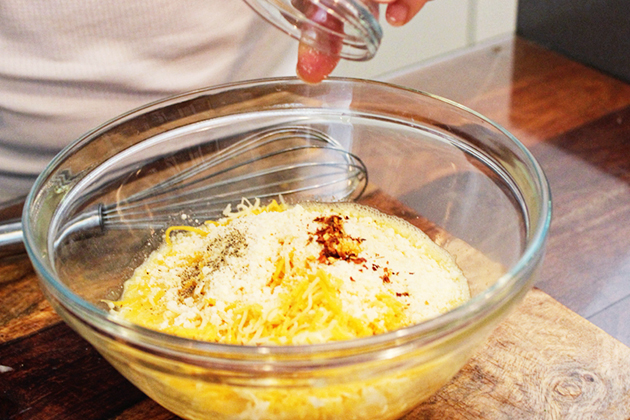 Go ahead and add the salt, black pepper, and red pepper. Lightly mix these ingredients together.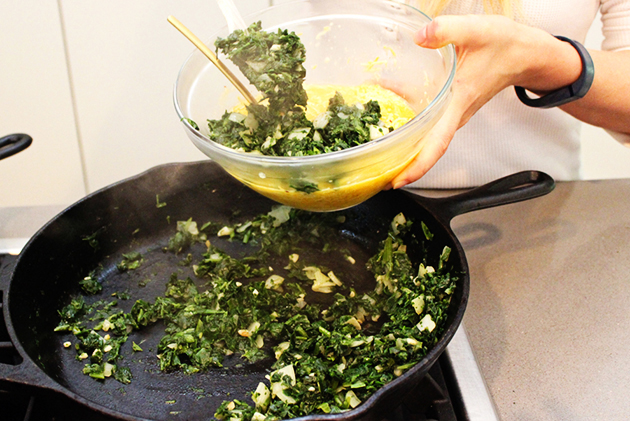 Then add the spinach mixture into the bowl with the egg mixture.
Stir all of the ingredients together. Be careful, you don't want to overwork the eggs!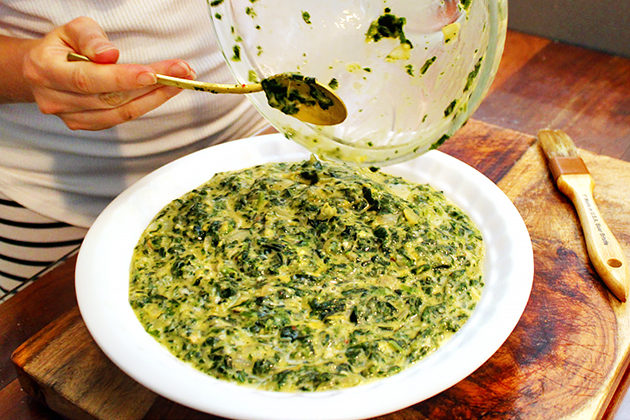 Evenly pour the mixture in a lightly greased pie dish. Bake in the oven at 350ºF for 25–30 minutes until the eggs have set, and the edges begin to brown.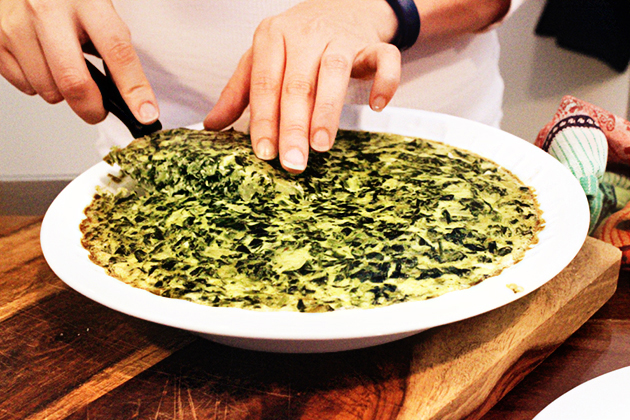 Once baked, take the quiche out of the oven and let cool 10 minutes before serving. While you wait, just inhale the aroma you've just created!
These simple ingredients make a quick and easy breakfast dish but it also is wonderful as an afternoon snack. If you make it in advance you'll have a grab-and-go breakfast for several days. So cut a slice and dig in, it is wonderful even without that golden brown crust!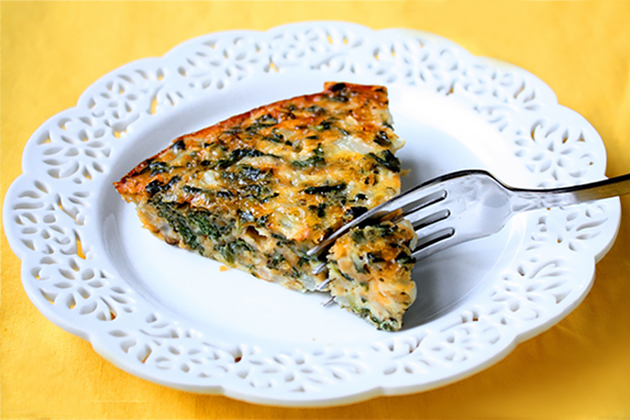 Photo from Ali of Gimme Some Oven.
Visit Ali's blog, Gimme Some Oven, for more tasty treats!
Printable Recipe
See post on Ali @ gimmesomeoven's site!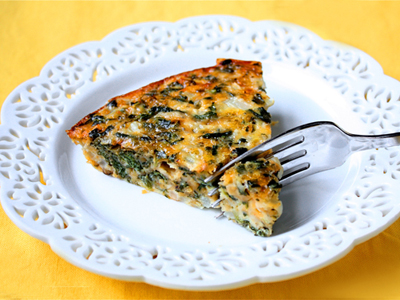 Description
This classic quiche is one of my favorites! Very simple to pull together, and the taste and texture are fantastic! Feel free to substitute in any other veggies, cheeses, or favorite seasonings you have on hand. This recipe is great for experimenting!

Ingredients
1 Tablespoon Vegetable Oil
1 teaspoon Minced Garlic
1 cup Chopped Onion (about 1 Medium Onion)
1 package (10 Oz) Frozen Chopped Spinach, Thawed And Drained
5 whole Large Eggs, Beaten
2-½ cups Shredded Muenster Cheese (or Whatever You Have On Hand - I Find That The Sharper The Cheese, The Better!)
¼ cups Grated Parmesan Cheese (plus 2 Tbsp. For Garnish - Optional)
¼ teaspoons Salt
¼ teaspoons Freshly Ground Black Pepper
1 pinch Crushed Red Pepper
Preparation Instructions
Preheat oven to 350 degrees F (175 degrees C). Lightly grease a 9 inch pie pan.
Heat oil in a large skillet over medium-high heat. Add garlic and onions and cook, stirring occasionally, until onions are soft. Stir in spinach and continue cooking until excess moisture has evaporated.
In a large bowl, combine eggs, cheeses, salt, pepper, and crushed red pepper. Add in spinach mixture and stir to blend. Pour into prepared pie pan.
Bake in preheated oven until eggs have set and the top is slightly browned, about 25-30 minutes. Remove and let cool for 10 minutes before serving. If you'd like, top with additional freshly grated Parmesan cheese.
*I also love using this recipe to make individual-sized little quiches. You can either use regular-sized muffin tins (15-20 minutes cook time), or the cute mini ones (about 10-15 minutes). Just be sure to prepare the tins well with cooking spray (or use muffin liners), and watch to be sure that they don't get overcooked!
Recipe is adapted from www.allrecipes.com.
(Click "See Related Blog Post" for more pics and info!)


_______________________________________
There's so much to say about Georgia, we don't know where to start. Leaving Wall Street for the French Culinary Institute, followed by a stint at the Gramercy Tavern and La Chassagnette in France, her passion for food and food traditions are evident and inspiring. Visit her site at Georgia Pellegrini, where you'll find more recipes, photos, learn all about her wonderful books (including her latest one, Modern Pioneering, and enjoy her latest adventures.