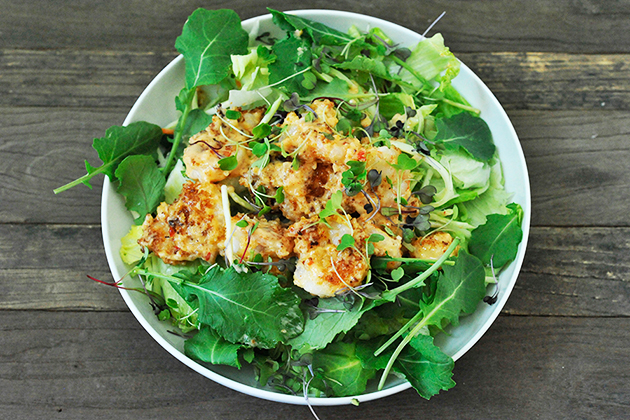 Before you go back to Bonefish Grill and spend $5 on Bang Bang Wednesdays, take a look at how simply you can make Lightened-Up Bang Bang Shrimp at home! TK member Sarah adapted this recipe and even lightened it up by turning the famous appetizer into a salad!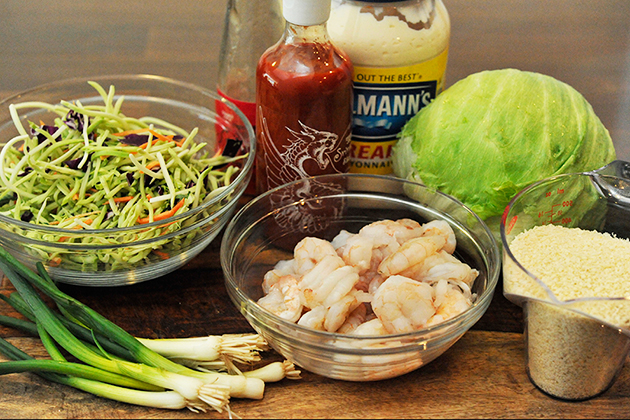 You're going to need a pound of uncooked shrimp (we purchased it already cleaned and deveined), a head of iceberg lettuce, a bag of broccoli slaw, chopped green onions, mayonnaise, Thai sweet chili sauce, Sriracha, oil, and panko bread crumbs.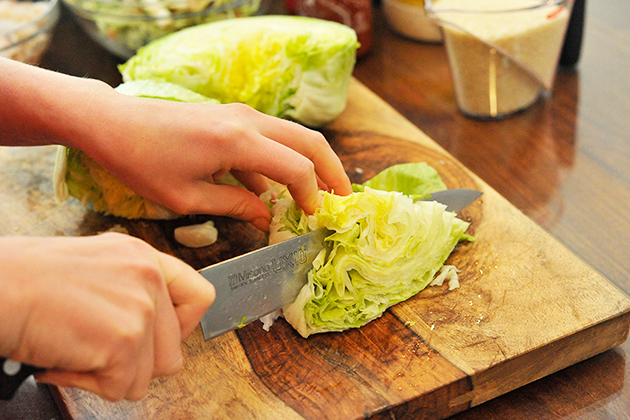 Start by chopping the lettuce into strips.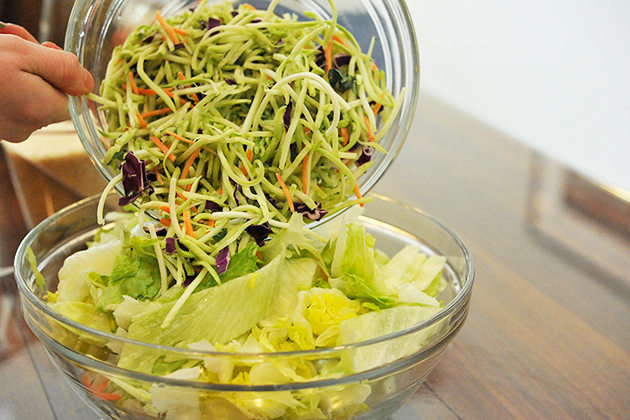 Top the lettuce with the broccoli slaw.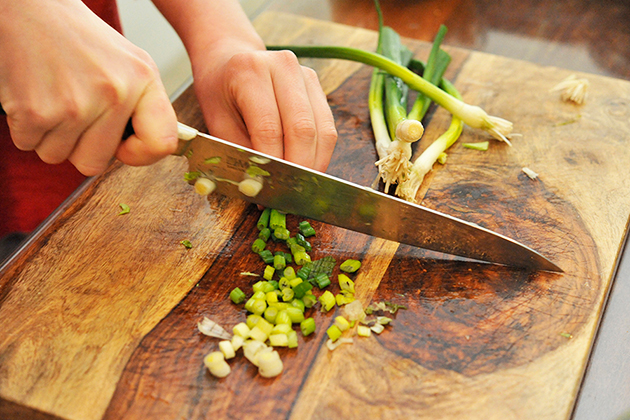 Chop the green onions.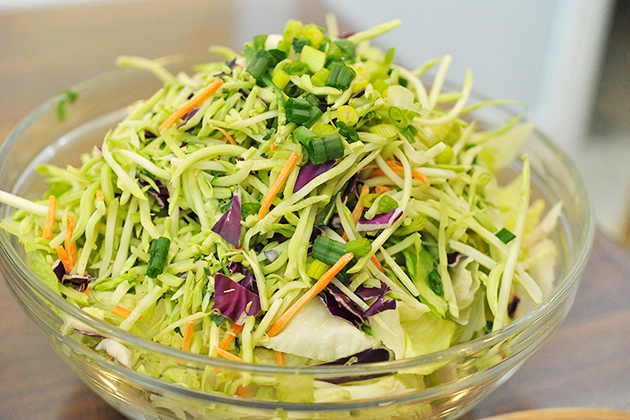 And the salad portion of the meal is now complete!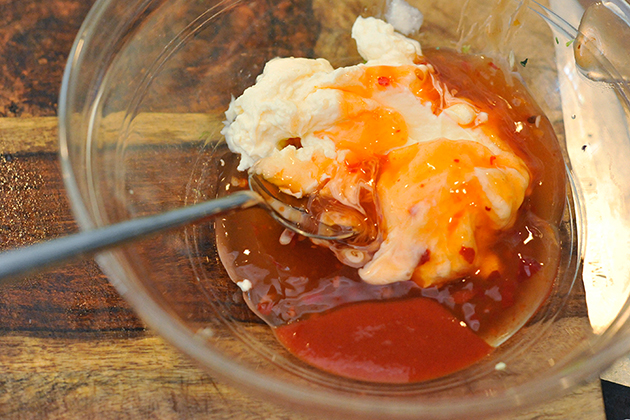 Next you're going to make the Bang Bang sauce by putting the mayonnaise, Sriracha, and Thai sweet chili sauce in a bowl.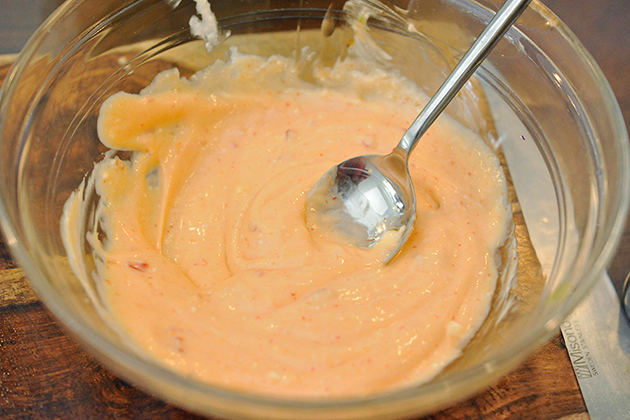 Mix these ingredients together thoroughly.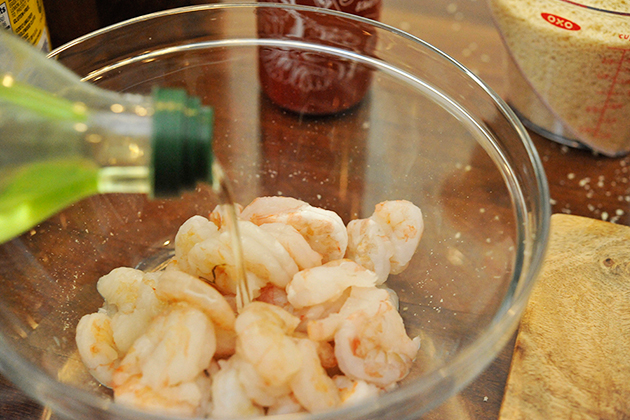 Before pan-frying the shrimp, pour a tablespoon or two of oil into the bowl.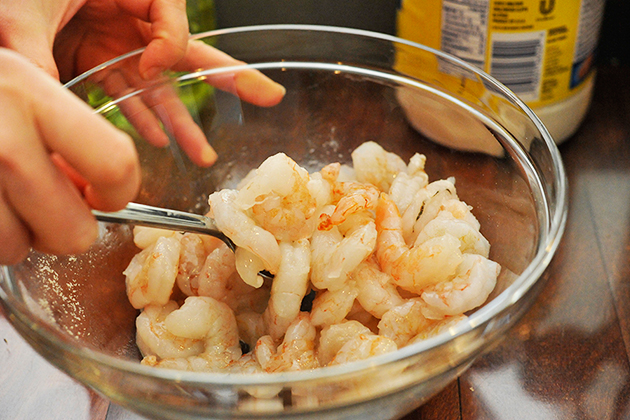 Coat the shrimp thoroughly with the oil.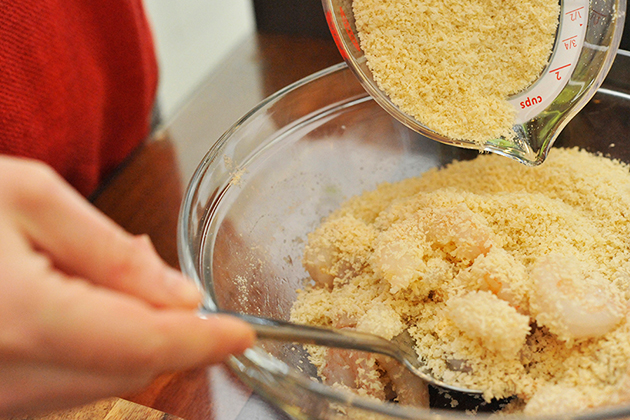 Cover the shrimp in panko bread crumbs, making sure they are evenly coated.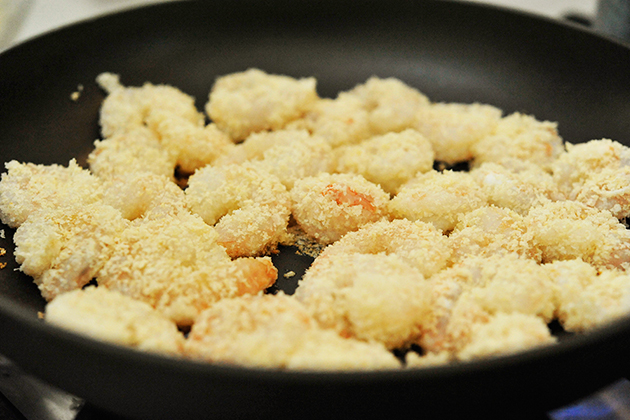 Carefully remove the shrimp from the bowl and place them in a slightly oiled pan on high heat.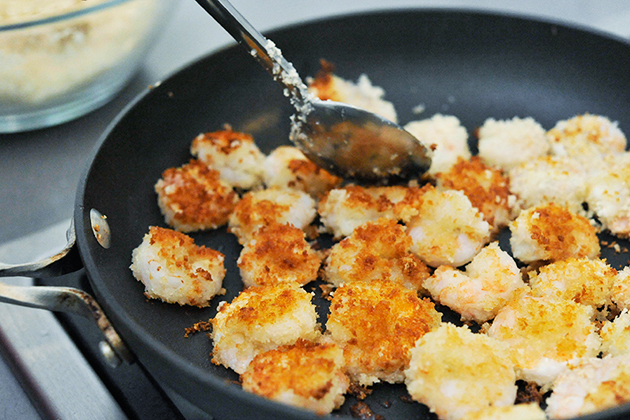 Let each side cook for about 3 minutes (or slightly browned).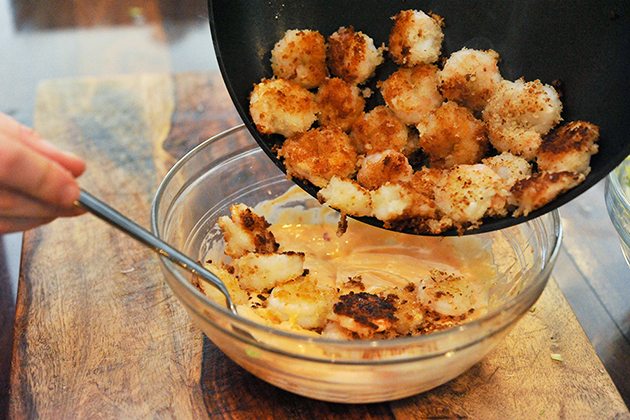 Now pour the shrimp into the Bang Bang sauce.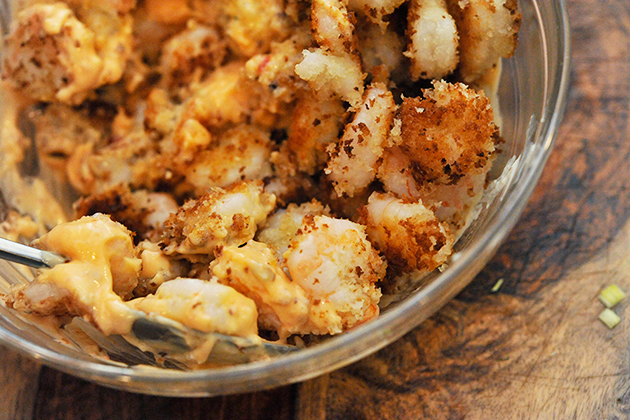 Generously spread the sauce over the hot shrimp.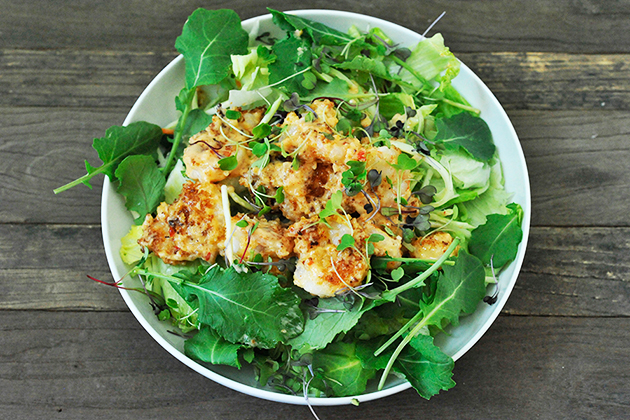 All you have to do now is scoop the shrimp onto the bed of greens and you're ready to eat! The best part of this process is that the excess sauce from the shrimp will seep into the salad and act as a spicy dressing.
For more restaurant adaptations along with original recipes, visit Sarah's blog, The Coffee Breaker.
Printable Recipe
See post on Sarah's site!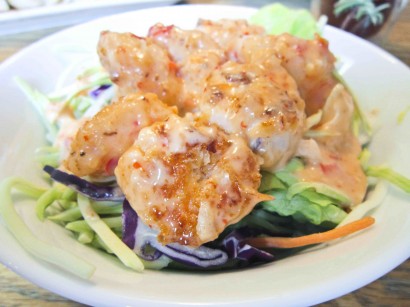 Description
The Bonefish Grill's delicious Bang Bang Shrimp appetizer has been redone as a salad. Lighter, fresher, but just as delicious. Give it a try!
Ingredients
1 pound Uncooked Shrimp
1 whole Head Iceberg Lettuce
1 bag Broccoli Slaw, 12 Ounce Bag
⅓ cups Chopped Green Onions
¾ cups Mayonnaise
⅜ cups Thai Sweet Chili Sauce
1 teaspoon Sriracha
4 Tablespoons Oil, Divided
2 cups Panko Bread Crumbs
Preparation Instructions
Start by washing, peeling, and deveining all of your little shrimp.
I know this part can be gross, but really, would you rather risk eating feces? Once your shrimp are all cleaned, inside and out, put them in a bowl, cover them and place them in the fridge.
Next, gather all of your greens. Start by chopping the entire head of lettuce into strips, making sure to remove the yellow leaves (you don't want your salad to be bitter!). Place all of your lettuce into a large serving bowl. Top with the broccoli slaw mixture, then add your chopped green onions sprinkling them onto the very top.
Next, you'll make your Bang Bang sauce. Side note: the Thai sweet chili sauce was fairly difficult to find, so don't get it mixed up with Thai chili oil, or any other chili condiments that don't include the word 'sweet' in the title. Sweetness is the key to this recipe!
Mix your mayo, sweet chili sauce and Sriracha together in a small bowl until smooth and creamy. Put it in the refrigerator until you are ready.
Next, gab a large frying pan, add 2 tablespoons of oil, and heat on medium.
Place your panko crumbs into a shallow dish or pan and set aside. Toss your shrimp in 1-2 tablespoons of oil. Dredge your shrimp in the panko crumbs, tossing to coat. Carefully remove each one (I recommend using tongs for this part) and place them onto the hot pan. Allow the shrimp to cook about 3 minutes on each side, or until the breading is browned and the shrimp are no longer translucent (they should have a nice pink color to them).
Next, remove the shrimp from the oil and stack them in a bowl and pour the Bang Bang Sauce all over them, tossing well to coat evenly.
Scoop yourself (and everyone else, if you're willing to share) a heaping bowl of the salad mixture and top with generous amounts of the hot shrimp and sauce.
And there you go! No need to muscle past patrons on Bang Bang Wednesdays anymore, you've got the means to make your own at home (and impress your friends).


_______________________________________
There's so much to say about Georgia, we don't know where to start. Leaving Wall Street for the French Culinary Institute, followed by a stint at the Gramercy Tavern and La Chassagnette in France, her passion for food and food traditions are evident and inspiring. Visit her site at Georgia Pellegrini, where you'll find more recipes, photos, learn all about her wonderful books (including her latest one, Modern Pioneering, and enjoy her latest adventures.