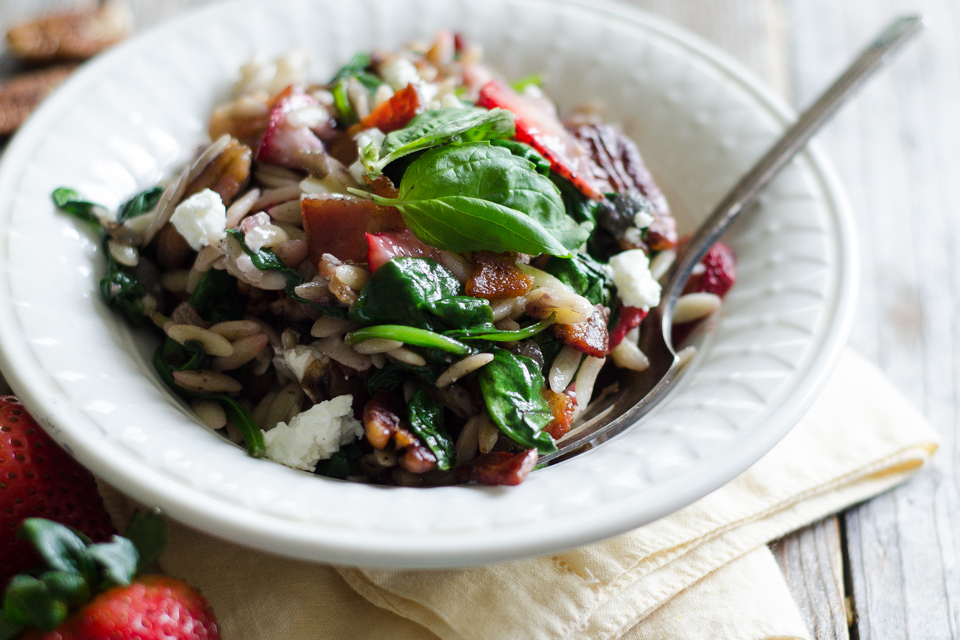 One of the things I love about cooking for the Tasty Kitchen blog is that it pushes me to try out new flavor combinations. Even if I've never tried or heard of a certain ingredient, if someone in the community uses it in a delicious-sounding recipe, I'm much more game to give it a go.
This recipe actually contains two ingredients that I had never worked with before: orzo and goat cheese. I like to think of orzo as rice-shaped pasta—not so scary. But I'm not gonna lie, the goat cheese had me a tad worried. I had eaten it before, but I'd never been brave enough to purchase it and put it into a dish. To my surprise, it went with the flavors really well and wasn't overpowering.
This Warm Strawberry Bacon Orzo Salad, shared by TK member Jessica, is a lovely blend of sweet and savory. The hearty, salty bacon is balanced by the fresh strawberries. The orzo adds a bit of starch and the pecans and cheese just round out the flavors.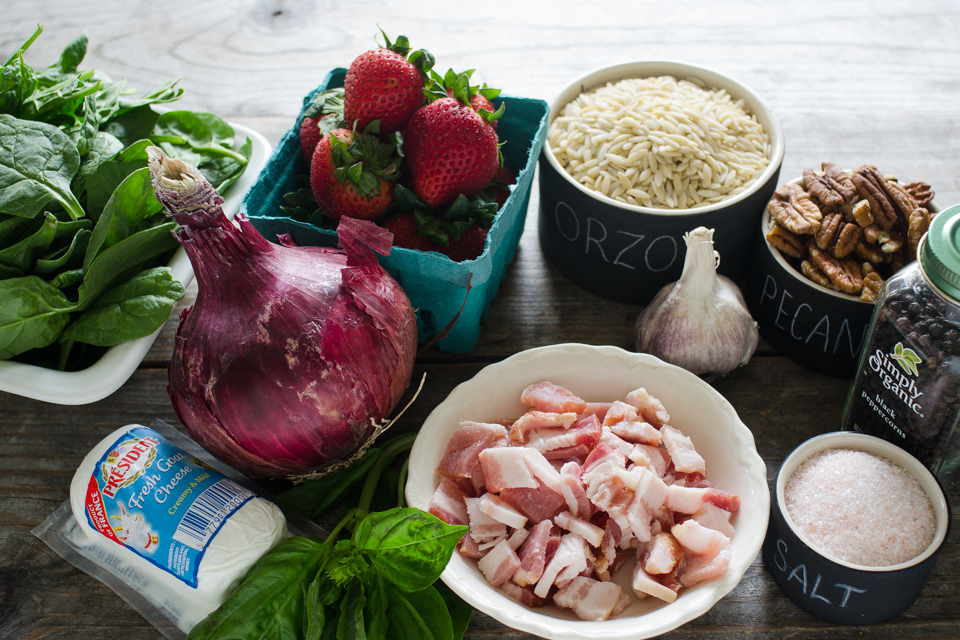 Here are the gorgeous, colorful ingredients you'll need: orzo, bacon (chopped), pecans, red onion, garlic, spinach, strawberries, goat cheese, basil, and salt and pepper.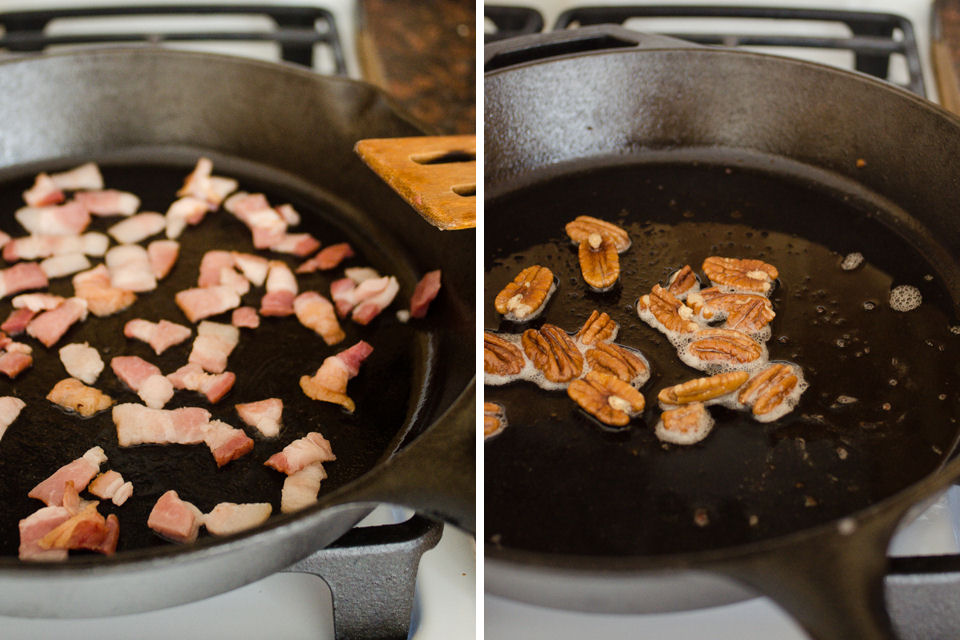 Begin by frying your bacon in a large skillet. I like to use a cast iron pan for this. When your bacon is nice and crispy, remove it to a paper-towel-lined plate, but leave the bacon grease behind.
Add the pecans and fry in the bacon grease until nice and toasty. Transfer pecans to the paper-towel-lined plate.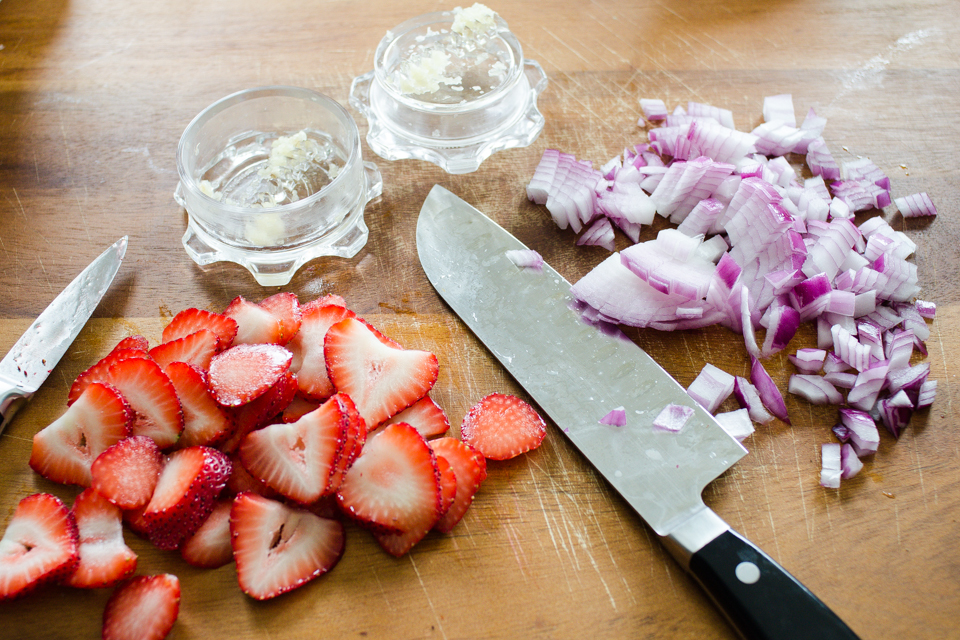 While the pecans are toasting, prep the rest of your ingredients: mince the garlic, slice the strawberries, and chop (or slice) the onion. You could also crumble the goat cheese if you have extra time.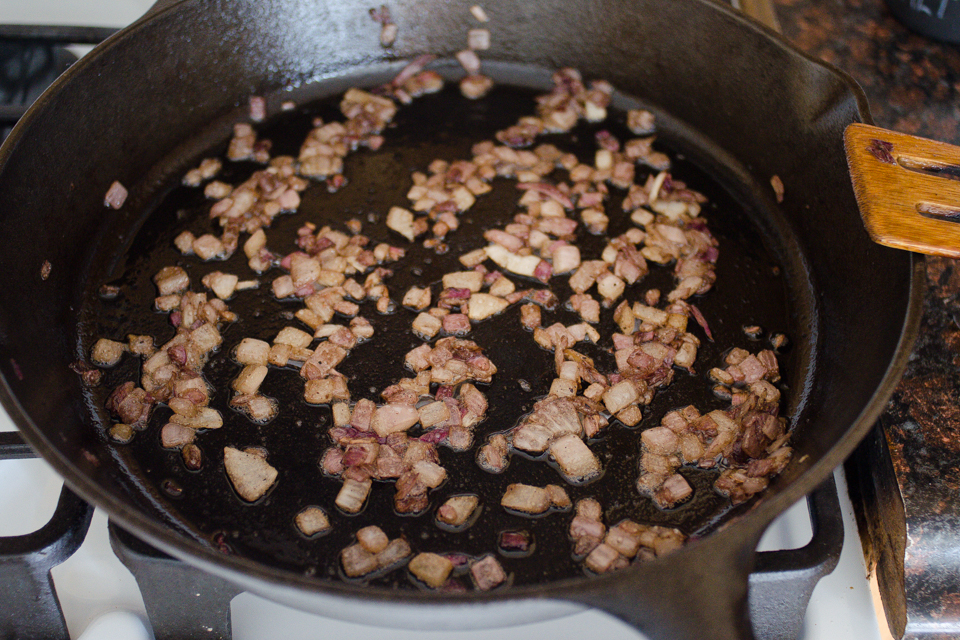 After the pecans are finished toasting, add the chopped onion to the pan and fry until nicely caramelized.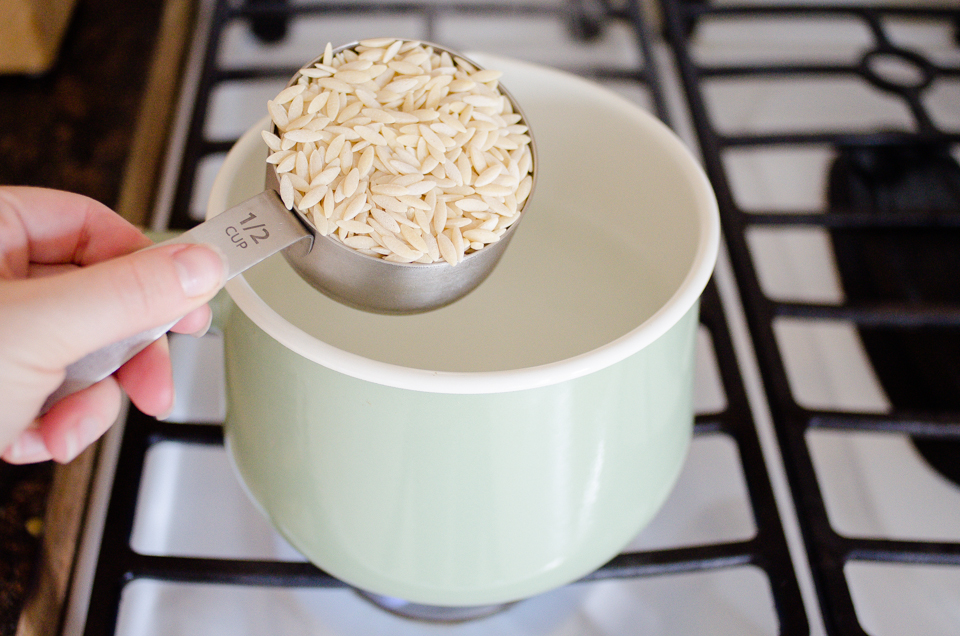 Meanwhile, cook and drain your orzo.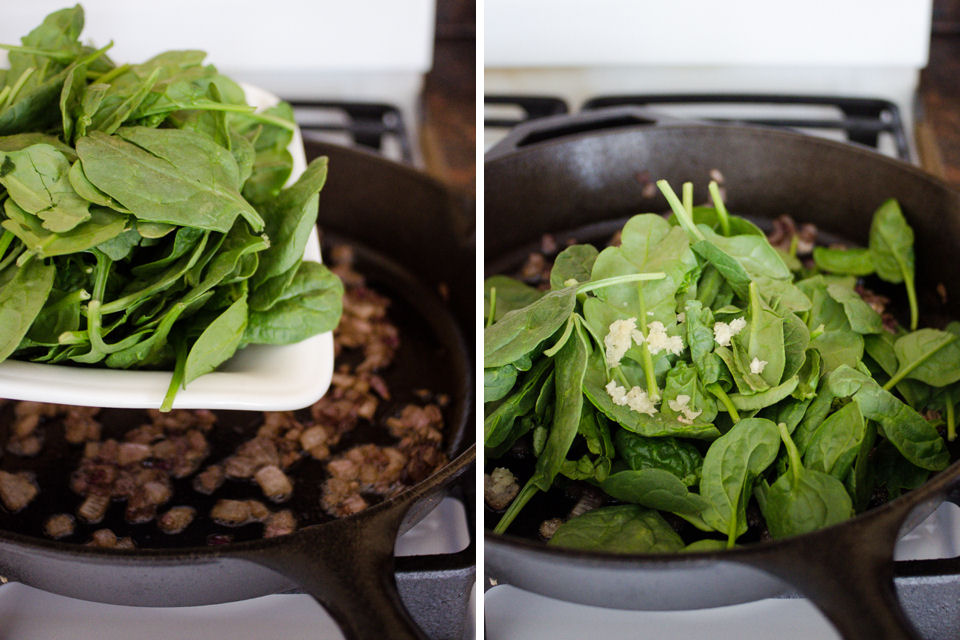 Once the onions are soft and caramelized, add the spinach and garlic to the pan.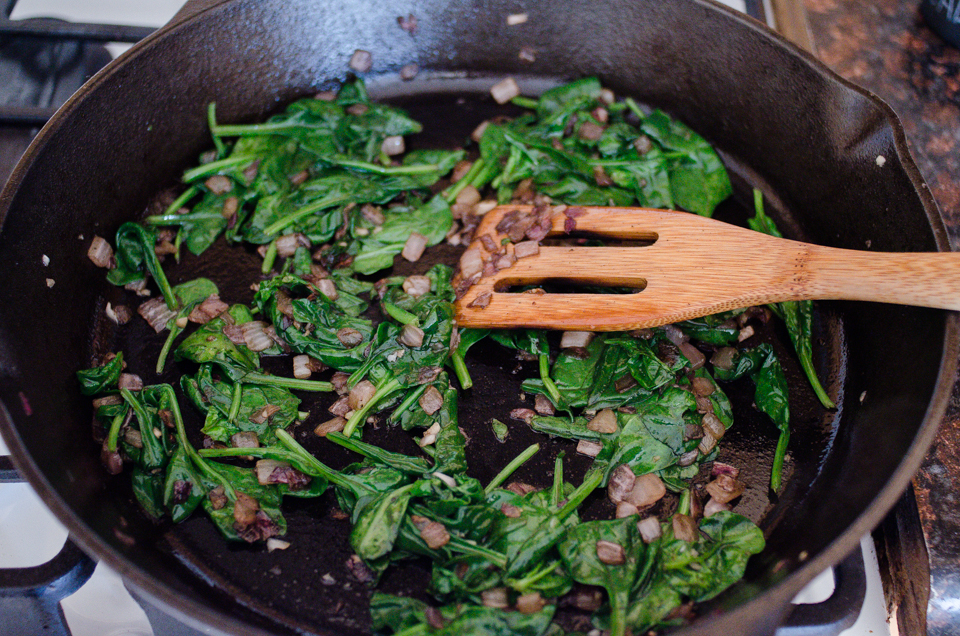 Sauté until the spinach wilts.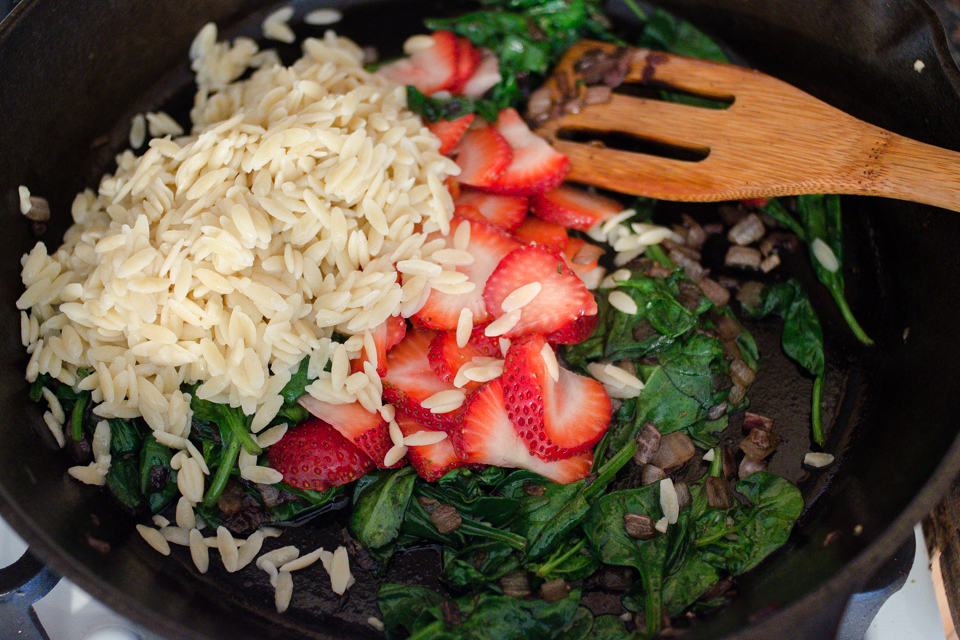 Add the strawberries and orzo and give it a stir.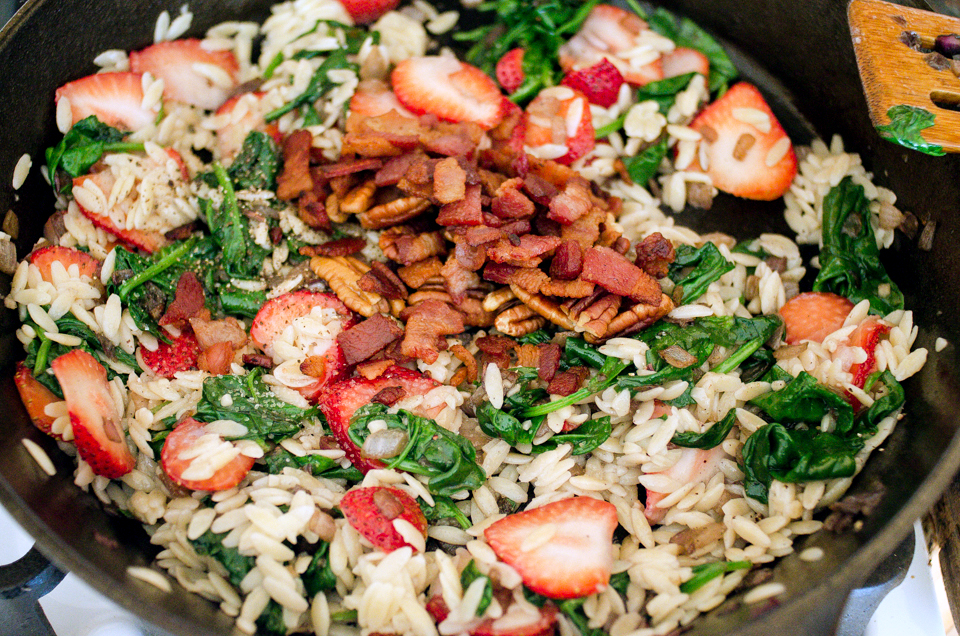 Season with salt and pepper and add the bacon and pecans.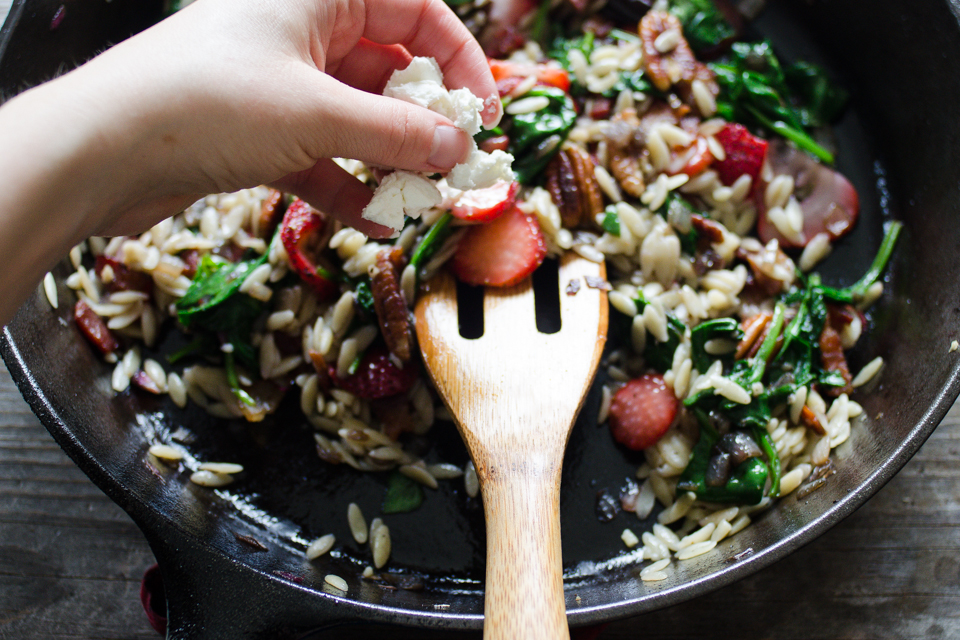 Take the skillet off the heat and add the crumbled goat cheese.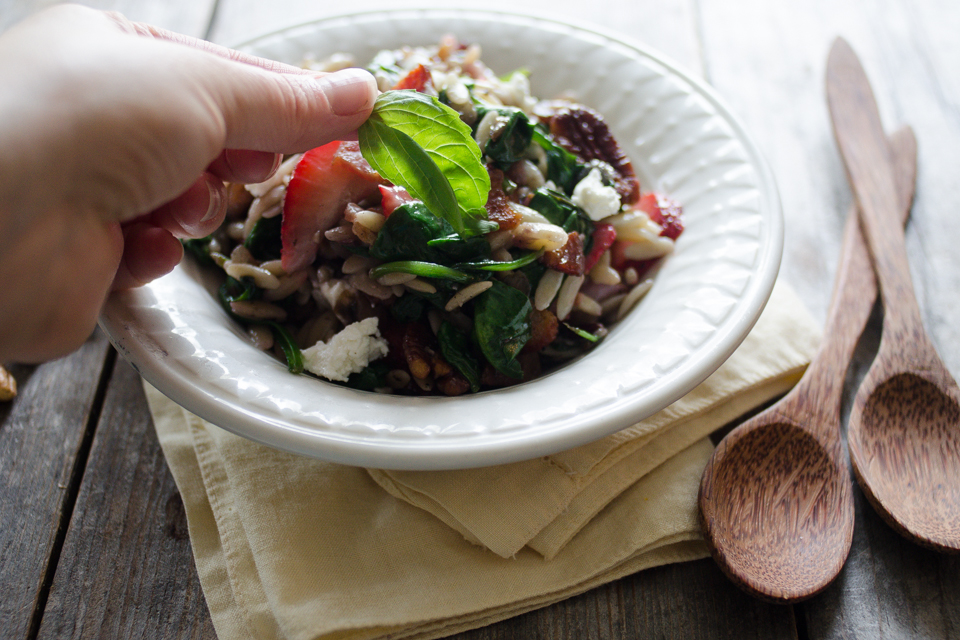 Spoon the salad into bowls and garnish with basil, if desired.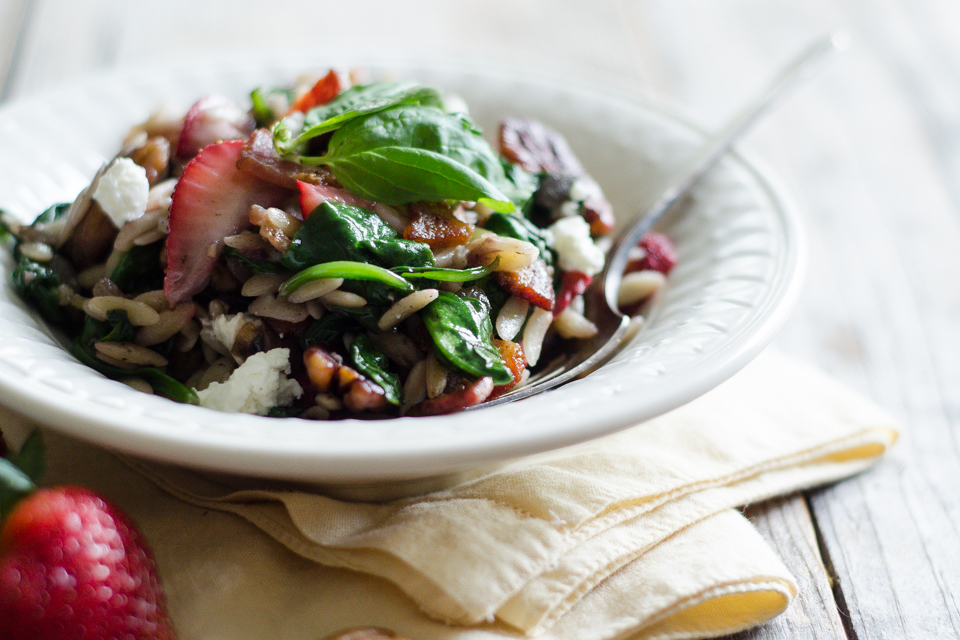 Notes:
1. Don't overcook your orzo, or it will stick together. I cooked mine a bit too long and needed to rinse it with cold water to loosen it up.
2. I love that the strawberries don't get too cooked—just enough to help their flavor meld a tiny bit into the rest of the salad.
3. You could also use other seasonal fruits in this salad. I think blueberries would work really well.
4. Even if you absolutely hate goat cheese, you should still give this recipe a try! You can leave it out or substitute it with another cheese. I think blue cheese or feta would be awesome.
5. This salad was really best fresh. It seemed to deteriorate quickly in the refrigerator for me.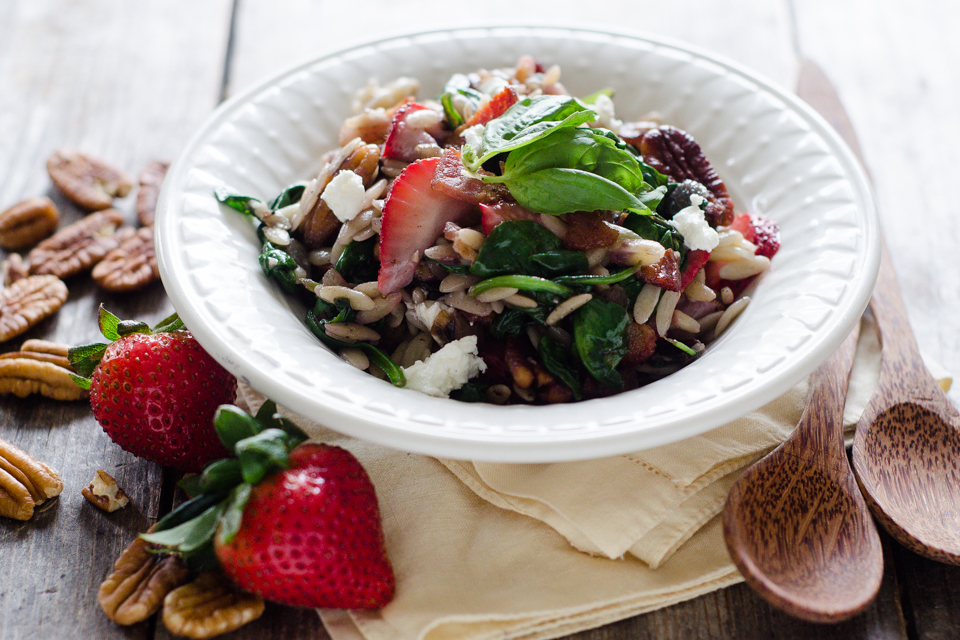 Thank you very much, Jessica, for sharing this yummy salad with all of us! If you haven't discovered Jessica's blog, How Sweet It Is, make sure to head over and browse through her culinary creations. This Grilled Kale BLT Dip sounds really good to me.
Printable Recipe
See post on HowSweetEats's site!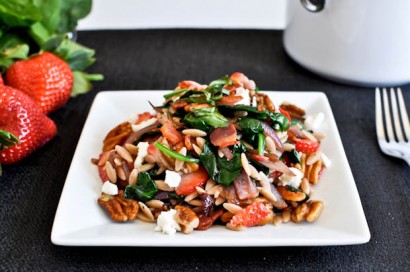 Description
A warm salad loaded with strawberries, whole wheat orzo, sauteed spinach, garlic, caramelized onion, bacon, pecans, goat cheese and fresh basil.
Ingredients
½ cups Uncooked Whole Wheat Orzo
2 slices Bacon, Chopped
¼ cups Whole Pecans
½ whole Red Onion, Sliced
2 cloves Garlic, Minced
4 cups Raw Spinach
4 whole Large Strawberries, Sliced
1 ounce, weight Goat Cheese Crumbled
Fresh Basil, For Garnish
Salt And Pepper
Preparation Instructions
Heat a large skillet over medium heat and add bacon. Fry until golden brown and crispy, then remove bacon with a slotted spoon and drain on a paper towel. Add pecans to the skillet and toast for about 6-8 minutes, stirring occasionally so they do not burn. Remove and drain on a paper towel. Set bacon and pecans aside.
In the meantime, boil a pot of water for orzo and cook according to package directions.
Add sliced red onion to the skillet with a sprinkle of salt and stir to coat with bacon grease. Saute over medium heat until onions are soft and caramelized, about 10 minutes. Add in garlic and spinach and cook until spinach wilts. Add in strawberries and the cooked orzo and mix to coat. Season with salt and pepper, then add in pecans and bacon. Remove from heat and stir in crumbled goat cheese. Top with fresh basil to garnish if you'd like. Serve immediately. It tastes good cold too!


_______________________________________
Erica Kastner has always been one of our most cherished members of the Tasty Kitchen community. She shares her wonderful recipes and amazing food photography on her blog, Buttered Side Up, and she also writes about crafts and posts more of her beautiful photography in her personal blog, Simple Days. There really isn't much that this amazing young wife and mother can't do, and we're thrilled she does some of it here.