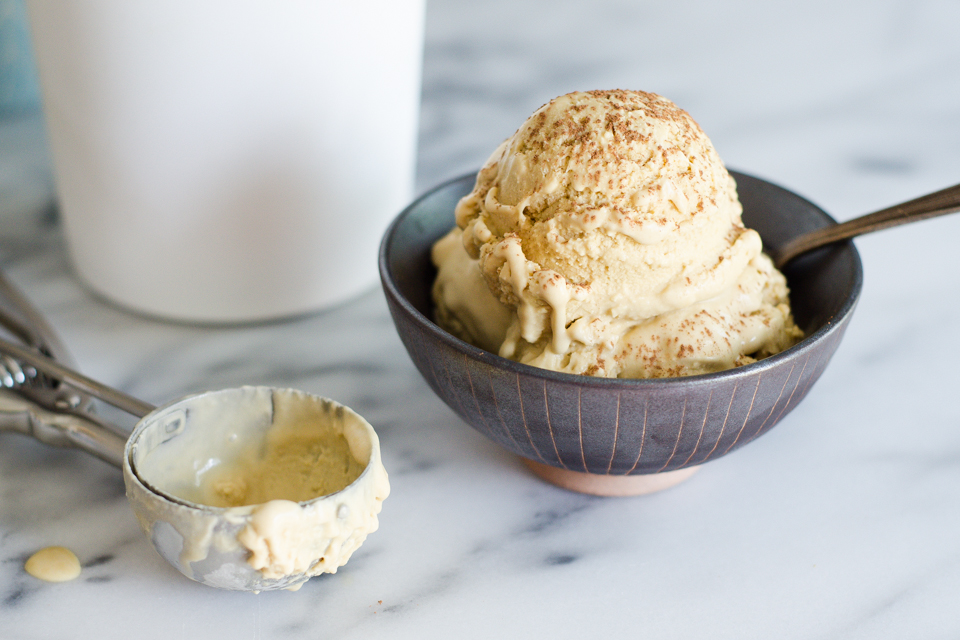 Hooray for ice cream season!
Of course, if someone were to make the argument that ice cream is a year 'round affair, I wouldn't try to convince them otherwise.
This Tiramisu Ice Cream recipe, brought to us by Mira, may sound all fancy-schmancy, but the only difficult part is locating a couple of ingredients. Most supermarkets carry mascarpone, and Kahlúa is actually a very popular liqueur. I've been wanting to try it in cooking for years, and now I have a bottle to experiment with.
Side note: I like to pronounce mascarpone incorrectly on purpose to bug Reuben. I'm such a good wife.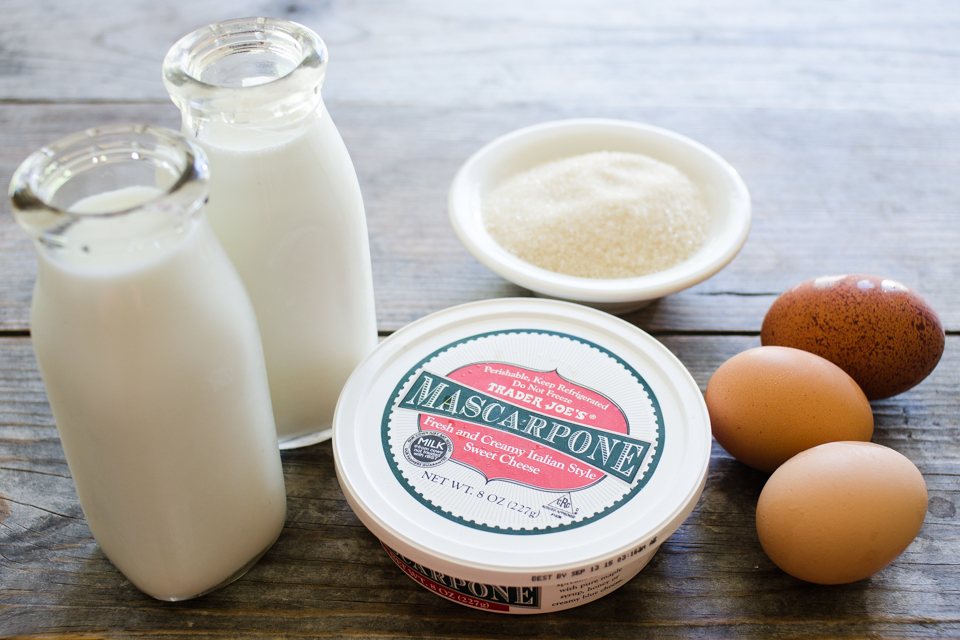 For the base of the ice cream, you only need 5 ingredients: milk, cream, eggs (just the yolks), sugar, and mascarpone.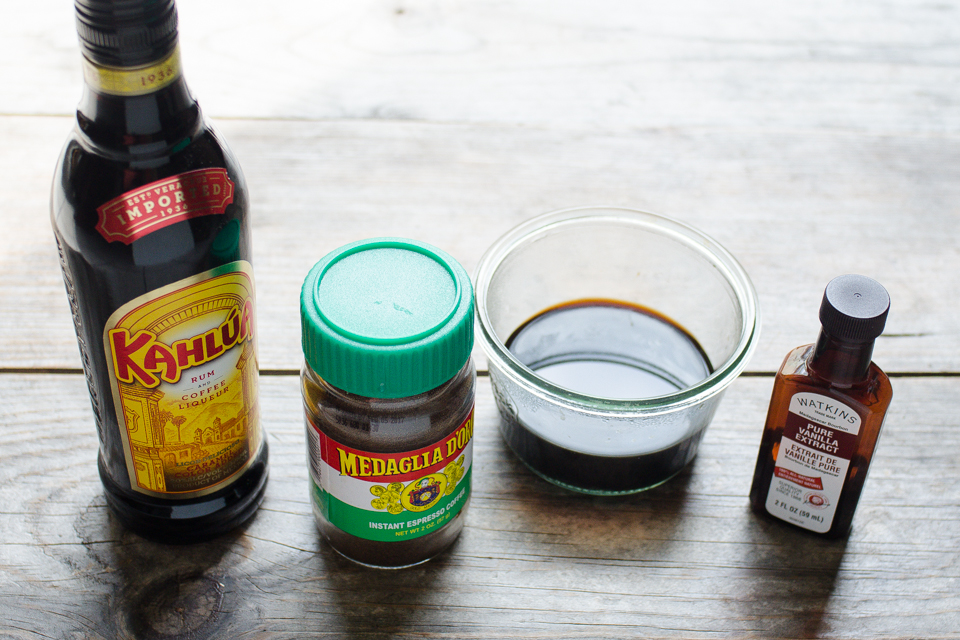 You'll also need 4 ingredients to flavor the ice cream: Kahlúa (or any coffee liqueur), instant espresso powder, brewed espresso, and vanilla extract.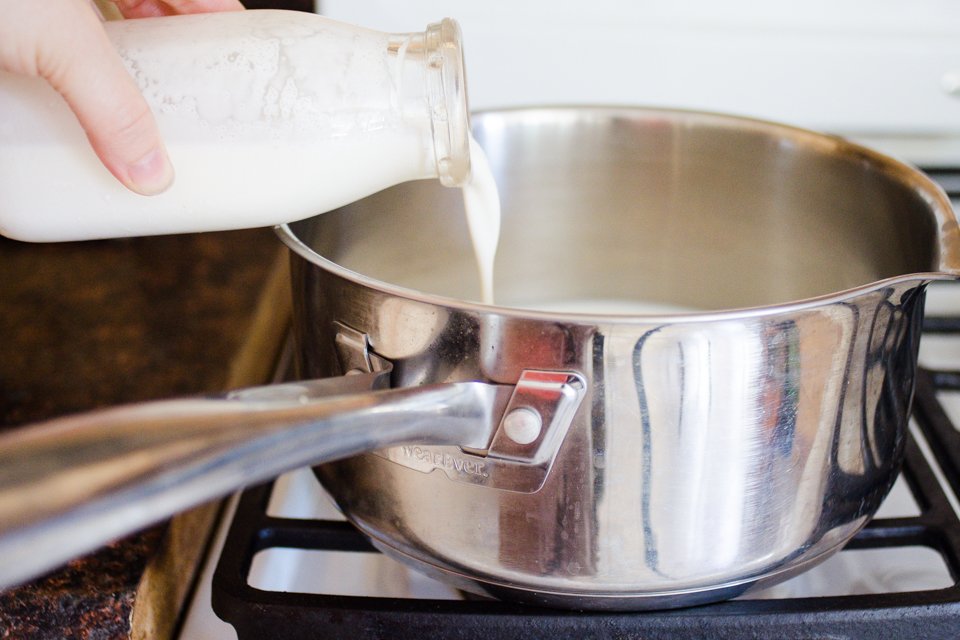 Start by heating the milk and cream in a saucepan.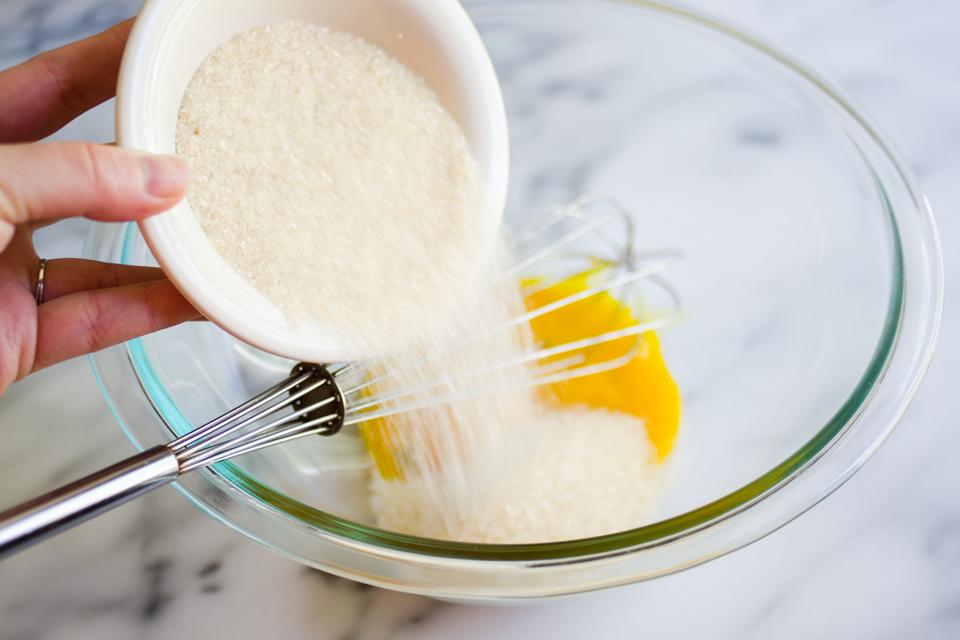 Meanwhile, put your egg yolks and sugar into a largish bowl.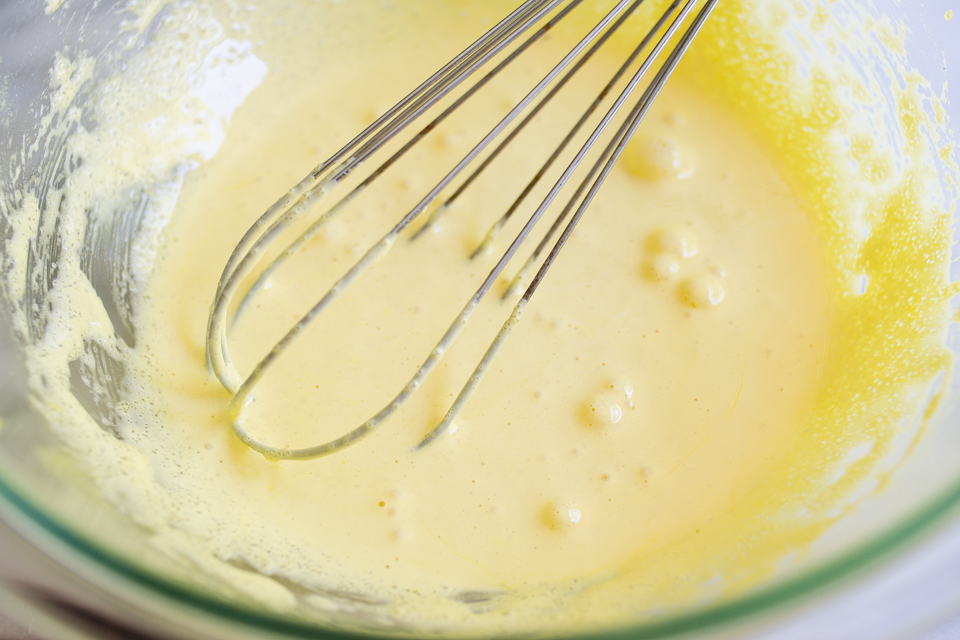 Whisk them together until the mixture is pale and frothy (mine never quite got to the frothy stage, but it did have bubbles).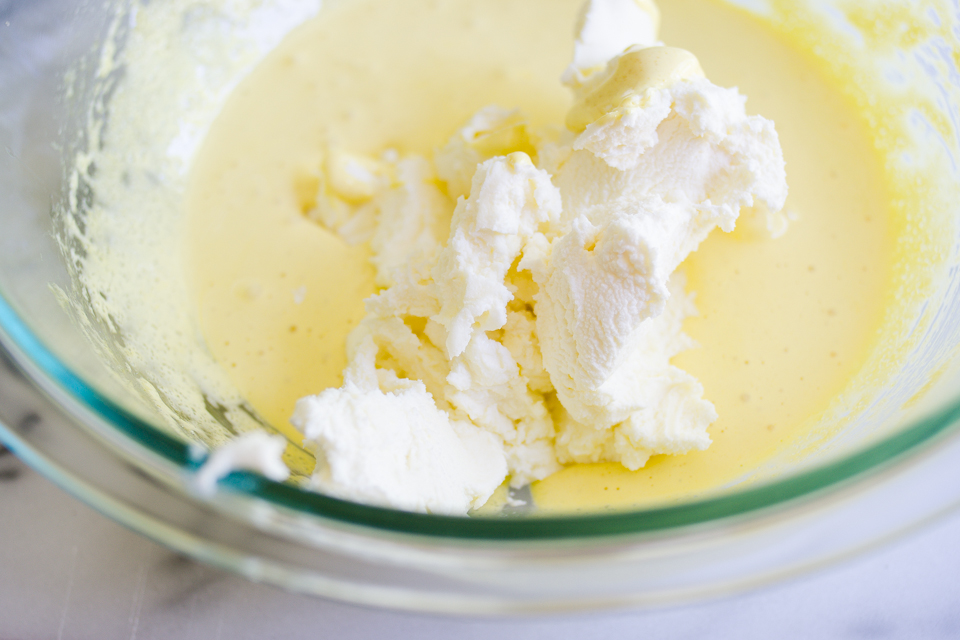 Add the mascarpone.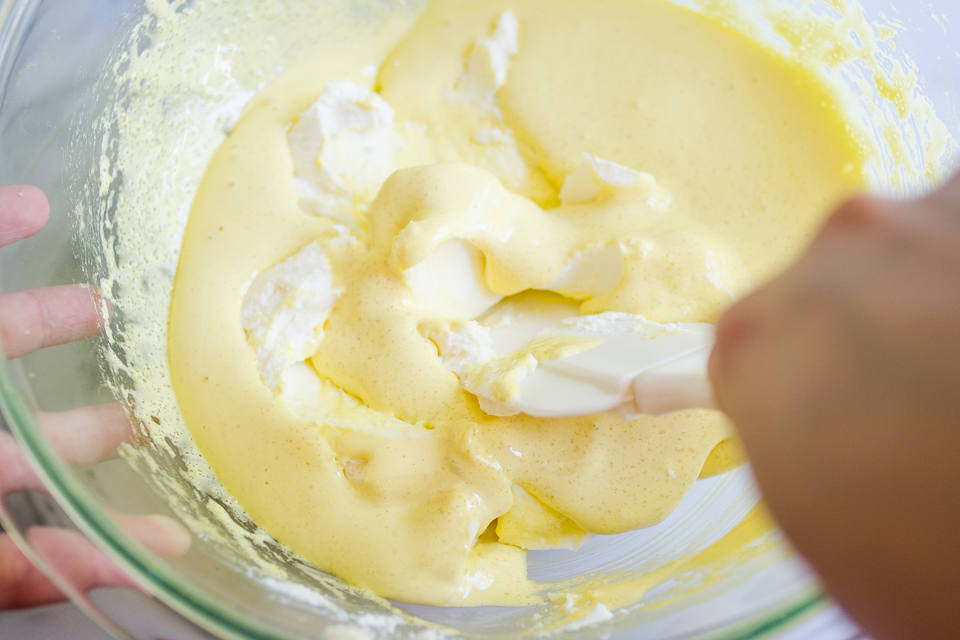 Gently fold in the cheese with a rubber spatula or spoon.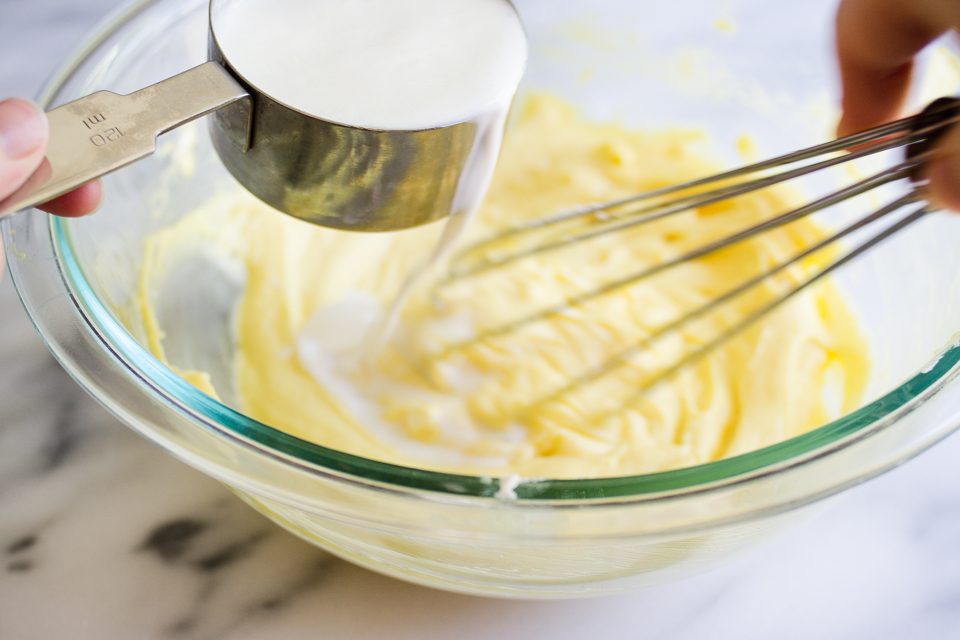 Once the milk and cream are simmering, slowly add half a cup to the egg/sugar/mascarpone mixture. Make sure you whisk while you add the hot milk and cream!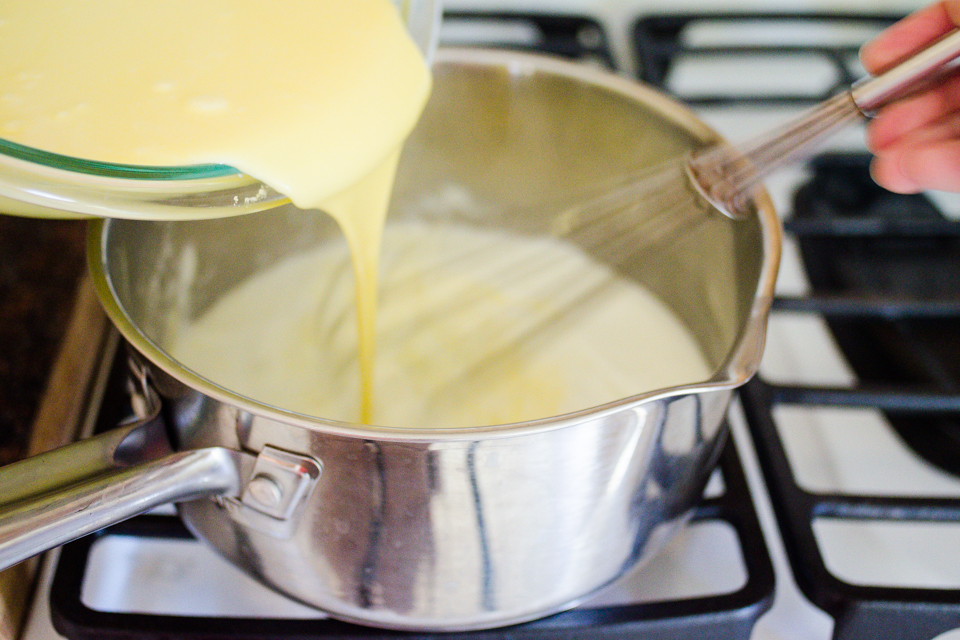 Pour the tempered egg mixture back into the pot on the stove.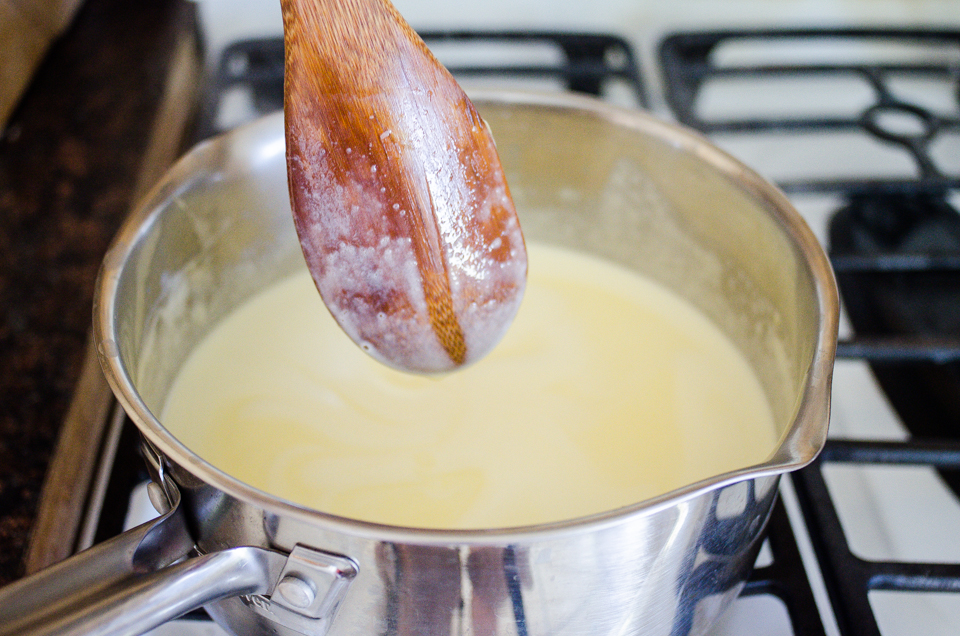 Turn the heat up to medium and cook until the custard coats the back of a wooden spoon. This should only take about 5-8 minutes. Don't overcook the mixture and scramble your eggs! Not like I speak from experience or anything.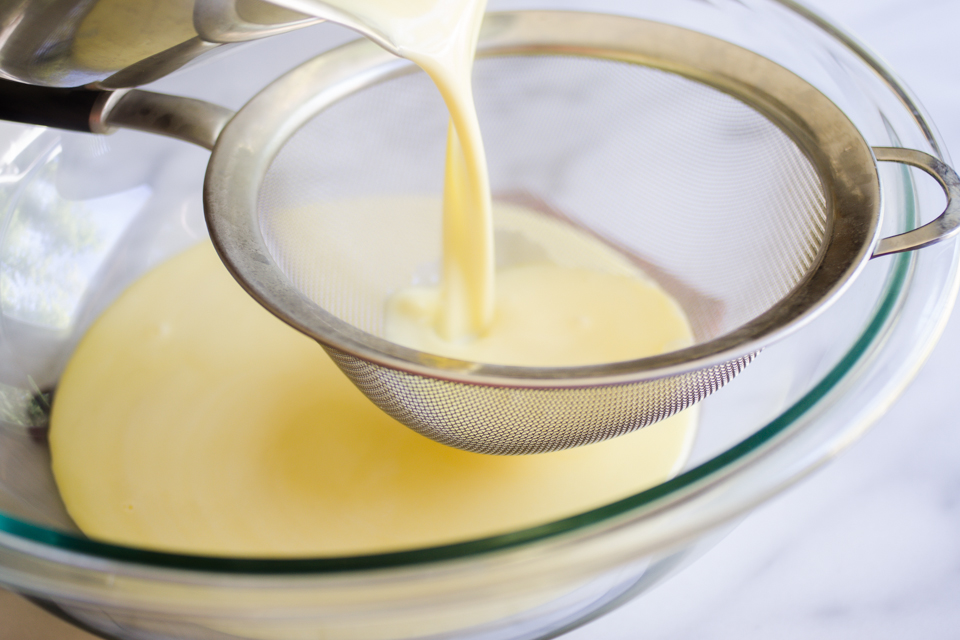 This step is optional, but I like to pour my custard base through a fine-mesh sieve to catch any bits that got a little too cooked.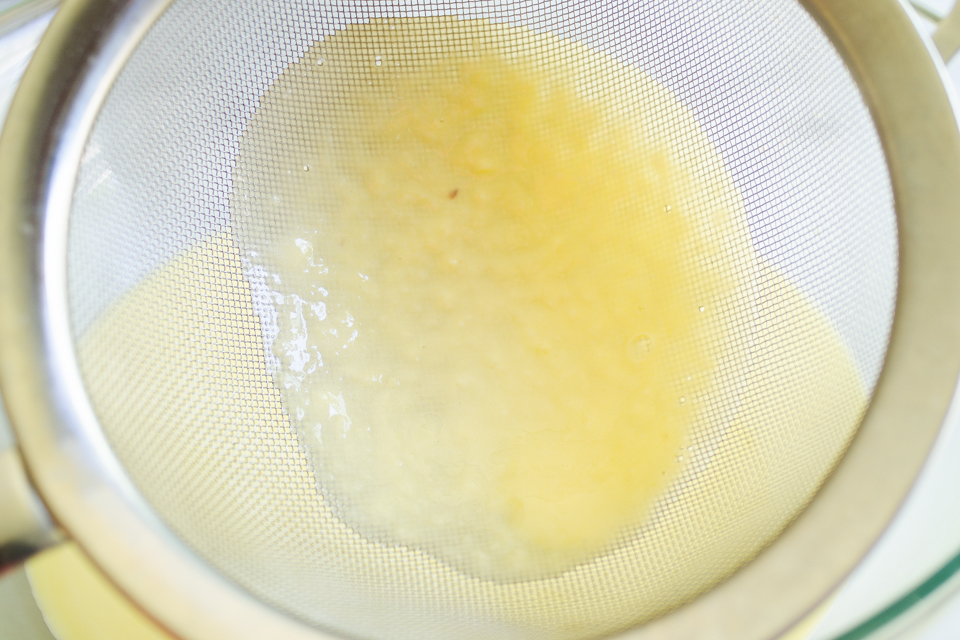 See? Do you want that in your ice cream? I think not.
Once the custard cools to room temperature, cover and place in the refrigerator. Let it chill until it's bone cold. I left mine overnight.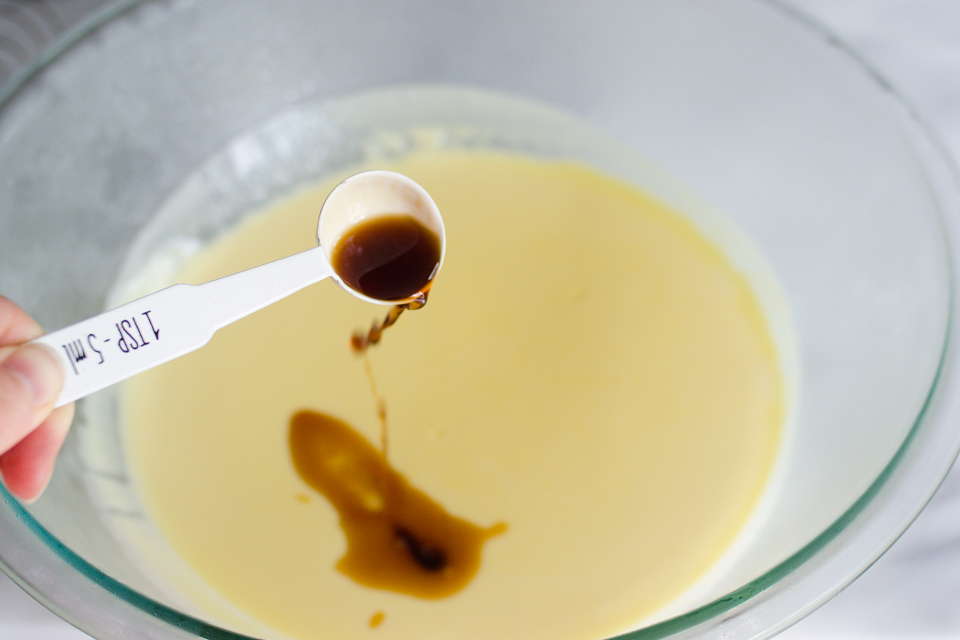 Now that your ice cream base is completely cold, it's time to add the flavorings! A teaspoon of vanilla extract…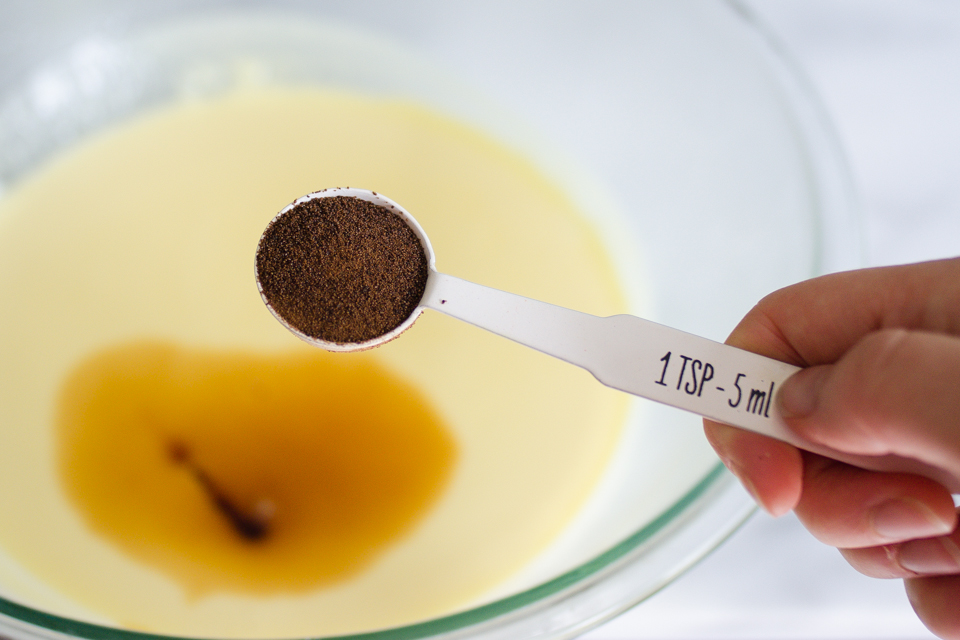 A teaspoon of instant espresso powder…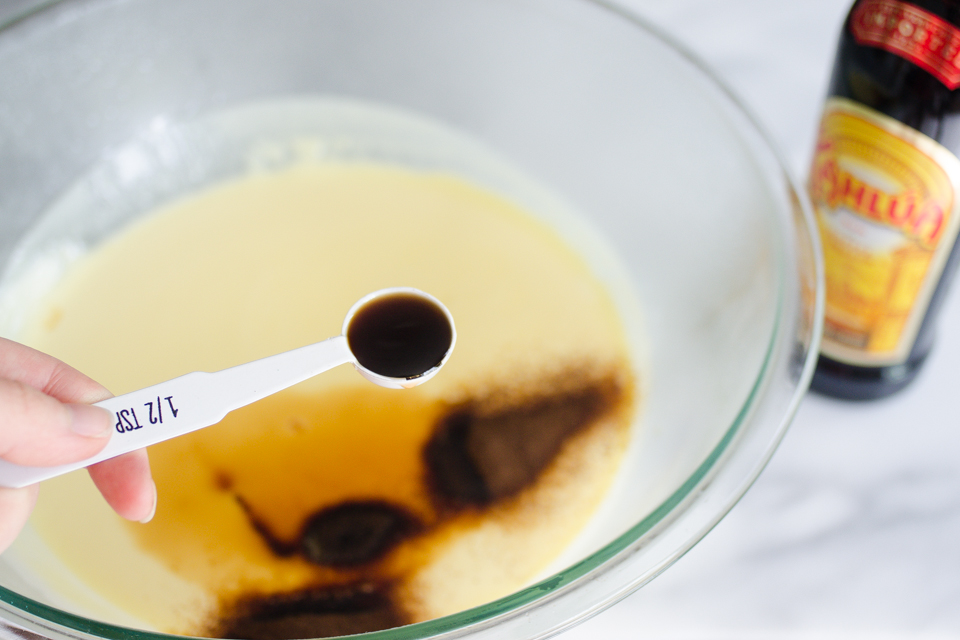 Just half a teaspoon of Kahlúa (or coffee liqueur of choice)…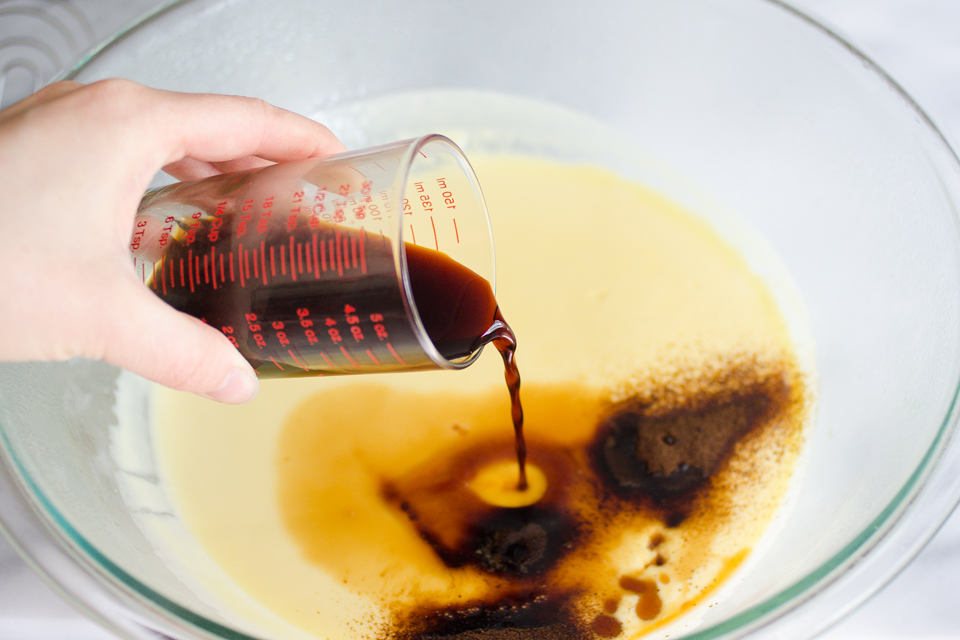 And 1/4 cup of brewed espresso. Now you have layers of coffee flavors.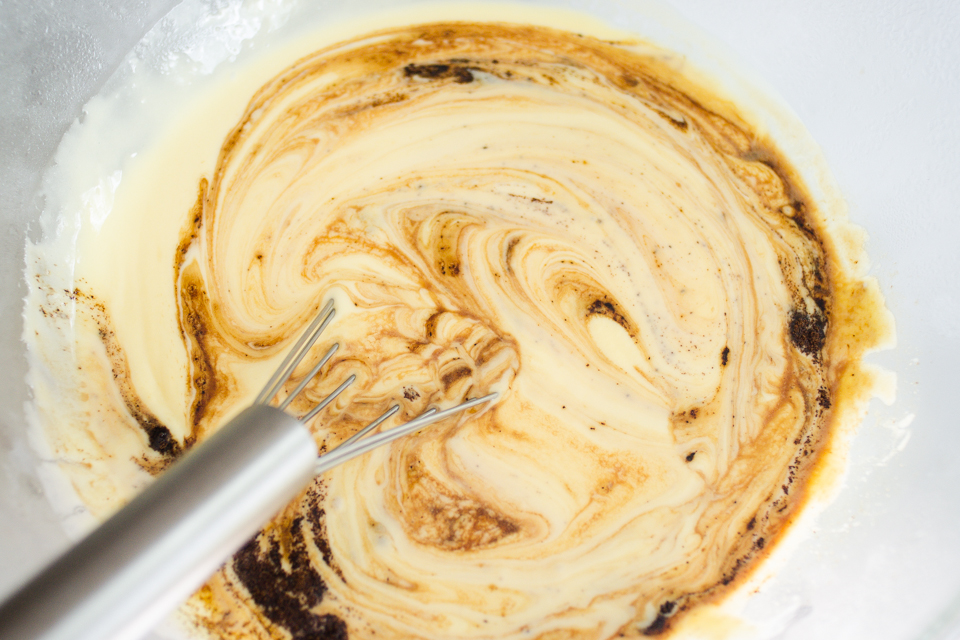 Whisk it all together until smooth.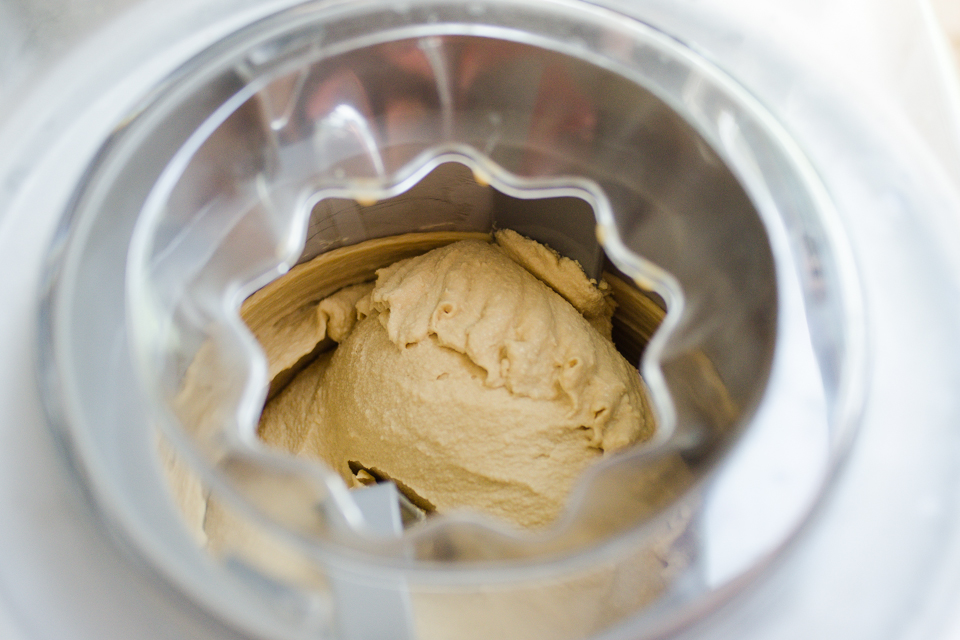 Pour the custard into your ice cream maker and churn according to the manufacturer's instructions.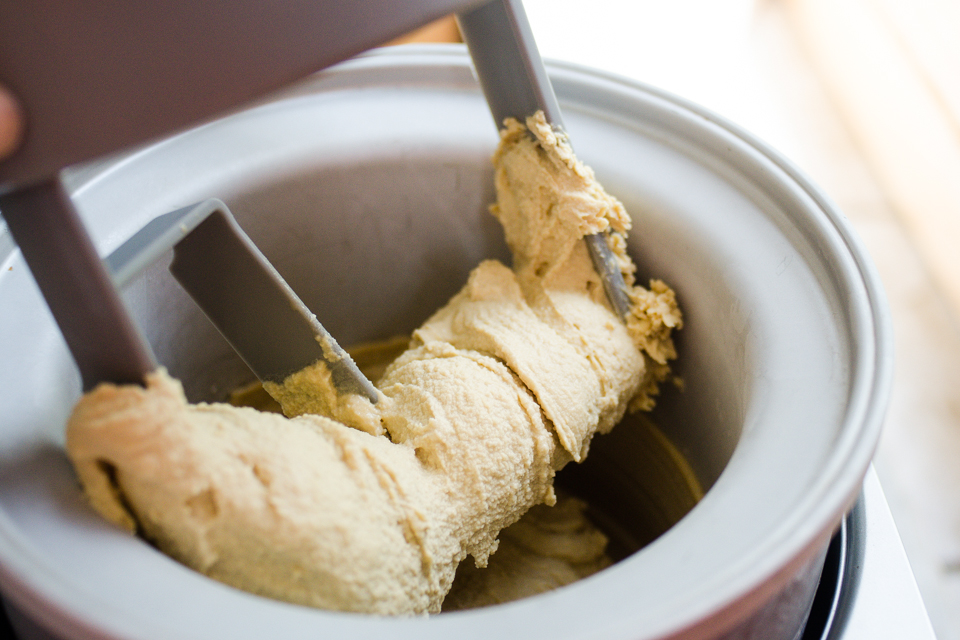 It only took about 20 minutes for mine to turn into a creamy, soft-serve consistency.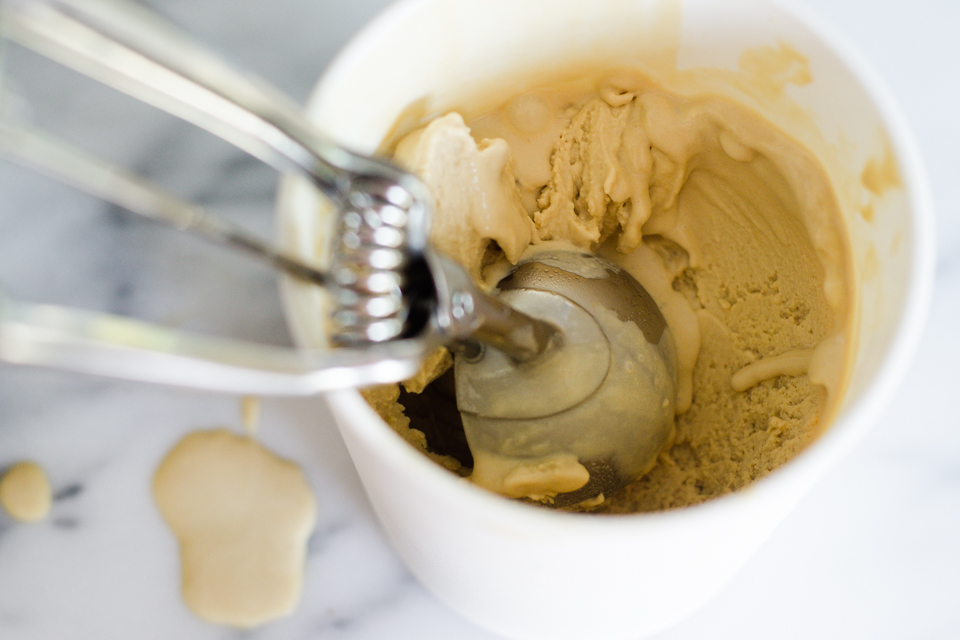 Scoop the ice cream into a freezer-safe container and freeze until firm. Or eat it straight out of the ice cream maker—I won't judge!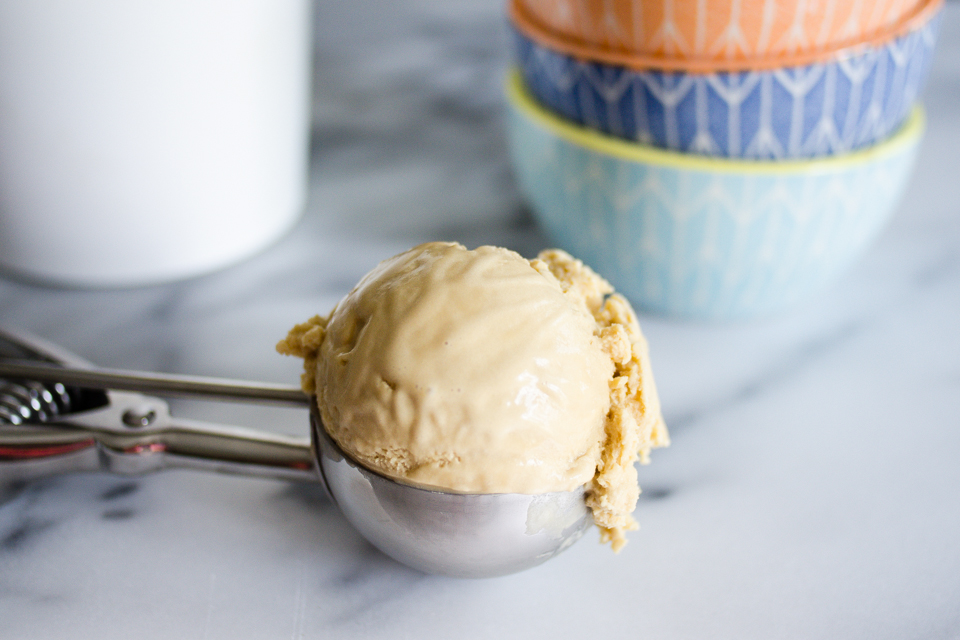 Note: The mascarpone has a bit of a grainy texture. If you're a stickler about perfectly smooth ice cream, you could always substitute another soft cheese that is creamier. I personally didn't mind it, and my sister said that the graininess was reminiscent of real tiramisu.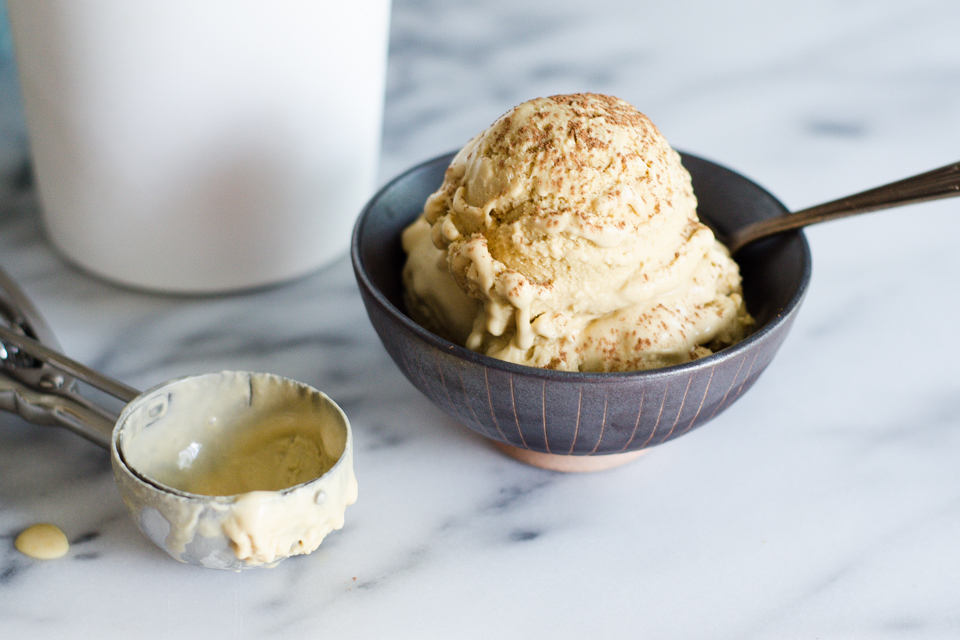 If you like, you can dust the top of the ice cream with cocoa powder, or sprinkle with it with finely chopped chocolate. This gives it even more of a tiramisu vibe.
Thanks to Mira for sharing her recipe with us here on Tasty Kitchen. Stop by her blog, Cooking LSL, for more delicious recipes. Her Berries and Peach Pudding Tart sounds scrumptious.
Printable Recipe
See post on Cookinglsl's site!
Description
Creamy, coffee-flavored frozen dessert to enjoy on its own or add it on top of brownies, crepes or cookies.
Recipe makes a little less than 1 quart. I used an ice cream maker with 1 to 1 1/2 quart capacity.
Ingredients
1 cup Whole Milk
1 cup Heavy Cream
3 Egg Yolks
½ cups Sugar
1 cup Mascarpone Cheese, At Room Temperature
1 teaspoon Vanilla
1 teaspoon Instant Espresso Powder
¼ cups Espresso
½ teaspoons Kahlua Or Other Coffee Flavored Liqueur (optional)
Preparation Instructions
In a saucepan, combine milk and cream and turn on heat to medium-low. Heat milk until it is simmering.
In a deep bowl, whisk together egg yolks and sugar, until pale and frothy. Add mascarpone cheese and mix until combined. (Use a wooden spoon or spatula, don't beat mascarpone with electric mixer).
Add ½ cup hot milk to the mascarpone mixture and whisk to combine. Pour mixture back in the pan with hot milk and mix to combine. Cook for 5–8 minutes on medium heat, stirring constantly, until custard it thick and covers the back of the spoon with a thin film.
Pour mixture to a bowl and let cool completely. Use an ice bath to speed up the process, or you can leave it in the fridge overnight.
Before you add mixture to ice cream machine, add vanilla, espresso powder, espresso and coffee liqueur.
Following manufacturer's instructions for your ice cream maker, freeze until it resembles soft serve ice cream.
Transfer to a 9″x13″ in pan, lined with parchment paper, cover and freeze until firm. Serve and enjoy!


_______________________________________
Erica Kastner has always been one of our most cherished members of the Tasty Kitchen community. She shares her wonderful recipes and amazing food photography on her blog, Buttered Side Up, and she also writes about crafts and posts more of her beautiful photography in her personal blog, Simple Days. There really isn't much that this amazing young wife and mother can't do, and we're thrilled she does some of it here.