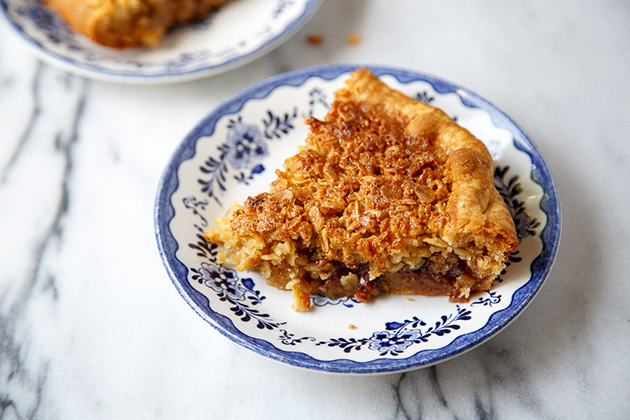 I love oatmeal. I love a warm bowl of it in the morning topped with dried figs and honey. I love a cinnamon oatmeal applesauce muffin as a snack in the afternoon. And do I even have to talk about how much I love oatmeal cookies? We all love oatmeal cookies. So, when I saw Heather's recipe for Chocolate Chip Oatmeal Pie, I was immediately intrigued. I had never heard of such a concoction. But I trusted Heather's Texas roots, so I jumped right in.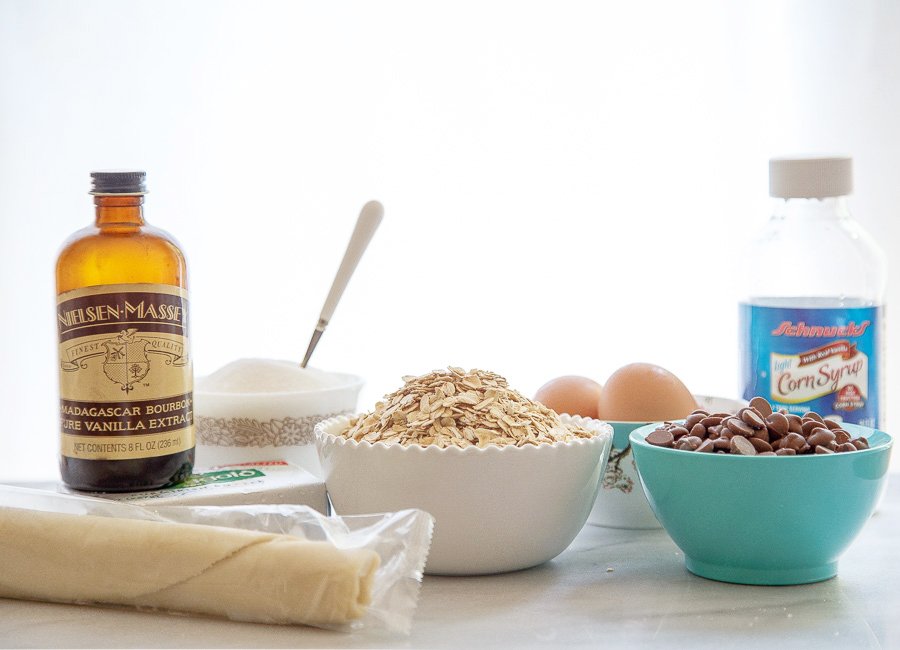 Even after reading the ingredient list, I still couldn't wrap my mind around what type of pie this would be. It was big mystery to me, one I tried to unravel as I whisked the ingredients together, anxiously anticipating my first bite of pie.
Oatmeal pie doesn't have many ingredients. It's simply made of pie crust, rolled oats, sugar, eggs, vanilla, butter, chocolate chips and corn syrup. So simple. I had everything in my pantry to make this pie.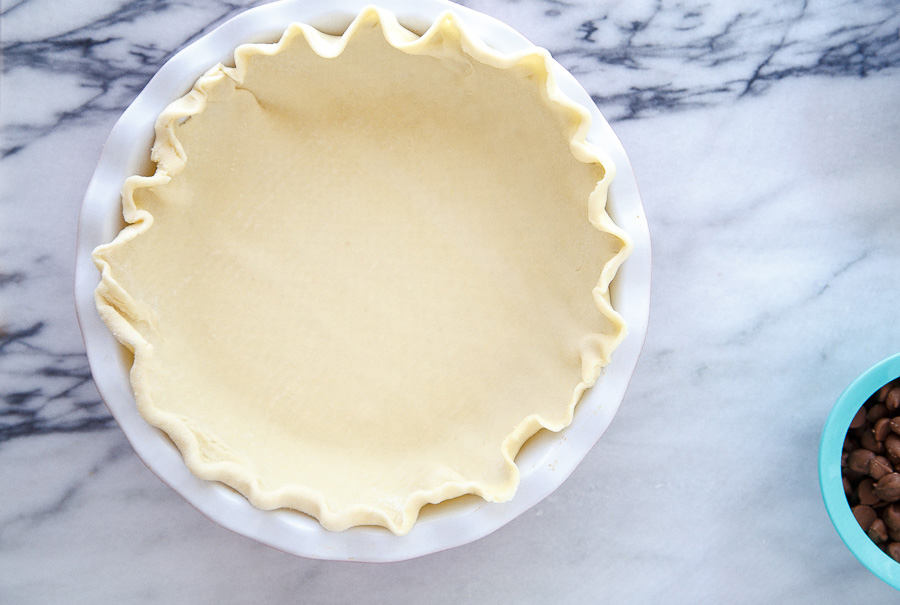 First, I unrolled the pie crust. I used a store-bought pie crust, like Heather's recipe calls for. Then, I spent a good 15 minutes wondering why I have been forcing myself to make pie crust all these years. Store-bought crusts are great! Plus, all I had to do was unwrap, unroll and bake. I was even closer to pie time than I thought!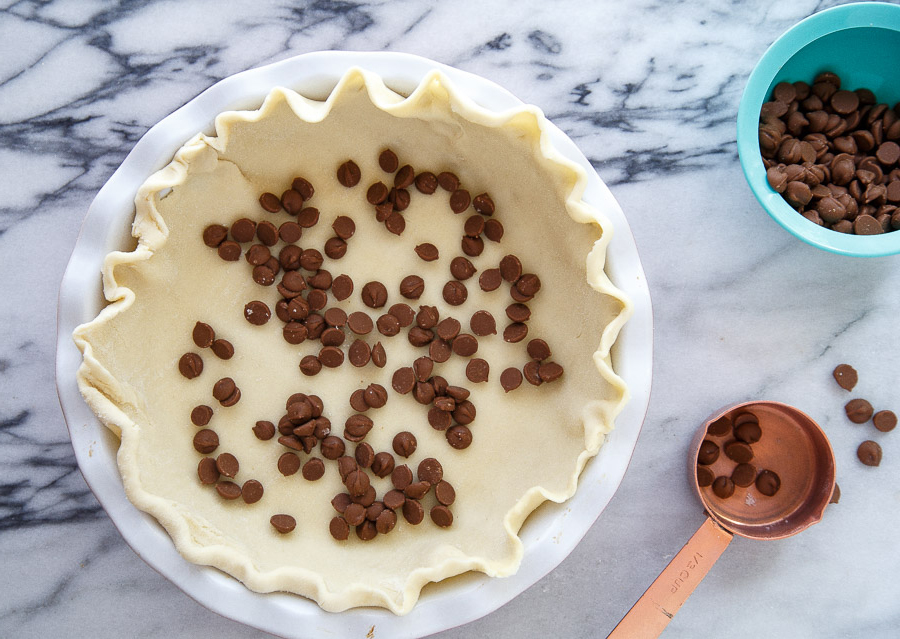 I sprinkled 1/3 cup of chocolate chips on top of the pie crust. I used milk chocolate chips, because they're sweeter than semisweet or dark chocolate chips. I'm just waiting for milk chocolate to make its big comeback.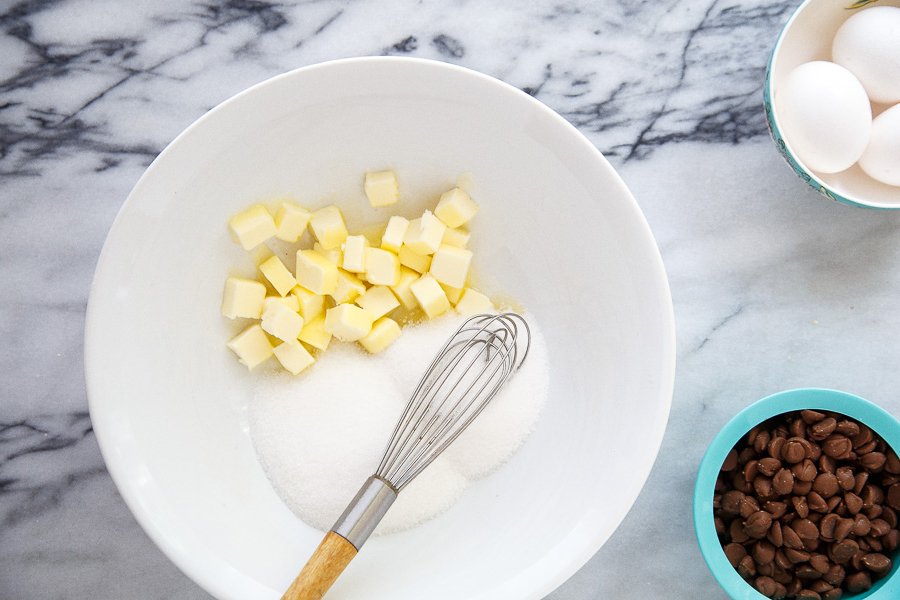 Then, I got to work on the pie filling. I whisked the butter and sugar together. I actually had a hard time with this step, so I melted it in the microwave. The recipe calls for softened butter, not melted, but it worked better for me to melt it.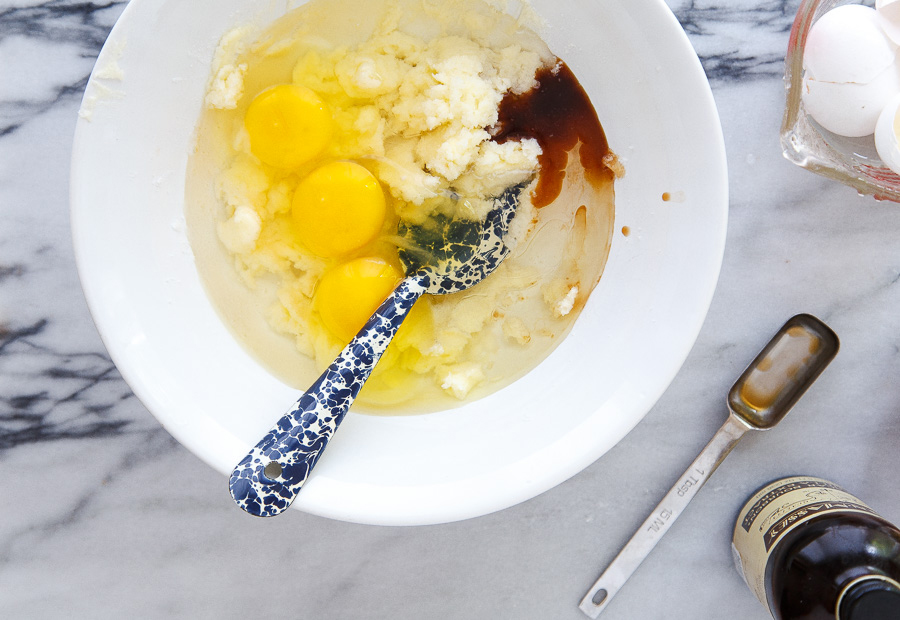 Next, all other ingredients are stirred in: corn syrup, eggs, vanilla.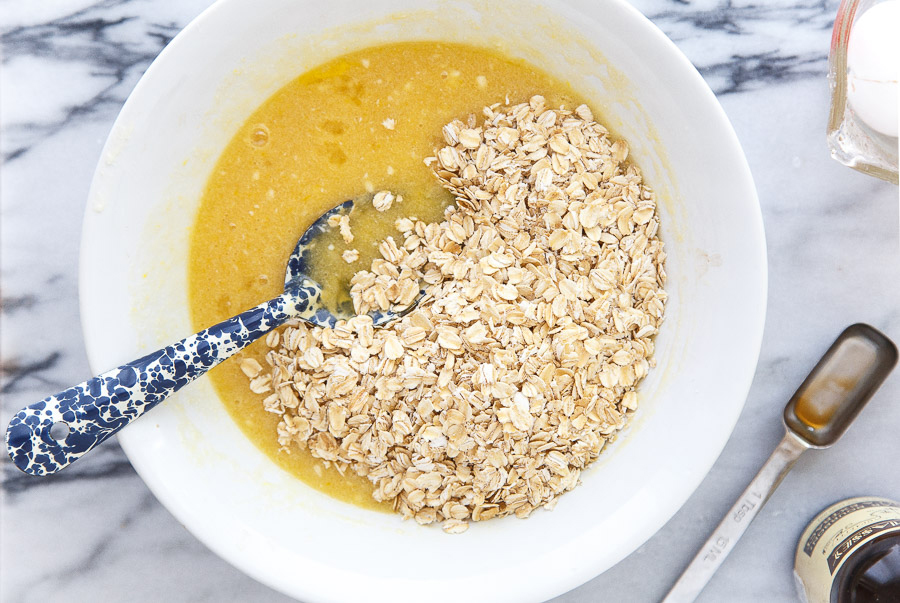 And finally, the oatmeal! The star ingredient!
Pour all ingredients over the chocolate chips in the crust and bake for 30–40 minutes, keeping an eye on the middle of the pie for jiggliness. That's a technical term when it comes to custard-pie-making, by the way. A little jiggle in the center is good; it will set when it cools.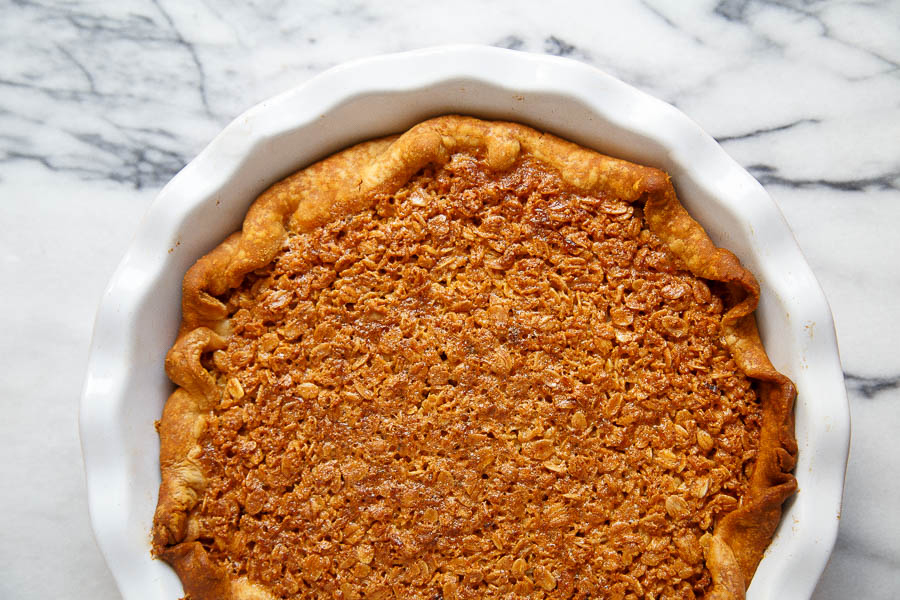 Isn't she beautiful? Heather said to wait until it cools to cut. Even though it was hard to do, I dutifully obeyed.
After one bite, I figured out what this pie is—it's like pecan pie, but with oatmeal! And it's so dang good! The corn syrup should have tipped me off that it would be like pecan pie, but I didn't realize it until that first bite. Which led to many more bites. I'm hooked on this pie!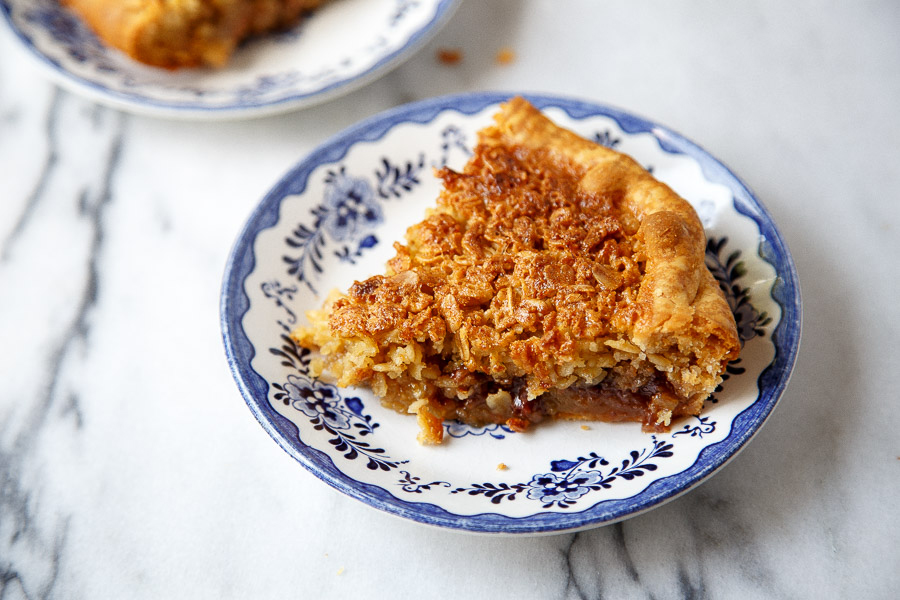 Next time you're craving pecan pie and spy a container of rolled oats in your pantry, make this pie. It should go right into your recipe box!
Thanks for a new classic pie recipe, Heather! Check out her blog, Heather's Dish, for more of her creations.
Printable Recipe
See post on Heather Disarro's site!
Description
This pie is literally the easiest and most delicious pie you'll make. Plus it has oatmeal in it, which clearly makes it health food!
Ingredients
1 whole Prepared (not Baked) 9-inch Pie Crust
⅓ cups Semi-Sweet Chocolate Chips
⅓ cups Softened Butter
⅔ cups Granulated Sugar
1 cup Light Corn Syrup
1 Tablespoon Vanilla Extract
3 whole Eggs
1-¼ cup Old Fashioned Rolled Oats
Preparation Instructions
Preheat oven to 350 F. Press the prepared and rolled pie dough into a 9-inch pie pan and fix the edges however you like. Pour the chocolate chips evenly into the bottom of the pie crust. Set it aside.
In a large bowl, mix together the butter and sugar until smooth and creamy. Whisk in the corn syrup, vanilla, and eggs until smooth. Fold in the oats.
Pour the entire mixture evenly over the chocolate chips. Bake at 350 F for 45-60 minutes or until the pie is just set in the center. Keep an eye on it and make sure to tent the edges of the crust with a strip of foil if you need to keep it from browning too much.
When done remove pie from the oven and let it cool completely before serving!


_______________________________________
Growing up in a food-obsessed family and spending a lot of time in her Aunt Rose's restaurant as a child, Christina was destined to be a fantastic cook. She's a private chef during the day, but cooks for two at home. Like all of us, she has a sweet tooth that needs indulging after dinner. After becoming frustrated with the lack of recipes made for two, especially in the dessert category, she took matters into her own hands and started her blog, Dessert for Two, to share how she takes Southern classics (and a few surprises) and turns them into recipes that are perfect for just a few people. Her first cookbook, Dessert for Two, is now available at your favorite bookstore.