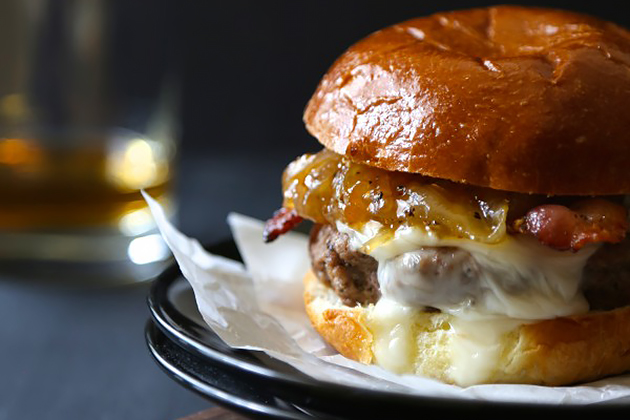 It's Friday! Better yet, it's the Friday before a 3-day weekend. It's the best kind of Friday! Except, of course, for the Friday before a 4-day weekend.
Whatever you may have planned for the next few days, chances are some form of grilling will be involved. Actually, let me be more specific: some form of grilling burgers will be involved. We're here to support you all the way. After all, that's what we're here for.
Now most of you probably already have your burger method down pat. You know the kind of meat you like to use, the meat-to-fat ratio, and you know exactly where to get the perfect rolls for your burgers. You already know not to handle the meat too much to keep it tender, and you automatically make that center depression on the patty so it cooks flat. So today, we won't be showing you the classic American burger. Instead, we want to show you a few recent ones—ten of them, to be exact—that we think you might want to try if you're looking to spruce up your burger repertoire. Let's begin!
Peanut Butter, Egg, and Bacon Burger. Who knew peanut butter would pair so well with burgers! Just trust us on this one.
Green Goddess Burgers. Take all those wonderful, fresh, herbaceous spring flavors, and pile them on your burger. Done.
Crab Cake Burger. Go uptown using the seafood route. Just make sure you'll have enough for seconds for everyone. Make that thirds.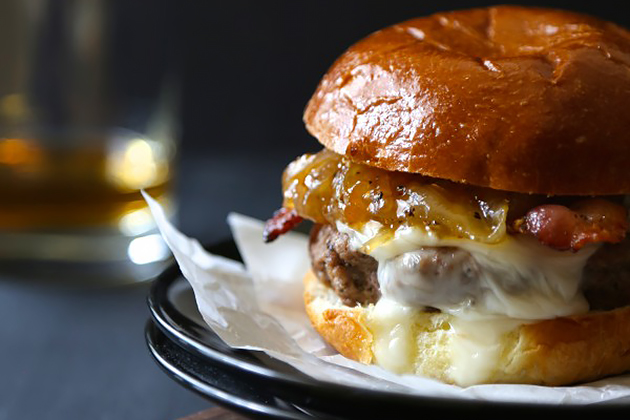 Bacon and Brie Burger with Spicy Peach Caramelized Onions. Jazz up the standard cheeseburger with Brie, and balance the salty smoky flavor with sweet and spicy onions. Oh yes.
French Burgers & French Fries. Ground chicken, cornichons, lemon, and fresh tarragon. Oh, and Brie. (Can you tell we love Brie?) Skip the usual burger bun and go with a crusty baguette! As a bonus, the recipe includes easy no-thermometer, no-double-fry french fries.
Homemade Butter Burgers. These are all the rage now. Whether you wrap the meat around the butter, or dice the butter into pieces and mix them into the burger, we say a little extra butter makes everything better. (Also, we used the word 'butter' four times in this paragraph. Case closed.)
Bangkok Burger. All your favorite Thai flavors in a handheld package.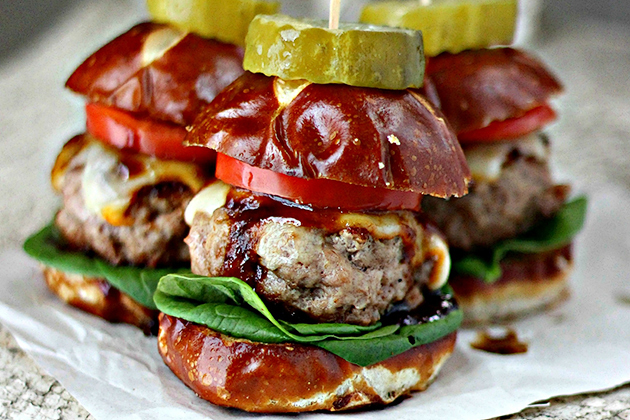 Mini Guinness Pork Burgers with Guinness BBQ Sauce. Don't let beef have all the fun. These pork burgers are where it's at, and we know you won't want to make them mini.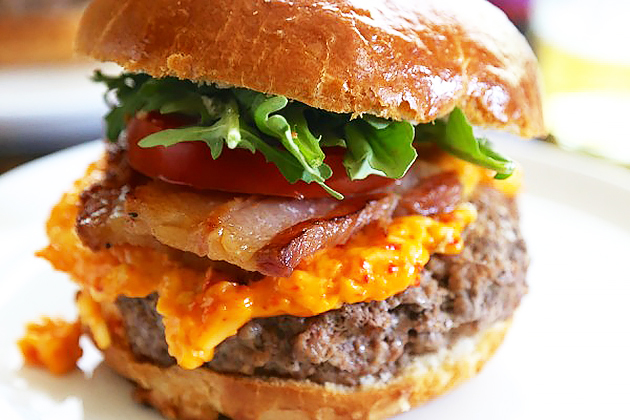 Pork Belly Pimento Cheese Burger. Did someone say pork belly? And pimento cheese? So much goodness in one sandwich!
Tex-Mex BBQ Black Bean Veggie Burgers. Hey, meatless burgers deserve their own place in the sun, too. These are hearty and loaded with flavor!
Did you see anything you liked? Or maybe you have a favorite that we missed. If so, share the love below!
Happy Friday, everyone! Travel safely, enjoy the weekend, and make something special on the grill. Then come tell us all about it!