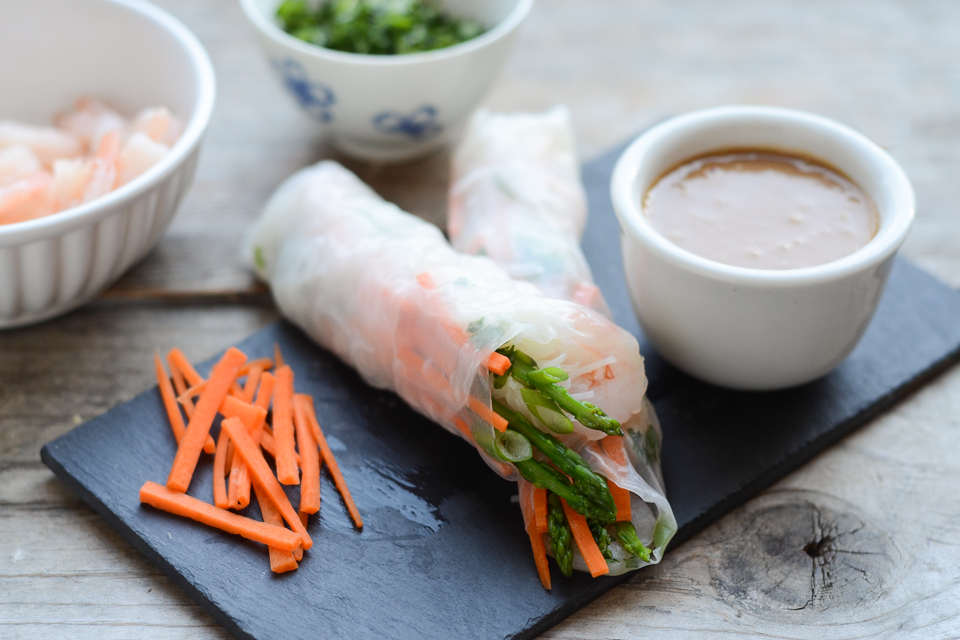 Sometimes, the mere fact that I've never tried a recipe before inspires me to make it. I see a fancy recipe and it gets my creativity going. But an unfamiliar recipe can also be quite intimidating. Take spring rolls as an example. A year ago, I saw a recipe that sounded delicious. I knew one day I needed to try my hand at them. I even bought the rice wrappers. But it all seemed very daunting, so I could never quite take the plunge.
Then I saw Lauren's recipe for Shrimp Spring Rolls with Sweet and Spicy Peanut Dipping Sauce, which included lovely spring vegetables. Erika encouraged me to make them and show you guys how they come together. Seeing step-by-step photos can sometimes open your eyes and explain a process in a way that words never quite can. That's what we're all about here on the Tasty Kitchen blog—empowering you to try delicious new recipes.
Let me take you through the steps of making spring rolls!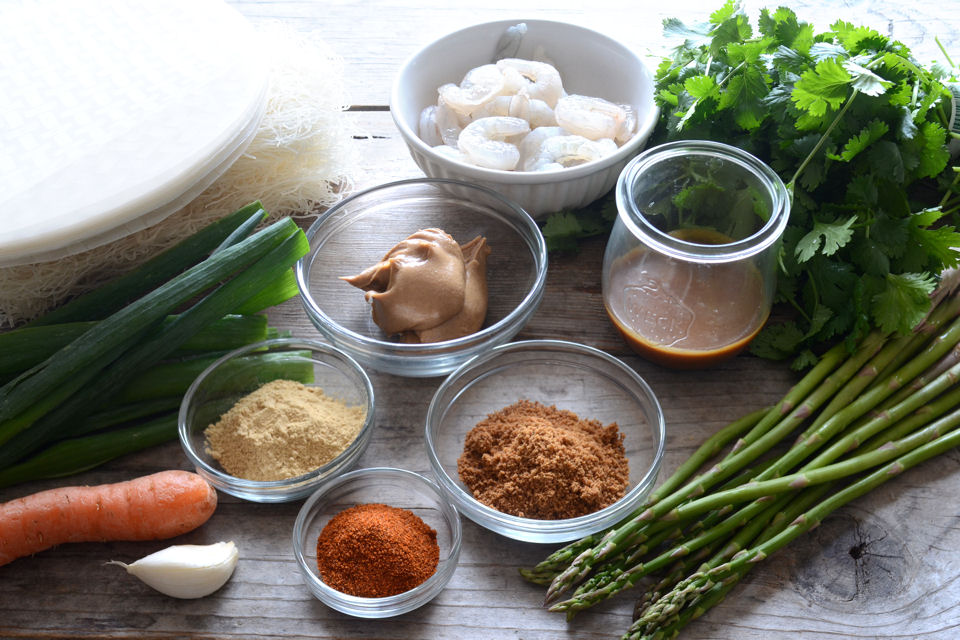 First of all, here are the ingredients that you'll need:
For the rolls: rice noodles, shrimp, asparagus, spring roll wrappers, green onions, carrot, and cilantro.
For the sauce: smooth peanut butter, brown sugar (I used coconut sugar), dried ginger, garlic, Hoisin sauce (I used Julia's recipe for homemade Hoisin sauce), cayenne pepper, and hot water (not shown).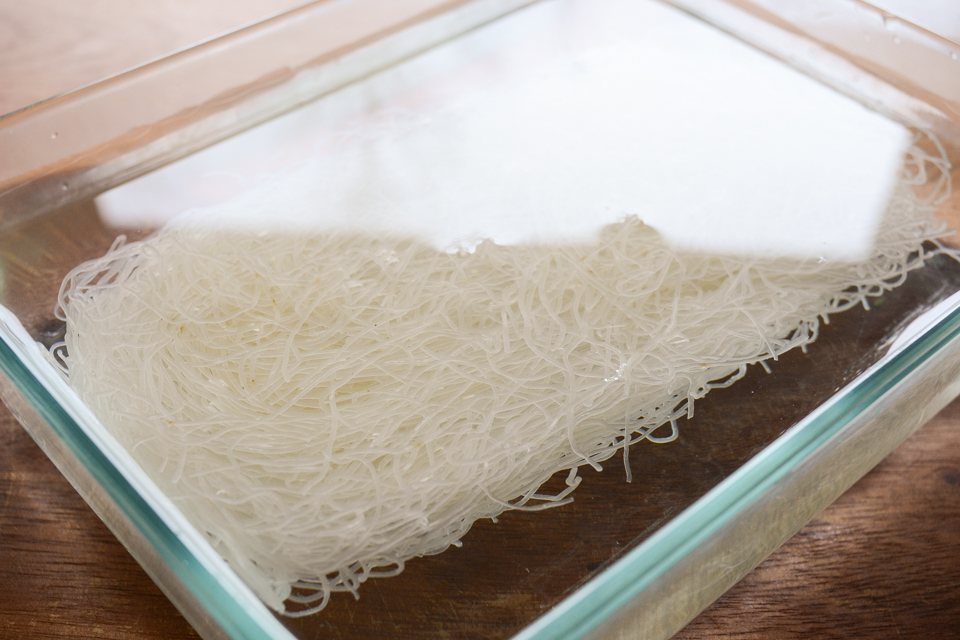 Begin by soaking the rice noodles in cold water. Place a small pot of water on the stove to boil.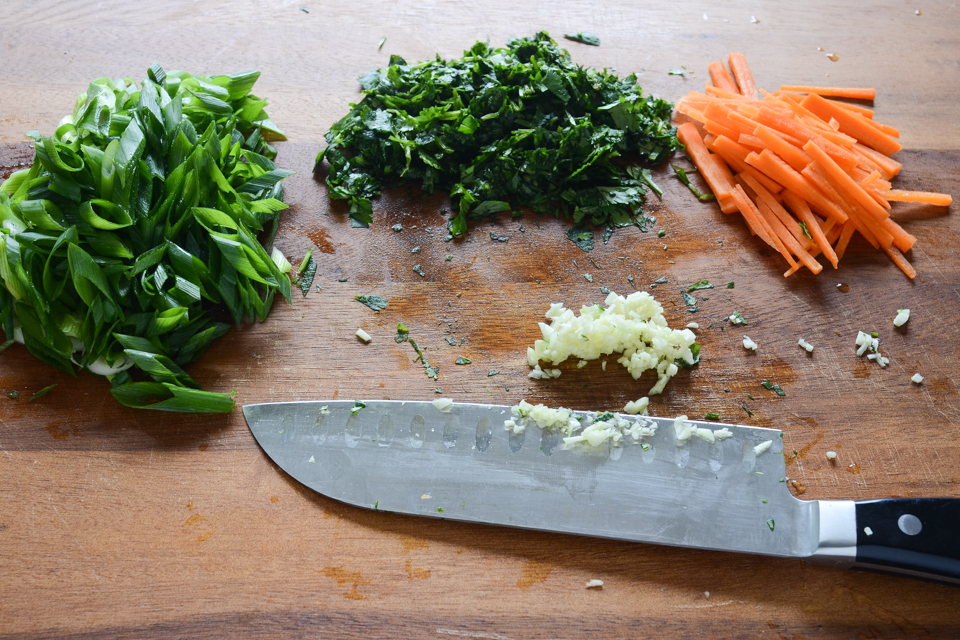 Now it's time to prep your veggies! Slice the green onions, chop the cilantro, julienne the carrot (don't laugh at my julienning skills), and mince the garlic.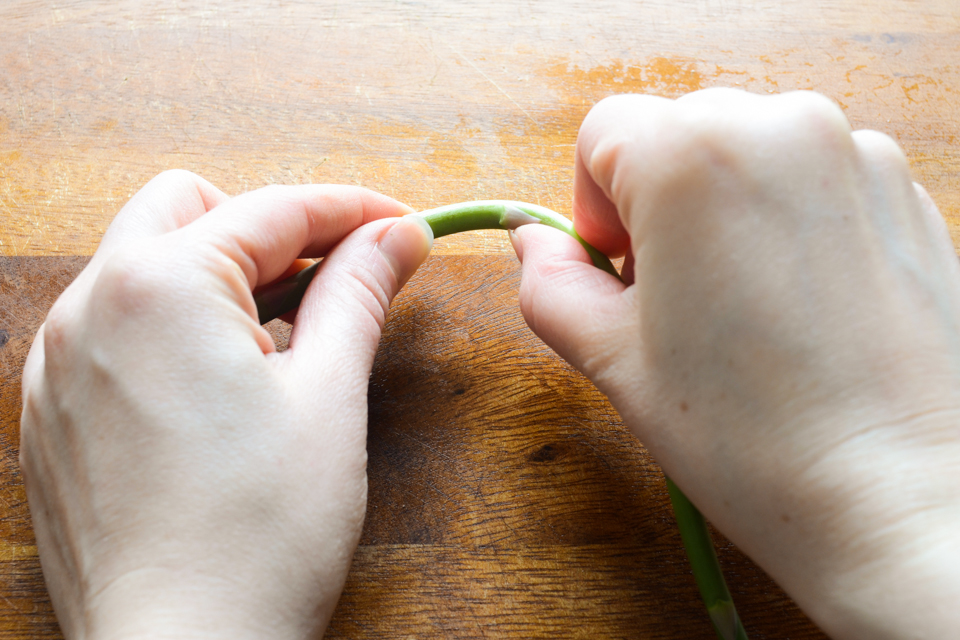 To prep the asparagus, start by bending them in half. The woody end should snap right off! This makes me happy for some reason.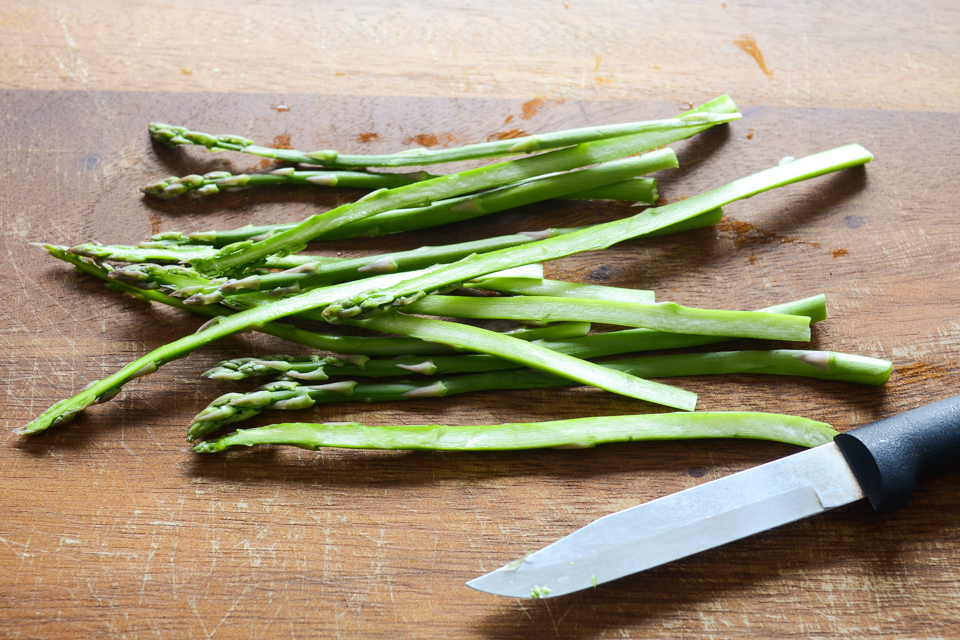 Slice the spears in half lengthwise. I found that a paring knife worked well for this job.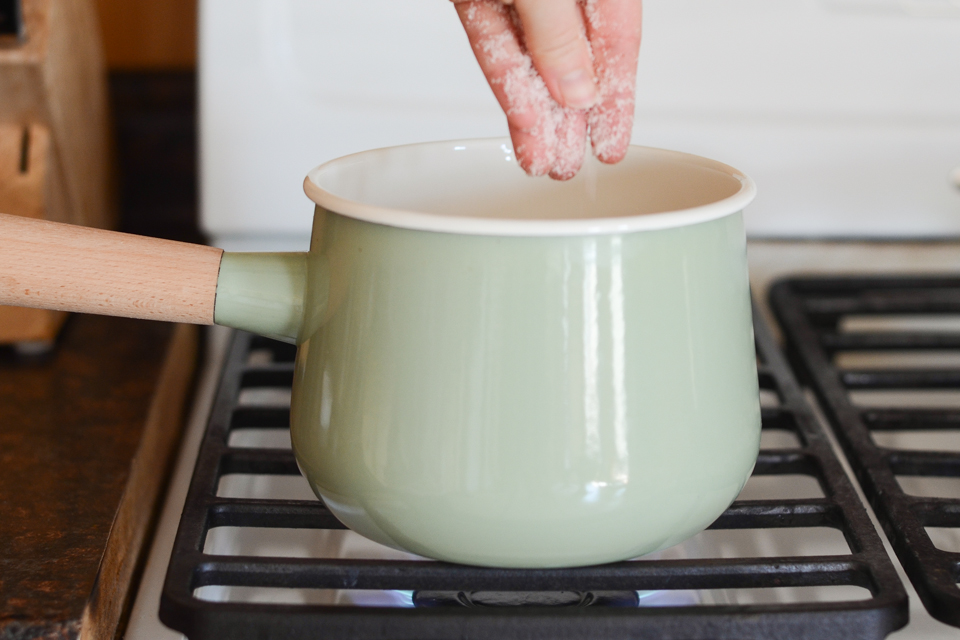 Once the water is boiling, salt it generously.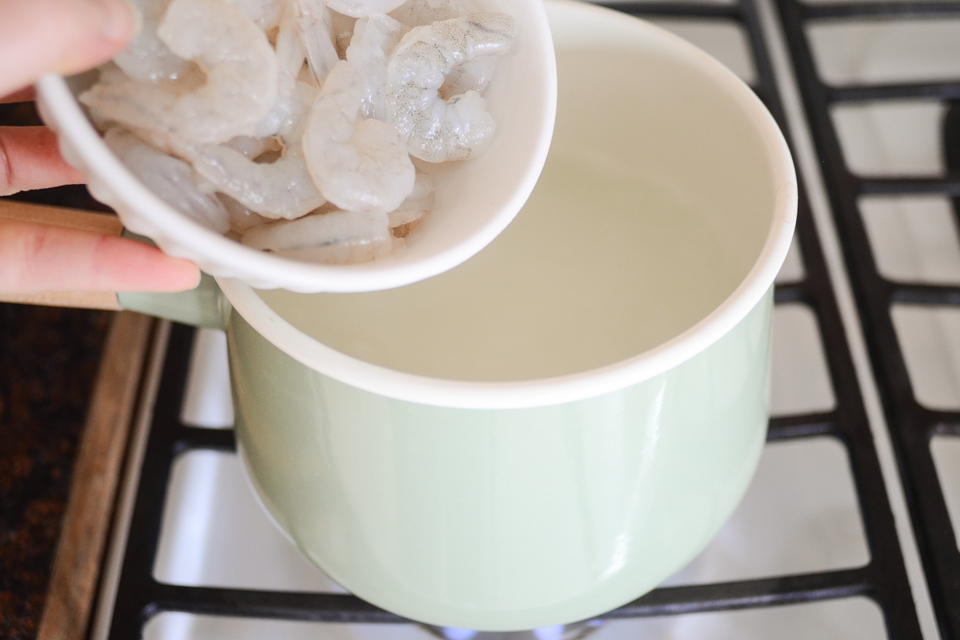 Add the shrimp to the boiling water. It will only take about a minute for them to cook! You'll know they're done when they're pink and opaque.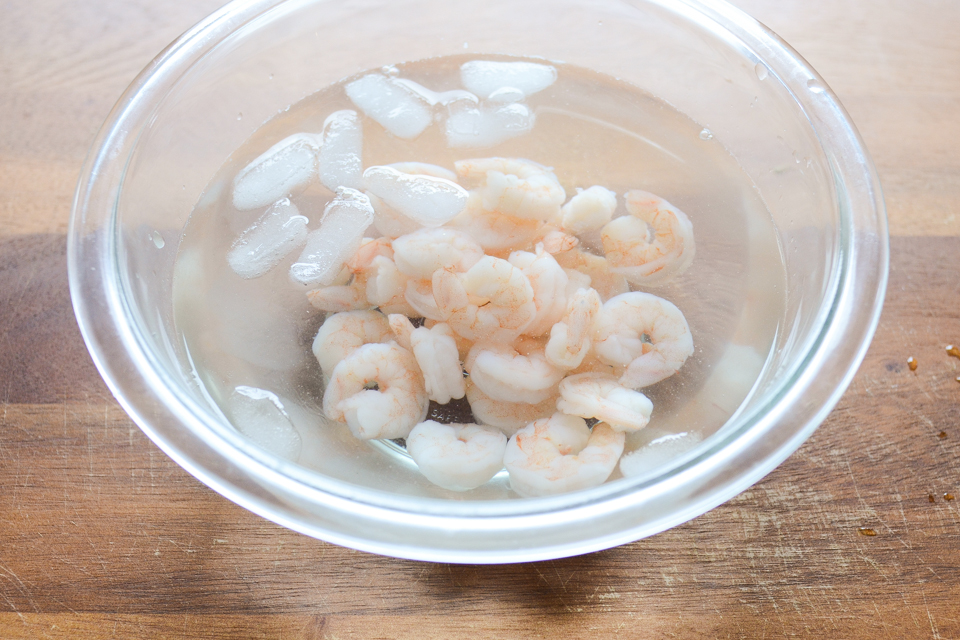 Remove the shrimp to a bowl of ice water.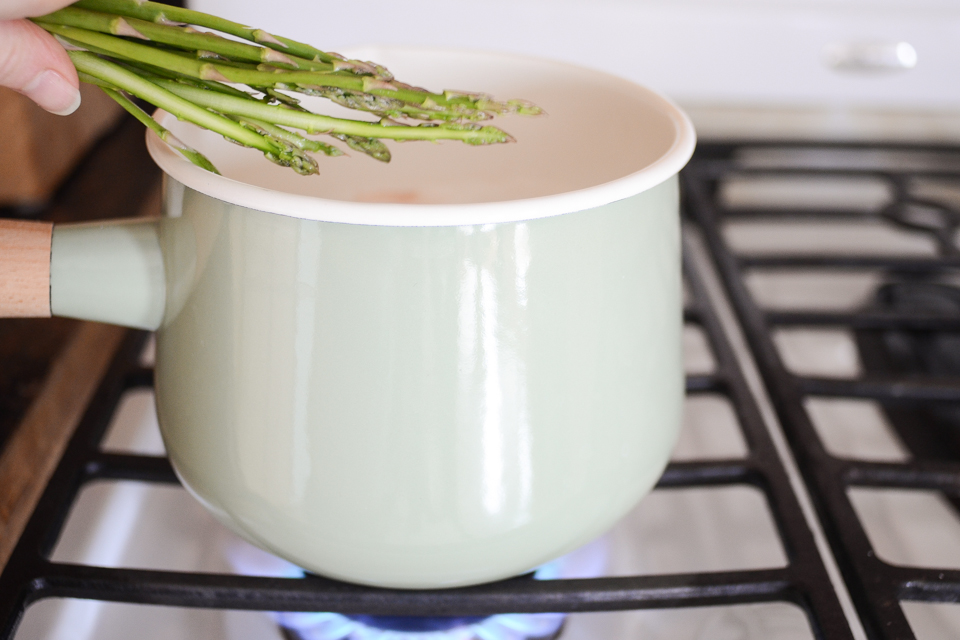 Add the asparagus to the now-empty pot. Cook until crisp-tender, about 2 minutes.
Add the asparagus to the bowl of ice water along with the shrimp.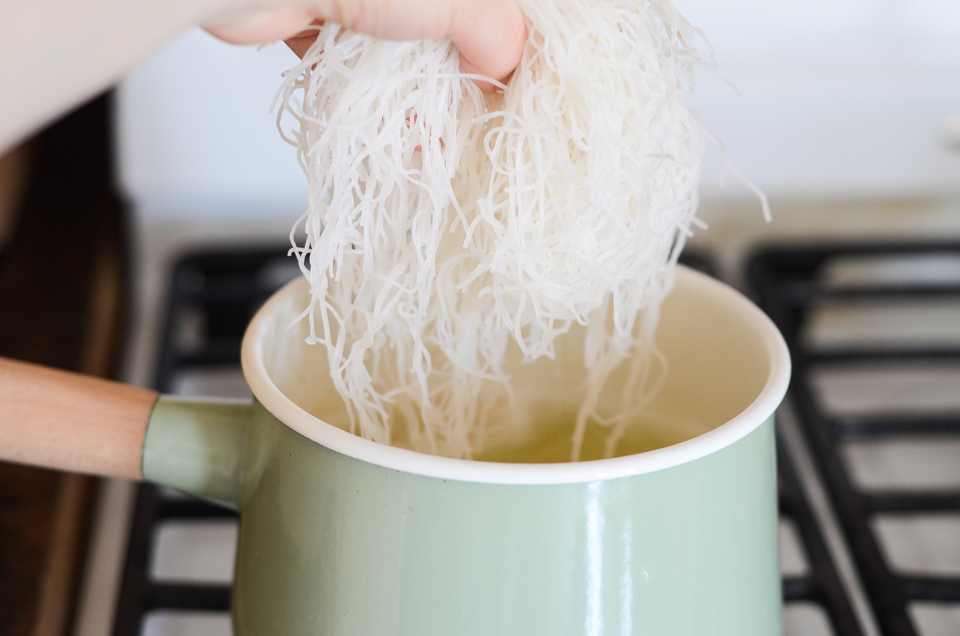 Now put the rice noodles into the boiling water and cook until tender, about 7 minutes. Drain.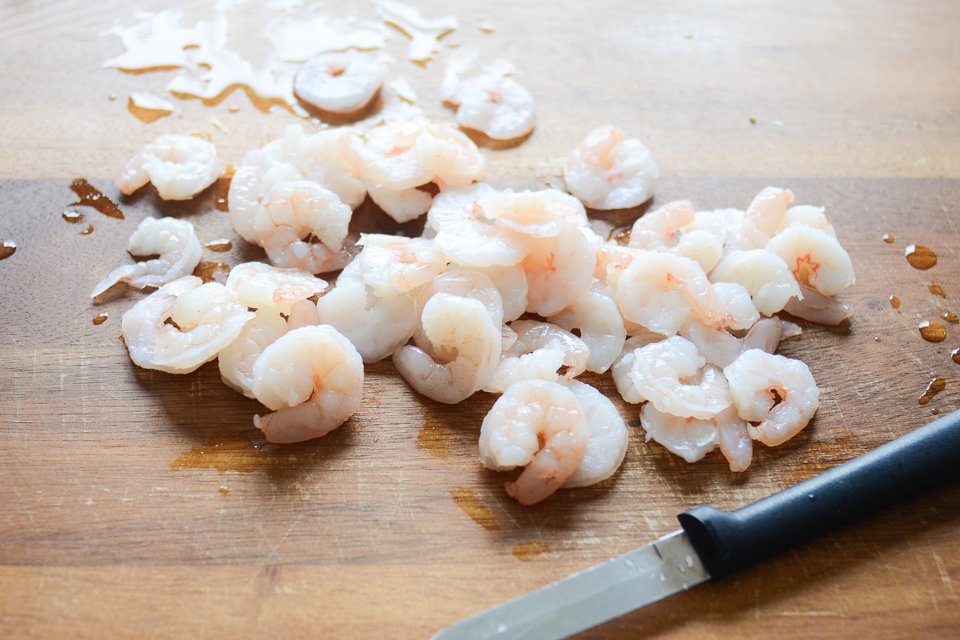 Meanwhile, slice the shrimp in half lengthwise. I used my trusty paring knife for this job as well.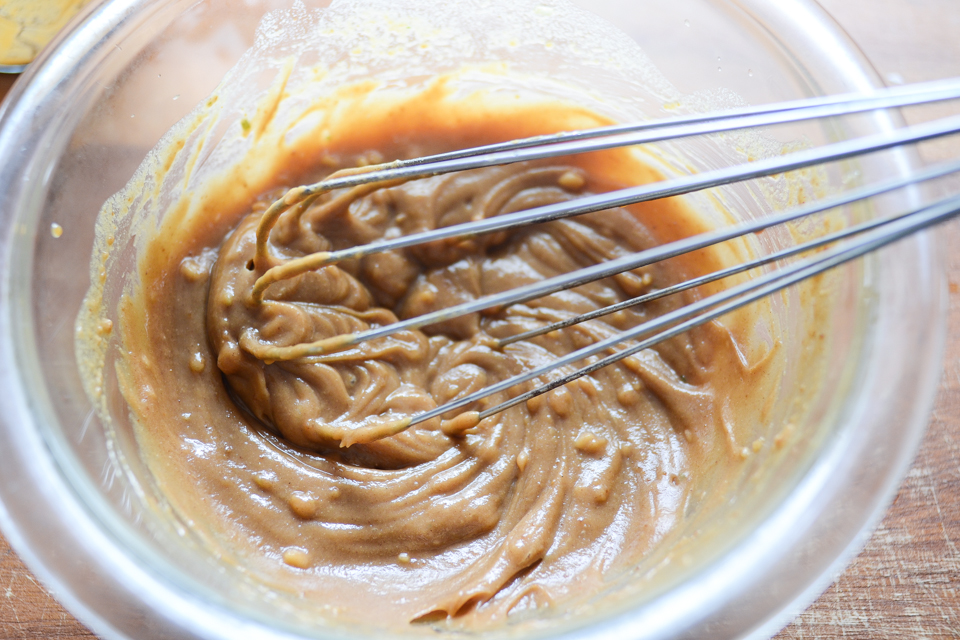 Whisk together all of the sauce ingredients. If it's too thick you can always add more hot water. This peanut sauce is amazing. I would make these rolls just to have an excuse to dip something in it.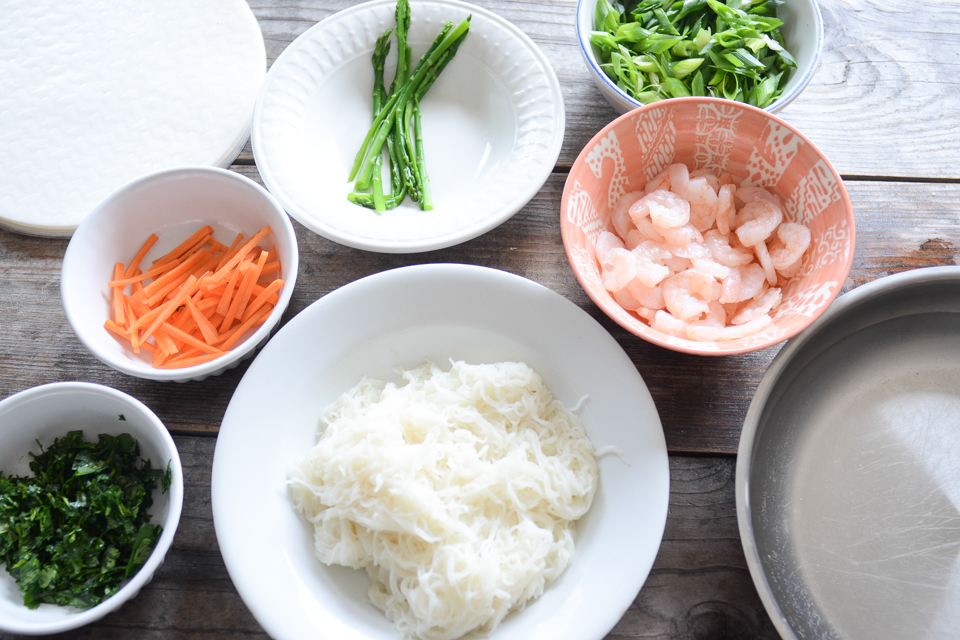 Have all of your ingredients at the ready.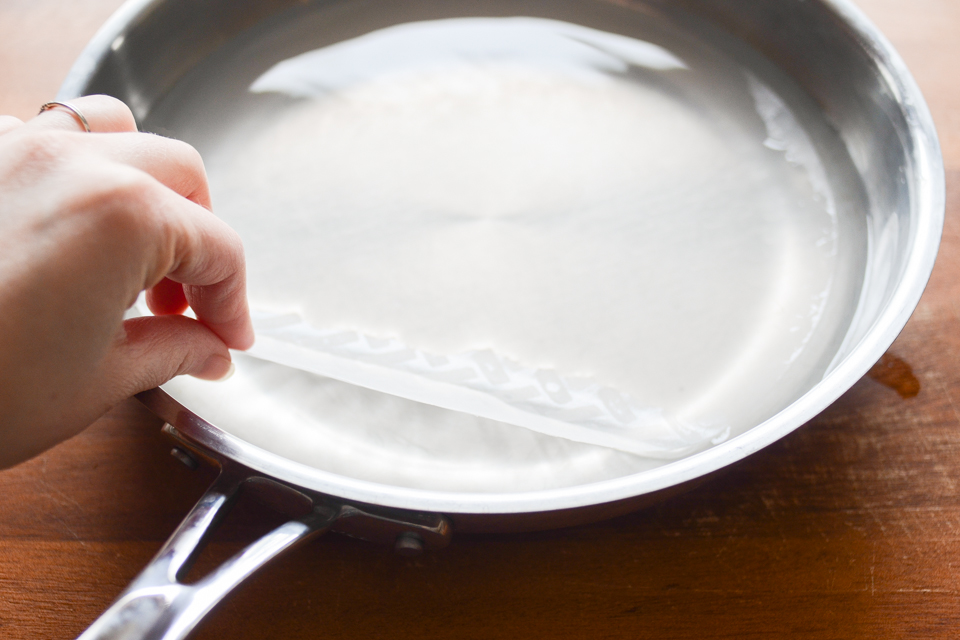 Dip a spring roll wrapper into warm water. I like to use a skillet for this since it's the right shape and diameter for the rice papers.
It takes a bit of practice to figure out how long to soak the wrappers. There's a fine line between workable and so soft that it falls apart. Remember that it will continue to soften after you take it out of the water. Some advise you to dip it in the water very briefly, and others suggest going for about a minute. You'll have to experiment to find what works for you.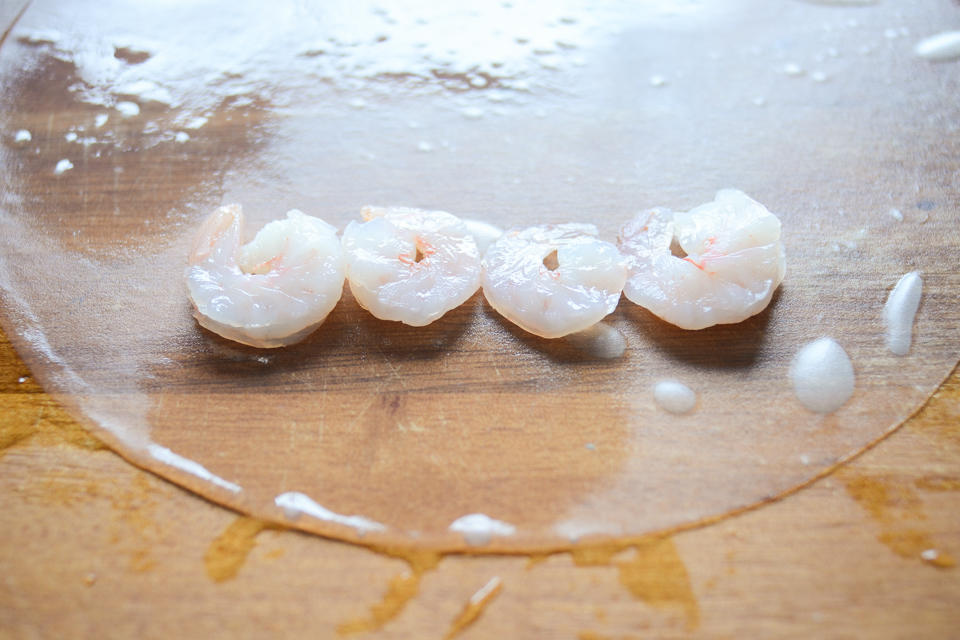 Place the softened wrapper on a work surface. If you're working on a porous surface (like a wood cutting board), I find that it's easier to work with the rolls if the surface is a tad wet.
Lay the shrimp, pink side down, on the end of the wrapper nearest to you.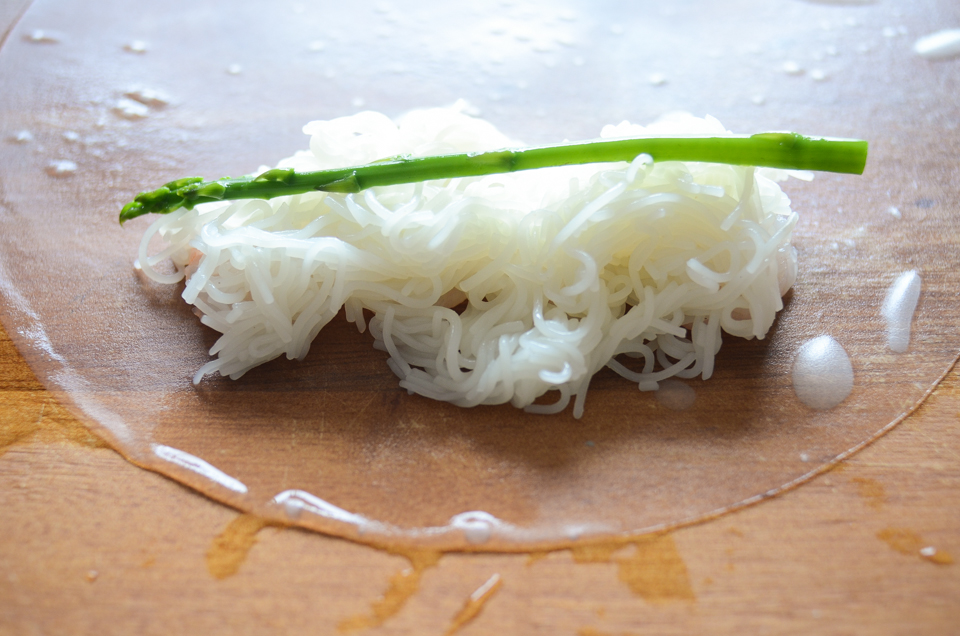 Place the noodles and then the asparagus on top of the shrimp.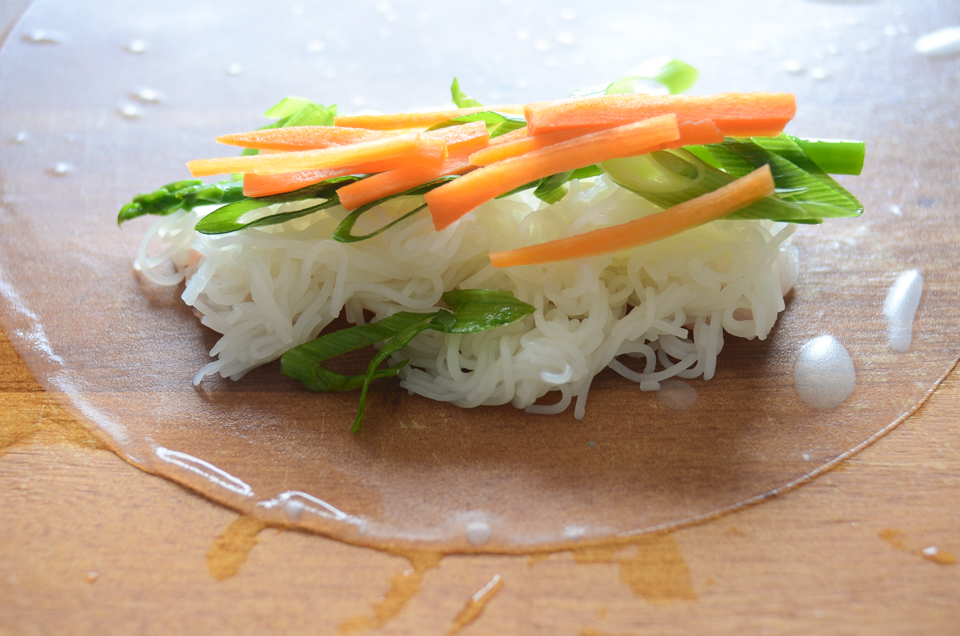 Stack the green onions and carrots on top.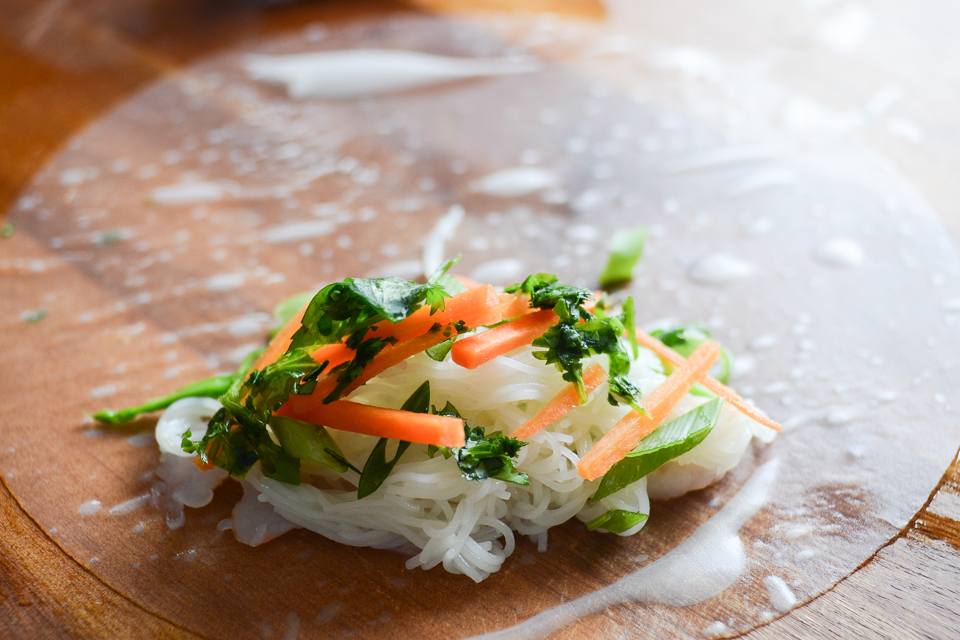 Add the cilantro on top of the stack.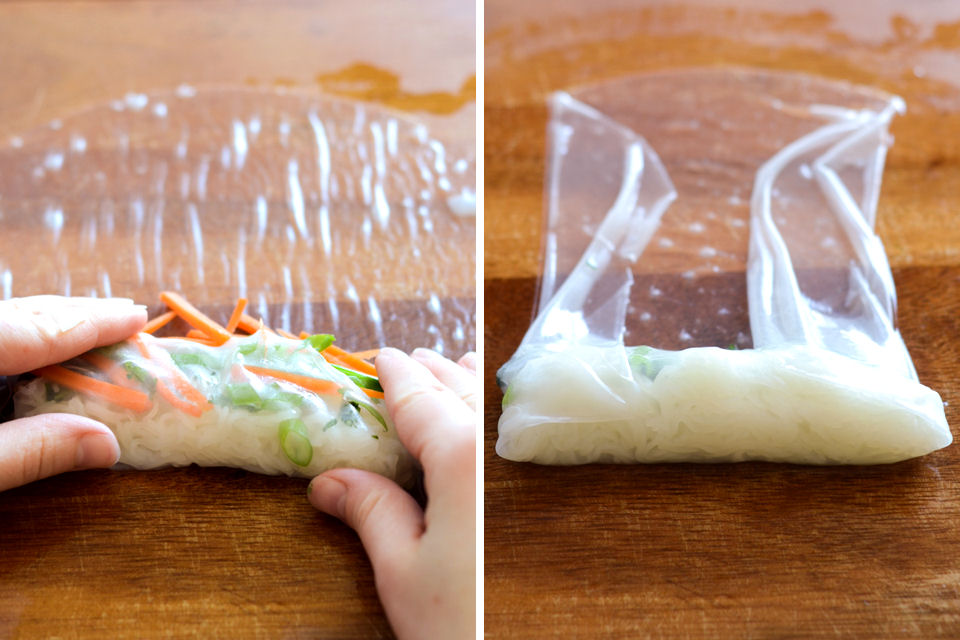 Roll the end of the wrapper nearest to you upwards, like you're rolling up a taco. Fold the sides in and finish rolling up the spring roll.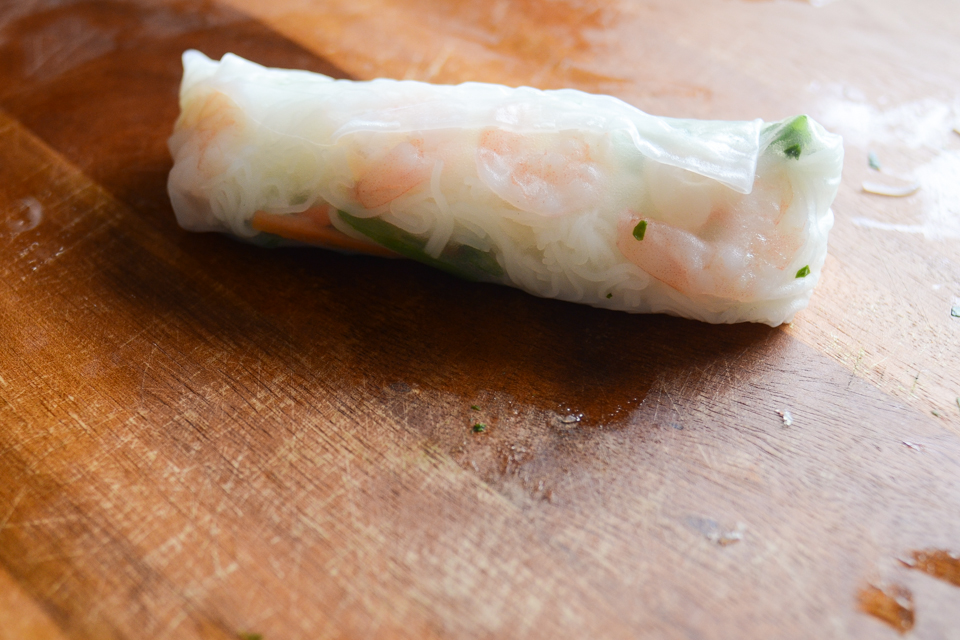 Isn't it lovely?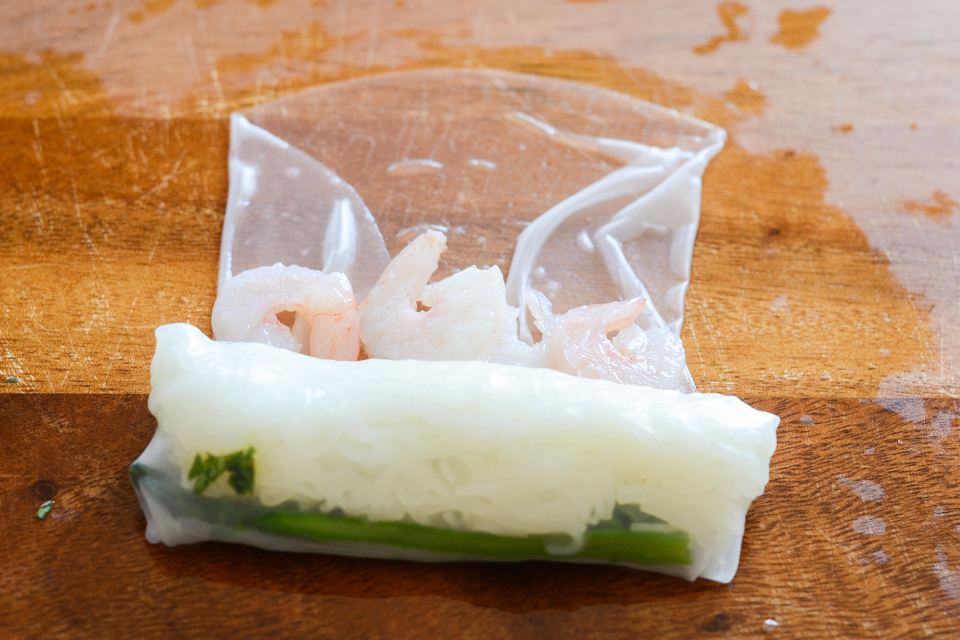 If you'd like the shrimp to really show through the wrapper you can wait to add them until you've folded in the sides.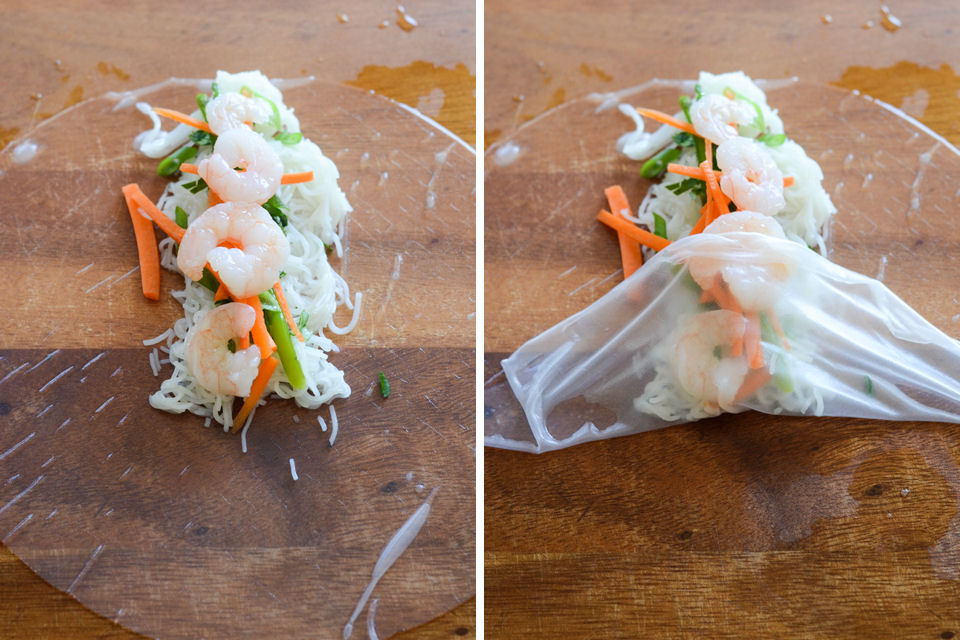 If you want to make an open-ended roll, place the ingredients on the wrapper vertically instead of horizontally. Then fold up the bottom of the spring roll. Finish by folding over one side and rolling it up.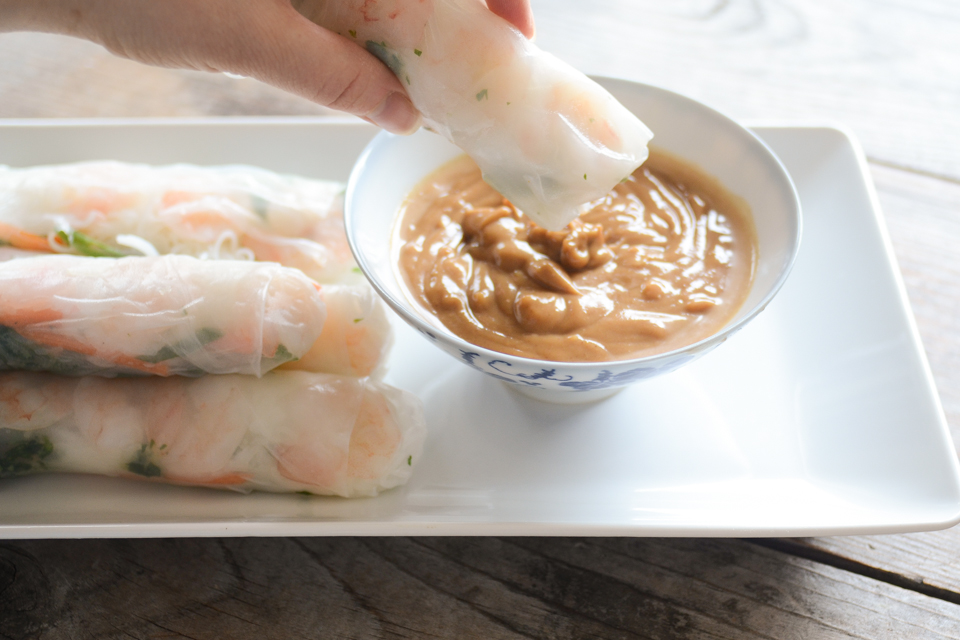 Notes:
1) These spring rolls can easily be made gluten free if you make sure to use a GF Hoisin sauce.
2) Make sure you salt the boiling water very generously. When I made these a second time, I definitely added more salt.
3) I find it's helpful to have a towel handy to wipe your hands on while you're working with the rolls. This way the ingredients don't get everywhere and the roll looks less messy.
4) These rolls can be quite sticky. I think it would be a good idea to have a bowl of water to dip your fingers in while you're eating so your hands don't stick to them. They'll also stick to each other, so it's best to leave some space between them on your serving tray.
5) To make these come together more quickly, you can prep your veggies, cook the shrimp and asparagus, and make the sauce ahead of time.
6) If you have leftovers, you can always make a salad. The peanut sauce is a delicious dressing.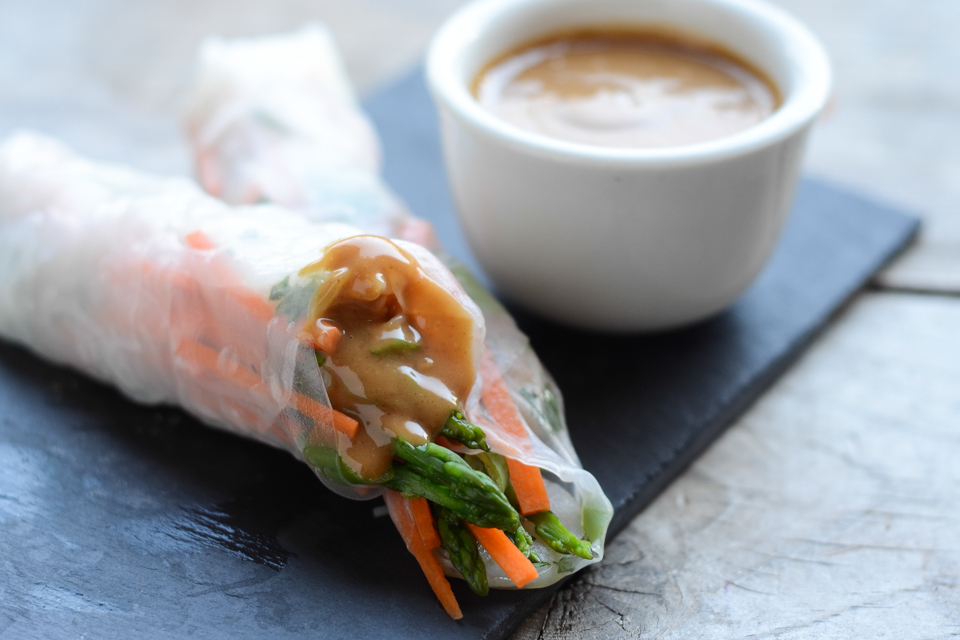 Thanks so much to Lauren for sharing this recipe with us! I'm sure you've heard of her lovely blog, Lauren's Latest. If not, make sure to give her a visit! Her Sweet Chili Hoisin Glazed Drumsticks look amazing.
Also, I am still learning the art of spring rolls. If you have any tips or tricks, please share in the comments!
Printable Recipe
See post on Lauren's Latest's site!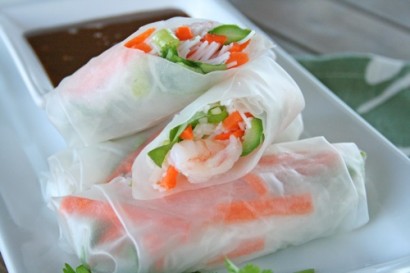 Description
A yummy and healthy snack, appetizer or light lunch.
Ingredients
FOR THE SPRING ROLLS:
2 ounces, weight Rice Noodles
12 whole Shrimp, Peeled And Deveined (51-60 Count)
6 whole Asparagus Spears
12 whole Round Rice Spring Roll Wrappers
4 whole Green Onions, Sliced
1 whole Carrot, Peeled And Finely Julienned
½ bunches Cilantro, Chopped
FOR THE SAUCE:
2 Tablespoons Smooth Peanut Butter
1-½ Tablespoon Brown Sugar
⅛ teaspoons Dried Ginger
1 clove Garlic, Finely Minced
2 Tablespoons Hoisin Sauce
2 Tablespoons Hot Water
2 pinches Cayenne Pepper (adjust To Your Heat Level)
Preparation Instructions
Place rice noodles in a bowl and cover with cold water. Set aside.
Bring a small pot of water to boil. Salt water generously, drop shrimp in and cook until pink and opaque, about 1 minute. Remove them from the water (keep the pot of water – you'll use it in a second) and place shrimp into a bowl of ice water.
Bend asparagus in half until the bottom woody end snaps off. Discard the woody end. Slice down the center of the remaining spear vertically to get 2 very skinny spears. Drop them into the boiling water and boil until crisp-tender, 2 minutes. Remove them from the water and place into the ice water with shrimp.
Drain the soaking rice noodles and place them into the boiling water. Cook until tender, about 7 minutes and then drain.
While noodles are cooking, slice shrimp in half lengthwise.
To assemble spring rolls, place one spring roll wrapper into very warm water until it softens up. Remove it from the water and place onto a work surface. Stack up shrimp, noodles, asparagus, green onions, carrot and cilantro on the bottom half of the wrapper. Then roll it up tightly, burrito-style and place on serving platter. Repeat until all wrappers have been filled.
For the sauce, mix all ingredients together until smooth in consistency. If the hot water doesn't dissolve the sugar or create a smooth sauce, microwave the sauce for 30 seconds. Pour into a serving dish and place along side spring rolls. Serve cold.


_______________________________________
Erica Kastner has always been one of our most cherished members of the Tasty Kitchen community. She shares her wonderful recipes and amazing food photography on her blog, Buttered Side Up, and she also writes about crafts and posts more of her beautiful photography in her personal blog, Simple Days. There really isn't much that this amazing young wife and mother can't do, and we're thrilled she does some of it here.