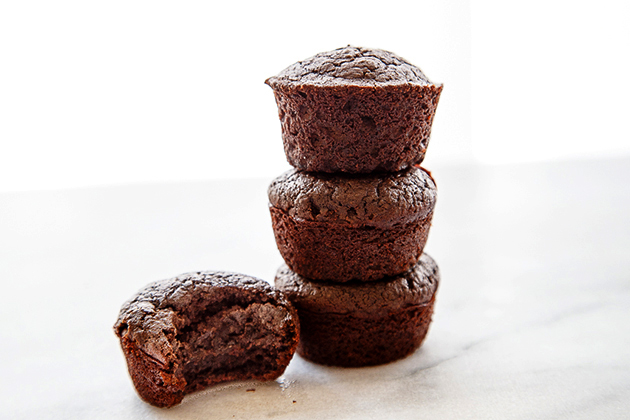 I just now noticed that this is the second recipe I've pulled from Sarah's recipe box to share here on the Tasty Kitchen Blog. It was pure coincidence, but after these Fudgy Black Bean Brownies, I'll be pulling from her TK recipe box even more. Sarah knows her chocolate desserts, and these brownies are no exception.
These brownies are made in the bowl of the food processor entirely (no cleanup!), and they're also relatively healthy with a gluten-free option. I didn't think all of my chocolate dreams were going to come true with this recipe, but they really did. You might be discouraged by the recipe title, but don't be. If the black beans are pureed very, very well, they are completely indistinguishable. I promise. Cross my heart. I wouldn't tell a lie here on the Tasty Kitchen Blog!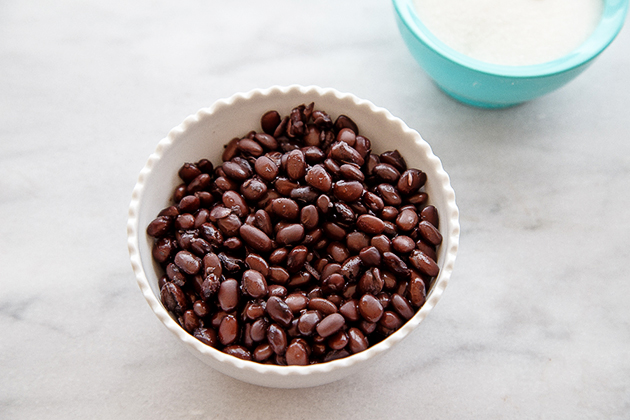 So yes, we're really making brownies with black beans. Embrace it. They're good for you!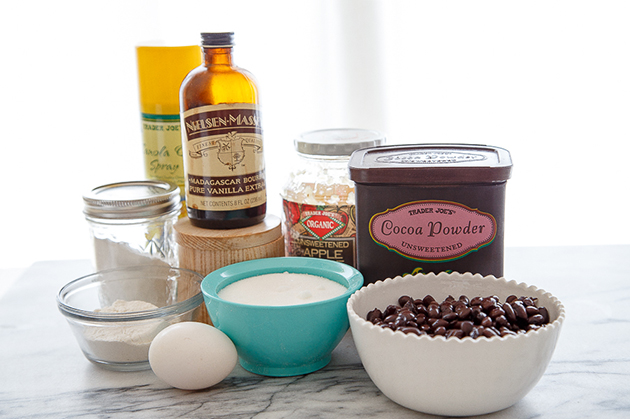 Let's start with our lineup of ingredients: black beans, cocoa powder, applesauce, sugar, vanilla, salt, almond flour, an egg, baking soda, and cooking spray. I used regular flour in place of the almond flour successfully, but Sarah's original recipe is gluten-free with almond flour.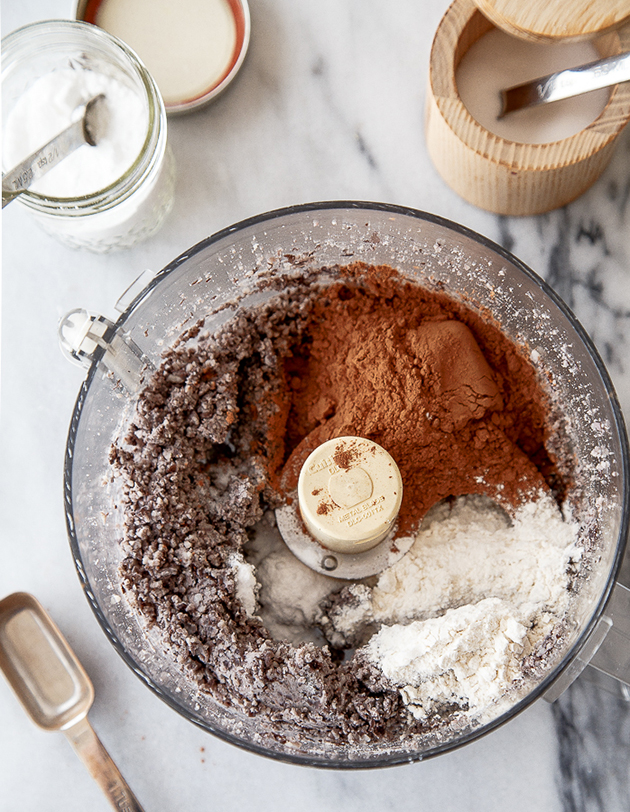 You're going to need a food processor for this recipe. I'm worried if you just hand-mashed the beans, you would have bean skins in the final product. I don't think you want that, so use a food processor, my dears.
Into the bowl of the food processor goes the beans first. Puree them very, very well. Stop and scrape the sides several times to ensure everything is well blended.
Next, Sarah says to add all the dry ingredients: cocoa powder, baking soda, almond flour, and salt.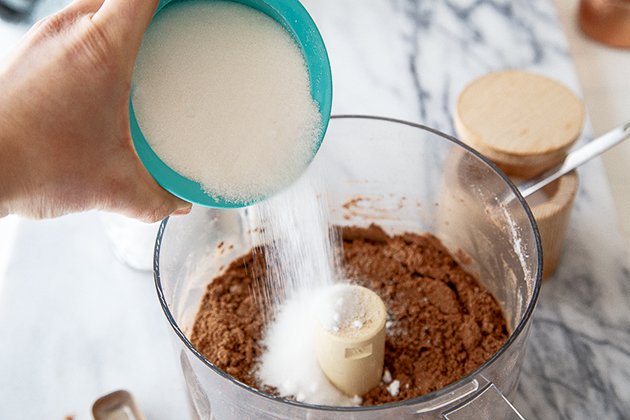 Add the wet ingredients: sugar, applesauce …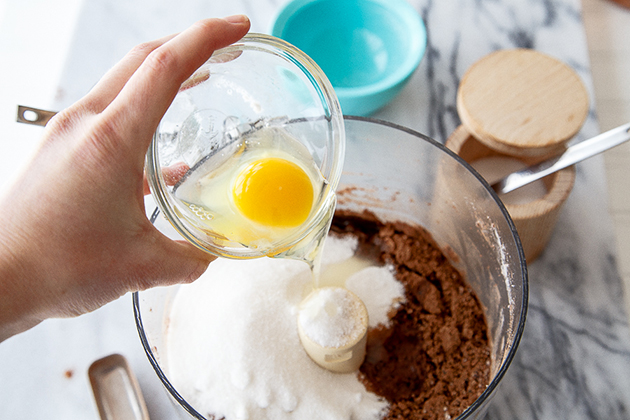 … egg, and vanilla.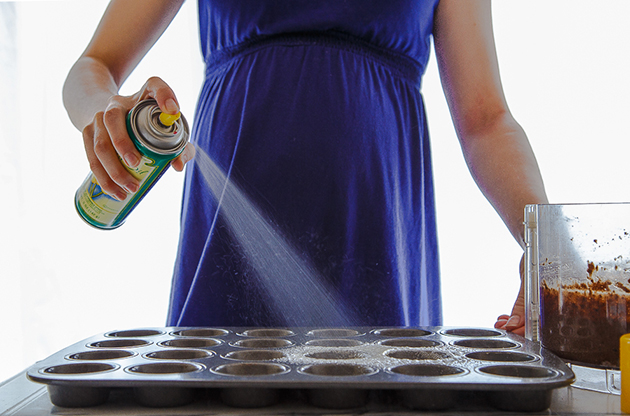 Spray a mini muffin pan with 24 cups with cooking spray very well. This is something originally omitted in the recipe, but when I reached out to Sarah, she definitely recommended it.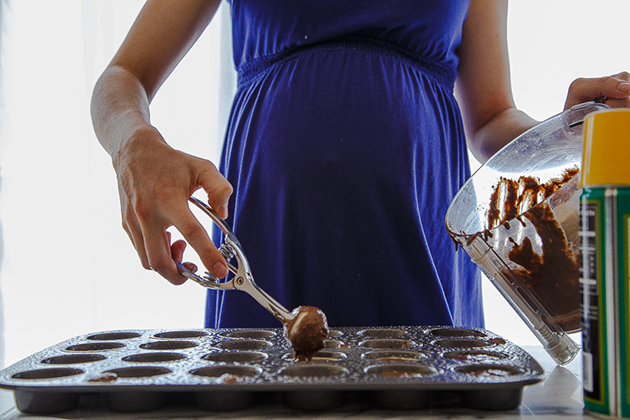 Then, use a cookie scoop to make quick work of the batter. You will get 24 mini fudgy brownies. That's a lot of brownies for not a lot of work. Sarah makes me one happy pregnant lady!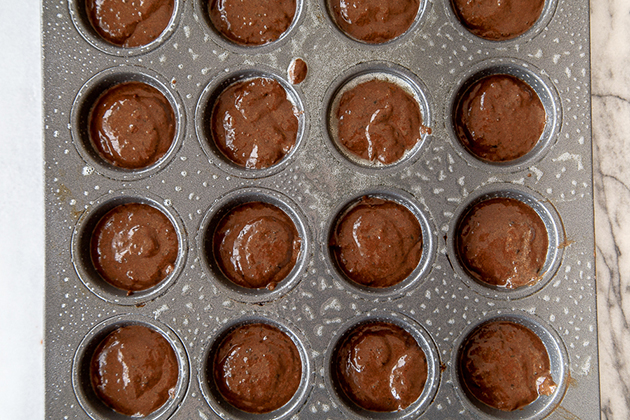 Here's what it looks like before baking.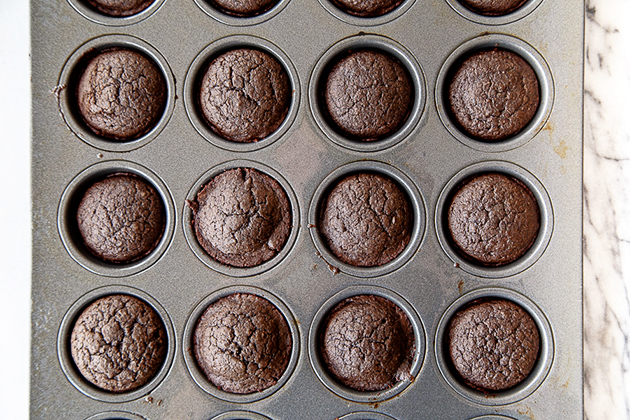 And this is after the brownies have baked.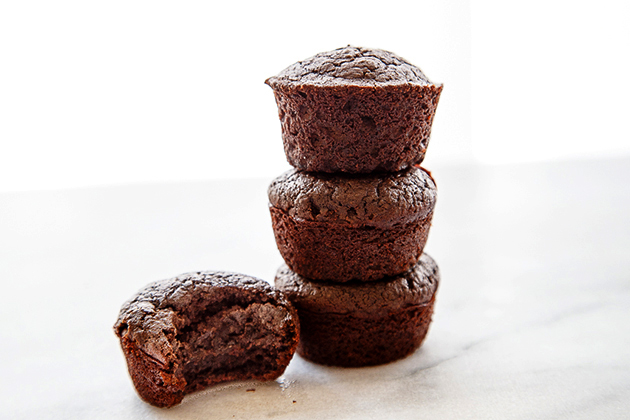 Thanks again, Ms. Sarah! Your blog Simple and Sweets continues to inspire me in the kitchen, and keeps me very well fed!
Printable Recipe
See post on Sarah's site!
Description
Obviously, using black beans makes these brownies way healthier, but I'm not even focusing on that fact right now.
These are probably some of the best brownies I have ever made. They are thick, with soft centers, a crunchy top, and fudgy. They melt in your mouth.
Ingredients
15 ounces, fluid Canned Black Beans, Drained And Rinsed
9 Tablespoons Unsweetened Cocoa Powder
¼ cups Almond Flour
1 teaspoon Baking Soda
⅛ teaspoons Salt
1 cup Sugar
1 whole Egg
4 ounces, fluid Applesauce
1 teaspoon Vanilla Extract
Preparation Instructions
Preheat oven to 350ºF.
In a food processor, blend black beans until they form into a smooth paste. You don't want any chunks of black beans in your brownies.
Add in cocoa powder, almond flour, baking soda, and salt. Pulse the food process a couple more times to combine.
Add in sugar, egg, applesauce and vanilla. Run the food processor until everything is completely mixed together.
Spoon mixture into a mini muffin pan, filling each ¾ full. Bake for 15–20 minutes, or until the brownies are set, pull away from the side of the pan, and a toothpick inserted in the center comes out clean.


_______________________________________
Growing up in a food-obsessed family and spending a lot of time in her Aunt Rose's restaurant as a child, Christina was destined to be a fantastic cook. She's a private chef during the day, but cooks for two at home. Like all of us, she has a sweet tooth that needs indulging after dinner. After becoming frustrated with the lack of recipes made for two, especially in the dessert category, she took matters into her own hands and started her blog, Dessert for Two, to share how she takes Southern classics (and a few surprises) and turns them into recipes that are perfect for just a few people. Her first cookbook is due out in February 2015.