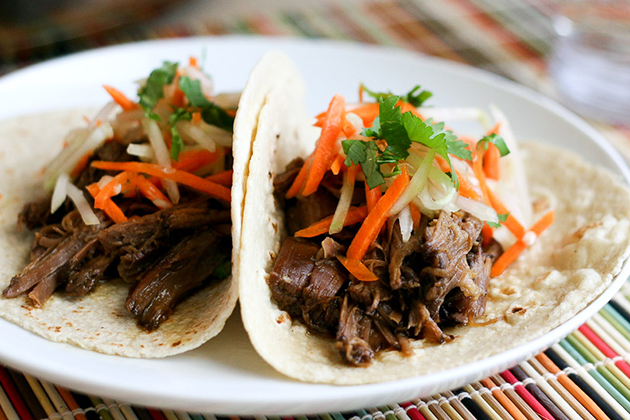 We recently bought half of an organic, grass-fed cow. That's, like, a whole freezer full of meat, and my mind is reeling at all of the unfamiliar cuts. (My meat selection growing up was limited to ground beef, steak, roasts, and boneless, skinless chicken breasts. I've come a long way!) Beef short ribs is one of those cuts, so I wandered around Tasty Kitchen looking for recipes. When I saw TK member Shelbi Keith's recipe for Crockpot Korean Short Rib Tacos, I knew it was going to be a winner.
Why?
1. Unfamiliar cuts of meat + slow cooker = deliciousness
2. Tacos make my world go round. I love them almost as much as my children.
Let's start!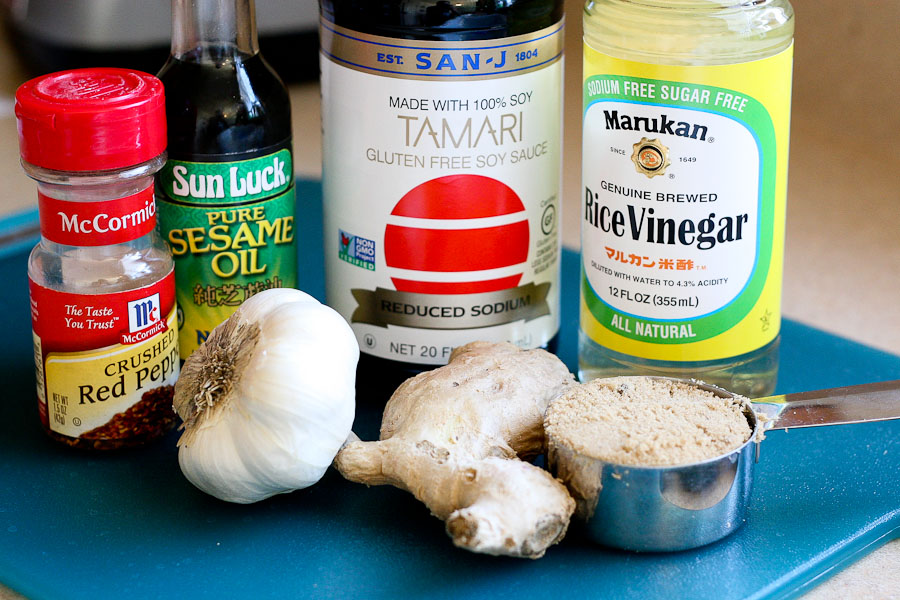 Gather up the ingredients for the sauce that goes in the slow cooker with the short ribs: soy sauce (I used tamari), rice vinegar, sesame oil, crushed red pepper flakes, garlic, ginger, and brown sugar (I reduced it to 1/3 cup).
Peel the garlic and ginger and roughly chop them both. For the ginger, I just cut the skin off with a sharp knife. Yes, you may lose some ginger in the process, but the thought of scraping it off with the back of a spoon makes me crazy. So, I slice it off.
Put the garlic and ginger in a food processor and give it a few pulses until it's nice and minced. You could also mince it really well with a knife. Or use a Microplane grater.
Transfer to a medium-ish bowl. Preferably one with polka dots.
Add the soy sauce …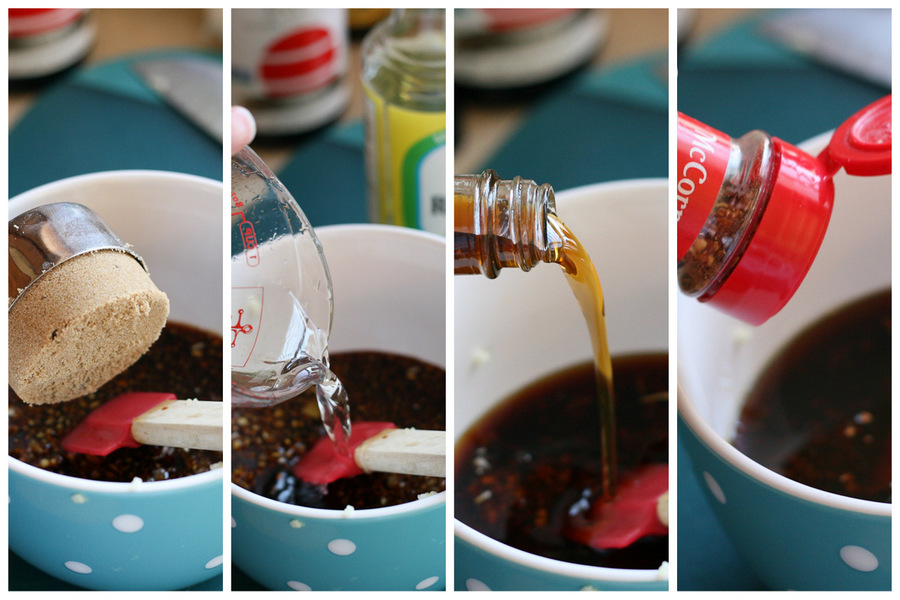 And the rest of the ingredients: brown sugar, rice vinegar, sesame oil, and crushed red pepper.
Give it a stir. You can make this sauce ahead and keep it in the fridge for several days.
Unwrap your beef short ribs.
Grab the slow cooker your mom used when you were a kid. (Those are the best kind! The newer ones cook way too hot.) Place the ribs inside. I used a 4-quart slow cooker, and it did wonderfully.
Pour that sauce over the ribs, put the lid on, and walk away.
For about 10-12 hours. It took my ribs 11 hours to loosen up and start falling off the bones. It was a lot longer than I anticipated.
So, instead of having these for dinner, I took the meat off the bones, poured the sauce into a container, and went to bed. That's why the fat is so hard in the photo above. It was nice, though, to be able to remove so much of it. And it made for a nice, quick Saturday lunch the next day!
I had to show you this. This is what the sauce looked like when I removed the fat, after it had sat in the fridge all night. Sort of like a beef broth-soy sauce gelatin. *shudder*
No need to fear, though. I threw the meat into a skillet with about half of the gelatin-ized sauce and after a few minutes it got all juicy-like. Meat's ready!
Now let's make the carrot-cucumber slaw to go on top. Don't slack on this. This taco needs this slaw.
Peel a carrot and a cucumber. (I made more slaw than the recipe suggested and used every bit.)
Julienne them both and place them in a bowl. You can do it by hand or use a julienne blade on a mandoline slicer. I really, really love my mandoline. It's a dangerous thing for me to have, given my track record with sharp objects, but it makes thin, beautiful, uniform cuts. Totally worth the risk.
The dressing for the slaw is simple: just rice vinegar, sugar, salt, and some crushed red pepper flakes. Combine them in a bowl …
And pour it over the carrots and cucumber. You can do this a couple of hours ahead of time, but if you do it earlier, the cucumbers might get soggy. Toss it around, and it's ready!
Grab some tortillas and assemble the tacos, placing some slaw over the shredded meat. Top it with some chopped fresh cilantro and you are in business, my friends.
Thank you, thank you, Shelbi for making these tacos a part of my life! They were fantastic and every solid-food-eating member of my family loved them!
Be sure to check out Shelbi's Tasty Kitchen Recipe Box and her blog, Look Who's Cookin' Now for more great recipes! (Her Lime Grilled Steak with Smoky Cilantro Butter is calling my name.)
Printable Recipe
See post on Shelbi Keith's site!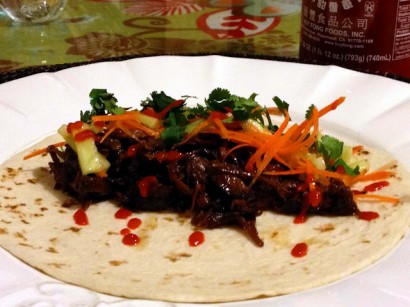 Description
After taking one bite, my husband proclaimed this his new favorite meal!
Ingredients
FOR THE KOREAN SHORT RIBS:
5 cloves Garlic
1-½ whole Inches Of Ginger, Peeled
¾ cups Soy Sauce
½ cups Plus 3 Tablespoons Brown Sugar
6 Tablespoons Rice Vinegar
2 Tablespoons Sesame Oil
1 teaspoon Red Pepper Flakes
3 pounds Beef Short Ribs
FOR THE CUCUMBER SLAW:
½ whole Hot House Cucumber
½ whole Carrot
4 teaspoons Rice Vinegar
1 teaspoon Sugar
2 pinches Salt
1 pinch Red Pepper Flakes
FOR SERVING:
4 whole Tortillas
2 Tablespoons Cilantro For Garnish
Preparation Instructions
For the Korean short ribs:
In a mini food processor, blend garlic and ginger until minced. Mix with soy sauce, brown sugar, rice vinegar, sesame oil, and red pepper flakes.
Place short ribs in crockpot and pour sauce over ribs. Turn crock pot on low heat. Cover with a lid and cook for 6-8 hours.
Remove meat from pot, discard bones. Place in the fridge to chill to touch.
Meanwhile, skim fat off the top of the sauce. Place in a sauce pan and simmer until thickened.
Once meat is cool to touch, pull apart with your fingers. Pour about 1/2 cup of the sauce back into the meat. You may serve the extra sauce on the side or discard it.
For the cucumber slaw:
Peel cucumber and chop into matchsticks. Peel carrot and shred.
Mix carrot and cucumber with rice vinegar, sugar, salt and red pepper flakes.
Serve meat on a warm tortilla topped with slaw and cilantro.


_______________________________________
Be sure to check out Natalie's own beautiful food blog, Perrys' Plate, where you can see her growing collection of lovely recipes. There's always something new to see there. Go visit now!